PLAYER PROFILES
Steven Pienaar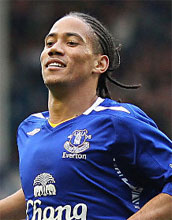 First Spell: 2007-2010
Squad number
20
Joined on loan
20 July 2007
Joined from
Borussia Dortmund
Transfer fee
On Loan; £2.05M
Signed by
David Moyes
Debut as sub
v Wigan Athletic (H)
11 August 2007
Full debut
v Bolton Wndrs (A)
1 September 2007
Contract duration
Season Loan;
3 years
Made permanent
22 April 2008
Contract expired
June 2011
| | |
| --- | --- |
| Squad number | - |
| Joined on loan | 31 January 2012 |
| Joined from | Tottenham Hotspur |
| Transfer fee | On Loan |
| Signed by | David Moyes |
| Second debut | - |
| Contract duration | Six-month Loan; |
| Contract expires | June 2012 |
Position
Midfield
Born
Johannesburg,
South Africa
Date of birth
7 March 1982
Height
5' 9"
Nickname(s)
Schillo
Honours
South African international
STRENGTHS
Skillful ballplayer
Accurate passer
Fearless
WEAKNESSES
Not enough end-product
Doesn't shoot enough
May do better in a central role
Wikipedia Entry
Soccerbase Datafile
First Spell: 2007-2010
Amidst a period of increasing panic among Evertonians in the summer of 2007 as a weakened, threadbare squad remained virtually untouched as a European campaign loomed, David Moyes moved quietly to secure the services of Steven Pienaar.
An established South African international, Pienaar arrived on a season-long loan from Borussia Dortmund after failing the daunting task of filling the considerable shoes of Tomas Rosicky.
It wasn't hard to see why the German club thought they had captured a gem — Pienaar had been groomed at the bastion of footballing excellence, Ajax Amsterdam. But he struggled to find his feet in the Bundesliga and was deemed surplus to requirements.
Chiefly regarded as a central midfielder he was used to act as "link" player before Sneijder took over that position at Ajax. And although it's believed that he dislikes playing on the wing, it was wide left where he established himself at Everton, rapidly warming to life at Goodison Park.
By October, it was clear that Moyes had pulled off another transfer masterstroke. With his quick movement, speed of thought and willingness to make things happen, Pienaar was one of the stars of an Everton side that went unbeaten for 13 games in all competitions, moved into the Carling Cup semi-finals, the latter stages of the Uefa Cup and the European qualification slots of the Premier League by Christmas.
Such was his impact that when his senseless trip on Ryan Giggs three minutes from the end of a hard-fought game at Old Trafford handed Manchester United victory when Cristiano Ronaldo scored from the spot, few could come down too hard on him. His contribution to the side up to that point had been enormous.
There was a predictable clamour for Moyes to make his loan move permanent in the January 2008 transfer window but the manager, presumably safe in the knowledge that he could sign him for £2.5m at season's end per the original terms of the loan, insisted that he would use the rest of the campaign to assess the South African.
As if further evidence of his importance to the team were needed, Moyes tried to eke out every last minute of playing time from Pienaar before he left for African Nations Cup duty that month and announced his intention to include him in the League Cup semi-semi at Chelsea.
That threatened to land both Everton and the player in trouble with the Safa and Fifa who made no bones of the fact that regulations state that participating players must report for duty 14 days from the start of the tournament — in this case, 12 days away — and not from the country's first game — in South Africa's case, 15 days away.
In the end, Everton had to concede defeat, both in that club-versus-country battle and, minus Pienaar, the semi-final itself. But the young South African was signed up a while after he returned on a permanent 3-year contract.
But he was to miss the first six weeks of the new season with a broken toe sustained in the last pre-season friendly, against PSV. When he finally appeared, it was clear he had the skills and the flair so sadly lacking among most of the Everton team. But his strenuous efforts rarely produced anything of real note in terms of end product, despite catching the eye.
Nevertheless, he combined well with Baines to form a good partnership down the left side. Towards the end of his second season, it looked like the promise he brought to the team may finally bear fruit.
Indeed, going into the following 2009-10 season, Everton needed to rely even more on Pienaar as the creative spark in Arteta's long continuing absence. But an ugly knee injury, inflicted by his compatriot and South African team captain Mokoena in a league game at Portsmouth put him out for two months in which Everton managed only one win.
Pienaar returned to action in January 2010 and played a vital part in vreviataising Everton's seriously flagging season. The second half of the season saw Everton's form bettered only by the top two, Chelsea and Man Utd, both of whom they beat in a splendid week in February.
Pienaar reached his peak playing some great football on the deck, and swapping wings with Landon Donovan, but something about his game flattered to deceive; the final ball was all too often lacking, and — even though his goal tally showed significant improvement on previous seasons — he still wasn't scoring enough goals.
But nothing could take away from an exquiste chip he put over Almunia in the Arsenal goal in January 2009, and it was moments like this that brought him the Player of the Season award. However, that wasn't enough to persuade Pienaar that his future should be with Everton. An improved contract remained on the table throughout the summer of '09 while he headed off to the World Cup and a cameo opportunity for the hosts, South Africa. But it turned out not to be the shop window he perhaps craved as Bafana Bafana crashed and burned.
With no movement on a new deal at Goodison, Pienaar as the 2010/11 season kicked off, Moyes resigned hinmself to the fact that a player he had effectively rescued and set back on the path to stardom would leave the club by the following summer when his contract expired.
In the interim his play for Everton could not be faulted... unless you expected more by way of a meaningful end-product to all the fine industry and fancy touches. One goal and a solitary assist in the League Cup defeat at Brentford belied the amount of possession that flowed through him but illustrated the somewhat enigmatic aspect to his career at Everton.
Still, Harry Redknapp at Tottenham had seen enough of Pienaar to make him a top transfer target for the summer of 2011 and would have waited to grab the midfielder on a free then had Chelsea not stepped in during the January transfer window with an offer of £3M to take him there and then.
Everton accepted the bid forcing Spurs to match it, which they eventually did and after Chelsea refused to match Pienaar's wage demands, the player agreed a £70,000 salary at White Hart Lane and completed his move for a fee of £2M, rising to £3M within 12 months.
Second Spell: 2012
Pienaar would be the first to admit that his experience at Spurs did not go according to plan or expectation. Reduced to a bit-part player making the odd substitute's appearance as Redknapp's side kept pace with the leading Manchester clubs, he would become frustrated with his prospects in North London.
By January 2012, Pienaar was desperate for a move away from White Hart Lane and, despite being named on the Spurs bench that evening, he looked set to join Queens Park Rangers on transfer deadline day.
That deal fell through and Moyes made enquiries late in the evening about bringing Pienaar back to Goodison on a six-month loan. Initially rejecting the idea on the basis of injuries to his squad, Redknapp was eventually persuaded to relinquish the South African and he traded places with Louis Saha ahead of the 11pm deadline.
By Michael Kenrick and Lyndon Lloyd
Last updated January 2012
Everton Career
Season
Squad
Number
League
Apps (sub)
League
Goals
Cup
Apps (sub)
Cup
Goals
Total
Apps (sub)
Total
Goals
2007-08

20

26 (2)

2

12 (0)

0

38 (2)

2

2008-09

20

27 (1)

2

6 (1)

0

33 (2)

2

2009-10

20

30 (0)

4

8 (0)

3

38 (0)

7

2010-11
22
29 ( 0 )
5
4 ( 1 )
1
33 ( 1 )
6
Totals
85 ( 26 )
30
23 ( 8 )
9
108 ( 34 )
39
Prior Club Record
Season
Team
Appearances (sub)
Goals
2010-2012
Tottenham Hotspur
3
0
2001-2006
Ajax Amsterdam
83 (11) & 24 (2)
15 & 2
2006-2007
Borussia Dortmund
20 (5) & ??
0 & ?