Match Summary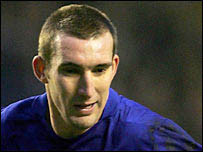 Alan Stubbs: Emotional
Return to Parkhead
Both David Moyes and Alan Stubbs have worn the green hops of Celtic, and so this match obviously had some meaning for them.
Michael Kenrick
---
Howard: 7
Thought he was commanding and a positive influence on the backline. Moyes must make efforts to sign him on a full-time basis.

Neville: 7
Pip is very comfortable playing at the back, its the midfield where he is crap. Solid and had put in a few decent runs and crosses. Better than Hibbo?

Stubbs: 7
Solid! But his lack of pace is very worrying ahead of the season.

Weir: 6
Did ok. Actually good from Moyes to sign him as cover but again lack of pace........

Naysmith: 4
The sooner he signs for Celtic the better!

Carsley: 5
Oh how i want to like him but he simply isn't good enough for the holding role.

Arteta: 9
The best player on the park by a country mile! He is pivotal to Everton success in the future. Should of had a penalty but is still wasted on the left.

Davies: 6
Was shocking in the first half but improved a lot in the second. Better when running forward than trying to be a midfield general, which he definitely aint! Why Moyes are you killing his career playing him in central midfield???
Telfer Sno Jarosik (70) Petrov McGeady Riordan (65) Miller
Osman: 5
Always neat and tidy but little end product.

Johnson: 6
Always a threat with his pace but his touch and finishing ability is questionable! I believe both will get better as he gets fitter.

Beattie: 5
Why is he our number nine? Even in a pre-season friendly he was slow! He has the touch of a rapist and the passing ability of a constipated man! Must improve, SIMPLE!

Subs:
Lescott: 5
Can forgive this poor performance so early on but his indecision was shocking! I question the wisdom of signing him and ignoring Ferrari.

Anichebe: 5
Can see the promise but playing with Beattie did not help! Needs maturing!

Kilbane: 6
Did what he had to well enough.

Cahill: 5
The more of him a see, the more I want him gone!

Boyle: 6
Look at Kilbane comments!

Buckley: 5
Looks good but doesn't look up enough! Again can see promise but will Moyes take him on?

Moyes: 6
Set the team up well with the exception of Davies and Arteta. He must stop playing these guys in positions that hurt the side. We are looking at you to steer us to Europe!
Luq Yus
* Unfortunately, we cannot control other sites' content policies and therefore cannot guarantee that links to external reports will remain active.

CELTIC (4-4-2)
Boruc (46' Marshall)
Telfer (85' Lawson)
Wilson
McManus
Caldwell
Nakamura
Jarosik (70' Sno)
Petrov (88' Thompson)
Riordan (65' McGeady)
Zurawski
Miller (85' Quinn)
Subs not used
EVERTON (4-4-2)
Howard
Neville
Stubbs
Weir (46' Lescott)
Naysmith (80' Boyle )
Carsley
Osman (72' Cahill)
Arteta (81' Buckley)
Davies
Johnson (46' Anichebe)
Beattie (72' Kilbane)
Subs not used
Unavailable

Van der Meyde (injured)

Pistone (injured)

Hibbert (injured)