Venue: Goodison Park, Liverpool
Premier League
Saturday 25 August 2007; 5:15pm
McFadden (78')
Half Time: 0-1
Sant Cruz (15')
Attendance: 33,850
Referee: Mike Riley
McFadden strike rescues a point
A James McFadden goal 12 minutes from time rescued a point and rewarded a flourish in the final quarter of an hour by a hitherto disappointing Everton who were again frustrated by a side mirroring their physical and competitive style.
Indeed, having taken an early lead, hit the woodwork twice, and more or less neutralised the twin threat posed by Andy Johnson and Mikel Arteta, Blackburn probably felt they had done enough to steal all three points. Thankfully, however, a shift in tactics and a greater sense of urgency on the Blues' part paid dividends and at least preserved an unbeaten start at Goodison.
With neither Aiyegbeni Yakubu nor Manuel Fernandes cleared in time to be available for selection, Leighton Baines was the only new face in the starting XI. Joleon Lescott was dropped to the bench as David Moyes plumped for experience in the centre with Alan Stubbs and Joseph Yobo, while Tony Hibbert kept his place at right back. Up front, James McFadden started alongside Johnson, with Victor Anichebe joining Lescott, Phil Jagielka, Steven Pienaar and Stefan Wessels on the bench.
If the home fans had been expecting their side to come roaring out of the gates in a bid to quickly erase the memories of a poor display at Reading last weekend, they were to be largely disappointed. Instead, it was Rovers who started the stronger and more confident in what was a scrappy and niggly opening, Roque Santa Cruz chesting down and forcing a comfortable save from Tim Howard by shooting low from the angle in the 4th minute.
Conversely, though, it was Everton who had more chances to break the deadlock before the visitors actually did. Mikel Arteta fired a direct free kick straight at Brad Friedel before Stubbs forced him into a parrying block from a similar distance three minutes later. In between, Johnson stung the American keeper's hands with a half-volley that had he been able to steer a couple of yards either side would almlost certainly have gone in.
Unfortunately, it was another apparent defensive lapse that allowed Blackburn to take the lead after 15 minutes. The defence was caught cold as a Yobo header was lobbed back over the top to Morten Gamst Pedersen who controlled it on his chest before despatching an overhead kick onto the crossbar. The rebound fell to Santa Cruz whose scuffed shot bounced once and looped over Howard's dive and into the net.
Everton were rocked back on their heels by the goal and after Howard had pushed a David Bentley free kick out for a corner, Baines was pressed into emergencty action when he headed a Christopher Samba header off the line. A minute later, Howard acrobatically palmed David Dunn's curling side-foot shot behind for a corner as Mark Hughes' side threatened to turn the screw.
At this point the Blues' way back into the game looked a fair distance off. Their passing was ragged, Arteta was shackled by double marking, and Johnson was getting no change at all from the man-mountain Samba who stands almost a foot taller, could easily match him for pace once he got into stride with his long legs but was no contest when it came to sheer strength.
So with Johnson more or less nullified and McFadden struggling to find space and form when the ball went forward, often just lumped forward with little thought, it consistently came right back. Fortunately, though, Rovers didn't gain much more advantage from it for the remainder of the half. Pedersen saw a direct free kick and a header gathered comfortably by Howard but that was pretty much it.
At the other end, Carsley might have done better with a quick-reaction header after McFadden had fired the ball back in with Friedl stranded, Yobo hooked an awkward effort over at the back post off an Arteta free kick, and Phil Jagielka, a replacement for Carsley just before the break, was inches away from connecting with another Arteta free kick. So, 1-0 at half-time and perhaps an uncomfortable Goodison faithful.
The start of the second half brought a second substitution in quick succession, Lescott replacing Stubbs who had picked up a knock a few minutes before the interval. The pattern of Everton's play didn't alter much, though. At the heart of their problems were many of the limitations that made last season so frustrating at times — a general lack of width and a tendency to often try and force everything down the middle.
Baines, who made an impressive debut and looked on this evidence to be a highly astute buy, showed early on that he could fulfil a role not seen at Goodison since the days of Andy Hinchcliffe, that of the frequently over-lapping left back, but whether through preference or instruction he didn't make as many forays down the left flank as he might have were the Blues more dominant.
Johnson's work remained cut out for him against his powerful marker, Osman was markedly less effective than he was in the Blues' opening two games, McFadden more often than not chose the wrong option up front and you could sense the crowd losing patience with his, Neville and Hibbert's profligacy with the ball sometimes.
Arteta, however, was beginning to find more room to work his magic, sometimes by switching flanks and Everton's first real chance of the second period finally arrived in the 58th minute when Johnson did well to charge down a loose ball ahead of Friedl and a defender and whip it across goal where Jagielka wasn't able to get enough purchase on it to head it home, the ball glancing agonisingly wide instead.
The clear mis-match in size between the Blackburn defence and the Blues' attack was addressed in the 64th minute when Victor Anichebe's size and muscle was introduced for Tony Hibbert and the change allowed Everton to fairly quickly assert themselves more purposefully.
And in less than a quarter of an hour they were level. Some nice footwork by Arteta ended with the Spaniard crossing low into the box where McFadden turned the ball emphatically past Friedl with a first-time shot from around 12 yards out. The home fans immediately sensed an opportunity to turn the game on its head and steal all three points but while Johnson had a couple of opportunies denied by attentive defending and Jagielka chested and volleyed wide when well-placed in front of goal it was Blackburn who almost nicked it in injury time.
A Bentley free kick three minutes past the regulation 90 flicked off Johnson in the wall, Howard did brilliantly to finger-tip it onto the bar and when the rebound was despatched back towards goal it took a Lescott clearance off the line to prevent the winner from sneaking in.
Ultimately, this was probably a point rescued from another sub-par performance, one that was crying out for the guile of Fernandes and strength of Yakubu, two players whose arrivals appeared to be a mere formality before the match but appeared to be grave doubts by the time the Sunday games were kicking off a day later.
If anything, it brought home the fact that it's now time for Moyes to field his best XI from the start from now on. His loyalty to certain players and desire for either consistency or experience are laudible but on the back of two poor displays it's time to start putting his best foot forward and gel his best team. That means deploying Yobo and Lescott as the first-choice central defensive partnership and using Stubbs as the back-up central defender his age suggests he should be. It means that Steven Pienaar should be given his first start to show whether he can provide more in the Osman role.
It also means that the days where it made sense for a first-choice midfield featuring both Carsley and Neville are probably over. Jagielka has demonstrated enough so far to suggest that he is technically superior than both, with a better eye for a pass and is more effective in the final third of the field.
And, of course, depending on what happens with the two players who are in danger of slipping through the net there is the familiar story of needing to make some key squad additions before the transfer deadline closes at the end of the month lest we go into another European campaign short of much-needed personnel.
With the transfers of Manuel Fernandes and Aygebeni Yakubu still not completed, an interesting selection from David Moyes. who dealt with his injury problems by putting Lescott and Anichebe on the bench, while giving Leighton Baines his full debut before the Goodison Park crowd. Johnson and McFadden were paired upfront.
Blackburn came at Everton with intent but a handful of what should have been dangerous free-kicks for the Blues and some good shots on target from Johnson gave the impression it would only be a matter of time before they scored. But how wrong you can be! A disastrous sequence of play after a free-kick caught out the evidence and the ball was in the net after a mis-hit form Santa Cruz fooled Howard, after McCarthy's clever hook bounced back to him off the bar. Everton defensively woeful.
And Everton lived on the edge for the next 15 minutes, with a fabulous clearance off the line by Baines and numerous desperate save from Howard on just keeping them in with a chance.
After half an hour, a ball in came as too much of a surprise for Carsley with an open goal that he totally miscued, with Johnson prostrate. Later, another chance for Johnson that he failed to control properly and the chance was gone. And it seemed that on each attack, Blackburn had the freedom of Goodison Park, running into open spaces and swinging in dangerous balls that inspired plenty of nail-biting. Carsley was dragged off by a very annoyed David Moyes before half-time in favour of Phil Jagielka — a welcome attempt by DM to change the game before half-time for once!!! But another free-kick by Arteta was wasted before the break.
On the whole, a pretty awful half for Everton. But only muted boos from the frustrated crowd. Yes, plenty of industry but really we were outplayed for too much of the half by a far more adventurous Blackburn side who had plenty of opportunities to put us to the sword.
Lescott replaced Stubbs after the break, as David Moyes made a further break with his faithful Old Guard. A great chance created by Johnson's running and quick turn set up Jagielka but his contact was not sufficient to get the ball inside the post. Should have been the equalizer.
After 64 mins, with time ticking away, another bold move from Moyes: Anichebe on for Hibbert; 4-3-3, and more competition for the hoofballs that Blackburn's giant defenders were mopping up. Anichebe immediately did better but Everton were being constantly crowded out of the Blackburn area.
But after a superb sequence of possession play by Everton around the Blackburn area, a hopeful ball in low from Arteta was finished superbly at the near post by McFadden under a lot of pressure. Excellent goal... GAME ON!
Anichebe had a brilliant chance to seal it but he chose to wave his foot at a fantastic free-kick cross form Arteta, instead of launching himself to head it.
A huge let-off in stoppage time, as a deflected free kick needed a desperate lunge form Howard to push it off the crossbar and the follow-up was cleared off the line.
A great second-half response from Everton in the end; it took far too long for the Blues to get going really and many will be happy with the draw... even though these are the games we MUST be winning if Everton are to step up the challenge. Still unbeaten... but only just!
Michael Kenrick
Match Preview
Everton return home to Goodison Park this weekend looking to erase the memory of last Saturday's setback at Reading when the Royals notched their first ever victory over the Blues with a dogged performance and a slender 1-0 win.
David Moyes was forced to shuffle his pack for the first time this season when Joseph Yobo was ruled out of the trip to the Madejski Stadium, and he could have a bigger selection conundrum when Blackburn come to town for the tea-time Sky game on Saturday.
Yobo's progress in recovering from the groin strain sustained at Tottenham 10 days ago has been good but he may still be a slight doubt. Andy Johnson, however, might be greater cause for concern having been withdrawn from the England squad earlier this week because of fluid on the knee. He is expected to be ready this weekend, though.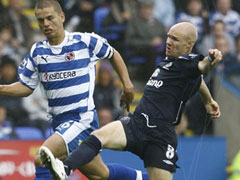 Andy Johnson:
expected to play despite missing the
England-Germany friendly in midweek
And he could, if reports are to be believed, line up alongside the Blues' new No 9 in the form of Aiyegbeni Yakubu. Middlesbrough have accepted a whopping £11.25M bid from Everton for the Nigerian and his transfer to Goodison, along with that of Manuel Fernandes, was expected to be announced on Friday.
If those two new introductions are secured in time and they along with Leighton Baines who could be ready go straight into the starting XI, they would potentially give the Blues more cutting edge than they exhibited against Reading. With Mikel Arteta off-form, Everton lacked the imagination and the guile to penetrate their host's stubborn resistance. Quite a difference from their previous outing when they revelled in the room afforded by Tottenham..
Blackburn for their part have made a good start to the new campaign, winning at Middlesbrough on the opening day, holding Arsenal to a draw at Ewood Park and securing a first-leg lead over MyPa in the second qualifying round of the Uefa Cup in between.
With new-boy Roche Santa Cruz already in scoring form, Rovers could cause the Blues a few problems but Moyes will feel that he now has a side capable of beating anyone on their day.
Matchday Stats
May appear here later
Everton Battle Back to Deny Blackburn the Points
Since Sky Sports began showing live games at 5:15pm, I've noticed Everton have thankfully (from an attending game prospective at least) generally been neglected for this kick off time slot. However with Setanta Sports now taking up the live kick-off games for Saturday evenings, they wasted no time at all in showing Everton, with this being only the fourth EVER game played on a Saturday evening at Goodison Park, the last of which was Wayne Rooney's first return to Everton in the 2004-05 season.
With the kick-off being so late, and a few mates going over to town for a few afternoon beers, I thought I'd join them in the Rat & Parrot to watch first Liverpool comfortably beat Sunderland away, and then Arsenal being somehow held 0-0 at home to at the time league leaders Manchester City (although Arsenal eventually won 1-0) before meeting the others in the more familiar territory of The Spellow. I was pleased to see Gary in particular as, so disgusted is he by the ground move to Kirkby, I had an inkling he might not attend at all for this one.
Whilst in the toilet some fella said "let's all just have a sit-in after the Man Utd game, don't move at all in protest". Another one said "sack that, let's just not go in at all…and I'm from Knowsley". He actually said this directly to me and being a "Yes" voter I just kept quite schtum. Either way, it does disturb me how much this has divided the Evertonian family. Two great friends Gary and Ste, who I go the game with every week have both said they won't renew for next season. Whether or not that's true we'll have to wait and see but I know they're both stubborn enough to not set foot in Kirkby, and I know they're not alone with this point of view.
Anyway, once it got to a suitable time to head to the ground, we set off. Having been back in Row PP of the Lower Gwladys in the opening tussle against Wigan Athletic, this time I actually had Row A tucked away towards the corner flag. Not a great view, but I do like being close enough to hear the players talk sometimes, and also to be able to stand up and sit down at my own leisure and not have to wait for others to sit down in front of me.
Tim Howard naturally started in goal. Leighton Baines debuted at left back to replace Nuno Valente, with Yobo also coming back into the team amazingly to replace Joleon Lescott. He partnered Stubbs, with Hibbert, a bit surprisingly for me keeping his place. The midfield stayed the same whilst McFadden, after an excellent cameo against Reading last week, deservedly started up front alongside Johnson. On the bench were new keeper Stefan Wessels, Joleon Lescott, Phil Jagielka, Steven Pienaar and Victor Anichebe.
As for Blackburn, they certainly offered promise in attack in the shape of Benni McCarthy and Roque Santa Cruz. With Savage in the midfield your always going to have a tough game but they also had Gamst Pedersen on left midfield, the tricky David Dunn in the centre and the feisty Brett Emerton also in midfield. Most impressive for me was the performance of Chris Samba at the back. He had an excellent game, I felt.
After a 1 minute applause to celebrate the short life of the tragically murdered 11-year-old Rhys Jones, a young Evertonian who was horribly shot dead in Croxteth last Tuesday evening, Mike Riley got us underway. We started brightly and pressed well in the opening exchanges, forcing Friedel into two saves from outside the box. The first a parry from a rapid drive from Andy Johnson on the half volley, the second a good save low down from a powerful Alan Stubbs free kick.
Following this good start, Blackburn took the lead with a goal out of nothing. They'd scarcely been in the game up to this point so it was very disappointing to concede at this point. Somebody, presumably McCarthy, acrobatically overhead-volleyed against the crossbar after a long punt up field, Everton were slow to react to the rebound but Santa Cruz wasn't, as he bundled it home well to give Blackburn an early advantage.
Once again, Everton had conceded a soft goal. It's disappointing that we're still to keep a clean sheet given how well we defended last season. This should have given Everton more of an incentive to attack but it was in fact Blackburn who controlled the game for the rest of this half and they were unlucky not to be further ahead before the break. McCarthy came very close before the break and Howard was forced into an excellent flying save, I think from David Dunn.
In the midst of all this ex-Blackburn man Lee Carsley came off injured to give Phil Jagielka a home debut. Also, I'd received a call from Gaz saying the seat next to them was free so I viewed the rest of the game back in my old seat from last season, which was nice. The best Everton could offer in retaliation was when McFadden cut inside just before the break and hit it from about 20 yards, forcing a comfortable save from Friedel low down to his left. After just 1 minute of stoppage time the whistle blew and things had to get better in the second half.
Another change had been made at half-time as the players came out for the next 45 minutes. Alan Stubbs was subbed, presumably with injury, with Joleon Lescott replacing him. Most of the second half was generally played in midfield with Blackburn trying hard to force a second goal, and hence effectively seal the game, and Everton doing their best to force their way back into the game. Phil Jagielka was at the heart of most things as he confidently pulled the strings in the middle of the park. I though he did very well. Arteta was generally anonymous for most of the half and it took the introduction of Victor Anichebe to give Everton a greater emphasis to attack. Prior to this the closest we'd probably came was when Johnson and Osman went to shoot at the same time, with Osman resultantly only booting Johnson who had to go off for treatment!
As time ticked on Everton began to press more and more and finally got the equaliser we just about deserved. Arteta finally began to get on the ball and it was his low delivery which McFadden got onto and deftly flicked into the corner with his right foot on the volley. It was an instinctive finish by McFadden, and set us up for a grandstand finale.
It was now that Everton seized the initiative and went for the kill. Blackburn, having dominated the first half and matched Everton for most of the second, now found themselves hanging on and wasting time. Everton forced a few corners which came to nothing in the end but the closest we came was probably after some exquisite skill by Arteta as he skipped by three or four challenges, and he then played a good ball out wide to McFadden. He crossed into the box and those in the box had a few stabs at it. The ball was half cleared by the defence to Jagielka at the edge of the box who chested it down and volleyed a few yards wide when perhaps he should have done better.
It wasn't over yet however as Blackburn, despite their time-wasting efforts, still had time to force one more scare. A free-kick for a foul by Neville was whipped into the box. Somebody headed goalwards and it cannoned back of the bar. Somebody else (apologies, it all happened so quick) then followed it up but Lescott cleared off the line. It then came back to substitute Matt Derbyshire who couldn't get hold of the rebound and screwed the ball well wide. Everton had a corner or two after this but failed to force anything and Mike Riley, who had a good game, blew the full time whistle shortly afterwards and it was honours even at Goodison Park.
Overall, a fair result and not a bad battle to watch at all.
Player Ratings:
Howard: Was immense in the first half when he needed to be with good saves, good cross-taking, good communication and good distribution. Second half he was equally good but not as busy. Overall, erm, good! My man of the match. 8

Baines: Thought he was OK but not spectacular. I think I'd rather have had Valente's attacking intent for this one but Leighton needed to start somewhere and will get better with games you feel. He's fast!. 6
Stubbs: Was struggling slightly in the first half before being subbed at half time, presumably with injury. 5
Yobo: Was quite solid, especially in the second half. One last ditch challenge on McCarthy particularly comes to mind. 7

Hibbert: Had a shocker really. Distribution was poor as usual and could possibly be at fault for the goal as Cruz was on his side. To his credit he never hid but he may be in danger of getting dropped next week at Bolton. 5

Osman: Not in the game much but I thought he used the ball well when he did have it. 7
Neville: Had a good presence in midfield and coped well at right back when moved there once Anichabe was introduced. 7

Carsley: Started very well but then went quiet, presumably once he got injured. Was then replaced by Jagileka. 5

Arteta: Did alright in the first half but was quite anonymous in the second. Ste says he had two men on him at all times until Anichabe was introduced, thus forcing a defender to drop back, therefore freeing up Arteta. The result - a cross for the goal and much more attacking intent from Arteta. Shame he didn't have more time and opportunity to do this however. 5

Johnson: Simply not at the races. I don't think he's fit and maybe that knee needs a lot more treatment. 5

McFadden: Kept at it and got his rewards with his late strike. 6
Jagielka (for Carsley): Coped brilliantly I felt and looks very comfortable and confident on the ball. Looks as though he could do a great job in midfield. As Gaz pointed out you, can tell he's a defender as he often passes sideways even if there's big gaps to run into. If he was urged forward more he really could become the complete midfielder one day I reckon. Should be in next week. 7

Lescott (for Stubbs): Coped well at the back without fuss. Take head Van der Meyde. Nobody's undropable. 7

Anichebe (for Hibbert): Hustled well and caused problems for Blackburn, ultimately resulting in our equaliser. 6
Match Review
Tim Howard
Had a solid game and made a great save late on but I do feel he could have done better for their goal. When Santa Cruz shot Howard jumped the gun and like an old girlfriend of mine went down far to quickly.
Rating: 6
Tony Hibbert
I've defended Hibbo over the last two games as some of the more critical fans seem to have chosen him as a whipping boy but this performance has played into their hands. Was at fault for the Blackburn goal and gave the ball away too easily. Made a couple of good tackles but was probably relieved when Moyes ended his misable evening after 64 minutes. Going to have to improve quickly if he wants to retain his place in the starting 11.
Rating: 5
Leighton Baines
A difficult game to come back from injury and make your debut but Baines did admirably. Looked solid at the back and got forward whenever he could to deliver crosses. Will undoubtedly improve as his fitness returns and he finds his feet in his new team. Decent start to his Everton career though.
Rating: 7
Alan Stubbs
Given a surprise vote of confidence over Lescott. Stubbs had his hands full with the impressive Santa Cruz and always dangerous McCarthy. To be fair Stubbs struggled and an injury gave Moyes the opportunity to replace the player without losing too much face.
Rating: 5
Joeleon Lescott
Was surprisingly dropped from the starting line-up but played for the second half. Looked more comfitable then Stubbs against the Blackburn forwards. The Everton back line seemed more composed with his presence and Blackburn's attacking ability was limited in the second half. I doubt Moyes will make a habit of leaving Lescott out.
Rating: 7
Joseph Yobo
Back in the side after missing the Reading defeat. Looked solid enough but not quite as assured as he was last season. Not a bad game but he really failed to impose himself on Santa Cruz and McCarthy. Blackburn's impressive Samba dominated and is a perfect example to Yobo what we expect from our best defender.
Rating: 6
Lee Carsley
For 15 minutes Everton looked great with Carsley and Neville pissing all over Savage and Dunn in the midfield battle. Then against the run of play Blackburn took the lead and Carsley started to lose his grip on the game. Taken off injured at half time which may explain his below par performance. Not his best day at the office.
Rating: 5
Phil Jagielka
Came on for Carsley just before half time. Looked very at home. Tackled well, distribution good and got forward whenever he could. Looks a terrific player and surely did enough to justify a starting place in the next game. Missed a sitter of a header though.
Rating: 7
Phil Neville
Like Carsley started great but as the game turned against Everton Neville became more frustrated and started to give away silly freekicks. Continued to push his team to the eventual equaliser but his lack of control on the ball became more annoying as the time all too quickly ticked away. Looked more comfitable when Moyes switched him to right back.
Rating: 5
Mikel Arteta
It seems to be a case of when Arteta plays well so do Everton. Unfortunately in this game Arteta spent too much of it invisible, becoming frustrated on the right and drifting in centrally out of position looking for the ball. Came alive during the last 10 minutes (as did Everton) but too little too late. Has he become too important to Everton? Are opposing managers starting to realise that the key to beating Everton is to snub out Arteta? Lets hope Manny Fernandes can offer another option and change that soon.
Rating: 6
Leon Osman
Another one of those games where Osman struggles to make an impact. Was always going to be difficult for Osman considering Blackburn's physical game but to his credit he continued to work as hard as he could and was always open for a pass. Can excuse this rather poor showing bacause of his blistering start to the season.
Rating: 5
James McFadden
On from the start in another surprise decision by Moyes. The Scotish Rooney (try not to laugh) was reduced to the impossible task of trying to win arial battles against the giant Samba. Took his goal well but still suffers from a tendancy to make silly decisions when on the ball. Just looks out of his depth at this level. Like a poor man's Robbie Keane.
Rating: 6
Andrew Johnson
I hate to admit it but I'm starting to find myself getting cross at AJ. Far too often I found myself shouting at him when he failed to get a shot off in time or blazed wide. Its hard because I like AJ as a player, hard working, decent bloke but at the moment he looks like he's taken over Beattie's mantle as the Everton player most in need of a goal. I'm still an AJ fan but there is a serious chance that a few more games without a goal and I could all too easily turn against him permanently.
Rating: 5
Victor Anichebe
Came on just after the hour and provided some much needed physical presence up front. After pissing all over AJ and McFadden for an hour Blackburn's Samba actually struggled and seemed to be taken by surprise by Anichebe's presence. An impact substitution seems to suit Victor at the moment as he continues to develop.
David Moyes
His decision to drop Lescott and start Stubbs was a mistake. As was starting McFadden (although he did score so maybe that was actually a good decision). It took Moyes all too long to realise that AJ and McFadden were never going to win an aerial battle against Samba. To his credit he continued to push his side and they looked much improved after a half time talk. He also scores points for removing Hibbert early and bringing on Anichebe. Once deals for Yakuba and Fernandes are confirmed it will be fair to say Moyes has spent big this summer. And with big spending comes higher expectations. Performances like this had better not become a habit.
Rating: 6
The poor performance hurts all the more because I had to subscribe to Setana Sports to watch it. Still it's a point and it seems Everton are as hard to beat as last season.
* Unfortunately, we cannot control other sites' content policies and therefore cannot guarantee that links to external reports will remain active.
EVERTON (4-5-1)
Howard
Hibbert (64' Anichebe)
Yobo
Stubbs (45' Lescott)
Baines
Osman
Neville (c) :18'
Carsley (41' Jagielka)
Arteta
Johnson
McFadden
Subs not used
Wessels
Pienaar
Unavailable
Cahill (injured)
Vaughan (injured)
Turner (injured)
Anderson (on loan)
BLACKBURN (4-4-2)
Friedel (c)
Warnock
Samba
Ooijer :7'
Emerton
Bentley (89' Roberts)
Savage
Dunn (86' Mokoena)
Pedersen
Santa Cruz
McCarthy (74' Derbyshire)
Subs not used
Brown
Tugay
Premier League Scores
Saturday 25 Aug 2007
Sunderland
0-2
Liverpool
Arsenal
1-0
Man City
Aston Villa
2-1
Fulham
Bolton
3-0
Reading
Chelsea
1-0
Portsmouth
Derby
1-2
Birmingham
West Ham
1-1
Wigan
Everton
1-1
Blackburn
Sunday 26 Aug 2007
Middlsbro
2-2
Newcastle
Man Utd
1-0
Tottenham
Premier League Table
Pos
Team
Pts
1
Chelsea
10
2
Man City
9
3
Wigan
7
4
Liverpool
7
5
Everton
7
6
Arsenal
7
7
Newcastle
5
8
Portsmouth
5
9
Blackburn
5
10
Man Utd
5
11
Aston Villa
4
12
Birmingham
4
13
Middlesbro
4
14
West Ham
4
15
Reading
4
16
Sunderland
4
17
Tottenham
3
18
Bolton
3
19
Fulham
3
20
Derby
1
After 26 Aug 2007