Jagielka gets England Euro2012 call
28/05/2012 |

11 Comments:
First
|
Last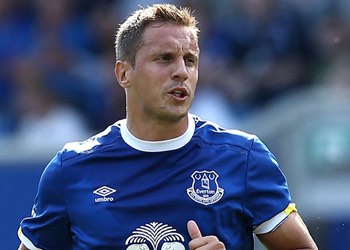 Roy Hodgson has drafted Phil Jagielka off the standby list and into his squad for Euro2012 after Gareth Barry was ruled out of the tournament with a groin injury. Jagielka will join teammate Leighton Baines in Poland/Ukraine next month.
Original Source: EvertonFC.com
Comments
Note: the following content is not moderated or vetted by the site owners at the time of submission. Comments are the responsibility of the poster. Disclaimer
Kev Clark
156
Posted 28/05/2012 at 16:22:51
Great news for Jags, By far man of the match on Sat. For the first time in a long time for a major tournament I can say....Come on England!
Danny Broderick
158
Posted 28/05/2012 at 16:37:49
They are the best English centre half partnership. They kept a clean sheet against Spain recently, as well as away in Norway, so Jags deserves to go...
Mark Riding
160
Posted 28/05/2012 at 16:59:56
I wish him well. What I cant really see though, is why you would replace a defensive midfielder like Barry with a centre half ?
Tony Cheek
163
Posted 28/05/2012 at 17:14:03
If you saw the game against Norway Mark, you would know why. They pushed us back all game... we should field a team of centre backs if we are going to use them tactics in Euro 12!
Mark Riding
169
Posted 28/05/2012 at 18:52:34
Just read this comment from twitter posted on the bbc website..
Jack Gravestock on Twitter: "People are forgetting that Jagielka can play a holding role in midfield similar to Barry. Still negative though...."
Surely this is someone from TW on the wind up !!
Bobby Thomas
191
Posted 28/05/2012 at 20:32:36
Mark, I think this is how it is, I think.... Phil Jones being able to play centre half, full back and holding role means Jones will now be the immediate cover for Scott Parker instead of Barry.
He's now first choice cover for right back and holding player, with much less chance of playing at centre half than there was due to the Jag now being in the squad.

Roman Sidey
214
Posted 28/05/2012 at 22:50:39
Woy has done a Moyes.
Lev Vellene
218
Posted 28/05/2012 at 23:18:36
Good for Jags, but I almost (!) regret seeing EFC players in any international setup. If they do good, someone with money may spot them... :P
Jem Traynor
248
Posted 29/05/2012 at 10:04:07
Yes, we all know what to expect by this choice change over of players and position.
It's amazing to me because we all know that Lampard and Gerrard are not up to it in the centre so there will be a heavy reliance on the wings but what's new? There we will be, watching England go out early and looking forward to the World Cup, sorry the Premier League for some sporting satisfaction after that.

It really is over before it's begun.
Richard Reeves
256
Posted 29/05/2012 at 10:59:40
Lev, I agree with what you're generally saying but this is one occasion where I hope someone will spot Jagielka having a good tournament and hopefully put in a big offer. Just after the Euros could be the perfect time to sell Jags as his value would probably be at its peak.
James Stewart
270
Posted 29/05/2012 at 12:34:02
Danny you make a good point. Lescott/Jagielka is a cracking pair.
Shame neither will play! Cahill/Terry will be the starters and England will crash out mark my words.
Add Your Comments
In order to post a comment, you need to be logged in as a registered user of the site.

Log in now
Or Sign up as a ToffeeWeb Member — it's free, takes just a few minutes and will allow you to post your comments on articles and MailBag submissions across the site.
© ToffeeWeb