'We should have looked after the game'

51 Comments [Jump to last]
Sunday 8 January 2017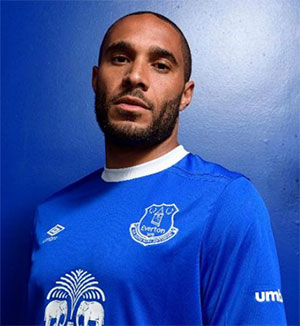 Everton's players were left ruing a missed opportunity after yesterday's disappointing exit from the FA Cup at the hands of Leicester City.
The Blues were in control of the match having taken the lead in the 63rd minute against a side that had been primarily defensive up to that point but were hit by a classic sucker-punch soon after taking the lead when they needed to stay organised. Everton couldn't deal with the Champions' response, conceding two goals in five minutes when Ahmed Musa cancelled out Romelu Lukaku's opener and then scored what proved to be the winner. Ronald Koeman's men failed to summon a response to salvage a replay in the last 20 minutes and exited the second domestic cup competition of the season following a home tie.
Defender Ashley Williams blamed a lack of game management for the way in which Everton threw away the lead.
"It's a missed opportunity definitely, especially with the way the game went with us going ahead," Williams said in the Liverpool Echo.
"In the first half, it seemed the game was waiting there for us to take it and win.
"That it's a missed opportunity makes it even more disappointing.
"The manager is not happy, he's disappointed as we all are. He expects us to do better. It's the same as the fans and players and everyone involved.
"We feel we should have looked after the game. We wanted to have a good run in this and go all the way if possible."
"We had a little bit of a wobble when they scored the two goals quickly and we didn't deal with that very well. That period killed us a little bit.
"I'm not sure if it's because we dropped too deep. I'd have to watch the game again to be sure."
Meanwhile, Gerard Deulofeu made a relatively successful return to the side personally but the defeat meant that his day ended in more disappointment.
The Spanish winger hadn't featured in Koeman's side for over a month and had been linked with a loan move away during the current transfer window but he made a case for more involvement by laying on the assist for Lukaku to tap home.
"It was a disappointing result," Deulofeu told evertontv. "We scored against Leicester who were a defensive team and it was so difficult to take the advantage. After that the team lost balls and dropped back a little bit.
We need to attack when we're winning. We need to improve, we need to train better and now Man City is a big game. We need to leave today in the past.
"I had a chance to play minutes and this is what I want. When I got on the pitch, I took my chance but it's disappointing because we didn't win. I don't go home happy.
"I'm happy [on personal level] because I need to contribute more goals and assists, but the most important thing is to win the game."
---
Reader Comments (51)
Note: the following content is not moderated or vetted by the site owners at the time of submission. Comments are the responsibility of the poster. Disclaimer
Anthony Hughes
2
Posted 08/01/2017 at 17:09:46
If you wanted to look after the game, Ashley, then why didn't you do it out on the pitch at the time, instead of talking about it after the fact?
How about showing some of this much vaunted leadership, eh?
Ray Smith
3
Posted 08/01/2017 at 17:11:21
Was yesterday's defeat a blessing in disguise? I may get shot down here; however, would we have gone on to win the cup? Not with the current squad!
The urgency to sign new players has developed whereby we buy (hopefully) 4 players during the window, who will be bedded in for a tilt at top 5 next season!
This season is over. I would agree that a 9 point gap is achievable to overtake Man Utd, but not with the negativity currently surrounding the squad.
Lookman, Scheinderlin, Depay and Gabiadini, followed by Hart in the summer. Waiting to be shot down... or do you agree with me, or part of what I am saying?
Soren Moyer
4
Posted 08/01/2017 at 17:14:34
Here we go again. The usual "we should have done this, we should have done that, we will put it right next time", etc.
Brian Williams
5
Posted 08/01/2017 at 17:15:43
Ray. It will only be a blessing in disguise if it actually has an effect, ie, if the powers that be DO get their fingers out and get the signings we need.
I have to agree that we didn't really have a chance of winning it... there – I bet you're surprised by that reaction, aren't yer? :-)
Ray Smith
6
Posted 08/01/2017 at 17:23:43
Brian (#5),
I did think twice before posting!
However, thanks for your comments.
I've supported Everton for over 50 years now, through thick and thin.
Koeman will get it right, with the right support from on high in the transfer market!
Armando Canaj
7
Posted 08/01/2017 at 17:25:02
To be fair, Williams and Robles were shouting instructions all the way through the game. They are involved. You can only hear them from seats close to the pitch. You definitely don't see it on TV.
I was there and was stunned to see the two goals go in for them. Simple lapses in concentration in the midfield.
We do need players but won't get any in January. Koeman has given a clear message to the people who matter and with responsibility to deliver. He made changes but what choice did he have but to leave Barry on? No cover, no depth in the squad.
Laura Round
8
Posted 08/01/2017 at 17:55:19
I said similar to hubby, Ray. As Brian says, it's an IF. We'll have to see.
Mick Davies
9
Posted 08/01/2017 at 17:56:52
Ray, how can a home defeat in a competition that is winnable, be a positive? Try telling the thousands who actually paid to support the blues yesterday, I'm sure they'll have a different point of view.
Laura Round
10
Posted 08/01/2017 at 18:06:56
No-one is happy about it Mick. I paid for 5 tickets. Just trying to find a positive outcome.
Just say we had gone on to win. I'd be thrilled. But would it be papering over cracks. Pacify everyone for a bit.
Oliver Molloy
11
Posted 08/01/2017 at 18:09:19
"I'm not sure if it's because we dropped too deep. I'd have to watch the game again to be sure."
is he for real?
Brian Williams
12
Posted 08/01/2017 at 18:10:21
Mick. He didn't say it was a positive. The point he's making is that perhaps only a result like that can give the board the kick up the arse they need.
Dunno about it being winnable. Had we scraped through yesterday, could you see us beating the big boys to win it?
And yes... I paid to go and watch yesterday... as I do every home game.
Will Mabon
13
Posted 08/01/2017 at 18:24:08
Ray, post 3:
I'm totally at a loss to understand these calls for getting in Depay, yours being the latest of many.
The manager that brought him to Man Utd pretty quickly realized what Depay was all about, and quickly sidelined him. Mourinho doesn't want him.
So here we have a player at Manchester United. All the usually-cited motivators are there for the guy Mick. He didn't say it was a positive. The point he's making is that perhaps only a result like that can give the board the kick up the arse they need.
Dunno about it being winnable. Had we scraped through yesterday could you see us beating the big boys to win it? And yes I paid to go and watch yesterday as I do every home game. One of the world's biggest clubs with a huge history of success. Many high-level playing colleagues, and the resources to attract more on a continuing basis. Massive fan support. Top managers (mostly!). The likelihood of Champions League football. The financial rewards.
Despite all this, the guy by all accounts, is a big-time Charlie that can't be arsed. What on earth do people think Koeman is likely to do for/with him? Who has Koeman motivated here so far? The Dutch "connection" is a rather desperate hope.
I can't see why some people are applying totally different criteria to existing players we already have, as against others as potential targets. It's blind faith IMO.
Will Mabon
14
Posted 08/01/2017 at 18:30:12
As to the topic at hand... I wish someone in EFC PR would stop this succession of ridiculously predictable apology pieces, stating the absolute obvious. It's becoming rather patronizing.
Clive Mitchell
15
Posted 08/01/2017 at 18:30:40
'We should have looked after the game.'
What was crystal clear to those at the game yesterday was that Everton in general, and several players, including Ashley, in particular, simply weren't good enough to look after it. This side isn't as bad as the 1998 Gareth Farrelly et al team. But this isn't 1998.
Mark Morrissey
16
Posted 08/01/2017 at 18:33:31
If you think we will get in 4 players during this January window, you're made. How many did we get in during the Summer window having sold a player for over £40 million?
Depay? He turned up at the last big Fight Night I saw on TV dressed as a Spanish Matador complete with hat. Bullfighter? Bullshitter more like; no ta...
If we get 4 in during January, I'll go to the foot of our stairs. It won't happen.
Ray Smith
17
Posted 08/01/2017 at 18:59:35
Will (#13),
I hear what you say.
I included him as it seems Koeman has made him a target, and odds on, he will arrive. We shall see.
Mark (#16),
I hope your wrong, but it has a ring of truth about it, especially if Kenwright has a hand in the process.
I stick by my original post.
I'm big enough to say I got it wrong, and won't gloat when I say, told you so!!!
Got a feeling it will be somewhere in the middle.
James Carroll
18
Posted 08/01/2017 at 18:59:45
A win would have been great, of course – but, as said, papering over cracks.
Now more reason than ever for multiple strong signings. That may not have been sanctioned so quickly following a decent Christmas run of results and a cup win.
Now, Koeman has thrown down the gauntlet dramatically and very publicly. The next 2-3 weeks will tell us a lot.
Colin Glassar
19
Posted 08/01/2017 at 19:07:11
Day 8 in the Everton house and only one new player in.
Soren Moyer
20
Posted 08/01/2017 at 19:18:26
And that is "one for the future"? As Stones was!
Eric Paul
21
Posted 08/01/2017 at 19:26:13
The transfer window should be for 1 week because all the marquee signings happen at the 11th hour, so Sky can sensationalise it.
Charles Brewer
22
Posted 08/01/2017 at 19:41:27
To be honest, I've pretty much written off this season. And probably the next few too...
Colin Glassar
23
Posted 08/01/2017 at 19:48:20
C'mon Charles, we've got the 7th placed ribbon to play for.
Eddie Dunn
24
Posted 08/01/2017 at 20:05:03
Koeman has upped the ante, put pressure on the board. Ironically, a win yesterday may have given the board an excuse that we don't need too many new faces. Now Koeman has made it crystal clear that we do.
Unlike his predecessors, Koeman knows that his boss has got money. If we see very little movement in this window, then we know that nothing much has changed at EFC.
It is time for Moshiri to put his money on the table... and please don't leave it till the last minute – I don't want to hear it from Jim Feckin White!
Bobby Mallon
25
Posted 08/01/2017 at 20:27:27
Stop fucking talking about it and stop loosing, for fuck's sake!
Martin Nicholls
26
Posted 08/01/2017 at 20:57:11
So they're all "a little disappointed" – very Walter Smith, I must say!
Doesn't sound like throwing the game (and competition) away hurt them anywhere near enough. Get some winners in, Everton!
Colin Hughes
28
Posted 08/01/2017 at 21:11:15
What makes yesterday's exit all the more galling is it was less than 3 weeks ago that the team ran out to a banner unveiled by the RedShite celebrating our 21 years without a trophy, but nothing it seems motivates our players to put it right.
Chris Leyland
29
Posted 08/01/2017 at 21:30:39
Colin – 7th place may well get Europa League next season on the following basis:
Man Utd or the shite win the League cup and finish in the top 6;
Any of the top 6 win the FA cup (which by my reckoning has happened in 19 of the past 21 seasons)
Not sure whether it is a good or bad thing to qualify for the Europa League but it could be worth more than just a 'ribbon'.
Jim Bennings
30
Posted 08/01/2017 at 22:06:36
No winners in the team, losing doesn't hurt them enough!
We had a spell under Moyes with players like Phil Neville, Tim Cahill, Mikel Arteta, Lee Carsley, Alan Stubbs, Davie Weir, Tony Hibbert... they didn't win anything but you feel it hurt them to lose.
I look around now and don't see enough vocal men who are going to be banging heads in the dressing room after losses like Saturday.
Mike Gaynes
31
Posted 08/01/2017 at 22:11:15
Bobby (#25), aren't you the same fella who posted yesterday that we shouldn't be so upset because, after all, we lost to the Champions?
You could get whiplash changing directions that fast.
Bobby Thomas
32
Posted 08/01/2017 at 22:15:58
I will say it again. Placing all your chips on this window is madness. I'm beginning to get a little concerned at some of our transfer "activity" as well.
We seem to be very keen to pay £20 - £30 million for players 27 and over who, frankly, aren't all that. And at that age you're not likely to get much better.
Bolasie just isn't that good, and was massively overpriced. The holding player from Man Utd (can't be arsed typing his name) will be £20 - £25 million and will be 28 soon. I will give him a break, he is decent. But for how long? We dodged a £30 million bullet in Sissoko, who was also 27.
The type of lads we bring to the club is important as well, and Sissoko and Depay seem to be challenging each other for a European spot in the Premier League of Top Bellends. We were, and are, interested in these players. There is no way we should take Depay on a permanent deal. No fucking way. It's a loan, or walk.
Frankly, since Moyes left our transfer policy is a joke. Funes Mori, Niasse, McCarthy (£13 million?!?!) and a load more now, on not one top class player.
Alienating your players, banging on incessantly about this window, and board members saying we only have one window to sort shit out is ridiculous. It can't be done overnight.
Get a fucking grip, say you're in the market, shut the fuck up, and manage the top 8 squad you've got better so you can win at least one of your two home draws against shit teams.
I don't like the way this is shaping up.
Douglas McClenaghan
33
Posted 08/01/2017 at 22:53:04
I think this match was a turning point. With no silverware to play for and a dim chance of Europe, I'd say Lukaku is gone.
The planning for post-lukaku Everton should start now. This means a total restoration job, not papering over the cracks as others have correctly pointed out.
I'm not fussed about this window – bring in the best players for our club now or at season's end – no knee-jerk purchases please. I'd rather we bought no one than got into another Niasse-esque fiasco.
Bob Parrington
34
Posted 08/01/2017 at 23:36:15
Mick Davies (#9).
There's usually a positive somewhere in defeat. It's a case of mind set. I can't think of much in this instance. Perhaps, with the current squad and rebuilding program, it is that the players might be fresher for Premier League games than they would have been if we had a good cup run. Possibly less injuries, too!?
Paul Kossoff
35
Posted 09/01/2017 at 01:25:40
Same old excuses, after the fact. You are a cart horse Williams, you are not good enough. Every bloody time this team mess up they roll out another excuse-maker.
We better get some class signings in quick, as I can't see us staying where we are in the league for much longer.
Koeman and Walsh need to sit down with the board and insist on the funding of rebuilding this squad or we may be playing in our new stadium in the Championship.

Dan Egerton
37
Posted 09/01/2017 at 04:47:57
Meanwhile... newspaper reports (yeah, I know) say Watford are in for Cleverley. Yes, please.
Dan Egerton
38
Posted 09/01/2017 at 05:37:07
Good point, Douglas McClenaghan. I wonder if money changed hands over that deal. Maybe Bobby Brown Shoes collection got bigger.
Geoff Evans
39
Posted 09/01/2017 at 10:36:18
If you're not up to the job stop picking up Premier League wages for Football League performances. One player fit to wear the shirt and he's at the ANC.
A club full of over hyped shite talking and performing crap, week-in & week-out.
Your not up to it, do the decent thing and go away.
James Hughes
40
Posted 09/01/2017 at 10:52:17
Not sure I would like to qualify for the Europa League via the 7th spot. It played Hell with West Ham's season as the first game was mid-July. They go knocked out early and it all went tits up from there.
If it does happen give the pre-lims to Rhino and the boys as they would all get experience and game time. Maybe putting some pressure on the 'senior' players if they get to the group stages.
Clive Rogers
41
Posted 09/01/2017 at 11:04:26
I thought we looked worse defensively in 2nd half when Holgate went off and Coleman moved back. Might be time to leave Coleman out for a while.
Geoff Evans
42
Posted 09/01/2017 at 13:28:29
'We should have looked after the game'
Geoff Evans
43
Posted 09/01/2017 at 15:42:30
'We should have looked after the game' What the fuck is that gobbledegook supposed to mean??? Words, words, words.
How about saying: "We are the biggest bunch of shite in the Premier League, and shouldn't be wearing the shirt!"
Then at least you'd be remembered for your honesty, before you all piss off.

Ricardo Gimpardsle
44
Posted 09/01/2017 at 15:51:20
Geoff,
How about saying: "We are the biggest bunch of shite in the prem, and shouldn't be wearing the shirt!"
With 13 teams below them in the league, just how honest would that be?
John G Davies
47
Posted 09/01/2017 at 16:23:40
Be honest lads.
How many who are ripping the back off Williams posted they didn't want him while we were negotiating his transfer?
Paul Kossoff
48
Posted 09/01/2017 at 17:20:22
John 47, me! I didn't want him, he's too small for supposedly stopping free headers in our box, he repeatedly gets caught way way out of position, he's slow and is definitely not the answer to our poor defence. He's bloody 33 this year so at least he fits in with the other thirty-plus brigade.
So sorry John, I never wanted him, we would have done better if we didn't take the lazy options of buying an established player who's near the sell-by date.
Mark Morrissey
49
Posted 09/01/2017 at 17:32:53
I wanted him, I don't now. He's not the player I felt we were signing. Slow, dithering footballer...
However, I think he's a trier, does his best and sometimes that counts for a lot but we have basically signed a second Jags. Both are triers but both are past their best.
I wanted to keep Stones but we are Everton...
John G Davies
50
Posted 09/01/2017 at 17:52:44
My question, Paul, was how many "posted" they didn't want him?
James Hughes
51
Posted 09/01/2017 at 18:01:23
John (#50), he cant answer that unless he personally goes thru' every post in the period concerned. A bit of a pointless riposte.
My question is: How about how many posted Davies is the new Peter Reid or Ross is a tosser? Or do you have a any reliable taxi firms?
John G Davies
52
Posted 09/01/2017 at 18:43:06
James.
I was asking if he posted he didn't want him.
Ricardo Gimpardsle
53
Posted 09/01/2017 at 18:43:41
Funny how people change what they want when what they wanted turns out to be not quite what they thought it would be!!
Darren Hind
54
Posted 09/01/2017 at 19:05:07
I posted repeatedly that a move for Williams was a bad one. He was too old to be paying that sort of money for. He had spent the majority of his career outside the premiership. There was a reason for that.
I didn't think he was good enough at the time and I have seen nothing to change my mind.
Geoff Evans
55
Posted 09/01/2017 at 19:12:38
Williams is no worse or better than what we have, just another average player, the only type this club can attract.

Andy Meighan
56
Posted 10/01/2017 at 11:59:19
John.
I wanted him and when we were supposedly quibbling over the fee there was talk Arsenal were after him which I was fuming about.
As every time I'd seen Williams play especially against us he always seemed that no nonsense defender we were desperate for. How wrong was I? Been a major disappointment along with Koeman's other buys (Gueye apart).
And really I don't like the sound of the players we are being linked with. Worried. You bet I am. This'll all end in tears
Add Your Comments
In order to post a comment, you need to be logged in as a registered user of the site.
Or Sign up as a ToffeeWeb Member — it's free, takes just a few minutes and will allow you to post your comments on articles and Talking Points submissions across the site.