Arouna Kone is set to leave this summer

43 Comments [Jump to last]

| Thursday, 04 May 2017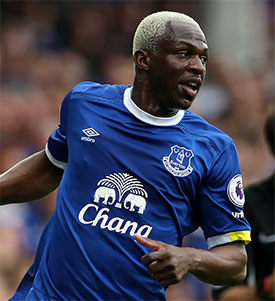 Kone has scored 10 goals for Everton in four seasons with the club
The Echo reports that Arouna Kone's contract will be allowed to lapse this summer, freeing him to leave the club.
Kone is out of contract at the end of the season and will leave as part of an expected clearout of the Blues squad. Ronald Koeman is set to wield the axe on a number of the existing squad and Kone will be allowed leave on a free.
The 33-year-old came close to joining Crystal Palace on deadline day in January but the move fell through as the cut off point neared.
Kone wants to stay in the Premier League and the Liverpool Echo reports that a number of top-flight clubs have expressed an interest in signing the Ivorian.
Despite having played for Koeman at PSV Eindhoven, Kone has made only a handful of appearances for Everton this season. The former Wigan Athletic striker has been hampered by a fresh knee injury and has only been used on seven occasions.
---
---
Reader Comments (43)
Note: the following content is not moderated or vetted by the site owners at the time of submission. Comments are the responsibility of the poster. Disclaimer
Ross Edwards
1
Posted 04/05/2017 at 15:27:01
Sunderland hat-trick last season apart, he's been useless.
Laura Round
2
Posted 04/05/2017 at 18:01:25
My son's first game, Ross... What a game – he loves Kone! 😂
Ian Burns
3
Posted 04/05/2017 at 18:13:18
Arouna Kone – now that name rings a bell – didn't he turn out for Everton once or twice?
Frank Crewe
4
Posted 04/05/2017 at 18:27:59
Oh no! This is the worst news I've had since I woke up to discover Donald Trump had been elected President of the USA.
Darryl Ritchie
5
Posted 04/05/2017 at 18:28:37
Actually, before he came on against Chelsea, I had forgotten he was even in the squad.
Mike Berry
6
Posted 04/05/2017 at 18:53:00
Good luck to him in his future playing days, it's not easy coming back after his injuries.
He played for Everton, did his best and we should respect that.
Josh Barber
7
Posted 04/05/2017 at 19:09:38
For me, it reflects well on Koeman that he's letting Kone leave. There are obviously a few others, but it all depends on who Everton can bring in. Most of the names being tossed around are going to be snatched up by bigger clubs that are playing champions league football already.
Colin Glassar
8
Posted 04/05/2017 at 19:33:42
Gutted.
Brian Williams
9
Posted 04/05/2017 at 20:06:57
Colin, you're going straight to hell!
Kenny Smith
10
Posted 04/05/2017 at 20:44:47
He's the captain of my 'worst ever Everton signings Xl'.
Absolutely last.
Ian Hollingworth
11
Posted 04/05/2017 at 22:31:40
Thank god for that!
James Stewart
12
Posted 04/05/2017 at 23:22:52
Utter garbage; one of the worst signings we have made.
Rob Dolby
13
Posted 04/05/2017 at 23:50:56
I will be amazed if another Premier League team take him. He will go back to Wigan in League One and look a world beater as long as his knees don't fall off.
Brian Porter
14
Posted 05/05/2017 at 00:04:39
Sad to say, he won't be missed. I could never understand what Martinez saw in him. If ever a footballer(?), was totally unfit to wear Everton's Number 9 shirt, it was Traffic Kone.
Kieran Kinsella
15
Posted 05/05/2017 at 00:32:18
He probably needs to retire. I don't think it's a quality issue as much as a fitness and injury issue. I saw him play quite a bit for Wigan. I quite liked him. He was smart, could hold the ball up well, never prolific but a solid line leader kind of like Marcus Bent circa 2004. He was unlucky with an injury at Everton and it basically finished him off.
John Pierce
16
Posted 05/05/2017 at 00:53:48
Best rumour doing the rounds is Chelsea's Willian is available. Go fetch, Everton!
Steve Ferns
17
Posted 05/05/2017 at 01:03:54
Kone seems a nice chap. Plays with a smile on his face. You can't fault his effort. Whether it was injuries or not, and he had his share, we never saw the best of him.
Wish him the best, but whilst not the worst player to play for us, it was a bad signing with hindsight.
Kieran Kinsella
18
Posted 05/05/2017 at 01:21:34
John Pierce
19
Posted 05/05/2017 at 01:31:39
When all of Chelsea screwed Jose a year or so ago. he didn't. Not getting games under Conte.
Would be be great to play up top. Everton will have to pay over the odds; it might as well be on a proven player at 28. Perfect I'd think.
Makeweight for Rom?
Mike Gaynes
20
Posted 05/05/2017 at 04:40:02
John, have you ever seen Willian play up top? I haven't, and I've been watching him for years.
Wide midfielder. I'd be happy to have him too.
James Watts
21
Posted 05/05/2017 at 05:38:12
Knowing Kone is leaving, and has probably known for a while, makes him taking a place on the bench even more strange. Let alone giving him time on the pitch! Thankfully that will almost be the last of Martinez's signing shown the door.
As for Willian, I would drive down to Chelsea and pick him up myself to get him to sign. He would be fantastic signing for us and certainly help us show our intent in the up-coming window.
Ajay Gopal
22
Posted 05/05/2017 at 12:28:03
Those knocking Kone, please remember he had a season-ending injury almost as soon as he joined Everton. He was a good footballer, and sadly, we never saw the best of him.
Kind of like what has happened with Bolasie – if (God forbid) Bolasie never comes back the player Everton thought he would be when they plonked down £24 million, would it be fair to label him the worst signing ever?).
Also, as I remember (may be wrong), Kone's injury forced Martinez's hand in looking for a loan striker, and Kone's replacement turned out to be Everton's highest ever goal-scorer in the Premier League era. Look at the positives!
Kenny Smith
23
Posted 05/05/2017 at 12:35:39
Ajay,
He should never have been bought for £5 million by Martinez. At that time we were skint and he was not what we needed especially at his age and his record.
He was a poor signing in the first place and the injuries have only highlighted how poor a signing it was. Albeit you can't blame him for that.
As for Bolasie, he is a genuinely talented footballer who has shown this over several good Premier League seasons – not one-and-a-half games against Johnny Heitinga.
Chris James
24
Posted 05/05/2017 at 12:40:35
Noooo, don't let him go. We almost lose Gibson last season this way, sign him up to another 12 months Robbie!
Peter Gorman
25
Posted 05/05/2017 at 12:52:26
Ajay, injury aside, he was never good enough for Everton. I'm sure he is a nice lad but I can't pretend I'll miss him or the dent of his wages.
Colin Glassar
26
Posted 05/05/2017 at 12:58:59
James 21, maybe Ronald thought a goalfest from Kone would've produced a £40m offer from Chelsea? Putting him in the window like.
Nicholas Ryan
27
Posted 05/05/2017 at 15:11:44
On the transfer front: How about straight swap with Chelsea: Lukaku for Willian and Pedro? Or maybe throw Begovich in as well?!!
Martin Nicholls
28
Posted 05/05/2017 at 15:43:44
Nicholas (#27) – nice idea but swap deals only ever seem to happen in fantasy football!
Rob Birks
29
Posted 05/05/2017 at 16:23:56
Lads, Willian is on at least £150-180k a week. We won't even pay Lukaku the going rate (£200k per week+) for a player Everton value at £90million
John Pierce
30
Posted 05/05/2017 at 17:05:32
Mike, yes on occasion, I have seen him play there. Now why up front? His energy, skill and speed is ideal for a press. This is how is see him play under Koeman.
Koeman prefers most of his midfielders to be powerful and strong, and that the magic happens in his front three if I'm judging how Southampton played correctly?
Yes Rob Birks would destroy our wage structure but a proven winner, superb player and fit for Koeman.
I've repeatedly said in many posts the gap between 'us and 'them is too large to bridge in some terms so we will have to pay over the odds on several players.
This lad stone cold quality.
Frank Wade
31
Posted 05/05/2017 at 18:13:05
Kone showed what he could do in the Wigan relegated FA Cup winning side, leading the line with skill and pace. Unfortunately, his bad injury arrived shortly after he signed and we never saw the player we thought we'd signed, which at £5m seemed a good deal at the time.
In hindsight it wasn't a good deal, but that's football, every signing is a risk. I wish him well and hope he can pick up one last contract. Seems a nice lad who tried his best and as Steve says above, played with a smile on his face.
Habib Erkan Jr
32
Posted 06/05/2017 at 13:43:27
He was a beast at Wiggins; but he never fully recovered from that nasty knee injury suffered shortly after signing met we never had a chance seeing him at his best.
Can't recall one instance when he caused the least bit of controversy and, with Koeman's arrival, seemed to accept his role as a squad player with dignity. I for one wish him well next season.
Kevin Dyer
33
Posted 06/05/2017 at 13:48:09
Not going to go back-slapping mad on Koeman and the club for making an absolute no-brainer of a decision. It would have been utter lunacy to offer him a new deal.
But, then again, after paying Hibbo to go fishing, falling all over ourselves to offer the ancient Barry a 2 year extension and the farce of a 1-year extension for Gibson nothing would surprise me.
I think any Premier League teams actually thinking about coming in for him should be named and shamed, for the benefit of their fans (and for the lulz).
Jeff Armstrong
34
Posted 06/05/2017 at 20:21:00
I think he got injured in a game against Hull. Just before he went off, he hit the post from a chance that was actually easier to score from. That summed him up: never top class, and injury prone.
I think he had a bad injury record at Valencia too; he could teach Lukaku a thing or two about hold up play though, but obviously hasn't.
Paul Kossoff
35
Posted 07/05/2017 at 03:25:27
I was just waiting for the old "good luck to him" – hasn't he had his fair share of that? Fucking £60 grand a week for fuck all! Good luck to him? Get the fuck off with your good luck, and let him go con some other mugs for a wage he doesn't earn!
David Hallwood
36
Posted 07/05/2017 at 11:33:06
He's set to leave what?

Peter Gorman
37
Posted 07/05/2017 at 12:25:30
This summer...
Kev Johnson
38
Posted 11/05/2017 at 22:01:55
My local pub team looking for a forward. In my worst ever Everton team alongside Brilliant Brett.
Drew O'Neall
39
Posted 25/05/2017 at 03:41:39
I'm pretty sure Arouna Kone is staying at the same hotel as me, on holiday in Antibes.
Before I introduce myself does anyone know if he has any distinguishing features I can reference so I don't make a tit of myself at the loungers?
This guy clearly had the blonde highlights previously but has shaved them out... has to be him.
James Watts
40
Posted 25/05/2017 at 03:47:20
Drew #39. Ask him to kick a ball. If he wanders up it, walks past it and jogs slowly in another direction, it's him. Well him or Lukaku.
Michael Kenrick
41
Posted 25/05/2017 at 05:20:24
I believe he has a tattoo of Lukaku on his left butt check.
Or is that Lady Gaga?
John Daley
42
Posted 25/05/2017 at 06:23:32
Like one of those hard to spot space bastards from sixties sci-fi show 'The Invaders', Arouna sports one distinguishing feature he always looks to hide, less it serve as a dead giveaway to the latent attacking danger he represents.
Whilst that shows hero, David Vincent, was always on the look out for a malformed little finger poking out at an unnatural angle, Drew O'Neall must instead look to the deck...
...and beware the bent inward big toe.
Of course, if true, that means he should also glow bright red at the point of death...
...but I really wouldn't recommend going down that route. (1) It's not his fault Everton ended up buying him, (2) he tried his best, (3) people are probably going to say it's just some pissed up old bloke, with really bad sunburn, propped up in a deck chair, when you pull out your holiday snaps anyway and (4) you don't really want your getaway to turn into a sequel to 'Weekend at Bernies' (A Couple Of Weeks With Kone?) or an...err...actual 'getaway' (French Fuzz 1: "One male victim. Approximately 47 years of age. Scrunched up Everton number 9 shirt with the name 'Kone' nearby. Apparent cause of death: acute embarrassment". French Fuzz 2: "No fucking wonder. Fancy being spotted in a Kone shirt!")

Kev Johnson
43
Posted 28/05/2017 at 07:19:36
Drew @39, lash a pillow over to him to trap and control. Watch as he makes a total balls of it. You've got your man.
Add Your Comments
In order to post a comment, you need to be logged in as a registered user of the site.
Or Sign up as a ToffeeWeb Member — it's free, takes just a few minutes and will allow you to post your comments on articles and Talking Points submissions across the site.
© ToffeeWeb