Reports: Pricetag for Barkley will be £50m

114 Comments [Jump to last]

| Wednesday, 17 May 2017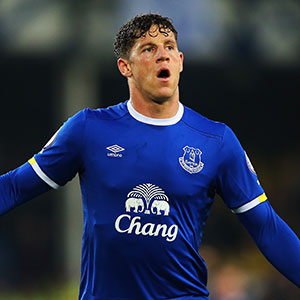 Koeman's deadline for Barkley's decision looms ever closer...
Reports are claiming that Everton will be looking for bids of £50M if Ross Barkley does not sign his contract.
Ronald Koeman has said that he wants to know the intentions of Barkley, who is mulling over a contract offer, by the end of the week.
A decision is highly unlikely by then, extending the impasse into potentially volatile territory as Koeman has said the player will be sold if he does not put pen to paper.
In those circumstances, reports claim that Everton will demand a fee similar to the one they received for John Stones a year ago, despite the fact Barkley has only a year remaining on his current deal.
The rationale for such a figure is the current standing of Barkley, his age, and the likely calibre of club who will show an interest. Tottenham have long been considered the most likely destination but new reports suggest Arsenal are now showing interest.
The fact that Barkley's contract is running down is not considered to be a factor in his price this summer, with the World Cup approaching next year. To remain in contention, Barkley must play at the highest level, and cannot risk being used sparsely, if at all, by Koeman, should he choose to play out the final year of his contract.
---
---
Reader Comments (114)
Note: the following content is not moderated or vetted by the site owners at the time of submission. Comments are the responsibility of the poster. Disclaimer
Charlie Lloyd
1
Posted 17/05/2017 at 07:02:42
That's a hefty price tag considering the length of contract.
If the club got that, fair enough... but I can see no suitors at that price and the issue rumbling on till January unless Barkley does sign the contract.
Sam Hoare
2
Posted 17/05/2017 at 07:03:15
So theoretically (which means none of this will happen) Barkley could leave for £50m and Lukaku for £100m and add that to our supposed transfer kitty and we have £225m. That's around 8 Bolasies.

James Watts
3
Posted 17/05/2017 at 07:12:25
What a complete load of made up tosh. Pretty much no player in world football would command a fee like that with 1 year left on a contract.
If he goes, we'll be lucky to get £15 to 20 million.
Dermot Byrne
4
Posted 17/05/2017 at 07:19:20
Telegraph and Mail. Where I always turn for accuracy!
Bob Parrington
5
Posted 17/05/2017 at 07:37:37
So, where did this alternative fact (means not a fact!) come from?
The Arse, perhaps?
Scene – pub near the Emirates after a couple of halves of shandy.
"Guys, we wants Barkley from Everton, dun' we?"
" 'Corse we does"
"den let's unsettle 'im den wiv a £50 mill tag"
"Yea" "den tare 'em 'part dis weekend! 'e gets real pissed off, an' we gets 'im frallmost nutting'!"
"Brilliant Ponsonby! Well done lad. Wenger berra luk out!"
Colin Glassar
6
Posted 17/05/2017 at 07:39:09
First thing every morning I read the BBC football gossip page. It's the funniest, and most contradictory, piece of crap out there.
For anyone who gets "worried or concerned" about these types of rumours, this site puts everything into perspective.
Joe O'Brien
7
Posted 17/05/2017 at 07:41:36
We'll be lucky to get £15mil for him, James? That's a bigger load of tosh than the £50mil price tag. He'll go for a lot more than £15mil... £30mill at least.
James Watts
8
Posted 17/05/2017 at 07:56:49
Joe (#7). You serious? A player who has gone backwards or at best stood still for the last 4 years into his last year of his contract and you expect £30 mill at least? Brilliant.
If we demanded anywhere near that amount you know the answer we'd get? A big laugh and a response of something like "We'll just talk to Ross in January". Why would anyone, unless they are desperate, pay anything like that now?
Plus Koeman has made a rod for his own back by publically stating we'll sell him if he doesn't sign as that puts the power even more firmly in the buying team's court.
Hang on – you are not the journalist peddling this story, are you?
Ian Jones
9
Posted 17/05/2017 at 07:59:23
Colin. I usually read the BBC Gossip page just as I'm going to bed. Good to go sleep with a laugh. My wife has got used to me telling her the latest valuation for Lukaku.
Will Mabon
10
Posted 17/05/2017 at 08:01:53
He can't be leaving, he's in the ad piece for the new kit and says he's always been a blue, and... and...
Kenny Smith
11
Posted 17/05/2017 at 09:00:50
If anyone pays £50 million for him, I'll be amazed. He's nowhere near good enough to replace Sanchez, Ericksen or the RedShites's very own Bruno Mars tribute act if he goes to Barca.
£25 million is a more realistic figure especially with 12 months left on his deal. I hope he doesn't sign the contract on offer for everyone's sake. It's time for us all to move on.
Neil Pickering
12
Posted 17/05/2017 at 09:05:51
Personally I'm not bothered if he stays or goes. I don't think he's that great and will only be a squad player if he does stay.
What I don't get is why he is front and centre in the new kit trailer. We are going to get an almighty load of stick from rival fans if we do now sell, especially that spawn from across the way.
We really don't think things through sometimes...
Joe O'Brien
13
Posted 17/05/2017 at 09:08:42
James, I'm not saying we'll get £50mill for him.. I'm saying we'll get double of the £15mil that you're saying we'll get.
James Watts
14
Posted 17/05/2017 at 09:25:51
I hear you, Joe, and understand you meant £30mill. But I still say absolutely no chance, purely based on the simple fact of why would any team pay 30 mill for Ross when they can enter a pre-contract agreement in January, then get him the following July for nothing?
Buying teams would know we are desperate to sell both because of Koeman's public comments and it's his last year. We have very little wiggle room in the current situation.
Unlessof course the buying team are desperate for him. And I can't believe any team would be that desperate for him, either above us in the league or around our position.
Anyway, I guess we'll see. I actually hope he stays, although as a squad player, as I think he could do a job for us – but I hope we buy better, á la Mirallas.
Steve Carse
15
Posted 17/05/2017 at 10:02:30
James, of course he'd fetch £30m – at least. Who wouldn't want a good, young, English international player for just £30m? Christ, we paid £28m for Bolasie!
I can't see any club waiting until January as you suggest. And are such 'pre-contracts' allowed?
Chris Gould
16
Posted 17/05/2017 at 10:15:37
James, it isn't as simple as that. No team will be given the opportunity to buy him in January or take him for free the following summer. It really will be the case of sign or be sold this summer. No other option.
If Ross decides he will take the 3rd option, which isn't on offer. He will find himself training with the U23s for the final year of his contract and with no chance of playing for England in the World Cup.
The club and Koeman have thought this through. They are playing hardball, and they will get what they want. A club will pay us what we want or Ross will sign the contract on offer.
Koeman is not as stupid and naive as some will have you believe. He was brought in to make hard decisions, and he is prepared to be ruthless.
Eivind Nyhus
17
Posted 17/05/2017 at 10:18:14
We're not getting £50mill for Barkley, that's just silly. If he had more time on his contract, he might go for half. With a year left, £10-15 mill seems more possible.
Dermot Byrne
18
Posted 17/05/2017 at 10:27:35
On subject of transfer gossip this makes me laugh:
James Watts
19
Posted 17/05/2017 at 10:35:55
Steve (#14).
Yeah I believe so. My understanding is that 6 months before contract expires (typically January 1st onwards) the player is free to sign a pre-contract agreement with any club.
And I'll flip that round. What team better than us, would want him? None of the 6 above would pay £30 mill as he wouldn't get be a starter for those teams. A team like West Ham could pay £30 mill I guess, but why the hell would Ross refuse a contract from us and go down a level?
Chris (#15).
It is as simple as that so I disagree with you. The club has stated we will sell him if he doesn't sign. Fine. What if no one bids £30 mill and we get a couple of bids around the £15m mark? We say no. Then what? Why would any team that is an improvement on us bid £30 mill for Ross with 1 year left on his contract? It just doesn't make commercial sense.
Honestly I cant get my head round why anyone would pay £30 mill for him in this situation, for a player who will not improve teams above us (yes he may improve their squads but not first teams). If he had 2 years + on his contract then I agree, £30 mill or he's not moving. But he hasn't.
I can actually see him moving next summer for nothing. He has all the power.

Chris Gould
20
Posted 17/05/2017 at 10:45:26
As I said, James, No chance that will happen.
If a club isn't willing to pay a fee satisfactory to us, then Ross will stay and sign the contract on offer. He will not risk a season seeing out the final 12 months of his contract in the U23s. It would derail his career.
Koeman is not a man to go back on his word. No way will he be made to lose face on this issue.
Also, I suspect top 6 clubs will be interested. Many managers will have seen enough quality to believe that they can get more from him in a team with better players.
Mike Green
21
Posted 17/05/2017 at 10:56:05
Superb Dermot (#17) – if only it didn't ring so true. :D
James Watts
22
Posted 17/05/2017 at 10:56:31
Agreed re Koeman, Chris. But okay, we'll have to disagree I think. But that's cool, we'll just see what happens I guess. But like I say previously, I still hope he signs.
Stan Schofield
23
Posted 17/05/2017 at 11:17:54
Dermot @17: That article had as much credibility as most others, until it mentioned an enforced closure of chippies on County Road.
Stan Schofield
24
Posted 17/05/2017 at 11:25:37
Barkley maintains a discreet and professional silence. He's clearly clever enough not to make himself look daft, unlike the management.
John Daley
25
Posted 17/05/2017 at 11:42:18
"If Ross decides he will take the 3rd option, which isn't on offer, he will find himself training with the U23s for the final year of his contract and with no chance of playing for England in the World Cup."
Barkley isn't Niasse. His Everton career doesn't amount to less than an hour in a first-team shirt and he's not widely considered by a majority of fans and the media to be a fucking clumsier, dopier version of one of those 'Prawns' from District 9. There's no way he would be ostracised to such an extent and be left pulling himself off in purgatory until the final game of next season is played.
Imagine if Everton were having a slapped scrotal sack of a season, or suffered a number of mid to long-term injuries in midfield, and Barkley was left stewing in the stiffs. Koeman would (1) be cutting off his nose to spite his face by ignoring a viable (and still highly-rated) option simply out of spite; and (2) would be coming under intense pressure to utilise a 'raring to go' player left to rot, because he refused to put pen to paper by a particular date, in order to try and improve results.
Jon Withey
26
Posted 17/05/2017 at 12:06:26
Supply and demand, depends on how many clubs want an English attacking midfielder with a decent assist record – and hope they can improve him.
Not sure I see him fitting in well at any of the rich clubs... Man Utd maybe?
You'd think £30 million at least, with the premium on English players and the silly market, regardless of the contract.
Tom Bowers
27
Posted 17/05/2017 at 12:17:13
Let's be honest, transfer fees are ridiculous these days, even for no-name players. Real Madrid want £50 million for James Rodriguez who is just a bench-warmer.
It will be close to that for Barkley, I suspect, if he goes, and all the better for Everton to offload a player who isn't consistent enough.
Steavey Buckley
28
Posted 17/05/2017 at 12:35:28
If Koeman wants £50 million for Barkley and £100 million for Lukaku, yet has been promised only £75 million for transfers for next season, is Everton still a selling club?
Roberto Birquet
29
Posted 17/05/2017 at 12:57:19
The price will come down to how many Champions League clubs want him. Just Spurs and we will struggle to get over £30 million. But if it is Spurs, Arsenal and one other, then £50 million may potentially be attainable.
It certainly is looking as though he will go. But if he does, I would not sell Rom until at least late August. And even then, it would depend on how many players and of what calibre we have brought in.
This is gonna be a very significant transfer season for Everton. Between four and five will probably go. A few more than that will be needed.
Roberto Birquet
30
Posted 17/05/2017 at 12:58:33
Steavey (#28). Any reported figures will be (a) largely made up, and (b) nett figures.
Winston Williamson
31
Posted 17/05/2017 at 13:26:08
The only club daft enough to pay £50mil for Barkley (under these circumstances) is Man City.
I can actually imagine Man City coming in for him too...
Steavey Buckley
32
Posted 17/05/2017 at 13:34:29
Roberto Birquet (#30), when taking into the account the sale of Cleverley to Watford (£8 million) the possible sales of Deulofeu, Niasse, Lukaku and Barkley and any other squad players, Everton's £75 million for transfers is not a lot when considering relatively good players can go for £50 million – John Stones comes to mind.

Phil (Kelsall) Roberts
33
Posted 17/05/2017 at 14:14:11
I like the option of not even training with the U-23s. I like the option of gardening leave:
"Here you are, Ross. You want to walk away from here and play elsewhere? Well, we aren't going to keep up your fitness, that is your job. We are not going to help you get in the England team for the World Cup. You can sit at home all day, every day, and I wonder who will come calling this time next year for an mainly out-of-condition, not-match-ready player.
"For sure, not one of the top 6 because they will not want to wait a season for you to be available. Seems like a club lower than the club you do not want to play for..."
Alan J Thompson
34
Posted 17/05/2017 at 14:41:23
£24M for Schneiderlin, £28M for Bolasie, then £50M is not out of the question.
Darren Hind
35
Posted 17/05/2017 at 14:47:02
Chris (#15 & #19),
"The club and Koeman have thought this through" ...
"Koeman will not go back on his word; no way will he be made to lose face over this."
So, if Ross doesn't sign by Sunday, he will be put up for sale and, regardless of Koeman's brainless comments, somebody will pay £50m for him?
There is no way Koeman can come out of this without looking ridiculous. Barkley and his agent have simply blanked his demands. If they decide to sign, it will be their decision and no matter how far past Koeman's deadline they go. The Dutchman will have to lump it.
Koeman has painted himself into too tight a corner, Chris. I know you are a big fan, but there's no room for both of you in there.
Peter Lee
36
Posted 17/05/2017 at 14:51:56
£28m for Bolasie was bonkers. £24m for Schneiderlin was £4m too much. Ross is not as good as Schneiderlin and he's in the last year of his contract.
Only Man City are daft enough to pay anything like £50m. If there's no competition for his signature, why would they go that far in any event?
Dermot Byrne
37
Posted 17/05/2017 at 15:04:20
"There is no way Koeman can come out of this without looking ridiculous" – Or so you hope, Darren.
Steve Brown
38
Posted 17/05/2017 at 15:07:43
I agree, we should try to sell him for far less than £50 million. Let's get real here.
Dermot Byrne
39
Posted 17/05/2017 at 15:08:22
"£24m for Schneiderlin was £4m too much"
How the heck do you manage such an accurate calculation Peter? There must be a Premier League job around for that.
Hugh A Ross
40
Posted 17/05/2017 at 15:12:46
Please let him go! Barkley is playing us!! Nobody, Nobody is bigger than Everton FC.
Now are shirts are being sponsored by the Bulgarian/Kenyan Mafia, Barkley's attempted "leverage" should be immediately passed over too the "Sponsor Department" for an offer to be made that Mr Barkley cannot refuse. Ask him if he has a paddock??
Denis Richardson
41
Posted 17/05/2017 at 15:45:14
If sold, I'd be surprised if we didn't get at least £30m. He's only 23, is English, an international and has over 150 senior games under his belt.
Yes, he only has a year left... but the league is awash with Sky money so silly bids will come in. Chelsea regularly pay £30m+ for players who sit on their bench and Spurs paid £30m for Sissoko.
The likes of West Ham are desperate and Newcastle will be keen to make an impact - both have cash. I doubt Arsenal would be interested as Barkley's not clever enough for their midfield, imho.

Jim Knightley
42
Posted 17/05/2017 at 15:49:16
Barkley is not fit to lace Rodriguez's boots, so comparing them seems a little useless in this context. I'd take £30mil in a heartbeat - he has been inconsistent since breaking through and only has one year left on his contract. If he wasn't English there would be half the fuss.
Use the money to bring in a more consistent Sigurdsson. He can assist and score and play where Barkley does.
Mike Allen
43
Posted 17/05/2017 at 15:57:47
£50 Million? Would anyone be happy if we paid £20 million for that kind of standard? I just don't see him as anything special and, most importantly, I don't think Koeman sees him as anything special.
Chris Gould
44
Posted 17/05/2017 at 16:05:26
Let's just wait and see, Darren.
How are you finding your corner? You are well and truly wedged in without any room for manoeuvre.
It's worth noting that neither Koeman or the club have come out with this £50 mill price tag.
Dean Adams
45
Posted 17/05/2017 at 16:33:51
It is also worth noting that he cannot leave on a free at the end of his current contract as he is under 24, so will be subject to development fees. Only clubs outside our league can look at the possibility in January. Any approach by Premier League teams would be against the rules.
It really should not come to that though as he loves the club and is probably hoping for improved terms.
John Pierce
46
Posted 17/05/2017 at 16:43:23
I'm confused; yes, normally that's down to me and my addled brain.
However, Everton seem to be in a contrary position on this. Forcing a decision from Barkley then touting a price tag I find unrealistic that will not create a bid anywhere close to their valuation. Do they actually want to keep Ross, or force him to sign a contract, knowing they won't get a satisfactory bid?
Searching for a comparison...
I think Van Persie went in his last year for a hefty sum, £28M? Even with an injury-prone record and age against him.
Ross has nowhere near the same impact as Van Persie but okay, he has fitness and age in his 'for' column.
I've said this has been handled poorly by the club and with pure stupidity by Koeman. So what do Everton actually want from Barkley?
Ross hasn't to date uttered anything in public – good on him for that. Silence is often telling and my gut tells me surely if he was going to sign he'd have signed by now. The league position is fixed, we have qualified for the Europa League – what more does he need to know?
So it points to him not signing, I guess. But who truly knows? I cannot see him 'waiting' to see who we sign and see if that matches his ambitions unless he's had one too many saunas with Rom.
Waits for next OP on Barkley tomorrow on Toffeeweb... Michael, Lyndon – dig deep fellas and find something left field to get us in a lather about!
Technology in football
Sins bins
Two referees instead of one
No offside in the middle third of the field
Yes of course I'd still post if it was a Barkley story!
David Pearl
47
Posted 17/05/2017 at 16:47:16
Barkley has all the potential in the world. Maybe having better players around him will bring out the best in him. If Stones and Sterling are £50M, then Ross is too. Ridiculous shouts on here.
Kevin Tully
48
Posted 17/05/2017 at 16:52:28
I note a lot of posters have stated that Barkley (to his credit) hasn't actually said anything about his contract situation in public. Fair enough.
Has anyone asked him though? Has he done an interview lately? I know the press are all over Lukaku when he goes on international duty, and that's where most of his feedback comes from.
Just a thought.
John Daley
49
Posted 17/05/2017 at 17:05:37
Dean @45,
He might be under 24 now, but he won't be by the time his contract comes to an end.
Darren Hind
50
Posted 17/05/2017 at 17:15:32
I did notice that, Chris.
But if Barkley leaves for considerably less than the reported valuation, Koeman will be slaughtered for handing him to a rival club at a discounted price in order to satisfy his own ego.
As you are aware, Barkley isn't short of critics, but he also has an army of fans. They love their "diamond" and anyone who forces him from the club will (in my view) be hastening his own exit. Every cloud 'n all that...
Dean,
I'm not familiar with that rule, but Barkley will be 24 before January. That surely changes the situation?
Jim Hardin
51
Posted 17/05/2017 at 17:26:58
So the add-on value for an "English" player is £35M then?
If we get £50M for Ross then Sigurdsson with 8 goals and 13 assists, will cost us at least £40M (£75M value based upon performance, minus £35M for not being English).
Heck, Barkley's 5 goals in 35 appearances should mean that Niasse with 4 goals in 11 or so appearances should be worth at least £28M. Who knew?
Ian Burns
52
Posted 17/05/2017 at 18:11:31
I am firmly in the camp of wanting Ross to stay. I don't think RK comes out of this with a great deal of dignity but I suppose he doesn't care much, as long as he gets rid for the right price.
I wonder what a Conte or Pochettino could do for Ross? The options he would have on the pitch would improve his decision making and if Sissoko is worth £30m, Ross has a shout at bringing in a decent price for the right club.
However, I also think he is worth £30m+ to EFC!
Shaun Taylor
53
Posted 17/05/2017 at 18:13:15
The comment about 8 boasts means about 6½ years of sideline action.
Chris Gould
54
Posted 17/05/2017 at 18:39:54
Darren,
The board will have put together a contract that they felt was fair. Barkley and/or his agent have decided to not sign the contract.
Nobody has forced him out. Koeman has publicly stated that he wants him to stay, but he has also made it clear that there will be no further negotiations. Sign it or be sold.
How do we know that the reason Barkley hasn't signed isn't because he is waiting for Spurs to firm up their interest? We haven't heard a peep from him. Maybe he has his heart set on leaving and Koeman and the board are aware of this? We don't know anything.
If Ross signs the contract by the deadline, or states his intention to leave, then Koeman can get on with his transfer plans. He can't do that with any certainty until he knows for sure who is staying and who is going.
Koeman hasn't stated how much he expects to get for Barkley if he is transferred. All of these fugures are unsubstantiated and his value will be determined by how many clubs are interested and how badly they want him.
If Barkley signs on Sunday, then Koeman will have played a blinder. Instead of Ross and his agent dragging it out for months in the hope of getting an improved contract or transfer, he will have signed weeks before the transfer window opens. The club will have the deal that they wanted, and Koeman / Walsh will then be able to continue their plans for the window with the knowledge of who is staying and who is going.
If Ross doesn't sign and nobody bids for him, then the situation will become a tad awkward. At that point, you can twist your knife with my blessing.
Mark Murphy
55
Posted 17/05/2017 at 18:43:36
He's made for Newcastle and will thrive there. £35m early window coup for Rafa.
Betcha!
Steve Ferns
56
Posted 17/05/2017 at 18:53:23
The law on pre-contract / talking to players with an expiring contract is not quite as stated above. The rule is as follows:
- 6 months for an international transfer (i.e. From or to mainland Europe or Scotland(
- 3 months for a domestic transfer (to another English team).
Nigel Johnson
57
Posted 17/05/2017 at 19:12:31
It's time to get real, guys, as each day another top target passes on by Everton. "So why not Everton," I hear you ask. In my opinion, seasons ago before the big TV money came into the game, lots of the big players were happy to sign for big salaries and only a few clubs could offer that. The youngsters these days already have the big salaries far to soon. The money is no longer the motivator now – it's all about the rich players winning things.
Everton of course has a great history of winning things in the past. I could be wrong but the last time was the 1985 FA Cup. With the new TV money coming in, loads of clubs can offer big paydays; however, only a few can win things and Everton is not one of them – no matter how much that hurts me to say. I can't see that changing very soon.
Lots of the club's first choices are becoming our second and even third choices. Let us not forget, if we spend £150 million in the summer (which I doubt), the bigger clubs are spending £200 million on their squads which are already stronger than us this season.
If you give me £6 million a year, I will tell you that we can break into the top four. But the real truth, as hard as it is to take, is that – without being able to sign the true top choices in the summer – things don't look good. That is the truth, the whole truth, and nothing but the truth – why Lukaku and Barkley want out; they want to win things and the bonus is that they will get paid more at other clubs to win things.
Christine Foster
58
Posted 17/05/2017 at 20:08:01
I would hope he stays. Some of the comments on here are frankly appalling – we don't know what the issue is, what assurances he may be asking for or how he feels committing to Koeman on principle. We do not know it's about money. Frankly we know bugger all.
All we do know is Koeman's ultimatum. We don't know what's gone on but many on here are clear they don't want him at the club, irrespective of any reason.
It's open season on Barkley in TV and some of you are filling your boots. Barkley has his strengths and weaknesses but it's clear that there are tensions between manager and player. It may well be a fact of life that Koeman is building a team in which Barkley is a bit player but, as it stands, player or coach aren't happy. Unless they can sort it out in a few days, Barkley will be on his way and that's a shame because Koeman will be long gone before Ross's next contract will be due.
Paul Holmes
59
Posted 17/05/2017 at 20:12:57
£50 million for another club to buy Ross Barkley...?
Looks like he will still be here next season then!
James Marshall
60
Posted 17/05/2017 at 20:21:13
Players are worth what someone will pay for them – the same as a packet of biscuits.
Ross Barkley will command a decent fee, whatever that is. Who cares how much we sell him for anyway? It's not your money.
We all know he has his moments, but he's hardly pulling up trees these days – as the manager says, the boy has talent, but he doesn't dictate games, and he fannies about with the ball too much.
Look at Dele Alli, now there's a player that puts Ross to shame of late. If Ross leaves, I honestly don't think we'll miss him that much.
Lukaku on the other hand might be harder to replace, despite being (ahem) a lazy, overrated flat-track bully.
Matt Garen
61
Posted 17/05/2017 at 20:25:50
As it stands now, there is zero chance of anyone above Everton in the table buying him. Where would he play? Certainly wouldn't be first choice especially when they've had a summer at it.
Three choices:
1. Sign and stay;
2. Go abroad; or
3. Go to Newcastle Utd or Stoke City.
Amanda Huddleston
62
Posted 17/05/2017 at 20:27:41
£225m. 3750 Seamuses!
Lev Vellene
63
Posted 17/05/2017 at 20:39:54
For his own sake, he should stay! EFC will give him a good contract (I presume) and a lot of playing time, but if he goes 'up' from today's table he'll sit a lot on the bench instead...
I guess it all comes down to his agent, as they usually make good cash only from transfers. But then someone said he had a better one than that the other day.
I guess I'll believe it when I see it! Heh, agents not caring about their own money first... :D
Oliver Molloy
64
Posted 17/05/2017 at 21:03:17
I believe Ross Barkley will sign a new contract with Everton for two reasons. He really doesn't want to leave... and he hasn't got the appetite or balls to move outside his comfort zone which is Everton FC.
I also don't believe there are any major problems with Koeman and Barkley; I believe it is down to money. >The manager's comments relating to the contract on offer – "the club will offer what is normal for the player" or something like that is very telling, isn't it?
He's basically saying Ross is not £100 grand a week player. For me (even with the absurd wages these days), I have to agree; Ross has not done enough to justify him becoming the club's highest-paid player.
Ross and his people are not going to come out and say "We are not happy with £70 grand + bonuses. And as I said before, Everton FC are looking out for us and Ross and his people are looking out for him.
Mike Berry
65
Posted 17/05/2017 at 21:04:39
Nonsense, if we get £30m then we will be doing well for a very talented but unfortunately inconsistent talent.
Also you can put on whatever price you like but if you have a unhappy player who does not want to stay, then eventually your starting gambit will lower. Interesting few weeks ahead.
Ian Riley
66
Posted 17/05/2017 at 21:34:19
Contract not changing now! Sign or go is the choice. £50 million, last year of contract. Potentially​ worth every penny. £35 million with add-ons could work.
This needs sorting quickly. I'm starting to get bored with it.
Mark Morrissey
67
Posted 17/05/2017 at 21:37:50
He's going nowhere.
Peter Warren
68
Posted 17/05/2017 at 22:04:51
Regarding replacements for Barkley, I would be made up if we got Lanzini in. I think he's a cracking player. Aside from that however, never heard of him (or Payet) before West Ham signed them. It's for our scouting team to find these gems and let's hope they find a couple.
Brian Wilkinson
69
Posted 18/05/2017 at 01:00:57
We will not get the £50 million... but, with putting this figure out, clubs will knock us down if interested.
If we said £30 million, clubs would offer lower, same as if we said £25 million; makes sense to put a higher price on his head.
If he signs then great; if not, he's not going for peanuts.
Mark Murphy
70
Posted 18/05/2017 at 06:28:00
James Marshall, that's rich tea comparing Ross with a packet of biscuits! Are you crackers? I'm finding that hard to digestive.
It's not very nice to call someone whose grandma was a McVitie a biscuit! In fact, it's bourbon on racialist!
Guy Hastings
71
Posted 18/05/2017 at 08:14:49
Ross and Rooney to the Barcodes?
Kev Johnson
72
Posted 18/05/2017 at 14:20:15
Mark @ 70 very funny 😂
Steve Brown
73
Posted 18/05/2017 at 14:26:43
If Dries Mertens was the replacement, I would help him pack.
Alan J Thompson
74
Posted 18/05/2017 at 16:24:06
The BBC website says that Bournemouth have offered Defoe £115k per week and Palace have upped Zaha's to £110k per week. Given that, a straight £100k per week for Ross shouldn't be too much.
Has Mr Koeman's straight forward talking omitted something as nothing has been said as to what the problem is or where the negotiations, if there are any, are actually up to, or what the sticking points are.
Still, if you believe that one in and one out is the answer then you'll be able to assess a transfer fee for Barkley based on what Everton will have to pay for a similarly talented replacement.
Eddie Dunn
75
Posted 18/05/2017 at 16:40:25
Mark Murphy. Are you suggesting that Ross is short (of) bread? We really don't know what is going on twix't him and his jammy Dodger agent.
Perhaps we should put in an offer to Southampton for Garribaldi.
I'll get me coat.

Alexander Murphy
76
Posted 18/05/2017 at 16:57:09
Someone writing these "newspaper articles" has never played poker as an adult for an evening around the table.
"That contract isn't offering my client his true vale, you need to increas the weekly, the goal and the win bonusses".
"Sign, or we sell him !".
"We aren't signing for these numbers, increase or we'll look at incoming offers".
"Fine, that's our final offer. Deadline next weekend".
"BTW, how much are you pricing him at ?".
"£XM or we don't sell".
"So you value him at £XM? But you're only offering those numbers. Can't have it both ways. We'll see you and call you!"
David Connor
77
Posted 18/05/2017 at 20:16:11
£50 million for an average Premier League player. No chance. But if any club is willing to pay £30M+, take the money.
I have lost all faith in Ross. He will never be a top class Premier League player. He's had enough chances, as far as I am concerned.
Joe Foster
78
Posted 18/05/2017 at 20:35:49
So is the next step the club saying that they have had offers from this club and that club and he will be sold to one of them? It all feels a bit messy.
Dick Fearon
79
Posted 18/05/2017 at 20:46:21
Glory seeking millionaires owning huge luxurious yachts and vast estates playing an international game of
one upmanship and to whom a difference between 30, 50 or 100 million is mere pocket money will pay through the nose for any player with a smidgeon of talent.
I say screw them for as much as possible and cry all the way to the bank.
Steve Carse
80
Posted 18/05/2017 at 20:59:55
Nigel (57), I think you'll find the last trophy we won was 1995 not 1985.
Ken Morgan
81
Posted 19/05/2017 at 03:39:43
I agree with Mark. Newcastle for sure. Get away from the Liverpool nightlife... He won't get into any trouble in the Bigg Market!
Damian Wilde
82
Posted 20/05/2017 at 00:06:28
Worth about £10 mill.
Peter Gorman
83
Posted 20/05/2017 at 00:13:58
Well said, Steve @ 80, I'm sick of people trying to airbrush Vinny Samways out of our history.
Will Mabon
84
Posted 20/05/2017 at 00:35:06
Peter (#83) – top stuff!
Eugene Ruane
85
Posted 20/05/2017 at 01:02:00
Wrongy McWrongface (#57) posts:
"Everton of course has a great history of winning things in the past. I could be wrong but the last time was the 1985 FA Cup. With the new TV money coming in, loads of clubs can offer big paydays; however, only a few can win things and Everton is not one of them."
Leicester won the title last season.
Swansea won the League Cup just 4 years ago.
Birmingham a couple of years before that.
Everton last won the FA Cup in 1995.
Everton didn't win the FA Cup in 1985.
Kieran Kinsella
86
Posted 20/05/2017 at 01:38:51
Nigel (#57) & Eugene (#85),
I may be wrong but Everton's last trophy was the Coppa Italia in 39 BC against West Germany when Barry Chuckle and Tony Benn scored. Even though I sewed a seed of doubt in the above statement, it is of course the truth, the whole truth, and nothing but the truth.
Drew O'Neall
87
Posted 21/05/2017 at 10:52:49
Barkley has to agree to leave if Everton sell him. Alternatively, he can agree terms with another club and await the expiry of his contract. Everton aren't in a strong negotiating position and will take what they can get.. If that's £50m, I'd be very surprised indeed in the circumstances.
Dan Egerton
88
Posted 22/05/2017 at 13:51:08
The last trophy we won was earlier this month. Premier League 2.
Dan Egerton
89
Posted 22/05/2017 at 13:54:12
Drew O'Neall (#87):
"Barkley has to agree to leave if Everton sell him. Alternatively, he can agree terms with another club and await the expiry of his contract."
I thought under the rules he could only do that with six months or less left on his contract. In other words the January window. Can someone clarify this?

Kieran Kinsella
90
Posted 22/05/2017 at 14:03:28
The one bit of subtext everyone seems to be missing is about money.
Last month, Koeman compared it to the situation at Soton. He said he sold players who wouldn't extend deals because the club couldn't risk losing them on Bosmans.
That infers you won't have money to replace Barkley unless you sell him. Ergo we are in the same boat we've always been – having to sell to buy.
Phil Walling
91
Posted 22/05/2017 at 15:46:20
I would think we shall do well to get £25M for the lad – and that figure probably as part of a fee to be paid for a replacement. Swansea might buy such a deal over Siggy!
Peter Gorman
92
Posted 22/05/2017 at 15:57:37
Hmm, not sure that subtext really exists, Kieran. More like the club doesn't like pissing away good money. I think nearly all clubs operate that way.
James Macdonald
93
Posted 22/05/2017 at 15:58:29
I feel sorry for Ross. The club have clearly dropped the ball in terms of prioritising his contract and he is probably reluctant to sign up to the Koeman regime which is apparently ambivalent on his future.
On the other hand, he should be wary of the top clubs who will want him due to his low price (circa £28 million in reality) so as to fill their English quota with a quality player, but for who he will be expendable. In his shoes, the decision should correspond to the faith Koeman has in him which, from the outside looking in, appears far from constant. Little wonder he has not signed!
Ray Smith
94
Posted 22/05/2017 at 20:40:34
Who is in charge of press/media relations.
Koeman is castigated because he says it how it is.
We are currently looking like an amateur bunch of misfits without an invite to the party.
We really do look like a bunch of also-rans. Koeman to his credit has kept his powder dry. However, how much more of this media merry-go-round do we have to stomach.
Press release today. No, tomorrow If we want to join the big boys, time to grow up.
Rant over
Peter Laing
95
Posted 22/05/2017 at 20:51:53
When Ross re-signs on about Thursday, we will have Elstone trotting out the line "Ross Barkley has committed his long-term future to Everton, it really is like a new signing – and that concludes our summer transfer business."
Dermot Byrne
96
Posted 22/05/2017 at 20:54:14
Do we know anything about this really? Who knows what club and agent are saying to each other? Or what their tactics or motivations are.
Does Ross have any idea what he wants? Does he owe it to the fans to speak up?
Is Koeman trying to get rid of him as he doesn't rate him? Does he see little hope of improvement? Do the club want him anymore or maybe they see him as a useful squad player? Who the hell knows?
I have read hundreds of comments now and not one has made me any the wiser apart from telling me the truth as they would like to see it. The timing and tone of comments tell us little really.
Seriously, does anyone know anything?
Brent Stephens
97
Posted 22/05/2017 at 21:03:43
Dermot, I know next to nothing, if that counts.
Mind you, my wife says I have an IQ next to none.
Ray Smith
98
Posted 22/05/2017 at 21:15:40
Who is in charge of media/press?
Whoever it is, why not put an end to this saga.
We really are a joke.
Linked to every player that breathed air, to be out bid by all and sundry.
Steve Walsh only has to show his face and the price doubles!
Apart from Lookman (future), what has he done?
Shoot me down. We are seen as a soft touch!
Dermot Byrne
99
Posted 22/05/2017 at 21:26:29
We share knowing next to nothing, Brent! Just like all the rest on all the RB threads. And we accuse the manager of bullshitting!
I fear we are probably all destined to keep doing that until we get an actual fact. But it keeps some wordsmiths busy here and that can be very funny at times but, for now, ultimately groundless.
Brent Stephens
100
Posted 22/05/2017 at 21:33:05
As if to demonstrate the point, Dermot, right on cue.
Phil Sammon
101
Posted 22/05/2017 at 21:35:12
Ray
Gana? Schneiderlin? Two very good signings there.
Dermot Byrne
102
Posted 22/05/2017 at 21:37:30
Lol Brent
Nigel Munford
103
Posted 22/05/2017 at 21:39:26
Brent/Dermot, as Manuel said in Fawlty Towers, "Aya no nothink"
[Has to be read with a Spanish waiter's accent to get the full effect.]
Brent Stephens
104
Posted 22/05/2017 at 21:46:24
Problem is, Nigel, my fear is a Basil on TW who's going to come along now and say "Brent, Dermot, let me explain" with associated finger actions.
Tom Bowers
105
Posted 22/05/2017 at 21:46:25
Okay guys, we know winning trophies gives credence to a successful club but the ''Mickey Mouse'' cup just doesn't measure up.
We all know that most of the Premier League clubs view it with disdain hence the ''reserve squads'' being fielded for most of the early rounds if not longer for some.
The only real trophies are The Premier League The Champions league, The Europa league and then maybe the FA Cup which in itself comes down to the luck of the draw and the luck many times in any given game.
Yes, we know too well that nothing has come to Goodison Park for a couple of decades and we all know why. Lack of good management and funding springs to mind and very few clubs can override that scenario.
Next season, financially Everton can not use that excuse and we hope this new manager will be able to use this last season as a good yardstick to plan success for next season.

Dermot Byrne
106
Posted 22/05/2017 at 21:50:35
Agree, Tom, but I was really saying we know sod all about the RB drama.
Other than that, we know loads and loads of things. For instance I know where Serbia is and know fish have gills. Smart me.
Brent Stephens
107
Posted 22/05/2017 at 21:54:30
Dermot, are we into known knowns, known unknowns, unknown unknowns etc?
I've no idea.
Ray Smith
108
Posted 22/05/2017 at 22:01:21
Phil (#101),
Accepted; now going to contradict myself.
What else has he done?
I prefer to keep my powder dry, however Steve Walsh is not our media rep. That said, who is???
Chris Gould
109
Posted 22/05/2017 at 22:12:58
Dermot, it's become very boring. Certain people are just using it as a stick to beat the club/Koeman with. As you say, we know very little. We have a few facts and everything else is just speculation.
Jumping on every utterance from Koeman regarding the situation is getting ridiculous. He says what he believes to be the case, but is possibly being messed around himself by the board.
Nobody knows very much about anything. Unfortunately, Nathan Broadhead signing a new contract was never going to be enough to divert attention from it.

Tony Hill
110
Posted 22/05/2017 at 22:42:43
The problem is that we have this sort of confusion or cloudiness often in Everton's PR and dealings. The reason I feel strongly about it is that it sets a tone and model for the way we go about our business. If we are imprecise in this way off the pitch, it is unsurprising that we show the same trait on it.
It becomes the way we are as club and team and we have been this way for a long time now, a sort of dishevelment I think it is. The details do matter, we need to start to manage ourselves with serious intent and pride.
Kenny Smith
111
Posted 22/05/2017 at 23:44:30
This is a game of chess but I think it'll come to an end sooner than we think. As a local lad and Evertonian, Barkley can't ask to leave unless he wants the stick Rooney got when he left. Likewise, Koeman can't push him out the door because he'll get stick for selling someone who's local and has come through the ranks.
Koeman's playing a blinder by putting it on Ross to sign a contract, knowing he wants out and probably has another club lined up.
As for £50 million, who came up with that figure... Diane Abbott?
Dave Abrahams
112
Posted 23/05/2017 at 00:40:01
Brent (#97) your wife belittles your IQ; she can talk, can't she? Tell her mate, "Well, yours can't be much, you married me, didn't you?" That will shut her up. But Brent, don't tell her I told you to say that, I'm a coward of the highest order.
Craig Walker
113
Posted 23/05/2017 at 09:26:27
I can't see which top team would want Ross. At a push, maybe Arsenal? All of the best teams have better midfielders than him already. Maybe he'll follow Rodwell and sit on City's bench.
Nigel Munford
114
Posted 23/05/2017 at 13:38:58
Brent/Dermot, it's not the not knowing, or knowing that the not knowing is actually the knowing, but it's waiting for a Fawlty Towers expert, my heads all over the place now.
Add Your Comments
In order to post a comment, you need to be logged in as a registered user of the site.
Or Sign up as a ToffeeWeb Member — it's free, takes just a few minutes and will allow you to post your comments on articles and Talking Points submissions across the site.
© ToffeeWeb