For the first time in a decade, Everton began a derby match in a higher League position than their arch rivals, a sign that under Walter Smith the club might finally be emerging from their seemingly interminable slump. And with the Blues' wonderful record against Liverpool since autumn 1994, hopes were high for the short trip across Staney Park for this live televised encounter on Sky Sports.
Going into the match, Liverpool had beaten Everton just once in 11 games, their 3-2 win the previous April having broken Everton's domination. Everton for their part had only beaten the Reds on their Anfield turf once in the preceding 14 years.
What followed was another glorious night for Everton Football Club. Kevin Campbell, a revelation following his move from Trabsonspor (initially on loan but ultimatlely on a permanent basis) scored the only goal of the game as Smith's side turned in the performance of a lifetime to easily contain Gerard Houllier's erratic Reds.
And the game was not short on controversy. Only 19 players finished the match after referee Mike Riley ordered off three of them in the last 15 minutes; Jeffers and Westerveld for fighting and Steven Gerrard for a sickening lunge on Kevin Campbell in the dying moments.
Below are two match reports on the game that will live long in the memories of Evertonians, one from Evertonia.com and one from the Press Association's Sporting Life website.
It used to be that victory over Liverpool was a rare treat to be savoured. These days it's just victory at Anfield that comes along once in a Blue moon and what a delight Walter Smith's band of braves served up in a heated derby clash that had it all; three red cards, crunching tackles, goalmouth incident and no shortage of passion on both sides. But, as has been the case so often over the past 5 years, Everton had the greater spirit and the more intense hunger. They were rewarded with a precious victory, their first at Anfield since Andrei Kanchelskis' brace four seasons ago.
The collision of the Merseyside giants has rightfully been restored as a television spectacle and it promised not to disappoint the Sky Sports audience tonight. It was the first derby in ten years in which Everton started the game above Liverpool in the table. And for the first time since December 1996, Everton are being taken seriously by the media thanks to their encouraging start to the new season.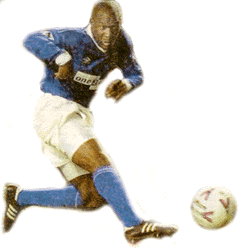 Kevin Campbell fires the decisive goal
after just 4 minutes

The Blues started with a now familiar 4-4-2 formation, with Michael Ball taking a rare place in the starting line-up at left back and Richard Dunne again selected on the opposite side of Everton's defence. Richard Gough and David Weir lined up in the centre of defence in front of derby debutant Paul Gerrard.

In midfield, Abel Xavier was also handed his first taste of England's oldest local rivalry next to Don Hutchison, John Collins and Nick Barmby. Up front, Everton carried the dual threat of Francis Jeffers and Kevin Campbell. Loan signing Tommy Johnson was on the bench.

As starts go, Everton's was next to perfect. Their intent was clear from the kick off and before the 45,000 crowd had had time to warm their seats, the Blues had taken a shock lead. Barmby took advantage of a bit of luck when the ball ran loose following a throw in on the edge of the area and he slid the it square to Jeffers. The 17 year-old looked to be going one way but deliciously flicked the ball through to Campbell who took one touch before burying it emphatically past Westerveld. Going ahead so soon was at the same time unbelievable and strangely unsurprising, given the turnaround in the Blues' fortunes this campaign.

Last season, when Olivier Dacourt's 30-yard piledriver got Everton off to a similarly electric start, there was a definite feeling that we had scored too soon. And so it was that the Reds scored two quick goals and went on to win 3-2. And having sat through countless nail-biting derbies over the years, one thing you get used to is Liverpool comebacks.

However, for the ensuing 30 minutes, Smith's side retained a masterly grip on the game. Weir and Gough were solid as rocks in defence and the movement of Jeffers and Campbell up front was causing their opponents all sorts of problems.

After 19 minutes, Collins flighted a teasing free kick into the six yard box and Westerveld clawed the ball out for a corner from which Jeffers' downward header was again well saved by the Liverpool keeper as Everton pressed for a second goal. While Liverpool offered much in the way of possession, they posed little threat up front where Fowler and Owen were comfortably contained.

There was a predictable edge to the game, especially as the Reds were a goal down at home and mindful of the fact that they had recorded just one win in the past 10 derby matches. In the 27th minute either side might have lost a man following two appalling challenges that would have warranted red cards in any other game. First Hutchison's lunge on Hamman failed to stir referee Riley into producing a card but Owen's two-footed attack on Weir was doubly dangerous and he was only flashed a yellow as tempers flared.

And the home faithful were baying at Riley again just three minutes later when he turned down an Owen penalty appeal. Gerrard did well to parry a powerful shot but while Gough dithered uncharacteristically, Owen nipped in to steal the ball and jink past two defenders before tumbling under Ball's challenge. The England striker's added dive probably didn't help his case as a 50-50 decision swung Everton's way.

And in terms if significant incident, there was little else to report. Everton had been brilliant for the first half an hour and although Liverpool came more into things in the latter minutes of the half, the Blues' lead never really looked under threat. Hutchison and Collins were their usual unpredictable selves; tough in the challenge but occasionally clumsy in distribution. As a unit, though, the team looked spirited and cohesive and well capable of not only holding on to their lead but possibly increasing it in the second period.

That they didn't owed much to Jeffers' profligacy in the last third. Twice in the first two minutes of the second half he was sent through in the Liverpool half but on the first occasion he failed to look up to spot Barmby's run and then he missed an absolute sitter in a one-on-one with Westerveld.

Liverpool, for their part, responded positively and were a more incisive unit than they had been during the first 45 minutes. In the 57th minute, Weir's slip looked to have let Fowler in but he was forced wide by the Everton defence before having his shot saved by Gerrard.

But Everton had their chances too. A 73rd minute corner fell to Barmby on the far side and his lofted cross found Campbell in acres of space on the penalty spot but he was always under the ball and his looping headed bounced off the top of the net.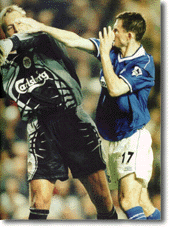 Jeffers and Westerveld
clash as derby boils over

Then, with 15 minutes to go, the game boiled over completely. An incisive through ball by Barmby saw Jeffers collect the ball in an offside position. The 18 year-old's momentum carried him into Westerveld who retaliated by grabbing the Everton striker by the neck. A struggle ensued as both players lashed out at each other before being restrained by respective teammates. Inevitably, the pair were sent off, echoeing the punch-up between Fowler and David Unsworth a few seasons ago. Liverpool, having used all three of their substitutes, were forced to put Staunton in goal.

Everton sensed blood and tried to put the makeshift keeper under pressure with some long-range shots but Kevin Campbell came closest with a tame effort that was easily stopped. At the other end, Liverpool came within inches of breaking the Toffeemen's hearts when Gerrard pulled off a wonderful reaction save after a heavy deflection off Ball.

And the former Oldham keeper was the hero again a minute later, palming away a Redknapp free kick as Everton held their nerve. Indeed, they might have put the game beyond Liverpool's reach when Barmby snaked his way past two defenders in the area before lining up a shot that was nicked from him by teammate Xavier who's shot was tipped over the bar acrobatically by Staunton.

By this stage, their hosts had been reduced to nine men after young Steven Gerrard, a second-half substitute, was sent off for a shockingly high challenge on Campbell. Nevertheless, Liverpool kept pressing in a desperate search for an equaliser. Their final chance came from another Redknapp drive that was blocked by Dunne and cleared to safety by a relieved Everton defence. Walter Smith's side had held onto their slender lead for 86 minutes and recorded a famous away victory that confirms their newfound status as a force to be reckoned with.

Man of the Match: For all his failings, Don Hutchison probably shaded it simply for being in all the right places at the right time for Everton. His carelessness on the ball threatened to undermine the hard work the team had put in in defending the lead at times but he was behind much of the Blues' attacking moves and defensive solidity.

Richard Gough and David Weir also deserve praise for their defensive exploits and Nick Barmby was a constant threat from midfield on the break. Up front, Kevin Campbell stands out for a well-taken goal and although Francis Jeffers missed that fantastic chance and got himself dismissed for a "handbags at six paces" incident, he was the inspiration behind the goal.
---
Liverpool 0-1 Everton
PA Sporting Life
From the midst of a Mersey derby war zone Everton emerged with a famous 1-0 victory to their name after a Premiership clash which saw three players sent off.
Everton's remarkable start to the season has so often been written off as a fluke because in recent campaigns the Goodison Park club have more often than not been at the other end of the table.
But they proved at Anfield on Monday night that they merit their sixth position and certainly deserve to be above Liverpool.
Kevin Campbell's fourth-minute goal was defended heroically by every player in a blue shirt.
At the back veteran Richard Gough was magnificent with David Weir alongside him not far behind, while the likes of Don Hutchison, John Collins and Michael Ball were also outstanding.
But the game will also be remembered for the second-half punch-up that saw Liverpool goalkeeper Sander Westerveld and Everton striker Francis Jeffers sent off.
And they were followed to the dressing room by young Reds midfielder Steven Gerrard late on for a terrible late lunge at Campbell.
Liverpool were outfought and outplayed in the first half but mounted relentless pressure after the break.
But Everton deserved their win as their effort, organisation and sheer bloody mindedness warranted victory in a fixture that has seen them lose just one of the last 11 clashes between the clubs.
Their fans stayed long into the night to celebrate as rarely in recent years have they seen their heroes produce such a result.
For Liverpool the gamble of playing half-fit midfielder Dietmar Hamann and striker Robbie Fowler backfired.
It was another savage blow for boss Gerard Houllier, who demands time for his revolution but will be given no quarter now in the hotbed that is Merseyside soccer.
Mersey derbies are not the place for faint hearts and the unsuspecting, but on show tonight were fresh, uncertain new faces on both sides, and early on it was those in red who did not know what hit them.
Everton these days are an organised unit. They tackle hard, put the boot through the ball and attack with pace and quick give-and-go touches. It left Liverpool reeling.
The Blues won the first half hands down. With the neat and tidy Collins pulling all the midfield strings and Hutchison going to war with his former club, Liverpool were continually caught dithering, not knowing where to turn and frequently being flattened in the attempt.
Liverpool had the half-fit Hamann back in midfield, such was their desperation for steel and direction.
But all around him the likes of Vladimir Smicer, Jamie Redknapp and Patrik Berger just wanted to run with the ball from deep.
It left the German unable to stem Everton's breaks which were inflicted through precise, quickfire forward passing with Campbell and Jeffers terrorising the soft centre of the Liverpool defence.
Smicer is not a player who likes a tackle, Berger cannot win the ball and Redknapp is still not sure what sort of midfielder he wants to be. Amid this sort of uncertainty, Everton's strength and fire prospered.
They grabbed a fourth-minute lead and deservedly so. Nicky Barmby fed Jeffers, his touch left two defenders in a state of frozen shock and Campbell, played onside by Jamie Carragher, cruised into the box to fire in a shot off Westerveld's body.
Liverpool were almost undone again after 20 minutes when Westerveld had to make a stunning save to his right from Jeffers' downward header after Hutchison's swirling corner.
The tension was spiced with the usual moments of controversy - no Mersey derby would be right without them.
Jeffers took a tumble in the box under a Steve Staunton challenge and when no penalty was awarded Dutchman Westerveld unwisely rushed from his goal to push and admonish the youngster, whose reply in native Scouse left little to the imagination.
A few minutes later fourth official Paul Lodge had all his work cut out keeping Everton number two Archie Knox, Houllier and his assistant Phil Thompson under control after two lunging tackles inside a minute.
Hutchison got away with powering through Hamann and, while the argument started on the line, Michael Owen was rightly booked for a high two-footed lunge at Weir that could easily have been a red card.
Seven minutes before the break Everton keeper Paul Gerrard, largely untroubled until now, had to hurl himself into the path of a Fowler piledriver.
And when the lose ball broke into the box Ball flattened Owen in the melee, again with referee Mike Riley waving away frantic appeals for a spot-kick.
Five minutes after the interval Jeffers should have ended the event as a contest.
Barmby's controlled ball out of defence was played on instantly by Hutchison to send Jeffers away behind the out-of-position Vegard Heggem.
The 18-year-old ran on towards his own fans massed behind the goal and aimed his shot across Westerveld but wide of the far post.
Liverpool's frantic pressure mounted and a rare error by Weir allowed Fowler to scamper away.
But his shot was held by Gerrard before Houllier finally dispensed with Hamann and Fowler, both clearly unfit, and then Smicer with Gerrard, Erik Meijer and Titi Camara entering the fray.
But the real flashpoint was still to come. After 75 minutes Jeffers ran into Westerveld and the keeper grabbed him by the throat before both players began fighting.
Riley had no choice but to send them both off and with Liverpool having already made three substitutions Staunton was given the goalkeeper's jersey for the last 15 minutes.
The incident did not halt Liverpool's growing pressure and Gerrard made a great save to his left from a Meijer deflected shot and then he beat out a Redknapp free-kick.
In the five minutes of added time Riley had his red card out again, this time when teenager Gerrard clattered into Campbell.
With players pushing and shoving from both sides the England Under-21 player slunk to the line in abject despair.
Even after that Everton should have made it two when Abel Xavier, a tireless worker all night, forced Staunton into a superb tip over.
But Everton hung on grimly as Walter Smith claimed his first prized derby victory.
© 1999 PA Sporting Life