ToffeeWeb — Mobile Edition
m.toffeeweb.com | mobile.toffeeweb.com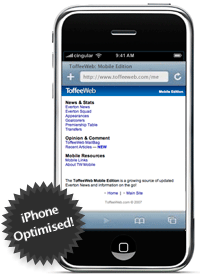 If you have a web-enabled mobile phone or handheld PDA — including the new Apple iPhone, Blackberrys and Android phones— you can now get the latest Everton news direct from ToffeeWeb while you are on the go!
The Mobile Edition of ToffeeWeb is a growing addition to the website giving you access to the latest events at Goodison Park and news of our new articles and features on the go.
This pocket-sized edition of our news service receives a live feed from our databases giving you the latest headlines and selected season stats from ToffeeWeb.
How does it work?
Simply point your mobile device's web browser at m.toffeeweb.com or mobile.toffeeweb.com to access purpose-built pages stripped down to the bare bones and sized to fit the small screen. Once at the Mobile Edition homepage, you can click to get the latest news, view the current Premiership table or basic Everton player statistics, or read recent submissions to our burgeoning MailBag page.
If your mobile web browser is capable of displaying regular web pages, you can even click through to the main site for full news stories or link to an external website carrying the report (obviously these won't be hand-held-ready pages so you would have to scroll vertically and horizontally to see all the information).
Which devices, operating systems and browsers does the service support?
To be honest, because of the varying levels of standards adoption in the hand-held device industry, we don't know all of those details yet — which is where you come in!
We're looking to get your feedback on this beta version of the Mobile Edition and invite you to contact the Webmaster via our feedback form to let us know what works and what doesn't.
What we do know so far is that the service is compatible with:
- Mobile devices running on Windows Mobile 2002 OS or later with Internet Explorer
- Apple iPhone
- Sony Ericsson P900 (native WAP browser or Opera)
- Nokia 6820 with GPRS
- Nokia 3120 with GPRS
- O2 Orbit XDA
- XDA 2
- Sony Ericcsson K300i
- Samsung D500
- Samsung Z500
---
So, let us know your thoughts and experiences by contacting us. Be sure to tell us what device you are using, the OS and the web browser.