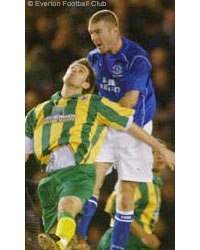 Squad No.
34
Joined
1 August 2002
Transfer Fee
[Academy]
Signed by
David Moyes
Contract;
Expires
2 years;
June 2004
Debut
Not yet...
Left
Everton
to join Swindon Town
24 March 2004
Finalé
None
Transfer Fee
None
Born
Southport
Date of birth
2 January 1983
Height
6' 1"
Nicknames
Chief
Honours
England U-20
STRENGTHS
Tall and accomplished
WEAKNESSES
Not good enough, says Moyes
Everton Academy Career
Seasons
Teaam
Apps
Goals
1998-99
YC & U-17
3(0) & 4(0)
1 & 1
1999-2k
YC & U-19
3(0) & 21(0)
0 & 1
2000-01
YC U19 Res
2(0) 26(0) 10(1)
0 3 1
2001-02
U-19 & Res
17(0) & 9(0)
1 & 0
2002-03
Reserves
23(0)
0
2003-04
Reserves

7(0)

0

Loan Spells
Seasons
Teaam
Apps
Goals
Jan-Mar 04
Swindon Town

8(2)

1


Sean O'Hanlon is a very decent young player who has come up through the ranks of the Everton Youth Academy. He made some headlines here a few years back by playing for the youth team while at school - doing an exam in the afternoon and then playing in an FA Youth Cup match a couple of hours later (he scored incidentally).
O'Hanlon has played for England as a schoolboy and youth team and recently received a cup on the pitch at Goodison for being the 'Young player of the Year'. Basically a centre-half but can score goals when he goes up for corners etc...

In January 2003, he got traded temporarily to Falkirk in a deal between managerial mates (and ex-playing partners) Ian McCall ad David Moyes that saw the exciting Collin Samuel and Lee Miller visit Bellefield for a week of training with The Blues.

Sean was one of the reserves who won an extension to his professional contract in July 2003, giving him further opportunity to make the step up from the Reserves into the full Premiership squad.

However, that never happened, and it soon became clear that David Moyes didn't rate the lad, despite that fact that he has the size Moyes so craves in all his players. So O'Hanlon was eventually farmed out initially on a month's loan to Swindon Town in January 2004. That deal was extended for another month in February, and then converted to a permanent deal in March 2004, but rumours of a handy £150k changing hands were well wide of the mark: it was a free transfer.

Despite almost two seasons nominally as part of the senior squad, Sean O'Hanlon left Everton without getting so much as a sniff of the substitutes' bench.