SEASON 2006-07
Season Preview
by Lyndon Lloyd : 13 Aug 2006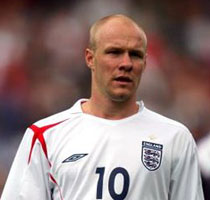 Andy Johnson:
is he the key to Everton's season?
Few would argue that last season was a bitter disappointment in the context of the elation and anticipation that preceded it. With the all the talk this week of how the Heysel ban set Everton back two decades, there was a very real sense that the club could have made significant progress in clawing itself back into the elite of English clubs by qualifying for the group stages of the Champions League last summer.
Of course, it wasn't to be. The Blues crashed and burned at the first stage of first the Champions League qualifiers and then the Uefa Cup first round; while we were rightly aggrieved at having our opportunity of taking Villarreal to the wire in extra time by a horribly uncharacteristic — and, consequently, highly suspicious — error in judgement by Pierluigi Collina on the eve of his retirement, the manner of our exit at the hands of Dinamo Bucaresti was humiliating in the extreme.
There was much wailing and bleating from many quarters, this website and yours truly especially, over David Moyes's failure to sign a striker before the summer transfer deadline. We at ToffeeWeb were castigated as being negative by some and urged to relax by others, but the exit from three cup competitions within the first three months of the season and the team's slump to the bottom of the Premiership vindicated our stance.
So, it is with no small measure of relief on our part that Moyes has finally signed a proven goalscorer in the form of Andy Johnson, the belief that the need for additional firepower was driven home to the manager seemingly borne out by the fact that he was forced to smash the club's transfer record and pay £2M more than he bid for the same player a year earlier.
Despite his diminutive 5' 7" stature, Johnson has shown that he can score goals at top-flight level, having notched 21 for Crystal Palace two seasons ago and, while some critics point to the fact that a third of those came from the penalty spot, they neglect to mention that Johnson himself was responsible for winning most of those penalties.
His lack of goals in pre-season may be slightly worrying but should not be dwelt upon too much; pre-season form is a notoriously unreliable gauge of things to come, particularly where Everton are concerned. Goals aside, what Johnson will add is pace to an otherwise ponderous forward line and he'll no doubt draw inevitable comparisons to Tomasz Radzinski, whose speed provided a valuable outlet down the channels. Of course, Blues fans will hope that Johnson's finishing is better than that exhibited by the narky Polish-born Canadian who once wore the No 8 shirt that AJ will inherit.
The second area that Moyes identified as a priority this summer was central defence, where Joleon Lescott has been acquired from Wolves for a fee that could rise to £5M depending on appearances. Unlike Johnson, this graduate from The Championship is untried at Premiership level, having sat out Wolves's entire season in the top flight the season before last. A severe knee injury sidelined him that campaign and, despite his playing for most of 2005-06, it was his knees that threatened to ruin his dream move to Everton earlier this summer.
A protracted medical phase was indicative that Everton were taking every precaution over Lescott's condition and the subsequent renegotiation of the transfer fee was perhaps suggestive that Moyes was not prepared to risk shelling out a full £5M outright on the defender.
Signed as a medium-term replacement for the ageing David Weir and Alan Stubbs, Lescott may find himself playing understudy to both in the early weeks of the coming season as he adjusts to life at the top level. There were signs, though, particularly in the friendly against Club América, that he and Joseph Yobo had the beginnings of a partnership developing. A little shaky against Columbus Crew three days earlier, Lescott showed far more composure alongside the Nigerian and also exhibited some pleasingly accurate distribution from defence. A season on from the Per Krøldrup débâcle, this Everton side needs an assured central-defensive partnership that can do more than just lump balls forward in the vain hope of finding a Blue head.
Finally, we have another option between the posts with the arrival of Tim Howard on a season-long loan from Manchester United. Moyes has trumpeted the American's arrival as one point on a now completed "triangle" of priority signings this summer, but his form at Old Trafford was erratic and he will have plenty to prove this season as he looks to get his career back on track. Given Richard Wright's own continuingly questionable form, Howard may get plenty of opportunity to do just that.
If last summer's lament among the faithful was the lack of striking additions, this close season there have been continuous calls for more creativity and command in the midfield to complement Mikel Arteta. Whether it is in central midfield or on the wings, the current squad badly needs another injection of flair, particularly given Andy van der Meyde's unreliable availability, and a "general" to take games by the scruff of the neck and dictate them.
Thus far, however — a few murmurings about possible acquisitions closer to the deadline aside — there are no signs that Moyes has any plans to add more quality to his midfield. Whether that is due to lack of funds or a seeming lack of ambition in the transfer market that was fast becoming his trait is hard to say. Assessments of the club's transfer kitty vary, with some rumours suggesting that the outlay already made this summer used up all available cash.
One thing that is for sure is that this is going to be a very important season for Moyes, with some venturing to suggest it will be decisive in determining whether he has the ability to establish the brand of football most supporters demand from an Everton team and to take the club forward year on year as opposed to the frustrating erraticism shown so far.
The 2006-07 campaign will be Moyes's fifth full season in charge at Goodison and if there are any remaining vestiges of the Walter Smith regime — Weir, Lee Carsley, Alessandro Pistone and Gary Naysmith are still on the payroll — few could argue that this is now David Moyes's team. And for long periods of last season, that team was playing some mind-numbingly dull football, making a mockery of their qualification for Europe the season before and even having many questioning the manager's suitability for the Everton hotseat.
The bright spot — a run of results between New Year's Eve and mid-March that culminated in three terrific performances against West Ham, Fulham and Aston Villa — pointed towards both what Everton could be like under Moyes and of what James Beattie is capable when he is at the top of his game. Moyes's challenge this season is to prove that he is more than just a motivator of players whose backs are against the wall; he has to show evidence of invention and practice on the training pitch being translated to the Premiership stage and prove that he has what it takes to manage a top-five team.
Certainly, he appears to have the personnel on board to achieve that if he can meld those motivational powers with the ability that he possesses in the first-team ranks. During that late-winter purple patch, the midfield quartet of Arteta, Tim Cahill, Leon Osman and Phil Neville showed that they have the right mix of flair, grit and goalscroring ability to be the driving force required; the key, again, will be consistency of both form and availability. And, of course, if Van der Meyde can get healthy — as desperate as I am to see this guy succeed at Goodison, I'm not holding my breath — then so much the better.
As ever for Moyes, consistency is the key, particularly in a league that usually exhibits so much inconsistency from the dozen or so clubs in the middle of the table. He may feel that he now has sufficient depth in the squad now to mount a sustained challenge for the European places; personally, I have my doubts that we have sufficient depth of quality in midfield. You only have to witness the difference in performances when Arteta is absent to realise how key he is to the Blues' hopes of success these days. I shudder to think how we'll fare if he is out for any significant length of time.
The key may very well be Andy Johnson. With Duncan Ferguson reluctantly hanging up his boots, AJ will hopefully usher in a new era at Goodison where the long hoof out of defence is phased out in favour of a more effective — and, frankly, more exciting — brand of football played more on the deck than in the air. Beattie's aerial abilities might ensure that the propensity to lump the ball forward will stick around to some degree, but if Johnson's movement and pace make it more effective to use the channels and defence-splitting through-balls, Route One might not be employed as frequently as we are used to.
Another important factor could be the choice of attacking options Moyes now possesses. James McFadden showed flashes of what he is capable last season and James Vaughan's return from injury makes him another candidate to deputise in the event of injuries to the first-choice duo. And then there is Victor Anichebe whose star is on the rise following an impressive pre-season.
Moyes has been keen to play down the mounting fervour surrounding the 18-year-old and, certainly, you can't base much on pre-season but the powerful Nigerian-born alumnus of the Everton Academy also demonstrated his readiness for the big stage with some impressive cameos towards the end of last season. Always willing to drive towards goal, he scored his first Everton goal on the final day against West Bromwich Albion and the coming campaign could be an exciting one for Anichebe.
On paper, this is the best squad of players Everton have boasted since Walter Smith's first season in charge and many would argue it's better than that. It is certainly stronger in all departments — except in goal — than the squad that Moyes guided to fourth place 15 months ago.
Of course, our rivals for the top six or seven places in the division have also strengthened in the close season but that is always the case and if Moyes can find a settled line-up and formula and if Johnson and Beattie can produce the goods up front, Everton could be looking at a top-six finish come next May.
My prediction? A respectable if slightly disappointing 7th. Roll on the new season!
©2006 ToffeeWeb