Everton News
Barkley debut can't lift dismal Blues
20/08/2011 |

Comments ()
:
Add your Comments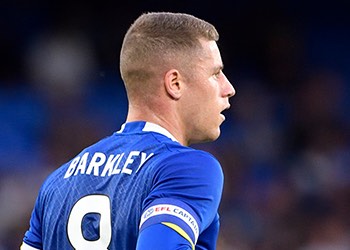 Ross Barkley made a very impressive long-awaited debut for Everton in their delayed start to the season against QPR. He showed moments of quality that contrasted sharply with the Blues defence as they allowed QPR to take the lead cheaply despite creating a hatful of chances in a nervy first-half performance. Everton struggled to assert themselves in a frustrating second half that will be remembered mostly for Moyes's bizarre decision to haul off Beckford and replace him with Fellaini, who made one good pass but went on to have a very poor game. A shocking result to start what promises to be a long hard season.
Match Summary
QPR kicked off and looked to get at Everton early on and it was mostly scrappy hoofball from Everton in the first few minutes as they struggled to settle. QPR worked their first chance far too easily, Smith volleying wide as the Blues defence looked static. But Osman won the ball brilliantly and sent in an excellent cross that Beckford just missed, then Rodwell did good to let Osman cross again but Beckford fluffed a dramatic volley; then Rodwell was blatantly pushed in the back but no penalty.
It took a while for either side to structure anything approaching a decent attacking move with lots of loose aerial balls all over the park but QPR finally got some possession after 16 mins and won a dangerous free-kick off Jagielka that Tarabt thankfully wasted. Everton's passing was questionable at times as it looked very much this was what it was: their first serious game of teh season.
Barkley did very well to challenge the QPR backline and win a free-kick in the dee that Baines swung in beautifully off the underside of the bar and down — but out! So close!
Barkley then tried an ambitious clip from 25 yards out after Rodwell was closed down. Cahill won a great 50-50 ball and looked forward but somehow failed to play in Beckford and QPR went up the other end to probe a shaky Everton defence that finally crumbled as Smith curled a good shot around Howard and just inside the far post.
Goodison was stunned, and the players struggled to get it together after that, their passing and understanding looking poor at times, Beckford looking for fouls rather than playing football. Hall got booked for cutting down Cahill, giving Baines a chance to cross in brilliantly and Everton screamed for a push but Beckford swung in a brilliant return ball from wide right (what was he doing out there?) that Cahill incredibly headed wide at the far post, missing a glaring open goal!
Neville's overhit cross was rescued by Heitinga on the byeline and headed back perfeectly but Beckford, well placed, planted his header straight at the keeper — another golden opportunity gone begging. Then a brilliant Baines cross was deflected a little high and Cahill, coming around the back got just a fraction underneath a trademark header and powered it just over the bar.
No changes at the break but a glorious chance minutes later fell for Rodwell in space with plenty of time, but he lifted the ball tamely into Kenny's hands, a dreadful effort really. Cahill almost got booked for another poor challenge that led to more nervy moments as QPR mounted a rare attack.
With precious little by of way of response in the 10 minutes since the breaak, Rodwell, whose interplay was poor at times, was hauled off for Arteta as Ageyman needed a lot of treatment after landing awkwardly.
Osman went on a nice little run and was all set to pull the trigger when Derry blocked him well. Dreadful play from Jagielka totally wasted a play out of the back, hoofing it straight to a QPR defender under no pressure whatsoever: dreadful play for an England International. By this stage, the QPR bus was parked and Everton needed something opportunitsic in attack, but David Moyes bizarrely chose to replace his most opportunistic striker, Beckford with midfielder Fellaini, who still appears to be struggling for fitness or he surly would have started the game, but he immediately silenced the resounding Goodison boos by setting up Cahill with an excellent ball that the Aussie drove hard at Kenny from a wide angle.
Everton, a goal down at home to Premier League new boys, playing without a recognized striker, continued to huff and puff as the minutes ticked relentlessly away and the natives became increasingly restless, if that were possible!
Barkley won a very dangerous free-kick with a sharp turn off a great ball from Osman, and Baines deferred to Arteta who planted it into the wall, sadly indicative that little was working in the final third. Barkley resorted to shooting from distance but drove it just wide as Saha came on for Heitinga.
With a more positive set-up now determined to rescue the game, basic mistakes and failed understandings between players continued to defeat the Blues' endeavours into the last 15 minutes of what should have been a stirring start to the season. Simply nothing was working to get then anywhere in behind the nondescript QPR defence, and frustrations started to set in, typified by Osman's needless booking.
Barkley seemed to be the only player with any intent of getting the ball in the QPR net but he was forced to shoot from too far out. A better move down the left involving Baines and Osman at least forced a rare save from Kenny.
Fellaini's play was strange; he seemed to be missing far too many passes, playing in his old and now unfamiliar forward role. The Blues continued to probe and prod into the 5 minutes of added time. Baines swung in a nice free-kick as the last gasp that Fellaini again headed straight at Kenny, and he was offside again, which syummed everything up only too well...
A dismal, dismal result to start the season after everything that has gone on this week… and not gone on this summer in terms of getting new players in. The result will do nothing to deflect the claim that Everton, players, manager, chairman, board, are stale, stagnant and moribund.
Original Source: ToffeeWeb Match Report Page
Notice
: Undefined index: subtext in
/var/www/vhosts/toffeeweb.com/httpdocs/season/11-12/news/article.php
on line
79

View News Archive : Add your Comments

Comments
Note: the following content is not moderated or vetted by the site owners at the time of submission. Comments are the responsibility of the poster. Disclaimer
There are no responses so far to this article. Be the first to offer a comment using the form below.
Add Your Comments
In order to post a comment, you need to be logged in as a registered user of the site.

Log in now
Or Sign up as a ToffeeWeb Member — it's free, takes just a few minutes and will allow you to post your comments on articles and MailBag submissions across the site.
© ToffeeWeb