Freddie Armstrong, RIP
By Lenny Jameson
15/09/2016

34 Comments [Jump to last]
Share:
Freddie Armstrong, one of the greatest Evertonians ever, sadly passed away today.
Everyone who knew him will recall fond memories and great stories of the times spent with this legend of a man.
All love and condolences to his family and his many many friends.
From Lenny Jameson, Tommy Mac, Colin Green and Alan Miller (Molly)
---
Reader Comments (34)
Note: the following content is not moderated or vetted by the site owners at the time of submission. Comments are the responsibility of the poster. Disclaimer
Keith Harrison
1
Posted 15/09/2016 at 19:38:32
Always sad to lose anyone, lads, especially blues. Contact the club to put a message up on Saturday. With the donation at Sunderland this week I am sure they will be doing a minute's silence for the lad who unfortunately died behind us in the Park End v Stoke.
Sincere condolences to all connected with Freddie.

Tony Abrahams
2
Posted 15/09/2016 at 20:00:14
Very sad news. Everton, have got loads of people, who will go to the end of the earth to watch them, and "Big Freddie" was definately one of those men.
Glad I had a little laugh with Freddie, in Tommy Frosts, after the Spurs game, but it's really sad to think I will never see him again following his be-loved Everton.
R-I-P Freddie, to as good an Evertonian, as I've ever met. Xx
Dave Abrahams
3
Posted 15/09/2016 at 20:18:25
One in a million, Freddie with his big smile, bigger hear, and he always made you feel special when you met him.
I met him in the clinic in Everton Road a couple of years ago, I had something wrong with me, nothing to worry about, he had had his leg off, sitting in his wheelchair, he was worried about me: was I all right, "Fuck me," I said, "What about you"; "I'm fine, this won't stop me from watching the Blues," and it didn't. Lovely to have known you, Freddie, and proud to call you a friend. Goodnight and God bless. One of the good guys.
Lenny Jameson
4
Posted 15/09/2016 at 20:19:57
Many of us who are getting on a bit will have great memories of Freddie. We met him in the '70s. We'd go to away games on his mates coach. Then it was a variety of clapped out minibuses and vans. We always had the best of times whatever state the team were in at the time.
Freddie knew people everywhere. The Everton London supporters club above the Moreton Arms. St Finbar's club in Coventry which was our stop on the way home from games down south.
Everywhere we went, people loved him. I saw him most weeks in his wheelchair, going to his spec by the church in Gwladys Street. He always had a smile and a word for everyone.
Although we'll have our happy and funny memories of him, our Blue family is much the poorer without him.
He was a giant of a man in every sense.
Goodnight, God bless, Fred.
Dennis Stevens
5
Posted 15/09/2016 at 20:24:43
I'm so sorry to read this, Fred was a really lovely guy – a true Evertonian.
Steven Pugh
6
Posted 15/09/2016 at 22:09:35
I have known Freddie for 10 years since joining the South Coast Everton Supporters Club. He Was always great to talk to about anything especially his love of the blues. The corner in The Salutation will seem so empty now.
Loved and respected by all that knew him. Hopefully Everton FC will commemorate his passing, as a true Evertonian. Not many of us will get Everton fan of the Year. RIP, Big Fred.
Francis Gibson
7
Posted 15/09/2016 at 00:00:23
To Freddie's friends and loved ones, please accept my heartfelt condolences on your (our) loss.
Reading these memories, I've no doubt whatsoever he's a gent with whom I would've easily been fast mates. By the look of it, heaven just got a whole lot Blue-er. Be well, everyone.

Ken Rushton
8
Posted 16/09/2016 at 09:09:29
Rest in peace Freddie
The Rushtons

Phil Bellis
9
Posted 16/09/2016 at 13:46:33
A gentle giant and a mentor and guide to us younger ones travelling away in the late 60s/early 70s.
We were the Lennon & McCartney of the Gwladys St Glee Club, Big Fred was even worse than Police for crap rhymes. All Blues of a certain age knew and loved the man
Condolences to his family and friends.
Freddie Armstrong...gentleman and Evertonian

John Pickersgill
10
Posted 16/09/2016 at 16:16:37
Sorry to hear of Freddie's passing. He was a good Evertonian who followed the club all over.

I remember meeting him outside the ground in Athens for the Europa League tie, he quickly offered me a can out of his bag which was slung over the back of his wheelchair!

The line,"Once a Blue ALWAYS a Blue" is certainly true in Freddie's case, RIP.
William Downes
11
Posted 16/09/2016 at 16:42:09
Freddie's tours. What a lad. All we did was laugh.

Great Evertonian. Will miss you, Fred SPAM
Ray Atherton
12
Posted 16/09/2016 at 17:00:33
Freddie was an Evertonian legend. Going to many away grounds, you would always see him with his mates.
Last time I had a chat was 2 years ago at the Central Hall in Renshaw Street. remembering our 62-63 league title.
Condolences to Freddie's family and friends.
William Downes
14
Posted 16/09/2016 at 17:12:50
Fred the legend... Spam.
Tom Bowers
15
Posted 16/09/2016 at 17:20:12
Can anyone confirm if this is the same Freddie Armstrong who went to Margaret Street school in the late fifties and was a goalkeeper?
Thanks
Dave Abrahams
16
Posted 16/09/2016 at 20:50:51
Tom (15) yes that was Freddie, I think he worked in Frank Whites in Richmond Row when he left school, maybe served his time there.
Tom Bowers
17
Posted 16/09/2016 at 22:26:02
He and I were in the same class together and his best friend was Tommy Cardiff. Another lad was Alan Cresswell who was a really good player as I recall. Anyone know them?
Lenny Jameson
18
Posted 17/09/2016 at 12:20:56
Hi Spam, How are you doing?
So sad about Freddie. We've got great memories of a great man. Brilliant times weren't they?
We'll have to make sure we can all get to the funeral. Give him a great send off. See you soon.
Brian Mayock
19
Posted 17/09/2016 at 14:34:32
I was lucky to have known Fred most of his life. We met going to away games 62-63 season, both apprentices, him in Whites, me in Lairds.
About a dozen of us would go out in town Friday, Saturday and Sunday nights or to away games. Together when we won the Cup in 66 and met Ali.
Got him into Lairds in 68; we worked together and he would come to my mums for dinner. We would go on the beer on Thursday when we were paid.
With me the night my daughter was born. At my 21st and recently at my 70th. Top, Top man did so much for others, getting tickets, arranging travel often at a loss to himself.
The gang still meet in town but it is an afternoon thing now. It just won't be the same without Fred but we will carry on. He will be missed but always with us. Once a Blue, always a Blue.
Thomas Powell
21
Posted 17/09/2016 at 16:04:09
Hi Blues,
I am Fred's son. I will post details of funeral in due course.
Thank you for all your kind words. NSNO.
Dave Abrahams
22
Posted 17/09/2016 at 21:21:16
I believe they showed a photo of Freddie on the big screens at half-time, but I was too busy watching the events on the pitch and gabbing away to notice.
John Raftery
23
Posted 18/09/2016 at 17:38:19
Very sad news. I remember hitching a lift to Stoke in 1972. Along with a few others I got a lift with a mad Evertonian in a van. He picked up Freddie from his flat on Everton Brow. Had to wake him up first! Wherever the game was, Freddie was. He will be much missed not least at the countless away grounds he visited over the decades.
Eddie Harbour
24
Posted 19/09/2016 at 01:04:01
I have known Fred for many years.
I first met him at Cammell Lairds in 1973, I was a young (16) ship building apprentice fresh out of the Cammell Lairds Apprentice school.
When I first joined the adult world of Lairds, one of the first questions you were asked – "are you blue or red?"
Most of Lairds in those days was blue (5,000 worked there) every body told me when they knew where my affiliations lie was, "well you have to meet Fred!".
I first made my steps in to the "bays" at Lairds (where they pre fabricated the ships), I didn't know then, but Big Fred was the biggest blue I would ever meet.
Even in those days, the blues went the matches, the reds read the Echo. And didn't Fred like to remind them!
Through out my time at Lairds and way beyond in the 80s, 90s, Fred run the coaches / buses to all the away games - otherwise known as "Freddie's Tours". Those who went on those trips will never forget them, the travelling, the ales, the friendship, the supporting and following the blues.
I left Lairds and I moved down south to Portsmouth. Not following the blues over 260 miles away was not an option, especially when you have some one to inspire you like Fred, I still kept in touch with him, and met him at many, many matches over the years.
Fred even worked down in Portsmouth for a while and of course still went to every home and away game and became a member of our club.
In 2010 Fred had to have a leg amputated, do you think it would stop him going the match? No!
He wanted to go to Sporting Lisbon not long after he lost his leg, and asked my advice about getting there by train (he was advised not to fly because of his leg).
I said get a train to London, then to France then to Spain then to Portugal etc, not thinking he would do it.
Fred went by him self, in a wheel chair…he never crossed his mind not to go and watch the blues.
Everywhere you went around the country (and Europe) Fred would be there, like a rallying call and beacon to all things Everton, if you went to a home or away Everton game, you had a mate and some one you could talk to, if he was there - he had time for every one.
Now he has gone to see Dixie, Bally and Labby, I am sure he will regale them with the countless stories he has in following the blues, not as a player or a director, or other big wig in the club, but as a follower and supporter of the best club side in the world.
In all the time I have known Fred, he is quite simply the biggest blue and nicest person I have ever met. A true gentleman.
They don't and wont make the like of him any more.
RIP Big Fred
x

Dave Abrahams
26
Posted 19/09/2016 at 09:24:42
I am going away this week, I sincerely hope I do not miss his funeral (Freddie's going away party). RIP.
Tony Moorcroft
27
Posted 19/09/2016 at 14:25:12
Freddy Armstrong will be sadly missed by all fans across the entire league.

RIP, Fred
Thomas Powell
28
Posted 20/09/2016 at 17:59:15
Hi all. My Dad's funeral will be at St George's Church on St Domingo Road at 1 o'clock.

Announcement should be in the Echo on Thursday.

Thank you for all your kind words

NSNO
Tony Moorcroft
29
Posted 20/09/2016 at 19:16:34
Thomas, what date is the funeral? You just put Thursday. Is that this Thursday or Thursday next week?
Laurie Powell
32
Posted 21/09/2016 at 11:05:04
My dad's funeral will be on Tuesday 27th September at 1pm at St George's Church.
Bill Mounty
33
Posted 21/09/2016 at 19:34:47
First met Freddie at The Dell outside the Winston pub in 1992 and ever since then he always had time for a chat whenever I bumped into him. Even after the loss of his leg he was always upbeat and asked how Ithings were with me.
A true blue, a true gent, a great and lovely man who will be so sadly missed. RIP Freddie.
Bill, West Country Blues.
David Pyke
34
Posted 22/09/2016 at 11:36:17
Met Freddie years ago when we played Southport in the FA Cup and it was pleasure to have known him all these years. I must say Fred was the best supporter of our great club I have known, in spite of being disabled he was always pleasant.
Thanks for the memories, Freddie, and RIP.
James Casey
35
Posted 23/09/2016 at 23:01:13
I met Freddie when I worked in Lairds in the heavy plate shed were he worked. I was with Brian Mayock on the crane.
We would always be talking about how the Blues were doing. He was the biggest Blue ever. Sorry I never kept in touch, Fred.
RIP friend
Phil Parker
36
Posted 26/09/2016 at 13:07:55
I remember Luton in the '80s when they had banned all away fans. As I approached the ground, I saw one of our greatest outside, Freddie, looking for a ticket. I had a spare and there was only one man getting it. Good night God bless Freddie.
Jack Cross
37
Posted 27/09/2016 at 14:08:41
Freddie, was a true gent. I first met him in the 70s, when 2 of my best mates Ted Redfern and Danny Murphy (also passed away) Laird's workers and staunch blues, introduced me to Freddie.
From that first moment he came across as a very likeable and special bloke. With always a kind word.
Will be sadly missed.
RIP Freddie.
Dave Abrahams
38
Posted 27/09/2016 at 16:52:48
I went to St George's Church today, loads of Everton fans outside waiting to greet Freddie's arrival,. I couldn't get into the church, it was packed out, so I had to be content with a place in the lobby of the church. Everton FC were represented with Graeme Sharp, Ian Snodin and Graham Stuart; Bob Penlington (the scout who discovered Wayne Rooney) was also there.
It was moving to see so many elderly fans who had made the effort to be there, many with canes and other medical aides. It was a long service with a few giving their stories of Freddie's efforts to see Everton all over Europe by various means.
The funeral party made their way to Goodison Park where the celebration of Freddie's life was held. He had a very good send off which was fitting for a great Evertonian who will be missed by many but never forgotten by them.
Brian Mayock
39
Posted 29/09/2016 at 09:28:49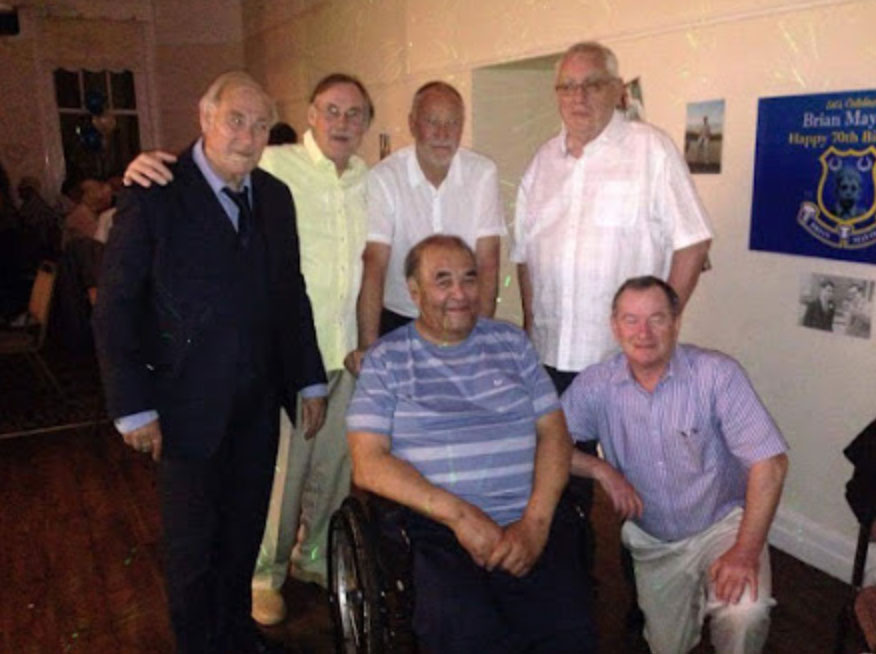 The above is a recent photo of Fred at my 70th Birthday Party.
The other "lads" Alan Wilson, Dave Ollier, Peter Horn and myself have been friends with Fred for more than 50 years.
We were also all with Fred a couple of weeks ago and he will always be with us.
Add Your Comments
In order to post a comment, you need to be logged in as a registered user of the site.
Or Sign up as a ToffeeWeb Member — it's free, takes just a few minutes and will allow you to post your comments on articles and Talking Points submissions across the site.
© ToffeeWeb