Alan Ball Remembered DVD
By Richie Gillham

27/10/2016

33 Comments [Jump to last]
Share: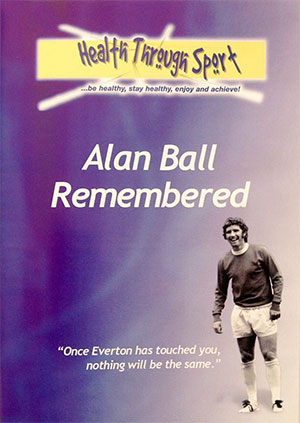 Former Everton star Ronny Goodlass is will have a DVD on sale at St Luke's Church and the Winslow every home game. The DVD pays tribute to one of the Club's most iconic legends, Alan Ball.
Along with the DVD is a special tribute programme for the Ball of Fire play, both on sale for a special price of £9.99 instead of £12.99. Ronny will at St Luke's to autograph the items.
Winger Goodlass was a boot boy for Ball in his youth and came to be in awe of the man who scored 79 goals in 251 games during a dazzling five-year spell at Goodison Park.
The highlight of that stint was helping Harry Catterick's great side ease to the League Championship title in 1970 as part of the 'Holy Trinity' alongside Colin Harvey and Howard Kendall.
The DVD re-lives all the best Ball moments through his own words and those of the men who knew him best.
Goodlass, Kendall, Joe Royle and Graeme Sharp are among the names who give their own personal insight into the wing wizard, bringing with them a raft of anecdotes and memorable tales.
An in-depth interview with Ball himself, recorded shortly before his untimely death in 2007, sheds further light on his career, his life and his thoughts on the game, while clips of some of his after-dinner speeches will leave you captivated and inspired.
"Alan's children, Mandy, Keely and Jimmy, are delighted with the DVD," said Goodlass. "For me, it's the best motivational film I've seen. Bally talks about his career, his family and his values in life but it also gives you an idea of his sense of humour and why he was one of the best players in the world. And Pele said that, so that's some endorsement.
"It's been a labour of love for me because I joined Everton in 1969 and cleaned his white boots. To end up playing for Everton and for him to become a friend was a real honour and I hope Evertonians and fans of all teams will love this DVD."
The perfect Christmas gift 'Alan Ball Remembered' is a DVD every Blue will want to add to their collection.

Follow @EvertonHeritage
---
Reader Comments (33)
Note: the following content is not moderated or vetted by the site owners at the time of submission. Comments are the responsibility of the poster. Disclaimer
Stan Schofield
1
Posted 27/10/2016 at 12:56:17
I was 12 when Alan Ball joined Everton. His 5 years with us were just great. When he left for Arsenal in 1971 it was the worst day of my football life as a young Evertonian. He is still a hero to me.
Eugene Ruane
2
Posted 27/10/2016 at 14:27:49
My number one, my all-time Everton hero.
If we could find a couple of players now with a quarter of his ability and desire, we'd be laughing.
Tony Pemberton
3
Posted 27/10/2016 at 15:46:19
I'm sure we used to sing something to Needles and Pins for Bally, though I can't recall what it went like?
The Searchers were all Blues as well, I believe.
Stan Schofield
4
Posted 27/10/2016 at 18:00:03
Tony, we used to sing
Ob-la-di, Ob-la-da
Alan Ba-aa-all
Is the greatest of them all
To the tune of the Beatles song, only Gladwys St did it better than the Beatles obviously.
Ian Robert
5
Posted 27/10/2016 at 18:03:51
Anyone seen the DVD?
Peter Mills
6
Posted 27/10/2016 at 19:08:54
George McKane
7
Posted 27/10/2016 at 19:29:58
Ian Robert
8
Posted 27/10/2016 at 20:28:32
Thanks, George. Appreciated.
Peter Mills
9
Posted 27/10/2016 at 20:41:38
Tony (#3),
I know one of them was as I sat next to him at the 1969 FA Cup Semi-Final. He was a really nice guy, but bought me a cup of Bovril at half-time which, combined with Tommy Booth's last minute winner, made it a grim second half!
Dave Williams
10
Posted 27/10/2016 at 21:29:21
Wing wizard????? He played inside right for us, Richie, on the wing in the World Cup, and was by some way the best midfield player I have ever seen on these shores.
I met him at a function a couple of years before he died and had a good half-hour chat with him before the dinner and his subsequent speech. A reserved man until he sussed you out, then very entertaining and his speech was marvellously inspirational.
He brought the house down at the start when, realising he could not be seen too well by those on the more distant tables, he jumped onto a chair and did the whole 40 minutes standing on it!
My most cherished football memory ever together was a 30-yard rocket he put past Newcastle at Goodison around 1969.
There will never be another Alan Ball – crease-head was not fit to be on the same pitch as him!
Phil Bellis
11
Posted 27/10/2016 at 21:58:54
"Eeeeee aye, we've got Alan Ball
We've got Alan Ball, we've got Alan Ball
.."
To Knees Up Mother Brown...A Freddie Armstrong classic
Jeff Armstrong
12
Posted 28/10/2016 at 19:30:56
"Alan Ball is great, he won't hesitate to put the ball in the back of the net"
I know the tune but can't relate it to a pop song.
Tony Pemberton
13
Posted 29/10/2016 at 15:06:18
Jeff Armstrong. Was there any more words to that one?
I don't suppose that was to needles and pins was it?
https://m.youtube.com/?gl=GB&hl=en-GB#/watch?v=S0oP8e02dpk
Brian Denton
14
Posted 30/10/2016 at 23:02:17
Dave Williams (#10) if we are thinking of the same goal v Newcastle, it was in 1971 I think. I was in the Street End stand and had a great view of it. It was on ITV next day, but whether the recording has survived I don't know. I haven't seen it on YouTube so I suspect not.
I had the Typhoo Tea picture of Bally framed on top of our telly for about three years. The day he got transferred was a 'Kennedy' moment for Evertonians of a certain vintage. A privilege to see him play, as I started going regularly in 1966 the year he joined us.
Paul Thompson
15
Posted 30/10/2016 at 23:29:46
One of the absolute greats. I saw his debut (and winning goal) at Fulham. It was a very happy (and sunny) summer day and harbinger of good things to come.
Steve Green
16
Posted 31/10/2016 at 01:42:47
A family friend from the late '70s. Peter Dolan, used to tell me about the day out he and Mike Pender – lead singer of The Searchers and Best Man at Peter's wedding – had at Wembley in '66. After our great comeback win, they headed into central London and both ended up dancing in the fountain at Trafalgar Square; he was blue!
David Booth
17
Posted 31/10/2016 at 01:56:59
I was the proud owner of my first Everton season ticket back in 1971* and vividly remember picking up the Daily Mail in W H Smith's in Sale, where I lived at the time, to read that day's football... no internet, dedicated sports channels or endless 24/7 football reporting in those days.
Alan Ball being sold was the back page headline and, like other posters of a similar age here, it remains the most heartbreaking day in all my time as an Evertonian. Only that Clive Thomas decision comes close to being as inexplicable or impossible to reconcile. I was numb with disappointment for months. Bally was Everton.
* That works out at the equivalent of 30p per game, for 21 home league matches – in addition to which all FA Cup and League Cup games were free, as was every reserve game, which in those days were all played at Goodison Park.
Brian Denton
18
Posted 31/10/2016 at 08:58:29
David, my first season ticket was season 71-72, Gwladys St Stand. It was £13, and you are right that the reserve (called Central League) games were free. I think the programme was free too. But I'm sure the Cup games weren't included.
Rob Coles
19
Posted 31/10/2016 at 11:12:11
I was at the old Hampden Park to see Bally's shot dribble over the line to beat the Olde Enemy, Scotland. A hero and true blue legend.
Surely no Evertonian will forget his goal against the RS, one of his first for the club, I think, to knock them out of the FA Cup. Saturday night and a special first night printed edition of the Pink to read on the way home.
David S Shaw
20
Posted 31/10/2016 at 11:51:33
Did anyone go the screening of the 67 FA Cup derby at Anfield instead of Goodison? We had an away end there didn't we?
Paul English
21
Posted 31/10/2016 at 12:17:31
Alex and Alan, dynamic duo ...
Terry Underwood
22
Posted 31/10/2016 at 13:39:59
I can no longer make it to games... how can I get my paws on this "must have" DVD? Is there a postal address for orders?
Dave Abrahams
23
Posted 31/10/2016 at 17:05:45
Rob (#19) Alan's first goal for the club was against Fulham. See Paul (#15), and Alan had scored quite a few for the Blues before that goal in the FA Cup, including two against Liverpool in one of his first home games for Everton.
Nevertheless it was a great night when we beat Liverpool on a Saturday night, unfortunately we got knocked out in the next round 3-2 at Nottm Forest in a game where Alex Young was on the field but never played.
Dave Williams
24
Posted 31/10/2016 at 20:29:45
Dave (#23), I remember listening to the Forest game on the radio. Storey-Moore scored a hat-trick for them and I think Jimmy Husband may have scored our two.
Alan always said his greatest goal was the winner in the cup against RS because of the occasion. He loved playing against them and Tommy Smith held no fears for him – he just relished the challenge... all 5ft-6in of him.
Chris Williams
25
Posted 31/10/2016 at 21:36:59
I was at the Forest game that day. The winner by Moore rebounded off the bar at least twice before going in. Scrambled effort to say the least.
My memory is a bit dodgy these days but I think we may have gone 2 up before getting mugged there.
I do remember Ray Wilson kicking the ball into the crowd in disgust, at the final whistle.
Storey-Moore, who later played for Man Utd from memory, may also have been involved in a sending off for Roy Vernon some seasons earlier.
Doug Harris
26
Posted 31/10/2016 at 22:16:23
Alan Ball scored 15 league goals in his first season with us, also 2 in the FA Cup. His first for us will live forever in my memory as I celebrated with him somewhere near the halfway line after being mad enough to get on the pitch and leg it after him.

I reckon I saw every game that season home and away so obviously saw all his goals.

He played 41 League games missing Burnley at home after being subbed at Stoke 3 days before... and played in all our FA Cup games, 3rd round to the 6th round.

Dave (#24), Jimmy Husband did score our 2 goals at Forest.
Ray Roche
27
Posted 31/10/2016 at 22:37:54
Dave (#24), Chris (#25), the Forest game was on the 8th April and was also the day of the Foinavon Grand National, and to heap more misery on us, Sandie Shaw won the Eurovision Song Contest with Puppet On A String.
We drove home in silence, absolutely gutted.
Martin O'Hare
28
Posted 31/10/2016 at 23:54:13
I was at the Forest game that Saturday, opposite side were Storey-Moore scored the winner. I think in the last few minutes, the ball hit the bar twice and then tapped In. We drove back to Liverpool shell-shocked... couldn't believe we'd lost after dominating the game.
Dave Abrahams
29
Posted 01/11/2016 at 00:55:31
Dave (#24), I 've told this story before.
I was in Tom McCardle's club, in Temple Court just off Dale Street, on a Thursday night after being to the Liverpool Stadium to watch the boxing, when Alan Ball came in with Howard Kendall, not long after Howard had jolted us from Preston.
Howard was like a choir boy nursing a couple of glasses of lager all the time he was in there. Alan was having a bit of banter with Blues and Reds when one of the Reds said to him, "Smithy will see to you on Saturday" Alan pointed to his bum and said to the red nose, "That's all Smithy will see of me on Saturday." Dave, you are right: Smithy didn't bother Alan Ball – he was frightened of no-one and relished playing against any player; the better the player, the more it brought out the fighter in Alan. I wish we had someone now who had the bottle, heart and the will to win that he had.
Ray Roche
30
Posted 01/11/2016 at 13:41:11
Good story, Dave. As for Smith, he was a coward, throwing his weight around with smaller players who he knew would be frightened by his reputation, a reputation with nothing to back it up. He was shit scared of Johnny Morrissey and, indeed, anybody who stood face to face with him. A truly horrible, obnoxious cretin unloved by his own team mates.

Dave Williams
33
Posted 01/11/2016 at 19:50:23
Great story, Dave (#29) and I couldn't agree more – you can't coach a will to win and courage and work rate but Alan had all in abundance allied to tremendous vision, one-touch skill like I never saw in any other player, and the ability to win a game on his own.
I can't get excited when people talk about Beckham, Scoles, Gerrard, Keane, Viera, Zidane etc because none of them came even close to Alan. The only player anywhere near him apart from Colin Harvey (he had the skill etc but didn't dominate on his own) was that nasty little Scot from Leeds – Billy Bremner – but he needed Giles by his side to be most effective whereas Alan could do it all on his own.
Getting misty-eyed now!
Stan Schofield
34
Posted 01/11/2016 at 21:09:05
David @17 & Brian @18: My first season ticket was 1970-71, just after we won the league. The Paddock, ٥. I recall it including all reserve games, plus priority for FA Cup tickets.
Dave @29: Regarding Tommy Smith, I recall Duncan McKenzie, in the semi-final against Liverpool (where we were robbed of that Hamilton goal) trapping the ball, on the half-way line, from a goal-kick, flicking it over his head, with Smith marking him, turning, whilst keeping control of the ball, and leaving Smith for dead.
It was brilliant, made Smith look stupid.
Laurie Hartley
36
Posted 01/11/2016 at 23:49:48
They say one man doesn't make a team and Bally did have some great players as team mates. Nevertheless, when he was sold to Arsenal, the record shows that it marked the end of an era for Everton.
One great player can make a huge difference to a team and a football club.
Where can we find a midfielder to go with our current crop of very talented players with theses attributes:
Authority
Leadership
Courage
Stamina
Strength
Vision
Skill
Passion
He had it all.
If there is such a player out there, we should sell the farm to get him.
Add Your Comments
In order to post a comment, you need to be logged in as a registered user of the site.
Or Sign up as a ToffeeWeb Member — it's free, takes just a few minutes and will allow you to post your comments on articles and Talking Points submissions across the site.
© ToffeeWeb