Niasse finally set for Turkish move?

52 Comments [Jump to last]

| Monday, 21 August 2017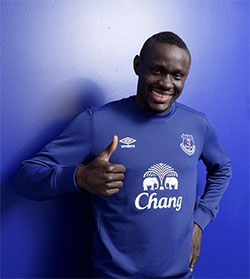 Updated
Oumar Niasse's failed spell at Everton could soon be over amid reports from Turkey that Fenerbahçe are set to sign him.
BeyazTV are apparently reporting that a deal is in place with the Senegalese striker, which presumably means there is an agreement with Everton as well.
No fee is mentioned but it is likely that the Toffees will take a significant loss on a player whom Roberto Martinez signed for £13.5m 18 months ago and who has no future at Goodison Park under Ronald Koeman.
Niasse spent a period of last season on loan at Hull City but despite scoring goals for the Tigers, he could not prevent their demotion back to the Championship.
He has been linked with a move to Turkey on a number of occasions, with both Galatasaray and Besiktas mentioned as serious suitors, over the past year but none of the speculation has come to fruition.
Niasse has subsequently been reported by SabahSpor as telling close friends: "I just can't wait to return to Turkey. I missed the country very much."
Original Source: BeyazTV
---
---
Reader Comments (52)
Note: the following content is not moderated or vetted by the site owners at the time of submission. Comments are the responsibility of the poster. Disclaimer
John Mckay
1
Posted 21/08/2017 at 18:04:16
I'll give him a piggy back half way who is up for doing the other half?

Martin Nicholls
2
Posted 21/08/2017 at 18:09:43
I'll do it John! Not Niasse's fault obviously but the guy is simply not good enough.
Mark Tanton
3
Posted 21/08/2017 at 18:32:27
I am still of the opinion that he has never had a chance in blue. Koeman formed a very quick of opinion of him and isn't going to change it - he has painted himself in to a corner with Niasse now and it has made it hard for him to play him.
Fair enough, Koeman is the boss and doesn't fancy him. That's football. I don't think he's as useless as many believe though. Anyone who scores against our subhuman neighbours is alright in my book.
Steve Ferns
4
Posted 21/08/2017 at 18:41:14
So he's off to Turkey to join the legend that is arouna Kone!
Arouna scored at the weekend, on his home debut. I wish them both well. Kone never moaned once and always played with a smile on his face. I wonder what might have been had he not got injured and had he scored that sitter on his debut for us.
I hope Niasse goes quick. Lingering here is only embarrassing to the club, to the player himself and it makes Koeman look bad also, Niasse showed he's not a bad player for Hull and not giving him a go, when we're crying out for pace, is not what I want to see from a manager. He should have given him at least one look in pre-Season, this one or last one, and not doing so looks childish.
Denis Richardson
5
Posted 21/08/2017 at 18:48:26
Steve 4,
For £55k/ week I'll play with the biggest smile you've ever seen slapped on my face. Every game, every day, each time I take a shit.
Where do I sign?
Mike Berry
6
Posted 21/08/2017 at 19:06:42
I hope the player finds some turkish delight. Obviously an honest dignified player, no fuss despite his lack of playing time for the blues. Good luck to him
Len Hawkins
7
Posted 21/08/2017 at 19:15:00
To say Koeman didn't fancy him is ridiculous, how many Evertonians who saw him play "Fancied" him. Not so many I think. It was Martinez's last throw of the dice which he should have been made to pay for. Christ he was Evertons Souness moment when he signed that similarly talented clown at Southampton.
I scored a couple of goals against Jimmy Rimmer (Man Utd/Arsenal/Aston Villa goalkeeper in the 60's but I never got anywhere near playing for Southport let alone Everton. He was out of his depth by a long way and it shows why Hull got relegated if he looked good in their team.
Rick Pattinson
8
Posted 21/08/2017 at 22:33:09
I love that photo of him he doesn't even look like a footballer !!! .he's like.." I'm here and I pulled the wool over your eyes "!!! Well for one or two games you did anyway
Colin Glassar
9
Posted 21/08/2017 at 22:35:24
Good luck lad. Please go.
Anthony Dwyer
10
Posted 22/08/2017 at 01:38:51
People will probably jump all over this but fuck ya's anyway .
I'm never going to say Niasse was a top player, but no one can claim he was given ago.
He played for a poor Martinez side 7 times, mostly as a sub and I don't think he ever played 90 minutes, how is that being given a chance.
He has scored at international level three times from eight games, he's scored in the Turkish top league, the Russian top league, the premier league, so he's not just a joke.
Whatever he is or isn't he clearly didn't get a chance at us.
Imo he wasn't ever going to be a top player but I do think he would have been worthy of Valencia and Kone's game time last season which would have pushed up his transfer value.
Matt Traynor
11
Posted 22/08/2017 at 03:43:42
Anthony #10, that's partly what training is for - to assess who's ready to be given a go. Clearly Koeman didn't see enough to warrant giving him a go, or even to determine he was part of his squad going forward. He's the manager, that's what he's paid to do.
Martinez seemed to have come round to the same way of thinking.
It happens - all managers inherit players they don't fancy. Kendall Mark II did it with Stuart McCall and Pat Nevin - two of my favourites at the time. It's best all round that the player moves on so he can resume his career, and Everton recoup what they can.
Remember that Dutch player Chelsea signed years ago? £40k a week and they decided he wasn't up to it. He decided he wasn't up to moving off that salary, so he was forced to sit in the stands watching every game for 4 years. How much should those of us who watched the Walker months be paid? :)
Paul Ellam
12
Posted 22/08/2017 at 08:14:20
The sooner he leaves, the better, for all involved.

Jakub Kollar
13
Posted 22/08/2017 at 10:07:31
Matt, who was that Chelsea player you mentioned?
Derek Knox
14
Posted 22/08/2017 at 10:08:56
Martinez has cost the club a fortune, overpaying for Niasse and Kone, to name just two, not either of the player's faults by the way.
He then got compensation when Everton got shut.
We may recoup part of the fee for Niasse, but all in all a financial disaster.
Colin Glassar
15
Posted 22/08/2017 at 10:19:48
Dirk Bogarde, Jacob.
Erik Dols
16
Posted 22/08/2017 at 10:24:11
Jakub, must be the famous Winston Bogarde. In the end he had to train once a week with a youth team and he just flew in for one training a week and flew back to the Netherlands afterwards. He is to me a typical example of footballers who don't know how to cope with their wealth. He won the Champions League at Ajax, played for Milan and Barcelona before moving to Chelsea. He has earned well over £10 mil in his career but has been declared bankrupt, all property sold, Dutch HMRC at one point advertised in a national paper to announce that they were looking for a "W. Bogarde" with the same birthday as the footballer, who was without a known address...
Sad story with a nice end: Ajax picked him up and gave him a job in their youth setup a couple of years ago and he seems to be doing fine right now.
Steavey Buckley
17
Posted 22/08/2017 at 10:33:51
Martinez was the one who bought Lukaku for 28 million and sold to Manu for upwards of 90 million, brought Cleverley in for 0 then sold for 8 million. Martinez launched John Stones career as a centre half then sold for 49 million. Deulofeu was sold back to Barcelona for a small profit. Barkley will go next, another career launched by Martinez. Even Alex Ferguson go it wrong on occasions, on one occasion allowed Pogba to leave ManU for nothing, brought back at a whopping cost of 90 million.
Andrew Ellams
18
Posted 22/08/2017 at 10:57:52
I can't help feeling that there is something behind the scenes here. Didn't he have some issues with the police regarding domestic violence not longer after he joined? Maybe he's just not the sort of person that Koeman wants around the club.
Joe Clitherow
19
Posted 22/08/2017 at 11:11:06
Mark 3 and Anthony 10
I would say that I have never been given a chance to turn out in blue for the first team either but that also doesn't mean it is a given or even a good idea that I should.
The management team assess players they have available and make a decision about who they think should play for the first team, which I presume is not based on making sure everyone gets the same amount of game time based on some idea of "fairness" or "giving people a chance". The management get paid to have their opinions on the best side to gain points, not chucking someone in to see what happens. Like it or not, his opinion on this particular player is definitely clear. I happen to agree with him on this one.
Ray Roche
20
Posted 22/08/2017 at 11:31:34
Colin#15
It was WINSTONE Bogarde, not Dirk Bogarde. Unless, of course, Dirk Bogarde gave up being a professional, smooth English actor in 60's and 70's films to sign for Chelsea. Interesting to have a look at Winstone Bogardes Wiki page.
Anthony Dwyer
21
Posted 22/08/2017 at 11:39:31
Matt 11 Joe 18.
Fair points, again not a Niasse fan myself but I don't see him as any worse than Kone or Valencia.
Kone was out of contract so couldn't earn us a penny and Valencia cost us money and wasn't very good.
Can see your points just think that a decision was made on him a little quickly and it was probably more to do with beating his bird up than being unworthy of the odd cameo.
Joe I understand what your saying in hindsight about you not being given a run out but you aren't already signed on and you haven't scored goals in Russia, Turkey, England and international level although even without that I'd have considered you for a start over Kone!!!
Gary Drain
22
Posted 22/08/2017 at 11:40:47
From Winston Bogarde's wiki page
'This world is about money, so when you are offered those millions you take them. Few people will ever earn so many. I am one of the few fortunates who do. I may be one of the worst buys in the history of the Premiership but I don't care.'
Nice bloke.
Terry White
23
Posted 22/08/2017 at 17:01:54
Len (#7), in my claim to fame I also scored a couple against Jimmy Rimmer during the '60s. For what team were you playing? Mine were on a Sunday in the Crosby & District League.
Denis Richardson
24
Posted 22/08/2017 at 17:34:24
Gary 22, to be fair to Mr Bogarde. If memory serves me well, Chelsea offered him a 4 or 5 year contract at (a ridiculous at the time) 40k a week. After a short time they didn't want him anymore and tried to get rid of him. However, although loads of clubs wanted to sign him, he was being offered around 10k a week.
Chelsea tried to bluff him saying if he didn't go he'd be with the reserves and they wouldn't pay the difference in wages. Mr Bogarde, putting his family ahead of his career, called their bluff and subsequently spent the next couple of years with the reserves, coming into training bang on time every day.
Given the circumstances, I would have done the same personally and probably 99% of everyone else would have done the same.
Two sides to every coin...
Lee Brownlie
25
Posted 22/08/2017 at 18:13:41
Steve Ferns (#4).. he did get a go last pre-season didn't he? Seem to remember him falling over himself!.. hence no consideration since is hardly 'childish' but quick, sound judgement, especially after some reported 'domestics' thrown in, isn't it?
Colin Glassar
26
Posted 22/08/2017 at 18:36:13
Denis, remember Cudicini? He stayed at Chelsea despite them asking him to leave and other clubs showing interest in him.
Anyway, it sounds like Niasse is finally off. Is it a loan deal or a permanent one?
Ste Blundell
27
Posted 22/08/2017 at 20:22:18
Putting a question mark after a sentence doesn't make it a question.
Andrew McLean
28
Posted 23/08/2017 at 00:33:45
After?
Don't you mean 'at the end of' ?
Denver Daniels
29
Posted 23/08/2017 at 08:04:50
Derek, and who was it that "signed" Martinez?
Fair dues, Niasse has been a flop, and on a par with Kroldrup in this regard. I'm sure the current manager will make a mistake or two as well .it goes with the territory.
Nick Armitage
30
Posted 23/08/2017 at 12:24:47
Steavey Buckley - valid points re Martinez sales, however some of this is due to the ridiculous inflation in the game. Overall he was a bag of shite.
John Wilson
31
Posted 23/08/2017 at 12:25:36
Niasse a flop perhaps... But, Niasse could score goals,
res ipsa loquitur
(evidence speaks for itself): Niasse scored against Man Utd and Liverpool.
I think we have this rather embellished view of Everton; we're not at the moment anything to write home about, especially in terms of forwards. I bet Niasse would have scored against Man City and any other top team given the chance. Niasse, like our Blues, is clearly a confidence player. If no-one believes in you as player, of course even the limited ability Niasse had would be hampered.
Everton are the same; when they face the top 4, they seem to have psychological problems. We simply do not have sufficient strikers – at the required standard – in Everton; as, in my view, the board had Lukaku money eyes, never bothering to look for a Number 9 replacement in the early / interim period pre-season with as much effort/ tenacity as they did for Sigurdsson latterly.
This is why we are no real threat to the Premier League this season. We have the spice boys – the YTS kids – but when faced with Premier League teams who have the likes of Giroud playing the last minutes and he scores (but still his hierarchical place is on the sub's bench), where we wanted Giroud as our target man, I think this speaks volumes.
In short, we needed Sigurdsson and Lukaku (or his adequate replacement) to be remotely a threat to the Premier League this season.

Gary Drain
32
Posted 23/08/2017 at 13:21:15
Terry 23, i'm sure most people could look after their families on £10k a week!!
Robin Cannon
33
Posted 23/08/2017 at 14:54:01
@Gary (33) - Sure, taken in isolation. Just as simply; what if someone said, "Hey, do you want your current salary or a quarter of your current salary?"
Eugene Ruane
34
Posted 23/08/2017 at 15:32:42
Anyone giving grief to the player, about his ability or wages, rather than pointing accusing fingers at the club, imo, might as well wear an "I know fuck-all me!" t-shirt.
His footballing ability is simply..what it is (like every other player at any level).
"Yeah, not fucking good enough!"
Fine, but he didn't fucking buy himself did he?
Everton scouted the player (or..didn't).
Everton agreed a contract with the player.
Everton agreed wages.
Any part of that difficult to understand?
"No..er..it was Martinez!"
Bollocks, we know how clubs work and it's they who say 'yes' or 'no,' to a player/deal (the story from some reads "Martinez signed him and legged it." as though it's that simple).
Imo, on the evidence we have, the player is blameless and has conducted himself impeccably, while Everton FC have shown themselves to be staggeringly inept.
Afuckingain!
David Barks
35
Posted 23/08/2017 at 15:42:13
What Eugene said.
Tony Rice
36
Posted 23/08/2017 at 15:56:44
I'll be glad to see him go; best for all parties but I would never do business with Fenerbahçe after the Yobo fiasco.
Paul Kossoff
37
Posted 23/08/2017 at 19:33:34
Kone never moaned once and always had a smile on his face did he? Well I would be smiling if I was being payed £60,000 a week for doing fuck-all, wouldn't you? Unbelievable, once a blue mentality no matter what?
Ste Blundell
38
Posted 24/08/2017 at 00:14:20
No after!

Dave Bowen
39
Posted 24/08/2017 at 00:58:26
Top scorer & IIRC player of the season in Russia. He has scored against both Manure & the RS. Although prone to looking like Bambi on ice at times, he does have pace & power. The problem is the arrest by GMP. I don't know if the charges were dropped or not, but an arrest or two never bothered Stevie Gee Laa. I'm baffled he was never given a chance because IMHO he is good enough.
Alan J Thompson
40
Posted 24/08/2017 at 06:30:59
Eugene(#34) & Dave(#39); Absolutely spot on!
Nicholas Ryan
41
Posted 24/08/2017 at 15:57:15
I know he's hopeless, and I know he looks like Bambi etc. BUT: This is a player who can say: When Dave Unsworth gave me a go, I scored 7 goals. I then got half a dozen Premier league games, in which I scored against Manchester United and Liverpool. I never really complained when publicly embarrassed; I seem to be pretty popular with the other players.'
I've seen plenty worse CVs!!
David Reid
42
Posted 24/08/2017 at 17:06:15
Of his contract Mr Bogarde said, "Why should I throw fifteen million Euro away when it is already mine? At the moment I signed it was in fact my money, my contract." In the end, he only appeared eleven times during his four-year contract, reportedly earning £40,000 a week during this period.
David Currie
43
Posted 25/08/2017 at 06:39:28
Shit player, goodbye.
Colin Glassar
44
Posted 25/08/2017 at 09:32:45
All well and good but, where's our new striker???????????
Once again, last night, we saw the urgent need for a target man who can hold the ball until reinforcements arrive in the oppo box. DCL is doing a Herculean job but he'll be knackered by xmas if he continues to play up on his own.
Get yer finger out Walsh/BK or you could screw up our season after such a promising start.
Colin Glassar
45
Posted 25/08/2017 at 11:31:04
Cheeky sods, they're offering us €1m for a season long loan. Aren't these the same lot who wouldn't pay us the Yobo money?
I'd rather release Niasse from his contract than let him go for an insulting amount.
Gary Edwards
46
Posted 25/08/2017 at 12:09:37
100% Colin
is it just the way the media 'sells it' or is Fenerbahce's 'offer' (& similar previous dealings with Turkish clubs) just another example of insulting, misplaced belief of entitlement that seems endemic within that 'world' ?
Other media sources report that Brighton want to pay good money for him. After his positive showings for Hull last season surely we could recover a large portion of what we paid for him.
Sean McCarthy
47
Posted 25/08/2017 at 18:06:31
Mark #3
I'm guessing anyone who saw him play at Goodison against Bournemouth won't have "fancied" him either. He was so far out of his depth I was tempted to throw him armbands and a rubber ring!! It was as tho he'd won a competition to play in a testimonial game!!
Koeman is no mug and it took him 45 mins of pre season to see all he needed to see. Niasse simply is nowhere near good enough. Any criticism should be levelled at Martinez for buying him, not Koeman who clearly has much higher standards. Thankfully!!

John Francis
48
Posted 25/08/2017 at 19:31:10
Niasse playing for the u23s now at Chelsea.
Dave Bowen
49
Posted 26/08/2017 at 01:24:54
Scored again tonight. He scored more goals for Hull & the U-23's than Mirallas, Lookman & DCL combined. Give him a go RK, you never know.
James Watts
50
Posted 26/08/2017 at 01:59:49
No chance, Dave. Remember when Niasse scored last season for the U23s? Koeman's reaction as along the lines of 'Good, I hope he scored a hat-trick every week so we can sell him quicker'.
We know 100% when Ron says one thing he stands by it... *cough* Barkley *cough*. Actually, he'll probably play Sunday, thinking about it!!
Dick Fearon
51
Posted 29/08/2017 at 01:50:27
Could Niasse have done a worse job at Chelsea than Sandro?
Dennis Ng
52
Posted 29/08/2017 at 02:24:21
Prob not Dick. Sandro is not suited for that role. Niasse prob will do much better especially if we can lay the ball in front of him when countering.
Add Your Comments
In order to post a comment, you need to be logged in as a registered user of the site.
Or Sign up as a ToffeeWeb Member — it's free, takes just a few minutes and will allow you to post your comments on articles and Talking Points submissions across the site.
© ToffeeWeb