Fonseca to clarify his future "in a few days"
| Monday, 14 May 2018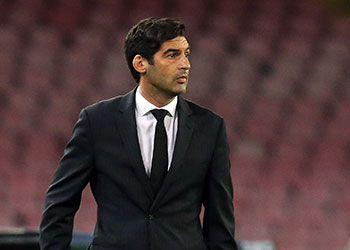 Paulo Fonseca has indicated that he is considering his options and will shortly announce a decision over whether or not he will be staying with Shakhtar Donetsk.
The Portuguese has consistently been the subject of speculation linking him with Everton ever since the Blues approached him about becoming Ronald Koeman's long-term successor last November.
Shakhtar refused to allow the 45-year-old to leave at the time but with his contract now up, Fonseca is free to take up a new position.
The Ukrainian club have reportedly offered him a bumper €9m contract to extend his stay with them while West Ham have emerged in recent days as potential suitors with David Moyes's own contract up at the London Stadium.
"In the coming days you'll know about my future," Fonseca apparently told a news conference this weekend after Shakhtar landed the domestic league and cup double again under his stewardship. "I'm happy here, because we won everything, but in few days you'll have news."
A decision from Everton over the future of Sam Allardyce is also expected at some stage this week. The indications recently have been that the unpopular manager took charge of his last match as the Blues lost 3-1 to West Ham on Sunday and that he will be relieved his duties with a year left on his contract.
Meanwhile, Sport Witness also pass on the news that talk of Sérgio Conceição being an Everton target has cooled since it was first reported last week.
Instead, it appears as though Porto are preparing an offer of improved terms for the 43-year-old.
---
---
Reader Comments (59)
Note: the following content is not moderated or vetted by the site owners at the time of submission. Comments are the responsibility of the poster. Disclaimer
Colin Glassar
1
Posted 14/05/2018 at 19:02:36
Take your time mate, we aren't in any hurry.
Terry Davies
2
Posted 14/05/2018 at 19:15:18
Fed up with all this pointless speculation.
can't believe Everton will keep Allardyce and also can't believe Moshiri doesn't know exactly who he wants to replace him and am sure he has been in detailed negotiations for months. I can't suspend belief long enough to believe Moshiri was ever going to Keep Sam longer than this season. I hope and believe all will be revealed sooner rather than later as I think the window opens this coming Thursday
Rob Dolby
3
Posted 14/05/2018 at 19:21:17
He is waiting for the big job to come along. Juve, PSG, Munich, Chelsea, Real, Arsenal.
We are competing with WHU for the next level down. Silva, Arteta, Howe, Dyche.
I would love a big name manager but after Koeman maybe someone who has a point to prove and sees us as a step up not a step down.
David Currie
4
Posted 14/05/2018 at 19:22:55
Go and join Laurel and Hardy at Westham cos Arsenal won't touch you.
David Currie
5
Posted 14/05/2018 at 19:22:55
Go and join Laurel and Hardy at Westham cos Arsenal won't touch you.
Tony Twist
6
Posted 14/05/2018 at 19:32:02
Not sure if his style of play will suit us. It just reminded me of Martinez's style with his team trying to pass the ball into the back of the net. Just think Goodison will become impatient and crank up the pressure on him and the players. Having said all that I just can't say who would be suitable for the manager of Everton job. Hope someone knows what they are doing and will make a change quickly.
Jamie Evans
7
Posted 14/05/2018 at 19:32:26
Wow.
Just seen our current manager on SSN during the manager's end of season review. Erm, he's on his way then by the look of things. Thank God.
Absolutely despicable balls being spoken by Farhard's best buddy as well.
Just be grateful for what you've got little old Everton.
Disgusting.
Colin Glassar
8
Posted 14/05/2018 at 19:43:47
What did the FB say Jamie? Tell us more.
Gordon White
9
Posted 14/05/2018 at 19:44:19
I can't see what's holding up an imminent announcement. Seasons finished. Moshiri probably had a shortlist before Koeman went. Sam was only ever a short term fix. There's surely been negotiations happening for months?
Asbjørn Opstad
10
Posted 14/05/2018 at 19:49:00
What about Eddie Howe? Would he be available if enough money was put on the table?
Jamie Evans
11
Posted 14/05/2018 at 20:03:28
Colin, once Jim had removed his tongue from our manager's hoop, he asked him about the future.
Mr Allardyce smirked that famous smirk of his and said words to the effect of "I've got a meeting with Farhard then I'm off on moi holidaaayys."
In other words a long holiday away from us ungrateful Evertonians who should be building a statue of him.
He's on his way mate.
Jim Bennings
12
Posted 14/05/2018 at 20:04:13
Everton will do what Everton always do which is brush this season under the carpet like it never even happened and all is rosy because we survived the dreaded drop.
Already we've had Jagielka coming out again lauded and congratulating finishing 8th.
I'm just waiting for another outlandish statement from Moshiri calling Allardyce and Sammy Lee the Terrific Two!
Stewart Lowe
13
Posted 14/05/2018 at 20:09:56
I just get the feeling that something is going to happen in the next 12-24 hours. It's a given that Allardyce is gone.
I won't be happy until we get one of: Emery / Simeone / Fonseca / Ancelottii
Emery: out of work but will look to prove himself again.
Simeone: Highly unlikely, but has done all he can with a now ageing Atletico. New challenge in a new league and could be handed £200m to make us challengers.
Fonseca: is obviously doing something right in Shaktar, and consistent too.
Ancelotti: For Everton and where we are now, he wouldn't be my first choice but could take us to those higher levels. He is a good fit at the right time. He is out of work, and maybe likely to be over looked by bigger clubs who might want someone younger. Has won everything in the game.
MARCO SILVA: I don't get what all the fuss is about with this guy. He is the Portuguese Roberto Martinez, wants to attack at the expense of a poor defence. He has 4 good months at Watford and suddenly he's the new Mourinho. Every foreign manager does OK at Watford, he is no great thing. Taking Silva on would be like chancing on Koeman all over again. Needs to be given a very wide birth. We need someone who has won decent trophies.
Brian Williams
14
Posted 14/05/2018 at 20:18:06
Just had a call from an employee of the club who said on the phone that Brands and Silva will be in place by the end of the week.
I said "Marcel Brands and Marco Silva, dream team mate."
He said "No, no it must be a bad line, it's Jo BRAND and Phil SILVERS.
Gettin' me coat already.

Colin Glassar
15
Posted 14/05/2018 at 20:22:08
Cheers Jamie. Just counting down the hours now.
Joe McMahon
16
Posted 14/05/2018 at 20:25:41
Stewart (above) you say "We need someone who has won decent trophies." - thats gonna be tough, the fact that Everton have never even played in the group stages of the CL or won anything for 23 years is not going attract the likes of Simeone et al. Arsenal want a manager now and we can't compete with a club that has a much higher profile and has won multiple trophies since we last won anything. This isn't what I want either, but this is Bill Kenwright's legacy.
Stewart Lowe
17
Posted 14/05/2018 at 20:32:55
Joe#16: your right we aren't at the level if an Arsenal, but we have to aim higher than a Silva or a Dyche otherwise we are going to be grounded and stuck in transition, we won't get any closer to the top 6. Silva should be courted by teams like West Brom or a Southampton, not an Everton. There are a 1000 poor or bang average Managers that can keep you static or take you down, there aren't too many that can take us to the next level, but we have to go for it. We can offer a top Manager amazing wages and a huge transfer chest to get us there. That's why I think Ancelotti is the right fit at the right time.
Stewart Lowe
18
Posted 14/05/2018 at 20:40:04
When I read the tabloids that were telling us we were going to go for Koeman my thoughts were, please god no. He had won almost nothing and I was convinced his name got him his jobs based on his name rather than ability.
When I heard Allardyce was being considered for the Everton job in the winter, I thoughts were, please no, we are going to be a laughing stock playing boring football.
When I heard we had considered Silva before we chose Allardyce, my thoughts were please don't let this be true, pressing high in attack, with the defence like a sieve. Roberto Martinez Mark 2.
If we go for Silva, you heard it hear first, 12 months from now we are going to be a laughing stock. We will be baying for his blood too.
Joe McMahon
19
Posted 14/05/2018 at 20:43:29
Stewart, Sadly we may have to wait for the new stadium (if it ever gets built) for the wish list to be realistic. One thing is for sure I don't want Sean Dyche at Everton, too defensive and low scoring, we've had too many years of that already, this season, Walter Smith and 11 years of Moyes.
Mike Galley
20
Posted 14/05/2018 at 20:45:26
I hope noone minds me asking this, but why are we so confident that there'll be a massive transfer war chest? Is there something I don't know?
Don't get me wrong, I hope that there is a big budget for our new manager, assuming Allardice is sacked. But I just think quite a bit of our spending under the new owner has been, at least partly, funded by player sales. Lukaku, Stones, etc.
As I say, has there been some sort of announcement over the last few months that I've missed?

Dermot Byrne
21
Posted 14/05/2018 at 20:48:27
Stewart: you obviously see it well. But I still think the the big names will coincide with the stadium and we may be stuck with just top half until then. I think the owners think the chances of getting the really good will be more possible when the new ground shines and they sort the business out. Idon't say that is necedsarily the right plan but do suspect that is the actual Everton business plan.
Sam Hoare
22
Posted 14/05/2018 at 20:51:31
Stewart, how come you rate Fonseca so much higher than Silva? Silva has won trophies in easier leagues just like Fonseca.
I'll make the opposite prediction to you. That if he comes here we will play better football, beat some of the teams above us occasionally and end next season with more points than this one.
Brian Williams
23
Posted 14/05/2018 at 20:56:12
Mike#20.
You may have missed the £131m windfall announced today?
Stewart Lowe
24
Posted 14/05/2018 at 21:09:10
Sam#22: I rate Silva quite poorly because he in a similar fashion to Roberto Martinez, had Watford playing pressing football with a dreadful defence. And in 12 months time, the media will beat us with this stick saying, well Everton got the attacking / entertaining football they asked for, bet they wish they had Allardyces defence back. We would be the laughing stock yet again. But a Fonseca team has a lot more balance between attack and defence, one isn't compromised by the other. They hit a team with pace and more than one dimension. No Manager should be taken on at Everton because they had an OK 4 months st Watford.
Sam Hoare
25
Posted 14/05/2018 at 21:26:00
Stewart, I don't want Silva due to his 4 months at Watford. I like him more for the fact that he improved the results for all 5 clubs he has managed. That is not something that can be said of Martinez.
Brian Harrison
26
Posted 14/05/2018 at 21:35:49
When did Martinez play a high pressing game must have slept during that game. He was obsessed with possession and in his last 2 seasons most of the possession stats were passes in our own half. He was left a solid back 4 when he took over and 3 managers later we still look more solid with the 3 defenders Moyes played.
I see absolutely nothing similar between Martinez and Silva, there styles are quite different.
Peter Thistle
27
Posted 14/05/2018 at 21:37:25
Bye Bye Fat head and welcome aboard Silva, seems inevitable...
Patrick McDermott
28
Posted 14/05/2018 at 21:42:23
It was the same on talksport with Jim white and bob mills saying we should be grateful for fat sham. He doesn't have to watch that turgid football, how dare we dream.
Tony Abrahams
29
Posted 14/05/2018 at 21:50:17
Maybe it was the West Ham game Brian? When he took off a very energetic midfielder (Lennon) and put on a striker, even though we were winning and was down to ten men!
Bobby Mallon
30
Posted 14/05/2018 at 21:54:03
All commentators are top six biased. Liecester have won the prem and they barely get a mention. Spurs have won f all but are never out if the media, same as the red shite
Adam Scott
31
Posted 14/05/2018 at 22:00:40
Like Brian (26) points out, it is simply lazy to trot out the 'Silva is another Martinez ' line. Apart from a similar sounding name, and a less than illustrious playing career they bear no real resemblance
Brian Murray
32
Posted 14/05/2018 at 22:08:37
I would be happy with a Sky "Breaking News" that EFC are about to act and think like a big professional club.
Phil Head
33
Posted 14/05/2018 at 22:25:56
Hate to be the bearer of bad news but Fonseca's been spotted coming out of David Sullivan's House with his agent Jorge Mendes. The articles in the Mail, complete with photo's. Just when I thought it couldn't be more humiliating being a fan of this club, it gets even worse, rejected for West Ham United! Embarrassing!
Andy Meighan
34
Posted 14/05/2018 at 22:38:25
Simeone, Emery, Ancelotti, Fonseca, Silva... Throw any name in the hat. Pick one out and I'd guarantee you not one of them could do anything with that squad of players. The worst, unbalanced, pedestrian, laborious set of players to grace our club for many a long year.

Yes the football under Allardyce was poor but no coach in the world would be able to get that lot suddenly playing any better. A clear out is needed but there are no clubs stupid enough to take most of that squad off our hands. It's that bad even Lookman doesn't want to come back.

Whoever comes in has a massive, massive job and I just hope he's given at least 3 years to shape and mould his own style. By that time, hopefully most of Koeman's buys will have been sold or moved on.
Rob Dolby
35
Posted 14/05/2018 at 22:45:07
When the oil money first hit man city they appointed Mark Hughes, then Mancini and then waited 2 seasons for Pep keeping Pelagrino as a caretaker.
We are figuratively at the Mark Hughes stage. We aren't going to get a marquee manager, it's just not going to happen.
Jay Harris
36
Posted 14/05/2018 at 22:53:16
I was looking at some interesting statistics today Rob that show us as the 6th most successful Premier league club in terms of accumulated points.
City are still below us but have risen rapidly since 2008. Hope and pray.
Steve Ferns
37
Posted 14/05/2018 at 22:55:02
Of the two, Fonseca is more Martinez. Silva is a counter attacking manager. That is the opposite of a possession based game. However, he is tactically flexible.
Tony Twist
38
Posted 14/05/2018 at 22:55:24
Looks more and more likely that it's going to be the same old same old with Everton going for the cheap and cheerful option of Silva. Let's hope Marcel Brands, if he is coming, is the real deal and Moshiri and his advisors have done their homework properly on this incoming manager. If it is Silva then we are at Watford's level and West Ham are bigger hitters than us and go out and get their man. Time will tell if Moshiri has learnt anything with his time at Everton. Here's hoping I am proved wrong and we have turned the corner and fortune shines on us.
Steve Ferns
39
Posted 14/05/2018 at 22:59:26
Tony, we were prepared to pay £15m to get Silva. How does that make him cheap and cheerful? It's about having courage in your convictions. He was the best man before Allardyce came in, 10 games later he's not good enough? Talk about a fickle opinion.
Let's see how this plays out. Either of the two Portuguese managers will do well. But Silva is the best fit.
Tony Twist
40
Posted 14/05/2018 at 23:24:26
Steve, I hope you are right, you seem to know your stuff. I don't to be honest, it's just gut feeling with me and what has happened in the past with previous managers and certain rumours about them came true. For example Koeman liking the golf course rather than training the players and Martinez not being bothered about defending. Marco Silva seems to not hang around which is bad for us as it will take years to tidy this mess up! He is respected by ex players so may be I am off the mark with him, it just isn't a high profile appointment and in my opinion not something that will wipe the smile off the RS faces.
Steve Ferns
41
Posted 14/05/2018 at 23:30:10
Tony, Silva was at tiny Estoril for three seasons.
Then Sporting sacked him as he clashed with their president. He was accused of trying to oust the president who then gave the reason for sacking their trophy winning manager as not wearing the correct suit, in a long document given to the press.
He left Olympiacos because he'd won the league by 30 points losing one game and drawing another, and where do you go from there without spending good money and having a crack at the Champions League.
He left Hull because he did so well that despite going down, Watford, Southampton, and Crystal Palace all wanted to give him a job.
Watford change managers every season. So can you blame him for looking for a job like ours, where we employed one guy for 11 seasons?
So I don't agree he doesn't want to stick around, he's just had some of the worst chairman. Including the Greek nutter who now owns Nottm Forest as well as Olympiacos.
Nicholas Randall
42
Posted 14/05/2018 at 00:30:27

When Everton played Arsenal in 2013-2014, they had more possession but Everton scored the goals. I think that was counter attacking football.
I do not know anything about Fonseca or Silva but I think Fonseca has the better record but it seems he may be going to West Ham. I think it is likely that Silva will be the next Everton manager and I hope he improves the team.
I do not think Allardyce deserved the abuse he has received, I think there was a possibility that Everton could have been relegated had he not been appointed and that would not have been easily accepted. I understand that he does not play attacking football and is defensive but I think his appointment was necessary.
Jim Harrison
43
Posted 15/05/2018 at 03:54:50
Regards Jim White, he is a pundit, it's his job to cause discussion. He will know full well that Why Everton fans are disgruntled with the current manager and will try to push buttons.
Alex Parr
44
Posted 15/05/2018 at 04:30:36
Jim White is just a gobshite. A yellow tie wearing sycophantic gobshite.
David Barks
45
Posted 15/05/2018 at 05:12:58
Pundits are worthless and the sooner we start ignoring them the better. Garth Crooks trying to tell us how grateful we should be for Sam, that we shouldn't expect any more. Jim White doing the same. Alan fucking Shearer saying that Manchester City aren't a great team after try just obliterated the entire league and made fools out of those same pundits that said Pep's style would never work in England. They are all nothing but serial failures, all of them. That's why they're not involved in the sport and should be completely disregarded.
Alan J Thompson
46
Posted 15/05/2018 at 05:34:14
It would appear that it is down to a shortlist of five; Fonseca, Silva, Conceicao, Wenger and Arteta and the final decision may, at the moment, depend on one or more of them (Fonseca & Wenger) still to confirm their interest owing to them having other, more likely possibilities. Arteta, I would consider, the least likely with Silva as most likely if Fonseca and Wenger decline the offer.
Mr Allardyce? Write your own ticket.
Jim Harrison
47
Posted 15/05/2018 at 08:21:01
David 45
Correct ignore, but they will have done what they set out to achieve. Phone ins will be busy, tweets, sms all raging.
If the spike sense no one would pay any attention
Bob Parrington
48
Posted 15/05/2018 at 08:50:23
David Moyes is coming back. You heard it first here on the Hell on Earth channel!
Steve Ferns
49
Posted 15/05/2018 at 11:26:23
Talking of pundits, did anyone see Chris Sutton on the BBC? He gave Sam Allardyce 9 / 10 for the job done.
He has to be the worst pundit. He's taken over the Robbie Savage mantle of being a wind up merchant. There's no other excuse for his verdict.
Fran Mitchell
50
Posted 15/05/2018 at 11:30:21
Interesting thing: one person says 'silva plays same football as Martinez then says high pressing"
Martinez played a high defensive line, but a possession short passing game with little pace and almost no pressing.
Another person says: fonseca plays a similar passing style to Martinez. But from what little I have, shaktar play a more counter attacking style.
So either people judge based on the Latin name, or watch another game completely.
Neil Pickering
51
Posted 15/05/2018 at 11:42:09
We should be going all out to get Arteta. Seen as one of the up and coming coaches in the game. In my lifetime he is also the best player ive seen in a blue shirt, and I'm sure he would jump at the chance. He would see us a step up and has a point to prove. The fans would be behind him as well as hes one of us.
Fran Mitchell
52
Posted 15/05/2018 at 12:32:22
I have no personal favorite. What I know is that is no 'proven' available manager who would take us further. So for me that means either a punt on an unknown quantity (arteta, vieira, klopps ex-assitant), or a punt on a someone from a weaker league (fonseca, silva, conceição), or a young british coach (howe, dyche).
Whoever it is, I hope he has desire, ideas, contacts, ambition and a plan.
Colin Hughes
53
Posted 15/05/2018 at 12:51:28
Forget the Eddie Howe shouts,he is small club material and is not used to managing in a big city passionate about football, ala Mike Walker in the 90s.

Paul Birmingham
54
Posted 15/05/2018 at 12:52:57
This is EFC and there's never a clear cut and dry rescission. But SA will be gone. Who ever takes over I hope they get the players back early and remind them what a football is and what a pass is and competing for 95 mins on the park means.
Back to basics with a fitness and mentality regime.. Hopefully a few gems can be discovered, who could slot in this team and make an immediate improvement.
Let's see what happens the next 24 hours.
Alan J Thompson
55
Posted 15/05/2018 at 14:47:21
Paul(#54); I think the early return is out of the question at least for those involved in the World Cup who are usually given an extra 2 or 3 weeks holiday as I think they are guaranteed a minimum break between seasons. Similarly, if we fancy signing any players involved discussions have to wait until after the tournament.
Ed Prytherch
56
Posted 15/05/2018 at 15:49:26
Nicholas 42, it was not just our playing style that alienated Sam but his arrogance and condescension. We would have won if the players would do what I told them, turning up late for press conferences, using "statistics" to try to make himself look god. He is a robot dressed up as a football manager.
Geoff Lambert
57
Posted 15/05/2018 at 20:29:45
Just been out for a pint with my bezzi mate Jim White, He said Sam has just signed a two year extension to his contract. And is going on his jollies till next season.
James Flynn
58
Posted 15/05/2018 at 21:51:38
David (45) - "Pundits are worthless and the sooner we start ignoring them the better."
ToffeeWebber, heal thyself!
Alan Johnson
59
Posted 15/05/2018 at 21:59:51
As I said on another thread. Eddie Howe for me.
Add Your Comments
In order to post a comment, you need to be logged in as a registered user of the site.
Or Sign up as a ToffeeWeb Member — it's free, takes just a few minutes and will allow you to post your comments on articles and Talking Points submissions across the site.
© ToffeeWeb