David Booth
By Tom Plant
04/07/2018

24 Comments [Jump to last]
Share: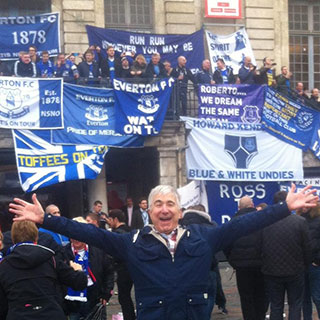 It is with great sadness that I write to inform the ToffeeWeb community of the sudden death of David Booth.
David was a passionate Evertonian, attending home and away games on a regular basis throughout the 1970s and 80s. Work and family commitments meant that his attendance became more sporadic after that, but he still managed to go when time allowed.
He was a constant visitor to ToffeeWeb and a regular contributor, composing a number of fan articles and delighting in the comments and debate they provoked. His erudite hand displayed a deep understanding of the game as well as a passion for our club. He was an excellent and persuasive communicator; a man of ideas and original thought, an enthusiast and the best matchday companion a man could want.
We went to games together for twenty five years, usually setting off later than intended, racing across the M62, covering the distance from West Yorkshire in about forty minutes in his low slung, state of the art, import; just having time for a quick bet and fish and chips before kick off.
Football memories are numerous. Our first game together was the Valentine's Day Massacre at Port Vale. We managed to gain access without tickets as he claimed to know Ron Futcher, only to get booted out with a police escort after David celebrated Everton's equaliser with too much enthusiasm for the Vale fans who surrounded us, "It is for you own safety," the Police explained. He was evicted from Elland Road, amidst similar scenes, when Rooney scored a glorious goal in 2004. I still feel the shame and taint of Judas when I remember denying to the stewards that I was an Evertonian too. Milner's equaliser punished me for my sin.
My lasting memory will be of David in Lyon, our final game together. We had driven down with my son, who had managed to get us tickets from a friend in Lyon. After the game, we drowned our disappointment in a bar smothered in Evertonians and sang our tribal songs into the night, David filming proceedings, his face alight with laughter and joy.
His passion and his enthusiasm for the team we love has helped to grow the next generation of Evertonians; both of his daughters and all three of mine carry his baton forward.
I have just re-read his last fan article. It is uncharacteristically gloomy – he was fed up with Rooney and fed up with Allardyce. He demanded a greater honesty from our club. But in recent weeks, like the rest of us, his old enthusiasm has returned. His most recent text, sent just two days before he died, suggests a trip to Portugal at the end of July to attend the Algarve Football Cup.
It is possible that you knew David. If so, then I know that his daughters, Rachael and Sarah, would love to hear from you and would welcome any memories you have of their great dad.
Best Wishes,
Tom Plant
---
Reader Comments (24)
Note: the following content is not moderated or vetted by the site owners at the time of submission. Comments are the responsibility of the poster. Disclaimer
Peter Mills
1
Posted 05/07/2018 at 07:39:30
Sincere condolences Tom, to you and all David's family and friends.
My only knowledge of David is through his contributions on this site, he has been someone whose views command attention. Let's hope that the wishes he expressed in his last fan article you have included in your post come to fruition.
May David rest in peace.
Brent Stephens
2
Posted 05/07/2018 at 08:19:22
Thank you for this, Tom. My condolences to family and friends.
Don Alexander
3
Posted 05/07/2018 at 08:43:15
In his postings, he came across as a gentleman "True Blue". I can only offer my condolences to his family and friends. RIP Dave.
Ian Burns
4
Posted 05/07/2018 at 08:46:01
Nice piece, Tom, and, as Brent says, condolences to his family and friends.
Geoff Lambert
5
Posted 05/07/2018 at 08:55:33
Very sad news, you feel like you know someone personally on ToffeeWeb and David was someone who's posts and articles I always respected.
RIP, David. You will be missed by the whole ToffeeWeb community.
My condolences to all David's family and friends.

Steve Ferns
6
Posted 05/07/2018 at 08:57:45
Nicely said, Tom. My condolences to you and I'm sure you'll pass them on to his family too.
Dave Abrahams
7
Posted 05/07/2018 at 09:14:04
Tom, I think I'm a good Evertonian, live five minutes by bus from Goodison, I honestly marvel at supporters like you and David travelling from Yorkshire and further to see the Blues.
David from his posts loved Everton and really cared for the club, so very sad to hear of his passing. I hope you and his family are coping with this very sad news. Rest in peace David, goodnight God Bless.
Ray Roche
8
Posted 05/07/2018 at 10:03:12
Always a sad day when a fellow Evertonian passes away, and even more so when it's one who has contributed to so admirably on ToffeeWeb. OK, we all bicker and argue on here at times, but we are just expressing our point of view, our own opinion, and David did that better than most. Sincere condolences to his family and close friends.
Julian Exshaw
9
Posted 05/07/2018 at 13:06:04
It's always sad when a member of our Everton family passes away. My thoughts, condolences and best wishes to his family.
Jamie Evans
10
Posted 05/07/2018 at 13:16:35
Rest in peace and God bless to all of David's family and friends.
A wonderful last article.
Craig Walker
11
Posted 05/07/2018 at 13:41:07
Very sad news. I always liked reading his contributions on this website. RIP David and best wishes to all his family and friends at this sad time.
Jamie Crowley
12
Posted 05/07/2018 at 13:50:53
My condolences to all of David's friends and family. God bless.
Jay Harris
13
Posted 05/07/2018 at 14:37:37
Tom,
It is always sad that one of our own passes but at least he had the joy of seeing us win a few things.
Condolences to you and all the family.
Paul Kelly
14
Posted 06/07/2018 at 02:43:34
Truly saddened for you, Tom. Condolences to friends and family.
Darren Hind
15
Posted 06/07/2018 at 03:18:23
Kicked out of Port Vale? Not many of us have got that on our CV.
A beautiful, touching tribute, Tom
Condolences to David's family and friends.
Dermot Byrne
16
Posted 06/07/2018 at 05:07:14
Sad news like that makes me stop and just remember what we all share.
Condolences to you Tom and all David's family.
Jack Plant
17
Posted 06/07/2018 at 08:30:37
David was been a part of my football watching experience as far back as I can remember. The first time I saw us win (Leeds) the first time I saw us lose (Forest) and many great games since (Fiorentina in particular springs to mind). The last game we saw together was Unsworth's first in charge against Chelsea, as always David was wildly optimistic and hugely enthusiastic about the youngsters on display.
Watching the England game with my brother on Tuesday, cheering on Pickford's heroics, I had a moment of sadness as I knew how much David would have enjoyed the win. It's a strange thing for a football fan, knowing that whenever we go the game will carry on after us, there'll be highs and lows, victories and defeats that we never get to see. And there will be fans who stand where we stood, sing our songs and cheer for our team.
David was a man who found joy in everything in his life, from computer games to cocktails, films to football he lived every moment with infectious enthusiasm. Those who knew him will always miss him and when we watch the blues we will always remember him.
Dave Abrahams
18
Posted 06/07/2018 at 14:54:38
Jack (#17), if you can spare a bit of time in the future, I would be very interested in how you and David met, if either of you were born in Liverpool and how you became Evertonians.
Just being curious (or nosy); it sounds like a great friendship. I'd just like to know how it all began.
Jack Plant
19
Posted 06/07/2018 at 21:51:12
Dave Abrahams, I'm an Evertonian because of my dad Tom (who wrote the main article). I grew up in Yorkshire. David Booth was a family friend who we met through the school my dad taught at, and that friendship largely began as a result of Everton. For those of us who aren't from Liverpool, it's always a great moment when you meet a fellow blue.
Steve Ferns
20
Posted 06/07/2018 at 21:59:10
There isn't a like button, so I'll just add thanks for sharing that, Jack. It's interesting to read. David sounds a top guy.
Dave Abrahams
21
Posted 06/07/2018 at 22:07:18
Thanks, Jack, for your reply. it's obvious that David's passing has touched an awful lot of people who knew him and loved him. I hope the many memories you and your family have of David will help you through this sad time.
For my part, it is always great to meet and talk with fellow Blues at Goodison who come from different parts of the country and it is nice to know that none of you are glory hunters. Thanks again for your reply.
Andy Crooks
22
Posted 06/07/2018 at 22:08:09
You sometimes clash swords with contributors on here like you would in the pub. You wish you could meet them. Many years ago, David delivered to me the wittiest put down I have had on this site. I responded by acknowledging it was an absolute belter.
Top poster. One of the names, when you scanned down a thread, that you stopped at and wanted to know his view. Sad news and I offer my condolences to his family and friends.

Stephen Brown
23
Posted 06/07/2018 at 22:08:21
Jack (#19),
That is so right, it's brilliant when you meet a fellow blue in a random place!
Stephen Brown
24
Posted 06/07/2018 at 22:08:54
Respect to David and his family, by the way!
Add Your Comments
In order to post a comment, you need to be logged in as a registered user of the site.
Or Sign up as a ToffeeWeb Member — it's free, takes just a few minutes and will allow you to post your comments on articles and Talking Points submissions across the site.
© ToffeeWeb