The legend that is Lyons
by

17 Comments [Jump to last]
| 05/12/2018
13 September 1975 was a day I will remember for the rest of my life. It was the day before my 9th birthday and the first time my Dad took me to Goodison Park, where I watched us beat Newcastle 3-0. Latchford scored the first, Mick Lyons the second, and then a screamer from Dave Clements with his first touch of the game made it 3. That was the day I became a Blue.
I went to almost every game through my childhood and Mick Lyons was my boyhood hero. His leadership, his determination, and his passion always resonated with me. He would run through a brick wall for the shirt, and quite often did. I was sad when he left for Sheffield Wednesday, especially as we went on to be the best team in the land, without him.
Anyway, in recent years I have been lucky to be involved in the local football scene here in Perth, Australia. I have been president of a top club, involved on various committees and now a regular on a local radio station. Through a mutual friend, today I met my boyhood hero. Mick and our friend Doug came to visit my winery and we sat for a couple of hours over coffee talking about everything football.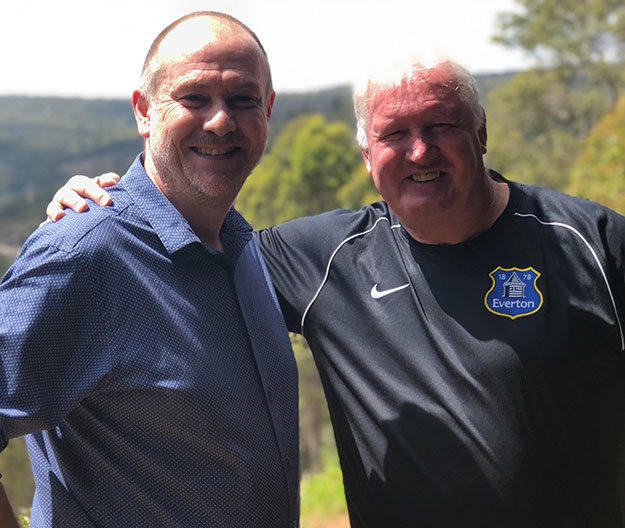 Stories from the 70s & 80s, right up to training the kids of today, something which Mick is actively involved with. Doug is a Red, which was a little awkward after the result on Sunday, but we quickly moved on and I was captivated by some of the stories.
This is a personal story for me, but something I thought I would share with you. It was an absolute pleasure meeting and chatting with Mick and it was very evident that he is enjoying giving back to the kids, what football has given him over the years.
5 December 2018 will now be a day I remember for the rest of my life, but I hope it is not the last time I catch up with the legend that is Lyons.

Return to Talking Points index : Add your Comments »
---
Reader Comments (17)
Note: the following content is not moderated or vetted by the site owners at the time of submission. Comments are the responsibility of the poster. Disclaimer
John McFarlane Snr
1
Posted 05/12/2018 at 17:36:32
Hi Andy, your appreciation of Mick Lyons is not misplaced. I believe every team should have a Mick Lyons or an Andy Gray. Mick wasn't the most graceful of footballers but, as you rightly state, he would run through a brick wall for the cause.
Funnily enough, he was often regarded as the reason for our failure to win derby games, thankfully the blame can't be directed at him for our more recent performances, although our efforts on Sunday promise a better future.
I'll sign off now because I'm going to the match.
Phil Bellis
2
Posted 05/12/2018 at 17:55:51
Proper Blue is Mick.
I never forget his goal against Leeds in '74 – talk about brave and daft!
I recall the story of the 81 cup win over Liverpool, where he was calling out to the team as we headed towards the finish "10 feet tall now, lads, 10 feet tall!"
Brian Murray
3
Posted 05/12/2018 at 18:06:29
I couldn't fault Mick's love for the club... although, when on the bench for the Andy King derby, Roger Kenyon hardly gave Dalglish a sniff all game. I've never seen the Gwladys Street End as good as that day. Until hopefully the return game in March.
Michael Coffey
4
Posted 05/12/2018 at 18:11:14
I'll always remember him, a Sheffield Wednesday player by then, wearing an Everton scarf and grinning from ear to ear, being mobbed by Evertonians outside Wembley tube station at the '84 final.
Happy Birthday for Saturday, Mick.
Tom Bowers
5
Posted 05/12/2018 at 18:19:11
I remember him when he was a centre forward in the Sunday league. He was a wholehearted player lacking a turn of foot but very strong in the air.
He was at Everton during a bleak period when a number of first teamers where not up to the standard required which didn't help his cause as a central defender.
Tony Abrahams
6
Posted 05/12/2018 at 18:24:48
I've got a lot of time for Mick Lyons, who took a whole lot of stick, off a whole lot of Evertonians, near to the end of Colin Harvey's I'll-fated reign as Everton manager.
Not the best, but definitely one of the bravest, Lyons, is a proper toffee, and a man I've got loads of respect for because of his love for Everton.
Dave Abrahams
7
Posted 05/12/2018 at 18:34:04
Mike was a decent centre-half/centre-forward who gave 100% every time he went on the field. Off the field, Mike was a very decent human being, a gent, and a credit to hisgla family. I'm d he is doing okay in Australia.
Phil (Kelsall) Roberts
8
Posted 05/12/2018 at 19:07:06
Anybody else remember playing City at GP with Mick Lyons and Bernie Wright as our strike partnership. It wasn't pretty but the City lads knew they had been in a game.
Was the Leeds one when he headed it off Jack Charlton's boot and we won 3-2?
I also remember him getting a memorial when we played Wednesday at Hillsborough in 85.
A true blue and a true hero.
Andy Osborne
9
Posted 06/12/2018 at 06:39:45
Phil (8), I don't remember it, but I think it was a header off Norman Hunter's boot. I found this video:
Tony Pemberton
10
Posted 06/12/2018 at 11:43:36
Was it Lyons who we sang a song to: "Do you wanna be in my gang?" — or was that for someone else?
Mike Doyle
11
Posted 06/12/2018 at 12:11:48
Hi Andy.
I used to play for Mick's Sunday League team (Malpas - named after the road that Mick lived in on the Croxteth estate) and can confirm what a great bloke he is.
We used to train mid-week in the gym at Croxteth Comp School and Mick often gave myself and my brother a lift back to Old Swan – which was well out of his way.
I remember a Sunday morning in the mid-70's when the papers had carried a story that someone (Coventry, I think) had made a transfer bid for him. When this was mentioned to Mick, he looked genuinely upset and told all the boys that he had only ever wanted to play for Everton and didn't want to leave.
Top bloke – who would not tolerate bad language or behaviour from the kids he coached.
Do give him my regards next time you see him.
Dick Fearon
12
Posted 06/12/2018 at 00:13:37
I was helping to spread the football gospel among kids in a small town in southwest Australia and heard through a mutual friend that Mick was coming to town to watch one of the teams from his Perth club.
I asked if it were possible for Mick to show up at our training ground to promote the game among local juniors.
He not only agreed but he also ran terrific clinics for various ages including girls and gave demos to local coaches.
What shone through was his absolute love and enthusiasm for all things football but particularly Everton.
Don Alexander
13
Posted 08/12/2018 at 19:09:46
To me, Mick Lyons was cut from the very same cloth as Brian Labone in terms of character. Nuff said.
Paul Birmingham
14
Posted 08/12/2018 at 20:54:35
Mike was a legend and inspiration in arguably dark days at Goodison Park towards the end of his career.
I recall a great diving header vs Brighton at the Gwaldys Street, must be 1980 or 19 81, we won 1-0, and it was grim.
The highlight was being first in the ground on match day or beating your mates to be first through the turnstile.
How times have changed. Mike is always an Evertonian, and won't be forgotten. Any team with Mikes passion and enthusiasm has a chance.
Shame Mr Thomas altered history, and further provided more immunity to Old Nick, whose spawny luck is unique in football.
Brian Murray
15
Posted 08/12/2018 at 21:34:51
Don,
The only difference was Labone was a class player while Mick was all heart and endeavour but never a winner.
Paul Tran
16
Posted 08/12/2018 at 21:46:28
I'll never forget that equaliser at Old Trafford in the League Cup Final 2nd replay against Villa. First header hit the bar, he nodded in the round & celebrated like the rest of us in the Stretford End. After the match he was crying like a baby while applauding the fans.
I even forgave him scoring the best own-goal I've ever seen at Anfield.
Proper Scouser, proper Evertonian.
Geoff Lambert
17
Posted 09/12/2018 at 18:55:11
I remember being stranded at the Kirkby junction of the M57 Trying to get home from work a car pulled up and a voice said, "Need a lift, lad?" It was Mick Lyons, who at the time was our captain. What a true gent — took me all the way home as well.
Add Your Comments
In order to post a comment, you need to be logged in as a registered user of the site.

Or Sign up as a ToffeeWeb Member — it's free, takes just a few minutes and will allow you to post your comments on articles and Talking Points submissions across the site.

© ToffeeWeb

<! -- /articleBody -->