Everton v Chelsea
FA Carling Premiership 96/97 - Game 38
Saturday 11 May 1997
Goodison Park, Merseyside
---
Result: Everton (0) 1 - Chelsea (2) 2
Scorers: Barmby (77); Wise (14), Di Matteo (36)
Everton: Southall, Barrett, Watson, Dunne, Ball, Hottiger, Thomsen (Cadamarteri, 46), Hills, Speed, Barmby, Ferguson.
Booked: xxxx.
Subs Not Used: O'Connor, Gerrard, Eaton, McCann. Unavailable: Unsworth (suspended); Hinchcliffe, Grant, Parkinson, Phelan, Stuart (all injured).
Chelsea: Grodas, Petrescu, Leboeuf, Clarke, Vialli (Hitchcock, 21), Hughes (Nicholls, 60), Wise, Di Matteo (Burley, 81), Minto, Sinclair, Newton.
Subs Not Used: Johnsen, Granville. Booked: Clarke, Petrescu, Sinclair. Sent Off: Grodas (21)
Previous Match: Sunderland v Everton
---
SoccerNet (Derek Potter): Chelsea's failure to claim a place in the UEFA Cup as insurance against defeat in the FA Cup Final was replaced by a more immediate scare when Mark Hughes was injured. The Wales striker hobbled off after an hour at Everton, still managerless with Kevin Keegan having declined an approach to succeed Joe Royle.
'It was a precaution to take Hughes off,' said relieved Chelsea boss Ruud Gullit. 'Mark has had an ankle problem for some time, but he's OK. It was an excellent performance by us, with only 10 men, and we made many chances.'
Even without goalkeeper Frode Grodas from the 21st minute -- sent off for fouling Duncan Ferguson a yard outside his area -- Chelsea rarely had to reach for top gear to beat a brittle and inexperienced Everton, whose squad included five 17-year-olds.
Everton's caretaker-manager Dave Watson, said: 'The kids saved what has been a terrible season. It's the only boost we've had recently. I sensed an attitude of wanting the season to end and start again from scratch.' He was also frank about the Goodison Park vacancy. 'I don't know what is happening.'
A 77th-minute tap-in by Nick Barmby and the zest of Danny Cadamarteri and John Hills, both 17, were the only consolation for Everton fans asked to vote on the future location of the club. They are expected to favour a move from Goodison Park after 105 years.
Dennis Wise masterminded what penetrating football Chelsea found necessary to produce to inflict Everton's 16th defeat of the season. Wise astutely lobbed into the far corner after 14 minutes when Hughes burst away from Michael Ball, not the first or last to lose his feet on a greasy pitch.
Roberto Di Matteo claimed the second after 36 minutes with a downward header to a cross supplied by Wise but Gianluca Vialli had only 21 minutes to stake his claim for a Wembley place against Middlesbrough, being substituted to allow for the entry of replacement keeper Kevin Hitchcock when Grodas was dismissed.
---
Guy McEvoy: This season has been a disappointment. True enough, we've had our moments; true enough, the youngsters have shown promise; true enough there have been glimpses of what we all hope for, brief moments that have hinted at underlying class but ultimately lack of depth in the squad, squanderous finishing, naive tactics, and the frequent desertion of any self-belief in our ability to win have left us as overall losers. And here in the final 90 minutes was a microcosm of it all.
Yet again, the bare bones of the squad meant that the youngsters were on show; Ball, Dunne and Hills in the starting line-up, and on the bench players that are often not even assured of a place in reserve games. Chelsea -- with the notable exception of Zola -- still managed to field a team full of the big guns despite their forthcoming FA Cup Final.
First Half
Everton were a sorry sight in the first half. On the left, for all their positive enthusiasm, Hills and Ball looked uncomfortable as a partnership and frankly out of their depth. In the middle, Barrett and Thomsen were equally unconvincing yet without the excuse of inexperience (though Barrett can claim he was out of position whilst Thomsen can only hang his head). Gary Speed, as he has done all season, was trying to make up for others failings, -- a task beyond even his reach. On the right; Hottiger was poor; up front, Barmby was only moderately better than he had been at Sunderland, and Duncan with only a distinctly average performance somehow still managed to look our best bet. Watson and Dunne did their best to soak up the inevitable pressure but it could never have lasted.
Ball took the ball (sounds funny that) on the left hand side of the field only to have it snatched from him at pace by the battling Hughes, Wise was picked out in the box when we all thought it had over-run but his most delicate of lobs somehow crept down through the most acute angle to punish heavily the earlier mistake by Ball.
The disparity between the two sides was reduced a few minutes later when Duncan charged clean through but was taken out by the keeper on the edge of the area. From where I was seated it looked like it would have been a travesty had anything but a read card been shown and thankfully the linesman who the referee felt the need to consult was of a like mind. Off went Grodas, off went Vialli, on came sub keeper Hitchcock. The sudden arrival of this little bit of hope kick-started the Goodison faithful and for a few brief moments it actually sounded like a home game.
It was only 'a few brief moments' because Chelsea where soon two up. A fine long diagonal cross, Di Matteo charging between Dunne and Watson heading downwards hard with a bounce that perhaps Southall should have held onto. '10 men, we only need 10 men' was the inevitable and depressingly truthful taunt from Park End corner of the Bullens Road Stand.
Second Half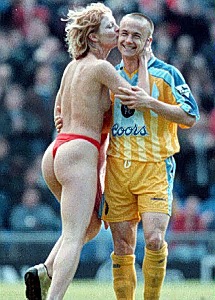 The second half was heralded with the introduction of Danny Cadamarteri, Everton's own much cheaper version of Trevor Sinclair in place of Thomsen. The arrival of the youngster went unnoticed by most people though due to his entrance being marked by a streaker cartwheeling her way across the centre circle. Very pleasant she was too. Put a smile on many blue faces for the first time in the afternoon. This incident (perversely) reminded me of my promise to spend more weekends with the girlfriend when the season is out ('more' meaning more than none!), all of a sudden it didn't seem such a bad call. I bet those feelings change next Saturday when I'm stuck in a shopping centre pretending that I have an opinion on the merits of a lamp in BHS over the one in Habitat.
The feminine interlude seemed to lift the players too and as Chelsea minds drifted towards their date at Wembley the Blues slowly began to impose a little bit of the numerical advantage upon the game. Chances were at last being produced but the finishing was so bad you began to wish they hadn't come to save us the embarrassment. How many times did the Chelsea fans delight in singing 'How wide do you want the goal' or the simple (and again truthful) 'you're not very good'? Ferguson, Hottiger and Speed were responsible for the three most shocking efforts, Ferguson's open header in particular reduced the Chelsea party (and that is what they were having) to ask sincerely 'Can we play you every week?'.
A lifeline was thrown when Hills took a corner, Watson met it well and Barmby allowed the rebound from the Keeper to bounce in off him. But we had such little faith in the team that to be honest the earlier incident with the streaker had probably attracted a louder cheer than the goal did.
The goal also marked what must be the most disappointing moment of young Adam Eaton's life, he was all stripped off ready to come on, the number boards were ready, the linesman had checked his studs and the tannoy had started the announcement when he was brought back because Hills had been crucial to the goal. If Eaton never makes it that'll be one hell of a pub story one day.
I watched the clock tick down and we finished without any more convincing threats. When the referee blew his whistle it was like a burden lifted off my shoulders, the 96/97 season has just been one long miserable journey, good riddance to it. Here's hoping that next years magical mystery tour will be an altogether more exciting and prosperous trip.
Bring on Barnsley.
Individual Performances

Southall 6 - Poor game, didn't look comfortable at all, must share some blame for both goals.
Hottiger 5 - The bloke at the DTI who turned down his request for an extension on his work permit is obviously a true blue Evertonian. Bye bye cheesy and thanks for nothing.
Ball 6 - Enthusiasm and effort aren't quite enough to make up for the fact that he just isn't quite Premiership quality yet. Well done for putting in the effort, but should now go back to the reserves for a season, spend some time in the gym and come back with greater confidence in his obvious ability.
Dunne 6 - Did some great last-ditch defending in the second half, though his distribution was poor. The more I see him the more I get deja vous over early Unsworth defensive showings. Will be glad Watson was able to play down two or three potentially costly mistakes.
Watson 7 - A solid enough performance I thought. Helped cover up for some of Dunne's inexperience caused mistakes.
Thomsen 5 - Stood in middle two quarters of the pitch the entire match (or at least half he was on for), often standing still turning round in circles statically watching as the game went on around him. It was a relief when Chelsea had a man sent off because it meant we were now effectively playing with the same number of men.
Barrett 5 - Playing out of position, and it didn't suit him.
Speed 7 - My player of the season, trying to shine again, often seemed to be our one man midfield.
Barmby 6 - Something has to give in the close season. Barmby and Ferguson have no understanding whatsoever, underlined again and again today. When he signed I remember being convinced that he was a square peg for the square hole. Now looks more of a oblong-with-triangular-bits-jutting-out peg. So which do we swap the peg or the hole?
Ferguson 6 - An honest enough days work let down by his, lets face it, poor finishing. 'What do you mean poor finishing?' I hear you say, 'what about the Man Utd and L'pool goals huh?'. So what? Barry Horne's goals against Wimbledon in 'that game', and against Southampton away the season after were both out of 'Roy of the Rovers' but you'd never mark him down as a 20 a season man.
Cadamarteri 7 - Looks like Sinclair in appearance, but his dribbling style had me more in mind of a Limpar. Lifted us a bit with the confidence to play the traditional wing role and have a run at people, didn't let his head drop (as Limpar would) when it didn't quite work out. One to watch.
Note on Squad Numbers: Cadamarteri wore 28 – Chris Price's number in the programme. Adam Eaton was wearing 29, and Gavin McCann (who should have been 29 according to the programme) was wearing 22.
---
Richard Marland: A season that started with such optimism but then turned to something close to disaster finally fizzled out with something of a whimper. Being outplayed by a team who played 70 minutes with 10 men and had one eye on a forthcoming FA Cup final really tells the whole story.
As widely anticipated, we were forced to field a very young side. Phelan, Stuart and Branch all failed to make it and we fielded a side that was a million miles away from our best side. The line up was Nev in goal, a back four of Hottiger, Watson, Dunne and Ball, a midfield of Thomsen, Speed, Barrett and Hills, with Dunc and Barmby up front. On paper it doesn't look too good, on grass it probably looked even worse.
First Half
We comprehensively lost the midfield battle: Barrett never got to grips with his unaccustomed midfield berth, Thomsen was anonymous yet again, and Hills was full of endeavour but out of his depth. Only Gary Speed looked likely to get anything going and really he was fighting a losing battle on his own.
Defensively we also looked vulnerable; Hottiger was a passenger (why he was preferred to O'Connor I do not know), Dunne and Watson did OK, but Ball in tandem with Hills struggled to keep the left flank in check. All too often Hills and Ball got sucked into the same area, leaving loads of space for the more aware Chelsea players. Barmby had another of his disappointing days, looking lacklustre and uncommitted, leaving Dunc to carry the torch up front, which he did to reasonable effect, but with crap service and crap support there was a limit to what he could do.
It was a mess and it was no surprise when we went behind. Ball got dispossessed by Hughes, whose over-hit cross was collected by Wise who chipped Southall from an acute angle. Both Watson and Southall stood and watched the ball float just under the bar, I don't know whether they left it for each other or whether they both though it was going over, whatever, neither of them looked too clever for the incident.
A lifeline came our way shortly afterwards in the shape of the dismissal of their keeper. Dunc was put through on his own with Chelsea appealing for offside, he managed to nick the ball away from the onrushing Grodas but Grodas caught his ankle and Dunc went down on the edge of the box. It seemed fairly clear cut to me, it was one of those ones where Dunc had no need to go down, if he had kept his feet he would have been odds on to score. Chelsea though were incensed,
Leboeuf charged over to Dunc and pushed him in the throat (I thought that he was fortunate to stay on the pitch for his actions), it all got a bit messy but the decision stood. Chelsea immediately brought on their replacement keeper for Vialli.
Despite our numerical advantage there was no change to the pattern of the match. Chelsea continued to control the game and were soon 2-0 up thanks to a Di Matteo header, this was another bad goal to concede, no one picked up Di Matteo as he stole in for a free header, and again questions have to be asked about Nev who appeared to let the ball go through his hands.
Second Half
The second half did bring about an improvement, at least it did for the male members of the crowd who had returned to their seats in good time, as we were treated to a female streaker, and very nice she was too. She ran onto the pitch just as the players were lining up for the second half, kissed Denis Wise on the cheek, did a couple of cartwheels and left the pitch to be escorted away by a lady police officer.The entire incident probably brought about the biggest cheer of the day.
On the pitch too the second half brought about a slight upturn. The ineffectual Thomsen had made way for Danny Cadamarteri, and he played as a more or less right winger. He was soon in the action; he chased a long ball which Hitchcock came charging out of his goal to reach, Cadamarteri got there first and did well to pull the ball away from the keeper, he then kept his composure to look up and deliver a decent cross. Unfortunately it came to nothing, but he did well and it gave the crowd a bit of a lift.
We started to get a few chances, Dunc had a free header from a cracking Ball cross which he put wide of the far post, it was a very bad miss. Hottiger missed after being given the opportunity from good work by Dunc. At the same time Chelsea had more than their fair share of moments. They frequently craved us open with their slick passing and it was only their seeming desire to walk the ball into the net that spared us further embarrassment.
We also had a number of corners, all taken by Barmby, and all fairly ineffective. We then had a corner from the left hand side which John Hills took, I don't know what happened to Barmby although judging by his body language maybe he just couldn't be bothered hauling himself all the way over to take the kick. Hills put in an excellent corner which Dave Watson met with a powering header, Hitchcock did well to push it away but only to Barmby who had a simple sidefoot home.
Cadamarteri was the only one to congratulate Barmby, let's hope there's nothing to be read into that. Hills actually saved himself from imminent substitution, the board was out and Adam Eaton (at least I assume it was him) was ready to come on, once the goal went in this was quickly stopped.
We still had 13 minutes to go but no one had any real belief that we would save the game, certainly we didn't deserve to. We still continued to press in a rather half hearted sort of way, Hills delivering another excellent corner from the opposite flank. But it was all going through the motions stuff, it was a relief when the referee blew for time and drew a close to an awful match and an awful season.
Player Ratings

Southall 5 Questions have to be asked of him on both goals. He hasn't looked the same since he was dropped after the Bradford game.
Hottiger 4 Waste of space, why wasn't O'Connor given a run out?
Ball 5 Showed some assured touches, happy to put his foot on the ball and look for options, certainly appears to have a bit of a footballing brain. In tandem with Hills he didn't look so secure defending, they didn't work particularly well as a pair, frequently showing their naivety.
Watson 6 Not sure what he was doing on the first goal, did his bit to man the barricades.
Dunne 6 Certainly wasn't found wanting in the physical battle with Hughes, Hughes must wonder what's going on at Everton - first Unsworth and now Dunne. Badly caught out in the second half when he made two bad errors to present them with a chance.
Thomsen 4 Anonymous. At one stage late in the first half, Chelsea had possession around the edge of our penalty area, we had pulled most people behind the ball, I noticed Thomsen stood on his own, midway between our penalty area and the halfway line, keeping an eye on Eddie Newton!! Not getting in amongst the Chelsea players as I would expect of a central midfielder but keeping an eye on Eddie bloody Newton. Mystifying.
Barrett 5 Had a bit of a stinker, clearly out of his death in central midfield. Sad really because on the whole he has had a fairly good season, it's a pity all the Earl knockers will probably only remember this performance.
Speed 7 Strived manfully to plug all the gaps, but there were just too many of them. My man of the match not that that's saying much.
Hills 5 Unlike Dunne and Ball, Hills looks very nervous indeed. Settled down a bit and his late flurry of good corners will do him some good. See under Ball for his defensive failings.
Barmby 4 I'm growing increasingly disheartened with Barmby's non-performances. I know that we haven't yet established a proper role for him, and I know that he will only come into his own if we can turn ourselves into a passing side, but I still think an England international of his undoubted ability should be giving us more than he is.
Ferguson 6 One bad miss with a free header, but made a nuisance of himself and most of our goal threats came through him in one way or another.
Cadamarteri 6 Looked pacey and eager. One great piece of work to elude Hitchcock, -- he looks to be another good prospect.
Team 4 Awful, -- especially when you consider the numerical advantage we had. I guess that it was only to be expected with the number of kids out there and people playing out of position.
---
Lol Scragg: I believe Waggy's decision to play two very inexperienced players on the left side (Hills and Ball) backfired a little. We had nothing down the left. I also got the impression that no bugger knew where they were playing! Was Hottiger in centre midfield for the last half hour? Looked like it from where I was sitting.
It WAS a bad performance from Everton but let us not forget that had Grodas NOT taken down Dunc, we would have scored and maybe the game would have gone differently. Also, we did have at least three efforts cleared off the line and we did miss three absolute sitters! It was NOT good, but the matches are very rarely as bad as some of the gloomier reporters portray.
Ball and Hills weren't that good but they played up to probable expectations considering their inexperience at a reserve level, never mind first team! Yes, we have no squad but heaping all this blame on two young lads is NOT going to help anyone!!! I have to agree that Earl was off colour today but he was playing in centre midfield.
Good points from the game?

Meeting some fellow Tnetters in the Chepstow and placing faces to some of the names.
Tommy Davis travelling from Dallas and having an accent somewhere between Scouse and American (actually he sounded halfway-ish: closer to Irish!!!)
Snaky in the Chepstow with his "R U Zog?" T-shirt -- brilliant!
A streaker at Goodison with quite an attractive body who also did cartwheels (just goes to prove that EFC fans are more attractive than those RS followers).
Danny Cadamarteri showing that there is such thing as an Everton player who wants to run at players -- great stuff!!!
---
Andrea Thrussell: How did their first goal go in? Dennis Wise lofted a ball in from the left of the area and from our angle in the Main Stand it appeared as though it was going over. Nev was busy back-pedalling then seemed to stop as though he thought it was going over, and the defence all seemed frozen -- just watching the ball. I haven't seen it on TV yet but those are my impressions and it all seemed to happen in awful slow motion.
A bit like their second really, they broke dangerously and we seemed all at sea at the back and when Di Matteo burst forward you knew it was going in. Terrible feeling.
Danny Cadamarteri looks exciting and from the Main Stand he looks like a 'cross' between Ruud Gullit and Trevor Sinclair -- appearance wise anyway, I don't want to heap expectation about his ability on his shoulders! Nonetheless he is fast, as we have been told already, and he can dribble at speed too. He so nearly scored as well, and dropped to the sodden turf in dismay which made us cheer him all the more. I'm glad he has got his debut out of the way -- another of the youngsters who can thank Dave "old enough to be your Dad" Watson for their first game.
John Hills was one of our better players today, especially when pushed forward after the break. He put over the cross of the day for Duncan in the second half, just the right height and position for Dunc to rise effortlessly to meet. I leapt to my feet like an idiot (well, I wasn't alone!) thinking he had scored, and it really looked as though it would have been easier for him to score than miss!
Richard Dunne looks as though he can go on to be a real star for us. I can't believe his age and inexperience when he is so cool and unflustered. Early on he nicked the ball from Vialli like a veteran, and he showed his pace when covering back later on. You know we are short of players when we have four teenagers on the pitch and Earl Barrett plays in midfield!
How I wish we had managed to sign Mark Hughes, he showed his class again today. Even in the soaking rain of the first half you knew that every time he received the ball -- no matter from what height or angle -- it would stick. If only Duncan could learn that particular knack.
The biggest cheer of the day came just before the second half kicked off. Danny Cadamarteri was trotting onto the field and everyone was still on their feet clapping after Z-Cars and to greet the debutant, when the cheers got much, much louder. There was a blonde streaker running around the pitch in front of the main stand, waving a garment over her head and wearing nothing much more than a huge grin and a pair of red knickers!
She ran through the bemused players and performed a cartwheel near the centre circle which got the loudest cheer of the day. Some gallant chap ran out of the Gwladys St stand with a coat for her before she was led away by the police.
---
Steve Kirkwood: Chelsea are definitely the best technical side we've played this season home and away, and tactically they had us in knots. With a bunch of kids up against internationals, it was certainly an away win on the cards, and Chelsea are a side in form at the moment.
Bright points for Everton were Michael Ball, Danny Cadamarteri, John Hills and the crowd -- trouble in the executive areas of the Park End AND Main Stand. Downside was Hottiger (why was he playing?), Barrett in midfield (no, no! no!!!), Thomsen the statue, and the rest of the side who looked very tired and very jaded.
---
Steve Thomson, Electronic Telegraph: WITH relegation fears removed, Everton had the chance to play tension-free football. Instead they relaxed and did not play at all. They surrendered limply to a Chelsea side reduced to 10 men in the 20th minute when goalkeeper Frode Grodas was sent off. By then Dennis Wise had put the FA Cup finalists ahead and Roberto di Matteo added the second before half-time as their Wembley warm-up turned into a stroll.
Manager Ruud Gullit did not risk Gianfranco Zola, who was almost ready to return following a hamstring strain, and later erased fears about the fitness of Mark Hughes, who limped off just before the hour. "His ankle's a little sore, that's all," he said. "We took him off as a precaution."
Everton fielded three teenagers with three more on the bench and it was an error by England under-18 defender Michael Ball than led to Chelsea taking the lead. Hughes dispossessed him smartly and, although his cross eluded di Matteo, Wise was on hand to chip over Neville Southall from an acute angle.
Everton's only serious threat came from Duncan Ferguson and one of a string of high balls aimed hopefully in his direction brought about the undoing of Grodas. The Norwegian international, suddenly left one-on-one with Ferguson, bundled him over.
Kevin Hitchcock was sent on to replace him with the luckless Gianluca Vialli being sacrificed. The dismissal, however, scarcely altered the game's pattern as di Matteo neatly headed home Dan Petrescu 36th minute cross following a move initiated by Wise. Everton continued to fire blanks until Nicky Barmby netted a 77th-minute goal after a header by Dave Watson.
Report Copyright The Electronic Telegraph
---
Nick Szczepanik , The Times: DESPITE a late flurry after a Nick Barmby goal, Everton went down to a superb passing display by a Chelsea team who were a man short for most of the match after the dismissal of Frode Grodas, their goalkeeper. "It was an excellent performance," Ruud Gullitt, the Chelsea manager, said. "We created so many chances."
There was, however, a distinct end-of-term feeling at the former School of Science. There were absences ­- Unsworth, Short, Phelan, Hinchcliffe, a whole defence. There were departures to think about, too ­ Dave Watson was relinquishing the role of player-manager and even Goodison Park itself could be on the way out in favour of a new 60,000-seat stadium, according to a document going the rounds. There were possible new arrivals too ­- such as Bobby Robson and Jürgen Klinnsman, who might or might not be joining Everton after the Summer holidays.
Probably not, if anyone sends them a tape of the first hour or so of this game. Chelsea were ahead after only 15 minutes, when Wise's chip from the left drifted over the head of Southall and dropped inside the post. Six minutes later, Ferguson, although looking offside, was allowed to gallop menacingly through only to be brought down by Grodas a yard outside the Chelsea area. Grodas was sent off by Peter Jones, the referee, which in turn meant the departure of Vialli in favour of the substitute keeper, Hitchcock.
Chelsea, however, made light of the disadvantage. Everton pressed, but Chelsea's fast breaks, accurate passing and movement off the ball made the home team look as if they, not the visitors, were out-numbered. It was well deserved when Di Matteo put Chelsea further ahead with a rare header from a cross by Petrescu.
The second half was in danger of turning into a passing exhibition by the FA Cup finalists, their fans taunting Everton with shouts of "Can we play you every week?" The pre-Wembley stroll only looked likely to be disturbed by a lack of concentration or injury. Hughes was withdrawn as a precaution after a knock on the ankle and Di Matteo's dying swan impersonation raised momentary concern, but he soldiered bravely on, only to miss a superb chance after Petrescu's pass put him through on goal.
It was nearly a costly failure. Within 30 seconds, Barmby scored after Hitchcock had parried Watson's header. The Chelsea defence rocked thereafter whenever the ball was in the air, Hitchcock continually punching uncertainly, but Everton could not find an equaliser; a turn and low shot past the post by Cadamarteri, a substitute, was as close as they came.
Report Copyright The Times
---
Ken Gaunt , The Independent: Chelsea, the FA Cup finalists, warmed up for their Wembley date against relegated Middlesbrough with a nerve-jangling win at Goodison Park after playing with 10 men for 69 minutes.
Their Norwegian goalkeeper, Frode Grodas, was sent off after rushing out of his goal to try to intercept a through ball from Everton's caretaker-manager, Dave Watson. But in the process he bowled over Duncan Ferguson 20 yards out and the referee, Peter Jones, brandished a red card after speaking to his assistant.
Ruud Gullitt brought on Kevin Hitchcock, his reserve goalkeeper, for Gianluca Vialli, who was clearly unhappy at finishing the match so early, and Chelsea lost their other striker after an hour, with Mark Hughes limping off after stretching for a ball.
Vialli had almost put Chelsea ahead after four minutes when he turned quickly in the area, only to see his shot diverted by the legs of Neville Southall. However Everton went behind in the 13th minute with a marvellous piece of invention by Dennis Wise.
Hughes won the ball from Michael Branch and tried to release Roberto di matteo. The pass was over-hit and the ball broke to Wise on the left of the area. He spotted Southall marginally off his line and his delightful chip dipped just under the bar.
Even though they were reduced to 10 men, Chelsea increased their lead 15 minutes later. Wise worked the ball out to Dan Petrescu on the right flank and his cross was perfectly weighted. Di Matteo timed his run to perfection, got between Watson and Richard Dunne, and glanced the ball home.
The Italian's header confirmed Chelsea's superiority with the Goodison crowd becoming increasingly frustrated. Everton were limited to a couple of half-chances in the opening period, with Claus Thomsen having a shot blocked and Ferguson sending a header over the top.
Everton carved out enough chances in the last half-hour to draw level but their finishing was woeful. Ferguson was at least industrious but knocked a header wide following a cross from John Hills, making his debut, when he should have scored. Marc Hottiger pulled a shot wide and Gary Speed followed the same pattern to groans of disapproval.
Everton finally pulled a goal back with 13 minutes remaining through Nick Barmby. Watson got on the end of a corner from Hills and Hitchcock could only push out his powerful header. Barmby was on hand to pick up the scraps.
Petrescu nearly added a third for Chelsea when he was clean through, only for Southall to block. The Everton substitute Danny Cadamarteri could have sneaked a point on his debut, only to knock his effort wide, and the curtain came down on their season in disappointing fashion.
---
Ian Ross sees the curtain fall on a familiar Everton scenario: no manager, few players of genuine quality, great supporters ....
Ian Ross, The Guardian: As Everton consigned another quite wretched season to the dustbin, the wind of change began to sweep through Goodison Park. About time too. As the faithful again gathered in mystifyingly large numbers, the talk was not of broken promises or of misplaced optimism but of hope renewed.
After more than a century, Everton are ready to let their famous old home fall to the bulldozers in order to relocate in the greener pastures of Kirkby close by. All rather fitting, actually: a move to Z cars country for a club who still use the quaint sixties television programme's theme music to fire up their booted troops as they make the short journey from dressing-room to pitch.
The giant leap for a landlocked club, proposed by their chairman, Peter Johnson, has not of course been universally received as the generous act of a caring benefactor, but when the 40,000 voting forms are counted in ten days' time the likelihood is a 70-30 majority for revolution and against stagnation.
It is important that those connected with Everton should look to the future, for the club's present is indisputably an ugly and unappealing beast. No manager, few players of genuine quality, great supporters: it is an all-too-familiar scenario.
For a game of no consequence this was a curiously testy affair, a roller-coaster of an afternoon punctuated at regular intervals by the outbreak of nasty personal vendettas. This undercurrent of seething discontent broke to the surface in the 20th minute when Chelsea's goalkeeper Frode Grodas was removed from the equation.
Duncan Ferguson looked offside as he collected Dave Watson's punt forward but when Grodas hauled down the big Scot just outside the penalty area he was simply asking for trouble.
Even with reduced numbers Chelsea's men were far too efficient for Everton's boys. They had taken the lead before Grodas's dismissal, Dennis Wise clipping in sublimely from an unsympathetic angle after Mark Hughes has dispossessed the young Michael Ball out on the right flank, and their second goal was just as simple, just as effortless, in its construction and execution. Dan Petrescu threaded the ball into the heart of Everton's depleted defence and Roberto Di Matteo sent a firm downward header -- yes, a header -- beyond the woefully unprotected Neville Southall.
Thereafter Chelsea protected tired limbs for Saturday's FA Cup final with Middlesbrough, while Everton applied themselves diligently to the task of saving face. The home team created enough chances to make up the lost ground but, whenever they did slip though Chelsea's defensive web with ideas of bringing the curtain down with a bit of a flourish, they badly fluffed their lines.
Ferguson, Gary Speed and Marc Hottiger were the main culprits but Everton's commendable endeavour was to yield a moment of satisfaction. It came 13 minutes before a most welcome final whistle, when Nick Barmby steered the ball into Chelsea's net from no great distance after the substitute goalkeeper Kevin Hitchcock had blocked but failed to hold Watson's header.
Mark Hughes limped off after an hour but should be fit to play in the FA Cup final against Middlesbrough on Saturday. 'Mark is OK,' said Chelsea's manager Ruud Gullitt. 'We took him off as a precaution. He felt his ankle a little bit. It is something that has been troubling him recently.'
---
Sunday, 11 May 1997
ASTON VILLA             1-0    SOUTHAMPTON               39,339
Dryden(og:12)
BLACKBURN ROVERS        2-4    LEICESTER CITY            25,881  
Flitcroft(25) Fenton (66)      Heskey(13,56) Claridge(55) Wilson(81)
DERBY COUNTY            1-3    ARSENAL                   18,287
Ward(9)                        Wright(55,90) Bergkamp(82)
EVERTON                 1-2    CHELSEA                   38,321 
Barmby(77)                     Wise(14) Di Matteo(36)
LEEDS UNITED            1-1    MIDDLESBROUGH             38,567
Deane(77)                      Juninho(79)
MANCHESTER UNITED       2-0    WEST HAM UNITED           55,249
Scholes (11) Cruyff (84)
NEWCASTLE UNITED        5-0    NOTTINGHAM FOREST         36,554
Asprilla(20) Ferdinand(23,26) Shearer(36) Elliott(77)
SHEFFIELD WEDNESDAY     1-1    LIVERPOOL                 38,943
Donaldson(75)                  Redknapp(83)
TOTTENHAM HOTSPUR       1-2    COVENTRY CITY             43,029
McVeigh(44)                    Dublin(13) Williams(39)
WIMBLEDON               1-0    SUNDERLAND                21,338  
Euell (85)

Final Premiership League Table, 1996-97
Club                          P    W    D    L   GF   GA   GD  Pts
MANCHESTER UNITED            38   21   12    5   76   44   32   75  <EC1
Newcastle United             38   19   11    8   73   40   33   68  <EC1
------------------------------------------------------------------
Arsenal                      38   19   11    8   62   32   30   68  <EC2 
Liverpool                    38   19   11    8   62   37   25   68  <EC2 
Aston Villa                  38   17   10   11   47   34   13   61  <EC3 
Chelsea                      38   16   11   11   58   55    3   59  <EC2 
Sheffield Wednesday          38   14   15    9   50   51   -1   57  <EC2 
Wimbledon                    38   15   11   12   49   46    3   56
Leicester City               38   12   11   15   46   54   -8   47
Tottenham Hotspur            38   13    7   18   44   51   -7   46
Leeds United                 38   11   13   14   28   38  -10   46
Derby County                 38   11   13   14   45   58  -13   46
Blackburn Rovers             38    9   15   14   42   43   -1   42
West Ham United              38   10   12   16   39   48   -9   42
EVERTON                      38   10   12   16   44   57  -13   42
Southampton                  38   10   11   17   50   56   -6   41
Coventry City                38    9   14   15   38   54  -16   41
------------------------------------------------------------------
Sunderland                   38   10   10   18   35   53  -18   40  <Div 1
Middlesbrough                38   10   12   16   51   60   -9   39* <Div 1
Nottingham Forest            38    6   16   16   31   59  -28   34  <Div 1

* Includes 3 pts deducted from Middlesbrough for illegal match postponement

EC1 = European Champions League
EC2 = Uefa Cup
EC3 = European Cup-Winners' Cup  

---
This Match Report Compilation was prepared by Michael Kenrick for Marko Poutiainen. 17 May 1997.