Phil Jagielka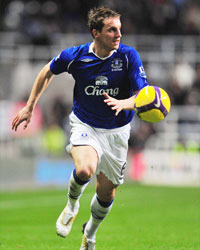 Squad number
6
Position
Defender
Joined on
4 July 2007
Joined from
Sheffield Utd
Transfer fee
£4M
Signed by
David Moyes
Debut (as sub)
v Tottenham (A)
14 August 2007
Full debut
v Bolton (A)
1 September 2007
Contract duration
5 + 4 + 4 years
Contract expires
June 2017
Born
Manchester
Date of birth
17 August 1982
Height
5' 11" (1.80 m)
Nickname(s)
Jags
Honours
Soccerbase Datafile
When David Moyes struck early in the close season of 2006 to nab Tim Howard, Joleon Lescott and Andy Johnson before the end of May, Evertonians thought they had finally seen the manager's new transfer modus operandi.
Unfortunately, Everton appeared to revert to the old way the following summer. It was July 2007, with the players already back from their holidays and up in St Andrews for a pre-season training camp before Moyes finally ended yet another transfer saga to bring Phil Jagielka back to Everton as his first signing of that transfer window.
With a £4M release clause in his Sheffield United contract, Moyes played his cards cannily as the recently relegated Blades tried to knife West Ham over the Carlos Tevez affair that should by rights have seen a points deduction for the Hammers — which would have sent them down instead of Sheffield United and rendered that release clause moot. Unfortunately for Bryan Robson's team, it was not to be, despite pleadings before the courts of the Realm.
United were holding out for £6M but Everton refused to budge, aided by the knowledge that Jagielka himself had made it clear that he would not move anywhere else but Goodison Park, where perhaps he felt had a point to prove.
The Manchester-born player, whose surname is officially pronounced "Yag-ee-el-ka" but he's resigned to the Anglicisation from colleagues and commentators alike, started out as a 14-year-old Everton trainee in the old YTS. But Everton ditched almost their entire Under-15 team back in the later 90s — a cost-saving measure? — and Jagielka went on to learn his trade elsewhere.
Scroll forward 10 years, and Jagielka had developed into a highly versatile and capable defensive player, comfortable in midfield and on the right side of defence — even in goal, at a pinch! After Sheffield United's goalkeeper was sent off in a League game against Arsenal, Jags did a 30-minute stint between the sticks, the third position he was asked to play that day, and kept a clean sheet.
It quickly became apparent, after some less-than-stellar displays in central midfield and right back that centre-back is his best position. He has the pace, ability to read the game, and footballing brain to succeed alongside another dominant centre half of the ilk of Lescott and Joseph Yobo.
When Moyes's squad rotation kicked in as fixtures and injuries started to pile up in the winter of 2007-08, Jagielka demonstrated his aptitude in central defence, really only faltering in a Premier League match against Arsenal at the end of December when he allowed hitherto unknown striker Eduardo to latch onto two long balls and turn on its head a game that Everton looked odds on to win.
Since that unfortunate experience, he did enough to consolidate his position in the back four alongside Yobo, while Lescott was deployed at left back, much to his chagrin. And, over time, he matured into an international-class centre-half and became the rock on which Everton's defence was founded.
Stellar form for the Blues led to recognition at international level and his first senior England caps and he achieved hero status in April 2009 when he despatched the game-winning penalty in a dramatic shootout at Wembley Stadium in the FA Cup semi-final against Manchester United.
Sadly for him, tragedy struck almost immediately afterwards in a Premier League fixture against Manchester City when, in an innocuous-looking incident he collapsed to the turf in agony and Evertonians, having seen both Yakubu and Mikel Arteta rupture ligaments in similar fashion that season, feared the worst.
Jags had indeed ruptured the anterior cruciate ligament in his knee and would miss not only the Cup Final against Chelsea, which Everton would go on to lose in his absence, but most of the following season as well. He came back but not in time to have any chance of getting into the England 2010 World Cup squad.
But Phil Jagielka was first choice centre-back alongside Sylvain Distin for the 2010-11 and 2011-12 seasons, even while this defensive pairing had to shake off some shaky moments in the early going.
In March 2011, he was honoured with a 4-year contract extension through 2015 but that didn't prevent an approach from Arsenal for the second summer running. Moyes was adamant, however, that he would not be selling his prize asset, rejecting bids as high as £13m and forcing Arsene Wenger to turn his attentions to Per Mertesaker.
In 2011-12...
Despite Johnny Heitinga getting all the plaudits the previous sason, it was Phil Jagelka who was prefered alongside Sylain Distin in the back four as Everton got off to a rip-roaring start to 2012-13 season. But defence proved to be not such a strong point, with the Bues annoyingly giving up silly goals that truned far too many wiuns into draws as The Blues battled valiantl to sat in touch with the top four.
Half-way through the season, Jagielka was rewarded with another cntract extension, this time running through 2017.
By Michael Kenrick and Lyndon Lloyd
Last updated January 2013
Everton Career
Season
Squad
No.
League
Apps (sub)
League
Goals
Cup
Apps (sub)
Cup
Goals
Total
Apps (sub)
Total
Goals
2007-08

16

27 (7)

1

13 (2)

1

40 (9)

2

2008-09
6
33 (1)
0
9 (0)
1
42 (1)
1
2009-10
6
11 (1)
0
0 (1)
0
11 (2)
0
2010-11
6
31 (2)
1
3 (0)
0
34 (2)
1
2011-12
6
29 (1)
2
2 (1)
0
31 (2)
2
2012-13
6
31 (0)
2
5 (0)
1
36 (0)
3
Totals
162 (12)
6
32 (4)
3
194 (16)
9
Note: Everton Career Stats on ToffeeWeb are updated after every game.
Previous Career
Seasons
Team
Appearances (sub)
Goals
1996-2007
Sheffield United
231 (23) & 33 (0)
18 & 4




Everton
News 24/7