Halsey error robs Everton
Chelsea preserved their long unbeaten run at Stamford Bridge and equaled Liverpool's record of 63 consecutive games without defeat at home but they did so in highly controversial circumstances after a rousing performance by Everton looked to have earned a shock victory.
Having fallen behind to James Vaughan's 50th-minute strike, Jose Mourinho's side leveled the scores seven minutes later when referee Mark Halsey ruled that Paolo Ferreira had got the ball first in a challenge that left Mikel Arteta down injured on the turf and Didier Drogba took full advantage.
Then, with the clock ticking down towards the end of season 2006/07, James McFadden had the ball in the back of the net but the Blues' celebrations were cut short by the linesman's flag — in a debatable decision, James Beattie was adjudged to have been offside. David Moyes, banished to the stands following Chelsea's equaliser, was forced to settle for a point and sixth place but will feel hard done by.
With Victor Anichebe out again through injury, the manager opted for a five-man midfield and deployed Vaughan as a lone striker. Phil Neville moved from right back to central midfield alongside Lee Carsley and Manuel Fernandes, allowing Tony Hibbert to resume duties at fullback. The Blues, who wore special T-shirts bearing a photograph of missing four year-old Madeleine McCann in the pre-match warm-up, were otherwise unchanged.
With Mourinho so keen to preserve his side's unbeaten home stand and Everton looking for a victory that would guarantee fifth place, this was not a typical end-of-season affair between two sides with nothing to play for. And both sides had early forays into the opposition area; Lee Carsley thumped a 20-yard volley straight at Petr Cech while Tim Howard had to push Mikel's fierce 30-yard drive over the bar and John Terry came within inches of connecting with the resulting corner as it flew across the box.
Vaughan, Fernandes and Drogba then tried their luck from outside the box but Cech was able to easily claim the shots aimed at him while the Ivorian striker's effort from the angle flew narrowly over Howard's crossbar. Salomon Kalou did better a few minutes later, though, when he went on a terrific run that took him between two white shirts and into the area but his attempt to fire past Howard was too weak.
Perhaps sensing that, with one eye on the FA Cup Final next weekend, Mourinho's team weren't operating at full steam, Everton looked far from over-whelmed by their higher-placed and considerably better funded hosts. Indeed, Vaughan made a nuisance of himself to Terry and a wonderful spell of passing possession around the 20-minute mark emphasised that the Blues can live with and play like this calibre of opposition when the put their minds to it.
When combined with their usual threat from set-pieces — Yobo connected with a dangerous Arteta free kick in the 23rd minute but couldn't direct his header on goal — Moyes's side looked capable of causing an upset throughout a fairly even first half.
As you would expect, though, Chelsea did have that extra cutting edge in the final third and, with home field advantage, were committing more men forward. So it wasn't surprising that they finished the first half the stronger and engineered three openings for Drogba and one for Joe Cole, the latter's side-foot shot deflecting off Yobo's boot and sliding inches wide of the post.
There were no personnel changes by either side at half time but Chelsea did seem to come out of the dressing room in more determined mood. And Kalou really should have broken the deadlock within two minutes of the restart when Shaun Wright-Phillips put a slide-rule pass through Joleon Lescott's legs and behind Fernandes for Ferreira to fire across the face of goal but the Ivorian put it well wide at the back post.
Having controlled the opening five minutes of the second half, though, Chelsea were hit with a sucker punch. Areta led the breakaway before slipping it to Osman who drove into the box and laid it on a plate for Vaughan to side-foot confidently past the 'keeper. 1-0 and now the expectation of an onslaught...
Instead, it was almost 2-0 three minutes later. A similar counter-attack after Arteta had intercepted a pass midway inside the Chelsea half took the Spaniard into the area once more and although his cross ended up falling behind Vaughan, the 18 year-old did brilliantly to volley goalwards and force Cech to make a good reflex save.
The Blues' lead was short-lived, though. Arteta was clearly felled by Ferreira level with the Everton area but instead of the whistle and the expected yellow card, Halsey waved play on while gesturing that the defender had got the ball. Chelsea sprayed it to the opposite flank, Bridge crossed to the back post where Wright-Phillips knocked it to Drogba and he slipped it past Howard.
Incensed, Moyes raced out of his technical area and onto the pitch to protest the decision which earned him a stern rebuke and orders to watch the rest of the game from the stands. So it goes against the "Big Four"...
For a few minutes it looked as though the Blues would falter as they did against Manchester United a fortnight ago but they soon regained their compusure and actually finished the stronger of the two teams, perhaps in the knowledge that Tottenham were 2-0 up at home to Manchester City and set to leapfrog into fifth.
Vaughan had to leave the fray with 18 minutes to go after picking up an ankle injury and that gave James Beattie what might be he last appearance for Everton. He was followed onto the pitch five minutes later by James McFadden, replacing Manuel Fernandes, another player who might not be back at Goodison come August.
Then, after Frank Lampard, who had been well shackled by Carsley and Neville, had seen a direct free kick deflected wide and prompted appeals for a penalty for handball from the resulting corner, Everton looked to have claimed all three points.
A long throw by Neville to Arteta was touched on to Carsley who arrowed a beautifully struck shot that Cech, partially unsighted by Beattie, could only parry into the path of McFadden who prodded the loose ball in off the post. By that time, the linesman had flagged for offside but the controversy lay in why. If his decision was based on McFadden being offside then he was clearly wrong; if he was flagging because Beattie was in an offside position when he blocked the 'keeper's view of the Carsley shot (and therefore interfering with play) then Evertonians would have to concede that there was merit in the decision. A big "if", though...
So, fifth place was not to be. Spurs, despite their European involvement and having to play three games in eight days deserved credit for finishing strongly and pipping the Blues on the final day. But while missing out on the chance to finish as "best of the rest" carries a tinge of disappointment, Moyes and his team can be immensely proud of their sixth-place berth and the qualification for Europe that comes with it.
Not only that but they put in a highly commendable performance against a team that did not take this fixture lightly either. The confident passing that they exhibited was right at home on the home ground of the two-time Premiership champions and bodes well for next season if the right personnel can be added in the summer and the management is able to establish some consistency of strategy in that regard.
David Moyes reverted to 4-5-1 for the season finalé, and a great turnout from the travelling Evertonians, as ever. James Vaughan leads the line with Victor Anichebe dropping out due to injury and Hibbert coming back in at Right-back, allowing Captain Neville moving into the middle.
Everton started brightly with an early shot from Osman and Carsley having a go off the corner. But Chelsea asserted themselves early on as well, with Howard forced into a good save from Mikel.
Vaughan had a nice shot from 25 yards out but it was not quite hard enough to get past Cech. Everton were trying to play football and shoot on sight, and a good competitive match in prospect. Fernandes got inside and let loose with another decent shot to keep Czech awake. At the other end, SWP set up Drogba who beat Lescott to the ball for a fearsome shot that went just over the Everton bar.
Good work from Arteta set Neville off down the right and his cross caused even more trouble to the Chelsea defence. This was the same Everton who finished the second half against Portsmouth, and good stuff it was too. A brilliant free-kick fro Arteta got to Fernandes but his storing header flew just wide of the Chelsea goal.
Chelsea's attacks were less frequent but when the did attack, it always looked dangerous, Joe Cole coming close to passing the ball into the Everton net after dangerous work form Kalou down the left, only a late interception from Carsley saving Everton. An awful Stubbs header let Drogba in but he scuffed a powerful shot.
A fantastic move by Chelsea from the restart should have been a goal for Kalou.
But then a fantastic move from Everton, created by Arteta, beating two men and flicking the ball forward to Osman, a superb ball in that James Vaughan finished superbly. It was a great piece of attacking football on the break, movement and running of the highest quality — no hoofball in sight! Moments later, more absolutely brilliant work from Arteta, and a very difficult volley by Vaughan that forced Cech into an unbelievable save.
Everton thought Arteta was fouled and they waited for the whistle but the ball went in to Wright-Phillips, Drogba fired the ball home. 1-1. David Moyes was lived that the game was not stopped and he went on the pitch, only to be set off from the dugout — he moved back into the first row of the stand, behind the dugout!
Yobo had a chance but headed over the bar, with Cech stranded.
On the hour, Moyes surprisingly replaced Vaughan with Beattie, the young lad looking must unimpressed. Why did he not go 4-4-2... in fact, why bring the useless Beattie on at all??? Was Moyes accepting the draw? McFadden than came on for Fernandes.
A mistake by Hibbert allowed SWP in but Kalou's shot was poor. At the other end, Osman's shot drifted wide.
Everton were not done yet though. Another fabtastic Arteta ball in to Carsley and a fantastic shot that Cech saved, McFadden was quick to stick the ball in the net but it was dubiously ruled offside. Beattie was the only one in an offside position and he ducked out of the way of the ball. Moyes was livid. Everton robbed again by the Big Four conspirators!
So it ends 1-1. Everton played ell and made a game of it, scoring a superb goal just when one was needed. A win for Everton was a definite possibility, but it wasn't to be and Everton slip down a place to finish 6th behind Spurs, qualifying for the Uefa Cup for the first time in many, many years. No clean sheet record for Tim Howard who nevertheless had been a key to Everton's recovery this season after the Autumn slump that pushed Everton down to 10th, but Joseph Yobo equaled a remarkable record, playing in every minute of the League campaign — something and Everton player has not done since Kevin Ratcliffe in 1987.
Match Preview
A scenario that seemed possible just three games into the season and then looked a fairly distant prospect as the campaign seemed to have come off the rails completely just a few weeks later is tantalisingly close going into the final game.
If results go their way, Everton will finish fifth, the position that, given the twisted reality of the Big 4, is where many fans believe Everton should be finishing on a regular basis. At the very least — barring freak circumstances involving Reading and a hatful of goals — the Blues have booked their place in the Uefa Cup next season. A very successful season whatever happens on Sunday.
Having surrendered the title to Manchester United last weekend with a draw at Arsenal and with one eye on an FA Cup Final date with the new Champions next weekend, Chelsea's appetite for this game might not be as great as it otherwise would have been... or so we hope.
Jose Mourinho has spoken of his desire to equal Liverpool's record of going 63 games unbeaten at home, set back in 1981, but he is, nevertheless, likely to field some younger faces — the likes of Scott Sinclair and Ben Sahar have been mentioned — as he prepares for next Saturday.
Everton, of course, have plenty of incentive to put out a full-strength side and go for a surprise victory, not least the accolade of becoming the first team to beat Chelsea on their own ground in three years. They also haven't won at Stamford Bridge since 1994, haven't beaten Chelsea for seven years and last won their last final league fixture 11 years ago.
Unfortunately, the Blues will be under-strength themselves after Andy Johnson underwent surgery on his ankle. That means David Moyes will choose from the same squad as against Portsmouth, with James Vaughan and Victor Anichebe likely to start up front again.
Indeed, the manager is expected to name an unchanged line-up, that despite Joseph Yobo not training until Thursday because of a bout of food poisoning. If the Nigerian completes the 90 minutes, he'll be the first to play in every second of Everton's league campaign since Kevin Ratcliffe 20 years ago.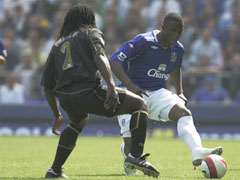 Victor Anichebe:
Likely to start again alongside James Vaughan
Thanks to a superior goal difference, victory for Everton would practically guarantee that prized fifth place, with the prestige and prize revenue that comes with it. If Bolton don't win against draw specialists, Aston Villa, then the Blues only have to match Tottenham's result against Manchester City to retain fifth.
Matchday Stats
The 150th meeting between Everton and Chelsea sees Everton attempting to secure 5th place and their second best finish since the inception of the Premier League. This is also the 136th League meeting between the clubs and the 77th meeting at Chelsea in all competitions.
Everton's record against Chelsea is:
| | | | | | | |
| --- | --- | --- | --- | --- | --- | --- |
| | P | W | D | L | F | A |
| Premier League | 29 | 4 | 10 | 15 | 29 | 48 |
| Division One | 106 | 41 | 31 | 34 | 180 | 165 |
| FA Cup | 8 | 2 | 1 | 5 | 4 | 12 |
| League Cup | 5 | 0 | 2 | 3 | 6 | 11 |
| Charity Shield | 1 | 1 | 0 | 0 | 2 | 1 |
| TOTALS: | 149 | 48 | 44 | 57 | 221 | 237 |
The last match between the clubs was earlier this season when a last minute goal from Didier Drogba gave Chelsea a 3:2 win at Goodison Park, with the Everton goals coming from Joseph Yobo and Mikel Arteta. The last meeting at Stamford Bridge saw a 0:3 defeat towards the end of last season. As well as being behind in the overall series, Everton are miles behind in the overall meetings at Chelsea:
| | | | | | | |
| --- | --- | --- | --- | --- | --- | --- |
| | P | W | D | L | F | A |
| Premier League | 14 | 1 | 4 | 9 | 10 | 27 |
| Division One | 53 | 11 | 16 | 26 | 53 | 98 |
| FA Cup | 5 | 1 | 0 | 4 | 2 | 9 |
| League Cup | 3 | 0 | 1 | 2 | 3 | 7 |
| Charity Shield | 1 | 1 | 0 | 0 | 2 | 1 |
| TOTALS: | 76 | 14 | 21 | 41 | 70 | 142 |
However, despite the records against Chelsea being fairly poor, the club's record for 13th May is excellent with Everton still unbeaten – even though we've only played two matches on this date!
| | | | | | | |
| --- | --- | --- | --- | --- | --- | --- |
| | P | W | D | L | F | A |
| Division One | 2 | 1 | 1 | 0 | 4 | 2 |
| TOTALS: | 2 | 1 | 1 | 0 | 4 | 2 |
The first match on this date was in 1967, when Everton drew 1:1 against Burnley at Turf Moor, with the Everton goal coming from the late Alan Ball.
The only other match on this date was in 1989, when Everton beat West Ham United 3:1 at Goodison Park, with the Everton goals coming from Dave Watson, Paul Bracewell and Kevin Sheedy.
Milestones that can be reached this game:
This will be David Moyes' 100th League match in charge away from home. It will also be his 199th League match in charge overall.
Depending on how many goals Everton concede (if any!), then this see one of the best defensive records of the club over a season:
Less than 10 goals, will secure the club's best defensive record since the 1987-88 season, when they conceded just 27 goals – which is still the overall club record for the fewest League goals conceded in a season.
Less than 7 goals, will secure the club's best defensive away record since the 1987-88 season, when they conceded just 16 goals away from home.
Less than 5 goals, will see the first Premier League season that they will have conceded less than 40 goals overall.
Less than 2 goals, will see the first Premier League season that they will have conceded less than 20 goals away from home.
Also, the result could see some more Club records set in the Premier League:
A win will mean that Everton have beaten 15 of the other 19 sides in the Premier League for the first time (including when Everton had 21 opponents!)
A win or a draw will mean that Everton have taken at least 1 point from 18 of the other 19 opponents for the first time since the Premier League was reduced to 20 clubs (with Manchester United being the exception). The best the club have achieved in the Premier League was to gain at least a point from 19 of the 21 opponents in the 1994-95 season.
* Unfortunately, we cannot control other sites' content policies and therefore cannot guarantee that links to external reports will remain active.