Andy Johnson has made a miraculous recovery and started the game as the lone striker for Everton. No Valente, so Lescott moved to left back with Stubbs partnering Yobo. No Fernandes, as the derby came "too soon" for him — whatever that means?
The first half was really a pretty even if rather disjointed affair. Both sides giving it a good go, but the referee blew his whistle for every infraction, making it very much a stop-start game. Liverpool were slightly more aggressive and less reluctant to take potshots at goal, with Howard having to save from Crouch before Bellamy got the ball in the net after 12 mins. But, thankfully, the officials correctly disallowed it for offside.
For all their good endeavours, Everton didn't really get very close to scoring. The Liverpool defense was effective in stiffling most Everton attacks, the only attempt of note being a header from Osman that was easy for Reina.
The second half started with a Liverpool onslaught and a number of corners that Everton continued to repel with confidence. But after their determined efforts to score, the game once again settled into a battle of the defenses. The Reds had a series of half-chances but nothing that really threatened Howard's goal.
At the pother end, Everton attacks were rare but in one, the ball finally broke for Johnson whose first attempt was blocked and he fired it in again as he was driven wider across the goal. He didn't look up and his shot was kicked away by Reina. It was his best chance of the game,. and perhaps he should have done better. Chances like these are all you ever get and you must take advantage of them.
Liverpool continued to huff and puff, but Everton were a match for everything that was thrown at them. Anichebe replaced Johnson for the last 12 mins and played the target-man role well.
A late corner from Everton, their first of the second half, was the ideal moment to steal a win but it was not to be and the game ended all square, which has to be considered an excellent result for the Blues given Liverpool's rampant record of six wins on the trot.
A double over the kopites would have been great, of course, but four point out of six is not a bad return, and the two points dropped by the Reds could be enough to dampen this silly talk of them challenging for the title.
A footnote about the referee: so often, Graham Poll had left Evertonians seething after a Merseyside derby. Alan Wiley was strict but fair, with seemingly every call made correctly — an impressive performance.
Guerillas in the Mist battle for a point
It was mission accomplished for David Moyes as Everton made the short trip across Stanley Park and frustrated their local rivals with a defiant rearguard stance to earn a deserved draw at an Anfield shrouded in Mersey mist.
Liverpool manager Rafael Benitez, clearly annoyed that his side hadn't been able to make the breakthrough he felt they deserved, turned to unnecessary jibes at Everton's status after an impotent display by his supposedly superior charges.
Just like Arsène Wenger following the Blues' 1-1 draw at The Emirates earlier this season, Benitez exhibited an arrogant sense of entitlement to all three points. And while many Evertonians will be disappointed that five years into the Moyes reign their team still has to resort to playing to avoid defeat away from home, Liverpool simply did not do enough to win; indeed, they might have lost their first home game in 2006-07 had Andy Johnson been able to steer his side's best chance of the game past Reina with an hour gone.
Johnson played almost 80 minutes of this match, which seemed inconceivably just 13 days after being stretchered off the pitch at Wigan as many wondered if his season had been ended prematurely by a broken ankle. The injury turned out to be nothing more than a bad sprain and although the striker didn't look completely on top of his game, he looked as though he had come through a fitness test the day before without any problems.
AJ started up front on his own as the manager opted for a strategy of containment. New loan acquisition, Manuel Fernandes, had to watch from the bench as Phil Neville formed a double-defensive midfield partnership with Lee Carsley in the centre, with Leon Osman, Tim Cahill and Mikel Arteta rounding out a five-man midfield.
At the back, Joleon Lescott deputised at left back once more, just as he did in the reverse fixture at Goodison, with Alan Stubbs and Joseph Yobo in the centre and Tony Hibbert, making his first start since September, line up at right back.
While there was the usual fast-paced introduction to a derby, this wasn't as frenetic a game as we have come to expect when the Blue and the red halves of Merseyside meet. Everton controlled the opening few minutes, forcing the first corner of the game inside the opening 60 seconds and then having the first meaningful shot on goal five minutes later when Hibbert fired neatly on the half-volley from the edge of the box but guided it straight into Jose Reina's arms.
Liverpool found their own groove shortly afterwards, though, and it took an impressive reaction save with his foot by Tim Howard to deny Peter Crouch from eight yards out. The American was beaten a minute later, though, when Craig Bellamy played a superb one-two near the byline before sweeping the ball into the net but, thankfully, he was flagged offside and the goal was ruled out.
The remaining 35 minutes were just as even, with neither team really able to carve out another clear-cut opening — a headed opportunity for Osman off Johnson's cross that was too close to Reina was the closest either side came. Instead, Alonso and Kuyt tried their luck from around the edge of the area — Howard diving across his line to catch a curling attempt from the the Dutchman — and both sides delivered direct free kicks straight into the wall.
If Everton were reserved in the opening half, they retreated almost completely onto the back foot for the first 15 minutes of the second. Yet Liverpool, the red-hot favourites and pretenders as dark-horses for the title, proved singularly unable to break them down. An Alonso effort straight at Howard from 25 yards out and a Jamie Carragher shot that was well blocked by the chest of Neville was all they could must before Johnson's chance to blow the game wide open arrived.
Lescott's harrying forced Finnan into an error at the back and Johnson raced onto the loose ball, checked back near the penalty spot to avoid two defenders before seeing his shot blocked by Daniel Agger's out-stretched leg. Picking up the rebound, AJ took a couple of touches to his right before shooting low towards the centre of goal, but Reina was able to save it with his foot and clear the danger.
Having survived that scare, the home side went back to peppering the stand behind Howard's goal with off-target shots. Kuyt bounced a right-footer a couple of yards wide, Crouch looped a lame header over, and late substitute Robbie Fowler showed his age with an ambitious but poor daisy-cutter that dribbled behind halfway between the post and corner flag.
Only the subdued Gerrard had Evertonian hearts in their mouths when he blasted a free kick inches wide of Howard's left-hand post in the 67th minute.
Rather than take any risks, with either Johnson's ankle or the point his team was zealously safe-guarding, Moyes swapped like for like with 10 minutes to go. Victor Anichebe came on for AJ but apart from getting buffeted by a couple of defenders he saw little action and the game petered out into a goalless draw that preserves bragging rights for Everton for this season at least.
Given Liverpool's awesome form coming into this fixture and their apparent thirst for revenge for the 3-0 drubbing they suffered at Goodison Park back in September — in truth, there was little evidence that were out for revenge at all costs — Everton would have taken a 0-0 draw before the game. As such, Moyes and company will take satisfaction from a job well done and will wonder what might have been had Johnson buried his chance past Reina with half an hour left on the clock.
There is also a tinge of disappointment, though, that we aren't able to come to Anfield for a derby and play Liverpool on their own terms, playing to win with a brand of football more suited to the traditions of both of these famous old clubs. It's hard to know, despite the overall quality of the Everton personnel, at what stage of the Moyes era that might become a reality. 12 years ago it was Joe Royle's Dogs of War who crossed the Park and ground out the same result; this time Moyes's Guerillas in the Mist battled against a better side to earn a share of the spoils of war.
The club's prospects may have improved in that time — back then, the goal was to avoid relegation — but even chasing European qualification at the right end of the table, it seems that sometimes the only priority is to avoid defeat. For now, I suppose, we live with the reality we have come to tolerate... and hope that better is around the corner.
Match Preview
With another frustratingly quiet transfer window where Everton are concerned out the way, Everton face a daunting prospect on two fronts: a derby showdown with in-form Liverpool and then more than three long months with a worryingly small squad.
Two central defenders from either side of the age spectrum left in the form of David Weir and Mark Hughes while Simon Davies vacated a midfield that was at least improved with the acquisition of Manuel Fernandes on loan and bolstered by the unknown quantity of Anderson de SIlva.
While in attack, where injuries to Andy Johnson and James McFadden threatened to leave David Moyes with just three viable strikers — only one of them over 18 — there were no additions despite a desperate and (thankfully) unsuccessful attempt to sign Andy Cole from Portsmouth.
Johnson, the architect of the Blues's stunning 3-0 win over the Reds at the beginning of the season, is apparently in with a chance of playing some part in this weekend's game. For anyone who saw him writhing in agony on the pitch at the JJB Stadium a fortnight ago with a suspected broken ankle, that is nothing short of amazing but it would be consistent with a sprain.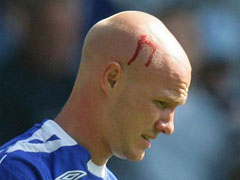 Andy Johnson:
Remarkably, the striker could figure in this weekend's derby
If AJ doesn't start, James Beattie will probably be asked to play the role at which he is perhaps least effective, namely that of the lone striker in a 4-5-1 formation. There is the possibility that Moyes will treat this as a true derby where form and home-field advantage are often rendered irrelevant and go with a more optimistic 4-4-2 featuring Victor Anichebe... but it's unlikely.
In midfield, the question will naturally surround Fernandes and whether he'll be thrown straight into action in the blood and thunder of a Merseyside derby. You'd hope that the Portuguese's reputation and price tag means he's good enough to sart that but the smart money is on him warming the bench for the first half.
Much will depend on whether Moyes opts for the five-man midfield, the fitness of Tony Hibbert and the consequent availability of Phil Neville to play alongside Lee Carsley and Tim Cahill, with Leon Osman and Mikel Arteta on the flanks. [Andy van der Meyde will surely not feature.]
As usual Arteta will be the key to the Blues' chances, particularly if he too can forget that this is an away game and use the atmosphere to his advantage. Cahill, scorer of the first goal in the surreal reverse fixture back in September, could also be a crucial factor if the Blues can shake off their New Year malaise.
Rafael Benitez's side are in frighteningly good form at the moment and that, combined with their thirst for revenge over Everton has many Blues approaching this televised lunchtime kick off with a fair measure of trepidation.
But it is a derby after all and the prize on other side of 90 hard-fought minutes is Everton's first league double over the dark side for 22 years. That could be quite a catalyst as Moyes looks to build up some momentum down the home straight towards European qualification.
Matchday Stats
Everton and Liverpool meet for the 205th time in first-class competitions and the 176th time in the League to extend the record of being the most played Derby match in English football. This will also be the 181st time Everton have featured in a live televised game, and the 31st on Pay per View. This will also be the 32nd derby match that has been televised live.
Everton's record against Liverpool is:
| | | | | | | |
| --- | --- | --- | --- | --- | --- | --- |
| | P | W | D | L | F | A |
| Premier League | 29 | 8 | 10 | 11 | 31 | 35 |
| Division One | 146 | 48 | 44 | 54 | 181 | 203 |
| FA Cup | 20 | 6 | 5 | 9 | 24 | 34 |
| League Cup | 4 | 1 | 1 | 2 | 1 | 2 |
| Charity Shield | 3 | 1 | 1 | 1 | 2 | 2 |
| Screen Sport Super Cup | 2 | 0 | 0 | 2 | 2 | 7 |
| TOTALS: | 204 | 64 | 61 | 79 | 241 | 283 |
The last match between the sides was this seasons derby at Goodison Park, which saw Everton register their biggest derby win since 1964, with a 3:0 victory thanks to goals from Tim Cahill and a brace from Andy Johnson.
The last meeting between the sides at Anfield was on 25 March last season, when Everton lost 1:3 with our goal coming from Tim Cahill.
Naturally, with Everton behind Liverpool in the overall series, our form at Anfield does not make pretty reading:
| | | | | | | |
| --- | --- | --- | --- | --- | --- | --- |
| | P | W | D | L | F | A |
| Premier League | 14 | 2 | 6 | 6 | 12 | 18 |
| Division One | 73 | 21 | 21 | 31 | 88 | 116 |
| FA Cup | 3 | 0 | 3 | 0 | 3 | 3 |
| League Cup | 1 | 1 | 0 | 0 | 1 | 0 |
| Screen Sport Super Cup | 1 | 0 | 0 | 1 | 1 | 3 |
| TOTALS: | 92 | 24 | 30 | 38 | 105 | 140 |
Although this will be the 93rd match at Anfield against Liverpool, the fact that this used to be Everton's home ground prior to 1892, means that this derby match will be the 143rd time that Everton have played at the ground in first-class matches, having played 50 matches prior to moving across Stanley Park.
Everton's record for 3 February (coupled with our record against Liverpool) would suggest that this derby will not be too happy for Evertonians:
| | | | | | | |
| --- | --- | --- | --- | --- | --- | --- |
| | P | W | D | L | F | A |
| Premier League | 2 | 0 | 1 | 1 | 2 | 3 |
| Division One | 11 | 4 | 1 | 6 | 20 | 23 |
| FA Cup | 5 | 2 | 2 | 1 | 7 | 5 |
| TOTALS: | 18 | 6 | 4 | 8 | 29 | 31 |
The last match on this day was in 2001, when Everton came away from Old Trafford with a 0:1 defeat. In fact, Everton have failed to win in their last 6 matches on this day (including a 2:1 defeat at Anfield in 1990), but, spookily enough, their last win was in 1968 when a goal from Howard Kendall secured a 1:0 victory over – Liverpool!
Milestones that can be reached this game:
· If he plays, Alan Stubbs will be making his 150th League appearance for Everton.
· If he plays, Gary Naysmith will be making his 150th appearance for Everton in all competitions.
* Unfortunately, we cannot control other sites' content policies and therefore cannot guarantee that links to external reports will remain active.