A very special footballer played for Everton throughout the Sixties, and become a cult figure of legendary proportions. His name was Alex Young. For many who watched him, he was simply the most gifted football player they had ever seen.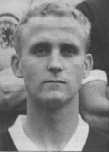 The Player: Attempts to describe the qualities of this magical figure can be found in almost any book on or by Everton players of the era. In the books by Brian Labone (Defence at the Top) and by Alex Young himself (Goals at Goodison), he is given the name: The Golden Ghost. Strangely, few Everton fans of the time are familiar with this label, but perhaps that is because of another event which forever linked Alex Young with his much more famous title – the television play from the period called The Golden Vision.
Alex Young was unique. He didn't run, he glided. His ball control was effortless, the ball apparently glued to the outside of whichever foot it happened to be nearest. He was very slightly built and got knocked about a lot, yet he played every game in the championship-winning season 1962-3 and scored 22 goals – an obvious contrast with more contemporary No 9 icons, like Duncan Ferguson.
In present- day terms, his vision was comparable to that of someone like Juninho; his dribbling was on a par with that of Kinkladze. His shot was powerful and accurate, in some ways reminiscent of Shearer's, and, in the air, well, it is a little-known fact the design for the hovercraft derived from the inventor's regular visits to Goodison to see him!
He dominated centre-halves eight inches taller than himself. When he jumped, he just hung in the air, so it seemed, for several seconds. In his day, and probably since, the only player seriously comparable to him was the Brazilian forward Tostao.
One most memorable goal came against Spurs. It was at Goodison Park on 20 April 1963, before a crowd of 67,650. He rose about three feet and headed majestically past their Number 4 (Allan Mullery). The score was 1-0 and it effectively clinched the championship. It is worth remembering that, a couple of weeks before, on Easter Monday, Tottenham (then our greatest rivals in the League) had murdered Liverpool 7-2. This was the occasion of Bill Shankly's wonderfully and characteristically gracious remark:
'If Greavesie hadnee scored five, we wudda drawn two-all!'
Strangely, Alex Young was capped only three times by Scotland. The principal reason why Young didn't make a bigger impression on the Scottish team was the fact that, at the time, they had Ian St John – a much more aggressive physical player who fitted into their overall style of play much better.
The Play: The idolization of Alex Young by his adoring Everton fans (many simply called him God) was captured in a brilliant BBC tv Play of the Week, appropriately titled The Golden Vision. Written by playwright and life-long Evertonian, Neville Smith and directed by Ken Loach, The Golden Vision introduced great scouse actors like Billy Deane and Ken Jones to TV. It was a story about the devotion of a family of Everton fans, depicting how football and the love of this great team became central to their lives. The play was broadcast by the BBC in January 1968 and received great reviews.
The plot largely consisted of the hero, a little fat bald guy, who always went to every match with an Everton kit on (replica kits were not all that common in those days, so this was much more unusual than it is now) in case they were ever a man short.
The play consisted of two parts:
A wonderful away trip, with all hands bunking off from the factory where they worked to get to Arsenal.


The next home game at which the Blues are a man short; there is a tannoy announcement asking if anyone has got their kit on and our hero gets to play, scoring with a header off a cross from Alex Young – The Golden Vision himself.
The mock-up of the match, involving the 1968 first team, inter-spliced with footage from a real match at Goodison was great. And it contains an interview with Alex Young himself which, through his cordial and articulate manner, is an object lesson to any sportsman and demonstrates what an extraordinary gentleman he is.
In another book (Three Sides of the Mersey), Neville Smith reveals that it was Spurs forward Danny Blanchflower who had originally coined the name Golden Vision. In his words, it conveyed "the view every Saturday that we have of a more perfect world, a world that has got a pattern and is finite. And that's Alex – the Golden Vision."
Belatedly, in August 2001, Everton gave Alex Yong a testimonial at Goodison Park, with over 18,000 turning out to salute the Golden Vision and watch a rather disappointing friendly with Espanyol. And then, in 2004, it was announced that BBC 4 would re-broadcast the play as part of its 60s Season. The play was re-broadcast at 10:10pm on Sunday 27 June 2004. In 2008, Dr David France went on to author an absolutely tremendous book, simply titled Alex Young, The Golden Vision.