Venue: The Reebok Stadium, Bolton
Premier League
Saturday 1 September 2007; 3:00pm
Anelka (52')
Half Time: 0-1
Yakubu (10'), Lescott (89')
Attendance: 22,064
Referee: Peter Walton
The day after... the window slams shut... and all the hype evaporates. We tried to get Riquelme but he chose Atletico Madrid instead. So, after all the fuss, will Gravesen and Yakubu make the starting line-up? Along with Baines and Jagielka?
Three out of four ain't bad, as David Moyes finally breaks up some of his tried and trusted partnerships who have looked less than impressive in the last couple of games. On the bench with the prodigal one, Thomas Gravesen are Osman, McFadden and Anichebe while Stubbs and Hibbert are dropped (injured!?!). Bold move from Mr Moyes!!!
Bolton include some familiar names: Gary Speed (38!) and Gavin McCann, ex-Blues.. Nolan, frequent target; Diouf, arch nemesis; Anelka... how many gioals has he netted against Everton over the years?
It didn't take long for a fantastic dream start to materialize. Jagielka's headed cross started it, and great ball from Pienaar set Johnson off on a superb break, Johnson took it in well, drew the keeper, and then slotted it across perfectly for Aiyegbeni Yakubu to score a great debut goal!
Alonso shot form 25-yaeds forced a fantastic save from a very powerful long-range shot, possibly going wide. Lively start! Then a massive shout for a penalty, Carsley on Diouf, deemed to be a dive by the ref. The baying trotters go mad! Diouf then volleyed high over the bar from just 6 yds. Very big let-off for Everton. Bolton put the Blues under the cosh for 15 minutes or so, but they could not penetrate the Everton defence.
After putting together such a great move for the goal, Pienaar looked nervous and indecisive as the physical nature of Bolton's aggressive response to going behind seemed to faze him somewhat. Baines was booked for delaying a throw-in! Hunt was later booked for taking out Yakubu as the game became very scrappy, with Everton failing to impose themselves.
Out of nothing Alonso took another pot-shot form 30 yds and smacked the Everton crossbar. At the other end. Jagielka's powerful header off an Arteta corner forced a good save but Jaaskelainen set up a good break for Bolton and it required a pitch-length sprint from Lescott to stifle the danger. Everton had another chance after some good work form Arteta but again it was Pienaar who could have done better.
Just after the restart, Lescott got very unfairly penalised and booked for contact with Anelka, who made the most of it, and then Mr Walton made it worse by giving Bolton a corner after a Bolton player headed the ball out. And it was Anelka who finally who capitalised on a mistake from Jagielka and Yobo, hammering the ball home from a very poor-quality clearance.
To be honest, Everton had been wavering and Bolton had been threatening, with Everton unable to consolidate their early lead and in danger of being swamped by a rampant Bolton team smelling blood. Nolan very nearly scored on the far post. Moyes was finally forced to react in an attempt to change the game on the hour mark. Thomas Gravesen came on for his second debut, replacing look-alike, Lee Carsley.
Johnson got away off a Yakubu header and was hauled down for an obvious penalty... NO! Arteta had been mostly invisible, but finally got involved, although not to his usual quality. Pienaar got into a very similar position as Anelka but fired wide, and was immediately hauled off for Osman. The substitutions seemed to have at least stemmed the Bolton tide, but no real goal threats as yet.
Johnson got in on goal behind Meite, tried to slide it under Jaaskelainen, who got his arm down superbly pushing it wide to deny Everton a winning goal as the Blues looked to give Bolton a fight over the last 20 mins. More great work form Osman., sets up Johnson for a glorious chance but his tame, feeble shot at Jaaskelainen was sadly symptomatic of AJ's current woeful lack of confidence. Another opportunity wasted.
Howard had to fist the ball away off his goalline from a Meite header off a corner as both sides looked for the three points. A terrific strike from Johnson was blocked, perhaps unfairly. Anichebe than came on to replace goal/debut hero Yakubu. A brilliant move between Gravesen and Arteta, picked out Osman, glorious chance, blazed over... poor finish. Chance gone.
Danger at the other end as Samuel over-hit a pass at the end of a flowing(!) Bolton move, spurning a chance for them to score as the game headed for a grandstand finish. A great scramble in the Bolton area had everyone on the edge of their seats.
In the dying minutes, a fantastic corner from Thomas Gravesen, and in came Joleon Lescott, with terrific strength, a great leap between two burly Bolton defenders, a perfectly directed downward header... Jaaskelainen did not move... GOOOOOOOOOOOOOAAALLL!!
An absolutely superb finish to the game for the Blues. Brilliant three points, a very tough game... a very, very important win. MUCH MORE LIKE IT, EVERTON!
Match Preview
With the closure of the transfer window at midnight before this weekend's trip to Bolton, Evertonians will finally know which squad of players will be carrying their hopes and dreams through until at least January.
A frustrating summer of waiting seemed to be reaching a crescendo last weekend when the club hoped to unveil the twin acquisition of Aiyegbeni Yakubu and Manuel Fernandes but, ultimately only one the two arrived after the latter's stunning last-minute change of heart.
The quick scramble for midfield reinforcements led David Moyes to Glasgow and the loan acquisition of one Thomas Gravesen. Now 31, the mad Dane will be in the squad for the short trip to the Reebok Stadium tomorrow; whether he is joined by someone a little younger and a little more dynamic before the deadline remains to be seen.
Last weekend's disappointing showing against Blackburn and the one before that at Reading may force Moyes into shaking things up a little and casting aside his preference for loyalty and consistency in his team selections.
Injuries to Lee Carsley and Alan Stubbs may force his hand anyway as both were withdrawn with knocks before the second half against Rovers. And the anaemic midfield performance could have him pencilling in the likes of Steven Pienaar or Phil Jagielka for a full debut.
It will be interesting to see if Gravesen (or A N Other) is thrown straight into the starting XI but the increased number of options is nice to have.
Perhaps no one will greet the arrival of the bustling Yakubu more than Andy Johnson. Effectively marked out of the game by Bikey and Samba in the last two games, AJ will surely welcome having someone else shoulder the burden up front. Yakubu's physical presence will give defenders more than enough to think about allowing Johnson the opportunity to wreak havoc with his pace. Quite a dangerous strike duo providing the rest of the side can get the ball to them with consistent quality of service.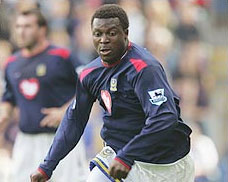 Yakubu:
Set to take the pressure off AJ
The Blues' hosts are something of an unpredictable entity. The role that Sam Allardyce played in pulling Wanderers up into a side challenging regularly for European qualification is hard to understate and following in his footsteps will be a tall order as his successor Sammy Lee is already finding.
Key to his chances will have been the retention this week of Nicolas Anelka in the face of strong interest from Arsenal and Manchester United. The Frenchman has often been a thorn in the Blues' side and they will have to consciously cut out the defensive lapses that were so costly in their last two outings, particularly against a team that relies on causing problems in the air and at set pieces.
Bolton got off the mark and scored their first maximum of the campaign last weekend with a comprehensive win over Reading. Anelka scored his third in four games and new signing Daniel Braaten also got off the mark so Lee's side will be in more confident mood than they were a couple of weeks ago.
Despite dropping points after an electric start, the Blues remain in fifth place and victory this weekend would restore confidence and leave Moyes's boys well placed going into the international break, during which time they will prepare for the visit of the Champions, Manchester United.
Matchday Stats
May appear here later
Determined Everton Net Dramatic Late Winner
Having stayed over in Manchester with some friends on Friday night, I had what should have been a completely simple drive up the M61 to Bolton on Saturday morning. My mates, who are from Bolton, all told me to stay on the M61 towards Preston instead of getting off at Bolton as it's much easier to get to the Reebok Stadium this way. However, convinced I knew best, I got off at Bolton and somehow managed to find myself in some far out placed called Prestwich, desperately trying to get back on the M61. After a good half hour of this, I finally got myself back on track and sure enough, it was a doddle to get to the Reebok via Preston.
I parked up and with a good couple of hours to kill, thought I'd go for a couple of beers, only to be thwarted by the doormen as they wouldn't allow away fans into the pub. Instead, I had to trot up to some pub a bit further up the road called The Beehive which was pleasant and full of Evertonians. I got chatting to a couple of Southern blues who were sound before making for the ground at about 14:30.
The last time I went to the Reebok Stadium, I was watching Oasis play live. As far as modern stadiums g, it isn't too bad I don't think — although it must be somewhat soul-destroying essentially being part of a big shopping complex. Just by the turnstiles, some KEIOC representatives were distributing flyers explaining their statement and thoughts on the result of the ballot, with the main concerns essentially being:
No voting allowance for regular match goers
Voters not entitled to vote receiving a ballot form
Some entitled to vote did not
Consequently, they are requesting a breakdown of the ballot respondents. On the other side of the flyer, the following point were raised in relation to the day's game at the Reebok:
Is the match-day experience at this ground one which you would like at OUR home?
(The match day experience was superb but only because Everton's away support was fantastic. The home supporters and masses of empty seats did not help much.)
Are the traffic difficulties you're likely to experience when you leave this ground what you'd want to deal with for every Everton home game?
(Wasn't too much of an issue really. Yeah, I was caught up in a bit of a jam for 20 minutes or so but was no big deal and not a great deal worse than what I experience at Goodison Park.)
Is a stadium like this befitting a club of OUR stature?
(No!!!)
I went through and, after a quick stop for some refreshments, was in my seat. I had a great view in the upper tier just behind the goal. I asked the gentleman next to me if he had any team news and he told me Pienaar, Jagielka and Yakubu were all playing, replacing Osman, McFadden and Hibbert, with Gravesen on the bench. I thought this was a little harsh on Osman, who's been playing well; harsh also on McFadden who scored a good goal last week although did nothing else in the Blackburn game as the fella next to me pointed out. It probably wasn't quite as harsh on Hibbert, however, who hasn't been playing especially well and was at fault for the goal last week, plus Jagielka made a great account of himself last weekend and certainly deserves his chance.
The teams came out and we attacked the opposite end in the first half. The referee was Peter Walton. Oh dear...
It didn't take Everton too long to get in front in this one, with Yakubu opening his account on just 11 minutes. A ball on by Carsley found Johnson who nipped it ahead of his marker, Cid, who dived in. He then ran it into the box and cut it across for Yakubu who finished nicely to give Everton the lead. The move actually began with an excellent tackle and then pass by Jagielka who deserves credit for that.
Sadly we then invited a lot of pressure from Bolton who responded well. Howard made a splendid save from a long range drive, tipping the ball round the post, and Alonso drove a shot from the edge of the box which cannoned back off the bar. We also had a couple of chances with Jagielka twice coming close with headers from corners. It was a very open game and very entertaining to watch.
Up to the break Howard, Yobo, Jagielka, Pienaar and Johnson had all performed well with Arteta hardly in the game at all, and Carsley struggling quite badly. Lescott was also a bit iffy at times. However, we did enough to go in 1-0 at the break. The only other point I can think of is the incomprehensible booking of Leighton Baines for over-stepping on a throw in!
Everton knew they would have to battle hard in the second half as Bolton continued to press for an equaliser. Everton continued to invite pressure and eventually it came, inevitably from Niclas Anelka. A cross in was half cleared but only to Anelka who volleyed beautifully into the roof of the net. The warning signs where there long before this. We'd conceded umpteen corners and Bolton were threatening for a long time and deserved to be level. It was Everton's response to this, however, which was most impressive.
With 25 minutes still remaining Everton were simply not accepting anything less than a win and pounded Bolton relentlessly. Moyes deserves credit for the way he changed it. First, Gravesen replaced Lee Carsley to popular applause from the away end and immediately had a calming impact on the game. Next, Osman replaced the tiring Pienaar and showed his usual vigour on the ball. He and Arteta switched wings as Everton continued to knock on the door. Neville and Jagileka switched positions. It all just seemed a bit too much for Bolton and they didn't know how to respond. Furthermore, Bolton, with Anelka and Diouff, were always dangerous on the counter-attack but the backline held firm superbly, with Yobo and Baines particularly impressive for me.
The chances — with Gravesen pulling the strings and offering creativity and Arteta finally pulling his finger out in this game — Bolton were bedazzled. A ball by Gravesen put Johnson through on goal. His drive was low and well saved by Jaaskelainen down to his left. A little later, Arteta got himself on the end of a Baines cross and forced Jaaskelainen into a decent catch. Andy Johnson got sandwiched in the box in what possibly could have been a penalty, although perhaps it would have been harsh. A Johnson drive from the edge of the box looked to have been handled by Gardner but the penalty wasn't given. Everton just continued to press and would not let this one go. Anichebe replaced Yakubu.
With about 6 minutes left we really should have scored when a superb interchange between Gravesen and Arteta resulted in the Spaniard squaring the ball back for Osman who had the goal at his mercy but contrived to whack it well over the bar when he oughta have scored. He looked to be feeling quite guilty just afterwards as he stared back at the away end with a few thousand fans with hands on their heads.
As we approached stoppage time Everton got a corner, with Gravesen this time going over to take it. He whipped it in high and towards the back post where Lescott climbed and planted his header into the corner of the net, sending the Evertonians absolutely wild. Me and the stranger next to me gave each other a big hug. It was basically pandemonium and it's been a while since I've celebrated a goal like that.
We then had the agony of quite a lengthy period of stoppage time but Everton weren't to be denied with the defence — Howard, Yobo and Jagielka in particular — holding firm and batting back everything that was thrown at them.
The whistle eventually went and the players came over and lapped up the applause with Tommy Gravesen in particular enjoying himself as he launched his Lucazade bottle towards the away end and doing a big pointed salute. He deserved it. He was simply outstanding once introduced.
I then went back to the car drove back down the M62 and was home in no time at all.
Well done Everton for responding so well. What a great awayday!
Player Ratings:
Howard: Seems a lot more confident in his decision-making than last season and commands his box extremely well. Made a cracking stop in the first half, even if the ball would have hit the post anyway. 8
Baines: A bit hit-and-miss in the first half but was exceptional in the second and didn't panic at any stage. Still can't believe he got booked for over-stepping! 8
Lescott: Wasn't great in the first half but was much improved in the second. Like Baines was ridiculously booked for a 50/50 challenge with Anelka, but much more significantly popped up with a great header to win the game in injury time. 7
Yobo: Was extremely resolute and was simply a rock at the back throughout. 9
Jagielka: Very, very good. He's very committed, confident and comfortable at pretty much everything he does and will only get better I feel. Was perhaps slightly more comfortable at right back than central midfield but coped fine. 8
Pienaar: I raised an eyebrow when I heard he was playing but he did very well, particularly in the first half. 8
Carsley: Had a poor game. Perhaps he wasn't over his injury. 5
Neville: Was very solid and combative in midfield and coped well at right back later on. 7
Arteta: Only got into the game when he switched flanks in the last 20 minutes. Works well with Gravesen. He must think, "Yes. Finally. Someone else on my wavelength." 6
Yakubu: Took his goal quite well and showed his class at times. Lazy though. 7
Johnson: Missed a good chance in the second half but was full of running, didn't give the defence any peace and set up Yakubu's goal. Had a massive bearing on the result. 9

Gravesen (for Carsley): Was inspirational and nobody quite expected this. He completely changed the game. He's glad to be back and we're all glad he's back. Welcome home, Tommy. I know he was on the pitch for only 25 minutes or so but such was his impact, he gets my Man of the Match. Simply awesome (also collected a ridiculous booking). 10
Osman (for Pienaar): Will have been disappointed to have been dropped but did well when he came on. Really oughta have scored mind. 7
Anichebe (for Yakubu): Put himself about and caused a few problems. Credit to Moyes for continuing to give Vic a chance as he does struggle at times. 6
* Unfortunately, we cannot control other sites' content policies and therefore cannot guarantee that links to external reports will remain active.
BOLTON (4-4-2)
Jaaskelainen
Hunt :34' (85' Davies)
Meite
Cid (46' O'Brien)
Samuel
Speed
Nolan (c)
Alonso
McCann (55' Wilhelmsson)
Diouf
Anelka
Subs not used
Al Habsi
Braaten
EVERTON (4-4-2)
Howard
Jagielka
Yobo
Lescott :46'
Baines :29'
Arteta
Carsley (60' Gravesen:72')
Neville
Pienaar (70' Osman)
Johnson
Yakubu (85' Anichebe)
Subs not used
Wessels
McFadden
Unavailable
Cahill (injured)
Vaughan (injured)
Turner (injured)
Premier League Scores
Saturday 1 September 2007
Bolton
1-2
Everton
Fulham
3-3
Tottenham
Liverpool
3-0
Derby
Man United
1-0
Sunderland
Middlesbro'
2-0
Birmingham
Newcastle
1-0
Wigan
Reading
0-3
West Ham
Sunday 2 September 2007
Arsenal
3-1
Portsmouth
Aston Villa
2-0
Chelsea
Blackburn
1-0
Man City
Premier League Table
Pos
Team
Pts
1
Liverpool
10
2
Arsenal
10
3
Everton
10
4
Chelsea
10
5
Man City
9
6
Newcastle
8
7
Blackburn
8
8
Man Utd
8
9
Wigan
7
10
Aston Villa
7
11
West Ham
7
12
Middlesbro
7
13
Portsmouth
5
14
Tottenham
4
15
Fulham
4
16
Birmingham
4
17
Sunderland
4
18
Reading
4
19
Bolton
3
20
Derby
1

After 2 Sep 2007