Shane Duffy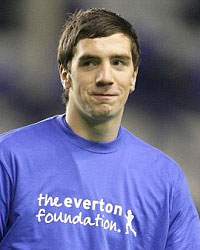 Squad number
34
Position
Defender
Joined on
November 2008
Joined from
Foyle Harps
Signed by
David Moyes
Transfer fee
No fee?
Signed by
David Moyes
Debut
(Sub)
v AEK Athens (A)
2 December 2009
Debut
(Full)
v BATE Borisov (H)
17 December 2009
Contract duration
2½ + 3 years
Contract expires
June 2015
Born
Derry, N Ireland
Date of birth
1 January 1992
Height
6' 4" (1.93 m)
Nickname(s)
Duffy
Honours
N Ireland (U-21)
•
Soccerbase Datafile
•
Wikipedia Entry
Everton signed Shane Duffy up for the Everton Academy from Foyle Harps in November 2008.
Despite his young age, 16, Duffy is a monstrous 6' 4" defender. However, as the new arrival, he not only had to prove himself to his coaches, but also to his team-mates and he quickly made his presence felt in the Everton Under-18 squad.
But Duffy recovered well and in time to head the winner in the Under-18 Merseyside derby against Liverpool and continued to shine for the under-18s, winning the Academy Player of the Month award for January 2009; he was even promoted to the reserve side for some games toward the end of the season.
Duffy also caught the attention of Northern Ireland manager, who propelled the young Everton player through the ranks from Under-17 to Under-19 and eventually into the Under-21 squad, despite still only being 17.
Duffy's second season with the Blues saw him play for the first-team in some pre-season friendlies. He played for 90 mins in the 2-1 defeat to Bury, for 60 mins in the 4-1 defeat of Rochdale (where he scored the opener) and for the final 30 mins in the 2-1 defeat to Blackpool.
But shortly after breaking into the Under-18 side, Duffy suffered a horrendous injury which appeared to threaten his chances at the club. A hefty last-ditch challenge from Duffy saw him fracture his hip bone and this ruled him out for approximately 6 weeks. "It was so scary. I thought I'd broken my back", he recalls.
The young man from Derry had gone from playing in his local gaelic and soccer youth teams to playing with and against top professional footballers in the space of just 2 years. He was only 17 when he made his senior Everton debut (albeit forced by injuries) a little more than a year later at centre-back in the defence.
Shane Duffy was given a Premier League squad number for the 2009-10 season and featured on the bench for plenty of senior games, while was handed his first Under-21 cap for Northern Ireland in a 2-1 defeat to Portugal. The youngster played 90 minutes and confidently slotted home a consolation penalty in the game:
His debut for the Toffees finally came amidst the rain and the mud of Athens in a Europa League match that saw Everton suffer three more injuries, taking the treatment room head-count to 12. Duffy came on after just 15 mins when Sylvain Distin pulled up with an injured hamstring and he went on to play a significant role in maintaining a rare clean sheet as Everton secured their position in the knock-out stage of the competition.
His full debut came a couple of weeks later in another Europa League game, the dead rubber against BATE Borisov when David Moyes chose to rest most of the senior team and go with his reserve and academy players. Duffy looked decent next to Tony Hibbert in the centre of defence and did well, saving a certain goal, but was unfortunate to deflect the only goal of the game past Carlo Nash.
By 2010, Shane was a regular in the Republic of Ireland U-21 setup and on the fringes of the senior side despite not yet having broken into the first team at Everton. Near tragedy struck as he turned out for an Ireland XI against the Republic's Juniors side in a practice match in May, however. The young defender collided with an opponent during his first training session with the RoI squad, and it resulted in life-threatening injury.
Duffy suffered a severed artery near his liver and required an emergency operation to save his life.. At one point there was 3.6 litres of blood in his abdomen.
Following his recovery, he remained on the fringes of the Blues' first-team setup, had a six-week loan spell at Burnley, during wich he only got one game, and was rewarded for his maturing displays in the Everton Reserves with some places on the first team bench the following season before being farmed out on loan in the 2011-12 season to continue his development at Scunthorpe United.
Strong in the tackle and dependable in the air, Shane is considered a ball-playing defender who should be able to replace either Phil Jagielka or Sylvain Distin, if called upon. He did get that chance in January 2012, returning off loan after Jagielka damaged his knee, and the lad looked remarkably confident and composed in a couple of league games before David Moyes put him back on the bench.
But an indication of the plans in store for Duffy cam in the form of a three-year contract with Everton, signed in September 2012. However, the opportunities at senior level seemed to get fwer and farther between as David Moyes was reoccupied with juggling his three senior cenre-backs — Heitiga, Distin and Jagielka — among the two availabkle slots in his back four, so Duffy was reduced to being a perennial bench-warmer, sitting there unused for half of the senior Premier League games before Christmas 2012.
Some managers in the Premier League had experimented with playing three centre-backs and pushing the fullbacks forward, more as wingbacks, but it never seemed likey Moyes would experiment thus...
By Michael Kenrick
Last updated December 2012
Everton Career
Season
Squad
Number
League
Apps (sub)
League
Goals
Cup
Apps (sub)
Cup
Goals
Total
Apps (sub)
Total
Goals
2009-10

34

0 (0)

0

1 (1)

0

1 (1)

0

2010-11

34

0 (0)

0

0 (0)

0

0 (0)

0

2011-12

34

2 (2)

0

1 (0)

0

3 (2)

0

2012-13
34
0 (1)
0
0 (2)
0
0 (3)
0
Totals
2 (3)
0
2 (3)
0
4 (6)
0
Note: Everton Career Stats on ToffeeWeb are updated after every game.
Loan Spells
Period
Club
Appearances (sub)
Goals
Mar - Apr 11
Burnley
1 (0)
0
Sep 11 - Jan 12
Scunthorpe United
18 (0) & 1 (0)
1 & 0
Everton Academy Record
Season
Team
Appearances (sub)
Goals
2008-09
U-18s & Res
13 (1) & 2 (2)
1 & 0
2009-10
U-18s & Res
7 (0) & 16 (0)
0 & 3
2010-11
U-18s & Res
1 (0) & 13 (0)
0 & 0
2011-12
Res
8 (0)
0