Steven Naismith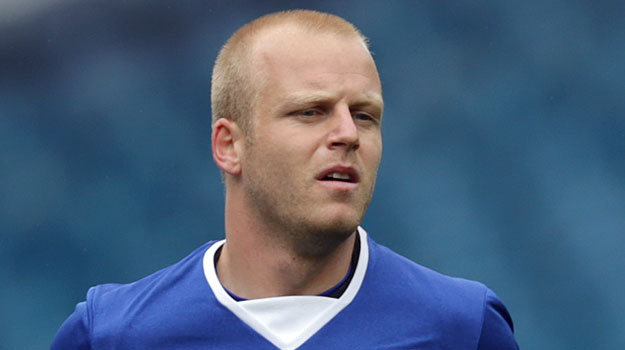 Squad number
14
Position
Striker
Joined on
3 July 2012
Joined from
Glasgow Rangers
Transfer fee
No fee (free agent)
Signed by
David Moyes
Debut (Sub)
v Man Utd (H)
20 August 2012
Debut (Full)
v Aston Villa (A)
25 August 2012
Contract duration
4 years
Contract expires
June 2016
Born
Irvine, Scotland
Date of birth
14 September 1986
Height
1.78 m (5 ft 10 in)
Nickname(s)
v
Honours
Everton took further advantage of the financial implosion on the blue side of Glasgow when they completed the signing of Steven Naismith amidst threats from the Sevco owner Charles Greene that he would seek legal redress against players such as Naismith who had declared themselves free against on the liquidation of the old Glasgow Rangers .
Naismith rekindles a ready-made partnership partnership with former Rangers striker Nikica Jelavic, who made such a tremendous impact in his first half-season at Goodison Park. However, it's a partnership that was cut short back in October, when Naismith sustained serious cruciate ligament damage that would put him out for the rest of last season.
For Moyes to bring in not one but TWO strikers as has latest acquisitions shows a recognition that the greatest need is for his fundamentally defensive squad to start scoring goals as an obvious end product to the possession that comes from effectively breaking down successive opposition attacks.
Steven Naismith could potentially deliver the goods in tandem with Jelavic... although that might involve playing the out-of-fashion 4-4-2 formation that is certainly not something Moyes favours. It is believed that Croatian striker Jelavic – who describes Naismith as the best attacking partner he has had in his career to date – has implored his boss to bring the Scot to Goodison to renew a partnership that yielded 56 goals in less than a season and a half, and a third successive SPL title for Rangers in 2011.
Naismith's former skipper at Ibrox, the David Weir, is another admirer, citing the player's will to win and commitment to self-improvement as key qualities. He says Naismith would typically be found at Murray Park putting in the lonely hours in the gym long after his teammates had left for home.
At his first club Kilmarnock, as a young teenager, he was generally eclipsed by rival players now largely forgotten but even there any deficit of natural ability was mitigated by a drive to succeed and improve that has allowed him to have the last laugh as he has moved through the ranks to enjoy a starring role for club and country.
The Ayrshire-man is a canny personality by reputation and, by his own admission, the 25-year-old has taken time to size up and exceed the obstacles that each stage in his career has placed before him – including two serious cruciate injuries, the latest of which saw him miss three quarters of his final season at Ibrox.
Regarding his departure from Rangers, Naismith said: "I have discussed this decision with my fiancée, my family and my advisors. It has been an extremely difficult decision to make but I believe it is the right decision."
"As players we were put in a difficult position by the administrators whereby we were asked to take a 75% pay cut to contracts that we entered into in good faith.
"As players we collectively saw this as the only way to get Rangers Football Club out of administration by way of a CVA and thereby protect the staff jobs and the history of the club and give the creditors who had also entered into contracts with Rangers in good faith the best chance of being paid.
"We fought hard with administrators during negotiations to insert clauses that offered protection to staff and players at the club. I am extremely proud of the actions we took but I am disappointed and angry that Rangers Football Club no longer exists in its original form."
Despite the players' palpable sense of betrayal, inevitably, Naismith's words have rung hollow with a section of the support that idolised him until recently but the consensus appears to be that Naismith does not have a case to answer in terms of either his service for Rangers or his reasons for leaving.
Naismith could become a replacement for Tim Cahill, a player who appears to be rapidly nearing the end at Goodison after a dreadful spell of poor form that has not prevented Moyes from structuring the team around him at almost every.
The versatile attacker – he is neither a conventional striker nor midfielder – is probably best described as having been respected rather than admired until recent times. However, a series of assured performances and a hat-trick of important goals versus Spain and Liechtenstein for Scotland and an emphatic, arched half volley, that opened the scoring in last season's first Old Firm derby for Rangers, saw the player emerge from the shadows cast by more illustrious teammates for the first time. In partnership with Jelavic, they would go on top score 56 goals in a season and a half.
Naismith began his career with Kilmarnock in 2004. He spent four years with the Ayrshire side and during that time he won the SFWA Young Player of the Year in 2006 and the SPFA award the following season despite being largely overshadowed by Kris Boyd. The player famously scored with his first touch of the ball at international level, as a 19-year-old for Scotland Under-21s against Iceland in March 2006 and joined Rangers in 2007 for a fee of £1.9M. While with Rangers, Naismith won three consecutive league titles, the Scottish Cup in 2008 and the League Cup twice, in 2010 and 2011.
His first cruciate ligament injury was sustained against St Johnstone in April 2008. Provided he has fully recovered from his latest cruciate ligament injury to the other knee, there is reason to believe that Naismith can resume his career where he left of, alongside Nikica Jelavic.
By Michael Kenrick
Last updated July 2012
Everton Career
Season
Squad
Number
League
Apps (sub)
League
Goals
Cup
Apps (sub)
Cup
Goals
Total
Apps (sub)
Total
Goals
2012-13
14
12 (15)
3
2 (2)
0
14 (17)
3
Totals
12 (15)
3
2 (2)
0
14 (17)
3
Note: Everton Career Stats on ToffeeWeb are updated after every game.
Previous Career
Season
Team
Appearances (sub)
Goals
2004-2007
Kilmarnock
87 (14) & 11 (2)
29 & 6
2007-2012
Glasgow Rangers
72 (26) & 32 (11)
28 & 5