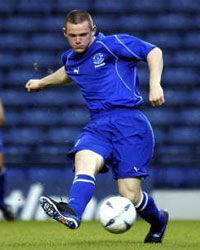 Squad No.
18
Joined
Youth
Transfer Fee
No Fee
Signed by
David Moyes
Debut
v Spurs (h)
17 August 2002
Contract Expires
3 years;
June 2006
Left
Everton
for Man Utd (£10M)
31 Aug 2004
Finalé
v Manchester City (a)
15 May 2004
Born
Liverpool
Date of birth
24 October 1985
Height
5'-10" (178cm)
Nicknames
Roonaldo,
Roonster
Honours
England U-15, U-16, U-17, U-18, U-19, Full
STRENGTHS
Scores for fun
Superb ball striker
Strong and confident
WEAKNESSES
"Too young" – Walter Smith
A bit too aggressive?

Few paid too much attention when Wayne Rooney scored a stunning goal in the FA Youth Cup semi-final at White Hart Lane. And later in the final, he showed us the undershirt emblazoned with that fateful quote: "Once a Blue, Always a Blue"....

The prodigious young talent that Everton were quietly grooming for stardom all-too-quickly became a household name after his sensational last-minute winner put paid to Arsenal's 30-match unbeaten run and made Wayne Rooney both the youngest Everton goalscorer and youngest player to score in the Premiership — an honour he stole from Michael Owen. However, Wayne was not the youngest to ever play for Everton: that record remains with Joe Royle.

Liverpool born and raised in Croxteth, Rooney was just days away from his 17th birthday when he exploded into the national consciousness with that one phenomenal swing of the boot in October 2002. Three weeks earlier he had notched his first senior goals in the 3-0 League Cup win at Wrexham, confirming the unprecedented buzz surrounding the player believed to be the answer to the club's prayers.

And he followed the stunning Arsenal strike with a real predatory masterpiece against Leeds United that was to slay Everton's 51-year Elland Road hoodoo. But for pure technical genius, physical strength, and mental determination, his third league goal, against Blackburn stands out.

Then hero turned villain, or so we are lead to believe, with his exuberance in the challenge resulting in a red card at Birmingham, followed by a fifth yellow versus Manchester City, and a four-match suspension.

Near the end of that ban, Wayne finally signed a lucrative 3-year contract (the longest permitted of 17-year-olds) in January 2003, after ditching his local agent to join Paul Stretford's Proactive Sports Management agency.

And his return late in the game at Charlton (ironically too late for the watching England Manager, Sven-Goran Eriksson) preceded the announcement of his accession to the England squad. The following Wednesday, 12 February 2003, at the hardly tender age of 17 yrs & 111 days, Wayne Rooney became the youngest England player ever when he came on at half-time after the first-choice England side had gifted Australia two goals.

Rooney played well, but tried perhaps a little too hard to grab all the glory, although he did play a pivotal; role in the only England goal — scored by his old mate from Croxteth, Franny Jeffers. He later impressed with a superb performance for England against Turkey.

Wayne was fully expected to build on his brilliant debut season but the ineptitude of the players around him held him back as Everton struggled throughout the disastrous 2003-04 season. Nevertheless, he ended up as leading scorer, with 9 goals in the Premiership.

Although he seemed to be playing with more discipline, he still managed more cards than goals: 12 yellows. And the rumours of his departure just grew and grew: £40M to Utd? Evertonians in increasingly worrying numbers bought on to the failed logic that his sale would somehow "save" Everton by enabling them to buy four decent players (get real!), while, if he remained amongst the dross, his development would be forever stunted.

David Moyes and Bill Kenwright vowed repeatedly he was not for sale, despite saying also that he was at least a £50M player! But some of the most despicable nonsense published in the name of journalism followed his excellent performance for England in Euro 2004 as a multi-faceted campaign was put in motion by his agent to precipitate a move away from Everton, despite a broken metatarsal. The common wisdom put about by slime like Schmichel was the he could develop better with a club that was playing Champions League football! Unfortunately, it seems Wayne bought into all this, even claiming at one point that the person he'd choose to have with him on a desert island was Paul Stretford!!!

With little irony for long-suffering Evertonians, it was these words that Rooney would echo with lacking conviction when he finally spoke to confirm the worst: a transfer to Manchester United — for the ludicrous down-payment of only £10M. So ends the dream.

The rest of the bizarre financial package Bill Kenwright negotiated includes a second payment of £10M in August 2005, and contingent payments of up to £7M payable on the occurrence of the following events during the next 5 years:
European Champions' League:

Winners:- £1.0M
Runners Up:- £0.5M

FA Premier League:

Winners:- £0.5M
Runners Up:- £0.25M

FA Cup Winners:- £0.15M
Player signs an extension to his contract at Man Utd: - £1.5M
Player earns 20 England caps in competitive games whilst a Man Utd player:- £0.5M
Player earns a further 20 England caps in competitive games whilst an Man Utd player:- £0.5M
Even if these events do not occur, Everton will receive £3M provided Rooney remains registered to Man Utd until 30th June 2007. This sum will be payable in equal installments of £1M on 1st August 2006, 2007 and 2008 if not already paid via the above incentives.

So we are now Man Utd supporters by default. Incredible! And the additional return so far from the 2004-05 season? £0M. But remember, it was a "fantastic deal".... for Manchester United!

While Rooney did pretty well for United, scoring 17 goals, and many of them stunning, it was not all plain sailing at Old Trafford, with temperament and disciplinary issues always bubbling under the surface. Ironically, Sir Alec Ferguson had been talked up as the manager who could really curb any flashes of temper from young Wayne — yet in the first year he was there, he got progressively worse temperament wise, contrast his England outbursts with his debut in the "pressure cooker" game against Turkey in which he was supposed to be a liability in waiting yet didn't lose it once.
Over the ensuing years, his relationship with the Goodison crowd started off as fractious and simply got worse from the moment that Yobo passed to him mistakenly and he gleefully slotted home, kissing the Man Utd badge on his shirt and alienating himself an order of magnitude further than he already had by submitting that transfer request.
But through it all, in an insurmountable contadiction for many Evertonins, Rooney remained a Blue at heart (like it said on the shirt), confirmed by his attendance at the 2009 FA Cup Final, deressing his kid in Everton blue. In 2009 he conducted a serious of interviews with EvertonTV that seemd designed by his publicity team to engratiate himself to the Everton faithful (uniquely unsuccesful!).
But his underlying allegiance to the Blues was confirmed by these words from Mikel Arteta: "I don't like to see people behaving badly towards Wayne. He's been a terrific player and he loves Everton. He left for a massive club and brought a lot of money to this one. He's not said anything bad about this club and all the players and staff like him."

Last Updated by Michael Kenrick, September 2010