Gibson out for three more weeks
14/09/2012

Comments
(23)
jump to end
Thigh injury could means he'll miss September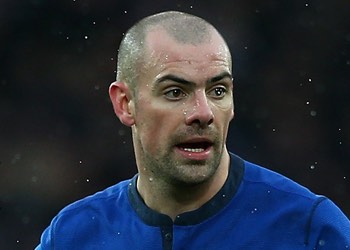 Darron Gibson will be out for another two to three weeks with the thigh strain he sustained against WBA, David Moyes has confirmed.
The 24-year-old was withdrawn just 20 minutes into the defeat at the Hawthorns a fortnight ago and will miss the rest of the month's matches.
The timing of Gibson's injury seemed to be serendipitous at the time given the apparent acquisition of Vadis Odjidja-Ofoe at the last minute on transfer deadline day.
FIFA's subsequent refusal to ratify to the loan deal, however, means that Moyes faces a selection headache in central midfield for the next few games.
Quotes or other material sourced from Liverpool Daily Post
Reader Comments
Note: the following content is not moderated or vetted by the site owners at the time of submission. Comments are the responsibility of the poster. Disclaimer
John Shaw
681
Posted 14/09/2012 at 17:46:20
It's 4-5 weeks in total from when he got the injury, so it's only another 2-3 weeks from now, still far from ideal though !!
James Morgan
684
Posted 14/09/2012 at 17:45:24
Dagnamit! I guess this means Ner Ner Ner Nev Nev Neville in midfield...

Shane Corcoran
685
Posted 14/09/2012 at 17:49:52
Exactly John, c'mon lads correct that.
Kase Chow
697
Posted 14/09/2012 at 18:27:05
Arguably our most influential player sidelined
His impact has been tremendous
James Martin
700
Posted 14/09/2012 at 18:34:19
Is Junior still injured, he seems a more natural option to recreate Gibson's passing range than Neville or Fellaini dropping back.
Danny Burke
712
Posted 14/09/2012 at 19:09:35
I'd rather we drop Felli back and allow Naismith or mirrallas to play with/behind Jelavic, than have Nev in the middle. Actually I'd rather Vadis was able to play but that's another story.
Danny Burke
713
Posted 14/09/2012 at 19:09:35
I'd rather we drop Felli back and allow Naismith or mirrallas to play with/behind Jelavic, than have Nev in the middle. Actually I'd rather Vadis was able to play but that's another story.
David Booth
716
Posted 14/09/2012 at 18:59:27
Got a horrible feeling David Moyes will try and placate Heitinga there by playing him there - despite the fact that every time it has tried it before, it has never worked.
Real shame about Gibson, who without being spectacular or individually eye-catching, has been a vital piece in what is evolving into a very exciting, competitive jigsaw.
He will be missed until he returns.
Just hope the rest of the lads step up to the plate in his absence.
Oh, and that Johnny gets his 'player of the season' place back in the centre of defence.
Talk about deja-vu: he gets dropped... he gets an occasional, ineffective game in centre midfield... then he finally gets played in his proper position and Everton go on a long run of good form
As for who might fill Gibson's place: personally I'd drop Fellaini back and give Barkley a run and a chance to prove himself. Bit late for that now though it appears.
I wonder, would a decent option be playing Neville at right back, where he's at home and giving Hibbert a try in front of the defence? He'd certainly make a nuisance of himself, get stuck in and break attacks up?
Do hope our bright start doesn't fizzle out as fast as it arrived and we're left playing catch up again by the middle of October?
COYB!
Brian Waring
717
Posted 14/09/2012 at 19:16:25
Its going to be a no brainer from Moyes's point of view who drops into midfield.
Tom Dodds
723
Posted 14/09/2012 at 19:23:04
Brian's said everything. Stunned he forgot about Osman....

No Barkley, of course; Junior who???

He'll just be listening to the steady drip of a tap in the eerie silence of his cell.
Jay Harris
759
Posted 14/09/2012 at 21:35:25
Time for the new boys to have a shout.
I think we will have to play Mirallas on the right flank and Naismith hasnt been doing too badly so time to drop Felli back into MF I think.
Give Ossie a rest while Gibbo is out and maybe play Neville alongside Felli in the middle.
To be fair Neville hasnt been too bad this season.
We also have to consider Oviedo if he proves up to the pace he could be a left sided anchor.
Ian Hams
763
Posted 14/09/2012 at 22:47:53
That might be an interesting option, Jay. Oviedo in on the left an Pienaar into Felli's role, allowing him to anchor midfield.
Might be a bit adventurous for Moyes though.
Sam Hoare
771
Posted 14/09/2012 at 23:13:50
I am going to predict that we play dirge football again untill Gibson returns. And struggle for points. I don't think it can be underestimated how important he is to our overall game at the moment.
Harvey Miller
775
Posted 14/09/2012 at 22:49:23
Well my dream team NOW would be
Howard
Jags, Heitinga, Distin, Baines,
Naismith, Fellaini, Barkley, Pienaar,
Mirallas, Jelavic
And before you start it, I know Phil did not look good at RB when he was tried there but I think he has matured and learned.
The playing team should be chosen on who we are playing and how they are doing. I know that Moyes does his home work but oh why the same strategy when it clearly does not work against the so called lower teams. And why he picks always the same team, it makes it so easy for them to come back at us.
John Siffor
791
Posted 15/09/2012 at 03:44:56
Ready on Donovan to come back
Anto Byrne
794
Posted 15/09/2012 at 03:46:40
No-brainer really: put Fellaini back into the holding role, play Mirallas with Jelly and JH for Distin. Failing that, start Magaye & Coleman and then change it around. It would be a good time to give Barkley 25 minutes as well. 2 - 0 will do. Expect them to park the bus and kick seven sorts. Ballboys take cover.

Keith Glazzard
795
Posted 15/09/2012 at 04:01:52
John - like Landon a lot, but to do what Gibson does? Watch a bit more footy, I say.
John Siffor
796
Posted 15/09/2012 at 04:17:34
Not to do what Gibson does. He gives us depth and class. We could slide someone else over so we wouldn't have to put Neville in there
Martin Mason
797
Posted 15/09/2012 at 04:39:17
I would expect us to be unbalanced and play poorly for the games he's out.
Jarrod O'Neill
798
Posted 15/09/2012 at 05:06:10
Personally I hope Moyes doesn't resort to his "wWe will take a draw" attitude and plays Neville or Heitinga in the mid. We finally have some other decent options with more of a view for attacking than defending so three points should be all that is on Moyes's mind.
Drew Shortis
820
Posted 15/09/2012 at 09:31:42
I would either drop Fellaini or Pienaar back cover Gibson's role than put Neville or Heitinga there. Pienaar might not have the physical side, but he is a great passer and would drive the team on. Fellaini passes well and can win the ball. With Coleman, Mirallas, Oviedo, Gueye, Naismith, Osman or Anichebe to select on the wings or as attacking midfield we are not short of options. Sure Gibson will be missed, but we have the numbers, quality and flexibility to cope for a few weeks without him. COYB!
Ian Bennett
822
Posted 15/09/2012 at 09:47:56
Barkley is on loan at Sheffield Wed.
I'd drop Fellaini back with Osman, Pienaar and Naismith, with Mirallas playing in the hole. Mirallas likes to drop to the wings so I still would think we would maintain a shape when we haven't got the ball.
I think this could depend on if Colloccini is fit or not, as Fellaini could be sent to bully his replacement. COYB
Brian Waring
866
Posted 15/09/2012 at 15:26:29
Harvey (#775) Why play Jags at right back, when we have a natural right back in Hibbert?
Add Your Comments
In order to post a comment, you need to be logged in as a registered user of the site.
Or Sign up as a ToffeeWeb Member — it's free, takes just a few minutes and will allow you to post your comments on articles and Talking Points submissions across the site.