Elstone: No pressure to sell stars
07/12/2012

Comments
(72)
jump to end
CEO reiterates 'modest' January budget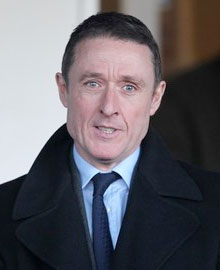 Everton Chief Executive, Robert Elstone, says that the Club are not under pressure to sell their biggest stars in the short term and re-stated that there will be a small kitty for potential acquisitions when the transfer window opens in January.
Speaking with fan site BlueKipper, Elstone was quizzed on a range of issues, most of them financial and while little of it will come as a surprise to Blues fans, his comments paint a more stable picture of Everton's financial situation, even if the forthcoming accounts will show disappointing revenue for the 2011-12 season and there has been no reduction in overall debt.
"We don't have to sell (in January)," Elstone said. "[W]e did some good business in the summer with Mirallas, Oviedo and Naismith. We tried to bring in Vadis Odjidja-Ofoe from Bruges. As we didn't, there is budget, albeit modest, available in January."
He pointed to falling attendances last season and a consequent drop in TV revenue as the team was selected for the minimum number of live games in the second half of the campaign as reasons for a drop in income.
"It's fair to say that the results for the 2011-2012 season are slightly disappointing. After the tough start we had to last season, attendances dropped significantly, the lowest in the seven years I've been at the club.
"Every 1,000 empty seats costs us on average £25,000 per game or £0.5m per season and the cost of an average of just over 33,000 is easily worked out.
"The disappointing start also influenced Sky and ESPN. Despite playing some of the most entertaining football in the Premier League from that night we suffered our lowest level of live TV picks under the current broadcasting arrangements. At half a million per game that also hit us hard.
"Despite those trading losses, there's been virtually no increase in debt," Elstone continued, "and we have a stronger and more valuable squad of players than 12 months ago. It shows we make key decisions very well in a difficult economic climate. And we have had a real turnaround from December 2011."
He also pointed to the forthcoming jump in revenue from the newly-signed domestic and international television rights deals that will have a significant impact on the club's top line.
"The domestic deal was announced several months ago. The international deal is almost complete and we pretty much know what the total pot will be. Of course distribution depends on our place in the league, number of broadcast matches and a few other factors. It will represent a significant increase."
Not surprisingly, Elstone was unable to report any progress on the stadium issue, with the Club hamstrung unless it can find a lucrative enough third-party relationship to deliver any new development.
"We are in regular dialogue with the City Council. And it's fair to say over the last few months we have had positive moves on a couple of sites including analysing one site in more depth.
"As always, the greatest challenge isn't sites or designs, it is money. It will need an external boost of one sort or another from the private or public purse."
Finally, with the Shareholders Association currently petitioning its members regarding a push for the reinstatement of the AGM process, the CEO appeared to brush off the need for a return of that forum, trumpeting instead the Club's recent supporter outreach events.
"Let's be clear with why we stopped [holding AGMs]. The meetings had become negative and had been hijacked. There was very little positive about them. Company law changed and we had the option to avoid that scenario.
"I have suggested quarterly briefings with the shareholders' association. I am more than happy to meet shareholders to discuss the Annual Report and Accounts when published. I even offered to re-instate the shareholder forum.
"As for the reasons for the EGM, I don't think any Club has explained its finances and strategies more comprehensively than Everton. And as I said we have a continuous dialogue with as much of our fan base as we can. Meanwhile, my door is open to any sensible dialogue and proposals."
Quotes or other material sourced from Liverpool Echo
Reader Comments
Note: the following content is not moderated or vetted by the site owners at the time of submission. Comments are the responsibility of the poster. Disclaimer
Kase Chow
914
Posted 07/12/2012 at 23:28:16
He wasn't asked about Moyes's contract?
What are Moyes's pinch points?
He wants more money? Doubt it...
Wants to go to a 'bigger club'? Well Chelsea, Spurs & Newcastle nor the Shite came knocking. Arsenal & Man Utd ain't changing. And Man City are unlikely to trust Moyes.
Bigger budget? Well the club can't give him what they don't have.
So what does Moyes want that he can realistically get?
Not one person thought to ask Elstone?
Eugene Ruane
915
Posted 07/12/2012 at 23:36:51
"Let's be clear with why we stopped [holding AGMs]. The meetings had become negative and had been hijacked. There was very little positive about them. Company law changed and we had the option to avoid that scenario".
So there you have it – a dissenting voice is a hijacker and if meetings aren't 'positive' we ban them.
Personally I'm not interested in a single word him or his cronies have to say.
Elstone imo could talk for an hour without saying a word.
A grinning bullshit and spin merchant (like his boss).
Shane Corcoran
916
Posted 07/12/2012 at 23:45:41
Kase, isn't the official line that they haven't sat down with Moyes as he has such a comfortable relationship with Kenwright?
I'm sure that's bullshit but it would surely be what Elstone would repeat if asked.
Pablo Brown
918
Posted 08/12/2012 at 00:01:51
Kase Chow,
How are Newcastle bigger than us? I very much doubt Moyes would join the Magpies even if there was a manager vacancy.
Kase Chow
919
Posted 08/12/2012 at 00:11:09
Newcastle aren't bigger than us. Nor are Spurs. Or even Man City. BUT they have more money to spend or bigger stadia or bigger fan bases/commercial opportunities and in some people's eyes that can make them more attractive
What I'm trying to get to is, what does Moyes want in order to sign?
And did anyone ask Elstone? After all, Moyes is arguably our biggest asset and he's 6 months away from leaving for nowt.
David Hallwood
920
Posted 08/12/2012 at 00:17:41
Face it, boys & girls, we are treading water until we build a new stadium or redevelop GP, which is as likely as me wining a double roll over.
Gareth Fieldstead
930
Posted 08/12/2012 at 02:59:32
So basically the fire sale of last year that included the sales of Peinaar, Yakubu, Arteta, Vaughan and Beckford didn't go towards reducing the debt? So where did that money go?

Secondly, despite initial reduction in gate revenue didn't the small matter of an FA Cup run that got us to a sold-out semi-final at Wembley (with prize money) from each round off set that? Including the Wembley gate, but not the Sunderland replay, Everton played before 217,000 fans – was that also at a loss? No wonder they don't want to face shareholders!

Once again, BK is little more than the Echo and club programme, pitiful. As for Moyes, enough people seem to think he is a man of integrity, hopefully he genuinely wants assurances about the direction of the club rather than holding out for a bigger salary.
Eric Myles
931
Posted 08/12/2012 at 05:46:04
Gareth, it went to keeping the debt the same, or thereabouts... sounds like it wasn't even enough to do that.
Matt Traynor
935
Posted 08/12/2012 at 08:15:11
The interview was with BlueKipper. If you've ever read any of the interviews with Elstone and his predecessor Keith Wyness, you'll know that the site very much toes the party line – even to the point of throwing it's support behind Destination Kirkby.
Shame they never got to sit down with Trevor Birch during his 6 week stay.
Like Eugene, I take the words of the CEO with a huge grain of salt – not that I think ill of him, I just think he's caught up in an impossible situation due to the terms the Board impose.
When I read "There's been virtually no increase in debt", I think back to the "virtually free stadium" we were promised with DK. You know that our finances are still in a mess.
Well, Bob alludes to the new TV deal. He's right that the overseas deal is virtually done. As usual it's on "willingness to pay" by certain countries, so whilst the likes of Singapore (population 5.4M) sees an increase in what they pay (they have 2 cable providers competing), China again is paying "virtually nothing", as it's citizens simply won't pay to watch football. The Premier League trumpet this as "expanding the reach of the game".
With the contracts for overseas and domestic now running in-step, it does mean from next season we can expect to earn around £23-25M extra per annum.
If the club uses this windfall sensibly, they might have a club that is sellable in 2-3 years. If, as I suspect, the bulk of this finds its way into players and agents pockets, we're still treading water – possibly worse, as other clubs in a better state than us may use it to improve the squad.
Ian Bennett
946
Posted 08/12/2012 at 09:23:36
Spot on, Gareth. How — after selling £13M of players in August (from the post balance sheet events note in the accounts) and dumping £5M+ of wages — is the debt not down?!?! This money must have gone somewhere.....
Robert has helpfully pointed out that the attendances cost £3.5M if we sold out every single game, and £1.5M year over year. The TV pot went down from £49.6M to £48.9M from the official Premier League figures, so despite his claims I can't see that we lost out that much here — particularly if you add in the cup run that must have been worth £1M plus.
I don't have an issue in selling players as long as the proceeds are spent back on the pitch or reduce the debt to restore us to some sort of break-even business in the future. I can't help but think the cash is going somewhere else. Look forward to seeing the accounts which is rather sad for a football fan but is a sign of the times.
Andy Meighan
947
Posted 08/12/2012 at 09:43:43
Liar. Under no pressure to sell in January..." well, we'll see about that when someone comes in with a ridiculous offer for Fellaini. I wouldn't believe this smug bastard if he told me we were playing Spurs at home on Sunday.
Kevin Tully
966
Posted 08/12/2012 at 12:05:17
I wonder where all the "interested parties" have gone?
This wasn't an interview, it was a promo for the club and the board.
What really pisses me off, is that the Liverpool Echo have ran with this story, playing second fiddle to Blue Kipper in the investigative journalism stakes FFS!
The days of being banned from the club for making any probing enquiries are still well and truly with us.
How the fuck can any AGM be positive if you are losing millions?
Steve Cotton
967
Posted 08/12/2012 at 12:13:27
Has anyone got the figures that reflect how often each team is shown on live TV (not including European ties) so we can see how the TV revenue helps certain clubs pay bigger wages etc?

Surely this should be a fairer way of financially rewarding clubs than just showing the Sky 4 and their other favourites, week-in, week-out.
John Keating
970
Posted 08/12/2012 at 12:17:25
Kevin, I long gave up with the Echo, Prentice and O'Keeffe in particular. They will not ask questions that the support want answers too as they are on too good a deal from the Club.

It's always amazed me how a local paper, reporting local issues can be so fucking in the pocket of the Football Clubs. As long as the triple G&Ts are being doled out to our so-called reporters, we will get nothing through the Echo.
Patrick Murphy
971
Posted 08/12/2012 at 12:44:09
The Echo is no longer a truly local newspaper — it is owned by 'Trinity Mirror' as so many other regional and local papers are, therefore the agenda is different to what it used to be.

I imagine local journalists are under greater pressure to toe the party line and not rock any boats to keep themselves in gainful employment.

A free press... now there's a novel idea!

Ray Said
975
Posted 08/12/2012 at 13:21:05
Re; the stadium discussion. He mentions a boost from the public purse, there are probably funds available but he really means a freebie. Why should taxpayers' money be used for a purely private enterprise? Public money may be available for things like regeneration, transport upgrade etc but no way should millionaires be getting free handouts.
Ian Allaker
982
Posted 08/12/2012 at 14:04:26
Get these scum bags out of Everton.
Colin Wainwright
984
Posted 08/12/2012 at 14:34:56
''I don't think any Club has explained its finances and strategies more comprehensively than Everton.''
Other Operating Costs?
Gobshite.
John Audsley
988
Posted 08/12/2012 at 14:46:49
Elstone sadly isn't plausible anymore. He might be the stooge of the "Powers that be" but I find it hard to believe a word he says anymore.
The complete failure of the club to explain the "other operating costs" and the totally ridiculous comments about the AGM being negative and hijacked do him no good.
However I guess he is just doing what he is told to do....
Robin Cannon
989
Posted 08/12/2012 at 14:43:56
I'm curious; is the level of "Other Operating Costs", and the lack of breakdown, unusual or suspicious within the football world. Quick check on Google suggests that Arsenal fans noted no particular detail in a £55million "Other Operating Costs" line item. Other than the Arsenal comments, though, can't find much else.
We are often highly quizzical and highly critical about the way the club is run, which is mostly good and has some bad points. I'm actually genuinely curious though; the "Other Operating Costs" has been widely criticized as demonstrative of incompetence or even outright deception, but is it noticeable exceptional in terms of accounting for similar businesses?
On Elstone in general – he's often criticized for his interviews being "a promo for the club" or similar. I'm not sure what people expect him to do, other than publicly put a positive spin on things. He's still an employee. In general I think he's far more communicative with the fan base than most other chief executives, even if we might not always like or agree with his comments.
Eugene Ruane
997
Posted 08/12/2012 at 15:27:51
Robin (989) — You say...
"I'm not sure what people expect him to do, other than publicly put a positive spin on things. He's still an employee. In general I think he's far more communicative with the fan base than most other chief executives, even if we might not always like or agree with his comments".
Well he could try... the truth.
Let's face it, his smile, speak-but-say-nothing trick clearly isn't working.
Oh sure, it placates the likes of Bluekipper, but as long as John Bailey or Snodin ('Bails and Snods') turn up to one of their weekly events, they're happy.
The fact is though, in the last few seasons, our attendance is down to about 33,000 from around 37,000. Just a thought but it could be that spin is indirectly costing the club.
Peter Laing
999
Posted 08/12/2012 at 16:11:00
Surprise, suprise Elstone gives an in depth interview to Bluekipper. Agree with the comments regarding the local media, Sharp, Snodin, O'Keefe, Prentice, why bite the hand that feeds you? The comment most apparent is the line "not forced to sell top stars yet". We all expect Fellaini to be the next one through the revolving door, it's only a matter of when – not if.
Thomas Lennon
007
Posted 08/12/2012 at 17:19:57
Elstone gives interview to someone he can trust to report and get published what was said rather than take the piss – not very surprising really is it?
Colin Wainwright
011
Posted 08/12/2012 at 17:58:59
Elstone gives interview to someone who will toe the party line and get published what he wants people to believe rather than the truth – not very surprising really is it?
Stephen Stott
014
Posted 08/12/2012 at 18:22:37
Eugene
You say he could tell the truth, isn't he? Or is the Eugene Ruane/Colin Wainwright truth different to everybody else's.
Just a thought!
Barry Rathbone
015
Posted 08/12/2012 at 18:22:28
Trouble is this shit works.
"No pressure to sell" trumpets the headline and most fans grazing on their cereal transmute the piece as:
"Everton in rude health, all staff secured full steam ahead next stop Champions League – Happy Xmas."
Depressing.
Colin Wainwright
029
Posted 08/12/2012 at 19:58:34
Stephen. Why would you believe anything from an official club source? What reason do you have for swallowing the company line? They've lied to all Evertonians, over some of the most crucial issues to have ever affected this club.
Yet you believe Elstone. Whatever the CEO says must be true. Mustn't it?
Give yourself a fuckin' shake man.
Peter Manning
030
Posted 08/12/2012 at 20:02:17
Guys, putting all the differences aside for one moment, his statement about putting extra work in on site, in particular for a new stadium, must be good news. Does anybody out there know which site he is talking about?

I'am in the top balcony and buy my clothes from Jackamo so would love a bit of extra space and a few nice facilities. I would personally like to give all my matchday spend to the club instead of overcrowded pubs and naff chippies.... Anybody know the site???
Eugene Ruane
043
Posted 08/12/2012 at 22:32:04
Stephen Stott (014) - You say..
"You say he could tell the truth, isn't he? Or is the Eugene Ruane/Colin Wainwright truth different to everybody else's. Just a thought!"
Fine Stephen, have it your way, I'm full of shite, Elstone doesn't lie.
You know what, I barely give a fuck anymore.
In fact there's part of me that thinks the gullible dupes who support BK and Elstone are getting exactly what they deserve – an Everton FC run by BK and Elstone.
Figure that out and stay fashionable.
Chris Leyland
053
Posted 08/12/2012 at 23:59:26
Eugene:
Could it be that the recession may have a bearing on our attendances more so than club spin? The average man might be more likely to stay away from the game simply because they can't afford it in the current economic climate rather than thinking, "I was gonna go to the game but I can't face the thought of that spin-doctor Elstone's lies"? — Just a thought.
Plus, maybe the vast majority fans aren't actually 'gullible dupes who support BK and Elstone' but rather Everton fans who support the team.
James Flynn
054
Posted 09/12/2012 at 00:17:23
Not sure why the surprise. Some days ago we find, "A Message to Everton Shareholders" regarding the AGM and lo and behold an interview with the CEO discussing the Club and mentioning, incidentally, why no more AGMs.
The AGM was the only reason the interview was arranged. Unfortunate that ownership is transparently at odds with Club supporters.
I'm not one for the word irony, since it's used wrongly so often. But it must apply to EFC, as everyone's 2nd favorite club became so through lousy ownership.

Robin Cannon
056
Posted 09/12/2012 at 01:09:27
@Eugene (997) - There's presumably a limit to how much he's able to say, and the spin he's able to put on it. My point about his employee status is that any employee, reliant upon their employer for a salary, has limitations on the kind of thing they can say in public. BK could say whatever crap he wants (and often does), but his job at Everton isn't at risk. That's not necessarily the same for Elstone.
Eric Myles
059
Posted 09/12/2012 at 01:23:25
Robin (#989), it may not be unusual to find 'other operating costs' in the accounts of other clubs but is it 30% of their turnover like ours?
And when asked does their chairman not know where 30% of the money spent by the club goes?
And does their CEO give figures that don't add up?
I don't understand why some fans expected us to have paid down debt. In tha last accounts we lost £5 million after selling off Bellefield for £9 million, so without the sale of the asset we would have lost £14 million.
So to break even we have to sell £14 million in assets in the season, so that's where £13 million of player sales has gone. But, given the fall in attendances, increased costs etc we are lucky if we can maintain the same debt level and have probably increased it.
Michael Kenrick
060
Posted 09/12/2012 at 01:33:19
Attendances are actually quite good so far this season: Average of 36,586 for the league games at Goodison Park. But they were down significantly last season. Perhaps Elstone gave Moyes a bollocking for his "they're so bad, even I wouldn't pay to watch" comment, which was really quite shocking for the manager to say about his own team and obviously contributed to a direct hit on his transfer budget... so not all that smart a thing to have said or done.
But they'd better start winning again soon or the devotion of the faithful may be tested...
Michael Kenrick
061
Posted 09/12/2012 at 01:45:20
The point about the Other Operating Costs is the way they have increased year on year through the Kenwright era. With little or no explanation in the accounts as where they are going. There have been some exceptional analyses posted on here by others that I really should link to...
Roman Sidey
071
Posted 09/12/2012 at 07:05:24
Our home average must be influenced by the fact that we've only played seven games there and one was the derby. Obviously we are better this year than last, but we really are only a couple of disappointing results against poor opposition away from ruining a good start.
Elstone's rhetoric is Orwellian at best. "Under no pressure to sell" doesn't mean they won't sell.
Richard Jones
078
Posted 09/12/2012 at 08:33:29
With people like Stephen and Chris within our ranks, I think we should be known as the "Sheeples Club", sadly there are many of them !!
Steve Cotton
080
Posted 09/12/2012 at 09:10:40
Richard Jones: best line of the thread, mate! The dark side get governments to change direction if they feel aggrieved we on the other hand are quite happy to put down the fans who are trying to get information out and push the club in a better direction.

Kenwright knows that 99% of the fans will accept his latest drivel and he can live with that figure. Meanwhile, the average age of EFC fans goes up every year — which shows that even young fans are not joining the blue ranks — so God help us in 10 years time...
Colin Fitzpatrick
082
Posted 09/12/2012 at 09:14:23
Michael, you beat me to it in answering Robin's slightly ambiguous, but perhaps not intentionally misleading, question regarding why people continually question these other operating costs.
Yes, you're right, it's not the level; it's what's happened to those levels and the nature of the explanations... But perhaps, if I may, I'll be a little more specific as, no matter how many times it's repeated, like the £52m Tesco cross-subsidy for Kirkby, it simply doesn't sink in. When it does, people outside of Everton may start listening and cease to repeat the bullshit we have to endure.
There's a lot of old tricks employed by Everton in recent years, answering not the question being asked but the one they prefer to answer is such a favourite and a perfect example of this is explaining that our other operating costs are comparable with such and such a team or that percentage wise they're similar to this team or that team, in other words "Move along, nothing to see here, look, look, we're going to buy a new player and yes we've undertaken an in-depth survey on one specific stadium site" ... "Where's that site, Robert?" "Gosh, is that the time? I don't want to keep you from plagiarising something"
Let's be clear, why people have suspicions centres around four things:

(1) The doubling of the other operating costs in a single year: 2007 £11m, 2008 £22m — the explanation given at the time, it was attributed to Finch Farm, and the host of subsequent explanations... 85p in the £, it's now risen to 86p,

(2) It's because of expensive medical equipment required at Finch Farm; or

(2) It's because of lawnmowers, when they began to get really desperate.

Then we arrive at the fourth reason, I'll only state one, the most provable one, because I'll be here all day and miss the match. They've misled the fans and shareholders before, the aforementioned £52m from Tesco which turned out to be nothing.
I wouldn't rush to label people liars when in fact you're often just not listening to what is actually being said; look at these three statements and pick out which isn't true:
(a) "We're receiving £52m from Tesco"
(b) "We're receiving £52m from Tesco towards the cost of the stadium"
(c) "We need a stadium deal of the type that offers the value we were receiving at Kirkby"
Two of those statements are true, the other is a lie; it's not appropriate to call people liars because you haven't listened and the idea that everything is black and white when it comes to explanations is naive; there's a lot of grey out there!
Many are suspicious of the explanations about the other operating costs simply because they do not stand up to even the simplest of scrutiny; this 85p in the pound, now 86p, it's an unbelievable amount of money something which people talking about football and its millions all too easily forget. Taking out the wages, we're talking about £160,000 a week to run what is essentially a building in a big field. We've heard that we have specialist coaches and conditioning coaches, aren't these on the books then? Because, if they are, they're included in the wages figure.

We've heard that we spent a lot of money on medical equipment, specialist equipment and lawnmowers... fine; did we lease them or buy them? It doesn't really matter because either way it would show up in the accounts as an increase in capital expenditure or an increase in the reported lease arrangements; it doesn't.

So you begin to understand why the shareholders are attempting to hold a general meeting at which the board are required to answer these questions and others like how come we've got the kit supply deal for Accrington Stanley instead of one that resembles the millions all other Premier League teams are enjoying? — Even Wigan get a million a year for Christ's sake!

What everyone wants to see is the manager given the funds so he can compete. I understand we're about to eclipse our most barren period, in terms of trophies, in the club's history whilst across the park in the period our board has been "supporting" the manager they've won eleven trophies whilst we've won nothing; that just hurts.
We all want what's best for the club, it just appears that some actually believe that this is the best we can do; sad really.

Thomas Lennon
106
Posted 09/12/2012 at 09:35:35
Colin - my memory (or impression) of what was actually said was similar to yours but with the word 'effectively' added in.
Tesco was never going to give us that money but we profited by that amount from the project and without Tesco the project would not have gone ahead. I am sure you will argue with that point and I also remember several later comments from a number of other parties, some of whom should probably have known better (or in some cases may have been misquoted) that seem to support your statement but the original statement was quite clear.
This is similar to the oft-repeated criticism of the Kenwright statement about money being 'ring-fenced' for the Kings Dock. I remember being quite clear at the time that he meant money raised for the Kings Dock stadium was quite separate from money for the team squad. It has since been spun many many times to sound like he had the money available and after the stadium deal collapsed it would be available to spend on players, but that it was money later withdrawn. Not so!
So no, many of us are not following the club line or the line spun by KEIOC because we are thick or lazy or disinterested, we are just looking at what are probably two extreme viewpoints and making our own minds up.
Oh and by the way, I for one will never accept Everton can't do better. Moyes has worked miracles but the club could have done so much more over the last 40 years — particularly the last 20 — but if you look at the accounts in detail (as I know you do) there are signs of steady growth and impressive improvement where it can be achieved.

Much like everyone else, I am aghast at the failure — finally seemingly admitted to by the CEO — of the Park End development. Embarrassing but not really more or less than our neighbours failing with their stadium too. I suspect Everton did not involve themselves sufficiently with the project and allowed our partners to proceed unchecked.
Ian Bennett
109
Posted 09/12/2012 at 13:30:46
One I will throw in for increasing operating costs is image rights and agent fees. The latter is disclosed to the premier league, the other isn't.
Eric Myles
110
Posted 09/12/2012 at 13:22:58
Thomas, I think the only thing there has been a steady growth of in the accounts is debt with record operating losses and net liabilities increasing to produce the weakest ever balance sheet. Certainly impressive!
Regarding the Park End fiasco, it was nothing to do with our partners proceeding unchecked, the problem lay with the board not having control over the land that they had promised our partners they could use due to having a secured loan against it.
Steavey Buckley
111
Posted 09/12/2012 at 14:00:51
Coded much mesaage which says that Everton can only have real money for transfers if they sell 1 or 2 of the better players.
Thomas Windsor
116
Posted 09/12/2012 at 14:14:50
Why do we have to bring in players in January? We have players Moyes never picks who are getting well paid: Duffy, Vellios, Barkley — play them rather than go and get some has-been on loan.

Eric Myles
128
Posted 09/12/2012 at 15:34:41
And Thomas (106) I'm pretty sure that 'ringfenced' means the money has been set aside for the use of, and the council et al rightly understood that it was available for the development, rather than BK (and your) definition of 'I have a jam jar with Kings Dock written on it to save up the money in.'
Colin Wainwright
235
Posted 09/12/2012 at 20:11:28
''Tesco was never going to give us that money but we profited by that amount from the project and without Tesco the project would not have gone ahead.''
Thomas, WE were never going to profit from anything to do with Kirby. The major shareholders would've done, though.
Colin Wainwright
250
Posted 09/12/2012 at 20:27:00
Oh, and btw, thank fuck it didn't go ahead.
Paul Jamieson
380
Posted 10/12/2012 at 13:58:01
T Lennon – I am unaware that KEIOC ever have spun a line, if I am honest... but it appears you are doing a little subtle spinning yourself.

The club never told the Council they had the money for the Kings Dock 'ring-fenced' and as for your explanation on Tesco and Kirkby money, all I can say is that I will pull a chair up and put my feet up when Colin's response to that bullshit gets posted.

Those who backed the wrong horse by supporting Bill's Band of Merry Men have showed themselves to be fools... but suggesting this or that didn't happen or they knew all along what the truth was, is just insulting people's intelligence.
Matt Traynor
408
Posted 10/12/2012 at 17:09:39
Thomas, two points, I'll leave others more qualified to answer the plethora of others.
- You say Everton needed Tesco to get a new stadium, and that's true. However you omit to point out that Tesco needed Everton as an enabling partner to build a retail development that drove a bulldozer through planning regulations, was always going to get called in, was always going to be rejected. (The £52m was a subsidy stemming from an uplift in value that would, if the stadium was built, appear on Everton's books - i.e. not real money, an uplift due to an increase in the asset value).
- I agree with the "ring-fenced" money re Kings Waterfront. Many fans fail to understand that investors put money into specific projects with a projected return etc. Therefore if investors had put up £35m for Kings Waterfront, it was only for that project and once Everton lost Preferred Bidder status, that money wasn't simply there to throw at the squad.
The only minor snag was the £35m was never put up. They got nowhere near that amount (which by the "final" project proposal was costed had risen to nearer £65m).
Paul Andrews
471
Posted 11/12/2012 at 06:40:39
Some one needs to get on here and tell people to man up...........
Colin Fitzpatrick
535
Posted 11/12/2012 at 15:49:45
Michael dived in earlier and now Mr Traynor has done likewise before I had the chance to respond to another example of what I can only describe as another flagrant attempt at re-writing Everton history by Thomas Lennon, whose post, devoid of any tangible facts or supporting evidence, is littered with a miscellany of misdirection and ill-conceived opinion; or, put less succinctly, it's a right load of bollocks, but worthy of some detailed explanation.
First of all the word "effectively" wasn't used in conjunction with the Tesco miracle money at any time. The phrase "effectively free" was used, but this was to describe the back of a fag packet methodology that passed for a stadium finance strategy, but never was it associated with the enabling deal illusion that described Everton as recipients of a vast amount of funding from well-known philanthropists Tesco, headed by good ol' local blue-boy Terry; god bless ya Tel, Brother Ryan would have been oh so proud ;-)
Whilst Matt has subsequently highlighted the truth that the cross-subsidy, from a project officially described by the City Council Planning Committee as a con, didn't physically exist; Thomas Lennon's initial attempt to play down, what Everton did, with a degree of nonchalance is astounding, "Tesco was never going to give us that money but we profited by that amount from the project."

I wonder who this "we "were, or are for that matter, because it certainly wasn't the football club, the fans or the ordinary shareholders. Nor was this anything approaching a commonly held belief, that Tesco's money didn't actually exist, it was the belief of just a small number of people who challenged this outrageous lie; a belief that brought upon them legal threats, vilification from so called fellow blues and treatment from the club which continues today, including deliberate exclusion from events and threats to organisations if certain privileges are extended to them.
I should find it astonishing that Thomas has the sheer brass neck to suggest what he's posted, I should, but sadly I don't; he's far from alone in knowingly or unknowingly peddling the propaganda of the club's owners and those who have sold their soul due to the high salaries they earn from them.
Why the vast majority believed that Everton were getting £52m from Tesco is simple and understandable; it's what they were being constantly being told by the club officials and a media who were endlessly receiving press releases informing the journalists that wrote the stories that informed a public which of course included all those Evertonians who voted yes in the Kirkby ballot.
Just take a look at this small selection of stories in the press, they're all telling their readers that Tesco were giving Everton a £52m subsidy which, added to Everton's own £78m contribution, made up the alleged £130m cost:
Liverpool Echo - http://www.liverpoolecho.co.uk/liverpool-news/local-news/2008/04/22/new-everton-fc-stadium-the-true-cost-100252-20798911/
The Guardian - http://www.guardian.co.uk/football/2009/jan/21/everton-goodison-kirkby-inquiry
The Guardian - http://www.guardian.co.uk/football/2007/aug/25/newsstory.everton
The FT - http://www.scribd.com/doc/116299830/New-Stadium-Becomes-the-Top-Goal-for-Everton-FT
The final piece from the FT is perhaps the most comprehensively damning and like the rest is contemporaneous with the campaign to mislead not just Evertonians and the press but the Government Inquiry; but not as damning as the many official documents submitted to the inquiry including that of Everton's expert witness Chris Potts who on page 24 of this document: http://www.scribd.com/doc/116320261/TEV-P9 stated,
"The proposals show a new stadium with an estimated cost at £130m (excluding inflation). The subsidy from the commercial development is £52m, which requires the Club to finance £78m. A funding approach is in place for achieving this, including a combination of naming rights, disposal of assets and debt finance as explained by Mr Elstone. The Board of Directors, and their advisors, consider this level of finance to be sustainable. Consequently, the proposed subsidy is essential to make the Kirkby scheme viable to the Club"
That concluding sentence has the board and their management team bang to rights. On the opening day of the inquiry, with his opening statement, Patrick Clarkson QC sounded the death knell for Everton's stadium charade when he announced to the world that, "Ours is not an enabling case." You could have heard a pin drop in the large inquiry hall; well, you could have except for the loud crash which came from the Everton inquiry team as their collective jaws dropped to the floor as they were hung out to dry by their "partners"
There were worse days to come of course and whilst the journalist from the Daily Post, who was there on nearly every day of the inquiry, was put under pressure due to his reporting of the facts, rather than the spin, there couldn't have been many better days for him or justification for his stance when he reported this:

http://www.liverpooldailypost.co.uk/sport/everton-fc/everton-fc-stadium/2008/12/11/everton-inquiry-mystery-surrounds-kirkby-s-52million-economic-miracle-99623-22451792/

Sadly, that particular journalist no longer works at the Post, I believe he's left the profession and the area all together.
I'm astonished that Evertonians don't know or if they do don't understand what all of this means. Why did they do it? Well the truth was that whilst there was no benefit for the club whatsoever, nor the fans or the vast majority of ordinary shareholders; the benefit was for those shareholders who would materially benefit from the £52m VALUE which, as Matt correctly points out, would have eventually appeared on Everton's balance sheet, the instrument through which the health of any business is measured.
Despite the £52m not actually existing, the old adage that money is the root of all evil can still be applied as the prospect of a £52m windfall addressed the growing problem with Everton's Balance Sheet at a single stroke, but it in no way had any impact on addressing the stadium cost for obvious reasons; Everton were paying the full cost of the stadium construction. It's a bit like a tramp who's won a Rolls Royce telling everyone he has £100k in his pocket; he doesn't, not until he sells it anyway.
Why there's a problem stems from the fact that in 1999 the balance sheet was positive, it exhibited a £20m net asset position but now it's negative as it exhibits a £35m net liability position. This £55m shift has been caused by the owner's refusal or reluctance to actually invest a single penny in the business which meant that any commercial improvement has always been down to "partners"

In the absence of any investment they've employed a strategy of selling assets to fund the business operation, with the inevitable consequence that you run out of fixed assets but we're saved due to at least being able to generate funds from selling intangible assets which is what they've concentrated on in recent years; almost £40m of players sold and wages saved over two seasons with no replacements, which led to a series of protests due to the obvious affect this "no investment no idea" was having on the pitch. Although player sales continued throughout the last two windows, the board at least sanctioned some additions as they added some old and a few new faces to the squad last January and did so in the summer whilst still managing to deliver a profit on player trading.

It's a complex story, one that journalists can't get across in 500 words and a headline, like they can with Liverpool, United or Leeds, but I'll keep repeating this every time somebody tries to pass off what really happened as something or nothing. What occurred over Kirkby should have led to Bill Kenwright and his cohorts being removed from the boardroom at Everton, in fact I believe they should be banned for life from the ground.
Instead, we have people clapping like seals hoping for a fish, completely oblivious to what really occurred and repeating parrot fashion the mantra of the brain dead, "be careful what you wish for, look at Portsmouth….", collectively unable to realise that the root cause of what happened at all those clubs is directly apportionable to the actions of their original owners putting profit before everything else. Look at Liverpool, Hicks & Gillette shouldn't be held responsible alone; apportion blame to the shareholders who readily accepted their money in the first place.
For those believing our current incumbents have only the best interests of the club at heart, think about the type of buyer who'd be fooled by a white elephant of a stadium or the excuses that attempt to explain the selling off of Everton's ability to raise their commercial activity to that of their peers. When you find that person, one who's willing to part with a vast amount of money I'd guess you'd have found someone living in a Singapore bedsit who wasn't found out until after chasing him to complete the deal, not my words, the words of the guy who told you Goodison wouldn't soon obtain a safety certificate. In other words nobody in their right mind will pay this lot for what they've done with Everton but when that buyer does emerge you have to be very suspicious indeed.
Not sure Thomas about where in the accounts there are signs of steady growth and impressive improvement beyond the commentary pages which are the spin. To use a footballing analogy, if your £20m striker, who only scored one goal last season, has a 400% increase in his strike rate this season you don't have a great striker, you've still got a shite striker who's only scored four goals, haven't you.
Our commercial oblivion is defended to the hilt by the club but nobody is going to tell me that receiving no money from Nike when others are in receipt of millions is good business for one of the country's most famous and most successful clubs; we're being taken for a ride like we were over Kirkby and the Park End, it's called having a track record and your suggestion that KEIOC has spun stories to Evertonians is ludicrous and frankly offensive; they've revealed the truth and some just don't like to accept it.

I get asked why I no longer write articles on Toffeeweb, well this answer is about a year's worth isn't it; but in all honesty I've stopped because I just don't care in that way anymore; people will get the Everton they deserve and the Everton they now have is one that applauds a phoney who should be banned from the club for what he is responsible for over Kirkby, and a whole host of other fiascoes, whilst they stand by and do nothing as a fifty season veteran Everton supporter gets harassed by a solicitor acting for the club and the police, has his season ticket removed and gets banned from the ground for what? Not for breaking any known regulation but for speaking out against something he passionately disapproves of. I don't actually agree with his views but I'd defend his right to speak freely without fear of reprisals. It's just another form of bullying in my book and it's something I strongly disagree with; but of course some will believe the spin once more; but before you engage your right to express your opinion freely just remember who it is that has the track record of telling lies to supporters and public officials.
Liverpool supporters were up in arms over the Jen Chang incident, this is ten times worse and how do Evertonians react? They do what they always do and that's why Everton get away with how they treat their fans and shareholders the way they do.
If you know your history eh? Well if everybody did, they'd know that the club of today was founded by a small group of rebels who opposed a money obsessed individual who had his supporters who are the descendants of those across the park, kopite behaviour? I don't think so, there's a rich history of protest and standing up for what's right at Everton.
Ken Crowther
589
Posted 11/12/2012 at 19:50:53
Colin Fitzpatrick #535
Is that the longest post in TW history?
Get over yourself!
Andrew Hight
593
Posted 11/12/2012 at 20:08:02
Cracking post Colin. I for one hope you keep up the work you have done in highlighting the inept directors, spin doctors and owners of our great club.
Thank you
Paul Andrews
594
Posted 11/12/2012 at 20:06:16
Colin Fitzpatrick, take a bow son. Absolutely brilliant, in depth and full of fact.
Ken @ 589 Can you give us a counter argument to Colin's post?
Ian Smitham
600
Posted 11/12/2012 at 20:44:31
Colin, I do not know if any thing you have said is right or not, but an excellent contribution, thanks, really thought provoking, would love to discuss with you.

MK you talked about the "Other Operating Costs" issue, and it has been done to death on this site, but I can not understand why the club, who must be aware of the problem this issue causes for many, don't just demonstrate a bit more openness and transparency. Subject, if it is an issue to any, say, trade aspects they really do not want made public.
Barry Rathbone
608
Posted 11/12/2012 at 21:13:44
Colin Fitzpatrick, many thanks for your work.
I can tell you are at your wits' end with some but never let it diminish your zeal.
I do not know you but, like many Evertonians, I hold you in high regard because of your astonishing work in searching for the truth in protection of the club's interests. Many of us share your concern but lack your talent and determination.
The majority are always slow to rise warning signs are no match for the comfort of apathy. People will queue to tell you what can't be done but there is always one man who says otherwise and a man stands on the moon, Adolf gets chased back to Berlin.
Whether you like it or not, Colin, at this time, at this moment in this club's history, you are that man. Never give up; stuff the naysayers – they will all have a thousand excuses when the truth appears – as it will.
Paul Andrews
614
Posted 11/12/2012 at 22:31:02
HEAR, HEAR!!!
Andy Crooks
615
Posted 11/12/2012 at 22:23:10
Colin Fitzpatrick, I normally don't get involved on threads like this because, frankly, I'm a bit thick for this sort of stuff. However, your post has got me thinking and I really wish that you would put up a sort of state of the union article on what is wrong and what can be done done to put it right. Yes, you will get stick but a real debate is fine.
Eugene Ruane
618
Posted 11/12/2012 at 22:25:43
Colin Fitzpatrick — it's informed, intelligent, properly researched pieces like yours that make me click on TW.
Agree totally with Barry.
(Suggestion for Ken Crowther — feel the urge to say something dumb, unfunny and/or pointless? Try Bluekipper).
Colin Fitzpatrick
622
Posted 11/12/2012 at 22:52:03
Ken, I can do short as well as long but as I'm sure you've been told on many occasions size does not matter ;-)

Luke O'Farrell
642
Posted 12/12/2012 at 02:06:14
How people can still show blind faith in the current regime is baffling. Without even scratching the surface, it is clear that they are, if nothing else, just totally out of their depth.
We haven't made an ounce of profit since 2005 and that is despite the mass player sales and various other asset flogging. The losses since 2006 speak for themselves.
King's Dock should have been the end for this lot. Kirkby was another glorious failure and now the stadium well is truly dry.
AGMs were cancelled because the club didn't like the increasingly probing questions. Fan concern over the club's future is not negative, maybe somebody should let Elstone and co. in on that nugget of information. The idea that they were hijacked is laughable.
As Colin's excellent comment pointed out, at this rate, we'll soon get the Everton that ignorance breeds and, only then, when it is too late will the masses wake up. It was almost too late with Johnson and it nearly killed the club. Can Everton really afford to make the same mistake twice. .
Chris Matheson
710
Posted 12/12/2012 at 14:29:27
An astonishing piece from Colin, quite brilliant, quite devastating.
I have two regrets: one is that most blues won't see it and will continue their happy clapping; we are playing well at the moment but the long-term rot is still there.
The second is that Colin really sounds dejected at the end. This fight continues, and it is a fight worth having, and pieces like yours, Colin, put the fire back in my belly.
Thank you for a fantastic analysis.
Paul Jamieson
771
Posted 12/12/2012 at 19:50:30
Tom Lennon — I pulled up that chair and have to say I really enjoyed that response to your revisionism from Colin, who has given a detailed and well supported explanation to silence all you Kenwright-loving flakes who look to me like they've disappeared because their brand of bullshit doesn't work when faced with the truth.  
It must be a couple of years since he wrote his last piece and if my memory serves me right that was a response to a post that TW reposted as an article so think this should be given the same treatment as it deserves  wider exposure.
No doubt I'll fall off that chair next year – as will quite a few millionaires who think they can do what they want – when we all read the book that's rumoured to be coming out which Colin has written a chapter for. Club lackeys won't find it as easy to ban publishers as they do newspapers, websites or football supporters.
Peter Manning
777
Posted 12/12/2012 at 19:54:52
Colin.

I have always been very interested in anything you have written because you seem to have extra detail and information than most.

Are you aware of the site the club have spent a lot more time investigating for a new stadium?

Or is this also apart of your overall opinion of the club bullshiting the fans and am I being a knobhead?
Barry Jones
791
Posted 12/12/2012 at 21:28:03
I've met Colin and I've met Bill and one of them is as straight as a die whilst the other is a right phony.

After lecturing me for ten minutes on how he never used to be able to read accounts, I asked Bill two simple questions on the other operating costs: "What do they include and why did they increase so much?" Not only couldn't he answer the question – he claimed not to know what or where they were in the accounts!

"Is it something to do with David?" he said as three ordinary blues pushed him before he eventually changed the subject and started gossiping about players, the manager, ex-players, their families, reading us private texts (without actually showing us the phone so could of been lying there as well) – anything to get off the subject of what he didn't want to discuss.

Like I said, he's a phony and the sooner people realise, the sooner they'll start to see all the lengths they go to in order to avoid answering difficult questions – banning AGMs, banning fans, getting in their explanations or excuses before anybody even sees the accounts.

Kim Jung Bill is alive and well and it's only a matter of time before they start having a go at sites like this; it's all about control... and if they can't – they ban it.
Dennis Stevens
799
Posted 12/12/2012 at 22:31:26
Well said, Colin. I still feel this club is the sleeping giant of English football, but the current administration are incapable of an awakening - more likely to instigate a coma!
Ray Said
802
Posted 12/12/2012 at 22:37:19
As well written as usual Colin, stick with it and keep the truth to the fore.
John Keating
804
Posted 12/12/2012 at 22:30:45
Well done Colin.

I appreciate you must get thoroughly pissed off repeating yourself. Supporters like yourself and the KEIOC boys I'm sure haven't done and said all the things you have done for any sort of praise.

I admire all your previous work on behalf of those of us who, for whatever reason, are unable to articulate our concerns.

Thanks and please never give up.
Jan Kowsky
824
Posted 13/12/2012 at 01:15:14
Well said Mr Fitzpatrick, Mr Ruane and others.
In the words of Stewart Lee - 'You can prove anything with facts'
Keep up the good work.
Support Richard Knights.
Kind regards
Colin Fitzpatrick
889
Posted 13/12/2012 at 14:43:32
Thanks Jan #824, I'd agree, arguments quickly disappear when countered with facts, a principle that Richard Knights should hopefully embrace as he's being put through a horrendous ordeal at the moment at the hands of people at Everton, the solicitor they've employed and Merseyside Police who are now forced to investigate their own actions after Richard's complaints to the IPCC have all been upheld.
Fortunately he's tenacious enough to see this through all the way to the ombudsman if necessary and I for one support him fully and I hope many will join him.

As the investigation by the police is ongoing it would of course be remiss of me to reveal details surrounding the specific allegations which led to Richard being confronted, in his home, by two uniformed officers who issued the recordable verbal warning [RVW] that he received; but I think it's only right and proper to draw people's attention to how the police's decision, to take the action that they did, was perhaps influenced by supporting allegations which deemed that Richard was confrontational and abusive in the reception of Everton, leaving the receptionist disturbed, and was shortly afterwards physically removed from the club shop by a security guard, due to his behaviour which was described as leaving female members of staff in the shop "fearful of their safety."

All extremely serious allegations which understandably would colour anybody's perception of the alleged perpetrator as being a potential danger which required the security guard to write a report to record this serious incident.
I have no doubt whatsoever that some form of incident has occurred in the shop and somebody was removed on that day, the problem for Everton and the police is that Richard hasn't set foot inside the shop in many years and the results of his Data Protection Act request to Everton to release the CCTV footage from these locations which are, understandably, heavily monitored areas, has to date not been forthcoming; not surprising really as the Police, after making the same enquiry with Everton, have now informed Richard that Everton have admitted to them that no CCTV evidence exists!
Many would think this quite remarkable; indeed many would find it astonishing but it doesn't take a genius to work out what's happening here. Let's hope all those implicated in this disgraceful incident are identified and correctly disciplined for this.The widely publicised Jen Chang incident at LFC was a joke in comparison to what can only be described as an act of orchestrated corporate bullying which many organisations are already fully aware of as it's a course of action which has been taken in many other instances. I've even heard of this tactic being employed against a fan writing critical poetry about his club; police officers turned up and issued him with a RVW; what a world we're living in.
Unfortunately the response from Evertonians so far has been all too predictable, just like it was over the revelations that there never was £52m from Tesco towards the stadium or the many other outrageous incidents which have sadly become part of Everton's recent history.
Don't expect the press to take up this fight; too many Evertonians believe in some idealistic "woodstein" type press that simply doesn't exist; like I said earlier, you get what you deserve; sit there, do nothing and they get away with it again and it becomes the norm.

Richard Knights
937
Posted 13/12/2012 at 21:00:25
Empty seats, loss of revenue?
Since my season ticket was withdrawn, seat lain empty...
Eric Myles
958
Posted 14/12/2012 at 00:52:17
'Cos they already have your money Richard, I bet they haven't given you a refund?
Add Your Comments
In order to post a comment, you need to be logged in as a registered user of the site.
Or Sign up as a ToffeeWeb Member — it's free, takes just a few minutes and will allow you to post your comments on articles and Talking Points submissions across the site.