Season Preview, 2005-06
Columnist Lyndon Lloyd previews the new season on the back of a frustrating close season
Last summer was the worst imaginable and Everton wound up finishing higher than ever in the Premiership and qualifying for the Champions League against all the odds. So, after a close season that has been enormously frustrating but a marked improvement on a year ago, how do you go about predicting how the Blues will do in 2005-06?
There's no question that most Evertonians thought we would be a much healthier position on the eve of the new Premiership season. David Moyes had shelved almost all of his transfer targets during the January transfer window in the belief that he would be able to secure them once last season was over. And while he and the Board certainly gave their best shot at tempting the likes of Scott Parker, Craig Bellamy, Mikael Forssell, Emre and Mohamed Sissoko to Goodison, Everton lost out on all of them, leaving the fans to contemplate just four new signings, only three of them new faces (Mikel Arteta was, of course, part of the squad that earned the 4th-place finish) and, with young John Ruddy set to be farmed out on loan, just two capable of making an immediate impact on the coming season. Hardly the six new players Moyes said he would need to have in place before the summer break was over.
The reasons for our transfer woes have been debated at length on ToffeeWeb, both in the View from the Blue column and the MailBag and are, at this point, far less important than the argument over whether the manager has done enough to pull out all the stops and bolster the squad before two massive games — those against Villarreal and Manchester United — and his apparent lack of urgency to address what are glaring shortcomings in his squad.
Rob Fox's "Tunnel Vision" article has prompted perhaps more positive reaction from ToffeeWeb readers than any recent piece we have published but while he is a wonderful contributor to this site, I have to take issue with a number of his core arguments on this occasion.
The first is Rob's rather flippant assertion that people expected Moyes to sign 10 players over the summer and, "overnight" turn them into a side capable of "making an impact in the Champions League". Well, if the manager expected to add six new players and, by signing them early enough, have them ready to take whomever we were drawn to play in the third qualifying round, then that would have been good enough
As tortuous close seasons go, the one we have just endured surely takes the cake. 1997's humiliating search for a "world class" manager to succeed Joe Royle was bad... and last year's drawn-out attempts to bring in new players was equally agonising... but coming off the back of a train-wreck of a season, the rapidly deteriorating financial situation, non-existent transfer budget, and boardroom civil war has arguably made the summer of 2004 the worst three months of the past 15 years.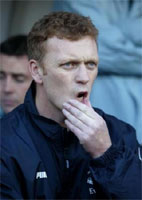 David Moyes: The loan bastion of nil satis nisi optimum


All of which would be fine if any of the issues had be resolved going into the new season. But, of course, the club remains hopelessly adrift going into what could be its most difficult season since the Premier League began. Forced to scrape the bottom of the bargain barrel, David Moyes — a loan bastion of determination and forward-thinking — has added just three names to his squad while losing four first-team regulars from a roster that desperately needed major reinforcement based on the evidence of last season.
The media's portrayal of the exodus from Goodison has largely been overblown. In actual fact, Moyes has rid the squad of a number of fringe personnel (e.g. Alexandersson, Gerrard, Simonsen and Gemmill) who haven't figured at first-team level for some time; off-loaded two players who had passed the 30 mark in the form of Tomasz Radzinski and David Unsworth; and transferred the mediocre Tobias Linderoth before another appearance-related payment to Stabaek was triggered.
The three players coming in the opposite direction may not be the world beaters the squad desperately needs but they fulfil a number of criteria that Moyes looks for in a player, notably mid-20s in age and with something to prove. Importantly, they will add bodies to a threadbare squad.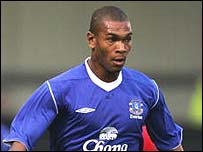 Marcus Bent: Likely to partner Rooney given his physical presence


Marcus Bent arrives from Ipswich Town via a one-year loan spell with relegated Leicester City where he scored 10 goals in 26 appearances — a tally that no Everton player managed last season, not even Wayne Rooney or the departed Radzinski. From a goalscoring perspective that is positive news even if Bent has been somewhat of a journeyman in recent years — Everton is something like his eighth club.
Tim Cahill is an established First Division player looking to make the considerable leap into the Premiership. An Australian international midfielder, he received a mixed reaction from Evertonians when his signing was first mooted, not least because of his propensity to rack up yellow and red cards. Moyes will be hoping, though, that he can provide some steel in the middle of the park and also contribute goals from central midfield.
Finally, Eddie Bosnar, another Australian and, coincidentally, a childhood friend of Cahill's, arrives on a free transfer from Sturm Graz in Vienna after impressing during the practice against FC Železnik on the squad's summer training excursion to Austria in July. A fringe player at international level, his abilities are largely unknown to Everton fans but he will add much-needed cover at full back even if he doesn't make many first-team outings.
As such, the defence will again be founded on a partnership between Joseph Yobo and either Alan Stubbs or David Weir, although Weir was unavailable for long periods last season and his availability this season will be useful now that Unsworth has been shipped off to Portsmouth. Tony Hibbert's place at right back remains unchallenged while Alessandro Pistone and Gary Naysmith will no doubt continue to trade appearances on the opposite flank.
In midfield, the manager will be without Cahill for the first few games because of his international commitments with Australia at the Athens Olympics (although he would have been suspended anyway) and will therefore probably start with either Osman or Carsley in the centre alongside Thomas Gravesen.
Longer term, with Kevin Kilbane a regular on the left, Moyes appears to have been grooming Osman for the problematic position of wide right, with James McFadden a versatile deputy for either one if Moyes decides not to use him consistently up front. He also has Li Tie as an unspectacular option in the centre once he has fully recovered from a shin fracture and Steve Watson to add bite and a goalscoring outlet if necessary.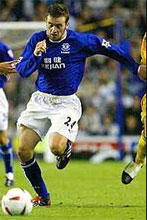 James McFadden: The fans' choice to partner Rooney up front


In attack, things are a little more interesting following Radzinski's departure. The fans have been clamouring for a Rooney-McFadden partnership but Moyes's increasing conservatism means that, once the wunderkind returns from the treatment room, he will likely be paired with the greater physical presence of Marcus Bent. Kevin Campbell, Duncan Ferguson and Nick Chadwick all provide cover, although don't be surprised if Campbell starts against Arsenal given his free-scoring pre-season campaign.
How Everton deal with the loss of one of their biggest weapons (and most effective way of compensating for the crippling dearth of consistent creativity in midfield) in the form of Radzinski's pace will be the key to how the new season develops. The onus will fall very heavily on the midfield to provide better service to the attackers than has been the case for more years than bear thinking about.
A long-term solution to the crisis of talent in central midfield is hopefully at the top of Moyes's priority list should he ever get the money to address it, but in the meantime he will have to make do with that he has at his disposal.
Meanwhile, Wayne Rooney remains the key to Everton's chances this season. Assuming he is at the club after the January transfer window, if he can produce the world-beating form he displayed in Portugal for England he will provide the platform on which Moyes can build a strategy for not only avoiding the drop but possibly finishing as high as tenth in the table and putting together a decent cup run. On the back of his performances in Euro2004, the 18-year-old will be under pressure to deliver consistently after an erratic 2003-04 campaign where he still managed to save the Blues' skins with some crucial goals.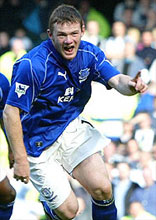 Wayne Rooney : The jewel in the crown has much to prove at domestic level


Moyes has rightly identified confidence as the key to survival this coming season and from that point of view a solid start will absolutely crucial. Having to play Arsenal and Manchester United before the end of August won't make that an easy task but those two tricky fixtures do present a golden opportunity to strike at the big boys early while they're still adjusting to the new campaign. The gulf in class may be as wide as ever but every team in the Premiership is capable of beating any of the title contenders on a given day.
Unity and avoiding complacency may prove to be even more important factors in 2004-05, though. The whispers of squad disharmony and discord with the manager became too loud to ignore last season, irrespective of what the players say, so it is imperative that whatever problems there were in this regard have been ironed out. Certainly the rhetoric so far this pre-season would seem to suggest that a siege mentality has set in among the team with a determination to prove wrong the media pundits forecasting relegation.
The kind of "we've proved our abilities" attitude that prevailed after the 3-1 win over Tottenham last April — Everton didn't win a single game after that impressive display — must be eradicated and every game should be treated as must-win. More importantly, Moyes must somehow cure his team's malaise away from Goodison Park, another problem rooted in the players' mental approach to games. The solitary win on the road in 2003-04 represented the Blues' worst return from away games since the Premiership began and was matched only by relegated Wolves last season.
The magnitude of the threat to Everton's Premiership survival this season cannot be ignored. Man for man, Moyes's current side is arguably weaker than that which finished the 2003-04 campaign but, we have to hope, it is more unified, which could be the key. Having finished as the lowest team in the Premiership not to be relegated in 2003-04, the Blues are many people's favourites for the drop, a tragedy that would bring to an end 50 consecutive seasons in the top flight.
That backs-to-the-wall mentality could inspire the players to hit the ground running and establish a do-or-die pattern for the whole season. Moyes, having proved in his first year in charge that he can polish a turd with the best of them, must rediscover his powers of motivation; if he can replicate the formula that spurred an ordinary outfit to seventh place two seasons ago, Everton could not only defy the pundits and avoid relegation but perhaps surprise even themselves and finish comfortably around mid-table in an unpredictable league. Lord knows, every position gained will provide precious prize money come next May.
Predictions: Champions: Arsenal; Runners-up: Chelsea; Relegated: West Bromwich Albion, Portsmouth, Crystal Palace; Everton: 13th
9 August 2004
Lyndon Lloyd