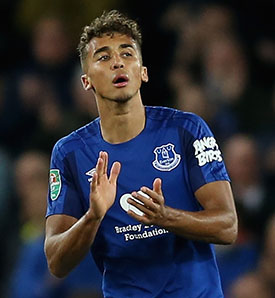 Joining Everton Academy from Sheffield United in the summer of 2016 for the paltry sum of just £1½M, Calvert-Lewin was one for the future, and it didn't take long before manager Ronald Koeman wanted to see what he might be able to do for the first team.
Described as being physically strong with good aerial presence, Calvert-Lewin was named in England's U20 squad, having made it into the Blades' senior squad last year following a very successful loan spell at Northampton Town.
He went into Everton's Under-23s side under David Unsworth who said: "This is an opportunity of a lifetime for him. To go from League One to the Premier League is a massive jump but he certainly has all of the attributes to make that jump, given time, hard work and the desire I know he has."
After a few appearances from the subs bench in December 2016, including the match against Hull when he was unlucky not to score a goal that could have won the game. He was given his full Everton debut in the Premier League against Southampton but lasted barely 5 mins before he turned his ankle when tackled, and was forced off with just 11 minutes gone. It was a real blow when he would then spend the next two months on the sidelines.
But Koeman's faith in the youngster was rewarded when he returned, and scored a lovely opening goal in his first start against Hull City, with a sweet finish to a move created by Barkley's inch-perfect defense-splitting pass that Davies centred instinctively for Calvert-Lewin to slot home. The youngster had only played in 10 senior games, scoring one goal, when his contract was renegotiated to run for another year with significantly increased remuneration.
And he was picked by Ronald Koeman to play in a surprising number of games, despite doing very little as he was repeatedly played out of position before he left early to play for England in the U20 World Cup, taking place in South Korea. He would go on to feature in most games and was there when it really mattered, in the Final, where he scored the only goal of the game to win the trophy for England, and the unprecedented group of five Everton players in the side.
At 21, he'd probably finished growing but he'd not yet filled out and needed to add weight and strength that should improve his game. But he was also fast, and so adding weight may not be a good thing.
His first touch is very good. He brings the ball under control better than Lukaku. He is a competent passer. He lays the ball off well and short passing is decent. He doesn't need to hit long passes.
Dribbling is also a strength of his. He is not as good as a winger like Lookman or Bolasie, but he is competent. He can carry the ball and shield it and at full pace can beat a man to the ball. But not only does he lack the strength, he can't go past defenders.
His flicks and tricks show that he has a level of skill that most of our other strikers do not. He's done a few good backheel passes and these little things, combined with his passing, create openings for others, and getting 7 assists for him in his first full season.
One of his biggest strengths is his aerial ability. He's got a good leap, he's strong, he's big and he seems to hang in the air. But he doesn't really get himself on the end of crosses.
The big negative is his finishing. It's atrocious. He's not scored anywhere near enough goals. He lacks the composure he had at youth level. He was prolific at youth level. He's found playing the top level defenders a big step up. He was injured briefly for the start of pre-season, and got just 15 mins at the end of the Valencia defeat.
And if anything, that glaring deficiencies only became horrendously worse once the new season got going under Marco Silva. The Sheffield lad was finally a starter in the League Cup against Rotherham, where he scored two goals and earned himself four more starts in the Premier League... where he was awful. After missing a glorious chance at Arsenal he was dropped.