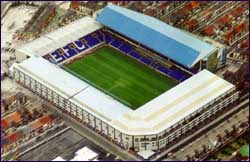 Merseyside's soccer-mad fans have recently been bombarded with glossy visions of the new Goodison and the new Anfield.

Liverpool's two footballing giants are sending clear signals to their fans.

A revolution is coming and they need to get used to the idea that Saturday afternoons – not to mention Tuesday, Wednesday and Thursday evenings, Saturday lunchtimes and Sunday afternoons – will, sooner or later, never be the same again.
As things stand, Liverpool are looking to go one way, possibly to Stanley Park, maybe to Speke-Garston, and Everton another, Kings Dock being the preferred option. The clubs are on course for separate solutions, designed and constructed at great expense by different teams of experts, bringing all the pressures that hosting football matches now involves to different parts of the city. For many people, of course, this is as it should be. The clubs, after all, have proud histories of independence and need to stay true to their heritage. And that, obviously, means there is no alternative but for them to have their own patch.
But does it?
I think there is an alternative, which is for the Reds and Blues to pool their resources and to build and share one new state-of-the-art super-stadium. I find it incredible that no-one amongst the clubs' board members, local politicians or the local media has been prepared, at least in public, even to go as far as considering the advantages of this alternative. So let me try and start the ball rolling with five, simple observations.
First: ground-sharing can and does work
Granted we have seen some less than successful partnerships in English football in recent years. But in none of those cases have two clubs, operating as equals, combined forces to build a new stadium. Instead, one club has become another's tenant, forced into a shotgun marriage because they were temporarily homeless and desperate for somewhere to play their games. We should not be looking to the likes of Crystal Palace, Wimbledon or Charlton for good examples of ground-sharing, but to Italy.
How about the experience of Genoa and Sampdoria who have co-habited perfectly happily for many years? Even more relevant to Liverpool, what of AC Milan and Internazionale? Football clubs don't come much bigger than these two and you have to travel a long way to find supporters as passionate in their rivalry as the Milanese. And yet the two clubs share the San Siro stadium without there being so much as a hint that their independence is in any way compromised. Why couldn't the same happen in Liverpool?
Second: planning and transportation
It makes more sense in terms of planning and transportation to go for one stadium rather than two. Football grounds, more than ever, are huge undertakings and an enormous amount of work needs to go into assembling land, getting planning permission, ensuring safety and putting in the infrastructure that guarantees fans can get to and from games quickly and economically. Why go through this rigmarole twice if there was an opportunity of doing it only once?
Third: unique candidates
There is something unique in the Liverpool air that makes the city's football clubs leading candidates for partnership. Everton and Liverpool fans are passionate about their teams but they are also the friendliest rivals in the country. There is a long and proud tradition of tolerance and camaraderie between the two sets of supporters. No derby game, whether it is played at Anfield, Goodison, Wembley or in Timbuktu, ever needs crowd segregation. The idea that Arsenal and Tottenham, or Celtic and Rangers, should move in together would rightly be laughed out of court. But is it really so daft in the case of Merseysiders?
Fourth: cost
It would obviously be cheaper for the clubs to build and maintain one ground rather than two. New stadiums are staggeringly expensive and no-one makes the decision to up sticks lightly. Some clubs – Man Utd is the obvious example – are lucky enough to be able to expand into their surrounding neighbourhood without too much trouble. Everton and Liverpool cannot. That is precisely why they are now looking at writing off all the investment they have sunk into their historic homes in recent years to follow the path blazed by the likes of Sunderland.
It will be a tremendous wrench for the fans when the gates close at Anfield and Goodison for the last time. But we all know it's going to happen. Just take a look around the city, at what is happening in the docks, the city centre, Speke and Garston. Slowly but surely, the city is being refitted for the needs of the 21st century. Football is inevitably getting caught up in this change. Pretty soon the fans will end up having to adopt new routines on match days. Will it really make that much difference if they do this on alternate weeks at the same new place?
Wouldn't the money the clubs could save by building just one ground be better used in trying to establish the new footballing dynasties that are needed to challenge the unmentionables along the M62? Seen like this, isn't the ground-sharing option a potential boost to the prosperity of both clubs and something that can help guarantee, rather than threaten, their independence?
Fifth: the common good
Finally, and most important, the clubs literally have a once-in-a-lifetime opportunity to combine their strengths for the good of the city as well as themselves. Building one new stadium would give the clubs a chance not only to cut costs but also to go for something bolder and more imaginative than either could contemplate alone. Together they could build something of national and international importance and prestige and send a message to the world about the city's place in the global game. The stadiums of the future will not just be about football.
Gone are the days when clubs were happy to see their biggest fixed asset lay empty 98% of the time. Look at what has happened around the country. In the last couple of years I've visited Pride Park, the Stadium of Light and the JJB Stadium and on none of these occasions did I see anyone in sports gear. They were all hosting conferences.
If Everton and Liverpool go for separate grounds, they will set themselves up in competition for all the extra-curricular activities that go alongside modern football. But if they move in together they'll get a far bigger bang for their bucks. Restaurants, bars, fitness centres, sports training halls, conference facilities, merchandising outlets, a hotel, a museum of football – the possibilities are endless, but they'll come together best within one venue.
And how many times have we all moaned about the way Wembley, without even trying, has dominated the national and international football calendar? Today's Anfield and Goodison, even the sparkling new Old Trafford, have not been able to break the stranglehold of London. Now that the 'national' stadium is out of action, all the plum games are being played in Wales, for goodness' sake! Wouldn't Liverpool's new 'Wembley of the North' have the best ever chance of breaking the monopoly of the capital – and maybe even before the crisis-ridden Wembley Mk II is built – with all the benefits that would bring to the city?
The city's two great football clubs have one chance to break with the old ways of thinking and consider truly radical change. If they do not take it, the issue is dead for another century at least.
If they proceed further still down the path to two separate stadiums, the two clubs will have to shell out huge fees to architects, master-planners, surveyors, construction firms and all the rest to design, build and operate their separate futures. Why don't they hang fire for a few months, pool a fraction of those resources, and commission a piece of work on the costs and benefits of the shared stadium option?
If the idea doesn't stack up, nobody loses much.
If it does, the clubs – and the city – might never look back.
Alan Harding
4 April 2001
And now read this response from Lyndon Lloyd