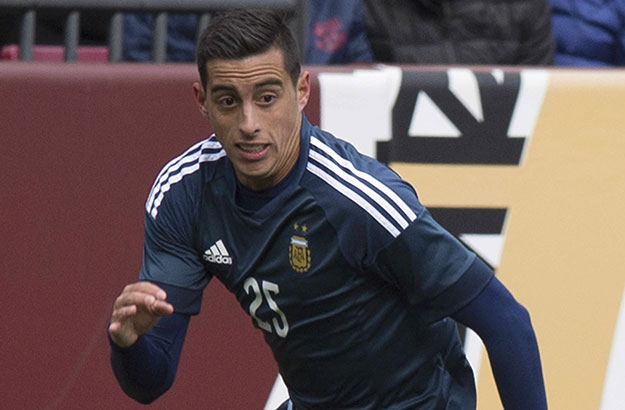 With Antolin Alcaraz and Sylvain Distin having been released by Everton following the 2014-15 season, manager Roberto Martinez was left needing central defensive cover, preferably in the form of a left-footer, boasting more experience than promising but raw Academy products like Tyias Browning and Brendan Galloway.
His search led him to the familiar environs of Latin America, where he and his trusted chief scout Kevin Reeves had plucked players from relative obscurity in the past, and to River Plate in Argentina where a 24-year-old defender named Ramiro Funes Mori had played a starring role in that club's recent Copa Libertadores triumph.
Funes Mori's exploits at club level had also earned him his first call-up to the Argentina national side and, together, constituted enough to classify him for a UK work permit as an "exceptional talent". On the basis of that and Reeves's scouting missions, Everton approached River Plate to buy the defender in August 2015.
A deal was reached and Funes Mori was invited to Merseyside to finalize his transfer and attend the Blues' home game against Manchester City draped in an Everton scarf in preparation for his unveiling as Martinez's latest signing that summer.
Confirmation of the deal would drag for another two weeks, however, initially while the club awaited his work permit and then, unconfirmed reports would later suggest, because of two unforeseen wrinkles clause – namely, a stipulation in Funes Mori's contract guaranteeing him 50% of the agreed £5.5m fee and Everton's requirement to pay 24% tax on the transfer. The deal was finally concluded on transfer deadline day, 1st September, for £9.5m, almost double the originally agreed fee.
Funes Mori, one of twins born in Mendoza, Argentina, moved with his family to Dallas, Texas at the age of 10 in 2001, gaining fluency in English that would make his transition to England that much easier. Playing as a defensive midfielder for his Championship-winning College team where he scored goals and started counter attacks; they won 12 out of 13 and he scored 14 goals with 17 assists. He would later play for FC Dallas in America's MLS before transferring back to his homeland with River Plate where Funes Mori was converted to centre-back during his three academy years.
Boasting a cracking left-footed free kick and Tim Cahill-esque heading ability, Funes Mori promised to provide the Blues a much-needed threat from set pieces but there were question marks over whether he could adapt to the rigours and pace of the Premier League. He quickly won over doubters like South American football observer, Tim Vickery, who told the BBC on the day of the Argentine's transfer to Everton that Martinez was being reckless in paying so much for a player of whom there were no guarantees would make the grade in England.
Settling quickly into the side after injury to Phil Jagielka handed him a chance for regular first-team action alongside John Stones, the Argentine international proved to be a more than adequate stand-in for the skipper and had, by early January 2016, weighed in with two goals, including a potentially crucial one in a League Cup semi-final against Manchester City.
Despite the South American bringing a touch of class and some very welcome goals to the beleaguered Everton defence, he was not immune to the lapses at the back that plagued the Blues' difficult 2015-16 campaign, one that ended with Martinez being sacked by the club.
Despite those challenges at club level, his reputation remained undimmed on the international stage and as links with a move to La Liga on the back of his best form continued, he retained his place at the heart of Argentina's defence playing in every game as they reached the final of Copa America in the United States in the summer of 2016, only for Lionel Messi to crucially miss his penalty in the shoot-out.
There was talk of him competing for Argentina in the Rio Olympics as one of their over-age players but it is believed he valued the opportunity to work with the new Everton manager, Ronald Koeman, in preference to missing the beginning of the Premier League season. However, despite the departure of John Stones, the arrival of Ashley Williams would seriously limit the Argentine defender's first-team opportunities in the new Premier League season.
Quite astounding that such an accomplished and stylish International defender who plays every game for Argentina should be relegated to the Everton bench. Daniel Passarella, one of the best defenders in the history of football is quoted as saying "Argentina has one great leader that can provide leadership to the team, and that player is Ramiro Funes Mori, he should be the captain of the team".
The Argentine international had to have an operation to repair a torn meniscus in his knee at the end of March after suffering the injury on international duty. Funes Mori spent the next six weeks back in his native country. The 26-year-old had made 16 Premier League starts in for the Blues under Ronald Koeman but, like team-mate Seamus Coleman, had his 2016-17 campaign ended prematurely by injury.
Hopes that he would be back for Koeman's second season were dashed before the first game. The defender made an aborted return to training in July 2017 when it appeared as though he suffered a relapse of the problem that required surgery earlier this year. The suggestions were that Funes Mori would be out for between 6 to 9 months after going into surgery for a second time.
He finally regained fitness in February 2017, and palyed a couple of games for the Under-23s but was overlooked by Allardyce for the senior team. Speaking to TyC Sports in Argentina, the 27 year old revealed he'd asked his agent to get him a transfer out of Everton and back to River Plate, so he'd have a better chance of being ready for the World Cup this summer.
Funes Mori explained: "I wanted to go back to River to get up to pace and get to the World Cup well, so I told my agent, but it was difficult, so it's over and everything is fine." Further quoted by Ole, the Everton defender said: "I've already demonstrated what I can do with the national team… I'm fit to play. If I haven't had so many minutes after the injury, it's because of the decisions of the coach."