New playing surface at Goodison Park
by

Comments
(38)
jump to end
| 11/06/2013
Desso Grassmaster system being installed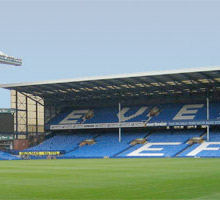 Everton are in the process of laying a new state-of-the-art playing surface at Goodison Park. The new system is called Desso Grassmaster which combines natural grass with artificial fibres to help create a robust playing surface.
The 'hybrid grass' — or 'reinforced natural grass' as it is also known — is used at places like Wembley. The new pitch is expected to remain in tip-top condition even throughout the harsh winter months.
"What we are doing this year is a full renovation of the pitch, which includes a new system called Desso Grassmaster," said head groundsman Bob Lennon.
"It's the same as Arsenal, Aston Villa and Wembley use. This will be the Rolls-Royce of pitches now and one of the state-of-the-art pitches in the country.
"The players are quite adamant about a good pitch because they go to places like Arsenal, Aston Villa, Manchester United and all these other places and they want the same system," added Bob.
"We have to keep up with the rest of the league. Desso Grassmaster is what they had for the World Cup in South Africa and this system will be used for the next 20 to 30 years. It is state-of-the-art, so there will be nothing to improve on this one."
Quotes or other material sourced from Liverpool Echo
Reader Comments
Note: the following content is not moderated or vetted by the site owners at the time of submission. Comments are the responsibility of the poster. Disclaimer
Phil Sammon
996
Posted 11/06/2013 at 15:24:35
I know very little about looking after football pitches. However I would think that when its been hammering it down all day and the pitch saturated to fuck, it is probably not a good idea to pour water on it 30 minutes prior to kick off. Yet it happened every single game last year regardless of conditions.
James Morgan
997
Posted 11/06/2013 at 15:20:27
Should give Martinez every chance to implement his passing style in front of the faithful.
Mike Jones
015
Posted 11/06/2013 at 16:46:19
Just in time to welcome Roberto's slick passing football philosophy.
Ray Roche
032
Posted 11/06/2013 at 17:26:30
Phil, we've commented on that last season. It was actually pissing down and the sprinklers were on...and when you think that last summer was one of the wettest on record it doesn't seem to make sense.
James Byrne
036
Posted 11/06/2013 at 17:39:11
I anticipate everyone to be a pitch / grass expert now!
Let's leave some things Everton to the people who know what they're talking about.
Dennis Stevens
037
Posted 11/06/2013 at 17:40:42
I used to have a lawn - we call it 'The Meadow' now.
Mark Knight
038
Posted 11/06/2013 at 17:44:15
Loads of Grass experts in the St End..
James Morgan
040
Posted 11/06/2013 at 17:51:51
Bob Lennon out!
Simon Smith
044
Posted 11/06/2013 at 18:31:34
Just a shame we don't have a state-of-the-art stadium to go with our state-of-the-art pitch!!
Oh well... maybe one day... just have to dream for now, I guess.
Ged Simpson
056
Posted 11/06/2013 at 19:21:14
There was that great US baseball player quote
"Which do you prefer ..grass or astroturf?"
"Dunno - never smoked...etc etc"
Well it made me laugh 20 yrs ago
Ged Simpson
057
Posted 11/06/2013 at 19:24:03
God - last 4 comments from me. Must get a life. See ya after tea !
Phil Sammon
058
Posted 11/06/2013 at 19:33:25
Maybe ease up on the wine, Ged?
Jamie Barlow
063
Posted 11/06/2013 at 19:53:56
Ged@056, was that quote before Only Fools and Horses?
Mark Knight
068
Posted 11/06/2013 at 20:08:24
Just watched the ladies stuff Chelsea 4-1..
Sean Lloyd
069
Posted 11/06/2013 at 20:10:49
Does that mean we no longer need the 20 million other operating costs invested into lawnmowers!? Where's the lawnmower money Bill!?
Mike Gaynes
072
Posted 11/06/2013 at 20:11:04
Waste of money. All the Goodison pitch need was to get Cap'n Pip off it.
Kunal Desai
075
Posted 11/06/2013 at 20:25:18
Looks good, hope bills not spent the entire transfer kitty on this...
Tim Locke
077
Posted 11/06/2013 at 20:34:10
Great news looks like we will be saving a packet on those expensive lawn mowers.
Steven Telford
085
Posted 11/06/2013 at 21:13:22
Did we actually buy it, or are we just renting it?
Blade-by-blade renting?
Or maybe it's "on loan"?
Karl Masters
122
Posted 11/06/2013 at 23:48:28
Phil and Ray. Re the sprinklers.
Pitches have moved on even before this latest one. They are effectively suspended over a large tray and because of the high sand content are designed for water to drain through them like a sieve to prevent waterlogging.
That is why we no longer see the mud baths of yesteryear and even goalmouths have few bare patches even in mid winter.
The flip side is that the pitches dry out very quickly and therefore to keep them slick and good for passing water is sprayed onto them almost constantly.
Didn't stop that area in the corner by the Bullens rd and Park end which is the continual headache area at Goodison contracting some sort of grass disease last season and effectively wearing out, which all semi artificial surfaces do eventually.
New pitch is a smart move by Efc for once.
Hope that helped!
Dirk Clarke
124
Posted 11/06/2013 at 23:53:42
They say that the grass isn't always greener on the other side.... but, with our new pitch, maybe the grass is really greener on our side!
The signs are looking good; this could be season we make the CL... or has all this talk of grass gone to my head? :S
Declan Burke
142
Posted 12/06/2013 at 04:26:08
We are now a cut above the rest!
Mike Rourke
154
Posted 12/06/2013 at 07:55:49
No, no, no, no!
I wanted something BETTER than Arsenal, Villa and Wembley and I don't CARE that no such thing exists.
Harrumph
Kev Johnson
185
Posted 12/06/2013 at 12:18:19
This is the thin end of the wedge. First semi-artificial grass... next "hybrid" players - half-organic, half-cybernetic. They will no doubt be described as "reinforced natural footballers". It'll happen, I tell you!

Eric Myles
187
Posted 12/06/2013 at 13:00:32
I would have thought the old pitch was in tip top condition with the amount of manure we had to endure on it last season.
Ray Roche
190
Posted 12/06/2013 at 13:04:08
Karl, thanks for the input, I'll still need convincing that watering a pitch in the rain may be overkill! I had a discussion with the grounds man at Old Trafford a few years ago, I was at a corporate meeting there, I'm not a closet Utd Fan, and he was explaining the problems that they'd had with their pitch. They had brought in an Australian system at colossal expense but it didn't improve the playing surface very much and they had to go back to the drawing board. As you rightly say, the pitch has layers of different material which enable drainage which means we don't have a playing surface like we see on old "Big Match" reruns on TV. Much of the problem is that, in a ground that is enclosed on all four sides, like many modern bowl shaped grounds, the lack of a consistent wind that can dry out all areas results in a patchy surface where by some parts get dry and require sprinklers and other parts don't dry out properly and get waterlogged. It is said that Molineux was designed with gaps in the corners to eradicate that problem. (LFC decided that a considerable amount of shite on it every other week would help)
Dirk Clarke
219
Posted 12/06/2013 at 14:45:39
I always say, "the better the grass, the better the football!"

Liam Reilly
225
Posted 12/06/2013 at 14:59:12
Should we really be investing in the pitch when Goodison is about to lose its safety certificate. 2013 wasn't it Bill?
Back to the thread. Wasn't United pitch a bit shit last season and they supposedly had this state of the art pitch?
Tony McNulty
250
Posted 12/06/2013 at 18:22:56
Does anyone remember a while back (could have been in Walter's time) when we reduced the width of the pitch? I wonder whether they have asked for it to be at the maximum width so as to create more space for the lovely football we'll now be playing? In any case a wider pitch is more intimidating for the opposition given the proximity of the crowd.
The close season ... It reminds me of the time when I worked in a betting shop when I was a student. One day there was no racing. The manager and I ended up betting on which of the regular punters would drop in.
Ray Roche
254
Posted 12/06/2013 at 18:39:44
Tony, I think all pitches in the Prem now have to be the same size. I'm sure I read that all PL pitches now have to be a standard size, which is 105m x 68m.
Paul Melarange
259
Posted 12/06/2013 at 18:57:47
When I read the name Desso Grassmaster, I thought we had signed our first player of the Martinez era! Look forward to seeing the Mighty Blues playing on it next season — or if not sooner if we arrange a home friendly.
Tony Miller
278
Posted 12/06/2013 at 20:21:34
Going off this link we appear to have the widest pitch in the league and one of the biggest.
http://www.openplay.co.uk/blog/premiership-football-pitch-sizes-2012-2013/
Ray Roche
329
Posted 12/06/2013 at 23:18:58
http://angryofislington.com/2012/09/01/new-premier-league-pitch-dimensions-rules/
Dennis Stevens
338
Posted 13/06/2013 at 00:06:11
What a brilliant idea! Ignore the variety built into the laws of the game & artificially standardise everything for no good reason. What next - standard sized players?
Patrick Murphy
339
Posted 13/06/2013 at 00:11:10
Viva La Difference I say, it's a modern cooperate wish to have everybody dressed alike, think alike and everything has to be predictable and not like real life where nothing is predictable apart from the winners of the various leagues throughout Europe of course.

William Turner
345
Posted 13/06/2013 at 00:58:55
The last time I recall our getting a new playing surface was in the 1950s or thereabouts. There were complaints that the ground froze too hard, too quick and too easy so we installed underground heating via hot water piping, a world first at our end. Oh calamity! The heat baked the ground until it resembled those parts of the Old Brickworks that defied demolition. The pitch became unplayable (I can't remember where we played the transferred games) and had to be torn up, the pipes sold (plumbers will remember that!) and the pitch relayed in the traditional way. I hope history does not repeat itself. tutort
Tony McNulty
362
Posted 13/06/2013 at 08:26:06
Thanks Ray. I guess the point the Arsenal man makes about Stoke in the link you supplied is a fair one - changing the size of a pitch to suit your throw-in game.
I always felt that if hell exists, it would be a season ticket to watch Stoke, probably with a Shite supporter sitting either side singing that Gerry Marsden dirge all game.
Ray Roche
376
Posted 13/06/2013 at 09:35:51
William, you will also, no doubt, remember the other first, Everton installing the electric wiring system which I thought pre-dated the hot water pipe system you describe. The ground became waterlogged, partly because the ground staff were unable to use forks to help with the drainage in case they damaged the cables. I'm going from memory here, so if anyone can accurately recall the events please do so. The under soil heating was instrumental in us winning the 1962-63 Championship because we were able to fulfil our home fixtures and also train on the pitch to maintain fitness levels. It was an expensive feature to install but paid off big time. So, speculate to accumulate....
Add Your Comments
In order to post a comment, you need to be logged in as a registered user of the site.
Or Sign up as a ToffeeWeb Member — it's free, takes just a few minutes and will allow you to post your comments on articles and Talking Points submissions across the site.
© ToffeeWeb