Howard improving with age
by

Comments
(63)
jump to end
| 20/06/2013
'I train hard; I don't miss training'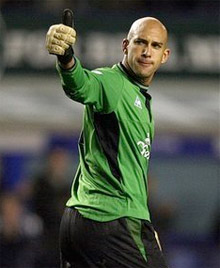 As Roberto Martinez searches for a replacement for Jan Mucha to provide first-team competition for the goalkeeper's role, Tim Howard describes how he has adapted his training to maintain peak condition in his mid-30s.
Mucha leaves Goodison Park this summer when his contract expires at the end of this month after three years with the Blues. That leaves only 18 year-old Mason Springthorpe as backup to Howard and a more senior back-up goalkeeper will be high on the new manager's shopping list when the transfer window opens.
Depending on the quality and experience of that new acquisition, Howard will face fresh pressure to retain the first-choice jersey, one on which he has kept a vice-like grip since arriving at Everton from Manchester United six years ago.
At 34 year-old, the United States international believes he is in the shape of his life because of the work he puts in on the training ground and in the weights room.
"You have to be more diligent as you age," he says in the Echo.
"I train hard; I don't miss training. You have to keep a good rhythm.
"I have to mind my age. My maintenance is higher. I lift weights harder and heavier than I ever have now at 34, to keep my body fit."
The New Jersey native feels that goalkeepers only improve with age and he is able to draw on all his experience to compensate for any diminishing agility as he gets older.
"When I was younger, I just relied on my athleticism because I didn't have the other piece of the puzzle," he says.
"Now that I have that experience I don't try to go looking for things to do to show you how athletic I am.
"I now know how much easier you can make a save, just by being in the right position. That's why goalkeepers get better with age — you learn the intricacies of the position."
Quotes or other material sourced from Liverpool Echo
Reader Comments
Note: the following content is not moderated or vetted by the site owners at the time of submission. Comments are the responsibility of the poster. Disclaimer
Timothy Sebastian
115
Posted 20/06/2013 at 18:49:12
Just hope that with age, he learns how to command his box more effectively. He really infuriates me at times. If he can demonstrate more decisiveness in the box by coming out to take charge of situations, I'm sure the defence will perform more confidently.
Mike Gaynes
118
Posted 20/06/2013 at 18:59:19
Still one of the best shot-stoppers in the Prem, and one of the most mistake-free keepers in the world. No, he's not Joe Hart for commanding the box or for distribution, but he also doesn't allow those little squigglers through his legs like Hart, and he doesn't lose his angles like Cech, and he doesn't give up free rebounds like Reina and Szczesny.
What damages a defense's confidence is goalkeeper howlers. Howard suffers fewer of them than anybody else.
Andrew Bone
119
Posted 20/06/2013 at 19:07:22
I hope he learns how to clatter forwards with free headers rather than do his flappy jump thing that let's them in. Other than that I thought he had a decent season last year. Yes he needs to command the area more still.
Pat Waine
120
Posted 20/06/2013 at 19:07:10
Agree with you timothy - I remember Gordon west dominating the 18 yard box never mind the 6 yard box. I know the game has changed but keepers are getting worse , most stay on their line. I cant understand it.

Mark Frere
122
Posted 20/06/2013 at 19:11:13
I wonder if Neville Southall can give Howard some advice on how to keep in top shape?
Scott Bosworth
123
Posted 20/06/2013 at 19:16:46
At this point, I think it's unrealistic** to expect Howard to learn new tricks--he's never going to be the box-commanding monster that we all want, but Mike Gaynes (118) is absolutely correct--all keepers (and players, really) have their strengths and weaknesses; while we all moan when Howard gets caught flat-footed on a set piece that Joe Hart would have jumped for and grabbed, I think that we take for granted the amazingly low number of howlers.
**I say that, but at the same time I was delighted (and a bit horrified) to see Howard make a late-game running-jump for a ball in the middle of the box against Honduras, where he collided mid-air with two other players and landed awkwardly. Maybe he does have some new tricks.
Phil Sammon
124
Posted 20/06/2013 at 19:17:33
For me Howard's biggest failing is not his command of the area, but his woeful distribution.
He is a good 'keeper, no doubt about that, but those punts upfield are utterly depressing. It was noticeable, when Mucha got a chance, just how effective a decent throw can be. He looked to spring a counter attack at every opportunity.
Howard just hammers the ball in the air as high as he possibly can - a technique that massively favours the defender attacking the ball rather than a forward flicking it on.
I'll give him credit, he has started kicking off the floor much more recently which at least results in a flatter trajectory. I do like him, I just find it strange that this one aspect of his game has barely improved over all these years.
Robin Cannon
125
Posted 20/06/2013 at 19:25:08
@Phil (124) - Never entirely sure how much of that is down to the player, and how much of it is down to "team orders".
I've never thought of Howard's distribution as noticeably terrible (any long kick upfield from any goalkeeper is pretty much a lottery in terms of possession), but I would think that the actual decision to kick or throw is more based on coaching/management instructions.
Mike Gaynes
126
Posted 20/06/2013 at 19:23:35
Scott 123... actually, Howard has always been much more aggressive off his line when playing for the US than for Everton. Could be because the EPL is so much more physical and permissive in the box than CONCACAF referees will allow. The same was true of Friedel and Keller before him... stay-at-home keepers in the EPL, more free-ranging for the US.
Mick Doherty
127
Posted 20/06/2013 at 19:27:38
Phil I'd be of the belief that the long punts were dictated by Moyes rather than Howard, Martinez will more likely have him passing it out to Baines or Coleman
Mike Gaynes
129
Posted 20/06/2013 at 19:36:21
Robin (125) and Phil (124)... long-distance kicking for accuracy is a talent. Watch Julio Cesar drop his kicks right on his forwards' heads every time, or guys like Hart and Vorm throw the ball, and you'll see how much a keeper can trigger an offense. It's a talent Howard doesn't possess. But I wouldn't trade that for his remarkable talent in keeping the ball out of the net. Not for a minute.
Steve Edwards
130
Posted 20/06/2013 at 19:30:03
I have never been convinced by him and think we could do better. He's not bad but to me his lack of presence is his biggest flaw. He looks lightweight and is just not big enough to become one of the best.
Al Philby
131
Posted 20/06/2013 at 19:17:27
"one of the most mistake-free keepers in the world."
How are you gonna substantiate this 'very interesting' claim of yours?
Ross Edwards
132
Posted 20/06/2013 at 19:37:40
I hope that for a long term replacement for Howard we sign Fraser Forster of Celtic. I thought his performances against Barca in the CL were quite frankly outstanding.
Phil Sammon
134
Posted 20/06/2013 at 19:36:58
Mick, Robin
Yes you may be right. It was strange to see Mucha throwing at every opportunity though. The team orders would likely be the same so is it just Mucha doing his own thing?
I would also say that it's not so much Howard's tendency tokick that winds me up, its his style of kicking. If you look at hoe Paul Robinson kicks it, he gets almost over the ball and hits it low, flat and direct. Howard leans back and hammers it skyward. I think he has been told by this hence his recent tendency to drop the ball and kick it from the floor.
I hope this doesn't come across as 'anti-Howard'. I'm nitpicking a very good 'keeper.
Al Philby
136
Posted 20/06/2013 at 19:42:41
Ross, we need an instant replacement. Watching the likes of Vorm, Begovic, and Mignolet makes one realise what an average goalie Howard is. Howard is a decent shot-stopper, but he does not know how to command the penalty area, and his distribution is simply awful.
James Stewart
138
Posted 20/06/2013 at 19:50:57
Howard is not good enough for a top 6 side. Likeable guy but his errors have cost us a lot of points.
Scott Bosworth
140
Posted 20/06/2013 at 19:52:53
Robin & Phil--
From where I was sitting at the Everton-ManCity match when Mucha was in goal, the most likely explanation for Mucha throwing the ball is that Moyes gave him different instructions after watching Mucha flub 2-3 kicks early on in the match.
I recall the entire crowd just groaning when Mucha wound up and nearly missed the ball a couple of times, sending it out of bounds or high in the air well short of midfield. In other words, maybe Mucha threw the ball more because he sucks at kicking it.
Mark Frere
141
Posted 20/06/2013 at 19:52:25
I think we missed a golden opportunity, by not signing Butland, as seen as we didn't sign any outfield players in January , apart from Stones, because allegedly we missed out on all our targets.
Butland was only signed last couple of hours let in tranfer window, why didn't we make a move for him?
Phil Sammon
142
Posted 20/06/2013 at 19:58:48
I'm sorry but Vorm, Begovic, and Mignolet are distinctly average keepers.
I'd rather have Howard.
Scott Bosworth
143
Posted 20/06/2013 at 19:59:27
Mike Gaynes (126)--
Come to think of it, you're right--I do tend to notice Howard out and about more in CONCACAF play. Haven't paid historically much attention to Friedel/Keller, but you may be on to something.
An alternative explanation for Howard's varying willingness to venture forward may be his degree of confidence in his centre-backs. That is, perhaps he just has more (arguably misplaced) confidence in the likes of Jags, Heitinga, and Distin than he does in the incredibly youthful and inexperienced centrebacks for the USA.
In fact, even as I type this, I have convinced myself that that is the reason: Howard just doesn't trust the little boys playing in front of him for USA at all. I could be proved wrong by mid-2014 when Besler & co have more caps to their names.
Mike Gaynes
144
Posted 20/06/2013 at 19:44:05
Al (131)... I can't really substantiate it... it's just an anecdotal opinion based on my really weird hobby of collecting goalkeeper howlers. All keepers make mistakes, but I think Howard's are less frequent and less ugly than any other keeper in the EPL. Yes, he had the spinner against Wigan and a couple of dropped crosses over the years, but never once in his career has Howard let one squirm through his legs as Hart did twice just last season, against Southhampton and West Ham. Howard's never had a howler as bad as Reina against Hearts, or Szczesny in the Carling Cup final. Never. And these guys are supposed to be the best.

Howard also has saved 29% of the penalties he has faced in his career, which is pretty spiffy.
Al Philby
146
Posted 20/06/2013 at 20:04:59
Phil, their market value suggests that they are not 'distinctly average keepers.'
Mike Gaynes
147
Posted 20/06/2013 at 20:19:10
Al, "market value" is what people will pay, not what the club wants. Nobody has stepped up to pay Stoke's 12-million price tag for Begovic, and the RS are reportedly paying only 7 million for Mignolet, who has great potential.
None of those guys are as good as Howard, at least not yet.
Al Philby
148
Posted 20/06/2013 at 20:11:36
"anecdotal opinion"
a bit like every driver thinking that he drives better than the average?
Empirical evidence would be much more helpful:
http://www.sportskeeda.com/2013/02/14/top-10-goalkeepers-of-the-2012-13-epl-season/
Phil Sammon
149
Posted 20/06/2013 at 20:21:33
Vorm was bought in 2011 for £1.5 million
Begovic was bought in 2010 for £3.5 million
Mignolet was bought in 2010 for £2 million
Howard was bought in 2007 for £3 million
What is their 'market value' now then? Talk about unsubstantiated arguments.
John Daley
151
Posted 20/06/2013 at 20:37:20
Always been a bit conflicted about Howard. On his day he's very good and is capable off pulling off some truly great saves but, at times, he just seems to tune out and lose concentration. Also, ever since Kuyt fannied about in front of him from a corner a few yrs ago, he seems to freak out whenever there's a mass of bodies in the box and ends up flapping his arms around more than Rod Hull when he realised he wasn't on the roof anymore.
He desperately needs someone to come in and put some real pressure on him this season. Ever since he joined from Utd he's never had any real competition for his place and no real cause to rue any of the clangers he's dropped besides his own sense of disappointment at letting his team mates down. Mucha, Wessels, Hahnemann, Carlos 'cushy number' Nash were about as much threat to Tim Howard as Harry Potter was to Hermione's hymen. They were only ever at the club because they were cheap, available and owned a pair of gloves.

Mike Gaynes
152
Posted 20/06/2013 at 20:35:38
Al (148)... Congratulations on the most idiotic post of the day.
Empirical evidence??
Did you actually read the article you just linked? Right at the top it says "NOTE: This list reflects the author's opinion and not necessarily that of SportsKeeda."
In other words, it's an anecdotal opinion.
And whose opinion? Try reading a little farther. The author is a fucking teenaged RS fan!
"I am another Football Freak who is a die hard fan of Liverpool!"
Great job there, Al. Good luck finding your credibility again.
Terry Maher
153
Posted 20/06/2013 at 20:28:15
I think Martinez will bring a young backup keeper in... maybe from South America or Spain I reckon.
Phil Sammon
154
Posted 20/06/2013 at 20:50:09
Hahaha
Ross Edwards
155
Posted 20/06/2013 at 20:51:34
That means that's two of us trying to find credibility again....
Al Philby
156
Posted 20/06/2013 at 20:32:52
Phil, value can be assigned to anything in this world from precious metals to a pile of dung. Because footballers are not listed on the stock exchange, it is up to us to assess the matter. The market value of a footballer is determined by the following factors, his abilities as an athlete aside:
1. What the seller could reasonably expect as to
2. what a potential buyer would be willing to pay.
3. The contract situation and the age of the player.
4. The history of the past bids.
5. The identity of the past bidders.
The evaluation of these factors will enable us to assign a value to any player in the Premier League. These claims are hardly unsubstantiated. We are dealing with future contingents and I can tell you now that if Vorm, Begovic, and Mignolet were to be sold tomorrow, they would cost the potential buyer at least 5 mill GBP.
James Stewart
157
Posted 20/06/2013 at 20:50:15
I suggest a lot of you look back at some of Howard's howlers. The Blackburn one was probably the worst but there have been many. I don't buy he's a great shot stopper either. In fact he is comfortably beaten a lot of the time from long range.
Al Philby
158
Posted 20/06/2013 at 20:52:21
Mike, the link was offered as an example of what sort of empirical evidence would be needed. Even if the author is a teenager and a RS, does it mean that the data he is using are wrong? For a kopite I must say that he is remarkably impartial, considering that he does list Liverpool's GK in the top 10. This guy probably knows more about football than your average journalist.
Al Philby
160
Posted 20/06/2013 at 21:00:23
considering that he does NOT list Liverpool's GK in the top 10.
Mick Doherty
162
Posted 20/06/2013 at 21:04:37
Lads here's a link for the same BSports Power crowd that had Baines and Fellaini in the top 50 players in Europe, premiership players by position
http://www.bsports.com/football-index-english-premier-league
James Power
166
Posted 20/06/2013 at 20:53:16
Al 148 I agree re empirical evidence, however, the link you posted is the authors opinion and not empirical. There is no justification for the order in which he places the keepers and no explanation as to his method (it's not save % or the relationship between shots faced, saves made and appearances). We have had some good keepers (Martyn, Southall, West) in fact, aside from our love of the no 9, our relationship with our goalies has been such a big factor. Perhaps that's one of the reasons it feels it means more. I like Howard and agree we could do better or worse but I don't feel its screaming out as much as centre forward or midfield. In fact is it just me or have we been saying the same thing since the mid '80's?
Al Philby
168
Posted 20/06/2013 at 21:23:52
James, every website, even ToffeeWeb, contains a disclaimer regarding non-editorial material. The veracity of what is said in an article is not determined by its being editorial or non-editorial. There is absolutely a justification for his ranking: the correlation of the number of shots with the number of saves. You may well argue that other factors should be included in the equation, but that is another matter.
Ryan Sloan
172
Posted 20/06/2013 at 21:28:00
A goalkeeper should command is area , that is never excusable. As for great shot stopper, am I missing something or isn't that a goal keeper's job - stopping the ball going in the net?

I can think of a few games where he cost us bad last season: both Norwich games, Newcastle at home, precious points lost. Invest in a new keeper.
Ellie Visa
175
Posted 20/06/2013 at 21:41:36
Mike Gaynes? Howard is hardly any of the positive things you have mentioned. If you collect howlers you might want to add these to your list for Tim Howard.
1, Opening game at Blackburn
2. Crippled donkey move at Wigan away.
3. The Crumple to the floor in the centre of the goal as Demba Ba shoots from 22 yards into the far THIRD of the goal at Goodison.
4. Star jump in the same game that was so predictable that Demba Ba headed the ball UNDER him!
5. Andy Carrolls header at Wembley. Watch Howards hands, they don't move from his side the whole time.
6. Derby, still HOLDING Dirk Kuyt as he heads the ball in the net!
7.Another derby. Ploughs through Liverpool player who has his back to goal to give a penalty away.
8. How can you forget the Kenwyn Jones header at Stoke from last season?
I promise you there are a lot more errors, I have watched him closely ever since the Blackburn error. He looks to have Paul Robinson syndrome.
And one more thing, the amount of times somebody says 'we need to push Tim Howard' is unbelievable, it's actually become a coined phrase, it might end up in an Everton miscellany at some point. Seriously, that is only something you could say if he was the best goalkeeper in the world and he' hit a bad run of form. Otherwise it doesn't make sense.
Anyway, Go Tim and USA, USA.
Al Philby
179
Posted 20/06/2013 at 22:26:41
Ellie, the list is much longer. And too many soft shots get past Howard. The members of the Howard fan club will bend backwards and crawl on all fours in their endeavours to rationalise the bloopers of their idol. The same goodwill was never extended to Mucha.
Andy Whittingham
185
Posted 20/06/2013 at 23:44:50
I like Howard, but watching the season review DVD yesterday I came to the conclusion that Howard cost us quite a few points.. after Heitinga, I'd say he was directly responsible for us dropping more points than anyone else.
Harold Matthews
186
Posted 20/06/2013 at 23:46:15
Not commanding and makes strange decisions. Decent shot-stopper but, with time to think, his brain scrambles. There are also days when he needs to visit Specsavers.
All goalkeepers make mistakes but Howard can sometimes defy comprehension.
Mike Gaynes
188
Posted 21/06/2013 at 00:10:59
Sorry, but I think that's baloney. You can pile up a list of goals for any keeper and say they should have been stopped.. And to people like Ryan Sloan and James Stewart, there's no such thing as a great save, just the keeper doing his job.
I say Howard gives up fewer soft goals than any other keeper in the EPL. And over the years he's saved us far more points with blinders than he has cost us with howlers. Especially on PKs and shots in close.
Plus we only made the FA Cup final because Howard stoned two ManU PKs.
Jackie Barry
189
Posted 21/06/2013 at 00:56:01
The only problem I have with Howard is his distribution, to put it bluntly, it's woeful at times. I think it's something that Big Nev picked up on too.
Andrew Presly
195
Posted 21/06/2013 at 02:02:16
I can't make up my mind whether its the hovering behind the line when a goalbound cross/shot comes in, the star jumps or the terrible kicking that make me doubt him. Either of the Wigan lads would be a step up. T-How would be a good back up.
David Pearl
196
Posted 21/06/2013 at 02:20:39
Good discussion on here. I think he has made some great reflex saves. His command of the area is average and some of his decision making can be eratic. He's not as brave as you'd like. You only have to look at the final game of the season against Chelsea... what was that?? However, I would rather us spend money on a striker. I don't think there are many better than Howard... but look who we have to compare him to. Big Nev is the best keeper I've ever seen.
As this video proves http://www.youtube.com/watch?v=ZnZbxzGPHlc&list=PLD6BEB70BFE0229A5

Paul Ferry
197
Posted 21/06/2013 at 04:56:42
Wow, I can't wait till he's 46 then.
Crosses - controlling box - distribution
As equally vital as catching Timmy. oh and .......
Those throws, those kicks ,,,,,,,
We don't need cover we need someone to step in straight away
By the way, Butland our Xmas pick - some at any rate - now???
But we need a top-6 goalie.
Derek Thomas
201
Posted 21/06/2013 at 07:12:27
Along with the angles etc thing goal keeping is about Reflexes.
These fall away with age, also too much weight training takes the ' twitch ' factor out of muscles.
Howard is now 34 and experience will only help him so much for so long, he's not the worlds best decision maker now.
At 34 Martinez, if he can find one for the price can say to the Southall, sign for us in 18mths you WILL be the man and Howard will be your cover *hopes*
Al Reddish
216
Posted 21/06/2013 at 11:11:03
We finished 6th so surely that makes him a top 6 goalie
Ryan Sloan
218
Posted 21/06/2013 at 11:26:40
Mike Gaynes,
I never ever said he has never made any great saves... he has. I actually like Tim Howard as a person, and I do believe he trains hard etc, but he makes far to many errors. Alex Ferguson used to say Peter Schmeichel was worth 15 points a season – that, my friend, was worth the title.
If you think back to Nigel Martyn, how many mistakes did he make? Not many... and we finished 4th with a far weaker side than we have now. I think there's a real lack of first-class keepers now but I have thought he needed replacing for a while.
Answer this: why does he not command his area? That was basics when I was in the school team, when I was 9... command your area. He got beat from the halfway line for God's sake! What I would give for a young Southall or Martyn.
Ryan Sloan
221
Posted 21/06/2013 at 11:41:20
By the way, any successful team needs a rock solid keeper, unless you are Barca or Spain and don't need one. If you look at the Man City game at home last season even Mucha commanded his area a lot better. Your defenders need to have total faith in the keeper. I don't think they have in Howard; it cause panic at the back. If you think it's acceptable, it's up to you.
James Stewart
256
Posted 21/06/2013 at 14:36:17
If you think Howard is in the top 6 keeps in the league you are seriously demented and I would check for a concussion
Noel Early
263
Posted 21/06/2013 at 14:45:43
Ellie #175

Great post, In my opinion this is one of the major areas apart from a goalscorer that Martinez needs addressing, would have loved to sign Butland from Brum but I would now take a chance on Alex McCarthy from Reading.

Howard's command of the area is shocking and I've no doubt his distribution is the worst among goalkeepers in the premier league. Martinez had a good enough keeper in Al Habsi but replaced him with Joel last year. Hopefully he will do the same with Howard.
Ben Jones
312
Posted 21/06/2013 at 17:55:39
I think he's been a fantastic goalkeeper in the past, but this season has probably been his worst. Before his absence near the end of the season, when Mucha was in goal, he did some very bad mistakes. To be fair, after his injury, the only bad goalkeeping of note was against Chelsea. He is also capable of having some fantastic games.
I would give him the benefit of doubt, keep him as no 1, but buy a good goalkeeper to provide him competition. Don't know why people keep saying Butland, overrated. That Joel who played for Wigan looked pretty handy and was in the Spanish u21 squad, good distribution and shot stopping.
There is no doubt, despite this interview, Howard needs competition to up his game at all times, so a good keeper is a start, and good goalkeepers tend to be relatively cheap nowadays, so hopefully Martinez can trump that one.
Robin Cannon
315
Posted 21/06/2013 at 18:07:47
@James (256) - Strange. I do think he's around the top 6 keepers in the league, and also feel I'm neither demented nor concussed.
These days being good, not necessarily great, is about what's necessary to be one of the better keepers in the league; it's not a golden age for that position. I'm pretty confident that on balance Howard wins us a lot more points than he loses.
@Ben (312) - Main problem with "buy a good goalkeeper to provide him competition" is that the position doesn't lend itself very well to competition. Teams that rotate goalkeepers tend to be ones with goalkeeping issues, whereas most teams with a solid first choice tend to have competent-at-best backups. It's a tough balance to find.
Ben Jones
328
Posted 21/06/2013 at 18:45:30
@Robin 315. I'm not too sure, you may be correct with the playing side, but whatever keeper is going to be training with Howard for the whole season. I know its not the complete factor, but if the new keeper perform better than Howard training, then it will be his advantage to try and pick that up no 1 spot.
The problem with Moyes and goal keepers is since Howard has been at the club, he has never bought a keeper that has even been close to competing him for the no 1 spot. He probably did buy these keepers as back up to Howard, and creates an assumption he is number 1.
That's what needs to change. Bring in a new keeper, tell them both that they're both competing for the no 1 spot, and let them fight for it. Brings the best out of both of them. I just didnt see that at all since Howard has been at the club.
Colin Glassar
331
Posted 21/06/2013 at 18:53:02
Hopefully, now that Chris Woods has gone, Howard will cut out the silly mistakes he always makes. I'd go for Mark Scwartzer as back up goalie. Don't we have any good young goalies in the ressies?
Harold Matthews
335
Posted 21/06/2013 at 17:24:12
Mike. I respect your opinion.
Explain his dithering when Norwich scored late on.
Explain how he refused to straighten his arms to save the Fulham freekick when the ball was only six inches away from his head.
Explain why he allowed Kone to score for Wigan. Howard was standing next to the near post when the ball was crossed from their left wing. It came over at shoulder height and a couple of feet in from the goal-line. An easy catch for anyone. Kone was the only one up for Wigan but the ball was Howard's. Or was it?
What happened next defies comprehension. Instead of leaning out and catching the ball he suddenly leapt behind Kone, did a forward roll before sitting up with his mouth open in shock. Kone said, "Thank you very much"and nodded the ball into the net via the space vacated by Super Tim.
Explain the Johnson goal for Sunderland. Actually I think even God would have trouble with this one. It also requires viewing from behind the goal.
In brief, we are pushing up after repelling an attack when a high ball is suddenly and unexpectedly crossed from their left side. Our defenders are all asleep. The first player to react is Johnson. Howard is on his goal line surveying the action. The ball is dropping towards the penalty spot and Johnson turns and goes to meet it Here we go again. What happens next defies comprehension:
Instead of coming out in a straight line to block things off, Howard rushes out at a 45 degree angle away from the action.
After 3 or 4 strides he realises his miscalculation, changes direction but gets there all too late. Johnson says, "Thank you very much" and taps the ball into the net via the space vacated by Super Tim.
I could go on and on.
These are not normal errors. Something has to be wrong.
Thankfully he ended the season well so we'll just have to wait and see.
Jim Harrison
435
Posted 22/06/2013 at 11:22:50
To be fair, he has been solid for us. Yes he has made mistakes, So did Southall. (I remember him once misjudge a Carlton Palmer shot so badly that he ducked his head indicating it was going over and made no effort to save the shot...which was perfectly on target!) He is also no world beater, but as with all players they come at a premium price.
As for being in the top six keepers? There or thereabouts. He is a part of the 6th best teams defence! For all the examples of his mistakes there will be plenty of contrasting ones for point winning saves; the thing is, we remember the mistakes.
We do need a new keeper, I reckon Tim will be good enough for this season, but probably time for a change next year.
Phil McKeown
480
Posted 22/06/2013 at 16:12:09
Tim Howard has cost far too many points in last two seasons. I'm sorry but I just cannot see a counter argument against that. Forget being in good nick, he's another average player Fergie let go to us as he wasn't good enough for them. We need a new keeper.
Alan Smith
762
Posted 23/06/2013 at 18:04:20
Villa want shut of shay given at a knockdown price to get him off their wage bill.
Noel Early
837
Posted 24/06/2013 at 00:28:16
If it was the Shay Given of 10 years ago or even 5 years ago, I would have taken him ahead of most keepers in the Premier League but his time has past unfortunately. We need to go with a younger type keeper in my opinion.
Add Your Comments
In order to post a comment, you need to be logged in as a registered user of the site.
Or Sign up as a ToffeeWeb Member — it's free, takes just a few minutes and will allow you to post your comments on articles and Talking Points submissions across the site.
© ToffeeWeb