Baines's contract not an issue
Martinez reiterates that no contract talks are planned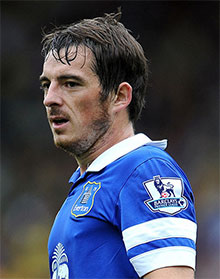 Roberto Martinez faced more media questions on the future of Leighton Baines at his press conference this morning, specifically the defender's contract with Everton which still has more than 18 months to run. But the manager reasserted that there are current no plans to discuss an extension of the player's existing deal.

Asked for his thoughts on concern among supporters at the 28 year-old's contract situation, Martinez replied by saying, "All that matters is that Leighton is fit, enjoying his football, and increasing his personal performance stats.

"That, for me, is very important — someone of his age and maturity is starting to enjoy his football in a great manner. The fact that he's developed his performance level as he has in the early weeks of the season is very significant. That's what matters to me. Everything else is just a case of trying to find an issue from the outside and see what we will comment on."

Though Baines doesn't appear to have hit full stride so far this season, perhaps due in some measure to the absence through injury of his partner in crime, Steven Pienaar, the indications are that he is happy with life on Merseyside.

Martinez full of praise for a man who is hoping his domestic form will earn him a place in the England squad for the 2014 World Cup.

Martinez said that, "there is no train of thought on [offering him a new contract] at the moment."

Quotes or other material sourced from Sky Sports News
Reader Comments
Note: the following content is not moderated or vetted by the site owners at the time of submission. Comments are the responsibility of the poster. Disclaimer
Jay Harris
536
Posted 24/10/2013 at 16:42:02
This is a complete change from "he is playing so well we will have to reward him with a new contract" followed by an as yet undisciplined comment by Stubbs that LB "wanted to go to Man U".
I guess Uncle Bill needs to top the black hole up so expect him to go in January.
That will be another matchwinner and goalscorer gone from our entertaining but anaemic squad.
Colin Glassar
543
Posted 24/10/2013 at 16:59:18
After the close of the window Martinez said his contract wasn't an issue. Ever since, I've been preparing myself for his departure in January. £15m plus a Manc reject like Anderson or Pip Neville.
I'd take £15m plus Hernandez.
Jay Harris
546
Posted 24/10/2013 at 17:12:35
Kagawa plus Valencia would be a good deal and spend some of the "surplus" cash on a world class replacement LB (Indi?)
Tony J Williams
549
Posted 24/10/2013 at 17:21:24
Of course it's an issue. He was supposedly being offered one, now it's not an issue?
Tara lad, just don't go to the Mancs.
Liam Reilly
551
Posted 24/10/2013 at 17:23:18
Evra has declared his intention to leave at the end of the season for 'personal reasons', so this is nailed on in January. Fact is, if he wants to go and it would appear that he does, then he will go.
Although it'll be very difficult to source a replacement in January regardless of the money received, RM should spend it because history tells us it won't be around in the summer.
Mark Stone
556
Posted 24/10/2013 at 17:46:03
United would be a step down at the moment. He'd be better staying at Everton and having a chance at Champions League next season... ;)
Steve Brown
561
Posted 24/10/2013 at 17:58:56
Real lack of ambition from Baines if he wants to swap CL with us for Europa League with Manure.
Ian Burns
562
Posted 24/10/2013 at 17:54:20
It must be very difficult for RM when he knows - and knows everybody else knows - that he is going in January to MU.
Like most EFC fans, I certainly don't want to see him go but we have accept the inevitable and plan to replace him. Valencia or Hernandez and Kagawa plus a bit of cash would be a good deal for us!
Patrick Carty
563
Posted 24/10/2013 at 17:52:11
After hearing those comments, I feel he will now leave in January, which is a shame. Every time we seem to be getting closer to the top teams, we sell our best players... Is this ever going to change? Are the board ever going to back us?
All we can do now is get as much money as we can for Baines, probably spend 5 million of it on his replacement, and see the rest of the money disappear as usual.
Pissed off now again but I am use to it now.
Robin Cannon
565
Posted 24/10/2013 at 18:03:28
I don't really see why everyone is so certain he's going to go to MU in January. It hardly seems like we'd have worked so hard to keep him this summer if we knew we were going to get shot just half a season in.
There's no real sign of any pressure from Baines to leave, he's heavily involved in the England squad, and really he'd be just as well thinking about a move (if he's going to move) after the world cup, when he'll likely have more options and also have a better idea of where MU are gonna be in terms of performance.
I'd only bet small, but if I did bet then it'd be on Baines at least seeing out the season with us.
Liam Reilly
567
Posted 24/10/2013 at 18:19:37
Robin,
If United are still in the Champions League and the odds are that they will be, then playing in that side would enhance his chances of a starting place in Brazil.
If he stays with Everton and Cole is playing in the business end of the CL, then he will get the nod and we can't compete with that.
Peter Thistle
575
Posted 24/10/2013 at 18:37:59
I get the feeling Baines is holding out to see what happens after the World Cup. If a big money team comes in for him he'll go, if not he'll sign a new contract.
Carl Sanderson
577
Posted 24/10/2013 at 18:44:21
Sadly, I think he'll be gone in January. (One more nail in Kenwright's coffin, I hope.)
Ross Edwards
580
Posted 24/10/2013 at 18:47:37
I think this means that he has told the club he isn't signing.
Steve Pugh
584
Posted 24/10/2013 at 18:49:43
I think I'll wait and see. Can't do anything else really. Not Psychic you see.

Steve Guy
588
Posted 24/10/2013 at 18:56:29
Easy way to stop it being an issue. Not one Everton apparently want to do though.
Robin Cannon
592
Posted 24/10/2013 at 19:01:08
@Liam (567) - I think he's probably realized at this point that it doesn't really matter what he does, or who he plays for, Cole is going to be the starter up to and including the World Cup. At which point he'll likely retire and then Baines will have a shot at being first choice for one Euros and then 2018.
Darren Hind
594
Posted 24/10/2013 at 18:47:54
"All that matters is that Leighton is enjoying his football, thats the only thing I'm focusing on"
You might want to start focusing a little harder Robbie lad, because the most exciting full back in Europe will not want to spend World Cup year wet nursing Distin and Jagielka.
So what if he loses possession trying to be creative, that has to be better than losing creativity trying to keep possession.
Get the shackles off... that's all.

Clive Rogers
612
Posted 24/10/2013 at 19:37:15
He's not giving up the extra 30 grand a week for 6 months for nothing. He's definitely going in January unfortunately. Couldn't be more obvious really.
John Gee
617
Posted 24/10/2013 at 19:56:59
He's been tapped up very publicly and Man Utd's friends in the media are being relentless and seem to be just one step away from negotiating on MU's behalf.
But hey, we should all just move on. After all, a former manager trying to destabilize a club that gave him employment for 11 years and made him a multi-millionaire is entitled to try to fuck them over and take one of their most important players. I, for one, am taking the moral high ground favoured by so many and I'm happy to say that I now bear Moyes no ill will, the prick.
Phil Walling
620
Posted 24/10/2013 at 19:53:27
I imagine that Bainsey can't wait to get back to what he does best - bombing down the wing and bombing those crosses into the box. And he'll have Rooney and RVP there to make the best of them. Better that than having to exchange endless passes across the box with his fellow defenders, I would think.
Great player, great servant, so just hope he won't attract all the slagging our other defectors to Manu have suffered.
Phil Skelton
621
Posted 24/10/2013 at 19:59:23
Decent guy Baines is, however, going to a team like united that wont be competing in the champions league after january and playing for a team on a downward spiral is not gonna help him I hope he goes somewhere decent if he goes.
Steven Telford
623
Posted 24/10/2013 at 18:56:40
He is polite and professional, so "no talk" is probably a sign of him being intent to leave.
Maybe the moron we employ as our U21 manager will again anoint himself his unofficial spokesman and open his mouth to simultaneously undermine the player and the and the club.
If we had chairman with balls, we could do like Ferguson did over the transfer of Gabriel Hainez, and tell him that if he is to be sold, it should be not be to one (rival) club in particular. Failing that, Bill's mom could call on his behalf.
Alexander Keith
626
Posted 24/10/2013 at 20:04:31
Yeah, this is a done deal, I'm afraid. Our pattern of play over the last few weeks has seen us shift emphasis away from the left-hand side to a more right-sided attack as well as through the middle. This could be because of Peanuts' absence, but I think it's more of a case of Martinez making plans for life after Baines.

Its a bit gutting, especially him going to play for He Who Cant Be Named, but we'll survive. Let's hope Kenwright has taken the same hard stance as he did over Felli and we get £20+ mil. Then sell Jela and Johnny H and get some more new faces in.
Tommy Coleman
627
Posted 24/10/2013 at 20:09:12
He won't go in January, it doesn't make sense.
If we refused to sell him in the summer surely we won't let him go half way through the season at a crucial time ?
I think we offered him a new contract but he didn't want to sign yet as he wants to see how our season goes. Hence the change in tact from RM.
Baines staying will depend on us qualifying for the Champs League.
Phil Walling
628
Posted 24/10/2013 at 20:10:48
Understand the sentiment, Phil Skelton, but the truth is we'd probably be skint/relegated if it wasn't for all the cash and players we've taken off Manu in recent years.They were welcome to the manager as he had served his purpose most would say.
Si Cooper
632
Posted 24/10/2013 at 20:11:04
Why does he have to go in January, rather than keeping the disruption to his season to the minimum by waiting until the summer? Barring injury he is assured of a place in the squad for Brazil, and Man U have a long way to go to be sure of a place in the Champions League next season.
Seems to me he could be better off waiting to make his decision.
Unless, of course, it is a done deal already, but I am hoping that it isn't.
Raymond Fox
633
Posted 24/10/2013 at 20:17:33
He's off, or so it looks, it does kind of disappoint though doesn't it, even though it's not unexpected.
I would certainly make Man Utd pay over the odds for his services, nothing less than £25m or he stays!

Patrick Murphy
635
Posted 24/10/2013 at 20:29:20
Phil does the word relegation have some special meaning for you, as nearly every thread you manage to get it in somewhere or have you got a bet going with your mates like shearer had with the England squad about how to get song titles in his interviews with the media.
Martinez should obviously have said that Leighton Baines does not want to stay at Goodison and that the lad feels he could earn a shed load of money elsewhere. I think it's about time that managers were able to refuse to answer questions about players contracts outside of the window. It's tiresome and boring and serves no purpose.
Richard Dodd
639
Posted 24/10/2013 at 20:38:44
They will never admit it but you can take it that a deal was agreed in the window but BK insisted he started the season at Everton as a condition of the Felli transfer.
The Reds will certainly need him in New Year if they are to make progress in the Champions League. I hear Roberto already has a replacement lined up... and it won't be Oviedo.
Mark Frere
640
Posted 24/10/2013 at 20:35:58
Its pretty obvious that he's going, why wouldn't he have signed a new contract by now? Martinez can talk all the bullshit in the world about it not being an issue, but we all know Baines has his heart set on a move to Manure.
Baines will soon be 29 and Martinez needs to build a squad for the future, so lets just hope he's identified a younger replacement who can come straight in. Bertrand would be a good replacement IMO.
Raymond Fox
642
Posted 24/10/2013 at 20:51:54
What else can RM say Mark, Leighton wants to go and its a kick in the goolies for the team.
That's what such as ourselves are up against when were talking possible top 4 spot for us.
Who ever we replace him with it will weaken the team, even if its only for his free kicks.
John Gee
644
Posted 24/10/2013 at 21:08:22
The answer is glaringly obvious, a straight swap for Rooney. England international, late 20's, 18 months left on contract, unlikely to sign new deal, speculation about wanting to leave, strong ties in the north west, top performer in his position. That description applies to both of them.
No, no, no to Hernandez or as he's more commonly known: Hernandez...offside.
Mark Frere
645
Posted 24/10/2013 at 21:12:29
Martinez can't really say anything else Raymond. Actions speak louder than words - the fact he hasn't signed a new contract speaks volumes really.
Stubb's unhelpful comments seem to have more weight than anything Martinez has said on the situation so far.
Barry Rathbone
646
Posted 24/10/2013 at 21:01:15
Things don't last forever he hasn't been shifty or stroppy and if he goes I will salute him.
Simply a massive gamble being yet another ex-Everton recruit for Man Utd their fans are heartily sick of it.
Now we attack from all areas having a left back as our only significant offensive weapon just highlights the previous regime's inadequacies.
Plenty of full backs around to do a defensive job and the creative slack has been taken up already if you subscribe to the latest theorem "our fullbacks don't attack anymore" (chortle, chortle) as we are rattling them in.
Guy Hastings
648
Posted 24/10/2013 at 21:26:37
Si 632, his place in the World Cup squad is assured, his spot as starting LB isn't. If he thinks signing for MU will give him the edge over Cole then he'll go. I don't think it's about money with Baines; his England press conference was as about as diplomatic as he could get without saying, 'Cole can fuck of, the job's mine.' Evra wants out, we hold the cards here - match Fellaini's fee and he can go (and throw Kagawa in too, a natural RM player if ever I saw one).
Patrick Carty
649
Posted 24/10/2013 at 21:22:02
I can't think of the left back we were linked with earlier this season, he plays in La Liga and not with one of the bigger teams.
I remember at the time looking him up and he looked very impressive getting forward and chipping in with a few goals.
Can anyone remember his name? I know I am not giving you much to go on.
John Gee
650
Posted 24/10/2013 at 21:35:05
just to qualify my last post re: straight swap. Baines would probably sign a new contract if we refused to sell him to Utd, Rooney is running his down. They can swap him for a good player now or lose him for nothing in a year.
Dean Adams
651
Posted 24/10/2013 at 21:34:07
Leighton has been a great player for us, but there is no way we can expect to keep him. The Sky media machine is nearing flat out and we cant stop it. I would be happy for the lad to leave, even though he his another of my favourite players who will have been plucked from our ranks. All I hope is that we get a good price, none of this he is getting older crap that the Sky pundits keep churning out.
They don't say that Ronaldo is now getting near his last big contract so he will be a cut price bargain, so why should Bainsey be given that label. Best left back in Europe, should be closer to £25 - 30 million. If you don't ask, you wont get.
Drew Shortis
653
Posted 24/10/2013 at 21:45:23
Clive Rogers 612
Spot on. If he intended to stay he would have signed a lucrative new deal already and be earning twice as much each week. He's been a great player for us but I can understand why he would want a guaranteed shot at the Champions League (we might make it, but it would be a gamble for him) before his playing days are finished. Also if he is at a CL team his chances of being first choice left-back in Brazil will be boosted. I respect the way he has conducted himself and will not begrudge him a move away, though he will be a big loss.
I would like to see us spend a large chunk of the money for Luke Shaw of Southampton who looks like a future England international. He has the same attacking instincts as Baines and is a lot younger, though he won't come cheep as Southampton seem to be in a healthy financial position these days. The remaining cash could then be added to the Fellaini and other money to put towards a midfielder in January and a striker next summer.
Kevin Rowlands
655
Posted 24/10/2013 at 21:59:37
Doesn't look good, also see that Evra's contract is up next summer and he's already making noises about moving on, I think Oviedo will be a decent enough replacement though.
Vinny Garstrokes
656
Posted 24/10/2013 at 21:53:02
It's just the way of the world now – we are a great club, great tradition etc etc but can't compete on the wages front. Lescott went a couple of years ago for £90k a week and taking all the emotion out of it, who could blame him. I read on one of our topics the other day that Howard Kendall was selling tickets for £5 to hear him talking and how tragic did that seem. My era was the late '60s and early '70s team so proper nailed-on legends but some of them have hardly a pot to piss in – and fair play to OFM for topping up the former players fund with his Rooney book damages. The reality is that a decent performance for the rest of the season and World Cup will not only see Baines on his way, but Barkley as well before the summer is out.
Tony Marsh
657
Posted 24/10/2013 at 22:04:26
It's a certainty that LB will leave in January and good luck to the lad. Regardless of Moyes being a shithouse, Man Utd are one of the world's biggest clubs and it's hard to resist the call.

The funny thing is Everton fans think we are the only club who have to sell their best players, which is not true.

Do you think Spurs fans wanted Van de Vaart and Bale to go? Arsenal have sold an entire team of their top stars in recent years. Ronaldo left Man Utd for Madrid and Man City lost their best player Tevez this season. Newcastle lost Demba Ba and Cabaye will be off soon, etc, etc, etc. It goes on and we have to live with it.
Steve Guy
658
Posted 24/10/2013 at 22:07:45
Start a bidding war, spite Man U by insisting to Baines that he can go but just not there. Play manure at their own game as they did with Chelski over Rooney. Sell Baines to Chelsea or Man City. Wishful thinking maybe as it would require a chairman with balls instead of one who gets so upset in these situations he has to get his Mum to sort it out.
Bob Parrington
661
Posted 24/10/2013 at 22:32:03
With the way Michael Carrick is playing now I'd accept a straight swap & find a different nr 3, assuming Bainesee really does want to move on.
Kevin Tully
662
Posted 24/10/2013 at 22:21:40
I found it incredible to read he was only on £30k per week, when the likes of Heitinga is picking up double that. (If it's true?)
As one of our best players, maybe he is a little bitter towards the club because of the disparity in wages with other senior squad members?
Can't blame the lad to be honest, imagine the shite he has to listen to on England duty about the sort of money other players are earning.
A bad situation all round.
Robert Collins
663
Posted 24/10/2013 at 22:57:03
John Glee @ 644
Baines a straight swap for Rooney?
Do you think Rooney would be happy with that and just imagine the look on his face when we tell him he'll have to make do with 60,000-80,000 P/W and not his usual 250,000?
That deal will go through smoothly, I've no doubt.
Peter Cummings
664
Posted 24/10/2013 at 22:37:17
'Not an Issue' — of course it's an issue and one that should be sorted out asap. Like some others, I think it's a fairly safe bet that, if we can't match his expectations either for an EU qualification or big bucks, he will be on his way.
But I believe the board should refuse any approach from OT or price him out if Moyes comes looking. At the end of the day, unless the lad himself puts in a request, in writing, it's game over.
Colin Glassar
665
Posted 24/10/2013 at 22:48:00
That kid Shaw from Southampton would be the perfect replacement. Totally agree with Tony Marsh #657, everyone sells, it's part of the game.
Robert Collins
666
Posted 24/10/2013 at 23:04:37
Collin Glassar @ 665
He's valued at £6-8M, we'll need to move for him soon, his value will go up.
We're not the kind of club that pays a fortune for defenders, we tend to buy them cheap and sell big. He'll be valued like McCarthy before you know it.
Patrick Carty
668
Posted 24/10/2013 at 23:02:58
Tony 657 – I agree with some of the things you said, but I think Van Der Veart was a journeyman who cared more about money than actually settling down and giving a bit of commitment to a club.
Man City did not mind letting Tevez go because they knew they had the money to bid for any striker in the world.
I would not mind being a selling club so much as long as we got the full amount we received to go into our transfer kitty, but as we know this never happens.
Si Cooper
672
Posted 24/10/2013 at 23:23:44
So some people really think that Roy Hodgson will automatically bump him ahead of Cashley if he moves in January? That is the way the England manager decides on the ability / suitability of his players???
Personally, I think he has probably already nosed ahead for the England spot. Unless Evra is also moving on in January he runs the risk of standing out less at United than he will for us.
Can people stop suggesting ridiculous swap deals with top clubs treasured possessions. If we can agree that part of the draw for Leighton is the chance to play in the best club competitions with a realistic chance to win some prizes then they are not going to jump at the chance of coming in the opposite direction, especially if it is likely to be for less money to boot. Realistically we are hoping RM can find a gem who has been discarded by those with too many to begin with, or one who has been overlooked / misidentified.
Jimmy Sørheim
678
Posted 24/10/2013 at 22:48:42
Either he signs before January, or we will have to sell our last high price asset.
I will lose all respect for Martinez if he can not get him to stay.
Kenwright will then get thrown out as our Cairman.
I think Moyes or Kenwright should have given him a ne contact in May 2013, but as always the true incompetance shines trough.
To lose Baines in a few months will be a collosal blow.
Ian Riley
681
Posted 25/10/2013 at 00:53:38
Here we go again! We thought it might happen in the summer but it might happen in January? Sadly my feeling is it will happen because we are not going to offer a 28 year old left back a five year deal at 75 000 a week, simple. Mr baines sadly has no resale value after we give him a new contract. The chairman will give his blessing 10-12mil and mr baines will go and collect medals with mr Moyes (if he is still there).
I wish him well as he as got on with his job and the next contract is the big one and playing in the champions league must be a target for him.
If we are in the top 4 come January, what will the manager do?
Best Wishes to all!
James Stewart
686
Posted 25/10/2013 at 01:59:08
A player we simply can't afford to lose. The team would be massively weakened. We need him to stay more than anyone. Pay him 100k whatever it takes he's worth it.
Vijay Nair
687
Posted 25/10/2013 at 01:53:12
You lot are dreaming if you think Utd will give us £15 million plus 2 players for Baines. Dour Dave will underbid as usual, then finally offer about £12 million plus one of their rejects, and Kenwright will gobble it up.
I am hoping and praying he won't go, but I wouldn't bet my house on it.
Jimmy Sørheim
688
Posted 25/10/2013 at 01:46:06
Either Martinez starts on giving him a new contract or I will quit supporting Everton.
Two indespensible players sold in just six months, and with no chance of getting anybody as good as Baines I will quit, and say bye bye Kenwright and Martinez.
I am a hard ass on this Baines deal, there is a reason for that. Without Baines we are fucked.
Pat Finegan
692
Posted 25/10/2013 at 03:59:54
Tony Marsh, I agree with your post to an extent. No one like to sell their best players but it's part of the game. There is no way around it. Does it bother you though if the club is selling to balance the books? It bothers me. Tottenham, Arsenal, City, and Man U all have money to spare. I don't have a problem with players wanting to play in the Champions League but selling because we're skint is rather disheartening to me.
John Gee
695
Posted 25/10/2013 at 04:10:09
I wonder if Moyes phoned LB and said "so Bainsey, see our game the other night? You too could be playing in a drab 1-0 home scrape with a flukey own goal". Most CL games are shite because there's very little passion in the rivalry of the clubs. If it wasn't for the media trying hype every game up (always with a money angle), nobody would give a flying fuck for the competition.
As for the people who think a swap deal is silly, these things can happen in football. Le tissier never moving, Keegan to Southampton, Best to Fulham, Bellamy to Cardiff.
Eric Myles
697
Posted 25/10/2013 at 04:47:55
Jimmy #688, I think it's inevitable that Baines will be sold in January, that's why the Club are saving the extra £40k+ per week pay rise for Baines.
Pat #692, agreed. Selling to survive is completely different from selling aging players to bring new ones in and refresh the team. How much longer can BK continue to get away with it?
Darren Hind
700
Posted 25/10/2013 at 06:06:31
"Now we attack from all areas, having a left back as our only significant offensive weapon just highlights the previous regimes inadequacies" ..."we are rattling them in".
I keep promising myself to give Roberto a fair crack, not compare last season to this, but I find it impossible not to respond to silly attempts to create a myth.
We have to score six at Villa tomorrow to move ahead of last seasons total after 9 games and that's because our flying full backs were constantly giving the opposition something else to think about. Bainesy will know this; he won't be buying into these attempts to create a myth.
This has very little to do with money, ANY player would be forced to consider his options if he was having his natural game stifled in a World Cup year.
Peter Laing
710
Posted 25/10/2013 at 08:45:37
If Baines goes Everton move on, simple as that. How many times over the years have we had such scenario's play out, Jeffers, Ball, Barmby, Rooney, Lescott, Arteta, Fellaini. Everton are a selling club, that's why Kenwright has managed to keep his grubby mitts on the Club with relatively little opposition and spades of apathy as he continues his MO of trading our most valuable assets. In fairness such a policy has managed to often work in Everton's favour as most of the aforementioned deals haven't always gone to plan for the player. I would suggest that Baines has given Everton his best years and although he will still have something to offer his prospective new employers he will ultimately have little future sell on value.
Also imagine playing for that dour minge bag compared to señor Martinez - no thanks.
Vinny Garstrokes
712
Posted 25/10/2013 at 08:56:00
And brace yourselves but Miralles stated over a year ago that he wants to play in Spain and ultimately for Standard Liege (probably in his twilight contract)
Drew Shortis
713
Posted 25/10/2013 at 08:53:10
I would expect that Southampton would want more than £6-8m for Shaw, especially if we get a decent fee for Baines as they will know we have money to spend.
I wonder if Keisuke Honda is still available. We need a creative midfielder and he would replace Baines as free kick taker. Yes his wage demands would be high, but that would be offset by the lack of a transfer fee as he is almost out of contract now.
Phil Walling
716
Posted 25/10/2013 at 09:01:55
It amazes me how many on here would never sell any player but still expect signings window after window.As Marshy points out, player trading is what its all about and, all in all, Everton have done well on it over the last dozen years.
Other than getting in a sugar daddy - impossible - owners like Kenwright can only hope 'to turn a shilling' in the transfer market to keep the club in business. Dislike him as I do, better by far than a comedian at the helm like the Venkeys or a Tan.Some will think otherwise.
Brian Waring
723
Posted 25/10/2013 at 09:44:49
Maybe they are discussing a new contract but Roberto doesn't want to put it out there just incase Moyes rings Baines up and asks him to come to his house to see him.
Tony J Williams
728
Posted 25/10/2013 at 10:18:57
Phil, it's not about never selling players. It's about us constantly selling off our best players.
At always happens but we don't like it. Look at old whisky nose telling lady boy that he would rather shoot him than sell him.
Martinez should give Bainsey the same ultimatum.
Pablo Connelly
747
Posted 25/10/2013 at 10:58:46
As mentioned, he will likely go for 15 million in jan. Martinez will spend around that amount on team strengthening hen Elstone will issue a statement to try and convince us we weren't in 10m net profit from the summer, and we didn't get an additional some from tv money that every other club has spent.
Raymond Fox
749
Posted 25/10/2013 at 10:42:33
Let's face it, chaps, we're one of the poor relations in the Premier League, so being a selling club will continue. Realistically RM, due to ever more clubs being funded by multi-millionaires, is now attempting almost the impossible of getting us in the top 4.
With Baines in the side for the full season, we have some hope; without him... no chance. Baines leaving, which he surely will, is just another example why we won't in my opinion ever finish in a CL spot until the club is sold.
Steven Telford
755
Posted 25/10/2013 at 11:39:44
I think the best and most practical way to deal with it would be as so: To the very least we should insist on keeping him until the end of the season, it would be madness to part with him mid season.
They should tell him frankly, "We'd love to keep you, but won't stand in your way of move if at the end of the season if you don't want to sign a new deal and fair bid is made."
Vinny Garstrokes
756
Posted 25/10/2013 at 11:44:11
Ray #749
And since the Kings Dock never materialised, neither will a new buyer.
Raymond Fox
760
Posted 25/10/2013 at 12:23:11
Your probably correct Vinny, but we can live in hope.
The sale of Baines, if he is indeed off, can't do the morale of the other players any good either, and is bound to rock the boat a bit.
Question is how long before Barkley's on his bike too?

Richard Dodd
787
Posted 25/10/2013 at 14:05:09
Steven, I'm pretty certain Leighton is only here now because he was promised the move to OT in January. We can't compete on wages or with CL football and are never likely to be able to do so. Even a change of owner is unlikely to change that situation.
Let's just hope that RM can unearth a few gems to keep us in the top third. Anything else is pure pipedream.
Phil Walling
796
Posted 25/10/2013 at 14:43:25
How right you are Vinny! King's Dock will go down as the single biggest bad decision in the history of our club. Nothing Kenwright's Board could ever do will expunge that criminal act of self-interest.
Harold Matthews
813
Posted 25/10/2013 at 15:15:28
His great ability coupled with his fine character and determined attitude make him a living legend, and, like Jimmy, I just can't imagine being without him. That said, he'll be off in January, that's for sure, and I would expect Martinez and the recruitment people to have someone already in the bag.
Alan Corken
818
Posted 25/10/2013 at 17:06:56
I am not so sure he will leave. I don't doubt the ginger berk wants him, and I suspect he wants to go. I am doubtful however, that Man Utd supporters or their board will be satisfied with another raid on Everton. Baines is a good player but we have already sent them a couple of pups (DM and MF) so I suspect they will be looking elsewhere.
Ged Simpson
913
Posted 26/10/2013 at 07:09:43
Alan 818 : I agree and am also not so sure he will leave. Strangely this lad may have a bit of loyalty about him.
(Ged now ducks and awaits accusation of naivety etc etc)
Jimmy Sørheim
914
Posted 26/10/2013 at 07:20:33
I think RM knows very well it is an issue. Seems he is trying to prepare himself for Baines to leave soon. I mean the comment he made about giving a new contract was faulty. He said that it would not matter if he signed a new contract because we would only get a couple of million more for him, and that he was impossible to replace anyhow.
It is vital that we have players on long-term coontracts because we sell to buy, and to have a contract running down like that could cost Everton a lot of money if he leaves in the summer with only a year left we would barely get anything for him.
I am getting tired of the contradicting statements from RM. I hate it when managers makes a promise and then breaks that promise!! If RM wants a long-term job here he better start living up to his promises or he will be gone before he knows it.
Martinez will take the blame if Baines leaves us for half of his worth or free just because RM could not give him a new contract.
John Otway
208
Posted 27/10/2013 at 14:48:39
Jimmy 914. Why don't you just jog off along the East Lancs Road and support your hero's team. Your constant anti Martinez rhetoric is beginning to bore the arse off me.
Ross Edwards
211
Posted 27/10/2013 at 14:53:19
Jimmy, blame Moyes for not signing him up last season.
Phil Sammon
213
Posted 27/10/2013 at 14:55:12
Embarrassing comment there, Jimmy, from someone who clearly has a major problem with Martinez.
All these wins and yet you are questioning his job security after he played down a contract issue with one of our players.
Pathetic mate.
Paul Gladwell
216
Posted 27/10/2013 at 15:06:37
Did I just read that shite above off Jimmy, what's the point mate if you cannot even enjoy Everton now?
Ross Edwards
217
Posted 27/10/2013 at 15:08:23
Jimmy, who will do a better job than Martinez in this moment in time mate?
It seems you want him sacked after 8 games.
Clive Rogers
218
Posted 27/10/2013 at 15:08:57
Tony/Colin, 657, 665,
True that every club sells at some point, but the difference is that the clubs you mention are running at a profit and have backers with cash, whereas we have to sell before we can buy. Financially we are a badly run club. Corporate visitors still have to eat and drink in a tent on the car park at half time and have done for nearly 20 years. What sort of chairman can't sort that out in 15 years?
Graham Mockford
221
Posted 27/10/2013 at 15:10:42
Jimmy, in his normal cack-handed manner, sort of has a point. The club, through comments from the manager has done a complete U-turn in the space of three weeks about the need to renew LB's contract.
Now I don't blame Roberto for this; you can only suspect a contract is on the table but Leighton is not for signing. Certainly Stubbs's unfortunately timed comments would support this.
The rest of his post deserves the comments it's getting.
Raymond Fox
224
Posted 27/10/2013 at 15:16:12
Jimmy, you missed your vocation, you should have been a comedian! He must want to go to Man Utd, you twerp, RM knows what the situation is, but he wouldn't come out & say so.
I do think that Baines is worth more than £15m though; he's got 3-4 yrs left as a Prem player & is capable of scoring from free kicks from any distance.
Patrick Murphy
225
Posted 27/10/2013 at 15:26:29
The manager of a football club – any football club – can only recommend a new contract, wage increase etc; he does not have the power to tell the Board what to do with their money. DM down the road might believe it is in the best interests of MUFC to sign Rooney for x amount a week but it will be the owners and directors who ratify it or not as the case may be.
If Baines wants to leave – and we don't know for sure he does – then he goes for as much as we can get for him. That's the way we have been operating for a good 20 years, Kendall Mk II left because he felt the board hadn't backed his judgment. RM has only been here five minutes and he knows the financial situation.
If you want to have a pop at someone, Jimmy, have a pop at the people who are running the club.
John Haldane
226
Posted 27/10/2013 at 15:13:49
Relatively new to posting here so I'll start off by saying that there's no element of sarcasm to what I'm about to write.
● Luke Shaw would relocate from the south coast because... ?
● Southampton would sell Luke Shaw because... ?
Oh, and Jimmy Sorheim, you're embarrassing yourself horribly. You really need to stop it for your own sake.
Paul Gladwell
227
Posted 27/10/2013 at 15:31:34
Graham, Maybe RM had every intention of getting him signed up but, come deadline day, Baines must have told him it's not going to happen. Stubbs has disclosed enough, so what does Martinez do? – come out and repeat Stubbs words and encourage pressure on Baines, or keep shush until he goes? Keeping shush benefits the club more.
Colin Glassar
228
Posted 27/10/2013 at 15:34:34
John, not being sarcastic but,
1) We don't get hurricanes on Merseyside.
2) Money talks. If we make a big enough bid......
Gavin Ramejkis
229
Posted 27/10/2013 at 15:35:45
Players come and go and life moves on but two key things here:
● Everton don't need to sell so fully capable of setting a high price – pay it or do one
● Man Utd, the richest club in the country, are desperate and currently being managed by a complete arsehole – pay the asking price, which should reflect their wealth and also ability to pay the whole sum in cash, early in January, or do one.
Shaw as a replacement for less than half the sale price is good business.
Graham Mockford
238
Posted 27/10/2013 at 15:49:31
Paul,
I agree it's probably about damage limitation now. What I would question is being publicly quoted about his intention to offer Baines a new contract after the deadline if he wasn't sure that is what the player wanted. Sometimes being media friendly has its downside.

Roman Sidey
248
Posted 27/10/2013 at 15:34:09
In Jimmy's defense, he was more outspoken about his distaste to OFM than he has been about RM.
I'm usually one to spout crazy stuff on here but I cannot believe some of the hyperbole and utter fantasy I'm reading on this post. From a financial perspective, selling Baines in January makes the most sense. Prices are usually inflated mid-season - Moyes said as much himself when trying to explain why he "didn't like" buying in January - and if in the summer when he's only got a year left he'll either be a lot cheaper for a buyer, or able to sign a pre-contract for after his contract is up, increasing his wage power.
Stubb's comment, for me, shows that he is either also under Moyes' power and angling for a move away to Old Trafford in United supporters' slowly growing worst nightmare, or he has terrible judgment for a supposed ex-professional footballer.
John Haldane, you ask two very good questions that have answers that wouldn't contain the word "Everton". If Shaw is going to go anywhere in the next couple of seasons, it will be to London or Manchester for a lot of money.
If/when Baines leaves, life at Everton will go on.
Graham Mockford
254
Posted 27/10/2013 at 16:26:37
Gavin,
Unfortunately if Baines does not want to sign a new contract then actually we do need to sell.
As his existing contract counts down so does his transfer value at each window. Maximum value will be obtained in January.
Clive Rogers
382
Posted 27/10/2013 at 21:39:50
Shaw has said he has no desire to leave the south coast and Saints are 5th. Forget about him.
Gavin Ramejkis
405
Posted 27/10/2013 at 23:01:30
Graham I can see your point about gaining something rather than nothing but I'd err on the side of the club retaining a position of power all the way through to the end of the season as he still has a year and a half left, if he wont sign a new contract by the end of this season then transfer list him and set the price there and then. I'd be brutally honest to any potential buyers that the fee is the fee and not to fuck about Gollum style and repeat identical non winning bids over and over.
Garry Martin
446
Posted 28/10/2013 at 09:11:30
OFM has become a complete novice of late... nothing less than £20 million for Bainesy or don't bother. He & the club are now so desperate to reinstate Manure (damage limitation excersise), all names are being mentioned.... Gareth Bale being the latest.
EITHER PAY UP OR BE ON YOUR WAY!
Kieran Fitzgerald
448
Posted 28/10/2013 at 09:20:26
Baines is the only big name player we have left. We do have a couple of fringe players such as Jelavic and Hetinga that will raise some cash but Baines is the only cash cow we have left.
Sooner or later the profit we made on Felliani will be gone. Fringe players alone will not raise the cash we will need to buy quality players and pay the bills.
Baines did politely ask to be allowed join Utd in the summer. I think that the only thing that stopped him being sold was the lack of a formal transfer request. This was purely for the sake of appearances in my view. If he does hand in a request in January he will go.
Rather than hold out for a fee we may not get before the end of the January window, I would take 12m -15m if it came early enough in January. I know that this is below his worth but this sum, plus what is left over from the summer, plus hopefully the sale of fringe players, would allow us the time and cash to get at least two quality players in. In my mind, the trade off is an improved squad going into the second half of the season. We should use the last of the Felliani money now on the squad while we still have it.
The flip is though, selling Baines for less than his worth could cause discontent among the fans and ruin the hard stance we took in the summer. It would also put huge pressure on Martinez to buy the quality players.
Mark Pierpoint
456
Posted 28/10/2013 at 09:55:16
I agree with what Ben Jones says on another thread. I was really worried about losing him in August but I think that the signings this summer (albeit two key ones on loan, one of which we have no chance of keeping) have made us less reliant on Baines. The fact that West Ham apart he has had a mediocre season by his previous standards backs this up.
From a purely football point of view if we sold Baines for £12-15M and that meant us getting in a Martins Indi (a centre half to replace Distin long term) and money with next years TV deal towards a replacement for Lukaku, I would take it. Baines probably deserves his move and I would not begrudge it him.
On a personal level I think he will be a loss. Clubs need local players in order to connect with the fan base after all. With Barkley though, it could be argued that the sentimental argument is no longer applicable?
Mick Davies
836
Posted 29/10/2013 at 20:39:01
Darren Hind & Phil Walling, are you Siamese twin computers? Whatever the topic, you robotically both find Roberto Martinez to blame. If you haven't noticed, Bainsie created the 1st goal on Saturday by flying down the wing "unshackled" and he apparently made his views known in the summer about going to the theatre of freaks. He desperately wants to rejoin those canny tacticians, Round and Neville so if that's his intention, let him go for a kings ransom. No player is bigger than EFC. Even the great Alan Ball was sold in his prime (Martinez was responsible for that too)
Add Your Comments
In order to post a comment, you need to be logged in as a registered user of the site.
Or Sign up as a ToffeeWeb Member — it's free, takes just a few minutes and will allow you to post your comments on articles and Talking Points submissions across the site.
© ToffeeWeb