Jagielka adds another year to his Everton contract

64 Comments [Jump to last]
Wednesday 2 August 2017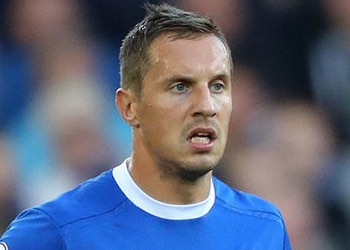 Phil Jagielka has extended his Everton contract by another year, committing to the Blues until 2019.
The 34-year-old was the subject of rumours earlier this summer suggesting that he could return to Sheffield United, the club from which he joined Everton 10 years ago, possibly in a player-coach capacity, but he has extended his stay at Goodison Park instead.
The club captain had entered the final year of his current deal with the club but says he is delighted to have penned a new deal.
"It is always nice to have the potential of an extra year with the Club - and it did not take too long for me to decide to sign.
"I was delighted to do so and I am looking forward to the journey over the next two years.
"It has been a fantastic time here but, hopefully, we will create some more special memories in the next two years and I can look back on my time at Everton with a smile on my face."
---
Reader Comments (64)
Note: the following content is not moderated or vetted by the site owners at the time of submission. Comments are the responsibility of the poster. Disclaimer
Lev Vellene
1
Posted 02/08/2017 at 18:54:30
Ooh, now I'm just waiting for the baying and ranting to start here on TW!!!
Mark Riding
2
Posted 02/08/2017 at 18:55:31
Great news. Such a vocal and strong captain. Leader from the front. I'd be amazed if Keane gets a look in with Jags and Ashley fit.
James Stewart
3
Posted 02/08/2017 at 18:56:06
Makes sense; with the sea change of personnel, some continuity will be needed. He will also help Keane settle in and is good back up. He really struggled against pace last season though, Arsenal game especially, so I hope he isn't thrown into any of those games this season.
Now we just need to sort out the Willams / Funes Mori side of central defence.
Gavin Johnson
4
Posted 02/08/2017 at 18:57:28
A great servant who's lost a yard of pace. Not sure whether this is a good move for the club unless it's for continuity having a familiar face around with so many new players coming in.
Danny Broderick
5
Posted 02/08/2017 at 18:58:08
Great squad man to have, and if he leaves next summer, we will get a fee for him...
Gordon White
6
Posted 02/08/2017 at 19:05:36
Great news. And he should get a testimonial. Hope he's around long enough to get his hands on some silverware.
John G Davies
7
Posted 02/08/2017 at 19:10:23
Pleased with this one.
We will need a few older heads to give guidance to the youth Koeman is investing in.
Mike Gaynes
8
Posted 02/08/2017 at 19:11:14
Gordon (#6), agree, none more deserving of a testimonial. Very pleased to see him extend.
Chris Williams
9
Posted 02/08/2017 at 19:13:14
I think he's due a testimonial isn't he? 10 years of service about now.
Bjoern Haall
10
Posted 02/08/2017 at 19:15:37
Great. We will need him. Probably in the back room staff after that.
Jamie Morgan
11
Posted 02/08/2017 at 19:17:35
Gives his all. Body on the line type of player! Fantastic role model for the likes of Keane. Welcome news!
Colin Glassar
13
Posted 02/08/2017 at 19:21:37
Chuffed that Jags and Barry are staying. Their experience and loyalty will be invaluable in this transitional period.
Colin Glassar
14
Posted 02/08/2017 at 19:22:27
I also think he's a better defender than Williams.
Jay Wood
15
Posted 02/08/2017 at 19:25:30
Good one!
Had a dodgy start to last season. Deservedly dropped. Once restored to the side, he was as good as anyone at the heart of the defence.
Given the injury to Funes Mori, it's a complete no-brainer to retain him, whilst continuing to search for his long-term replacement.
Roman Lizuch
16
Posted 02/08/2017 at 19:27:09
So Ol´ Man Jags stays for at least one more season. I´m delighted.
James Morgan
17
Posted 02/08/2017 at 19:27:19
Great servant and still a lot to offer, glad he's sticking around and likely retiring with us.
Clive Mitchell
18
Posted 02/08/2017 at 19:38:51
Thoroughly deserved, a great servant and a decent man. If we had Jags and Distin in their first year together for the coming season I'd be a lot more confident.

David Nicholls
19
Posted 02/08/2017 at 19:39:02
I love jags! Really pleased for him and I'd wager he's still our quickest CB. He always looks like he's enjoying great banter in the tunnel as well. 😀
Joe McMahon
20
Posted 02/08/2017 at 19:44:04
Good player, like Baines, but their best days have gone.
It's so frustrating when younger players are sent out on loan. If we are being serious (at last) as a club then this sentimentality has to end.
If we really want to push the top 4, how many of the teams that finished above us last season would want Baines, Jagielka and Barry (all 3) for the 2017-18 season?
Lev (#1) not a rant as such.
Dermot Byrne
22
Posted 02/08/2017 at 19:56:40
James (#3): "Makes sense, with the sea change of personnel some continuity will be needed."
It is the bloody continuity we are trying to end in my eyes.
Lovely guy, agreed... but far too nice for a modern football Captain (sadly).
Geoff Williams
23
Posted 02/08/2017 at 19:56:53
Great news. I hope he gets more game time this season. He is a far better footballer than Williams.
Clive Mitchell
24
Posted 02/08/2017 at 20:01:12
Joe, I don't think your right in the modern game. Man Utd have kept people they felt/knew could contribute at the top level – Giggs, Scholes, Carrick – and it hasn't really backfired on them.
That said, not sure I'd fancy ever seeing an 11 with Stekelenburg, Martina, Jags, Williams, Baines, Barry, Rooney and Mirallas in it. (I know Mirallas isn't old, but he might as well be.)
Paul Kossoff
25
Posted 02/08/2017 at 20:03:05
No modern-day footballer needs or should be given a testimonial, they are near all millionaires. If they want one, it should be under the conditions that all proceeds go to charity, you know, the people who need help.
Giving Jagielka another years contract is once again the easy cheaper softy Kenwright option. We all know his legs have gone and he should not be in Everton's defence... that's Jagielka, not Kenwright, although Bill's legs went years ago.
Joe McMahon
26
Posted 02/08/2017 at 20:05:44
Clive, on the subject of Mirallas, I'd rather see more of Lennon. Sadly, it looks like he's off on loan.
I take on board what you said about Man Utd. But of course we now have Rooney who looked knackered after 30 mins last week.
Eddie Dunn
28
Posted 02/08/2017 at 20:16:21
Testimonials are really just for charity these days, the top players certainly don't need the money.
Jags has been a trusty servant and despite a few poor games, when he got back into the team towards the end of the season he proved what a good competitor he is.
Good to have him for another season, and I really hope that he can take one meaningful memory with him, of us winning something.
James Carlisle
29
Posted 02/08/2017 at 20:19:06
Probably rather see him start ahead of Williams. I think he's still our best centre-back (haven't seen enough of Keane yet). He's always gone straight for the ball, no messing around. Good for another year.
Gordon White
30
Posted 02/08/2017 at 20:19:40
Paul (#25),
You answered your own question. Your right: they don't need the money, at this level. It's less about money and more about thank you's. And respect. And gratitude.
And having players like Jags and Barry in the team, especially with all the new faces, makes good sense.
Jack Convery
31
Posted 02/08/2017 at 20:24:05
Great professional and worth an extension. His experience goes a long way too. I too expect him to become a back room member when his career ends.
Roger Helm
32
Posted 02/08/2017 at 20:26:42
I would like to see the younger defenders coming through but the deal makes sense as hopefully we will be fighting on several fronts this term so we need a squad big enough to cope.
Peter Fearon
33
Posted 02/08/2017 at 20:30:23
I am delighted for Jags and for Everton. He may not have the pace he once had but his experience and his head are invaluable assets. I would sooner have him in the back line than Williams.
Ciarán McGlone
34
Posted 02/08/2017 at 20:33:10
He should start ahead of Williams.
Chris Leyland
35
Posted 02/08/2017 at 20:44:39
Agree, Ciarán, he is a better all-round defender than Williams.
Guy Hastings
36
Posted 02/08/2017 at 20:45:01
442 reckons we had more shots stopped on the line than any other Premier League side last season.
Give me defenders who block and get stuck in every time. He's way, way better than Williams and a man I'm chuffed to have seen wear an Everton shirt. Top bloke, top player.
Kevin Jones
37
Posted 02/08/2017 at 20:57:49
Definitely agree, Ciaran. Met him a few times top bloke as well as a good player.
Christy Ring
38
Posted 02/08/2017 at 21:05:07
Delighted to see the Jag staying, and I rate him ahead of Williams. I would let Barry go, I know he has been a great servant, but his pace is gone, and I don't think he can offer anything coming off the bench.
Tony Hill
39
Posted 02/08/2017 at 21:06:25
The odd thing is that Williams's stats last year were among the best in the league. Watch how often he gets in the way or clears inelegantly but clears nonetheless – it seems to mean that we concede fewer goals overall.
I think Jagielka is fortunate to get another year but he'll be a useful squad man.
Gary Edwards
40
Posted 02/08/2017 at 21:07:33
I do not see how this is warranted and am struggling to see the positives in giving Jagielka another year's contract.
It's commonly held that with Funes Mori's injury and Williams's failings that we needed to strengthen at left- /centre-back. Jagielka didn't even come into most people's thinking. Will we still continue to seek a left- /centre-back or is this it?
Loaning out Galloway, Pennington, Browning yet retaining Jagielka is not the action of a progressive club with a long-term plan nor does it bode well for the younger players (e.g. Holgate) if that wasn't abundantly clear already, Martina FFS.
Furthermore, we need a more inspirational, influential captain on the pitch. That Martinez hailed him as his "phenomenal captain" says it all.
Mark Morrissey
41
Posted 02/08/2017 at 21:09:06
I'm not a sentimentalist at all. I would rather he moved on rather than see him get ripped a new one like so often last year but I agree he's still better, even with his leaden legs, than Williams.
He's no longer quick enough. Football is a cruel game but his day has gone but now he's with us, he'll get my support. He'll need it
Raymond Fox
42
Posted 02/08/2017 at 21:24:06
As we are in the Europa League, I think he deserves another year.
It's all hands on deck if we are to do well in that competition and make a bold show in the Premier League.
That's not to mention the FA Cup etc.
Andy Crooks
43
Posted 02/08/2017 at 21:30:10
I am glad he is staying, I like and admire him. However, our club, in my view, does not have"servants", we have hugely paid professionals who owe everything to our club.
Martin Mason
44
Posted 02/08/2017 at 21:32:11
Jags has become a bit of a legend really and I hope that he has a good extra year and perhaps stays on in a coaching capacity.
Denis Richardson
45
Posted 02/08/2017 at 22:04:58
Not really sure why so many are happy with this, it's not as if he was out of contract and given this coming season. He already had another year left as it is, that would have taken him to 35. This new contract takes him to 36.
Is he really going to meaningfully contribute in the 2018-19 season? Was there any reason this needed to be given now? Why not wait till next summer and see where we are?
We have quite a few younger centre-backss in the fold and a year from now they'll have another year and more games experience. We could still have decided to give him another deal in 6-12 months time.
Am all for keeping players on when older for experience/continuity but I do question why we continually give these players extensions, well before their current deals are at an end.
Same happened with Barry, Osman, Hibbert, Neville, Howard etc, and that's just in the last few years. Don't see why we couldn't wait until near their contract ends to offer them extensions.
Hibbert made 20 appearances in the last 4 years he was at the club and in that time was given not one but two contract extensions??
Tom Bowers
46
Posted 02/08/2017 at 22:05:26
Bit of a no-brainer, this one. Jags is still as good as many in the Prem. although slightly past his best.
He will provide the depth at the back and the experience along with Williams to assist Keane.
Mike Andrews
47
Posted 02/08/2017 at 22:19:00
I am pleased with this. Jags has always seemed to get Everton, contributions on and off the pitch.
Just heard that someone else who got Everton, a great US Blue (but not a TWebber) Hans Duchardt has died. Always good for a Facebook chat about the Blues and possessor of some canny links. Let it be gentle, Hans.

Adam Scott
48
Posted 02/08/2017 at 22:38:03
Whatever you think of Jags, this isn't something worth getting concerned about.
I see it this way:
The contract is a public declaration that he still has a role in the team, and isn't going anywhere. It also nails down he is still club captain.
Jags says something interesting: 'It is always nice to have the potential of another year at the club'.
I would not be surprised if he leaves 12 months down the line regardless of any deal. What this contract is saying is that we trust him, and are not interested in letting him go just yet. It also stops Jags looking for a move. With Funes Mori's injury we could do with closing down the talk of him going this season. The contract does that.
Brent Stephens
49
Posted 02/08/2017 at 22:40:10
I feel Jags will end up before long on the coaching staff. A good man.
Peter Gorman
51
Posted 02/08/2017 at 22:45:20
As Ciarán says, still better than donkey Williams.
Frank Wade
52
Posted 02/08/2017 at 22:58:45
I always liked Jags. Not as fast as he was but his experience is vital at centre-back. Will do well with Keane for another while. Good news for me. Top man and great Everton ambassador as well.
Tom Bowers
53
Posted 02/08/2017 at 23:00:59
Unusual, RS lose a final on penalties and Jurgen Slopp displays his first sour grapes of the season.
Stephen Scofield
54
Posted 03/08/2017 at 00:22:58
I think this is great. You need to keep your experienced players even if they are not getting regular games. They are there to help the younger players too. I think Williams is better with his extra years. But I'd much prefer Jags on the bench than some random player who was average last season. He was great towards the end of the season.
No downsides to this.
James Lee
55
Posted 03/08/2017 at 00:57:21
I really could not comprehend why some keeps on talking about not being sentiment and should ship jag out and get someone better and faster or keep the youth instead.
1. The youth needs more game time and mistakes learning opportunity (and we still have Holgate)
2. We need happy squad player that is happy nonetheless being backup (of course also knowing he has better chance of finally winning something than before staying put)
3. We need experience to organise the Defence and see games out as need. And he seems to discover how to score goals (many for a defender ffs) in the box shown in last second half season
How can all this be sentiment???
It's a fantastic extension and really very happy to see him choose to stick with us instead of moving off.
Alex Rowe
56
Posted 03/08/2017 at 01:37:27
I personally rate Jags more highly than Williams so would be happy with a Jags and Keane defensive pairing this season
Lee Brownlie
57
Posted 03/08/2017 at 03:18:45
Oh you whingers!.. STOP WHINGING!!.. Deal's done and he's going to be here for 2 more seasons instead of just the one we knew about. Forget the 'sentiment' crap, he's also still a very good squad player/ option. If he hasn't been showing his worth to the 'cause' by next summer, I'm sure we'll be looking to teams like Sheff Utd to take him once more, and he'll know himself its time to go, anyway.
Personally, I'm glad he's going to remain an important part of our squad. After all, we're not Chelsea or Man City when they suddenly got a few bob, essentially trying to replace the whole first team setup in one go, are we?
As it stands, looks like Keane is going to be the man, with Jags or Williams holding the fort whilst the youngsters come through and get bedded in. I'm actually very excited about the new kid, Lewis Gibson, from Newcastle... talented, rated, up for it, confident, really wants to be here, and looks a potential behemoth!! Jags is clearly going to have an unquestionably important job of helping bring on fellas like this! COYTs!!!!!!!
Paul Ferry
58
Posted 03/08/2017 at 03:59:58
How much is Sakho? We need quality next to Keane. Jags can be there as cover, Europa, wise head, and future coach.
Williams can knock £2 million off the Siggy Stardust deal. The most disappointing 'properly' scouted 'big buy' for a while.
Phil Jeffries
59
Posted 03/08/2017 at 07:11:21
We need as many bodies as possible. If we push past the early rounds of the Europa League and League Cup then we'll be playing mid week and weekends almost every week up until Christmas, where it gets really busy! We need another centre-back whether Jags stays or not, particularly with Funes Mori out and the fact that Koeman likes to play 5 at the back from time to time.
He is our club captain and I think he'll get game time next to Keane as Williams is also no spring chicken. I'm more than happy with this one.
Barry Pearce
60
Posted 03/08/2017 at 08:52:08
A thumbs up from me. Great professional. Still worth a place in the squad, and much better than Williams.
Steven Jones
61
Posted 03/08/2017 at 09:52:29
Jagielka's early season problems last year coincided with his hamstring injury – he was rushed back too early and was under pressure and made mistakes. In the second half of the season he was our best defender and leader. With 60 games etc and the youth not yet being equipped and given learning time on loans this is a sensible decision.
Also, balance of older professional heads mixed with many new signings, foreign players and youth needing to bed in.
Keane only needs an injury and we are into the youth players – sensible move for the tough season ahead.

Jim Potter
62
Posted 03/08/2017 at 10:08:13
A wholehearted great pro who is one of the good guys. Pleased with this news.
Not as quick, but his bravery and nous makes up for that.
He is still needed. A great example to the youngsters.
Shane Corcoran
63
Posted 03/08/2017 at 10:09:22
I'd say there's a decent chance that he won't see out that extra year.
Had he gone into this season with only 10 months left on this contract he might have started looking elsewhere in January, so it's a good move by the club.
Terry Underwood
64
Posted 03/08/2017 at 11:25:19
Great stuff. It never hurts to have a bit of experience about the place. Younger defenders could learn a lot from him.
Colin Malone
65
Posted 03/08/2017 at 11:26:22
Great News. Model professional, never threw he's dummy out when he was left out of the side. He knew his time would come and he took it with Man of the Match displays. I'd love to see Jags play alongside Keane.
Tony J Williams
66
Posted 03/08/2017 at 13:32:29
A touch of the Bull Durhams about this with Keane.
Not an issue in my eyes
Jamie Evans
68
Posted 03/08/2017 at 19:27:10
I would love to see our club captain get his hands on some silverware before he finishes. Unfortunately, he may well have to do a John Terry and have his full kit on under his tracksuit as I'm not sure how much he will be playing from now on.
Kevin Dyer
69
Posted 03/08/2017 at 00:03:26
Daft. Looked washed-up last season, rallied a bit down the stretch but was borderline Premier League calibre, to be charitable. Yes, continuity is desirable, given the amount of change but he was going to be here this year anyway, so this was unnecessary and premature. If he can maintain last season's mediocre form then reassess in May.
Why jump in with an offer now, before he's even kicked a competitive ball? I bet he took about 5 seconds before signing the contract. A good defender at his best but marked decline last 12 months. Very unlikely to turn that around at his age.
Add Your Comments
In order to post a comment, you need to be logged in as a registered user of the site.
Or Sign up as a ToffeeWeb Member — it's free, takes just a few minutes and will allow you to post your comments on articles and Talking Points submissions across the site.