Allardyce denies having spoken with Everton

138 Comments [Jump to last]
Tuesday 7 November 2017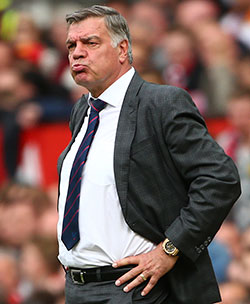 Sam Allardyce has reiterated that he would have to discuss a job as big as the Everton managerial role but says he hasn't spoken to Farhad Moshiri.
The former Bolton, Newcastle, West Ham, Sunderland and Crystal Palace manager who was fired as head coach of the England national team last year for unethical conduct, is regarded by the media as the front-runner to replace Ronald Koeman at Goodison Park, although much of the speculation seems to be driven by betting markets.
Nevertheless, both Sky Sports and The Telegraph, along with rumours among Everton fans on social media, have claimed that Allardyce met with the club's major shareholder, either last week or over the weekend to discuss becoming the next Blues' boss, even if only on a shorter-term contract.
Sky now say, however, that they have been told by "sources close to Allardyce" that talk of him being handed a £100,000-a-week contract at Goodison until the end of the season is "totally inaccurate".
Allardyce spoke with Jim White on his TalkSport programme this morning and denied having held talks with Everton.
Asked if there was anything he could say about the Everton situation, Allardyce said: "Nothing at the minute.
"I haven't [spoken with Farhad Moshiri]," but he admitted he would have to listen to the Iranian-born businessman if he did come calling.
"It's like everything else, if somebody comes calling there's the opportunity to speak, there's no doubt about that."
---
Reader Comments (138)
Note: the following content is not moderated or vetted by the site owners at the time of submission. Comments are the responsibility of the poster. Disclaimer
Rudi Coote
1
Posted 07/11/2017 at 17:59:46
Good, we don't need him.
Gerard McKean
2
Posted 07/11/2017 at 18:00:00
Lyndon, you make a shrewd point about betting markets driving speculation. There is a conflict of interest when Sky Sports News fuels activity on Skybet and people who can ill afford to do so will lose money following the rumours.
In your earlier report of a 4 man shortlist you described Allerdyce as the "disgraced " former England manager. Again you are quite correct. I couldn't get involved in that fast moving thread but I would add my voice to those who express dismay at the vitriol handed out to fellow Evertonians who happen to have a different perspective.
Moshiri needs to distance himself from White at Sky and avoid the limelight. The club already has two board members who like to get their names and photos everywhere without knowing the first thing about football and what qualities to look for in a manager. That's what we're reduced to and I'll put money on Skybet that they'll be casting their votes for the wrong guy!
Mike Keating
3
Posted 07/11/2017 at 18:02:49
Hopefully Allardyce is telling the truth for a change.
What an admission of failure it would be to replace that fraud Koeman with this charlatan.
Duncan McDine
4
Posted 07/11/2017 at 18:26:49
I'd rather see Rhino given until Christmas, unless of course we can tempt Simeone away from Madrid (refer back to Riquelme, Moutinho etc if you think that will happen!!)
Soren Moyer
5
Posted 07/11/2017 at 18:38:09
Thank god!
Bill Gienapp
6
Posted 07/11/2017 at 18:38:59
I'm getting the distinct feeling that there's no clear-cut favorite who's readily available (if there's a prayer of Simeone coming, it won't be midseason; and extracting Silva from Watford is likely easier said than done).
All of which points to a short-term appointment until the end of the season, which basically shrinks the list to Unsworth and Allardyce. Like most, I vastly prefer Rhino in this scenario.
If Allardyce demands a longer-term commitment, that might just be our get-out-of-jail-free card.
Lawrence Green
7
Posted 07/11/2017 at 18:39:13
George (#2),
Sky aren't the only gambling outfit in the game don't forget how our new sponsors earn their living!

Andy Crooks
8
Posted 07/11/2017 at 19:07:15
The appointment of Allardyce would signal the end of the Moshiri project. It would be his get out if jail card. I cannot understand how anyone would want this man as our coach.
In my view David Unsworth should be given time. I believe he will turn things around. I would ask those who advocate fat Sam the following questions:
How long will you give him? How many games?
Do you believe he can take the club to the level that Moshiri aspires to?
I believe he was hung out to dry by the FA but do you believe he is a man of integrity?
Do you want the football he aspires to?
Finally, are you prepared to come on here and admit that no matter what, you will fucking accept nothing less than instant wins?
Sam Allardyce as Everton manager? God almighty is that what some think of our club?
Kunal Desai
9
Posted 07/11/2017 at 19:07:32
Excellent. Keep it that way. Maybe he can come to rescue when the likes of West Brom or Swansea are looking for a new manager.
Darren Hind
10
Posted 07/11/2017 at 19:08:51
No contact? Let's hope it stays that way.
Rob Halligan
11
Posted 07/11/2017 at 19:12:56
TFFT Hopefully.
John Pierce
12
Posted 07/11/2017 at 19:17:47
Shows you that Allardyce believes his own hype. If this man had any ambition he'd openly state managing Everton would be an honour and that despite everything he wouldn't just shackle himself to avoiding the drop. But snide comments in the media, denial and leaks.
A self-styled 'Red Adair' who lines his own pockets whilst bleeding dry his victims with large back room staff who compute a formula which Charles Hughes was pushing since time and memorial.
Stan Schofield
14
Posted 07/11/2017 at 19:25:16
If there's any truth in the rumours about contact with Allardyce, I can't imagine for one minute that it would be anything more than a short-term arrangement pending getting in a high-profile ('elite') manager.
Anything longer with the likes of Allardyce would be inconsistent with what the board were saying 18 months ago about what they called the 'project'. The most likely scenario, given their statements about the 'project', is an interim appointment, or retaining Unsworth as an interim measure, followed by a high-profile appointment. Particularly if the salary offered is £6M/year or more, and funds are promised for buying new players, which seem likely.
Matthew Williams
15
Posted 07/11/2017 at 19:32:52
I'm now convinced Chris Wilder should be our next Gaffer, with Rhino as his assistant. Superb win percentage with Sheffield Utd,t hey play great attacking football, they all work hard for their manager, they always set up very well & score goals.
But most of all, there seems a great team belief there & they play until the final whistle is blown... every game.
Richard Lord
16
Posted 07/11/2017 at 19:35:13
Phew, good news! Hopefully Simeone is boarding a plane to us as we speak...
Matthew Williams
17
Posted 07/11/2017 at 19:53:48
Note to Mr Moshiri and Boys Pen Bill...
Go after Chris Wilder from Sheffield Utd to become our new Boss. Appoint Rhino as his Assistant. Sign Cenk Tosun from Besiktas as our new Striker. Sign Ben Mee from Burnley to re-form his partnership with Micheal Keane.
Recall all our loan players. Get Ross Barkley to sign a new contract. Start shipping out players who are way too old, always crocked, or have a piss poor attitude.
Win at Anfield.
Charlie Lloyd
18
Posted 07/11/2017 at 19:56:45
You wouldn't really know who to trust or believe on this. The Everton board, Sam Allardyce, the press or Jim fuckin White.
There's not an honest one amongst them.
Jer Kiernan
19
Posted 07/11/2017 at 20:02:25
Please no, let's as a club look to at least aim at the Top 4/6. At best this guy would stifle the young talent we have, stamp out anything resembling creative football and at very best might get us as 7th or 8th team that nobody likes playing against, or nobody likes... full stop!
We need a top-drawer manager. If he is not available right now, give Rhino until Xmas. If we had appointed another Manager directly after Koeman, he would have been given time.
Unsworth will have the full backing of the fans and the players who feel something for this club, this would be his strength. He can bring through the talent we have over next few months
If I witness this fat crook chewing gum in our dugout surrounded by anybody unlucky enough to be under 6 feet tall, while the ball gets lumped forward ad nauseam, it will be a dark day for EFC.
Give Unsy the job until Xmas and reveiw
Paul Kennedy
20
Posted 07/11/2017 at 20:05:11
I do not want this man at our club.
Michael Williams
21
Posted 07/11/2017 at 20:09:14
Thank God.
Tony Sullivan
22
Posted 07/11/2017 at 20:18:30
Thank Christ.
Colin Metcalfe
23
Posted 07/11/2017 at 20:29:01
Amen to that!!
Stan Schofield
24
Posted 07/11/2017 at 20:30:35
I'm not religious, but in this case I'm making an exception, and praying to every available deity that Fat Sam comes nowhere near Goodison Park.
Oliver Brunel
25
Posted 07/11/2017 at 20:31:08
Who's the only beneficiary of all these shenanigans with Moshiri blown out of the water, Panoramagate, and the project unravelling as Emperor Palpatine sits triumphantly in the Finch Farm Death Star?
Yes, it's that harlequin of Coronation St, Billy Kenwright, aided and abetted by none other than Jabba The Hutt Allardyce!
Christy Ring
26
Posted 07/11/2017 at 20:38:26
Hope Sam is telling the truth this time. I would love Simeone, and his touchline antics, he wears his heart on his sleeve. Would be some coup.
Ray Roche
27
Posted 07/11/2017 at 20:38:27
My mate, an Arsenal fan, has just e-mailed me and advised me to get a seat lower down in the Gwladys Street stand so that I can look up and get an occasional view of the ball...
Neil Copeland
28
Posted 07/11/2017 at 20:39:46
Oliver 25, I hadn't spotted the likeness previously but you are right he is a dead ringer for Jabba the Hutt.
Who do you think is Darth Vader, I was going to suggest Elstone but think that may be grand for him.
Roger Jones
29
Posted 07/11/2017 at 20:52:58
If we appoint Allardyce it will be accepting the team are at best a mid table outfit.
Colin Metcalfe
30
Posted 07/11/2017 at 20:58:18
I find it hard to believe that 12% voted for Allardyce on the online poll!
It's like when a mate of yours has a really plain looking girlfriend with zero personality and after a few years he decides he can't be bothered looking for another girl and thinks " she will do " and gets married whilst you are thinking " WTF he can do so much better "
Only years later he wakes up one day looking at his wife snoring away and thinks fuck me why didn't I aim higher!
Well that's folks is your 12% !!!
Tony Marsh
31
Posted 07/11/2017 at 21:08:42
Colin @ 30
How about your mate who shags the plain girl for a few months then chucks her when someone better comes along.
Thinking it was okay for a while she served her purpose but then looking for a hotter chick in the summer?
Brent Stephens
32
Posted 07/11/2017 at 21:09:42
Colin "It's like when a mate of yours has a really plain looking girlfriend with zero personality..."
Colin, that "friend" of yours. It wouldn't be... would it?
Neil Copeland
33
Posted 07/11/2017 at 21:10:41
Sky reporting (Moshiri/Jim White?) that we have a 4 man shortlist;
Simeone
Allardyce
Silva
Unsworth
Not sure how much truth is in it but Simeone is supposedly Moshiri's first choice.
Obviously Simeone would be fabulous although unlikely I would think.
I would give it to Unsworth until Christmas as others have already said and take it from there.
Not sure about Silva, would like to see how he performs for the full season at Watford.
Do not want Allardyce at all but suspect he may get it on a short term contract with a formal approach made to Simeone next summer.
I like the fact the board are not rushing into any decision at the moment but do hope they make a statement before the end of the international break.
David Currie
34
Posted 07/11/2017 at 21:13:39
Please No to Sam, give Unsy more time also Eddie Howe would be better than Sam or Dyche. He is a good coach and gets his teams playing good football.
Jer Kiernan
35
Posted 07/11/2017 at 21:13:54
Simone quoted as possible at end of season. This is what I like to hear not this fat dud, we should give Unsworth till Xmas to bring through the youth and review. If we are genuine about our aspirations to become a top club this is the kind of manager we should be chasing.
Would be nice if that Russian lad decided to sponsor more than Finch Farm and cut his ties with Arsenal too.
Neil Copeland
36
Posted 07/11/2017 at 21:16:58
Jer, is Simone the hot chick that Tony Marsh is referring to?
Kev Johnson
37
Posted 07/11/2017 at 21:26:08
Big Sam? Is it really this bad?
Paul Holmes
38
Posted 07/11/2017 at 21:35:03
I second that Eddie Howe would be better. Bournemouth play great football. I watched the second half against Newcastle and they battered them.
With our crop of youngsters, Howe would be great to bring them on. Big Sam would just play all the senior players which would bore the fans to death.
You pay to watch the team with your kids to be entertained. The Watford match was great; more of that please.
Colin Metcalfe
39
Posted 07/11/2017 at 21:37:00
Brent (#32), Noooo my girl is a hot fiery Colombiana!! Completely off her head, compulsive, jealous, obsessive and yes a complete pain in the arse but hey she is one sexy woman who looks after her man – no complaints here!
Jem Bir
40
Posted 07/11/2017 at 21:39:43
I'd rather have Moyes than Sam.
The board are taking their time and rightly so. Let's ignore Sky Sports and Sam's self -promotion and get behind Rhino. The win last weekend gave us breathing space.

Jer Kiernan
41
Posted 07/11/2017 at 21:44:37
Neil, it's usually her who regrets waking up next to me so I've no comment to make. :)
I am liking this though because we are making noises about some top class proven manager who is tied to a long contract which shows real ambition.
Tony Hill
42
Posted 07/11/2017 at 21:44:58
I think we are a far worse team and are in far more trouble than many on here believe, November or not. I truly hope, for obvious reasons, that those who so despise Allardyce – I accept the overwhelming majority of Blues – do not have reason to review their position later in the season.
I fear that we are on the brink of making a very bad decision; not the appointment of Allardyce but, much more dangerous, a half-baked Everton non-solution with Unsworth on an interim contract and vague indications of a summer review with a Big Name in our sights. Neither one thing nor the other, it's our default setting.
Well, we will get what we deserve, I suppose.
Colin Metcalfe
43
Posted 07/11/2017 at 21:47:01
Tony (#30) – Okay, I will give you that one, you have a point. :-)
Andy Crooks
44
Posted 07/11/2017 at 21:47:37
Colin, your wife has many attributes, or indeed faults, that mine doesn't. I'll bet your wife is not a member of the WI. Well, mine is, so there!!!
Brent Stephens
45
Posted 07/11/2017 at 21:47:57
Colin, yeh, you say that now. But "years later", as you say, will that creaking headboard still be keeping the neighbours awake?
Soren Moyer
46
Posted 07/11/2017 at 21:55:47
Please stop calling him "Fat Sam". It's "Fit Fat Sam" he likes to be called.
Jer Kiernan
47
Posted 07/11/2017 at 21:57:48
Fat "Sam" Fat "Spam" Fat "Scam" either or he has no place in an Everton dugout end of story !!
Rick Pattinson
48
Posted 07/11/2017 at 22:24:00
Like it or not folks we are in such a bad way probably the worst I've ever seen. I don't like the fact we've been linked with him but at this minute Fat Sam wouldn't be such a bad appointment til the end of the season. I know Unsy bleeds blue but this lot need a proper shake up and out of the shite shortlist we have I reckon he's the man to do it. Best of a bad bunch.
Shaun Gillespie
49
Posted 07/11/2017 at 23:17:20
To start with, I don't think it matters who we get in right now as our success or otherwise will depend on if we buy a half-decent centre-forward in January.
To get back to the topic of Sam Allardyce, this takes me back to being in the Park End last game of the season against West Ham a few years ago. We were having a good end-of-season day out beating them, and then they starting singing to a particular Bay City Rollers song tune "Bye bye Moysie, Moysie bye bye, as he was hotfooting it off to Man Utd with plans to nick our best players.
However we outwitted them with the classic reposte: "You've got Sam Allardyce, you've got Sam Allardyce, you've got Sam Allardyce, you've got Sam Allardyce" and at that point they had to admit defeat. God forbid we actually get Sam Allardyce!
Steve Bingham
50
Posted 07/11/2017 at 23:27:14
I pray to everything that is holy...NO !!
John Francis
51
Posted 08/11/2017 at 00:12:15
Big Sam now 1/5. Looks like it's done.
John Francis
52
Posted 08/11/2017 at 00:15:29
Expect Carroll to arrive in January. Bet Siggy can't wait.
Andrew James
53
Posted 07/11/2017 at 00:19:27
Allardyce is just so not Everton.
Our managers tend to be younger for starters and not journeymen (although some like Moyes become that afterwards it would appear)
There's no need for him. If we are not going to get a manager in until the end of the season then let Unsworth have a go.
Games that are winnable are coming and we can collect enough points to be safe. Re-integrate the likes of Klaassen, get the Barkley saga resolved once and for all. I'd rather see a team progressing like they have looked in glimpses under Unsworth with energy and youth than Allardyce to come in, completely change it all over again and subject us to dour football.
Don Alexander
54
Posted 08/11/2017 at 01:10:38
I've said the following on another recent thread so apologies to those (if any!) who've read it before.
Allardyce has spent his 25 year managerial career aspiring to a top-notch job. I suggest his rationale during that quarter century was to do whatever it took to promote himself. By never having been relegated he established a reputation and then got what he'd always aspired to by way of the England job.
He immediately fucked that up of course.
My query is; does he still have aspirations, credible or not, to become the manager of a top-notch club or does he now see himself as I do, a busted flush, gratified beyond belief to be being sought after by a.n.other club in the shit, us, who'll pay him more than he's ever been paid whilst praying that his compulsion is still alive and credible to prove himself as a top-notch manager at a top-notch club?
Personally I doubt it. He's shown he'd sell his soul for money. Moshiri beware!
Roman Sidey
55
Posted 08/11/2017 at 02:00:18
Massive hypothetical somewhat inspired by Tony's response to the plain girlfriend analogy.
Would you accept Allardyce until the end of the season with a guarantee of Simeone from then on?
I don't want Allardyce as manager, but I think the chances of him becoming manager changed in the 90th minute against Watford. Lose that match, staying in the relegation zone, and we'd be reading totally different headlines this week. And Monday brought good news with Moyes becoming unavailable for at least the next couple of months.
Silva seems a good manager, but there seems to be a long list of young/new managers who come into the spotlight, have a good season or two, get a job at a bigger club (but not too big) and then implode. I don't know if Silva will fall into that category, but his results as a manager aren't as wonderful as some would have you believe.
Ronnie McComish
56
Posted 08/11/2017 at 02:27:33
Amazed with the clamor on this thread for Rhino tonight. Hmmm... wonder if it would of been the same 60 mins into the Watford the game? I'm sure a lot of the fans I saw leaving at 0-2 wouldn't of agreed so whole heartedly meself.
I like Rhino, seems like a nice guy, but are we really prepared to risk our season on a novice after three straight defeats and a rather fortunate win?
Relegation remember isn't just a rather embarrassing summer with the reds and then a fun push for promotion next season. It's another stadium dream dead! and I'm fed of them. Can we also please have a little reality on here and cut the Simeone nonsense out too which is cringeworthy and embarrassing.
Can't believe there are still so many deluded fans waxing lyrical about Tuchel and other 'top drawer' managers to take us into the Champions League. Have you seen just how far we are away from that? It's gonna take a tough uncompromising Premier League professional to sort out this mess that our last high-profile manager has left us in.
And for all those pontificating about how we don't want this greedy money grabbing fat man honestly don't understand how the modern football game works now, with backhanders and filled brown paper bags sorting the transfer deals out. I'd love a saint too but more importantly I want a manager who is gonna get us out of this mess.
Personally I ain't no fan of Sam but if Dyche isn't interested he may be the best chance we have of being in the premier league next season and that scares me a lot.
I don't want Fat Sam coz it means we have accepted we are a mid table club but I think I may consider him because we currently are in the relegation zone with not much else to look forward to for the rest of this season.
I think a lot of reality pills are required on here tonight.
David Johnson
57
Posted 08/11/2017 at 03:25:34
Took two reality pills before I went to bed to dream of Simeone and Bramley Moor. Just woke up in a cold sweat dreaming about getting pounded by fat Sam against the blue cladding at Goodison.
Will Mabon
58
Posted 08/11/2017 at 03:33:58
Ronnie, the game is played over 90 minutes, plus any injury time. The result was 3-2 at the end of the game. If the team had achieved four "Fortunate" wins under Unsworth, would you be saying he has to be replaced?
The team achieved a win with a battling performance. They didn't drop their heads at 0-2, and maybe they deserved their luck. Better teams than us achieve results similarly at times, as well as losing.
We all know the consequences of relegation. Relegation is always a risk of varying degree for all but the top teams. Our poor start has raised our risk, but it's November and there have been tangible signs of improvement.
To some posters here, it comes down to the difference between shitting ourselves at this stage and bringing in a manager, almost any manager, on the assumption we're already doomed. Not so in everyone's eyes.
It's an opinion based on balance of risk and probability. We pretty much know what we'll get with Bungy. We can make a guess with Dyche to a degree, but we'd hope for more than he's showed so far. This requires faith and hope that he'll deliver.
Apparently potentially better European managers may be more likely to take us further when working in an environment that makes that possible. How would those guys perform in a low-table battle in the Premier League. Who knows? Faith and hope again.
Unsworth might deliver, if we give it a little more time. The fact he's "Inexperienced" also means we have nothing to go on, so we don't know he can't do it yet.
It equally scares me, that the club might panic so much as to think it necessary to bring in Team Allardyce, sweeping away everything, on an assumed certainty of relegation. It's November, and the known certainties of Allardyce are not worth it at this stage.
By the way, we're currently not in the relegation zone.
Will Mabon
59
Posted 08/11/2017 at 03:35:04
Jee-eez, David, you might need to talk to someone.
David Johnson
60
Posted 08/11/2017 at 03:48:34
It was just a nightmare Will. I was in a Kenwright musical called Fat Cats, set in a dystopian future.
Will Mabon
61
Posted 08/11/2017 at 03:50:19
Enough! I'll be having nightmares!
John Pierce
62
Posted 08/11/2017 at 03:54:42
In theory, an interim until the summer when better targets can be acquired, is sound, despite the scorn it gets on these pages.
Many managers of decent and outstanding quality wouldn't break their contract mid season, too much to lose.
The only decent out of work manager, Tuchel, appears equally reluctant to jump in with too many question marks at the club.
Diego has been at Athleti for some time, perhaps he does fancy a change of scene. Some media outlets suggest although he wouldn't jump ship now, he doesn't break contracts but his advisers are willing to listen.
That leaves the interim; again Gus Hiddink strikes me as the right target, if we won't blood Unsworth.
We are in a huge mess but with the next 5 games against equally poor sides, waiting is an option, and review at Xmas.
Everton have to, especially now act like the big club they are.
Amit Vithlani
63
Posted 08/11/2017 at 04:18:05
"And for all those pontificating about how we don't want this greedy money grabbing fat man honestly don't understand how the modern football game works now, with backhanders and filled brown paper bags sorting the transfer deals out."
Its obviously you who doesn't understand how the modern game at the highest level works.
Gone are the days of brown bags in service stations.
Its all about consulting fees, which, in Fat Sam's case, was offered by undercover journos who caught him red handed telling them how to navigate transfers.
If Fat Sam is a Walsh recommendation then I question Walsh's judgement. Not least because of Allardyce's embarassing sting relating to circumventing transfer rules. Surely Walsh would want to steer clear.
David Johnson
64
Posted 08/11/2017 at 04:35:43
Er excuse me I was in the middle of telling Will about my nightmare stuck in a Kenwright musical set in a dystopian future called Fat Cats. Anyway Will it could have been worse. Some ginger tom got off in the direction of London to seek his fortune and I woke up just at the point when a cat called Tony Pullis had just finished licking his own arsehole and was about to burst into song.
Will Mabon
65
Posted 08/11/2017 at 04:50:49
David, I'm concerned now, really... just put my cornflakes back in the cupboard.
David Johnson
66
Posted 08/11/2017 at 05:07:25
Anyway Diego Someone was singing Right Said Fred's I'm Too Sexy. While Fat Sam was doing a fine rendition of Barry White's You're the first and Tony Pullis only managed to get off
Agadoo doo doo push pineapple shake the tree
Agadoo doo doo push pineapple grind coffee
To the left to the right jump up and down and to the knees
Come and dance every night sing with a hula melody
Before I woke up.
Darren Hind
67
Posted 08/11/2017 at 06:28:24
Allardyce never been relegated ? . .You sure ?
I have to laugh at those who are calling for Allardyce to come and manage us, especially those who saw right through TGT.
Allardyce is Moyes lite, he has spent most of his managerial career finishing below Moyes. The football his teams play has often been even uglier. He delivers zero in the way of success or entertainment . . if Moyes is The Hound, this fuckers The Mountain. No doubt somebody will come along and offer "mitigating circumstances" for his crash bang wallop approach, but this sick joke should be stopped right now.
The fact is; He has been largely unwelcome wherever he has been and the majority of the fans of the clubs he has left, have been glad to see the fucking back of him.
Look at the TW poll, Evertonians are no different, hardly anyone wants him . .There's a very good reason for that
Moyes, Martinez, Koeman . . . and now we have people calling for Big fucking Sam. I'm beginning to suspect there is a really unhealthy masochistic streak amongst out ranks
Anthony Hughes
68
Posted 08/11/2017 at 07:01:00
Bringing Alladyce in would be a complete admission that you have failed as a football club.
Terry McLavey
69
Posted 08/11/2017 at 07:24:19
At least David Moyes is out of the picture, so that reduces the speculation.
John McGimpsey
70
Posted 08/11/2017 at 07:31:55
Imagine this fat fuck coming out the tunnel chewing gum and Sammy Lee smiling and laughing his arse off on the inside. Just let that settle in your royal blue brain, Sammy Fucking Lee. "Get the plane ready, Mavis, and find the banner with Kenshite out again."
Charlie Lloyd
71
Posted 08/11/2017 at 08:11:32
Darren @ 67
Who is your choice?
Charlie Dixon
73
Posted 08/11/2017 at 08:25:55
I cannot believe we've not gone and snapped up Dyche already! He's a great fit for the Club and his distinctly average set of players at Burnley are now level on points with the shite!
Absolute no brainier. Alex Ferguson was asked last year who was the best young manager in England and he quipped Dyche straightaway. Plays nice football, solid at the back and is always putting the Club first. This was shown when instead of chucking millions in parachute payments at transfers to get Burnley back up in the Prem he put the money into the academy at Burnley. He's the perfect fit for me!
Dennis Stevens
74
Posted 08/11/2017 at 08:32:52
David, I also had a nightmare last night - it took the form of Harry Redknapp & the boos from Everton supporters when he was presented was akin to the wall of sound I expect to hear if we ever recruit Sam Allardyce!
Tony Abrahams
75
Posted 08/11/2017 at 08:33:30
That was something that impressed me about Dyche, Charlie. Even when Burnley, first came up I thought they had a long term plan, because they never threw loads of money at mercenaries, which has wrecked quite a few clubs that have reached the holy grail.
Still nobody stands out to me though, and it's for this reason that I'm glad we are taking our time.
Alan McGuffog
76
Posted 08/11/2017 at 08:43:16
I would not be unhappy with Dyce as our new boss. However should we not get away from thoughts of " snapping him up" ? In the 1960s we "snapped up" Wilson ,Ball ,Kendall etc. Even into 1980s...Sheedy ,Steven, Lineker. Other than a pay cheque why would any aspiring young manager want to be "snapped up " by EFC. We are a mid range club. So is Burnley. The days of us being a glamorous club are long long gone. It pains me to say.
Karl Meighan
77
Posted 08/11/2017 at 08:52:20
Anthony@68 we are a failing Club, the academy apart which has been producing firs team players.
Im no lover of big Sam but I don't see him being any different from Dyche. Perhaps im wrong but Burnley hardly play much different from what Sams Bolton teams did.
Players make styles anyway and im uncertain who we should give it to but the one thing certain is the new man will need time as we are weak all over the pitch. Lets get out of the dogfight and make the right decision at the end of the season.
Richard Lyons
78
Posted 08/11/2017 at 08:53:39
I'd just like to state that I have received no contact from Everton about the vacant managerial position at Goodison Park, but I would be willing to speak with the Merseyside club.
I'd say: "Don't hire Alladyce. Please."
Phil Walling
80
Posted 08/11/2017 at 09:43:36
I'd just like to say the bugger's started lying even before he gets the gig !
How low can we get ?
David Milner
81
Posted 08/11/2017 at 10:19:40
A definite no to Alladyce, & he wants a 2 year deal, CRAZY.
If Unsy can keep us mid table to the end of the season then Paulo Fonseca from Shaktar Donesk is the way forward, & no compensation to pay.
Hopefully he can also bring a couple of players with him.
A no brainer. But we are Everton so!!!!!!!!!
Stan Schofield
82
Posted 08/11/2017 at 10:22:27
Alan@76: You're dead right, but if we offer what Koeman was being paid, perhaps more, I could see us easily attracting a big name. Same goes for players, if the money is there we'll get them. Once we're stabilised, with Unsworth or whoever else short-term, progressing further (with a big-name manager and players to match) depends on money, like with City and Chelsea, and like us in the 60s.
Terry Underwood
83
Posted 08/11/2017 at 10:45:19
Big Sam is fairly good at avoiding relegation, but that is the limit of his ambition. I want more than that for EFC. we will not attract a top manager ATM but we should be looking at ambitious young managers. A bit like Moyes in the early years, before the fear and torpor set in.
Steve Ferns
84
Posted 08/11/2017 at 12:06:52
Terry who are the best young coaches?
Julian Nagelsmann?
Tommy Tuchel?
Paolo Fonseca?
Eddie Howe?
Marcelo Gallardo?
Andre Villas Boas?
Can we add Sean Dyche and David Unsworth to a list of good young coaches.
All of these guys are under 45. All pose a significant gamble, with Tommy Tuchel the least gamble of the lot and then probably Dyche.
With a young coach we need someone who understands things interviewing them. Not Kenwright. Not someone who can be blinded by buzz words and clichés. We need a manager who can satisfy the following:
- can coach 4 internationals (Baines, Jagielka, Williams, Keane) and 2 u21 internationals (Kenny and Holgate) into a solid back 4;
- can devise a formation to strike the balance between keeping us solid at the back and yet still a threat in attack;
- can utilise the youth I the squad to get pace and energy into the side whilst also utilising the experience of seasoned professionals supposedly in their prime;
- can revitalise the current squad without selling them all off at a knockdown price and costing the club effectively next summers transfer budget;
- has a style of play that fits in with the ethos of the club and the players at the disposal;
- has a coaching background and can give details of the work on the coaching pitch that he will do to correct what is going on and how we can make significant changes to the team without changing the personnel;
- is a strong character and a leader of men;
- is robust enough to stick to the plan when things are going wrong but not foolish enough to see that something is just not working (Martinez and Koeman);
- has a clear and understandable long-term vision for the club;
- committed to the club for the next three to five years.
I would suggest the interviews should be led by Unsworth (if he is not a serious candidate himself - he will learn significantly from the experience) and by Walsh, with Kenwright and Moshiri observing and only getting involved when it comes to their personal area of expertise.
I would also want the club to send the candidate DVDs from the last 6 months, and ask them for details and insights into how to turn things around. For sure, that is a lot of work and you may well have to pay them for their time, but it will show if the guy is committed and it will also show just how insightful the coach actually is.
Joe Bibb
85
Posted 08/11/2017 at 12:14:22
There has been a rush to buy Brown Envelopes from the local shop on Goodison Road.
Simon Hermansen
86
Posted 08/11/2017 at 12:47:24
Not sure if anyone's noted this already but Unsworths odds have come right back in again since this morning. 5/4, almost joint with SA in some places. Good sign...
Steve Ferns
87
Posted 08/11/2017 at 12:51:26
Nice one. That's reassuring. Everyday we get closer to the Palace game is another day less likely that we get Big Sam. If we have Unsworth in charge for Palace, the only way Big Sam then comes in is if Unsworth doesn't deliver the results we need.
It also shows the club are not enthusiastic about appointing Big Sam, because he would have been appointed on Monday as all the negotiation could have been done before the Watford game and then the announcement after the game.
Terry Underwood
88
Posted 08/11/2017 at 14:56:50
Steve. Not really sure who the best young coach is, but I just think that Sam A would be just marking time. Also, even the best coach cannot work miracles, we are still woefully short at the back unless the kids can step up, Baines and Jags have been great but time and tide etc
Jamie Evans
89
Posted 08/11/2017 at 15:46:00
Thank the maker.
Rudi Coote
90
Posted 08/11/2017 at 17:29:53
He was supposed to have retired when he quit Palace. Please stay retired and forget about football and especially our club.
Charles Barrow
91
Posted 08/11/2017 at 17:49:57
I reckon he had that meal with the club, they realised he was a charlatan and didn't offer him anything. So he goes on radio to save his face saying that there has been no contact.
Steve High
92
Posted 08/11/2017 at 18:45:23
Difficult to understand what to believe but if Big Sam is holding out for longer than end of season then he's a cheeky f##ker. He shold accept and prove his worth considering his recent behaviour, he should count himself lucky to be allowed to mange again fullstop.
Otherwise give it to Rhino to Christmas and access where we are then. Sounds simple .
Colin Glassar
93
Posted 08/11/2017 at 18:53:38
Still no manager then? Day 3 in the house and paralysis reigns supreme.
Neil Copeland
94
Posted 08/11/2017 at 20:40:08
Colin, I can't understand as I offered my services to the club at a very favourable rate. I thought they would have made an announcement by now.
Tony Abrahams
95
Posted 08/11/2017 at 20:51:49
I hope the first thing the new manager does is get himself a decent assistant who knows how to really coach a football team.
Steve Walsh has supposedly recommended Allerdyce, and Shakespeare, so he's either got his feet right under the table, or Moshiri is beginning to see the error of his ways?
Mick Conalty
96
Posted 08/11/2017 at 20:52:38
Big Sam here is the deal.
To manage Everton your starting salary is the
the national minimum wage.
If you get Everton into the top 4, you will get a
big fat bonus with plenty of naughts on the end.
If on the other hand you get us relegated you pay
Everton a big fat sum with the same amount of
naughts on the end.
If you are up to these terms you can start Monday,
if not, stop wasting our time and f##k off.
Peter Lee
97
Posted 08/11/2017 at 21:00:11
On MOTD SA described the West Ham job as tough because the manager was expected to succeed by playing flowing football expected by the fans.
Pursuing that in the last 50 years has brought little success and relegation.
Rings lots of bells reading the nonsense written on here. Careful what you wish for fellers.
Anyone who thinks that we don't have to worry about relegation until Christmas, the give Unsy a go brigade, is barking mad.
At the minute relegation is a strong possibility, some managers will shy away from that. By New Year, with a continuation of the naïve approach shown in the last four games, it will be nailed on and any manager would be mad to take it on.
Harry Redknapp spoke about Sunderland last year and said that he was surprised that DM took the job. Everyone knew they were going down just as they knew that the MUFC job was a poisoned chalice 5 years ago.
Opinion in the game about Everton is headed in that direction. Don't kid yourselves. We don't have the luxury of time.
Jack Convery
98
Posted 08/11/2017 at 21:01:48
It looks to me that its Unsworth with Silva coming in the summer. Onlt proble with that is Pochetino will leave Spurs for MAdrid and Spurs may turn to Silva. Who would you pick - Spurs or Everton ? Also if Unsworth does a decent job, how can the board drop him ? He should go and get a good No 2 - someone he trusts, if the job is offered to him. Someone with Prem Experience as a No 2.
Michael Farrelly
99
Posted 08/11/2017 at 21:05:48
A Big Fucking NO to fat Sam.
Let's move on to more pleasent thoughts!
Peter Lee
100
Posted 08/11/2017 at 21:06:48
If Unworthy really wanted to be a manager he'd have gone somewhere else to test himself. Which is what he should do now.
Brian Hennessy
101
Posted 08/11/2017 at 21:14:57
My gut feeling is that Unsworth will be given another few games and if we keep picking up enough points to keep us out of a relegation scrap he will be with us till the end of the season - which I would settle for.
Neil Copeland
102
Posted 08/11/2017 at 21:25:34
Jack 98, I think it is more likely that Spurs would go for Simeone, word I'd that he would like to manage in the Prem and Spurs are likely to be in the Campions a League.
Gavin Johnson
103
Posted 08/11/2017 at 21:32:53
I'd be willing to stomach Allardyce until the summer if it meant we got Simeone at the end of the season. It looks like Big Sam won't do a 6 month deal similar to Moyes at West Ham so it looking more likely that David Unsworth will get the gig until the end of the season.
Stephen Davies
104
Posted 08/11/2017 at 22:05:48
And if by magic Dick Advocaat announces hes leaving as Holland manager
Don Alexander
105
Posted 08/11/2017 at 22:06:08
If we appoint someone for only the rest of the season we need to have immense faith in the players to find some hitherto largely unseen backbone as professionals.
To the players a manager on a mere six month contract may be considered irrelevant unless he and they, personally, gel from the get-go. Those who don't "buy in" will know they only have to turn up at Finch Farm and fanny about for a few months before someone of their personal taste might be appointed to manage them or, if we're relegated, get their agent to find another club for them to flounce about at whilst the millions cascade into their bank accounts.
Just saying.
Ray Roche
106
Posted 08/11/2017 at 22:55:39
Don, in addition to your points, would Moshiri give a manager on a six month contract millions to spend on "his" choice of player?
Iain Johnston
107
Posted 08/11/2017 at 23:01:27
I don't really get the attraction of Silva. For me he's another Martinez having a team which concede heavily. The difference being we had Lukaku to paper over the cracks.
Watford have started the season very similarly to the two previous ones under Flores & Mazzarri, in fact Flores started better having more points and conceding half as many goals at the same stage of the season...
Is Quique Flores, a Europa League winner and domestic trophy winner with Benfica, on anyone's shortlist?
Watford have identical points, wins, draws, losses and goal difference after game 11 as Mazzarri had last season.
Is Walter Mazzarri, another trophy winner with Sampdoria & Napoli, on anyone's short list?
I'd be pleased for anyone to show me any indication that Silva's performance history rather than that of his two Watford predecessors should be named as a favourite for the job.
Tony Hill
108
Posted 08/11/2017 at 23:20:43
Steady there, Iain (#107), this is all about how uniquely shit, fat and evil Allardyce is. Don't go spoiling it.
Colin Metcalfe
109
Posted 08/11/2017 at 23:23:04
Charlie#73 sorry I could be mistaken but did you really put Dyche and plays nice football together in the same sentence? Mate with all due respect have you seen Burnley play ?
A couple of days ago I was listening to talk sport and they were saying how Burnley were flying however they also mentioned that they were just awful to watch and they went on to say that so many teams are terrible to watch in premier league due to the fear of losing their top flight status and so now we are seeing a brand of low risk football where they play the percentages .
Do we really want to see a return of this type of football that we saw for many years under Moyes ? Dyche would make us hard to beat but that's about it , same goes for fat Sam !!
Colin Glassar
110
Posted 08/11/2017 at 23:23:17
Looks like Unsy might get the job, until xmas at least. Big Sam wants loads of dough, a long term contract and permission to scalp tickets and accept bungs. In fairness to BPB, he's put his foot down and seems to have convinced Moshiri not the hire the fat brummy.
If Unsy can keep us up then he could be replaced in the summer. I don't see him being long term tbh.
Ronnie MacDougal
111
Posted 09/11/2017 at 01:05:06
While I am sure we all agree we hope Unsy can get us out of this mess. But on the understanding we aren't quite in the position to be getting one of Europe's elite managers this year, If we don't want too negative Dyche or the only current manager in the league to take a bung, fat Sam.
Just playing devils advocate here, if Unsy doesnt do so well in the next few games and we still find ourselves hovering around the relegation zone...
Who do we want?
Roman Sidey
112
Posted 09/11/2017 at 01:29:09
Charlie Dixon, I don't know much about Dyche as a manager, but I know a thing or two about Sir Alex Ferguson's ability to recognise a good manager when he sees one...
Simon Dalzell
113
Posted 09/11/2017 at 01:44:04
Peter Lee @97 / 100 Spot on.
I'm very worried to see Unsworth "odds on " today. We can't afford to wait ANY longer, never mind January with a novice manager (who hasn't impressed so far). He needs to work his way up.
This "give him a go 'cos he's a bluenose " mentality strikes me as being reckless. The tide seems to have turned for him on the strength of 25 minutes, when we scrambled the win. A missed penalty by Watford, who could have been out of sight by then.
Will Mabon
114
Posted 09/11/2017 at 01:58:09
"...hasn't impressed
so far
."

Give him some time, there is no panic just yet. He's tried out different players and arrangements, and the last match was a battling win. The slide appears to have been arrested, and vital spirit is returning to the team. There's more to it than just the blue nose angle.
Simon Dalzell
115
Posted 09/11/2017 at 02:15:48
Will @114 Obviously you could be right.Lets hope so,and it will be more rewarding given Unsys background .I think its too bigger risk, but we'll see.Good night.
Tony Abrahams
116
Posted 09/11/2017 at 08:19:25
Didn't Ferguson pick Moyes! Dyche, is doing a fantastic job for Burnley, and Ferguson, may well be right this time, but he doesn't stand out to me.
I'm no expert, but does anybody really stand out? We have had enough of these foreign managers, and we don't want another Moyes, even if I don't think Dyche, would be another David Moyes.
Burnley are playing much better football than they were last season, because they have stayed in the division and added to there squad. They sold Keane for £25 million, and have signed his replacement for a quarter of that fee.
His replacement might be better, he might allow them to play a bit higher up the pitch, and he also lost Trippier another one of his better players when they dropped into the Championship.
We will only really know how good Dyche, is when he's given a bigger job, but it's unfair to compare him to Moyes, because he's done a lot better than Moyes ever did, by the same stage in his management career.
He's more astute, not really a risk taker said Joey Barton, more sensible, maybe less ego? But if Sir Alex picks you, then maybe your head is allowed to go big!!
Tony McNulty
117
Posted 09/11/2017 at 08:37:04
Does anyone really want to read, as part of our history in the years to come, the words "one-time Everton manager Sam Allardyce"?
Jim Lloyd
118
Posted 09/11/2017 at 08:38:13
I fear it would be extremely risky to give Unsy the job until Christmas. I hope we would get the new manager in ASAP during this break, or give Unsy the job until the end of the season.
In my view, we need players to come in during the January window.
If a new manager has to get to know the squad, assess their strengths and weaknesses, then identify what positions are most in need of strengthening. Then to bring that manager in during the January window, when we are still involved in maintaining (or obtaining) an improved position in the League, is dangerous indeed.
Unsy won't be picking any players unless he is a permanent appointment. The new manager will be left with no break during the Winter rush of cup and league, to search for those players he thinks might be needed and organise the team from scratch.
Whoever is going to be manager, I'd hope it is sorted during this next week.
John Catto
119
Posted 09/11/2017 at 08:48:09
Tony (#117),
I don't want to see in Season 17-18: Everton relegated! By one of our own!
Look how Newcastle fared when Shearer was made manager.
Tony Everan
120
Posted 09/11/2017 at 09:58:32
Dave Unsworth is fantastic for the club in nurturing the u23s.
If he had ambition to be an elite manager surely he would have applied and taken a championship club .
He could have proved how good he is at the sharp end.He has been content with his u23 role and really that is what he is good at.
I don't want to see him pilloried and forced out of the club when things go wrong with the first team.
However , The current Everton job requires some experience at the pit face of club management.
It is a difficult time in the season to get exactly what the club wants long term. Gus Hiddink is being mentioned as a safe pair of hands until June. A far far better option than big Sam . I think the fans may accept that fire fighting solution. He is someone the players would respect and play for.
It would give the board some time to get the right man in from the start of the close season in June.
The new manager could hit the ground running with some top reinforcements lined up.
Derek Knox
121
Posted 09/11/2017 at 10:32:10
Tony @ 117, certainly not, but it is a bit worrying the constant allusions to him.
I know the majority are generated off the journalist' treadmill, but I would rather Everton Football Club; who must be aware that Allardyce is possibly the most unwelcome choice among Evertonians; to actually grow a pair, and dispel these ugly rumours once and for all.
I was reading somewhere that Allardyce is stating that Ross Barkley could be jeopardising his career, by making the wrong move in January. While Allardyce is entitled to an opinion, as is everyone else, the article seemed to suggest that Allardyce had some connection as to influence Ross.
Maybe it's only me reading too much into it, but worrying all the same.
Tony McNulty
122
Posted 09/11/2017 at 12:04:11
Derek (121),
I suspect we have earmarked a foreign "name" manager who may or may not be available yet.
Plan A would be to bring him in now, if possible.
Plan B would be an interim manager until the real target becomes available.
Had we lost to Watford, we would have had an interim appointment from outside (a bit like the Hammers have done). I suspect the current Board debate is whether or not Unsy can fit the bill for the next six months. Of course if we shoot up the table, and he brings CL football next year, the foreign name will be forgotten.
People seem to want some announcement from Goodison. I wouldn't hold your breath. Everton don't actually have to say anything more for a while, do they? Unsy has already been appointed caretaker and so long as the results look OK I presume he will remain so.
In any case I hope Allardyce is nowhere in the equation.

Ray Smith
123
Posted 09/11/2017 at 16:04:05
If Big SAM is keen on the USA job why doesn't he do us a favour and take Steve Walsh with him.
For me Unsworth for the rest of the season, followed by an as yet to be named high profile manager with a pedigree background.
Worst case scenario is Big Sam for the rest of the season, which I can't (hopefully) see happening.
Ian Riley
124
Posted 09/11/2017 at 20:20:12
I would have Silva from Watford. Going to be a top manager one day at the right club.
David Currie
125
Posted 09/11/2017 at 20:46:00
Eddie Howe is already a good coach and will get a bigger club, think he would do well with our good young players coming through and get us playing good football.
David Hayes
126
Posted 10/11/2017 at 03:44:22
LL, MK – can you please remove the photo of Fat Scam from the head of this article, it's offensive and vomit-inducing. Maybe replace it with a photo of a massive Melton Mowberry pork pie – same intellect and physical appearance as Mr Scam but massively more appealing!
Tony Everan
127
Posted 10/11/2017 at 07:55:54
David 126
A proper fresh Melton Mowbray pork pie would cost about £3.50 for a small/medium sized one in an East Midlands Bakery.
Instead of paying big Sam 6m per year we could just buy 1.7m pork pies instead.
This works out at 2 free top quality pies per supporter per home game , away fans and cup games included.
We would have no manager but I'd do it for a jar of piccalilli + some pickled onions .
Oh , and a memory foam bum cushion on the managers seat.
Neil Pickering
128
Posted 10/11/2017 at 08:05:23
yes let's give the job to Unsworth. let's give the job to a man who has no experience whatsoever of managing a team other than the kids, and give him the job of saving a football institution and multi-million pound company from relegation. Unsworth loves the club, no doubt about that, but so do i, and I'm not in the running for the job am I?
make no mistake, this team is in deep deep trouble, and unless we get a specialist in who can tighten us up at the back and get the players fitter then we will be relegated. I don't think Unsworth is the man to do this, as he has already shown me in the past 4 games his tactical ineptitude. Yes we beat Watford, but we were lucky in that game after being firmly second best for about an hour.
I really don't see what the issue with Allardyce at Everton is. he is a specialist in keeping teams up, and that is what we need, not a cheerleader like Unsworth. he is the best option out there atm, and we should go and get him asap at least until the end if the season. then we can pursue the pipe dream of Simeone.
it's a no-brainer.
Geoff Evans
129
Posted 10/11/2017 at 08:28:30
Frank De Boer's available.

Will Mabon
130
Posted 10/11/2017 at 08:39:01
Geoff, Slaven Bilic, too.
Phil Walling
131
Posted 10/11/2017 at 08:45:17
Perhaps, like Big Sam, Unsy wont play the Moshiri's game and won't take the gig just until the Talent Spotter General Walsh can snap up another 'big foreign name' !
I don't think our Mr49.5 % has a skoobie doo, so just give the job to Marshy - it might keep him quiet for a bit !
Tony Hill
132
Posted 10/11/2017 at 08:47:53
And so it goes on, in best Everton style, with no decision and with the fog rolling in. Never mind, Diego's on his way. Or someone, anyone, for whom we are not too good.
Alan McGuffog
133
Posted 10/11/2017 at 08:55:07
Neil you are forgetting that we are a massive club, that the Almighty ordained " cannot be relegated". Are you forgetting we won the cup twenty odd years ago ? That we will be bringing out a video of the Watford game in time for Xmas. We are demanding that Guardiola gets here right now. Allardyce ffs anyone would think we were a shite club that has been in the doldrums for thirty years playing in a clapped out stadium.
Phil Walling
134
Posted 10/11/2017 at 08:55:25
I can hear BPB now, 'Unsy, I know, like me, you would do anything for our fabulous club so I've told Farhad you should keep the job until we can find somebody better !'
Alan McGuffog
135
Posted 10/11/2017 at 09:02:23
Question on this years exam for Philosophy students at Oxford. "A team concedes twenty two goals in eleven games. The keeper of said team gets picked for the national team. How shite must the rest of the team be " Discuss.
Chris Gould
136
Posted 10/11/2017 at 09:16:28
I will be very disappointed if Unsworth gets the job. Even if it is only for the remainder of the season.
He clearly has no idea how he wants us to play. The same criticism was made over and over again of Koeman.
We need a man with a plan. Someone who trusts his methods and isn't chopping and changing each week hoping to fluke a result.
Unsworth will be out thought by the other premier league managers. The guy has zero experience and has only ever come up against coaches of U23 sides. These coaches are not up and coming managers.
Unsworth had been second best to each of the 4 managers he's come up against. We finally had some luck against Watford but can't rely on that for the rest of the season.
I don't like hearing senior players saying he's been brilliant. To me, that sounds like players wanting their mate to get the job. If Unsworth is in charge, you can be sure that Jags, Baines, Rooney, and Kenwright will have a big say in picking the team.
That is asking for trouble, and why on earth has Vlasic been cast aside?
Is it because he's one of Koeman's young players? How is that kid not even making the bench?
Trevor Peers
137
Posted 10/11/2017 at 09:20:38
I don't think the Allardyce saga is over just yet, we're three straight defeats away from his appointment, a definite possibility with a rookie manager.
Will Mabon
138
Posted 10/11/2017 at 09:38:55
There might be three straight wins in the pipeline, a definite possibility with an
unknown
quantity.
Allardyce had six defeats in his first eight games as manager of Palace. I wonder how that would be received here... sacked? Palace eventually stayed up. It takes some time, even for a so-called specialist in survival like Bungy.
Unsworth may improve it further with some more time.
Tony Everan
139
Posted 10/11/2017 at 09:51:02
Whatever happens I would like to see some leadership from the top.
At the moment it seems like we've entered into a state of indecisive limbo.
It is coming to the point where the dithering and drifting will cause further harm to the prospects of stability. Worse still it will cost us precious points.
I urge the board to make a decision for the good of the club.
Len Hawkins
140
Posted 10/11/2017 at 09:55:39
Eddie Howe's team are BELOW Everton and he has been there a while AND they have recognised forwards one a long time International, so why would he improve Everton he failed at Burnley and went back to Bournemouth so WHY would he be any different here he is in his comfort zone among the blue rinsers in the Tory Conference holding backwater.
Michael Mcloughlin
141
Posted 12/11/2017 at 07:57:17
I find it mystifying that a club of Everton's size are faffing about in who to appoint as manager or at least give some indication of their intentions. As it is they leave all news to the mercy of pundits, journalists and bookies to inform the faithful of the clubs intentions.
We have a director of football in Steve Walsh who has expressed his choice of management team he would like to see involved. Which for me shows such a lack of creativity and foresight it shows why we ended up wasting most of our transfer buying a disjointed team in trying to introduce 3 number tens into the fray then playing them all out of position. I find it beyond parody that Steve Walsh is still in a job at Everton.
It's little wonder we are the laughing stock of the premier league.
Personally I don't think David Unsworth is ready for the job as previously pointed out he hasn't shown his abilities at any other level apart from the under 23s. I myself wouldn't be raiding another premier league club which I think puts an unnecessary pressure on said manager when he would be compared to his previous achievements at the offended club. In sacking Koeman the board showed some leadership I thought. But you would have thought they would have had a back up plan other than appointing the under 23 coach and let's see how it goes.
Personally I don't see an appointment coming this side of Christmas which doesn't bode well for the club. I really hope Unsy makes a success of the team, but I think he is up against it.
Add Your Comments
In order to post a comment, you need to be logged in as a registered user of the site.
Or Sign up as a ToffeeWeb Member — it's free, takes just a few minutes and will allow you to post your comments on articles and Talking Points submissions across the site.