Bournemouth vs Everton

61 Comments [Jump to last]
Friday 29 December 2017
Match Preview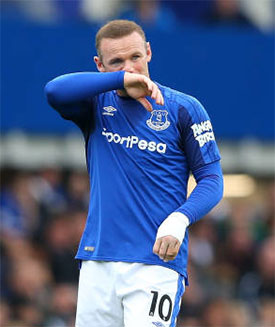 Wayne Rooney is available again after overcoming a virus
Everton close out 2017 with a trip to Bournemouth looking to secure what would be only their third away win of the calendar year.
The Blues' abysmal away form under Ronald Koeman, where they registered a solitary victory at Crystal Palace last January, has only marginally improved in recent weeks with the narrow success at Newcastle and they were held to a goalless bore draw at struggling West Brom on Boxing Day.
A visit to another club battling to avoid a relegation battle in the second half of the campaign offers another chance to end the year on a high, however.
Having failed to win any of their last eight Premier League matches, Bournemouth will begin the weekend in the drop zone but will take heart from their recent performances at the Vitality Stadium against Everton. They battled back to draw 3-3 in this fixture in 2015 and beat the Blues in September last year thanks to Junior Stanislas's solitary goal.
Eddie Howe's plans this time have been hit hard by injuries to his forward line, however. Stanislas is ruled out along with Jermain Defoe while Josh King and midfielder Andrew Surman will undergo late fitness tests to see if they can make it.
Sam Allardyce, meanwhile, wasn't shy in expressing his frustrations with the striking options at his disposal as he discussed his options in the coming transfer window where Besiktas striker Cenk Tosun has emerged as a top target.
"Players already here, like Sandro, haven't picked up the pace of the Premier League," the boss said today. "He hasn't been able to show what he showed in Spain.
"I think Oumar [Niasse], while he has scored, hasn't made a regular place in the Everton side. And young [Dominic] Calvert-Lewin is battling away but still his goal record is around four.
"I think he's got a bright future, but I don't think we can rely on him week in and week out at the moment."
While a deal for Tosun is reportedly close, he wouldn't be able to sign until the New Year so Allardyce will continue with the options available to him right now.
Wayne Rooney's return from illness will come as a big boost for this game and James McCarthy seems to finally be fit following a succession of soft-tissue complaints but Idrissa Gueye is unlikely to be risked.
Leighton Baines won't be ready, however. The fullback continues to struggle with a calf complaint and isn't expected to resume training for another couple of weeks or so which will require Cuco Martina to deputise again out of his natural position on the left.
Kick-off: 3pm, Saturday 30 December, 2017
Referee:
Last Time: Bournemouth 1 - 0 Everton
Predicted Line-up: Pickford, Kenny, Holgate, Keane, Williams, Martina, Schneiderlin, Lennon, Rooney, Sigurdsson, Calvert-Lewin
---
Reader Comments (61)
Note: the following content is not moderated or vetted by the site owners at the time of submission. Comments are the responsibility of the poster. Disclaimer
Brian Wilkinson
1
Posted 29/12/2017 at 17:55:16
I think he will give McCarthy a run out like he did with Bolasie last week, starting instead of coming off the bench, then rest for second half and see how he holds up for a start or from the bench against Man Utd, this will give us the chance to use Davies or Schneiderlin sparingly.
Be great to have Rooney, Gueye, Bolasie and McCarthy lining up for the cup game along with Tosun – that's why I think we need to get a Bolasie and McCarthy up to speed, and rest a couple.
Jim Potter
2
Posted 29/12/2017 at 18:10:37
As refreshing as it is to see us being able to defend again, I just hope we show a lot more ambition going forward as it has been painful to watch recently.
Hats off to Allardyce for getting us out of the mire so quickly but please let's be (a lot) more offensive asap. Against Chelsea fair doos, but against West Brom or Bournemouth? Attack, Sam. Please.
Derek Knox
3
Posted 29/12/2017 at 18:12:03
We will have to play considerably better than we did against West Brom, we were lucky a couple of times when they missed, or hit the woodwork, and hardly a shot on their goal all match.
They say you never miss the water till the well runs dry; it was sorely missed in the shape of Rooney and Gana, fortunately Rooney will be back but Gana is still out for a while.
Schneiderlin, admittedly has been slightly better the last two games, but I would like to see him move on if we can get whoever in (Nzonzi or Seri) a few others hopefully being shipped out too.
Jack Convery
4
Posted 29/12/2017 at 18:19:38
Another hard slog for those watching methinks.
Tony Everan
5
Posted 29/12/2017 at 18:25:57
I expect more hoofing, battling for the knock-downs and spilled possession. It won't be pretty, but we will get a point or 3 if we're lucky.
Sam won't be too offensive, Rooney, Sigurdsson and dead balls will be our muted threat.
Andy Crooks
6
Posted 29/12/2017 at 18:30:20
I think, Bournemouth are better than West Brom. I think, though, that we have better players. I hope Sam realizes it is not Barcelona we are playing and sets up to give them a game.

Dermot Byrne
7
Posted 29/12/2017 at 18:33:11
Please please let there by 3 or 4 shots on target. Whilst it is great to see improved defence, the rest of our play can be painful to watch. Rooney needed for confidence as much as his attacking skills.
Andrew Clare
8
Posted 29/12/2017 at 18:45:37
If we approach this match like we have other matches recently, then I think we will come unstuck as there is only so much time before luck runs out. My question is: Are we actually capable of playing a more attacking game?
Somehow I don't think so. There are six decent teams in the Premier League – the rest are crap... Everton included.
Matthew Williams
9
Posted 29/12/2017 at 19:01:05
Another draw sadly looming...1-1.
Jamie Evans
10
Posted 29/12/2017 at 19:01:29
Full support blues. 5 more wins needed. Not draws... wins!
John Keating
11
Posted 29/12/2017 at 19:02:45
Hopefully this virus/flu hasn't taken too much out of Rooney as we sadly need him for 90 minutes.
I doubt we will see much of a difference to the West Brom game, expect a draw, hope for a win.
Once the transfer window has closed and we see who is in and who has gone, hopefully Allardyce can start playing a more expansive game.
Jim Bennings
12
Posted 29/12/2017 at 19:12:07
Although we have been far more organised lately thanks to big Sam , there's no denying that at times we have really rode our luck too.
I should have a good feeling about tomorrow but, for some reason, it keeps coming into my mind that I can see this being the type of game we get turned over in .
Bournemouth play the game in a rather attacking manner so that means they will get chances whilst leaving space at the back themselves; but we are seldom any good as an attacking unit, especially away from home , so the Cherries are liable to get away with expansive football tomorrow.
I would personally leave Calvert-Lewin and Davies on the bench. Calvert-Lewin looks jaded and isn't exactly pulling up trees whilst, for me, the whole season has literally passed Davies by without him making any real meaningful contributions.
Alan Bodell
13
Posted 29/12/2017 at 19:13:39
Defoe not playing, what a blessing. I'd like to see Niasse rewarded for his earlier goals by starting; if he's not up to it, okay then, sub him but he deserves a start.
Peter Mills
14
Posted 29/12/2017 at 20:00:15
Having drawn 3 and lost 7 out of the first 10 away games this season, we have drawn 2 and won 2 of the last 4.
I would call that a very considerable improvement.
Howard Cohen
15
Posted 29/12/2017 at 21:58:59
I don't really understand what happened to our attack in the last two games.
Maybe Rooney's return will add the vital spark.
John Pierce
17
Posted 29/12/2017 at 23:47:56
It's Bournemouth away, under any circumstances in our history we would be expected to win there. Tomorrow is no different.
No longer looking over our shoulder, and with hard games to start the New Year no excuses not to play a way that doesn't resemble a bulldog chewing a wasp. Team reflects their manager I guess.
Please attack.
Mike Gaynes
18
Posted 30/12/2017 at 01:29:19
A pearl of wisdom, Peter #14, as always.
I don't know why, but I think we take 3 points tomorrow.
Ajay Gopal
19
Posted 30/12/2017 at 04:21:29
It would be good to see McCarthy get some playing time and Bolasie a further run out.
Pickford
Holgate Jagielka Keane
Lennon McCarthy Schneiderlin Sigurdsson
Rooney Niasse Bolasie
Subs: Robles, Williams, Baningime, Davies, Sandro, Lookman, Calvert-Lewin
Well earned rests for Kenny, Martina, Calvert-Lewin.
Jay Harris
20
Posted 30/12/2017 at 05:04:30
Ajay,
If Bournemouth are dangerous anywhere its on the wings.
I certainly would not rest Kenny or Martina tomorrow and I don't see the need for 3 at the back.
My team pick:-
Pickford
Kenny Holgate/Keane Williams Martina
Schneiderlin
Lennon Rooney Sigurdsson Bolasie
Niasse
Although I don't think Allardyce will drop Calvert-Lewinand I doubt he will start Bolasie.
Steve Brown
21
Posted 30/12/2017 at 05:17:25
If Allardyce goes into this game with the same gameplan we will lose.
Peter Anthony
22
Posted 30/12/2017 at 09:10:46
Stating the obvious, Big Sam has correctly addressed the very leaky defence in very impressive fashion. He has also clearly stated the obvious need for the team to greatly improve our attacking prowess when in possession and score more goals.
Not rocket science saying it, but doing it easier said than done of course. A pivotal game this weekend for the confidence I feel, with bigger fish to fry in the coming games.
COYB.
Rob Baker
23
Posted 30/12/2017 at 09:18:59
Paul Merson predicts we will score zero so I'm gunning for a 0-0 based on his expert predictions.
Mohamad Haryan
25
Posted 30/12/2017 at 10:18:19
Guys, since am working later... any good links that I can register to first to watch live on my phone since I try a few times last minute did not work.. Thanks beforehand.
Michael Mcloughlin
26
Posted 30/12/2017 at 10:22:30
Has anyone got a link to watch the blues today?
Ray Roche
27
Posted 30/12/2017 at 10:25:51
Michael, Mohamad, you are better waiting until the Live Thread is up and running. Some links that I have "saved" on my PC don't always work on the day but some lads will find one and post details on here for everyone to use. And some links work for some and not for others.
Michael Mcloughlin
28
Posted 30/12/2017 at 10:53:57
Cheers Ray
Mohamad Haryan
30
Posted 30/12/2017 at 10:56:51
Thanx Ray
Derek Knox
31
Posted 30/12/2017 at 11:14:37
The best and legitimate way to watch virtually all games, doesn't cost a lot, Smart IPTV, initially £4.99 for life, you own the application.
You then select a provider, (I have Superior Hosting) who give you the info on set up, quite easy, then no contract, £6.00 per month.
You get access to all Sky, BT, Bein Sports and a few others, provided you have a fairly decent Broadband Speed, you are away. If you have exceptional Speed you have the option of Full HD.
Sorry Michael, Lyndon but it comes up every week about links etc, if like me, you can't get to the Match, it's the next best thing, and legal.
In my opinion a Godsend, I can watch each match, very rarely have buffering or freezing, and join in on the Live Forum at the same time. One little thing the matches tend to be about 1-2 mins behind actual time so listening to Radio is a spoiler, (especially if the opposition score)
Paul Smith
33
Posted 30/12/2017 at 12:50:20
My team for today would be
Pickford,
Kenny, Holgate, Williams, Martina,
Schneiderlin, Rooney,
Lennon, Sigurdsson, Vlasic
Niasse
I feel DCL deserves a rest and Niasse has more of a threat than Sandro. We have to be more on the front foot against teams in the bottom half as there are enough games when we will park the bus.
Geoff Lambert
34
Posted 30/12/2017 at 13:11:36
Arrr poor DCL he needs a rest poor thing , it must be so hard doing 4 hours training a day and having to play twice a week.
All this rubbish of players needing a rest!!! if they can't turn up for a game and collect their £60,000 a week get rid of them...
I feel so sorry for the poor tired little things.
Tony Graham
35
Posted 30/12/2017 at 13:12:31
I think its a reality check today, they can score, so home win 2-0
Eric Myles
36
Posted 30/12/2017 at 13:17:43
TW used to post a link to the worldwide broadcasting of our games and that was useful to find broadcasts but that seems to have stopped now??
Kim Vivian
37
Posted 30/12/2017 at 13:19:49
I'm in Dorset nearly at the ground.
No forum?
Seeing 1-1 today but whatever, hope we show a bit more intent this week.
Get in you Blues!
Simon Smith
38
Posted 30/12/2017 at 13:22:26
Just had to mention on the Paul Merson comment. I met the man and actually had a few beers with him.
He was a very nice bloke and certainly wasn't anti-Everton when I was talking to him!
Gerry Ring
40
Posted 30/12/2017 at 13:37:16
Simon Smith #38 was wondering if there was any possibility of borrowing your "amazing dancing bear" for a New Years Eve party??
Brian Cleveland
41
Posted 30/12/2017 at 13:37:27
Derek Knox, (31), does that work anywhere in the world or does it impose the same limits as the original providers... i.e. skypsorts only if you're in the UK, etc.
I can't even watch their post match interviews and stuff without using a VPN!
Derek Knox
42
Posted 30/12/2017 at 13:41:07
I admire your dedication Kim, I used to travel to most matches myself when I was younger, but it was a real downer when you make the effort as thousands of others do; and the team put less effort into playing.
Hopefully those days are paling into significance, but last week was awful at WBA, lessons learnt with any luck.
Eric Myles
43
Posted 30/12/2017 at 13:41:41
Derek #31, what makes you think IPTV is legit? They are a stream player and as such don't pay the broadcasters for rights, so I think Sky, BT, BeIn etc. would disagree with you.
And there are many stream players out there for free.
John Nugent
44
Posted 30/12/2017 at 13:41:46
Derek @ 31. Do you need a " smart tv" for Smart IPTV to work
Simon Smith
45
Posted 30/12/2017 at 13:44:29
Gerry...
Yes you can, but he's not cheap!
I heard that as a kid all the time, but never knew what people were on about! Before my time!
Ray Roche
46
Posted 30/12/2017 at 13:49:00
WHERE IS THE LIVE FORUM????
Derek Knox
47
Posted 30/12/2017 at 13:50:17
Eric @43, I was always under the impression it was legitimate, it works anyway. Use a VPN just in case.
John Nugent, no it will work on any Internet connectable device, I use it on Amazon Firestick, but it would work too on PC, Laptop etc. Hope that helps.
Kevin Prytherch
48
Posted 30/12/2017 at 14:01:26
McCarthy starts, as does Keane
Martin Berry
49
Posted 30/12/2017 at 14:02:27
This is the streaming site I use:
http://www.footballstreamings.com/live-streams.html
From here if you download Aceplayer and use their link you get excellent quality streams as long as your internet is decent. Sometimes the Russian links are the best as long as you don't mind the commentary.
Kevin Prytherch
50
Posted 30/12/2017 at 14:02:54
Pickford
Kenny, Keane, Jagielka, MArtina
Lennon, McCarthy, Schneiderlin, Gueye, Sigurdson,
Calvert Lewin
Jim Bennings
51
Posted 30/12/2017 at 14:03:40
THREE defensive midfielders!???🙄
Kevin Prytherch
52
Posted 30/12/2017 at 14:03:48
Bench
Williams
Holgate
Rooney
Bolasie
Davies
Niasse
Joel
Michael Lynch
53
Posted 30/12/2017 at 14:05:00
Not a huge amount to get excited about in that line up. We really do need to make a signing soon because I don't see where the goals might come from in that line up. Looks like another nil nil to me

Dermot Byrne
54
Posted 30/12/2017 at 14:06:14
Ray http://ToffeeWeb.com/comment/live/
Always there but suspect the great bosses of TW need to control volume as so many of us post on match day

John Charles
55
Posted 30/12/2017 at 14:06:30
3 defensive midfielders against the mighty Bournemouth!!
Sams our saviour
Eric Myles
56
Posted 30/12/2017 at 14:08:32
The company app is legit Derek but they will no doubt use the bittorrent argument that they are not responsible for the illegal purposes that the users put it to.
I subscribe to the licensed broadcaster in Thailand (TrueVisions £5 a month) but my work takes me away a bit so I use a streaming app. It's frustrating though that I can't watch us on Sky when we have a 3 pm kick off, and BeIn always has us on Ch.7 which is the only one I can't get!!
That's why I'd like the worldwide links back as I can check out other country broadcasters to see if I can access the game.
Karl Jones
57
Posted 30/12/2017 at 14:08:56
Does Sam think scoring goals is necessary?
Dermot Byrne
58
Posted 30/12/2017 at 14:09:04
This is let them run socks off for 29 mins , come into game then and stay 0-0 at half time.
Then score 4 second half.
Trust me
Ray Roche
59
Posted 30/12/2017 at 14:09:11
Thanks Dermot.
Dermot Byrne
60
Posted 30/12/2017 at 14:10:48
Nay prob mate
Mike Gaynes
62
Posted 30/12/2017 at 14:18:47
Startled to see Gueye in the lineup. He must have the quickest-healing hamstring known to medical science.
Simon Smith
63
Posted 30/12/2017 at 14:22:13
Strong bench it must be said though!
Derek Knox
64
Posted 30/12/2017 at 14:22:30
I have to agree it's a park the Double Decker (with extra wide wheels) team selection; I just pray it's not like the last game.
Whether his thinking is; stop them scoring; and later introduce a couple of attacking options; and come away hopefully with three points. Just hope it works.
Interesting too that neither Lookman, or Vlasic, has any role again.
Jim Bennings
65
Posted 30/12/2017 at 14:26:28
Surprised to see Calvert-Lewin starting every game really, I'd have had Niasse in from the start today .
The lineup is more what I'd have expected come Monday against Man United or next Friday but not against a Bournemouth side that leaks goals
Peter Hughes
66
Posted 30/12/2017 at 14:44:24
Come on Sam it is permissable to attack ya know!
John Pierce
67
Posted 30/12/2017 at 15:01:25
When you select that eleven if you then moan about retaining or useing the ball well, you only have yourself to blame.
I'll be amazed if its not a repeat dose of boxing day.
Very disappointing selection box for this game.
The bench looks the only place to look for salvation.
Add Your Comments
In order to post a comment, you need to be logged in as a registered user of the site.
Or Sign up as a ToffeeWeb Member — it's free, takes just a few minutes and will allow you to post your comments on articles and Talking Points submissions across the site.