Allardyce urges Walsh to 'ride out' criticism
Friday, 2 March, 2018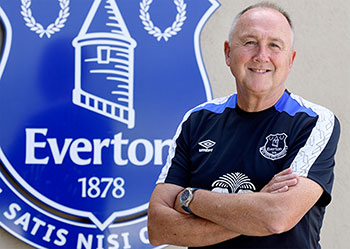 Sam Allardyce has come to the defence of Everton's director of football, Steve Walsh, whose role at the club has come under mounting scrutiny of late.
With the club struggling through a difficult season despite splashing out unprecedented sums of money on players in the past year or so, more questions are being asked of the recruitment strategy that lies at the root of the many of the Blues' problems.
Of the 11 players acquired by Everton for in excess of £220m under the apparent auspices of Walsh since January 2017, only five are expected to start tomorrow's clash with Burnley at Turf Moor and only goalkeeper Jordan Pickford could be regarded as an unqualified success thus far.
Michael Keane will return to the ground on which he made his name enjoying a settled run in the Toffees' first team for the first time since he joined last summer in a deal that could ultimately be worth £30m and Wayne Rooney contributed a number of important goals earlier in the season but, collectively, the influx of new players has been disappointing.
While Allardyce used the forum of the Annual General Meeting in January to assert that the job of selecting transfer targets was a shared one, as the nominal director of recruitment, Walsh has become the object of increasing focus.
Nevertheless, the team manager has backed Walsh in comments made to the print media today.
"He is not totally responsible for all the signings," Allardyce said of Walsh. "The football club is responsible for the signings and him, as director of football, puts all those things together and goes forward.
"He won't have had the criticism before, so I can give him some comfort by saying: 'I've had much worse than you're getting, Steve, so you've got to ride it mate'. You've got to be big and stand up there and get out there."
There have been uncorroborated reports in the media recently that Walsh's position as director of football is under review, with PSV Eindhoven's head of recruitment, Marcel Brands, linked with the role.
---
Reader Comments (53)
Note: the following content is not moderated or vetted by the site owners at the time of submission. Comments are the responsibility of the poster. Disclaimer
Dave Abrahams
1
Posted 02/03/2018 at 21:07:04
Allardyce is one of those people who can speak a couple of thousand words and say absolutely fuckin' nothing, and listening to Steve Walsh at the AGM, he can beat him.
It's best to be like Jon Woods, the Everton Director, he has never spoken a reported word in all the time he has been at the club, but at least that way he can never be mis-quoted.
Len Hawkins
2
Posted 02/03/2018 at 21:22:48
So Allardyce says the players signed in the last two windows are not value for money, he also says the players are playing crap, and it's not his fault? Now he says Walsh should ride out the criticism as it's a joint decision who gets signed. So that's it then...
Everbody Out!
I thought Martinez was the champion of speaking for ever without saying anything but this bloke has him well and truly beaten.
David Greenwood
3
Posted 02/03/2018 at 21:22:57
It will never happen, of course, but pre- and post-match interviews tomorrow should see Sam bring asked to comment on Salah and Robertson over at our loveable neighbours.
Where was Walsh when these two signed for the RS?
And then ask him why Kieran Tierney is still at Celtic and not at Everton?
Walsh is a complete fraud and charlatan who got lucky with Mahrez and has dined out on it ever since.
David Currie
4
Posted 02/03/2018 at 21:32:47
£1 million a year – absolute joke, get him out along with the two Sams whose style of football is dreadful.
John Pickles
5
Posted 02/03/2018 at 21:32:49
So people don't decide which players we bring in, the club does. Well that's cleared that up then.
Derek Knox
6
Posted 02/03/2018 at 21:39:59
You know the more this fraud spouts his XXXXL gob off, the more frustrated I get, that he is even in the position he is in.
As for Walsh, another 24-carat charlatan, who is being defended by Allardyce, in the 'thick as thieves convention' they have fortuitously both been assimilated into.
While I appreciate that XXXXL had nothing to do with his appointment, they have obviously had collusion in the last transfer window. Walcott has been good, don't get me wrong, but where does that leave Tosun?
I still can't make my mind up if he is a flop, or is it the stagnant football employed by Allardyce, where he rarely gets the ball passed to him?
David Nicholls
7
Posted 02/03/2018 at 21:46:46
This Steve Walsh witch-hunt doesn't sit well with me to be honest.
I get people's frustrations, I really do, but laying the blame on him for our transfer failings and calling for him to get the sack 18 months into a newly created position seems too simplistic.
Lawrence Green
8
Posted 02/03/2018 at 21:47:35
What a pair of Ratners. If you were trying to make the club look silly and amateurish this pair are doing a great job and unbelievably are highly paid for doing it.
Moshiri – wield the axe, I'd rather we were managerless and scoutless than to keep these two employed for a minute longer. A non-league club wouldn't accept the crap this pair have served up during their time at Goodison, and Everton FC should cut all ties asap.
Danny Broderick
9
Posted 02/03/2018 at 21:53:14
The fact that Leicester have signed another Mahrez – £1.75 million signing Diabate from Ajaccio – since Walsh left them leads me to doubt whether it was really him who unearthed Mahrez in the first place.
We have been done up like a kipper. Give the majority of us £200 million to buy players who have been transferred in the last 12 months, and I guarantee the majority of us would choose a better squad than what we have currently got. No left back, no striker, and 3 number 10s. Absolutely staggering to think that was our business last summer.
This guy should resign in shame if he had anything about him. In reality, we will end up sacking him, he'll leave with a pay off, but no other club will take him now.
Paul Hewitt
10
Posted 02/03/2018 at 22:08:29
The guy's an ex-teacher, for god's sakes.
John Davies
11
Posted 02/03/2018 at 22:43:31
The more I hear from Allardyce, the more it becomes clear that Moshiri is totally out of his depth and clueless as to what to do next. The arrogant Fat Man keeps taking the piss out of our Club and its owner and Moshiri does absolutely nothing about it. It's like watching a cat knock a mouse around just to torment it.
FFS, Moshiri, man up, grow a pair, and get rid of this fraud tomorrow. As for Allardyce, well the sack will do for starters but I cannot type here what I wish for him longer term.
Kristian Boyce
12
Posted 02/03/2018 at 23:07:45
Walsh being DOF is a case of him being over-promoted. His record as a chief scout is well documented, and much of Leicester's success was down to him unearthing gems, that clicked spectacularly. As a scout who works on a limited budget for players I would say he is right up there with the best, but I'm not sure how that transforms into a DOF role.
The DOF role at Moshiri's Everton meant he had a huge wad of cash to play with, completely opposite to what he had at Leicester. He basically went from shopping at the Pound store, to flaunting it at Harrods.
A true director of football oversees all footballing matters, how does a former PE teacher have that experience to run a large Premier League team? He's out of his depth and its painful to see him spunk more money on players with no real idea of what is actually needed.
He needs removing ASAP and if we are to keep the role, a real football professional with big team experience needs to be installed.
Si Cooper
13
Posted 02/03/2018 at 23:17:18
David Nicholls, simple question – how long are you prepared to wait to see some obvious input from Steve Walsh?
The guy is being paid a fortune for a basic salary – it obviously isn't performance related – so why shouldn't we expect to see something impressive in each transfer window?
It's not a witch-hunt – just the highlighting of another thing the club seems to be failing at.
Jim Bennings
14
Posted 02/03/2018 at 23:25:07
What's this cocksprite still doing at the club?????
Anthony Murphy
15
Posted 02/03/2018 at 23:56:03
End this DoF crock of shit idea now and just bring in a manager who is a fuckin winner. Give said manager control on the budget for players and let's move on.
I don't blame Walsh and, believe it or not, I don't blame Allardyce – the whole set-up just isn't working. Allardyce, just like Walsh, was a mistake... whose mistake? Moshiri's.
Ajay Gopal
16
Posted 03/03/2018 at 04:55:57
As Director of Football, let us dispassionately analyse the purchases that have been made under Walsh and classify them as: Poor, Ordinary, Decent, Good, Excellent
Williams: Ordinary, on the way down
Stekelenburg: Decent, on the way down
Calvert-Lewin: Good, on the way up
Bolasie: Ordinary, not sure about his future
Gueye: Decent, needs to up his game
Schneiderlin: Poor, on the way out
Lookman: Decent, on the way up
Pickford: Good, on the way up
Keane: Decent, on the way up
Sandro: Ordinary, not sure about his future
Rooney: Decent, on the way down
Martina: Decent, on the way down
Klaassen: Poor, not sure about his future
Sigurdsson: Decent, on the way up
Vlasic: Ordinary, not sure about his future
Tosun: Ordinary, too few appearances to judge
Walcott: Good, should be a good signing for a few years at least
I hope I haven't missed out on anyone. I am not counting the Mangala (loan) and youth team players who have not played for the Senior team - Onyekuru, Gibson, Markelo, and a few others.
Overall, a very sketchy, bordering on the poor, performance by our DoF. Some of these signings may turn out to be good, brilliant even, over time – Lookman, Onyekuru, Tosun, Sandro, Keane, but so far it has been very underwhelming indeed.
Brian Cleveland
17
Posted 03/03/2018 at 06:06:57
That's right Stevie boy, learn to ride it out. Is that dirty little cash cow realising it's being milked dry and the only thing you've come up with is sour milk?

Ian Brandes
18
Posted 03/03/2018 at 07:24:42
In any other business, apart from football, this man would have been shown the door months ago.
If the benchmark of success is failure, then this guy is the tops.
Alex Mullan
19
Posted 03/03/2018 at 08:06:16
Sam turns every conversation into one about himself. When asked about Walsh his 'words of comfort' to the man are basically...'I have been through worse.'
He's like one of those arseholes you work with who have always got to one-up you with a bad-news story.
Nothing is his fault until he gets a bit of success then everything is his doing. A genuinely unlikable man in terms of his media performance. Not sure what he's like when the camera stops but he's a prat with a shit PR team when it's on.
Kim Vivian
20
Posted 03/03/2018 at 08:26:06
Don't anyone please cite Theo as a Walsh success. He was hardly a diamond waiting to be discovered. An established quality player unsettled at Arsenal in a world cup year and we managed to attract him. Somehow. £££££s probably. I actually feel sorry for Theo landing in this shitstorm. He must be bemused but I do think he will become a very good aquisition for us under sane effective management.
I would probably give Walsh credit for Gana, maybe Lookman (but Sam's fucked him over) and that's about it from my memory. The more I hear, the more I seeth about our situation. Can't people just realise that sometimes it better to just keep quiet and get on than dig ever fucking deeper holes for them and the Club's reputation with their bloody mouths.
Tony Marsh
21
Posted 03/03/2018 at 08:32:53
Hindsight is a perfect science. When Steve Walsh first arrived here, almost all Evertonians were buzzing with his appointment. Same with Ronald Koeman. We we're all so quick to hound Martinez out the door... then Koeman.. then Unsworth... and now it is the turn of both Allardyce and Walsh to feel the heat.
Perhaps it is us, the Everton fanbase, who are also clueless and not with it! We appear to have morphed into Chelsea supporters. Whinging clueless want-it-all-now types. I include myself in this, by the way.
Last summer, when the club made all those early signings, Moshiri bought the Liver buildings and gave out information relating to Bramley-Moore Dock, I didn't hear much opposition then to Moshiri, Koeman, Walsh etc.. I was shouted down on here when I raised my doubts about Koeman and Moshiri... Now everyone and everything thing at the club is fair game.
I think we all need to stop moaning and let this season go. Some of the hatred being aimed at Sam Allardyce is pathetic. Sam walked in to a club in turmoil on and off the pitch, has been here only 4 months and this is not his team. The remit was to keep the club from relegation and that's been achieved.
Stop name-calling and let's move on in the summer. It's becoming embarrassing reading some of you. Please stop using the phrase "My Beloved club" – It's something an old granny would say about her faithful dog Shep – not a term grown men should be using about a football club.

Kevin Prytherch
22
Posted 03/03/2018 at 08:36:57
Ajay 16
I think Walsh can be separated into 2 distinct catagories..
Anyone signed 23 or under has potential to make us better. In this category he has done well:
DCL, Lookman, Pickford, Vlasic and Keane have had first team runs and all look like they could be a part of the team for years.
Bowler, Markelo and Gibson have all been U23 regulars at 18 years old.
Onyekuru has been good in Belgium.
Most over 23 have been bad purchases.
Keep Walsh for youth recruitment only.
Rob Dolby
23
Posted 03/03/2018 at 08:44:43
He should be sacked without doubt.
His main remits are to provide players for the manager to decide on buying.
He hasn't signed a premiership ready striker to replace Lukaku or any left footed players to address the imbalance in the squad. Instead he has bought lots of similar players who are not fit for the premiership. That's enough to get the boot.
We have had some great scouts over the years who have recommended lots of players. Mick Doherty under Moyes did a fantastic job given our financial restrictions.
Walsh has acted like a lottery winner by splurging cash obscenely on number 10's. Lookman, Vlasic, Klassen, Sigurdson and Rooney that in itself is incompetence.
When Sam goes he should follow him out of the door. We are the new QPR from a few years ago. No longer are we respected as a well run ambitious club.
The top clubs look at us as 6 points every season. No heart or pride out of the majority of players in the shirt.
We are becoming Mercenaries FC.
I have never felt more indifferent to going or watching the match. It's becoming more of a chore turning up and not seeing people break sweat or look arsed after getting stuffed.
No heart, passion, drive, tactics or team spirit.
David Nicholls
24
Posted 03/03/2018 at 08:52:26
Si@13
I'd be happy to wait 4 years. I'm assuming there is more the DOF role than just indentifying players for the first team.
Jack Convery
25
Posted 03/03/2018 at 09:22:25
Wife asks husband to go out and do the shopping. Husband comes home with bags of goodies and has spent a fortune. WTF is all this says the wife FFS. I wanted eggs, bacon, sausages etc all reliable good stuff. WTF am I expected to do with this - caviar ( £200 of lidls own brand ).
Andy Meighan
26
Posted 03/03/2018 at 10:00:41
David Nicholls, How is it a witch hunt? This impostor has failed us miserably. His supposed expertise hasn't yielded one decent signing. Possibly Pickford apart... and he's had his moments.
He should have been sacked months ago when the speculation was rife But no – he's been allowed to tough it out whilst picking up extortionate amounts of money. Money, by the way, that possibly nearly every one of us on here would be lucky to see in our lifetime.
I don't care what the fuck he did for Leicester; I don't support them – I support Everton But this clown, along with Koeman and Allardyce, has been an unmitigated disaster
Some of the stuff we've had to endure has been the stuff of nightmares So, David, spare me the sanctimonious shite because that doesn't sit well with me I'd never tire of slapping his smug gob and I'm not a violent person by any stretch.
John Hammond
27
Posted 03/03/2018 at 10:22:25
Derek #6: Walcott is a seasoned Premier League player while Tosun has played a handful of games in a dysfunctional team in a new league and country. Its a bit early to be trying to figure out if he's a flop. Our current first choice striker had a bit of a rough start if you can recall.
Ari Sigurgeirsson
28
Posted 03/03/2018 at 11:04:35
Why is Klaassen classed as an unsuccessful player at Everton and yet he still only has played 4 games (according to wikipedia) . Why not give him few games so we could see a bit more of him. Give him games and let him make mistakes and learn from them... I might be wrong about this...
Geoffrey Williams
29
Posted 03/03/2018 at 11:12:15
We can only speculate on who actually decides which players to sign but the one thing which is a fact is that too much money has been wasted on players who are average at best. The club is at a crossroads – another bad decision, then the club could become another Aston Villa or Sunderland.
Jerome Shields
30
Posted 03/03/2018 at 11:27:21
Has been involved in the signing of 18 players. Can anyone say that the side has improved?
Ken Kneale
31
Posted 03/03/2018 at 12:13:34
Jack @25. I think part of our problem has been paying caviar prices for rotten eggs. I often judge a signing by saying how will it look reflecting back. So reflecting on Kendall, Southall, Sharp for instance all had tricky starts but proved seasoned Evertonian's ultimately. I doubt any of the current overpaid and characterless bunch will ever be held in such regard
Jason Broome
33
Posted 03/03/2018 at 18:48:26
Forget criticism... I know what he can ride!
Colin Glassar
34
Posted 03/03/2018 at 20:08:47
Another fat, clueless prick like the fat Sams and Kenwright. We need to clear all the fat slobs out of our club and get some healthier looking people in. Healthier in body and mind.
James Stewart
35
Posted 03/03/2018 at 22:28:35
Old boys club. The club needs a spring clean.
Shaun McGough
36
Posted 04/03/2018 at 00:38:24
Everton's away form is all the fault of the players who this guy previously and currently is bringing in so no wonder he doesn't want to throw him under the bus. Just blame players and pick up a good wage for yourselves.
William Cartwright
37
Posted 04/03/2018 at 03:19:52
I see we re still looking at buying Jamie Vardy for next season who, according to the BBC, "at 31 and being offered £150,000 a week would jump at the chance to join Goodison"...
Read it and weep Mr Moshiri.
He was bought originally by Walsh for £10,000 but is now a lot older, slower, and approaching his last days at the top as his game is based almost entirely on speed and quickness off the mark.
Vardy was a great investment then, but not now. Walsh must be removed from the Club as soon as possible.
Sam Hoare
38
Posted 04/03/2018 at 09:32:25
The last thing Walsh needs is Allardyce allying himself to him!!
If it's true that it was Walsh that pushed for Sam, then that's another – what's the opposite of 'feather in his cap'? Turd on his shoe?
There is serious work to be done to get this club back on track. I'm positive that Allardyce has no part in that process. I'm far from convinced on Walsh too.
Jamie Evans
39
Posted 04/03/2018 at 09:42:46
Best buds these two. Didn't Stevie Wonder recommend Our Sam?
Clive Rogers
40
Posted 04/03/2018 at 10:04:36
Our club is in free-fall and it has been coming for 20 years. We seem to be run by clueless idiots and Kenwright's yes men. All the coaches are "old boys" who Kenwright likes. Are they top coaches? Have they got the qualifications? Are they any good?
Some of them probably are but they have to be yes-men to Kenwright. He won't have someone like Big Nev who would tell it like it is. Big clear-out needed.
Joe McMahon
41
Posted 04/03/2018 at 10:45:44
Jamie Evans – Don't even mention Stevie Wonder here. The man is a legend so please don't make reference to his eyesight! It's not 1984, humour and attitude has moved on.
I suggest try listening to Master Blaster or Higher Ground, it will put a smile on your face.
Keith Harrison
42
Posted 04/03/2018 at 10:51:50
He should be advising him to ride into the sunset. And follow him, along with a wagon train containing the wimmin, chillun, Blue Bill, Dunc, Bobby E, and the rest of the Keystone Cops that is currently Everton Football Club.
Keith Harrison
43
Posted 04/03/2018 at 10:56:40
Joe, I think Jamie was referring to Walsh's permanent Ray-Bans, and not intending to slight a wonderful musician.
And try Jeff Beck's version of 'Superstition', and Gillan's 'Living for the City'. I think they're better than the tracks you mention!
Colin Glassar
44
Posted 04/03/2018 at 11:24:27
I've been banging on about Sessegnon for about 18 months now. We could've gotten him for peanuts last season but now he'll go to a Champions League club for £20m plus. What exactly does that fat nob Walsh do?
Keith Harrison
45
Posted 04/03/2018 at 12:21:40
Just eats, Colin.
You weren't bullied by a fat lad at school were you by the way? 😎😎
Seems a recurring theme in your posts.
I did hear that Sam was bullied at school, and the lad who nicked his dinner money bought a car with it!
Jack Convery
46
Posted 04/03/2018 at 12:49:33
Ride out of town more like. As useful as his brother !
Colin Glassar
47
Posted 04/03/2018 at 16:58:11
I'm slightly overweight (beer belly) meself Keith. I just think it makes us look amautrish with so many slovenly looking people at all levels. Even the FSW looks smartly dressed and in better shape than Fat Sam.
Keith Harrison
48
Posted 04/03/2018 at 17:49:50
Ha, touche Colin. And Sam looks like they only nicked his dinner money once.
Bumped into FSW at Gleneagles about 5 years ago, I was at a wedding, he was going to play tennis. Absolute tramp he was, honestly. I wouldn't mix concrete in his gear.
Ernie Baywood
49
Posted 05/03/2018 at 09:04:05
"The football club is responsible for the signings"
If everyone is responsible then no-one is responsible.
It just sums up this club. We don't have any plan. No-one is aligned to any kind of vision. No strategies in place. No-one accountable.
I feel for every poor sod employed by Everton.
They can get good money anywhere. And they can get it in places where they have some idea of what is expected of them. No-one at this club has any kind of clear expectations to deliver against.
Except for Sam. He's living the dream. He's the only one with a target - £6 million to deliver the minimum standard possible. Tasked with keeping up a team with a big squad of players of huge worth and a big budget to play with. He can't believe his luck. He can do this shit without even putting any effort in. And he isn't. It's making him unpopular but he was unpopular before – he couldn't care less. £6 million for the easiest job in the world.
Lenny Kingman
50
Posted 05/03/2018 at 13:37:50
Ride out, yes, and keep on riding till your hundreds of miles away from our club.
Like his one hit wonder brother Mickey he's made very little go very far.
Justin Doone
51
Posted 06/03/2018 at 11:39:51
I don't think anyone truly understands what his role and responsibilities are but I think in recruiting young players we have done well and I presume Walsh has had input on this.
Calvert-Lewin, Lookman, Vlassic, Sandra and a few others that are playing with the U23s all have something special and an upgrade in pace, skill, fitness and mentality. I believe as they do they will become successful football players and I expect they will all improve.
It's the senior players where we have overpaid and failed. Is this also Walsh or more importantly all Walsh's responsibility?
I don't believe it is. There is a combined agreement especially for senior players.
Moshiri wanted a long term recruiter I presume because he knew that we would go through a few short term managers. I don't expect changes unless a new manager has a drastic and strong case to bring in his own man, but that doesn't fit Moshiri stated aim.
I just hope after looking at and bringing in a number of forwards at different age groups he already has a short list of defenders and midfielders.
Neville Jones
52
Posted 06/03/2018 at 14:00:22
We don't need a Director of football. Only causes problems in the club. The manager should have total responsibility for transfers.
James Marshall
53
Posted 10/03/2018 at 09:06:59
But the manager is too busy making the team play brilliantly oh no, wait.
Mike Powell
54
Posted 10/03/2018 at 09:32:03
Yes, ride out as far as you can – and don't come back, take dumb and dumber with you.
Add Your Comments
In order to post a comment, you need to be logged in as a registered user of the site.
Or Sign up as a ToffeeWeb Member — it's free, takes just a few minutes and will allow you to post your comments on articles and Talking Points submissions across the site.