Berry Denies Everton Link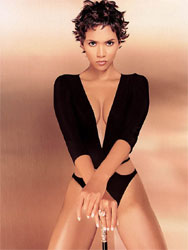 Halle Berry: Completely unfamiliar with Everton FC
Hollywood actress Halle Berry, who can currently be seen in her new blockbuster film Catwoman, has denied the commonly held belief of many Evertonians that she is an Everton Fan.
The denial came during an interview with BBC Radio 1 journalist Dominic Byrne, broadcast on Wednesday's Chris Moyles breakfast show.
Whilst Berry confirmed that her mother was from Liverpool, she then said "But I'm not an Everton Fan". She was also asked if she would consider buying the club which interviewer Byrne estimated at costing £20M, but she expressed disinterest in this proposal also. Berry continued by saying that she had never heard of Wayne Rooney.
The question was inspired by co-presenter of the Chris Moyles show and lifelong Evertonian Comedy Dave Vitty who despite sounding disappointed at Berry's denial, was glad to have resolved this issue once and for all. Comedy Dave suggested that her name now be removed from the ToffeeWeb celebrity fan list.
Aidan Greene
Full transcript:
Dominic Byrne: Right, er, Dave, I've just got to say a billion thanks to you for this next question...
Dave Vitty: Why?
Dom: ...because it was you that suggested yesterday we ask Halle Berry... because she's a lifelong Everton fan, isn't she?
Dave: Yeah. Says that on the ToffeeWeb, yeah.
Dom: And they should know. So you told me Halle Berry was an Everton fan. (sarcastically) Thanks a lot for that, Dave.
Interview tape rolls...
Dom: Um, so you've won an Oscar.
Halle Berry: Yep
Dom: Well done.
Halle: (laughing) Thank you.
Dom: Um, we also understand that you're an Everton fan, Everton Football Club fan, is that true? 'Cause your Mum... was your mother born in Liverpool?
Halle: Yeah, but I'm not a Everton Football Club fan. Sorry.
Dom: (mock disappointment) Ah, OK. A guy on the show, Dave, is a big Everton fan and was hoping you that may be able to buy the club...
Halle: (laughs)
Dom: Because they're in a bit of trouble at the moment. Not very much money -- I don't know how much you get for a movie, but you know...
Halle: I don't get enough to buy a club that I don't even know about.
Dom: Everton's not... not expensive, though.
Halle: How much is it?
Dom: Have you heard of Wayne Rooney?
Halle: No (laughs)
Dom: No. Well, he plays for them and they've got some other players too and it's probably about... (to someone else in the room) how much do you think, 20 million?
Voice: Yeah
Dom: Yeah. It's one to think about.
Halle: Uh, sorry. (laughs)
Dom: So that would be a no. OK. Halle's gone just a little bit scary there. OK, fine.
(Interview tape ends)
Dom: She did that look. You know that look, don't ask me questions about Everton Football Club again because I don't wanna talk about it.
Dave: That was rubbish.
Dom: Well, she's not an Everton fan, Dave, so, it's mis-information on your part.
Dave: Well, the thing is, I take this as a showbiz scoop because now we can clear up once and for all that she shouldn't belong on the ToffeeWeb, uh, Everton site.

4 August 2004