Hibbo triggers riot with 4th goal
08/08/2012

Comments
(58)
jump to end
Everton 4 - 1 AEK Athens

Everton will celebrate the career of devoted and determined Huyton-born Blue, Tony Hibbert, who has played in over 300 senior games over the last 10+ years, since he progressed through the Everton Academy and into David Moyes's Premier League side. The opposition is AEK Athens, and the kick-off is set for 7:45 pm at Goodison Park. The match is NOT part of the EvertonTV pre-season package.
Everton got off to a bright start, Nasimith scoring inside the first 3 minutes off a nice ball from Pienaar. But AEK equalised a few minutes later.
Naismith made it 2 - 1 on 15 mins with an easy far-post header after being picked out by Pienaar for a peach of cross of a nice ball fed in to him by Baines.
Gibson picked up a knock and went off early, to be replaced by Neville.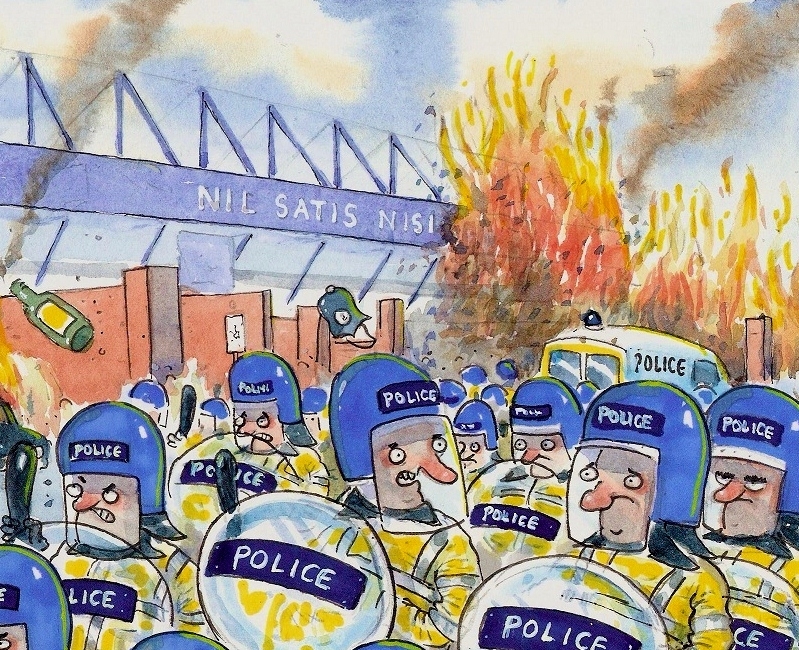 I told you they would riot if Hibbert scored
The huge crowd went crazy when Hibbert made a brilliant shot from distance that forced a great save. From the corner, Pienaar swung it to the back post where Naismith knocked it home off Heitinga's toe after Fellainii's header came back off the bar, to give the former rangers player an impressive first-half hat-trick.
Mucha, Coleman and Gueye came on for the second half. Jelavic fluffed a glorious chance, passing the ball into the keeper's hands.
Then a free-kick, up steps Tony Hibbert and smashes it home, Que the riot, fans invade the pitch, pandemonium, Hibbert mobbed, upset stewards caught napping, causes teams to leave the field. What a moment!
The rest of the game was a bit of an anti-climax after that. But it will always be remembered as The Night That Hibbert Scored... and there was a riot.
90 mins and Tony Hibbert left the field to a standing ovation.
Everton:Howard (46' Mucha), Hibbert, Baines (60' Barkley), Distin, Heitinga (77' Duffy), Gibson (18' Neville), Osman, Pienaar (85' Anichebe), Fellaini (46' Gueye), Naismith (46' Coleman), Jelavic .
Subs: Rodwell, Vellios.
Quotes or other material sourced from ToffeeWeb Match Reports
Reader Comments
Note: the following content is not moderated or vetted by the site owners at the time of submission. Comments are the responsibility of the poster. Disclaimer
Duncan McDine
430
Posted 08/08/2012 at 22:15:40
Get in there.... Sir Hibbo! Fucking made up for the fella!
Jay Harris
431
Posted 08/08/2012 at 22:23:39
Dermot O'Brien
433
Posted 08/08/2012 at 22:32:46
Ha ha. Classic! Thanks Jay.
Andrew Gilbert
434
Posted 08/08/2012 at 22:27:38
Cheers Jay!
John Nugent
435
Posted 08/08/2012 at 22:39:29
Nice one J.
Good vid from the crowd as well
Jamie Crowley
438
Posted 08/08/2012 at 23:00:29
Jay -
THANK YOU! That was just freaking great to see.
Mike Powell
439
Posted 08/08/2012 at 22:55:00
Just got back. Now I can tell everyone I was there when Hibbo scored and Everton rioted – that could only happen at Everton. Great night! Well in, Hibbo, a True Blue. Naismith looks the part... I won't mention how bad the defence was COYB.

He scores when he wants...
Oh Tony Hibbert, he scores when he wants!
Jamie Sweet
441
Posted 08/08/2012 at 23:06:46
Nice one Jay!
Why hasn't Hibbo been on set-piece duty for the last decade... such deadly precision from that sweet right boot!
I blame Moyes.
Jamie Sweet
442
Posted 08/08/2012 at 23:09:37
Probably a good job he hasn't scored for us in the league though cos we'd probably get a points deduction for that pitch invasion!
Mike Allison
443
Posted 08/08/2012 at 23:06:06
Did Naismith play on the right or alongside Jelavic? Where did Osman play? That looks like it might be our full strength line up from the start.
Phil Smith
445
Posted 08/08/2012 at 23:08:31
That's the funniest thing I've seen for ages. Well in Hibbo. Hope for another one this season!

Jamie Barlow
446
Posted 08/08/2012 at 23:13:41
How good did that feel?
Great night, and a little bit of that feel good factor is back.
Well done Hibbo.
How often does someone score a hatrick and no one talks about it?
Bill Goodall
447
Posted 08/08/2012 at 23:21:54
That was brilliant, bloody made my day. Well done Tony.
Peter Laing
448
Posted 08/08/2012 at 23:20:55
Great all-round performance, Naismith looks a steal from Rangers on tonight's evidence, albeit against a very poor Greek side and capped by Hibbo's wonder strike!
Sur Jo
449
Posted 08/08/2012 at 23:25:05
Sweet!!!
Jamie Barlow
450
Posted 08/08/2012 at 23:28:38
Naismith tweeted this tonight:
"Cheers Hibbo score 3 and couldn't get the fans on the park then u bag and the place goes mental hahaha great sight amazing to see"
17,508 there to see it.
John Nugent
451
Posted 08/08/2012 at 23:30:45
The daisycutter, and the riot.........
http://www.youtube.com/watch?v=xnkfwGagVQY
Bob Parrington
453
Posted 09/08/2012 at 00:15:17
Fantastic. What a cracker! Jay #431 thanks for the link. A Hibbo ad lib(b)o!
Ciaran Duff
455
Posted 09/08/2012 at 02:36:14
How is this not front pages news on all the football sites!
Who cares what RVP is doing. Crazy!
Anyway, this "Hibbo scores, we riot" has given me an idea. Obviously, the slowly building will power of the people has finally won out. So why not extend it. Think of Hibbo as the start of our Everton Arab Spring and use this idea for even greater good. Here are a few of my ideas to get the ball rolling but I'm sure others will jump on board:-

"Richard Dodd finally reveals himself, we riot"
"Tony Marsh tells a funny joke, we riot"
"Jags plays the ball through midfield, we riot"
"Moyes plays 4-3-3 we riot"
etc etc
Ernie Baywood
457
Posted 09/08/2012 at 03:24:21
Speaking of Jags, why no involvement? Is he carrying an injury?
And what happened to Gibson?
Love the riot clip in YouTube!
Robin Hunuki
460
Posted 09/08/2012 at 04:07:39
Jay (431), great link mate - especially the view from the fans, for a second I thought I was there!
Respect to the fans that took the pitch and congratulated him without causing an issue. Yes we rioted but know what our boundaries are no the fans that night were first class.
Mike (439), did you make it to the pitch or where you jumping up and down in the stands? How was the atmosphere when he scored.. would have been electric. Also were AEK provided a good send off for participating in what would inevitably be an Everton win / riot?
Jamie (446), did someone score a hat trick aye... all I remember is Hibbert scoring and the fans rioting!
Mick Davies
462
Posted 09/08/2012 at 04:19:46
Just what we did for Morecambe
Mike Gaynes
467
Posted 09/08/2012 at 05:33:53
Here's another fan's-eye view of the most cheerful "riot" in football history. Love to hear everybody laughing.
http://www.youtube.com/watch?v=3YHX4kA6qog
Vishal Poorundersingh
471
Posted 09/08/2012 at 07:36:29
After reading all the match report from different sites and now while reading your comments, there come tears in my eyes... Gutted I was not with your guys in the stadium to witness such a magic moment, a moment where everyone would feel proud of being an Evertonian.
Thanks for all for sharing the vids and your funny comments also.
This morning I got my Everton jacket delivered from the Everton Store, I will surely maintain the pride of this Famous Club here in Mauritius.
Once A Blue Always A Blue.

Sam Morrison
480
Posted 09/08/2012 at 09:10:18
That is brilliant.
Nick West
482
Posted 09/08/2012 at 09:24:05
Thanks, Jay.
Anto Byrne
486
Posted 09/08/2012 at 03:40:39
Goal of the season already. I hope Moyesie takes note that we have a new free kick specialist. "Hammer it like Hibbo"; "Bash it like Bainesy"; "Bend it like Beckford".
Kev Clark
489
Posted 09/08/2012 at 09:42:25
I was there! The day Hibbo scored!
On another note, poor Naismith, scored with his first touch, then on to 30-minute hat-trick in his first game at Goodison – but I bet Hibbo keeps the match ball!!

Still he does it again against United and I think we'll let him have it.

Thor Sørensen
491
Posted 09/08/2012 at 09:57:43
Brilliant!!!
I actually reckon Hibbert could've had a few more goals to his name had he been allowed near more set-pieces over the years.

For instance, the countless Arteta free-kicks that failed to get past the first man, Hibbo may have at least smashed a few on target.
Ian Elder
506
Posted 09/08/2012 at 12:21:12
This is the best goal Tony Hibbert has ever scored.
Eugene Wilson
508
Posted 09/08/2012 at 12:19:11
Hilarious on both counts!!!
Adam Bradley
511
Posted 09/08/2012 at 13:24:51
The best feeling ever! I was in Row N and climbed over the seats to get there. I got a hold of Tony and Johnny Heitinga. I didn't know what to do so a forward roll was necessary: http://www.youtube.com/watch?v=p47-h8slEsU (Me and my forward roll!)
Steven Astley
513
Posted 09/08/2012 at 13:43:30
Am I the only one that thinks this is all a bit fucking pathetic?
There is no way that Hibbert scoring wasn't set up... yet everyone at the club is keeping up the facade that it genuinely wasn't.
David Moyes now has a little bit of a grumble about the invaders of the pitch... yet the club ran a marketing campaign in the run up to the game with a tagline 'When Hibbo scores, we riot....'
Pathetic.
Julian Wait
514
Posted 09/08/2012 at 13:55:53
@Steven - and the Mars landing was a fake / conspiracy too? Sometimes you just have to believe ... :-)
Thomas James
515
Posted 09/08/2012 at 14:01:30
To be fair to Moyes from watching the interview on the OS – Moyes says that is was disappointing that the fans came on to the pitch in the context of Tony's celebration, in that he couldn't celebrate the goal (not too sure Tony gave shit, about that) rather than the fact that the fans came on to the pitch.
Perhaps a lesson learnt for the Everton FC Marketing department... don't want fans to come on the pitch, don't advertise that we will riot (invade the pitch) if Tony scores!
Ciarán McGlone
519
Posted 09/08/2012 at 14:15:25
"Am I the only one that thinks this is all a bit fucking pathetic?"
---------------------------
Probably not, but you are in a small minority of miserable bastards...
Phil Sammon
520
Posted 09/08/2012 at 14:11:19
How was it set up? He hit a good free-kick and it went in. Maybe he would have got a charity goal at the end had that not happened.
As for the 'Hibbo scores - we riot' tag, I think it was idiotic on the clubs part. I understand it was supposed to be a bit of fun, and thankfully that's how it turned out. If there was even one incident of someone getting trampled or something then the club would have looked ridiculous.
Moyes can hardly winge after the event. He is the manager of the club who asked for the pitch invasion to happen.
Keith Glazzard
531
Posted 09/08/2012 at 16:48:24
Steven Astley - its 33C in the shade on my balcon and I've just taken a bottle of rosado out of the fridge. And I'm still giggling. EFC at its best last night, until the next trophy of course.
Sorry if you've had a hard day at work mate. But Hibbo's goal was a beauty, and the "riot" was hardly that - high jinx I believe the upper classes call that kind of thing when it happens at Twickenham.
Peter Thistle
541
Posted 09/08/2012 at 10:30:07
You'd have to be pretty cynical to read anything negative into it. Was a funny one off special moment that are all too rare in football these days. Hibbo loved it, the fans loved it. Good natured all round. Funny as fuck.
"Dats one o dem dat init"
Peter Cummings
542
Posted 09/08/2012 at 18:08:01
A moment to savour for a lad who personifies what being an Evertonian is all about.

I haven't always been a fan of Hibbo, the opposite in fact on many accasions, but there is no finer example of his loyalty to the cause, the club and the fans — a quality shared by many players who have graced Goodison over the years.

Well done, mate.
Eugene Ruane
545
Posted 09/08/2012 at 18:34:33
Steven 513 - you say..
"There is no way that Hibbert scoring wasn't set up"
Well, if you're right, it would mean Hibbo is fucking LOAAAADS better than I EVER imagined.
I mean that he could rehearse that and finish it off to perfection.
What was he..30 yards out?
Then he has to hit it through a crowd of players and to one side of the keeper to make it 'look real'.
I'm now looking at this lad in a TOTALLY new light!
Dean Adams
550
Posted 09/08/2012 at 19:25:59
Well done Tony H, you're possibly the best role model for any kid who wants to be a professional footballer, never hits the papers for any wrong doing, he is an honest hard working blue. A kind of legend but probably more "legend light".
Ray Said
553
Posted 09/08/2012 at 19:44:31
Well done, kid — a true blue.
Drew O'Neall
560
Posted 09/08/2012 at 20:41:01
Really picked up after that, it was a good hit and his attempt p the other end in free play was even better.
There's no way it was a setup because the keeper pulled out a top drawer save to deny his 30 yard thunderbolt... Who knew, honestly.
One lad in a grey shirt started running on the pitch and the whole place went mental, the stewards had no chance.
Excellent atmosphere after it had been a bit flat earlier.
Hibbo can hit em, I'd definitely have him as one of my five penalty takers at least.
Jay Harris
568
Posted 09/08/2012 at 22:24:22
Just popping my head round to make sure Steven Astley isn't around.
WAHHHAAAAAAAAAAY
Michael Kenrick
571
Posted 09/08/2012 at 22:35:55
Please return to your seat, Mr Harris.
Don't you know you're 'ruining' the moment?
What next? Riot police?!?!?
Jem Traynor
572
Posted 09/08/2012 at 22:45:08
I thoroughly enjoyed that game and like the look of the Naismith – Pienaar partnership. Also, with Hibbert's comments saying they are frightening says something of the understanding they must have on the training ground too.

After watching Moyes's post match interview, I thought it was funny but a bit much to hear Moyes say "I don't think Hibbo liked the pitch invasion when he was trying to celebrate the goal and the occasion"... then I watched Hibbert's post match interview with him saying "It was brilliant the fans are the best".

Come on Moyes, lighten up for Pete's sake!!!

Good day though, really enjoyable and let's hope we take that into the beginning of the season!!
Ciaran Duff
573
Posted 09/08/2012 at 23:03:14
After looking at the full highlights, Hibbo had a cracking shot in the first half from outside the box which the kicker had to tip over. He can hit the ball that lad.
Mark Riding
582
Posted 09/08/2012 at 23:58:50
I'm just waiting for an offical club press release, "If Tony Hibbert ever scores again, please do not run onto the pitch!"
Peter Cummings
585
Posted 10/08/2012 at 00:05:20
It wouldn't surprise me if the FA morons charged the club for the pitch invasion.
Bob Parrington
588
Posted 10/08/2012 at 00:55:18
There's always a conspiracy theory cynic. Who gives a shit anyway. Great celebration! That's what matters.
Gerry Quinn
591
Posted 10/08/2012 at 02:37:38
I can see the club advertising this: "When Hibbo scores - we riot, but sitting down"
Sean McCarthy
592
Posted 10/08/2012 at 02:30:40
It was a friendly so strictly speaking he still hasn't scored a 1st team goal!!!
Just saying like....
Mick Davies
594
Posted 10/08/2012 at 02:56:38
Dave Adams says: "Well done Tony H, you're possibly the best role model for any kid who wants to be a professional footballer". . . I'd qualify that by adding ..."if only you were a footballer". The modern Evertonian would eat horsemeat as long as it was local and from a loyal and hardworking animal.
Ajay Gopal
601
Posted 10/08/2012 at 06:43:45
I actually remember Hibbo lash a screamer in a derby game straight at Pepe Reina who looked stunned. If that shot had gone even 1 yard either side.... Everton would have missed Europe that year!. (Hibbo scores in a derby match, rioting, points deduction...= no Europa Cup).
Steven Astley
602
Posted 10/08/2012 at 07:41:23
Sorry... but that is exactly what will happen if Hibbert does score again.
It was an absolute shambles of a marketing campaign by the club – and also wasn't it just over a year ago when all the riots were occurring across the country? Talk about bad timing.
And ok... Hibbert has played 300+ games for the club – 0 goals. All of a sudden, his testimonial match comes along and he bangs in a 25-yard free-kick? Fuck off!!!
The shot wasn't exactly curled around the wall and all the defenders had to do was jump over the ball – and the goalkeeping was blatant.
I've no problem with him being allowed to score, but why not just admit it was set up?
Ray Roche
610
Posted 10/08/2012 at 09:14:44
Mick,
There's nothing wrong with a Trigger steak, washed down with Chianti and fava beans.
Ciarán McGlone
613
Posted 10/08/2012 at 09:32:01
Mick,
Give it a fucking rest, will ye!
Add Your Comments
In order to post a comment, you need to be logged in as a registered user of the site.
Or Sign up as a ToffeeWeb Member — it's free, takes just a few minutes and will allow you to post your comments on articles and Talking Points submissions across the site.