Massive escape as late Suarez 'winner' is denied
28/10/2012

Comments
(220)
jump to end
Everton 2 - 2 Liverpool

Everton threatened to collapse before the first half was halfway over, Baines deflecting Suarez's shot past Howard and the Uruguayan doubling the Reds' lead with a header off a free kick. But Osman got one back almost immediately in a surprisingly open affair and Naismith leveled later in the half to make it 2-2.
Everton got off to a quick start after losing the toss and changing ends, Jelavic clipping over top Naismith at the far post, winning an early corner. But a frustrating period of Liverpool possession followed and they won a couple of corners.
Naismith almost released Jelavic. After some scrappy play, Mirallas picked the ball up and went on a great run that won a corner he brilliantly put in on Jones. From the other side, Baines poorly overhit his corner.
Osman and Naismith showed a lack of understanding, with too much messy play in midfield and Liverpool broke forward, Enrique crossing across goal with Sterling going flying, but it was a low cross from Suarez that caught Baines and flew into the net. Suarez then dashed off in delight and flung himself to the ground right in front of David Moyes, a provocative celebration deserving of a booking.
Everton tried to respond to going behind early yet again but failed to penetrate and Osman picked up the first yellow, chasing after Sterling, and worse was to come when Gerrard's free-kick was glanced in by the completely unmarked Suarez.
But the goal galvanized a more direct approach, Fellaini's shot deflected behind fro a corner, from which Jones punches straight to Osman, whose low slightly deflected shot flew into the corner of the Gwladys Street goal to put the Blues back in it, with just a quarter of the game gone.
Mirallas was dancing around red shirts on the left wing, but not getting many calls from marriner when he was taken out by Wisdom, Mirallas eventually delivering a fantastic ball in that Skirtel had to head behind. From the corner Jones misjudged it but Marriner gave the call to Liverpool. At the other end, Suraez lashed on a foot wide.
Jelavic and Fellaini messed up a great chance after Mirallas won the ball. Baines was floored by Sterling who received a yellow card but Everton failed to profit from the free-kick. Mirallas delivered in another great ball that neither Fellaini nor Naismith attacked.
Sterling then took away Baines's legs and he should have got a second yellow for it. A promising move found Jelavic but he was offside. Then, from a move down the left, Mirallas and Fellaini exchanging pass until with one driven cross hitting Fellaini, who recobered well to put in an inviting ball that Naismith just got to ahead of Jelavic to lash into the net... 2 - 2!!!
Fellaini fed Mirallas to set up another brilliant run that got him into firing range, Jones palming his shot across the goal. Osman then fed Mirallas but Suarez ran at him and kicked his ankle, a disgusting foul worthy of a red that received only a free-kick.
Missed booking number one? Suarez stamps on Mirallas' foot
It left Mirallas limping a little as he tried to run it off and he seemed to have done so as he again ran in in goal from the left but pulled up short, hopping on the other leg to favour the ankle that Suarez had tried to break.
He remained off the pitch as Everton came close from a couple of corners, then hobbled back on, but he was clearly crocked. Meanwhile, a bizarre moment as Phil Neville dribbled toward the dee and collapsed under the merest of challenges from Agger, whose screams drew a yellow card for the Everton captain — for 'simulation'!
Kevin Mirallas did not reappear after the break, replaced by Magaye Gueye. Everton looked to go behind early in the second half, Suarez missing a low ball in from the Everton left, then Sterling getting behind the defence but missing his chipped shot completely,
At the other end, a good shot by Naismith was pushed out to Baines with Skrtel taking him out after he clipped the ball back across to Coleman who fired wide.
Jagielka was booked for holding back Sterling, Gerrard testing Howard with a hard direct shot from distance. Fellaini came close with a header off a Coleman cross. A lovely piece of work on the right saw Coleman slide in a nice low cross for Jelavic but Skrtel slid in to deny him.
Coates fouled Jelavic out wide and Baines's free-kick was swung in well but Jelavic could not get a good contact with his head. Another chance came when Coleman was blocked poorly by Allen. Jelavic got too much contact on the free header from a superb delivery, powering it wide of the post when he really should have put Everton ahead.
Agger picked up Liverpool's second yellow for pushing Fellaini but the delivery from another Baines free kick was poor. Henderson replaced Wisdom on 70 mins.
Suarez was finally booked for stamping on Distin's ankle — it really should have been a red! It had been a good spell of attacking from Everton but yielded nothing and Liverpool broke into their half with Richardson but he thankfully delayed and the fluffed his cross. Shelvey tried to shoot from distance and it was well wide.
Suarez rakes his studs down Distin's leg
A great cheer went up when Suarez slipped over when in a good position to threaten, Coates then fouled Fellaini but got away with it. Fellaini did well with Gueye to work an opportunity for Baines but again Skirtel blocked it. And nothing came of Baines's deep corner.
Gerard looked set up for the winner when Henderson got the better of Distin and laid back an easy shot for Gerard but Jagielka blocked an almost certain goal. A period of Liverpool pressure followed before Bryan Oviedo replaced Naismith with 5 mins left, Gueye switching to the right.
Coleman became the fourth Everton player booked for pulling Sterling's shirt. Oviedo's first cross was hard but not accurate. Distin pushed Suarez for a late free-kick that Gerrard way overhit as the game looked to be heading for a draw with 4 mins of added time.
Oviedo got in another good cross but Jelavic oddly backed away from goal just before he chipped the ball in. Gerrard went down easily from a beefy Osman challenge and Coates headed it down to Suarez who smashed it into the roof of the net from close range for a Liverpool winner... but incredibly it was disallowed!!!
The referee's assistant apparently flagged for offside but television replays show a possible foul by Coates on Jagielka in any case.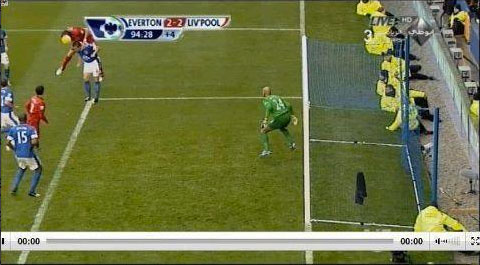 Foul by Coates? Courtesy of @FourthOfficial_
A fantastic escape for Everton, who went briefly back to fourth before Tottenham leapfrogged over them, beating Southampton.
Everton: Howard, Coleman, Jagielka, Distin, Baines, Naismith, Osman, Neville, Mirallas (46' Gueye), Fellaini, Jelavic.
Subs: Mucha, Hibbert, Heitinga, Oviedo, Hitzlsperger, Gueye, Vellios.
Liverpool: Jones, Wisdom (70' Henderson), Skrtel, Agger, Jose Enrique, Suso (46' Shelvey), Sahin (46' Coates), Gerrard, Allen, Sterling, Suarez.
Subs: Reina, Assaidi, Henderson, Coates, Downing, Carragher, Shelvey.
Referee: Andre Marriner
Quotes or other material sourced from ToffeeWeb Match Reports
Reader Comments
Note: the following content is not moderated or vetted by the site owners at the time of submission. Comments are the responsibility of the poster. Disclaimer
Ciarán McGlone
755
Posted 28/10/2012 at 14:22:44
Hilarious Suarez impression from Neville.
Ciarán McGlone
758
Posted 28/10/2012 at 15:26:31
Absolute shambles of a second half... is Gueye George Weah's cousin?
Shane Corcoran
760
Posted 28/10/2012 at 15:30:33
Lucky the officials were on our side. Neville diving, Howard trying to get Sterling sent off for nothing..............terrible display all over.
Tom Bowers
761
Posted 28/10/2012 at 15:29:24
Typical Derby match. Shambolic defending but a better result for Everton after going 2 down and surviving late. Thank god Pienaar and Gibson my be back soon so we can start winning again.
Christopher Kelly
762
Posted 28/10/2012 at 15:32:41
Luck be a lady tonight!
Nick Entwistle
763
Posted 28/10/2012 at 15:32:26
On our side? Sterling had to go, Suarez had to go.
Jason Heng
764
Posted 28/10/2012 at 15:33:21
Officials on our side? Suarez should not have remained on the pitch for that stamp on Distin. Coates, Shelvey all escaped the yellow with cynical fouls as well, while Osman and Coleman got them for almost nothing.
Steve Jones
766
Posted 28/10/2012 at 15:32:17
Oviedo showed some good touches, miles ahead of Gueye who should move on in January. Mirallas big miss second half, brilliant first.

Forget the disallowed goal as Suarez should have had a red card for trying to do Distin down his achilles.

I hate these derby games.
Richard Tarleton
767
Posted 28/10/2012 at 15:37:19
Absolutely Marvellous! A referee gets a vital decision blatantly wrong and this time it's cost them the game not us. Plus he had a strong case for giving Jagielka a red when he gave him a yellow. Nowq we're only twenty decisions down on the last ten years.
James Martin
768
Posted 28/10/2012 at 15:40:09
Are some people on here ssome sort of sadist revisionists? What second half were you lot watching? I was watching the one where we had 60% possession and they parked the bus and played on the break the whole game waiting for their usual ridiculous break of luck. After their first two goals we were great from beginning to end and deserved to comfortably win.
John Ford
769
Posted 28/10/2012 at 15:38:13
The Gerrard free kick was a horrible decision, there was nothing to blow up for.
We were great for 25 minutes and struggled once Miralles went off. I'll take the point, reluctantly. We just need every player available otherwise we struggle. Wafer thin in terms of quality.
John Audsley
770
Posted 28/10/2012 at 15:38:44
Suarez is a horrible man, truly horrible
Gueye is rotten player, Oviedo looked twice the player he is in a 5-minute performance. We never got going in the 2nd half and got a bit of luck at the end but I'll take that.
Strange subs as well, Felli and Jelavic looked shattered from the 60-minute mark and we really struggled to create anything.
A very strange game and I for one am glad its over.
Ciarán McGlone
771
Posted 28/10/2012 at 15:42:16
I don't know what a 'sadist revisionist' is... But both teams were shite in the second half, irrespective of who had more possession.
Dean Adams
772
Posted 28/10/2012 at 15:41:05
The whole game was littered with dirty fouls from them lot none of which the ref booked. Our players were booked for the most inoquous challenges. Then I read on here that we were lucky to get the decisions. I really think some of our fans are being brainwashed by the incredible levels of bias in the media.
Paul Smith
773
Posted 28/10/2012 at 15:42:11
Well said `James', totally agree. Still thought Jelli looked rusty though, and Gueye... well, the less said the better.
Anto Byrne
774
Posted 28/10/2012 at 15:30:22
Good call by the linesman, even if he got that one wrong as well. Poor tactics from Moyes yet again and his record is now 3 from 21. Pathetic bringing on that useless French kid: no pace, can't tackle, can't cross the fucking ball, total waste of fucking space.
John Nelson
775
Posted 28/10/2012 at 15:45:09
Well said James Martin. The redshite are nothing more than a counter attack team, who always have to rely on some sort of luck to win games.
As for saying we were lucky at the end... Bollocks. Why wasn't rat boy - who I have to say is one of the most detestable players I have ever seen - sent off? He took Mirallas out the game, and the tackle on Distin was nothing short of shithouse tactics.
Back to the game itself then... Although horrible to go two down the way we did, it was superb to get back into it the way we did, and unlucky not to go on and win.
We are still fourth, got key players coming back (Fellaini and Gibson) and are six points ahead of that vermin... Well played blue boys.
Nick Entwistle
776
Posted 28/10/2012 at 15:48:36
I'm not happy with the ref, but it could have been a lot worse.

Moyes could have shaken the forward line up with ten to go with Vellios coming on but he's cautious.

I just don't like that lot being in Goodison Park and I hope they disinfect the whole place.
Ifor Hughes
777
Posted 28/10/2012 at 15:48:49
If Suarez stamping on Distin was a booking, why was he not booked for crocking Mirallas with a similar move?
James Martin
778
Posted 28/10/2012 at 15:52:17
A word in favour of Leon Osman as well, best midfielder on the park today especially after we were brutally deprived of Mirallas (bet that won't appear in the match reports). Allen couldn't get near him enither could Sahin or Gerrard, I don't think he misplaced one pass and got us back into the game with a sweet strike (although Toffeeweb will go down crying that he doesn't have a shot).

If we'd have had Pienaar, Gibson, and Mirallas for the whole 90 minutes we would have embarrassed them. They are no great shakes and will be going nowhere this year playing like that. Let them have their moan about how the whole world is against them. Let them celebrate any lucky home win like they've won the World Cup. We were so far superior with even half a team it was ridiculous. Well played Phil Neville as well, takes far too much stick and played well today.
Brian Waring
779
Posted 28/10/2012 at 15:53:48
James we were shite second half, when we got into the final third we fucked up.
Noel Early
780
Posted 28/10/2012 at 15:50:53
It's saying something that we got a point with a crap performance. I'd have taken it after they went 2 up, that's for sure. Too many players were off form today: Jelavic, Jags and Distin. Magaye Gueye should have been taken back off, he was that crap in the second half. Moyes made a mistake bringing him and not Oviedo on at half-time.
Brian Waring
781
Posted 28/10/2012 at 15:57:08
What did you think of Neville's dive James?
James Martin
782
Posted 28/10/2012 at 15:58:37
Yes, Brian, because we were without Pienaar and Mirallas, they also had ten men behind the ball for most of the game after they scored their second. We couldn't play free flowing stuff because they were just hemmed in their area that can happen.

Just because we didn't win 3-0 doesn't automatically mean we were crap. If we were bad, how bad were they? Their midfield barely featured. Rodgers philosophy morphed into playing 8-0-2 and just lashing it long, straight back to the typical kick-and-rush football of the Benitez days, the only sort they know how to play. Lob it up, wait for the ball to come down, foul everyone in sight and hope Gerrard has lashed it in in the meantime.
James Morgan
783
Posted 28/10/2012 at 15:52:30
Agree that Gueye is a second rate player. I like the look of Oviedo, the lad has pace and skill and will take players on. Their ruled out goal was onside but Coates was climbing anyway and rat boy should have been sent off for that terrible foul on Distin.

Good to come back from two down; we need to get back to winning ways though.
Jim Knightley
784
Posted 28/10/2012 at 15:57:13
A draw was a fair result... Was the second half really surprising for anyone? We badly miss creative wide players when they are injured (or sold), and without Mirallas and Pienaar much of our threat disappeared. The lack of creative players was the reason for our awful start last season.
All-in-all, I'm pretty content, especially as we were 0-2 down. With respect to Moyes's decisions, I don't think his tactics were that poor. I would personally have rather seen Oviedo on instead of Gueye (who is a Championship player imo), and would have liked to have seen Anichebe for Jelavic with 10/15 minutes to go. But we were good today, and played to our capacity after the first 15 minutes unlike last season's derby matches, and Jelavic should really have put us 3-2 up. We are though constrained by our squad depth, and I really hope we have the capacity to add a central midfielder and a talented wide player in the January window (Donovan?).
I was impressed with Osman today.
Brian Waring
785
Posted 28/10/2012 at 16:03:35
What did you think of Neville's dive though James?
Si Cooper
786
Posted 28/10/2012 at 15:44:17
Gueye didn't do a lot wrong (and doesn't deserve some of the comments on here) but he isn't a winger. He actually brought Baines into the game really well for a twenty minute spell but with Felli, Osman, Neville and Naismith all running out of steam with twenty to go (after manful efforts from all) he was never going to provide the outlet we needed, which Oviedo did. It is hard to see Gueye being anything more than a squad player though.
Thought, apart from some general sloppiness and a couple of poor decisions at both ends of the pitch, we were the better team by far until around 70 minute mark. Problem was we probably could have done with a couple more midfield options than we have at the moment. Unavailability of Pienaar and Mirallas injury (hopefully short-term) important factors but we still could easily have won that game.
Suarez did for Mirallas and was obviously trying to nobble Distin (followed up by Shelvey who deserved yellow for his challenge but got away with it I think), presumably to give him that channel to run into. Mirallas challenge looked innocuous and perhaps accidental but I would like a closer look having seen how deliberate the Distin achilles stamp was.
Hilarious that Suarez 'winner' was ruled out; annoying that on Sky they still credited him with 2 when the first was an obvious own goal.
James Martin
787
Posted 28/10/2012 at 16:04:51
Yeah it's a bad dive, I can see why he took it though; we weren't getting any free kicks whilst Liverpool were getting every 50-50 their way, so he had a little push in the back and decided to make the most of it but was caught out.

It was no worse than Gerrard's dive when Osman 'outmuscled' him for their last-minute free kick. The media will really twist everything their way. The reality is we should be disappointed after battering them despite all our injuries and misfortune to only take one point.

The media will turn it into plucky Everton survive last-minute goal, Phil Neville is a cheat, and pretty soon all our players will be thinking 'thank god we hung on for a point'. This didn't happen at all. I know we have an inferiority complex but the media are doing their damned best to make sure we keep it.
Steve Cotton
788
Posted 28/10/2012 at 16:01:33
The biggest disgrace, apart from Baines being taken out for a defo pen, was the ref wouldn't let us take a quick free kick that would have put Naismith clear, yet allowed Sterling to take a quick one while he was still talking to one of our players...
I thought Marriner was poor and favoured the Bigtime Charlies....
Osman great today, by the way – same with Mirallas before he was kicked out of it.
Yew Heng Hung
789
Posted 28/10/2012 at 16:09:44
Hi I am an Everton fan from Singapore. For those who think we are lucky with the draw must be watching another match. We dominated them for large part of the game and the diver should have been sent off for two very bad fouls. I think Everton will do very well this season. Onwards and upwards!
Gareth Fieldstead
790
Posted 28/10/2012 at 15:58:29
Too true James, were you watching the same game Brian? We were great the minute Osman pulled one back. I didn't even want him in the starting line up! He was superb.

As stated above Suarez should have seen red ditto Sterling. As for the Jags foul, one Sterling shouldn't have been on the pitch anyway but the ref gave a yellow because Sterling wouldn't have got anywhere near the overhit pass.

As for the disallowed goal, didn't you see Coates all over Jags? We played very well and deserved all three points. Hopefully Mirallas won't be out and Gibson makes it for next week.
Lol McNally
791
Posted 28/10/2012 at 16:06:35
I'll take the draw, but Howard for me is dodgy on balls into the box. We are letting in daft goals.

Not a great fan of the ref... How they had eleven on at the end fuck knows.
Paul Ferry
792
Posted 28/10/2012 at 16:16:35
It's 4 from 24, Anto.
Colin Potter
793
Posted 28/10/2012 at 16:02:38
Yes Nick Entwistle, I agree about disinfecting the ground after the shite, that's why I'm against ground sharing. It would cost us a fortune in disinfectant every other week cleaning the placeup.
Si Cooper
794
Posted 28/10/2012 at 16:11:37
Neville was going down before any contact was made (admitted it and said he got a rollicking for it at half time) but Osman did jump into Gerrard, who gratefully accepted the opportunity and crumpled for the free kick.
A silly challenge by Osman, but probably as much due to fatigue as anything else.
Making the most of a poor challenge and any sort of contact is 'clever' play, pretending there has been contact when there was none and feigning injury to get the opponent an excessive punishment is cheating.
Jamie Yates
795
Posted 28/10/2012 at 16:07:58
Am I alone in thinking Coates took an absolute both hands ride on Jags shoulders to set up Suarez's disallowed effort with the knock down? Ok, so maybe it was actually (wrongly) chalked off for offside, I don't know if that's been confirmed, but I thought it was a clear foul anyway.
We were so scared of that little horror all game it was embarrassing. Did well to escape with a draw and humility mostly intact.
Stuart Gray
796
Posted 28/10/2012 at 16:18:47
Last 10 minutes was a shambles, Gueye's touch was poor, losing Mirallas cost us the match.
And why couldn't we take that quick free kick but then 5 minutes later the Gerrard took a quick one?
Nick Millington
797
Posted 28/10/2012 at 16:22:02
One back for 1977
Si Cooper
798
Posted 28/10/2012 at 16:19:26
Are we turning into manic whingers like the RS? Referee made poor decisions for both sides but he wasn't biased.
Jamie Yates
799
Posted 28/10/2012 at 16:20:06
A yellow for Neville was harsh. Just don't give him a free kick and let everyone laugh at him. The game's utter nonsense these days, all the first half yellows were a joke. Going to form Sterling should've gone for a second yellow for clipping Baines, which would've been ridiculous. It wasn't a dirty game and even Suarez catching Distin was more a forward's tackle, made worse by who he is (horrid, horrid little man). I was more worried by how out of sorts Jelavic looked.
Jamie Yates
800
Posted 28/10/2012 at 16:25:04
Is right Si Cooper.
Ciarán McGlone
801
Posted 28/10/2012 at 16:23:32
Good grief.
Neville didn't get touched AT ALL.
Gerrard didn't dive for their free kick.. it was borderline but Osman was all over him.
To compare that with Neville's dive is frankly churlish.
Open your eyes.
James Reed
802
Posted 28/10/2012 at 16:20:45
Other than the dodgy linesman decision we got fuck all out of Marriner today. All the 50 50's went their way including the disallowed one, Gerrard the sneaky fuck was shit thank god and Ratface is truly horrible. He makes the most of the innocuous for their gain and gets the studs in yet plays innocent. He should have gone for the cynical one on Distin nevermind the Mirallas whack. As for Jags getting booked, Sterling was never getting on the end of that banana ball over the top, so talk of lucky it wasn't a red is way off the mark. Got to be happy with a point considering how it started, who we had out and what little benefit of the doubt we got. Agree about Ossie, he kept it going neat and tidy gelled the play together and grabbed a goal. MOTM for me.
Si Cooper
803
Posted 28/10/2012 at 16:24:25
Jamie (#795) - linesman's flag could only have been for offside, which replays confirmed it wasn't. Ref either missed Coates hands on Jags shoulders or let it go (getting up early will often get you the benefit of the doubt in those challenges).
Don't get your second paragraph. Suarez is a shit, but he is also a talented and tricky player. Defenders mostly handled their attackers pretty well today.
Jalil Noor
804
Posted 28/10/2012 at 16:31:22
Media already saying we were lucky and raining compliments on the shite and of course no mention of Sterling and Suarez luck in not seeing red or that late tackle on Mirallas by Suarez.
Paul Kelly
805
Posted 28/10/2012 at 16:25:03
Forwards challenge? Don't really matter, it could of easily been red for both of that dirty little twats fouls. How he stayed on the pitch I'll never know.
Jamie Yates
806
Posted 28/10/2012 at 16:34:19
I just think the nerves of our back four any time Suarez gets the ball were tangible and that gave him an advantage on top of his outstanding talent in possession (and when not being a tit).

Andy Walker
807
Posted 28/10/2012 at 16:20:16
We should have won. Suarez took out Mirallas (who was having a blinder) deliberately, no question in my mind and we never looked as threatening without him. He then deliberately racked his studs down Distin's achilles.

I can't remember disliking a footballer as much as Suarez. He really does seem to be a horrible individual and thats putting it politely. Probably why he's never played for a higher profile club as the likes of Man Utd, Barca etc wouldn't put up with him creating the bad PR.

I thought Neville and Osman were great by the way.

The linesman missed that Suarez was onside but,1 second earlier, the ref missed that Jags was fouled. That's called justice.
Brian Williams
808
Posted 28/10/2012 at 16:28:13
Having had time to cool down and ponder, there are a few things today's game made me realise.
1) I don't feel the fear or inferiority complex we've undoubtedly had with regard to the RS exists any more. Even at two nil down I had the feeling we'd get back on terms and actually thought we'd go on to win it. We are without a doubt a better side than them.
2) We still need another couple of additions to the squad. I dreaded the effect the loss of Mirallas would have in the second half, and it DID lessen our threat hugely, although we could have still gone on to win it.
3) Suarez is (hate to admit it) undoubtedly a very good player indeed, but if it wasn't already blatantly obvious he is also a horrible toerag of a person. The stamp on Disitn's achilles was just out of sheer spite with the intention of hurting the man.
4) With regard to the decision on 94 minutes....there just MIGHT be a God after all!
Amit Vithlani
810
Posted 28/10/2012 at 16:28:47
The ref lets face it was shit. Its one thing wanting to avoid unnecessary bookings but another thing not doing anything about dangerous tackling. Suarex hurt Mirallas, who had to come off, and how Distin got a disgraceful rake down his achilles I don't know. Suarez should have been off well before the "goal".
The bad refereeing takes the spot light off our shit defending. We could not defend their free kicks and so what if they sat back, wanting to counter? If we were better organised at the back we could have pressed further up the field, like we did in the last 20 mins of the first half. We were at our best when we pushed up.
In each of the last 4 games we have gone behind first. Attacking wise we seem to have it sorted as we have come back, so credit goes to Moyes there. But defensively he has lost the plot. And when it comes to substitutions - he still bottles it. We were crying out for a change after 60 mins and Oviedo comes on in the 85th. Poor.
Stephen Graham
811
Posted 28/10/2012 at 16:42:42
Great comment in the Guardian: What Moyes said about Suarez can be construed as a compliment in Uruguay.
Chris Leyland
812
Posted 28/10/2012 at 16:36:34
I think the players should wear tee-shirts in support of Phil Neville next week. We need to explain that in Bury it is cultural to dive like that and that there is a Masonic conspiracy led by Steven Gerrard to ensure that these decisions go against us.
Pat Finegan
813
Posted 28/10/2012 at 16:28:26
I thought Marriner had an excellent game. Sure, there could have been red cards on both sides but I thought he did well to keep them in his pocket. This game only required one terrible call, which wasn't from Marriner, went in our favor. That offsets the Atkinson derby, now for the Clattenburg derby, Poll, Thomas...
Paul David
814
Posted 28/10/2012 at 16:22:45
I thought we had the better of the game but Liverpool had far the better chances. The ref booked our players for their first fouls, some of them deserved some of them harsh but the shite were only getting booked after committing 2 bookable offences. How that rat-faced cunt and that little shit who looks like a Brazillian ladyboy stayed on the pitch I'll never know.
I have to say I'm disappointed with how we performed. Mirallas was excellent till that rodent took him out the game. After that, I thought Osman and Coleman had good games.
The defence for the 2 goals were poor. Distin looked like he had the semi in the back of his mind, he was shaky all game and fucked up but got away with it a couple of times. Neville did well with the ball today and it seems like he played well but then I remember he is in the side to win back the ball and protect the back 4 which he didn't do once all game. Besides his goal, I thought Naismith offered nothing again and Jelavic was crap because he had no support or supply again.
I really don't know what Moyes was thinking bringing on Gueye. He has been here a while now and I've never even seen him have a decent game, his positioning and movement are terrible.
Edward Wallis
815
Posted 28/10/2012 at 16:37:36
I thought Osman was Man of the Match. He kept us going for 90 mins and kept prompting moves forward and breaking it up in midfield.
Jelavic was below par couldn't make the ball stick but there again he had poor service for most of match.
Oviedo looked great and gave us a good balance when on and looked to have purpose when got the ball. I felt sorry for Gueye though for such a big lad he looked to have no confidence in himself.
We need Gibson back though as we need a few good wins quickly... otherwise the good start will be all for nothing.
Douglas Turner
816
Posted 28/10/2012 at 16:43:03
Thought our Bry did a decent job! Coleman ran the right side ragged! Felli looked like he couldn't be arsed for most of the game and Nev was just simply woeful! So glad Eeyore didn't get his hat trick! The Dirty Mucker shouldn't have even been on after that girly move he made on Buz!
James Martin
817
Posted 28/10/2012 at 16:49:09
Let's be honest, though — if Suarez isn't playing, they have the floor wiped with them. He grabbed them an undeserved smash and grab lead and was then powerless as we dominated the game to bring it back. Sure he caused a few moments of inconvenience but he hardly ran the game.

Everyone complains about our squad size but look at the players we had missing. Neville (who played well) and Gueye aren't top quality because they're our second or even third choice. If Suarez and Gerrard had been missing like Gibson and Pienaar, plus Sterling off at half-time who would they have played?

As it was, our reserves such as Naismith came in and did well. God knows how many we would have won by had it been our best 11 versus theirs. Joe Allen – £15 million, dear lord.
Paul Ferry
818
Posted 28/10/2012 at 16:41:52
We bossed that game for long spells, even in a more even 2nd half where we held onto the ball quite well for the most part (possessions stats). The Shite were reduced 2nd half to breakaways and dishy Brenda's half-time changes were a tribute (if we needed one) to how good we were from 20 mins on.
But every time cheat-racist-scumbag-diver-twat ran at our defence I had my hand on my heart. Jeez we looked shaky at times. Not Distin's best day; speed and reading Jags, speed and reading. Funny aint it: dour dreary defence-first Davey (choice of Ds is a dig there) – biggest problem right now is sorting out centre defence. Next window priority please DM. I felt that Coleman had his best game in a long while and that's reason to be cheerful, Part 1.
I thought that Ossie was bang on form today and I don't like him as a rule of thumb. That diving twat Neville – people like him Brenda says ruin the game and we must stamp Nev-like antics out once and for all if we are to return morality to footie – was steady today.

That said, and even given the largely dross Allen and prison camp guard #2 and the other one, I still think that the diver/Ossie pairing is the proverbial Achilles Heel.
How was cheat-dive-racist-twat not red-carded for what he did twice today? The turning point was losing Kev at half-time and, ironically, the changes made by delectable Brenda to tighten things up largely because of absent KM.

Mirallas was sparkling in the 1st half, sparkling. Licking my lips here for what's ahead. Go easy on Jelly: a proven goalscorer and will score shitloads in the weeks to come.
When all is fit and done:
Howard/window buy
Coleman, Jagielka, window-buy/Distin/Duffy, Baines;
Mirallas, Gibson, Osman, Pienaar;
Fellaini;
Jelavic

Subs: window buy/Howard, Heitinga, Oviedo (Costa Rican top dressing room comic,apparently), Barkley, Neville, Naismith (fearing for the hair, mate)...
Clive Lewis
819
Posted 28/10/2012 at 16:50:25
I was disappointed with Naismith; although he scored the goal, I thought he was very mediocre. Jelavic should have been replaced and probably would have been if it wasn't for the Mirallas injury. Distin had a shocker against Suarez.

Considering we played badly, similar to the QPR game, it was good result. The squad depth is a problem. Also, the fact that Moyes has delayed his contract could cost us a place in Europe; he's still waiting for someone to come in for him, I expect.
Dean Adams
820
Posted 28/10/2012 at 16:58:32
I love the way Moyes says it was a goal!! He really is getting into this "Wind the Shite up" lark!!!
Mike Hughes
821
Posted 28/10/2012 at 17:01:59
It wouldn't surprise me if Suarez is implicated in the Jimmy Savile scandal.
A total scum bag.

Colin Wainwright
822
Posted 28/10/2012 at 17:00:10
Haven't read the whole thread, but would say that, there was a clear foul on the defender (jags I think), and the linesman just waited to see the refs decision before giving the foul. Nothin' to do with offside IMO.
John Atkins
823
Posted 28/10/2012 at 17:09:17
Suarez and Saville, as bad as each other .......... total scumbags.
Mike Hughes
824
Posted 28/10/2012 at 17:11:52
John...#823...is there an echo in here?

John Atkins
825
Posted 28/10/2012 at 17:13:29
Dont like that rag either Mike
Colin Wainwright
826
Posted 28/10/2012 at 17:11:08
Jelavic was poor throughout IMO, though I can't understand the criticism of Naismith. I thought he worked his bollox off and scored a deserved goal.
Nick Armitage
827
Posted 28/10/2012 at 17:15:47
Apart from a deflected cross and a hit and hope, misidrected cross, both away at Sunderland in the FA last season, can anyone remember anything that Gueye has added to a game?
Worst Everton player in some years and I have no idea how he gets on the bench.
Ian Smitham
828
Posted 28/10/2012 at 17:28:06
Brian, just got back from the game, no need to cool down, it was just plain cold in Top Balcony.
Still, Osman, can't tackle, gets pushed off the ball too easy, can't pass, never plays well or scores against the"big" teams.
Ian Bennett
829
Posted 28/10/2012 at 17:23:41
Great first half, poor 2nd half as a game. We had 3 or 4 good chances in the 2nd half, then their 3 at the back snuffed us out.
Losing Mirallas was a huge loss. Gueye is clearly not going to make it. Coleman stuck at it, and I thought Osman and Neville did well against Gerrard, Allen and Sahin. They aren't the answer, but they kept us in the game. Naismith did alright, he worked hard, but his final ball could have been a lot better.
The sad thing for Merseyside football is that you would struggle to make a decent team out of a combined 11. How fortunes have fallen.
James Martin
830
Posted 28/10/2012 at 17:31:48
Ian I hope that's sarcasm.
Peter Warren
831
Posted 28/10/2012 at 17:28:23
I can't understand playing Gueye: he's awful. Second half, rubbish. I really wanted us to press on but we ran out of ideas.
We were sorely missing Gibson, Mirallas and Pienaar second half and Fellaini was not not fully fit. We'll be okay with them back. I would like to see Duffy play – Skirtel & Agger look far better than our pairings.
Jay Harris
832
Posted 28/10/2012 at 17:23:51
Talking points:
2nd Bainesy own goal in succession. Let's hope that's the end of them.
Suarez was offside for their second goal and IMO it was never a free kick.
Suarez should have been carded for kicking Mirallas and therefore should have been sent off for the foul on Distin.
As regards their "disallowed" goal it was never a free kick in a million years and if you check the replay Coates comes from an offside position before he jumps on Jagielka's back to head it across goal.
Why did we get 4 yellows and they only got 2? Coates certainly did enough for a yellow. Playing them is like playing 12 men.
Phil Sammon
833
Posted 28/10/2012 at 17:35:12
Eh? What game were people watching? Gueye did well when he came on. Miralles is a better player of course, but Gueye didn't put a foot wrong this afternoon.
Paul David
834
Posted 28/10/2012 at 17:44:40
What did Gueye do that was right?
Matt Traynor
835
Posted 28/10/2012 at 17:40:18
Jay, seriously Suarez was not offside for their second. It was never a free kick, but let's not play the bitters tag any more than necessary?
We were lucky to get a draw. I can't recall a time in my life when we've come back from 2 down to get at least a draw against them.
The ref issued a few iffy yellows, and could've issued a few more, some of which would've been 2nd yellows i.e. red. I thought he was alright, didn't favour any team more than the other.
I'm gonna get blasted for this, but kudos to Suarez. His celebration for his "goal" (the one Baines got) was humourous, and when he was about to make a scene of having a coin thrown at him, thought better of it and tucked said coin into his socks.
The biggest compliment I can pay him is I now think he's marginally less a c**t than his skipper.
We were favourites in some quarters for the win, after the shambolic way we went 2 down, I'm elated with the draw.
Delighted with a draw at home to the worst Liverpool side since the one we lost to thrice last season.
James Martin
836
Posted 28/10/2012 at 17:44:27
Gueye was bought as a striker, if you stuck jelavic on the wing he'd probably be terrible too. Gueye wasn't that bad he just wasn't very good, he kept the ball moving and din't lose it which for him is about as good as it gets, Pienaar is the king on that side, Mirallas was the best player on the pitch before Suarez ended his game and Gueye is third choice on that flank, didn't do that badly for a third choice left winger in a second half of a derby. Oviedo looked fast when he came on.
Michael Kenrick
837
Posted 28/10/2012 at 17:47:17
James (#817) — you say a lot of very strange things but this one caught my eye:
Neville (who played well) and Gueye aren't top quality because they're our second or even third choice.
In what parallel universe is Neville second or even third choice?
Paul David
838
Posted 28/10/2012 at 17:51:47
James
Gueye wasn't bought as a striker. He has said himself that he see's himself as someone who plays behind the forward but he's been here a while now and has only ever been played on the left. He should of by now learned where he should stand and where and when to make runs off the ball.
Phil Sammon
839
Posted 28/10/2012 at 17:54:22
Gueye was neat and tidy. He wasn't AMAZING but he doesn't deserve a slagging off.
I can't handle the negativity on this site anymore. Bye.
Chris Leyland
841
Posted 28/10/2012 at 17:48:24
Suarez celebration was actually quite funny. Moyes had the last word when he said it was also said it quite funny afterwards but Suarez will have to do it to a lot of managers every week. I.e. he is a c**t who cheats and dives every game. I don't think that I have ever detested a player as much as Suarez. He is a Brilliant footballer but a vile, vile excuse of a man. He is a born cheat. I despised Barmby when he left for the shite and Rooney when he went to Man U and I fucking hated Cristiano Ronaldo's histrionics but there is something sub-human about Suarez. Something almost bordering on evil.
Peter Thistle
842
Posted 28/10/2012 at 17:43:12
So pissed off that yet again we failed to beat those orrible twats. Really winds me up that we blow it every time. What the fuck happened to our defence from last season ? It's shite now.
James Martin
843
Posted 28/10/2012 at 17:57:44
Michael if Gibson is fit then he plays ahead of Neville, is this not the definition of second choice? Gibson's had a long injury but if everyone is fit then Neville does not get a place in our starting midfield, hence second choice. Glad to see Michael that you embrace all Evertonian opinions and don't deride those that don't match your own cripplingly negative ones as 'very strange' like every good editor should.
Paul Gueye was a striker before we bought him, whether that's as a second striker or a main one it doesn't matter he was not a winger before he came to Everton. No amount of training will give him the agility required to play on the wing, Van Persie can play off the front or as a lead but he can't play on the wing. Surely you should be adding this one to your 'square pegs in round holes argument'. He's never going to get in the team upfront so he flls in out wide when you lose your first two top quality players in that position.
Patrick Murphy
844
Posted 28/10/2012 at 17:42:01
Following Everton for over 40 years you are almost obliged to dislike some if not all of the players that have donned the red shirt of our neighbours.
A catalogue would go something like Hughes, Smith , Dalglish ,Sounness Case McMahon Gerrard ,Kuyt et al.
On reflection some of the players were disliked for their ability , some for their attitude and most for their intent to revel in blatant cheating / Gamesmanship.
But the one player who stands out head and shoulders above all of the others is one Louiz Suarez.
Obvious a man with talent but without doubt a very very obnoxious piece of work.
I can think of no other player who courts controversy in quite the same way as this man does.
He regularly attempts to cheat , goad, foul and cry his way through a game , and most annoylingly to me , he always wants to portray himself as the innocent victim.
Now before anyone thinks that someone like Duncan Ferguson is my kind of player , they would be wrong , I was as much embarrassed and ashamed of some of his antics, but at least he did what he did openly.
Let's be honest Duncan was punished regularly and his media profile was tarnished because of some of his behaviour.
But in these sensitive times , when footballers are constantly asked to be role models, how does somebody like Suarez get named Man of the Match , when he puts in 2 extremely nasty challenges , his 'celebration' in front of David Moyes is reported on Sky as fair banter , due to Mr Moyes pre-match comments and generally his behaviour is excused constantly by the media on a daily basis.
I don't believe that if he played for any other English team , his behaviour would be accepted by the media , in fact they would hound him down at every given opportunity.
NB if you thought Mr. Marriner had a bad game , Mr Clattenberg has just done even worse in the Chelsea v Man U game.
Chris Leyland
845
Posted 28/10/2012 at 18:01:22
Michael – I think to be fair to James, Neville would not be first choice midfielder of everyone was fit. You would have Gibson holding with Osman, Pienaar and Mirallas in the midfield and Fellani off Jelavic. Question is, would Neville then be ahead of Coleman and Hibbert at right back?
Paul Kelly
846
Posted 28/10/2012 at 17:51:33
Matt,

Do you not think he's a cunt for trying to break two of our players ankles?
Paul David
847
Posted 28/10/2012 at 18:01:36
Forget Suarez's celebration. I don't know if they showed it on the tele but after the disallowed goal Gerrard ran the length of the pitch over to where the shite fans were and slid on his knees going wild, totally unaware it was still 2-2 and Everton were on the attack. What a GOBSHITE.
Keith Glazzard
848
Posted 28/10/2012 at 17:52:52
Their 'third goal' - Coates, who shouldn't have been on the pitch by the, had two hands on I think Jag's shoulders when he headed the ball back.
Suarez should have been off for potentially career ending rake on on Distin's achilles tendon. Accidental? Only if me going for a drink tonight is something I wouldn't dream of doing. Entirely deliberate. As a footballer he thinks quick and reacts quick. He could have put his boot to left or right. He was looking at what he wanted to put it on. Eye on the ball, eye on the opponent. He's a culo. (Look it up).
He should be
Matt Traynor
849
Posted 28/10/2012 at 18:05:00
Paul, #846, I don't think he was trying to break their ankles. The Distin challenge was as cynical as it was stupid and pointless, and he was rightly booked for it.
Forwards make all sorts of "loose" challenges, not everyone is a shrinking violet like Lineker was.
Andrew Ellams
850
Posted 28/10/2012 at 18:09:41
Highlight of the day, a comment from a RS fan claiming Battenburg is a Man Utd fan and never given them a thing. Morons the lot of them.
Paul David
851
Posted 28/10/2012 at 18:04:59
James
I have no idea if Gueye played up front for his French club but if he did then he was playing out of position for them as well as he has said himself he see's himself as an attacking midfielder that plays in the hole not a striker.
If van Persie plays in the hole he is still a striker playing deep but in our case Fellaini plays there. That doesnt make Fellaini a striker, he is a midfielder playing in the hole just like Gueye would be.
I don't see what agility has to do with making runs off the ball. When Baines is bombing down the wing Gueye just runs slowly 10 yards in front of him instead of running into space to make himself available for a pass or at least take a defender away with him.
Sam Hoare
852
Posted 28/10/2012 at 18:15:43
Decent performance and not a terrible result especially considering being 2 goals down.
We have some good players and our strongest 11 is a match for most teams in the premiership. There's not much depth although I did think that Oviedo looked pretty promising in his brief cameo. Hopefully Gibsons back soon and the mirallas injury was just a small knock. Fulham away is not easy but bar that the next few matches all look very winnable.
Michael Kidd
854
Posted 28/10/2012 at 18:14:26
Observations:
1. I thought the ref did okay. He made some dogy decisions but it was fairly even and he wasn't too trigger-happy (despite 7 yellows).
2. I thought Gueye did okay. Not spectacular but tidy enough.
3.Hardly anyone here has said anything about our defending for their second goal. That was embarrassing.
4. Thought perennial TW boo-boys Neville (apart from the dive) and Ossie did well today.
5. Jelavic wasn't at the races today and if that happens there isn't any decent alternative, it seems?
6. Don't like our players waving imaginary yellows - I like the moral high ground even when we are playing a side that has never been in the same area code as the moral high ground.
7. On recent form, irt could have been worse. Imagine losing to them twice in a row to a last minute sucker-punch?
Jack Molloy
855
Posted 28/10/2012 at 18:18:53
The Suarez "goal" should have been disallowed anyway because of the foul on Jags at the far post, Coates or whoever it was, climbing all over his back. So no sympathy there. Of course the rat faced Uruguyan racist diver should have been sent off for the foul on Distin. He knew exactly what he was doing. I was disappointed in Fellaini's performance,.Aftre all the hype about missing him so much he was below par. I was also frustrated that Moyes didn't throw in more firepower late iun the second half. Gueye gets to play, even though he is far from Premier League standard, but Vellios never gets a look in. Jelavic was playing wide positions for half the game anyway so why not have Vellios in the centre?
Paul Ferry
856
Posted 28/10/2012 at 18:21:37
Kudos, kudos Davey mate. I'll have a dig at you when you get it wrong but I just love your post-derby chit-chat.
When asked for his reaction (to the racist, cheat, diving, evil, twat's swan-dive in front of him after the 1st goal), the Scot said: "I thought it was great. I actually quite liked that and it's the sort of thing I'd have done if I'd have scored."
Classy with due dignity, Davey. Dour? Sour? Can be at times, but that's classic.
And then we have delectable buxom Brenda's reaction: "Rodgers described the celebration as nothing more than Scouse wit." How about what would you expect from a mentally challenged vile and evil sub-life racist twat? WTF do Brenda and Luis low-life know about 'scouse wit'? That busty Brenda, she's a wag, getting on with the scousers like a house on fire.
Matt Traynor
857
Posted 28/10/2012 at 18:26:09
Jack #855, it's not clear whether the goal was chalked off for off-side or the foul by the other Uruguayan but I agree with most that it was never a foul by Osman on Gerrard in the first place.
Re Fellaini - he was clearly not fit, and I thought he did alright all things considered. Generally though this season I think he has been hot and cold - he was terrible at Wigan (but latterly could've been down to the knock he took) but as long as other teams/managers fear him like they do, he's worth a start when fit. It was telling yesterday on R5 that WBA player Reid was going on about how they had a game plan for him when we suffered our only league defeat so far. If other teams are operating like this then in theory there should be more opportunities for other midfield / attackers, but I don't see us capitalising on it.
Brian Denton
858
Posted 28/10/2012 at 18:29:22
Marriner should merely say "An infringement occurred" and refuse to go into further detail.
It's not quite revenge for Clive Thomas, but it's part of the way there. And was funny — ONCE I regained consciousness....!
John Malone
859
Posted 28/10/2012 at 18:04:52
I've got to speak up and say it because I've had a flick through everyone's comments and can't see anyone giving the much deserved credit to our three best performers today Neville, Osman, Coleman. All three played to their maximum today and I for one and hold my hand up and admit I didint think they would cut it but I was surprised how the three played, it's a shame our more established internationals could'nt play to their best. All in all I'm quite happy with a point with Pienaar and Mirallas for a full game we could beat them no problem.
Tom Bowers
860
Posted 28/10/2012 at 18:26:27
A lot of games are all about a match-up of styles; despite the fact that Everton are overall far superior to Redshite, they (the Redshite) depend so much on speed and breakaways that Everton – who are noticeably slow in midfield but much more creative – sometimes get caught out, as was the first goal this week and last week.

Having said that, it was a creditable result for the Blues after being 2 down so early. Yes, Suarez is a very dangerous player but, to everyone but Reds fans, he is an asshole and I can't wait till he gets his comeuppance which surely won't be long...
Ian Bennett
861
Posted 28/10/2012 at 18:31:59
James what part please?
Paul David
862
Posted 28/10/2012 at 18:35:37
That's because Neville wasn't one of our best performers.
Graham Mockford
863
Posted 28/10/2012 at 18:31:00
Just thought it might be worth pointing out the bleeding obvious, Everton's best two players were Leon and Pip. Of course we all know they should never play in central midfield ever again, they are both useless, too slow and lightweight. I mean they have played there the last six games and we keep getting beat don't we?
James Martin
864
Posted 28/10/2012 at 18:39:51
The Ian above you, Ian.
Ian Bennett
866
Posted 28/10/2012 at 18:42:10
Fair enough.
Paul David
867
Posted 28/10/2012 at 18:41:35
That's two people now who have said Neville was one of our best players. I've a simple question considering it's his job in the team. How many attacks did Neville break up?
Ian Bennett
872
Posted 28/10/2012 at 18:50:09
Paul, the England captain, an expensive Allen, and ex-Real Madrid superstar Sahin should have taken Neville and Osman apart. They didn't, credit to them.
Matt Traynor
873
Posted 28/10/2012 at 18:50:38
Paul #870, I reckons he's very effective at breaking our attacks up.
Ian Smitham
874
Posted 28/10/2012 at 18:42:15
John #859, have to agree with you. All three competed and aquitted themselves well today. I feel that I have observed a much improved Coleman in the last couple of games I have seen him, and today in particular, he looked like someone who just could solve a longer term RB problem that we have.
James 865, having watched how he made himself available all game, nice and simply getting a tackle in here, laying off a series of lovely passes to both sides of the pitch, along with an excellent goal I imagine you can guess at the nature of my earlier comment. In addition, their 3rd goal, was down to little Ossie battling just that bit stronger than the great Stevie G right at the end of the game, so much so that the great one had to go down for that free kick.
Peter Laing
875
Posted 28/10/2012 at 18:53:58
Mirallas was class today and if he hadn't have been taken out by sewer- rat we would have been much more offensive in the second half. Best derby performance from Osman today in his ten years and a good display from Coleman.
Paul Kelly
876
Posted 28/10/2012 at 18:54:34
Matt. Looked at the incident on Mirallas again and that buck toothed twat meant it.
Paul Andrews
877
Posted 28/10/2012 at 18:51:42
Inevitable timid start, never won a tackle in the first 20 minutes, we didn`t start to play until they got their second goal. If we played that way from the start we may have had a different result. Worst game I have seen from the centre-half partnership.

Coleman is not in my opinion good enough at the moment for the Prem. Gueye is also not good enough. The lad above who said he had a good game was watching a different game to me.
Despite all that, we still got a point. That shows how good the opposition are.
Keith Glazzard
878
Posted 28/10/2012 at 18:58:39
Paul Kelly - he meant Distin too.
Paul David
879
Posted 28/10/2012 at 18:52:57
Ian I agree but that doesn't mean that Neville played well. I said in an earlier post that Neville did well on the ball and I was nearly fooled into thinking he was playing well.
I can't remember him winning a single tackle,in fact I can't remember him making a tackle, can't remember him winning a header, can't remember him making an interception and when Liverpool's midfield ran with the ball at our defence Neville was no where to be seen.
So he done a lot better than usual in possesion but didn't do anything he is in the team to do, which in my eyes means he can't have played well.
Graham Mockford
880
Posted 28/10/2012 at 18:56:32
Paul David take your blinkers off, he had a good game and maybe a few might be humble enough to admit it.
Paul Kelly
881
Posted 28/10/2012 at 18:57:42
Matt. Doesn't matter if he is a forward. Doesn't make it any less a foul.
Si Cooper
882
Posted 28/10/2012 at 18:30:53
Don't go Phil (#839)! If you look closely you will find that you are not as alone as you think.
Some comments seem to have come from the raised expectations generated by our good start to the season. Suddenly all our players are expected to be world beaters and all opposition is expected to cower before our superiority.
Ironic that Seamus has not attracted any flak considering his mistake led to their first goal. Not saying he should particularly because of his efforts overall, but it is strange considering the negative attention some of the players have been getting.
Personally, pleased with the efforts of all the players, if not with all individual actions or decisions. Thought it was a big improvement on the performances at Wigan and QPR, and on another day we could have pinched the victory. With Gibson and Pienaar we could have strolled it.
Brian Denton
883
Posted 28/10/2012 at 19:00:40
I would say Neville certainly didn't have a bad game.
Paul Kelly
884
Posted 28/10/2012 at 19:01:27
And that one too Keith.

John Malone
886
Posted 28/10/2012 at 18:50:42
Paul who else done fuck all for us today? In my opinion them three players were our best. Jelavic was shite he needs to sort his first touch out and his all round game, Fellaini was pretty decent but nothing special by what he can do, Baines was his solid self but again within his limits, Mirallas was a bit hit and miss good in spells but went off injured.
I thought Neville gave his all and played some great footbal in the first half when the pressure was on, offering to take the ball off the defence in close quarters. I myself have slagged him on here for being too slow and lacking in ability, but credit were credits due he tirned up today and stood up to the challenge.
Again I have slated Ossie on here for being physically inadequate but he put a shift in and played some good stuffs switching the play under pressure.
Last and not least Coleman got up and down well was always an attacking option and done well with his defensive duties I cant see what your argument is?
Peter Cummings
887
Posted 28/10/2012 at 18:42:33
Is there a more despised player in the game than Sewer-ez??

His every action stinks of arrogance controversy and confrontation.
He baits refs, fans and opposition, yet has all the attributes of a player who — if he showed more respect to everyone else in the game — could rival Messi for brilliance

As for today's game, while the Reds crew think 'we wuz robbed', I think the linesman flagged for a foul on Jags and not offside as the little rat wasn't. In fact, overall, a fair result.
Keith Glazzard
889
Posted 28/10/2012 at 18:59:31
Mat Traynor - I have no rank to pull, but pro's in the game I have played alongside know whether a challenge is deliberate or clumsy, for the ball or for the man. Much of the 'for the man' thankfully has gone out of the game. But any player is still capable of it.
That little tway was trying to gain a huge advantage for his side twice by deliberately trying to injure an opponent.
Keith Glazzard
890
Posted 28/10/2012 at 19:08:51
ps - doc Mumford will correct the typos from now on. Up all night?
Paul David
891
Posted 28/10/2012 at 19:07:54
John
My argument is simple, Neville didn't do anything he is in the team to do even if he did do well on the ball.
I've already said Jelavic was shite, Osman and Coleman played well and I thought Mirallas was our best player.
Liam Morton
892
Posted 28/10/2012 at 19:02:30
I think between 21 minutes to about 75 minutes we were brilliant. We completetly outpassed a team who's manager is meant to be the bees knees at that kind of football, we also created more chances to score as well. We were worringly open in the second half, but we were the better team today and deserved to win. If Mirallas hadn't gone off, I think we would have won about 4-2. He was incredible. I thought in the main, all of our players deserve commending.
Sterling should have been sent off for persistent fouling and Suarez had to go for the stamp on Distin, he should have been booked for a foul on Mirallas in the first half.
On the disallowed goal, it wasn't a foul that lead to it, it was a foul on Jagielka by Coates and obviously Suarez should have been sent off. Justice was done as far as I'm concerned!
Ian Lloyd
893
Posted 28/10/2012 at 19:09:17
Has anyone read Rogers post match report? WTF is he on about - Everton just hoofed the ball directly into the box to Fellani and Jella.........

We should have won today and were unlucky not to. Super Kev outstanding, sheer class hope the injury is not serious.....

We played some good football today. Hopefully next 4 games there's no reason why we can't get 12 points, let's hope Gibson is back.
Ian Lloyd
894
Posted 28/10/2012 at 19:13:45
ps: interested to see what those pricks on MotD say: Liverpool should have won, they were robbed... all that bollocks.
John Malone
895
Posted 28/10/2012 at 19:06:02
Sorry, I see you're saying he never put a challenge in... well, I can remember a couple of decent interceptions in the first half until he went on his mazey run and got himself booked for a stupid dive. From that point on, he couldn't put a foot wrong. By looks of the post match interview, he got a bollocking for getting himself a yellow card and was conscious of not getting sent off.
James Martin
896
Posted 28/10/2012 at 19:12:35
Paul,

Neville didn't have to do all those things you accuse him of not doing because they barely played at all in the second half. I can't remember Gerrard, Allen (did he even play?) or Sahin putting together a meaningful passing sequence all game. They didn't bother trying to penetrate Osman and Neville – they just launched it over the top of them to Sterling and Suarez.

We were so comfortable in the second half that Neville and Osman were practically playing it round the front of their box whilst our centrebacks were on the halfway line. Any time they got out, they'd lash it down a flank for one of them to run after, there was no nitty gritty in the middle for Neville to be sorting out (thank goodness because I thought he was nailed on for a red).

He did well on the ball and him and Osman showed for it under pressure in a way that a lot of 'superior' players (in some people's judgement) haven't in past derbies (Arteta, Rodwell, Fellaini). Once these two started passing in the middle, the whole facade of Liverpool's passing superiority just fell apart.

If we'd been Liverpool, would any of us have been happy with that performance? 2 goals up rather fortuitously to then sit back and allow ourselves to be dominated (by Osman and Neville), concede our two-goal lead and then do absolutely nothing in the second half to respond to that apart from bringing on an extra defender and pumping it long?

We had Liverpool playing 5 at the back; the reason we were so dodgy is because we were all over them for most of the game. I've never seen a derby (even the 3-0) in my lifetime where we've been so much more superior on the ball than Liverpool were (even with injuries!).
Michael Kenrick
898
Posted 28/10/2012 at 19:17:02
People saying it was a foul by Coates; it may have been.... but that cannot be the reason the goal was not given as the linesman's flag signalled an offside offence around half-way across the pitch.
Coates did stray offside at some point... although perhaps not exactly when the ball was played in by Gerrard. The linesman was not signalling for a foul on Jagielka. I believe he saw a red shirt ahead of the defensive line at some point and flagged it.
Patrick Murphy
899
Posted 28/10/2012 at 19:23:04
Distin has tweeted on Official website that the 'players were gutted after the game, as if they had lost'. At least this points to a positive mindset from the team, when in previous seasons rescuing a point would have seen them put their feet up for the next half-dozen games.
We may be short on ability at times but you can't fault the players' attitudes.

Paul David
901
Posted 28/10/2012 at 19:20:40
James
I would give Neville a 6 out of 10, in my eyes that's about average.

I haven't said any where on this thread that he was poor, I just disagree with him being one of our better players. Mirallas, Osman, Coleman and Baines played better.
Matt Traynor
902
Posted 28/10/2012 at 19:20:13
Keith #889 I will need to see his Mirallas challenge again, but needed no replay of his hit on Distin to know how cynical it was - he'd lost the chase for the ball, and it was a case of sticking one on him.
Could be my hazy recollection, but these "forwards" tackles have been going on for ages, and seldom cracked down upon. Some real dirty buggers down the years masquerading under the "forwards can't tackle" mantra. Now the emphasis is on diving apparently, as Torres will testify.
Graham Mockford
904
Posted 28/10/2012 at 19:29:07
Paul David it's Ok we get it. You think Pip is shit and shouldn't be in the team, fair do's that is your opinion. You are still wrong though.
Ian Smitham
905
Posted 28/10/2012 at 19:25:10
In noting the comment above may I say Coleman has improved, agree he may not be quite there yet , but he has improved a long way. Again, noting what has been said on here, KM is superb and Peanut is by no means sure to walk back in to that position. I love Peanut.
MK you are right he did use the offside signal, so he either got it wrong re offside, or wrong re the signal.
Some say two wrongs don't make a right. Ha, what was so right and really so funny, was seeing Stevie G doing the celebration running to their fans and then the resultant panic when he saw Baines powering towards him with no goal given. LOL
BTW when Baines did go past him, did he try to take him out or was it just me?
Keith Glazzard
906
Posted 28/10/2012 at 19:38:11
Ian S - it wasn't just you - it was actually Stevie GBH.
Simon Harris
907
Posted 28/10/2012 at 19:11:36
Left feeling a little disappointed but strangely relieved after weasel's disallowed goal.
Mirallas' injury and Gueyes surprise (wtf) introduction surrended the impetus from the latter stages of the 1st half, but overall chuffed with the fight back.
We played well, and from my seat dominated large parts of the game. Mirallas was direct and pacy and gave their young RB a torrid time, also thought Osman played well today. He takes some flak off me at the match but he deserves credit for his performance today, as does Neville who's surely living on borrowed time at CM.
I hope Gibson is not another sick note as with him and Pienaar back, and a Jelavic whos boots are on the right feet, we're a bloody good team and a match for anybody.

Keith Glazzard
908
Posted 28/10/2012 at 19:40:39
Michael K - your analysis seems to be spot on to me. And there is no way that a 'lino' on that side could have seen the Coates foul.
Ref and lino in constant communication. I wonder what one said to the other? We'll never know. But I'll bet the words flag and OK came into it. Not fixed (by us - with our Euromillions?) but agreed by officials. They owe us a few, as they know. Brenda has been warned as to his conduct (v-a-v refs) Pay back time?
Michael Kenrick
909
Posted 28/10/2012 at 19:43:39
Chris, (#845), I'd have no argument with that, but James (#843) goes on to compound his error by stating that
"if Gibson is fit then he plays ahead of Neville"
. Nothing could be further from the truth. Just check the stats since Gibson has been here, and count the times Pip has sat on the bench when Gibson has started... (I'll save you the effort: there are none this season and perhaps one or two out of 16 last season).
The point is simple: Phil Neville is not second or third choice player for Moyes, as James claims. He's the team captain and therefor one of the first names on the team sheet. [This is where I should say FACT... but I won't.]

Ed Fitzgerald
910
Posted 28/10/2012 at 19:50:15
There was a lot of positives about todays display. Yes we gave away two poor goals but for once we didnt bottle it and took the game too them and had them on the back foot. Had Mirallas not had to go off we would of won as they were shit scared of him.
Just looked at the stats we had more possession, more shots, more shots on target and committed less fouls than brendas little angels. I have to eat humble pie as a lot of us on here do and say that Neville and Osman dominated midfield and both were excellent thoughout.
The best bit though was seeing them have a goal wiped off in the last minute perhaps our luck is going to change after the litany of awful decisions we have suffered against them.
James Martin
911
Posted 28/10/2012 at 19:55:45
I meant in that position Michael. Yes there's been times (Villa away this season) when Gibson and Osman have started ahead of Neville but he's played right back. That wasn't my point. Neville usually gets in the team somewhere because we always have an injury either in defense or midfield. The pairing for the whole of the second half of last season in midfield though was Gibson and Fellaini, they played the majority of games together in there. Neville may have played at RB but he was not first choice for centre mid. Osman is Moyes's flavour of the season in centr emid now (about time) and would be paired with Gibson when fully fit. Neville has been covering for Gibson. If Hibbert was fully fit then we'd really see whether Neville was a first choice just to be in the team or not or whether he is a utility player who just gets a load of game time due to injuries and his versatility. My contention is that for someone who does not belong to our ideal first choice central midfield pairing he has done a good job in covering for Gibson in these 5 or so games.
Mike Hughes
912
Posted 28/10/2012 at 19:39:17
Q. Loathsome, scummy, Savilesque, filth.
A. ?
I've never loathed a player as much in my 46 years on this planet. And there aren't too many others who've filled me with revulsion as much - maybe Jimmy S, the Baby P killers, Jamie Bulger's killers, Hindley and Brady. Obviously the latter's crimes were so much worse but there's just something about him that says "100% gobshite". I'm almost ashamed to say it but I hope he befalls some horrible fate soon or he is outed as Gary Glitter's secret love-gimp (don't ask).
Very disappointed we didn't stuff them today. Was gutted at 2-0 down. Couldn't listen to any of the second half due to stress-induced nerves / nausea and have felt depressed ever since the final whistle.
Despite Neville's "dive" (I heard about it, haven't seen it yet) we always have, are and always will be a cut above those gobshites.
Joe Bibb
913
Posted 28/10/2012 at 19:59:41
Moyes is made up, he hasn't lost to Wigan, QPR or the Mighty LFC, we are well on our way to his 40 points total. How many games do you need to watch to understand that we go behind and then and only then does he play the Everton Way and we get back into the game? If you give someone a head start in any sport, you will struggle, Moyes isn't Frankel.

I cant understand why Evertonians are not fed up with his boring scared football. I have said this before: 'We have a great horse but a poor jockey.' — Sums it all up.
Si Cooper
914
Posted 28/10/2012 at 19:43:37
Super Kev Mirallas is a nailed on starter but not on the left, IMHO. I don't think he actually links up that well with Baines, wanting to be the wide player and the one who gets to the goal line.
We didn't surrender at the start of the second half. With about twenty five minutes to go a few stats were shown that showed we had had 12 efforts to their 6 and possession was 60/40 in our favour.
What Magaye Gueye did quite well, and for which some are giving him no credit, is retain possession and look to play in Baines. He does apparently lack pace and real attacking instincts so his ultimately usefulness and future at EFC is open to question, but he did okay today.
They switched tactics at half time, making two substitutions, and concentrated on containing us. Their only outlet was trying to play Sterling and Snaggletooth in behind the central defenders. That only worked for them a couple of times up until our midfield started to run out of steam with 20 to go, which is why El Tusko tried to take Buzz out of the game.
Two of the best aspects of the game for me; 'Crease 'ead' was virtually anonymous and they are so reliant on a teenager that they will be in major trouble if he is unavailable.
David Price
915
Posted 28/10/2012 at 19:56:22
Can't see Nev getting a game at right back though when Gibson is fit. He did play well today as did Osman.
There only threat was the individual skills from Suarez and Sterling and not by playing us off the park. Our midfield were strong until Kevin went off, Brian should have come on, he looks a very well balanced capable left sided player.
Think we would have won with Kevin still on, the lad really got stuck in and will be some player for us, hope he is ok as that was a cynical challenge on him. No yellow card? compare that to what Osman was booked for, Crazy.
Hell of a game all said and done, full strength next week hopefully and turn these draws to victories.
Plenty of spirit again, love the determination, still scoring goals, all to play for.
Think back 12 months for a reality check on where we sit now.
Proud of the team today more to come from the lads i'm sure.
Peter Mills
916
Posted 28/10/2012 at 20:04:08
As that final free kick came in, my unerring pessimistic streak cut in and I muttered "Here it comes". It duly did, and yet another derby disaster unfolded. I genuinely could not believe it when the goal was disallowed, that type of thing has just not happened for us in the nearly 50 years I have been watching derby matches. My only complaint is that we did not score the winner while Stevie G was on his knees in front of those lovely red friends of ours.
John Nelson
917
Posted 28/10/2012 at 20:02:34
I see loads are going on whether or not their "goal" was offside or a foul... In all honesty who gives a flying fuck???
To expand on the frequently used abbreviation FTRS: FUCK THE RED SHITE. It's about time we got a little luck our way.
Also reading some of the posts on here you would be forgiven if you thought we got twatted 5-0 and all our players are shite, which couldn't be further from the truth.
Again, well played blues.
Drew O'Neall
918
Posted 28/10/2012 at 20:07:53
Thought Neville played very well too, in possession.
Suarez was the difference again, we can't handle him and despite his ethical and facial shortcomings, he's out of place at the shite... Pity he hasn't realised it yet.
Just one side note: I read on here someone saw Brendan Rodgers on the train back from London in the last couple of weeks (which sounds like bollocks in itself) and he admitted he didn't like the way Suarez behaved and had 'had a word'... Well it didn't look like he'd had a word when he was clapping the idiot like a sycophantic child as he did his sea lion impression in front of the Everton bench – arrogant, snide cunt.
Matt Traynor
919
Posted 28/10/2012 at 20:13:35
Apparently Clattenburg was at his "best" in the Chelsea - Man U game earlier.
Even more amazing is that Chelsea are to "formally complain" about his performance.
Would love to see how that works out... Of course many of us here could cite evidence of previous....
Ian Bennett
920
Posted 28/10/2012 at 20:09:29
Michael - to be fair Neville has been in the side as Coleman hadnt taken his chance until now. If everyone is fit, you'd have to say Neville is on the bench. That's a big if, and a compliment to phil that at 35 he is fit for most games.
Credit to seamus today, I thought he was decent. He needs to work on his final ball once he gets clear. He is starting to take his chance and should be a fixture over the next 5 games or so. Nearly scored with a rasping drive too today.
Drew O'Neall
921
Posted 28/10/2012 at 20:15:26
Ps wouldn't you just loved big Syl to have lifted that ugly little mongoose up by his throat ala big Dunc on Stefan Freund?
Tony McNulty
922
Posted 28/10/2012 at 20:19:18
I like the way Moysie had the last word on Suarez, along the lines of, "he'll have to do it in front of many more managers."
Peter Laing
923
Posted 28/10/2012 at 20:22:23
The link to the despicable archilies heel stamp by that shithouse sewer- rat on Distin is posted on GOT - fucking despicable
Ian Edwards
924
Posted 28/10/2012 at 20:24:37
Dont fall for the spin. When gerrard takes the free kick coates was offside and runs back and heads the ball to suarez. Deffo offside. Suarez was onside but coates wasnt and he heads the ball.
James Martin
925
Posted 28/10/2012 at 20:25:03
Drew it is to Suarez's divine luck that he has never had to share a pitch with Big Dunc. I'd take a red card any day of the week to watch Dunc nail that rat like he did Scharner. Suarez is lucky he's playing in an era where the real hardmen have gone from the game, imagine Roy Keane, Adams or Vieira getting hold of him.
Tony McNulty
926
Posted 28/10/2012 at 20:25:46
It is actually hard to look at Suarez's face without wanting to punch it. Doesn't he remind you of that snivelling, arse-licking teacher's pet at the back of the class at school, who always looked Mr Fucking Innocent when the teacher came into the room, despite having just launched snot balls at one of the guys on the front row?
Ian Bennett
927
Posted 28/10/2012 at 20:27:06
His buck teeth were a yard offside.
Credit to everton for keeping their discipline, which secured a point. 11 cool heads, when 39,000 in the stands would have been a little less calm.
Si Cooper
928
Posted 28/10/2012 at 20:28:12
Will check it on MotD2 Ian, but have to admit the replays they showed on Sky were pretty persuasive that neither Coates or Suarez were offside and that the linesmans flag was way too late to have been for Coates in any case.
Colin Malone
929
Posted 28/10/2012 at 20:19:27
Spot on, John. Neville was tremendous but what I'd give for a Neville Southall...
Mike Allison
930
Posted 28/10/2012 at 20:33:47
Coates was onside I'm afraid, but Suarez's teeth were ten yards off so its okay.
But... it wasn't a free kick in the first place and Suarez should've been sent off by then anyway.
Mike Allison
931
Posted 28/10/2012 at 20:35:55
"Howard trying to get Sterling sent off for nothing"
Did you not watch the game Shane? Blatant deliberate trip away from the ball. As clear as crystal yellow card. I suppose you think Suarez didn't deliberately rake Distin's achilles?
Simon Harris
932
Posted 28/10/2012 at 20:14:17
It's all opinion Si, yes we played well-ish 2nd half but Mirallas was getting in behind their full back with regularity in the 1st half and his pace was a constant threat. Both Gueye and Oviedo warmed up at half time with the trainer which unfortunately signalled a substitution.
Moyes sees them in training and chose Gueye but imo he made a mistake, as Gueyes lack of pace left us with little option but to hit it more and more direct. Baines didn't appear trust him with his signature give and go and unlike him visibly castigated Gueye on one occasion out of frustration. As u can guess I'd have played the pacy Oviedo but as I say Moyes sees them day in day out so must have thought Gueye could bring something to the party.
As for the stats, just seen them on sky and they differ greatly to the goodison scoreboard stats which had us well ahead on shots on target.
Still think we were worthy of all 3 points today and am optimistic about the season ahead, barring injuries
Mike Hughes
933
Posted 28/10/2012 at 20:35:26
I haven't seen the pictures yet but I hope both Coates and Sewer Rat were ON SIDE and it was a legitimate goal.
That'll make their inevitable whining even sweeter.

Patrick Murphy
934
Posted 28/10/2012 at 20:37:45
If all the decisions that were made today had been correct according to the laws of the game , they would have been down to 9 men for a good half hour of the game.
As for was it a goal or not a goal I for don't care a jot, what is it they always say to
us, look in the papers tomorrow and see what the final score was , that's right 2-2.
Although I do admit , I was so gutted when it went over the line , I hadn't realised it had not been given for a good few seconds.

Paul Kelly
935
Posted 28/10/2012 at 18:05:00
Shows are far we have come that I and many others feel like it was a defeat even after coming back from 2 down and they get a last minute winner disallowed.
Onwards and upwards .
COYB
Andy Walker
936
Posted 28/10/2012 at 20:32:45
Coates was defo on side when the freekick was taken, but he climbed all over jags and stopped him jumping. Coates had both hands on Jags shoulders and was using him like a pommel horse.
The goal was rightly dissallowed but for the wrong reason. Justice though, which is something Suarez seems to have a problem with anyway.
Barry Granton
937
Posted 28/10/2012 at 20:26:43
Nasty play by the goofy-tooth, vile-cheating, potato-head gimp Suarez, just unacceptable what he did to to a fellow professional not once but twice. FA take note.
I thought we played really well and a shame not to win. All you Neville and Osman haters can say what you like; both played fantastic and did us proud.
Guy Hastings
938
Posted 28/10/2012 at 20:42:56
In the centre circle Coates climb all over Jag would have been a free kick to us. Suarez's hacks on both Mirallas and Distin warranted yellows apiece.
I've lined/reffed at local level and, to be honest, there comes a point when, after taking buckets of shit attitude from a gobby, snide, 'what? Me, ref/lino?' wanker who's not as good as he thinks he is, you think 'how can I fuck him over?'. Then the chance comes. So you do.
Ian Bennett
939
Posted 28/10/2012 at 20:47:00
Great response from Moyes on him having to dive in front of other managers.
The rs will love him for this celebration, but the positive for me is that he has made a right cock of himself in front of the world, highlighting he is a diver reducing any stick on pens/protection going forward. I can't help but think he has shot himself in the foot by increasing the publicity that he dives. What a brainless scumbag.
Peter Warren
940
Posted 28/10/2012 at 20:48:28
Neville, particularly first half, was good... but he doesn't break up play and surely that what he's there for. Jelavic and Gueye were the only disappointments for me today although Distin had an all-too-often rubbish game too.
Kevin Hudson
941
Posted 28/10/2012 at 20:44:52
Re - Phil Neville's laughable attempt to con a free-kick.
Kudos to him for admitting his folly.
A little humility & self-awareness are some of the many nobler attributes that separate us from them.
Andy Crooks
942
Posted 28/10/2012 at 20:58:35
It will be interesting to see the editorial slant adopted later on MOTD2. Despite his efforts at neutrality Colin Murray is a red although he does disguise it better than Alan Green.
I predict the focus will be on Suarez's disallowed goal and his celebratory dive. No, or little, mention will be made of the incidents which confirm that not only is he a cheat, but a coward who would happily end the career of a fellow pro
Guy Hastings
943
Posted 28/10/2012 at 20:51:32
Ian 893 'Has anyone read Rogers post match report? WTF is he on about - Everton just hoofed the ball directly into the box to Fellani and Jella.........'

He's obviously got his eye on the OT job when SAF shuffles off.
Alex Robinson
945
Posted 28/10/2012 at 21:09:20
Would like to say a word (OK maybe slightly more! :P) about Steven Naismith. Very neat and tidy on the ball. Yes he goes AWOL on occasions, but I like what he does, and the goal today was WELL deserved. Work in progress definitley, but The Moyseysiah could do wonders with a kid like that :) Be afraid the Top Four - we're coming at ya!
Brent Stephens
946
Posted 28/10/2012 at 20:24:06
We hate going to GP for a game against them. But today I felt different during the game.
Many asked before the game that at least we don't just lie down and bottle it but instead go at them and play the good, on-the-ground football we've playing this season (this year). And that's what we did. Not so badly in the second half and certainly well in the first.
And for me that shifts the psychology for the future against them, wherever we play them. And that changed psychology should also spring from the fact we came back from two down. Massive points in my view.
One gain from this game was that Oviedo looked full of it as soon as he came on. I can't see that Maggie May should ever go on the pitch before him - but having said that, today at least Maggie did much more positive than negative.
Suarez a wonderful footballer, and the most disgusting person I've ever seen on a football pitch. The scrape of studs from behind down Sylvia's achilles tendon, when the ball was a yard in front of Sylvia was calculated to harm - and it could have put him out for a year (?). I'm so angry at that and the fact that he got away with it.
The majority on this thread see Osman as having a very good game - totally agree. And most seem to think Pip held up well. Agree also. That on-the-ground football I think is so good sprung initially from them, regardless of the argument of how much they stopped anybody (I think in fact that they covered huge amounts of ground and at least jockeyed to close down space).
I guess the jury will still be out on Coleman at RB - but today very solid.
Miracles scared the shit out them driving into the box.
On balance, then, I feel really good about today's outcome and what it augurs for the future (with Gibson still to return, Felli still to be fully fit (?), a possible additions in January (Vadis?) and Barkley to return better for the loan spell?
John Dubay
947
Posted 28/10/2012 at 20:52:00
Ossie and Naismith needed to step up because we were a bit light and they did ,I feel. I'm surprised Anichebe wasn't even on the bench as Jelavic looked a bit lost today. He would have given us a bit more beef and would have made more of Oviedo's cross.

So we gained a point from a wrong decision but we're still owed 5 from the Wigan and Newcastle games. I can't wait for those RS fuckers trying to gain the moral high ground but I'm sure the error has been noted, normal service will be resumed and we will be fucked over for the next 10 years worth of derbies.
Andrew Gilbert
948
Posted 28/10/2012 at 21:16:10
Gueye to me looked like he was stoned. Needs more zip. Different drug.
James Martin
949
Posted 28/10/2012 at 21:14:22
The funny thing about the long ball jibe is that all the times we did play hoofball in the past it wasn't once mentioned. When we were rubbish everyone was fawning over us. Now that we're passing teams off the park all I hear is how much of a long ball team we are. Those sort of comments are music to our ears, just shows we rattled Rodgers and Ferguson.

Rodgers is not yet (although he is quickly becoming) deluded enough to not realise that his side had been outplayed most of the game. He seemed reasonably pleased with a point and a snide jibe in our direction. He also made the mistake of saying that we were a good side and a point was good for them (he won't last long, anything less than a moronic adherence to their undeniable superiority over every club in the league will see him pushed out).
Brent Stephens
950
Posted 28/10/2012 at 21:17:43
Oh, and Peanuts still to come back! Shit, I feel good!
Ray Said
951
Posted 28/10/2012 at 21:34:55
Rogers is also reporting the ref for 'inappropriate language' — he said 'offside' to a Liverpool goal. Platini have promised them a full enquiry.
Ian Glassey
952
Posted 28/10/2012 at 21:33:36
How does Gueye get a game? He is crap. After last year's semi-final, he should have been ditched. Jelavic has looked poor all season but will come good again. And Mirallas is going to be a great player...
Ian Bennett
953
Posted 28/10/2012 at 21:37:18
Guy - they were hardly the purists themselves. The ball went long from them pretty often.
David S Shaw
954
Posted 28/10/2012 at 21:39:58
I don't get it. People seem happy after today. I guess it's all about the result on the scoreboard. We should be acting like we got beat 3-2. Even 2-2 is not an acceptable result.
Hopefully now though we can blow out all these hard luck Everton stories that have bogged our mindset down for years.
Guy Hastings
956
Posted 28/10/2012 at 21:50:56
Ian - absolutely. I thought we were pretty hoofball-free, especially as Fellaini was obviously treading very warily and, if it wasn't them, I suspect he wouldn't have played. I don't think he chest-controlled the ball until 15 mins or so in. One other thing, the days when a Gerrard charge into the box would kill us are, I think, over. But he still put the shits up us when he was in a position to deliver a ball in from a free kick.
David Hallwood
957
Posted 28/10/2012 at 22:01:04
I thought Naismith did well today and don't forget he's just back from a horrendous injury, and of course he's still settling in at the club and has had not a lot of gametime.
Lee Courtliff
958
Posted 28/10/2012 at 22:01:11
I was at work today so missed the entire game.
I would just like to thank Mike Gaynes and Paul Ferry for keeping informed on the live Matchday forum during that mad first half.
I managed to listen to the last ten minutes on the radio.
When they 'scored' in the last minute my heart sank and I immediately thought of Gary McAllister....
A good point bearing in mind we were 2 nil down. At least we fought back this year.
Just waiting for Match of the Day now.
Mark Browne
960
Posted 28/10/2012 at 22:25:00
People talk about Coleman having a good game, yet his rashness in the tackle caused the first goal, similar to his decision against Wigan for the first goal. Good going forward this season, but still poor defending. With all the ex-defenders on the books at EFC, you would think that one of them would have sorted out this part of Coleman's game by now,
Tom Bowers
962
Posted 28/10/2012 at 22:25:41
Our last win was against useless Soton. Since then, 3 draws and a poor game against Leeds.

Yes, we are still unbeaten... but this still nowhere near good enough. We still could have lost this in injury time — then whose praises would we be singing?

For once, we got the lucky break at the right time when in many other derby games we have lucked out.

Pienaar and Gibson can get things going agai. We have dropped to fifth and it's imperative we reverse the draw mode by beating Fulham next week.
Tony J Williams
963
Posted 28/10/2012 at 22:33:56
Some abysmal refereeing there, how Stirling, Coates and Rat Boy stayed on the pitch I have no idea.
Why did Mariner always seems to allow "advantage" for us, when there clearly wasn't any and immediately give them a free kick?
Their second came from our "advantage", which wasn't and then they won the free kick.
Can't talk about rat boy, as I could end up getting banned.
Mike Gaynes
966
Posted 28/10/2012 at 23:09:06
Cheers, Lee. Sorry you had to work.
Sean McCarthy
971
Posted 28/10/2012 at 23:26:48
Having just read the "live forum" comments as well as this thread and watched MotD highlights, on top of actually being at the game, my observations are thus....
Mirallas was way ahead of anyone on the pitch til taken out by Ratboy. Can I ask that those on TW that long for the 3rd coming of St Landon now please put that one to bed? We don't need him. Mirallas is younger and franky better.
Someone on the forum said we'd at last found a right back. Really?? Who is that then?? It certainly isn't Coleman. Yet again caught out for a goal by diving in for the first one as well as being out of position. He gives me a cold sweat when he's asked to defend. When he goes forward, does he ever have the ball actually under control??
Osman finally stood up to Gerrard and got the better of him. Often accused of hiding in big games, he was in the thick of it today. As was Neville... I won't mention his dive!! That's not the Everton Way, Phil!! But I guess you were told that at half time...
Too many of our players were below par I thought. Fellaini looked short of fitness, understandably. Jelly was quiet and Distin and Jags looked scared of Ratboy and Sterling – both of whom were lucky to stay on the pitch. Naismith had his best game in an everton shirt. Guyue looked out of his depth again. Was he really Moyes's secret weapon once???
Yet, despite all this, we outplayed them for large parts and it's fair to say we are a better team overall. As for the disallowed goal, all I can say is it's about time....
Oh yea and Suarez is an odious piece of shit!!
Mike Powell
976
Posted 29/10/2012 at 00:01:08
Wtf they should've got two players sent off: carrot-muncher and Sterling should get done by the FA but we all know they won't...

We were the best side by a mile but we cannot beat them. Two-nil down... what a comeback and their goal was onside – makes it better!

THE GOAL WAS ON SIDE
THE REF WAS A TWAT
BUT HE GIVE IT OFFSIDE
Mark Wilson
977
Posted 28/10/2012 at 23:56:33
So glad that's all over. Disappointment is the word I've found myself most frequently using in the aftermath of a lifetime of derby games and today was no exception. The odd win doesn't make up for the years of feeling shit. The draw was about right, we defended poorly at times and in particular allowed Suarez an incredible amount of space between our centre backs. Neville and Osman were much better today and like everyone worked incredibly hard but somehow anyone with pace and a bit of guile seemed to be able to run at our back line and we always looked fragile in that area. Mirallas was impressive and getting kicked out of the game was hard on him and us.
We can wonder how ANY referee could possibly not see those two Sterling fouls as deserving of a yellow card for each, and how Suarez stayed on the pitch was hard to understand. But then I'm still sitting here in disbelief that the cheating bastard could get space for that second goal. And finally we get lucky with the disallowed goal, even though the late flag surely had to be for the foul on Jags? We can move on now and badly need to get back to winning ways at Fulham because these hard fought draws are full of character but for me momentum means three points not slaps on the back for effort. So right now I'm up for a couple of dull one nil wins.
SP back next week, plus Hibbo I hope. Worried that Mirallas will be missing but just can't wait to see Gibson back sitting in front of the back four. If the season is to be as good as it looks like it could be, we have to convert some draws into wins.

Clive Lewis
979
Posted 29/10/2012 at 00:21:18
Since when has it been OK to launch yourself onto a player's shoulders to head the ball? Coates fouled Jagielka anyway so they can't have any complaints. Is it only myself who seen this!?!
Patrick Murphy
981
Posted 29/10/2012 at 00:49:35
Clive — I agree with you 100%. Funny how MotD and Football First seemed to ignore this particular element of the incident, yet managed to show that our equaliser came from a wrongly awarded throw-in.

Domino Darkley
983
Posted 29/10/2012 at 01:14:49
I don't think that was a free kick for their second goal either.
I think Mr Moyes is going to have a very pleasant dilemma on his hands soon... Mirallas looked absolutely devastating down the left today and I for one would love to see more of him there.
But where does that leave the Baines/Pienaar axis?
Blimey O'Reilly.....if someone had said this time last year we would be having this type of a selection problem, he'd have been certified.
Anto Byrne
985
Posted 29/10/2012 at 02:12:21
In his 20 league meetings with Liverpool, Moyes has won three, drawn five and lost 12, taking a modest 14 points from a possible 60. The Shite have also completed the double 4 times. You can add a FA cup tie win but league wise the Shite have wood over us. Still 2-2 is better than 2-3. Now we can get on with winning again and hopefully the injuries will clear up quick.
Paul Ward
988
Posted 29/10/2012 at 01:51:48
John Malone 859, I agree that Neville, Osman and Coleman played well but so did Mirallis. My concern is what has happened to the defence ? For weeks they have been all over the place. Is it Distan who needs to be replaced by the Dutch man and or is it the poor over the hill goalkeeper that puts them under pressure. Every week ten players names seem to get a mention but very rarely see any one critisice Howard. He had little chance with the first goal but how many goalkeepers in the premier league consistently pick the ball out of the net befor they have made a save like Howard.
Peter Barry
989
Posted 29/10/2012 at 03:08:32
The power went off here in Bali at half-time so I didn't see any of the second half. 34°C and not a breath of wind and no fans or AC – oh! the sweaty suffering. Thank God the Bintang's stayed cool in the fridge.

However, the first half seems to have been the best of it by all the subsequent accounts I have read. My impressions from the first half were that Jelly was not on the money today and Felli seemed detached. I am still not convinced that Naismith is good enough but Mirallas is looking to be a good signing.

The Sewer Rat gave his usual display of sublime skills and sly, dirty, vicious, cheating play and I thought Gerrard, while playing sluggishly, controlled and whinged to the Ref up to his usual standards. Makes a change for us to get the 'rub of the green' too with their last 'goal'.
Suresh Gill
990
Posted 29/10/2012 at 03:39:30
Thrilling 1st half it was. Buck-tooth Suarez is a fine fine actor, and his teatherical display showed how he got away with the fouls on Mirallas & Distin. Dirty little rat fuck face trying his best to injure our players to gain advantage. Nevertheless a fine comeback and IMO we showed the RS we were the better side and thats why we are above them. COYB
Anto Byrne
997
Posted 29/10/2012 at 05:39:05
Just look at what they have become. Over the years they have had great players: Hunt, St John, Keegan, Toshack, Rush and Fowler... and now they have this racist scumbag piece of shit. It says it all about them and how the mighty have fallen.
Tom Bowers
998
Posted 29/10/2012 at 05:49:31
As usual, lots of great talking points, woulda, coulda, shoulda etc, etc but the bottom line is we were not good enough to beat a poor makeshift outfit who, without Ratboy, would be totally lost.

Moyes has to get us back into winning ways if we are to become permanent residents of the top four and maybe even better.

From what I have seen of the others, Chelski, Manure and the others they are no great shakes.

Getting Pienaar and Gibson back could get our best form back so that we stop dropping points to these lowlifes. Once again, we gave up an early goal and had to come from behind but at least they are good enough these days to do that whereas, not too long ago, conceding first usually meant defeat.

Ryan Rosenberg
999
Posted 29/10/2012 at 06:30:00
Really should have won that. Were on top and they were lucky not to have 9 men of the field.
Nobody has really mentioned how poor the marking was for Liverpool's second, Suarez was free. Distin is playing horrible at the moment which is surprising as he's probably been our most consistent player for the last 2/3 years.
Mirallas was incredible. Was on another planet compared to everyone and when we went off we lacked his mobility.
Think Oviedo should have come on instead of Gueye. I've defended Gueye, but the lad is clearly not good enough. I know he's playing out of position, I can tell the way he moves he looks like an attacking midfielder, but he is not good enough to be a first-team regular. Would rather Barkley than him.
Along with Mirallas, thought Baines and Coleman offered a lot offensively, they were both brilliant down back as well. This was a game where Coleman really had to make his mark and he did perfectly.
I thought our midfield would get murdered by Allen, Gerrard and Sahin. How wrong could I be. I don't subscribe to these "Neville was fantastic" comments, but he put in a shift. Thought Osman was more classier but he needs to watch his headers in the middle.
Jelavic was pretty poor and has been all season. I think he'll get better but when he drops back into midfield he needs to work on his touch.
Suarez and Sterling should have definitely been sent off. Such a shame. This, the Newcastle game, we should have another 4 points on the board. Proud of the boys.
Kunal Desai
000
Posted 29/10/2012 at 06:36:37
The media is this country are pathetic, yes thats right'd right focus on goofy's goal that never stood as opposed to highlighting the comeback Everton made. Makes me sick. What goes around comes around, we were cheated out of a legitimate goal against newcastle - swings and roundabouts spring to mind.
Tony J Williams
014
Posted 29/10/2012 at 09:06:26
Kunai, you have to give Match of the Day 2 their due, they took the time to highlight both of ratboy's dirty red card challenges.
Andy Meighan
017
Posted 29/10/2012 at 07:25:17
We only drew the game because our biggest threat, Mirallas, went off. I'm sorry but Gueye is just not good enough for this level; we lost our attacking momentum the minute Mirallas didn't appear for the 2nd half. They are a poor side and a full strength Everton side would have walked all over them.

What a ref that Gerrard is! He was awful. He knew he was getting no joy off our midfield so decided to referee the game instead and that shithouse Marriner let him. And please do not get me started on that other fucking THING up front, Cilla Black, carrot-munching, 'could eat an apple through a letter box' prick. The most odious twat to have ever hit these shores... He got away with murder, shouldn't have even been on the field to score the offside goal. Justice was done all right there.

I see Gerrard in today's Echo slagging Neville off for diving — classic case of pot and kettle there la. Yes, he did dive but at least he come right out and apologised. He's more of a man than any of their cheating fuckers.

Him and Oman were outstanding yesterday but let down in midfield by the vastly overrated Fellaini. I just don't get what people see in him. He's had a couple of good games this season and people call him world class it baffles me, it really does. I really hope some so-called big club offer us silly money for him, I'd bite their hands off.

I heard a lot of lads after the game saying he wasn't fully fit. If that was the case, he shouldn't've played – he was a passenger... anyway his first touch is awful for a so-called great player. And he was bailed out by the superb Oman and Neville who I've slagged off recently and Naismith worked hard as well.

All-in-all, we done well to come back from 2 down but really should have gone on and won it because they are one poor side.
Paul Gladwell
019
Posted 29/10/2012 at 09:56:32
Just read that pricks comments (Gerrard) only one team came to play football and win!!!! what a tosser and I think we saw yesterday this fella is on his way to finished next year, also no mention of the pricks, everyone of them standing up all game, is this one reason they reduced Man Utds allocation? setting off flares too, horrible horrible they are.
Tony J Williams
021
Posted 29/10/2012 at 10:16:51
Don't let yourself get worked up over creaseheads comments Paul, empty vessels make the most noise and all that.
He is a spent force and starting to talk a good game now instead of actually playing a good game. That was probably one of his most anonymous performances in a Derby I have ever seen.
We all know that they were there to kick our best players, they way they have done the last few derbys because they know they are nowhere near as good as they used to be. They should have been down to 9 men, possibly 8 if the ref had booked their players as easily as he booked ours.
David Hallwood
023
Posted 29/10/2012 at 10:20:45
Ryan(#999) it wasn't so much the marking as the positions the defence took up, I think Jags was trying to get them to keep a high line which would have made any attacker running in offside but somebody stayed back; if you remember a couple of seasons ago they all held each others hands to keep the shape.
But to boss the game for long periods (and BTW what happened to Rodgers famed pass and move football?) with a makeshift midfield gives me hope for the future
And Peter Barry(#989) A we were shivering on a wet miserable rainy Sunday, I bid you a friendly piss off!!
James Martin
030
Posted 29/10/2012 at 11:01:27
Ha gerrard has lost it and the excerpts from his recent autobiography show what a bitter man he actually is, a trait I never really attributed to him. 'Only one team came to play' it certainly wasn't his. Spent the first half chasing shadows, brought on an extra defender for a forward in the second half and parked the bus. Their best moments came from two set pieces. less possession, less shots on target, hey'll do nothing this year if they play like that. It was like watching Everton in most derbies Liverpool could barely get out their half. The most embarassing bit of Gerrard's game (apart from his hilarious premature celebration) was when he got the ball on the break and bashed it 10 yards behind Baines thinking he would just power onto it like he was 25, the ball had been cleared before he even got halfway to it, those days of pulling that sort of stuff are over.
Thomas Windsor
040
Posted 29/10/2012 at 12:16:03
Moyes, get the defence sorted out quick — we were all over the place the last 3 games... let's get back to winning ways.
Kevin Tully
051
Posted 29/10/2012 at 12:40:30
You have to admire the fact that the Liverpool manager, player and supporters are all moaning about officials after every game. It all points to the team being pretty shit.
One of the deludes was even asking for the FA to be taken to court over decisions not going their way!!!
They don't even see the irony in their pathetic berating of officials, after everything going for them for years. If Mirallas had not taken out by Goofy, we would have won.
I know Suarez is a good player, even though he is a cheating scumbag, but I honestly think he does them more harm than good. He is turning a lot of people off that club, including the media. Great.
Eugene Ruane
055
Posted 29/10/2012 at 13:01:17
Tony (021) absolutely agree re Gerrard. He actually now has the look of someone who has resigned himself to the fact that he's playing with a very ordinary bunch. A bunch who look even further away from a PL title than they were 5 years ago. He looks like he can no longer regularly get 'up' for it and as you suggest, is looking for distractions.

The good thing is that Rodgers (nb: someone fast becoming a joke due to his wince-inducing appearances on that channel 5 nonsense) wouldn't have the plums to drop the legend that is 'Stevie G lar', so hopefully, we'll get to see him get older and more ineffective in their midfield and stay in the team at least two years past his sell-by date.

It's funny, they all rave about 'Shanks', but those that remember him know he'd have had Carragher out of there three years ago and he'd have had a 'proper' replacement for Gerrard ready to take over now. Long may he 'reign'.
Sam Bull
059
Posted 29/10/2012 at 13:44:06
Nice picture at the top, although Ratboy wasn't offside. Jags however was fouled when Coates!?! He had 2 hands all over him for the header.
Paul Gladwell
060
Posted 29/10/2012 at 13:47:37
Year in year out I leave our ground saying `that's the worst shite team I have ever seen here` and I did again yesterday and still we never beat them, but I looked at the game, looked at If Mirallas had stayed on we would have won, realised how we battered them in that last half hour in that first half, I thought of how Pienaar would of had a field day and how Gibson would have pissed all over the ref in red (Gerrard) and then thought who did they have missing? we are now better than them, our first eleven is well better than them and our squad is too.
Bill Griffiths
096
Posted 29/10/2012 at 15:13:46
After 24 hours reflection, I think that, despite the disappointment of not winning, the future looks quite rosy as things stand. Fair enough we've just slipped out of the top 4 but look where we normally are about this time in the season.

I haven't seen anything about how bad Mirallas injury is but hopefully it's nothing serious. With SP coming back and Felli getting fit, hopefully we can get back to winning ways. Has anything been said about how soon it is likely to be before Gibbo is back?
Brian Waring
175
Posted 29/10/2012 at 19:28:36
It was swings and roundabouts in the game for me. At the end of the day, the throw-in that led to our second goal should have been a throw in to the Shite.
Matthew Mackey
505
Posted 31/10/2012 at 10:40:22
So some of us here and plenty of Reds are talking about luck being on our side coz that little South American turd got a legitimate goal chalked off. So lets talk about luck shall we. ......1977 FA Cup semi semi final against them - Everton score a legitimate goal/winner which to this day none of us know why the ref disallowed it. ....Then there is the 1984 Milk Cup final against them and Alan Hansen's (the original) "Hand Of God" stop on the goal line. No booking, no red card, no penalty. Again it would have been the winner. Moving on to 2007 and the infamous Clattenberg Derby. Gobshite Gerrard havin a word in Marks ear to change the card from yellow to red for Hibbert. And then the not once, but twice Carragher rugby tackles on Lescott in the dying minutes - again no decision given against them. Don't talk to me about luck. We are due sack fulls of it against them lot so I for one was very happy when for once we got some.
Anto Byrne
580
Posted 01/11/2012 at 00:11:11
If you look at the picture above you will see that the linesman got it 100% correct and their player is offside. You can see his shoelace is definitely offside. (tic)
Anto Byrne
585
Posted 01/11/2012 at 02:40:59
There was a derby a few seasons back that if, the ref had allowed another few seconds the ball would have crossed the line for a goal but he blew as the ball was just a couple of yards out. Any comments?
Richard Harris
586
Posted 01/11/2012 at 04:14:25
Mirallas injury cost us a win. Lucky deflection for 1st Liverpool goal, incorrect throw-in leading to our 2nd goal; soft free kick and booking for Liverpool 2nd goal, soft free kick for 'offside' Liverpool goal; Coates climbing all over and fouling Jagielka to head on to Suarez...

Sterling should have been sent off and Suarez should have received two yellow cards for the intentional fouls on Mirallas and Distin (and seeing the slo-mo replays he should have received a straight red for the one on Distin).

So two points dropped to an average side who seem to think they were unlucky!They were lucky to end the match with 11 players on the pitch....
Add Your Comments
In order to post a comment, you need to be logged in as a registered user of the site.
Or Sign up as a ToffeeWeb Member — it's free, takes just a few minutes and will allow you to post your comments on articles and Talking Points submissions across the site.