Barkley recalled to boost ranks
19/11/2012

Comments
(82)
jump to end
Youngster made 12 starts and scored 4 goals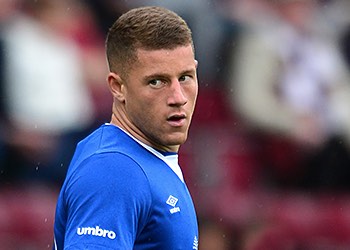 Ross Barkley is returning to Everton after spending two months with Sheffield Wednesday under the tutelage of Dave Jones. The decision not to further extend his loan with the Championship side appears to have been influenced by the number of injuries and suspensions the Blues are potentially facing, with Neville out for two months and Fellaini suspended for the next game.
Barkley made 12 starts and one substitute appearance for the Owls, scoring four goals.
Quotes or other material sourced from EvertonFC.com
Reader Comments
Note: the following content is not moderated or vetted by the site owners at the time of submission. Comments are the responsibility of the poster. Disclaimer
James Morgan
251
Posted 19/11/2012 at 11:51:07
Good news! Hopefully he'll come back sharp and confident and get some game time over the next couple months.
Gives up options at least!
Paul Andrews
271
Posted 19/11/2012 at 15:23:29
He must be bringing him back to play him at least in the short term while we have injuries & suspensions... otherwise, no point bringing him back to sit on the bench long term.
Sam Hoare
274
Posted 19/11/2012 at 15:34:54
Hmmm. Maybe straight into the team to cover Fellaini for his one match suspension?
If not then I suspect he will just be warming the bench with Gibson coming back from injury and Hitz looking decent.
Jim Knightley
276
Posted 19/11/2012 at 15:42:06
I'm not 100% on this one...he has done well on loan, but 1) I'm not sure he is ready for top level Prem football 2) I think he can only operate as an attacking mid (lacking the defensive ability for cm), and Fellaini has that position covered long term. Not only that, but when Gibson returns, we will have the potential of moving Osman into an AMC role if Fellaini is out. It is good to have options, but I hope he doesn't spend the next few months on the bench.
Still, extra options are useful, and we can always send him on loan again if we don't need to call on him. I'm sure his time in the Championship has served him well, and hopefully, next season, or the season after that, we will have a first team regular on our hands.
Mike Powell
278
Posted 19/11/2012 at 15:51:34
I agree with Jim on this one. I don't think he is ready for the Prem but we are very short of players at the moment so we need all the backup we can because, if someone else gets injured, we will have no-one to put on as sub.
Jeremy Benson
287
Posted 19/11/2012 at 16:15:51
I think this is a smart move. He's got some game experience, kept match fit, and now can go straight into the squad match-ready.
With Gibson and Neville out of action we need another central midfielder option, even if it's just on the bench.
Steavey Buckley
291
Posted 19/11/2012 at 16:27:12
Ross Barkley will get match time with injuries and suspensions mounting, especially at home when teams 'park the bus.' That will give Ross the confidence to get forward and not worry about defensive responsibilities.
Paul David
295
Posted 19/11/2012 at 16:39:58
I have a feeling he will play against Norwich then not be seen again.
Jon Ferguson
305
Posted 19/11/2012 at 17:24:28
With Fellaini suspended for the home game at Norwich game, I think this is the perfect time to give Barkley a chance further up the pitch, were tracking back (not one of his strong points) is not quite as imperative.
I was pro him being at Wednesday and getting some game time, now we are low on midfielders it makes perfect sense to bring him back and give him an opportunity.
When we get all our first choice players back and if he is struggling to get game time then it might be worth sending him back out on loan. He is still learning.
Tony Dove
307
Posted 19/11/2012 at 17:55:32
I agree with Paul save I would be amazed if he started on Saturday. He should have been left where he was. He was coming along nicely away from the influences of Moyes, Round and Stubbs.
Jamie Barlow
308
Posted 19/11/2012 at 18:34:26
Maybe we should just sell him then Tony.
Why do you think that Paul?

Spragg Johnson
312
Posted 19/11/2012 at 19:18:54
Would you rather him or Gueye off the bench? I know which I'd prefer ... welcome back Ross! The key is Mirallas ... with him back we should beat the Canaries ... without him and Fellaini we lack a lot of our potential attacking options so Barkley is a welcome addition - either starting or off the bench.
Mike Allison
313
Posted 19/11/2012 at 20:00:34
He's a good player in a position where we're short. Where's the debate?!
Ian Bennett
314
Posted 19/11/2012 at 20:00:13
In the absence of any other option, I don't think we had a choice but to recall him. Gibson could easily breakdown again, whilst Hitzslsperger is a gamble also.
I hope he has learnt from his loan, and can show that the blue half of Merseyside has a talented kid (ours wasn't poached from QPR either).
Andy Corrie
315
Posted 19/11/2012 at 20:19:07
Don't be ridiculous, getting Barkley back in no way boosts the ranks, he was always useless and has never had any impact whatsoever on our 1st team.
Andy Corrie
316
Posted 19/11/2012 at 20:21:08
What's happened to Piennar's magic/influence recently?
Another one that's gone off the boil?
Gavin Ramejkis
317
Posted 19/11/2012 at 20:28:24
Moyes will have him on the bench as cover with Gibson and Hitz in front of him, the defence need to keep the ball on the deck with no Fellaini as a target, that worries me more.
Ian Bennett
319
Posted 19/11/2012 at 20:34:11
Andy - if he has a pulse he boosts the ranks.
Ciarán McGlone
322
Posted 19/11/2012 at 20:43:21
We're short in central midfield. No brainer.
Peter Hall
323
Posted 19/11/2012 at 20:44:41
Tony Dove @397 and a few others - welcome back! You only visit when we lose. I hope your return is temporary.
Pat Finegan
325
Posted 19/11/2012 at 21:20:34
Since when is Alan Stubbs part of the Moyes/Round/Hitler/Moussolini axis of evil?
Mark Dunford
326
Posted 19/11/2012 at 21:32:31
I always had Stubbs as more of a Pol Pot type figure - taking the reserves back to year zero in an act of utter madness.
Really - some of these posts are absurd. We're short in midfield so we've recalled a promising young player who may - or may not - be around simply as cover. We may loan him out again in January depending how the next six weeks go. For some people, this is beyond reason.
Lewis Barclay
327
Posted 19/11/2012 at 21:48:26
There's a seat in row F of the Bullens road that should be compared with Saddam Hussein, lets all discuss that while we're on it.
Gibo, has been crocked. Fellani suspended. Neville crocked. Mirallas has been crocked. I reckon we can probably send Pienaar and Ozzie off on a well earned rest and let the on loan Hamburglar sort it all out.
The world's gone mental.
Tony Steele
328
Posted 19/11/2012 at 22:18:16
He'll score the winner on Saturday.
Patrick Murphy
329
Posted 19/11/2012 at 22:13:08
Every able body is required until the end of the year at least and maybe right through to May. I note the season doesn't reach its conclusion until May 19th that's an awful long time to negotiate with our extremely small squad.
Whilst Seamus Coleman is not performing to the level we may want from him according to GOT website he has been receiving racist abuse from so-called Evertonians.
We do not want any of our players being targeted in this way no matter how many points their individual mistakes may have cost the Blues.
I'm pretty sure nobody on TW is responsible for any of these tweets , but just in case you are , we are supposed to support the players and the team not submit them to abuse or racism. Find another club to support if you hold these sub-human tendancies.
I also think despite our misgivings as a fanbase it is important that the supporters stick with the team in the coming weeks and use the frustration of the past few weeks in a positive way , i.e. get behind the players at every opportunity and hopefully a bit of luck will come our way and we get a few wins.
Tom Bowers
332
Posted 19/11/2012 at 22:46:52
This is a testing time for teams like Everton; that is to say, small squads with the Xmas period approaching. Because Moyes has not really given extended runs to many of the fringe players, they are short of real Prem experience and so he will go with the usual suspects and hope they carry the flag over the difficult weeks to come.

Having said that, it is evident that all the games have been and will continue to be difficult as Everton have proved they flounder against even the lower clubs. Norwich will be no pushover even if we had Fella and Mirallas back.

Everton seem to have a complex about killing off teams they have outplayed; after not even getting a draw against Reading, one must expect anything to happen, home or away.
Ian Allaker
333
Posted 19/11/2012 at 22:50:39
I think Barkley could be just what we need. His tracking back, work rate and defensive attributes are not up to Moyes's standards for the team. I think Barkley would be useless in a struggling team but, in a team like Everton that is creating lots of chances, I think he could do well, as one of his main strengths seems to be his shooting. If we can get the ball to him enough in and around the box, I think he could bag a few goals for us.
Jim Harrison
337
Posted 20/11/2012 at 01:40:15
Maybe this is his chance? Felleni out, gibson is not going to 100%, same with Der Hammer. I f he gets on the pitch and plays well he could solve the midfield issue and push the other regulars for their places.
Anto Byrne
343
Posted 20/11/2012 at 05:00:18
Peanuts needs a rest, Jelly wants a rest, Howard is having a rest. I rest my case.
Jason Lam
353
Posted 20/11/2012 at 10:26:51
It'll be like a new signing!
Sam Hoare
355
Posted 20/11/2012 at 10:36:32
I know its only Tuesday but assuming Mirallas is still out and Gibson is only fit enough for the bench then I say:
Howard
Coleman Jags Distin Baines
Naismith Osman Hitz Pienaar
Barkley
Jelavic
I know Seamus has looked dodgy recently but dunno if Hibbo is fit plus I think Norwich will come for a point so the onues will be on us to break to them down.
Pablo Connelly
356
Posted 20/11/2012 at 10:25:38
Ian (333) what makes you say he would be useless in a struggling team? I was under the impression he just got a string of man of the match awards and a decent goal return for a struggling championship side. Strange comment that.
I don't go with the theory that he needed to stay on loan all season. A run of 11 games is plenty to get him to get match fit and ready to impact our games. Leon didnt have much longer than this and came back ready to play. Even if he did stay there longer he wont be the finished article for a couple of years anyway. The fact is the lad clearly has an abundance of talent and can therefore be a big threat to opposition teams. You only have to look across the park to see how well Sterling is playing to know if your good enough your old enough. Admittedly we have more attacking options than Liverpool so it would potentially be harder for Ross to hold down a starting place for Everton the way Sterling has. However it's upto Ross himself, if he grabs his opportunity and makes an impact on Saturday he will get more opportunites. Providing he then gets enough game time his development will be better served in the Premier league than the Championship. If he cant make an impact there will still be the opportunity to send him back to Wednesday in the new year without any risk to his long term development.
We have alot of until the end of December, it is a sensible decison to have him available to step in and a much better option than Gueye off the bench. A lot of people who know an awful lot more than any of us on here are tipping him for great things, thats good enough for me.
Ian Allaker
360
Posted 20/11/2012 at 11:02:38
Pablo, just from what I have seen of him at Sheffield, he is a highlights player. He looks good on the Football League Show because he will always do one or two amazing things in a game but for the other 88 mins he is usually non-existent or making silly mistakes that in the Prem could be just as costly as Coleman's mistakes.

However, if he is kept out the way up field and we dominate like we have done and get the ball to him around the box, he has got a shot on him. We can't afford to carry too many players but I think Barkley is the one luxury player we can afford to have in the team... but the balance will have to be right. Someone is going to have to do Barkley's running.
Steavey Buckley
366
Posted 20/11/2012 at 11:27:47
Ross reminds me of Rooney, both are from Liverpool. And have this inadomitable spirit of not being fazed.
Steve Smith
369
Posted 20/11/2012 at 11:34:52
All well and good recalling him, but will he get a game?
Oscar Johnathan
371
Posted 20/11/2012 at 11:56:43
Everyone slagging Barkley off get down off your high horse and look at him as a potential rather than what he is now (which isn't half bad anyway). For his age, to score 4 times in a 2 month stay in the Championship is very impressive, and in his appearances for the first team at the beginning of last season he looked very promising. TW haters need to sit down and let Moyes do what he does rather than finding any possible angle to criticise the club. Find another team if you're going to be that negative, I know that if someone had offered me 5th place in the middle of November I would've snatched it up without any doubt.
Jon Ferguson
374
Posted 20/11/2012 at 12:09:33
I hope Barkley doesn't come on and make a mistake.
The amount of abuse Coleman has been taking on social media sites is a disgrace. He made a mistake, he's still learning his posiiton. He's not going to get better by taking a load of flak. It's all made the worse when they start attacking him for being Irish.
It's bad enough for a young man like Coleman, for a teenager like Barkley, would his shoulders be strong enough?
Tony J Williams
376
Posted 20/11/2012 at 12:15:29
Jon, it wasn't just a mistake, it was fucking stupid and idiotic jump into the Reading player right in front of a ref that loves fucking us over. To say it was a schoolboy defending is an insult to schoolboys.
Kevin Tully
378
Posted 20/11/2012 at 12:30:39
Jon # 374,
I cannot understand why professional footballers would ever think of having a twatter account.
It just leaves you open to be verbally abused by idiots, and then complain your feelings are hurt, or even worse, threatened or racially abused by some half - witted tosspot.
The world is full of morons, why give them a platform to threaten footballers?

Michael Brien
384
Posted 20/11/2012 at 12:38:51
Tony - ".....To say it was a schoolboy defending is an insult to schoolboys..." I haven't seen the incident in question - but in 48 years of being an Evertonian I would say that Seamus Coleman isn't the only Everton player to have been guilty of " poor/schoolboy" defending.
As a teenager back in March 1972 I recall Tommy Wright scoring an own goal after about 20 seconds in a Derby match at Anfield, exactly a week later he did exactly the same thing in a match at Goodison against Man City !!. Earlier that season in Sept '71 I remember Howard Kendall playing a crossfield pass without looking, which was easily intercepted by a Derby County player and lead to a goal. Both Wright and Kendall are two great names from Everton's history - but not immune from making mistakes. I am sure that we could all recall other examples of other " great names" from our past who made equally " schoolboy" errors that cost goals/games or both.
I doubt whether any player has benefitted from abuse - I am sure like me will have been saddened at the passing of another Everton legend in the summer- Gordon West. I well remember how when he lost form in the early part of the 1970-71 season some of the crowd gave him abuse.Even some of our most fondly remembered players suffered mindless abuse. Yes players get well paid, but they are not machines - human beings make mistakes. If you wanted to be really pedantic you could make a case for sayng that every goal scored could be prevented and is the result of some defensive mistake. We would we all be happy if every game finished 0-0 ?
If you want to see a team game were there are no mistakes made - then football is the wrong game for you. Indeed most team sports would be - I suggest taking up computer gaming where if things go wrong you can always erase things and start again.
I gather that some of the abuse was also racist being anti Irish. As an Evertonian of Irish heritage - ( an Irish-Scouser) I am both saddened and angered by this. As Scousers have often been the subject of such abuse in recent years how sad it is to stoop to such a level. Also such so called fans show a complete ignorance of the very strong links between Everton and Ireland. " If you know your History...?" Clearly some don't!!!!
Ciarán McGlone
388
Posted 20/11/2012 at 13:05:01
I've seen the racist abuse directed at Seamus on Twitter..
The sooner McAlpine sues everybody the better. Some people don't have a clue about the legal implications of their ill-judged comments on social media.
Mike Allison
390
Posted 20/11/2012 at 13:24:13
Is it racist if its a nationality? I just don't think its the same thing. There isn't really a word for it though.
Am I racist if I say something like "Irish idiot"? Would it matter if my ancestry was Irish (half of it is). I can see why you'd be annoyed Ciaran and Michael, but I think its important to make distinctions when it comes to 'racism'.
This all reminds of that incident with Saha when someone called him a lazy, French something and got banned for racism. I think calling someone a French something and calling them a black soemthing is very different and should be treated as such.
None of which changes the fact (opinion!) that for an Evertonian to abuse one of their own online is despicable anyway.
Shane Corcoran
392
Posted 20/11/2012 at 13:35:05
Mike, don't go there. The differences are defined by society. It surely boils down to what was intended by the relevant remark.

I'm following Coleman on twitter but can't see any abuse. I'm a real twitter novice, anyone help me out?
John Campbell
393
Posted 20/11/2012 at 13:38:01
The lad is sheer class, glad he is back... get him in ahead of Hitz.
Andy Crooks
395
Posted 20/11/2012 at 13:41:48
I'm glad to see Barkley back. With regard to Coleman he is learning the right back role and will make mistakes. In my view he is worth perservering with.
I have never seen a player improve for being abused by supporters and it is horrible to see it . The fact that Seamus is Irish has no bearing on his errors so the fact that it is pointed out doesn't offend me but I still believe that it was meant to offend and that makes it an issue.
Alan Williams
400
Posted 20/11/2012 at 13:14:48
MB, 384. What connections between EFC and Ireland? If you know your history, it has nothing to do with an Irish connection. It's the same for people that say we are C of E or RC — it's total rubbish EFC was formed by a committee associated to a Methodist Church, which was aligned to the Protestant side but thankfully was an open club and no religion on either side was encouraged more than the other.

EFC is a secular club in every form and anybody that says different is deluded. The same applies to connections with Ireland (North or South), Wales and Scotland — we welcome everybody but we have allegiances with nobody other than Evertonians.

Don't fall for this Irish connection crap; we have just as much if not more in common with other British Isle countries, naturally based on the location we will have Irish fans and players and we welcome that.

Coleman's abuse is just because he has played crap in the last 3 games, no different to the stick Big Vic or even Saha had being Irish gives it a convenient spin for the thick people no different than if he had red hair like Moyes.
Mark Wilson
401
Posted 20/11/2012 at 14:03:42
Ciarán #388 Spot on re Twitter etc, its beyond understanding how people have not got the message that what they say on social media is a fully accountable action, can and will be reported as appropriate, and if the law is going to get broken then Twitter et al is as likely a place as a newspaper, TV programme or street corner.
Pablo #356. It could be a transitory thing but I'm not sure anyone can compare the impact of Sterling with Ross B. Sadly one has started his career brilliantly at 17 and frankly looks like a Prem player already, though I'm wondering about his temperament on the pitch. The other has struggled with injuries, had a stop start career, but honestly doesn't look anywhere near as good as the hype suggested.
Still, if he gets a chance on Saturday lets hope he grabs it and impresses.

Andrew Ellams
403
Posted 20/11/2012 at 14:30:20
When somebody is receiving death threats over that ridiculous site for getting more votes than somebody else in a singing contest then in my view it is time to pull the plug on it
Tony J Williams
405
Posted 20/11/2012 at 14:55:14
Michael, all the serious race/nationalist issues aside, what's your point? It was still a fucking idiotic challenge, was it not?
Anthony Flack
406
Posted 20/11/2012 at 13:41:52
Just spoke with friend who saw him against Forest on Saturday. He said, "He plays in midfield... unfortunately Sheffield Wednesday do not."
Tony Finn
407
Posted 20/11/2012 at 15:02:16
Coleman's mistakes are costing us points – it's as simple as that for me. He might become a viable option at RB but the sooner we get Hibbert back in the better. Getting dropped might make him analyse his game, although they should be doing that anyway.
Ciarán McGlone
408
Posted 20/11/2012 at 14:54:11
"Is it racist if its a nationality? I just don't think its the same thing. There isn't really a word for it though."
-----------------
We've been through this before. The legislators have seen fit to expand the legal definition of racially aggravated public order offences to include nationality... and I happen to agree with that move.
No doubt you'll get someone on crowing about dictionary definitions and some other mealy mouthed pandering but that does not change the above fact.
Brendan McLaughlin
411
Posted 20/11/2012 at 15:18:58
Mike #390
Actually it's important NOT to make "distinctions" when it comes to racism & the law has recognised this point.
Barry McNally
413
Posted 20/11/2012 at 15:22:16
Kevin #378
Agree with you 100%, why does anybody have a twitter account, #colemanisaliabilityatrb!
Phil Walling
414
Posted 20/11/2012 at 15:23:00
Coleman has been an accident waiting to happen ever since he came in for Hibbert/Neville at full-back. It has been ludicrous for Moyes to leave Distin on the bench just to accommodate Heitinga`s expressed desire to play in the centre.

As for Barkley, I would hope he has made some progress since his last Everton appearance or he too will be a liability.
Mike Allison
416
Posted 20/11/2012 at 15:23:58
We have Ciaran, and I've not much stomach for doing it again to be honest. My opinion is fairly clear above I think and I'll leave it at that. My black/French example sums my position up best I think.
I agree with you that it's a good move as it gives them more leeway to prosecute people who are being unpleasant to others who might otherwise have got away on a semantic technicality. However, I still don't think that everyone who technically breaks a law should be prosecuted. Neither, I think do the legislators.
I think I've summed up, very briefly, everything I said last time, so I'm hoping that'll do.
Dave Street
418
Posted 20/11/2012 at 15:53:59
Posted this on the other thread but thought it may be more appropriate to post it on here, but in addition to this I only see having Barkley back as a bonus and there is no doubt he could play behind the forward and this would allow us to keep Osman right where he is, assuming that Mirallas is still hamstrung.
On the Coleman issue, I have to say Coleman has been copping it from everyone recently, people forget about everything that he offers us going forward and only now remember the mistakes. Yes, he is still only 23 and developing, and he will make mistakes, but I think we should continue with him as I still feel that he is the future and I am confident with Moyes's guidance he will cut out the mistakes.
Nobody even mentions his track back and goal-saving tackle and block on Saturday, which was superb. When the result goes against us, people just want to remember the bad stuff. I say give Seamus a bit of slack and stay behind him, particularly for the Norwich game where his attacking forays forward will be vital to us securing the win.
Nick Entwistle
419
Posted 20/11/2012 at 15:45:05
Facebook and Twitter are given a level of importance where as YouTube seems to escape entirely. And every other website.

Just because it's a social media platform, someone can be arrested for being insulting, even on 'friends only' Facebook. I've seen far more insulting words spoken on Family Guy than any 17-year-old mouthing off to Tom Daley via Twitter.

Tony J Williams
421
Posted 20/11/2012 at 15:57:35
Dave, there's making mistakes and then there's idiotically jumping into a man in front of a ref. It wasn't a challenge like the excellent recovery one he made, it was a fuckwittish foul in the penalty box.
Chris Green
426
Posted 20/11/2012 at 16:12:48
Does make me chuckle. We are sitting high up the table, having lost two games in the league all season, and some people want to get players away from the influence of someone regarded by many as one of the better managers in the league. (I am someone who thinks Moyes is a good manager who has been very good for Everton.) We lost 1 game. Yes we should have lost, and by god it's frustrating when you create what we did and don't win... BUT... it's one game and I am sure it's the wake-up call they needed.
On Coleman, yep... boneheaded challenge and the ref was never gonna need much assistance giving it... BUT... the guy has been good for us this season, is definitely the future... and if you aren't allowed to make the odd mistake, then it makes for a poor show of "supporting" in my eyes. Every defender makes mistakes, ask Chelsea fans about Luis... but as long as he learns I don't care.
I am pleased we are where we are... that we are playing nice football and creating chances — certainly makes a change from years gone by!
Dave Street
431
Posted 20/11/2012 at 16:20:05
Tony, I accept it was a mistake, but we all make them. It was an idiotic challenge. The positives that he offers outweigh these mistakes in my view and a home game against Norwich, provides the ideal platform for him to prove himself and eradicate these errors.
Would we be making a big deal of it if we were 3 nil up from the first half and ended up winning 3-1 because of his mistake. I think not. I think Chris's comments (426) summarise how we should see Coleman. He is most definitely the future.
Jamie Barlow
433
Posted 20/11/2012 at 16:36:48
Would people be so quick to forgive Tony Hibbert for such a challenge?

James Fletcher
434
Posted 20/11/2012 at 16:46:28
Perhaps not Jamie, but then TH doesn't offer much else than a solid defensive performance. I think Coleman is improving his defensive game and a result of this learning process will be the odd mistake. Moyes is good at developing defenders and I'm confident that Coleman will come on leaps and bounds.
Tony J Williams
436
Posted 20/11/2012 at 16:49:51
Dave, I get that it was a mistake but what irks me is how stupid a mistake it was. The lad is a professional footballer who has played in the Premier League for 2/3 seasons now. When I was playing Sunday League stuff, if I did a challenge like that one on Saturday, I would expect to be bollocked and dropped by the manager the next game.
It is the sheer stupidity of the challenge that I find it hard to forgive. Coleman has been responsible for conceding goals for a while now and was lucky not to concede a penalty against QPR, even though it wasn't one.
We don't get protection from the refs and any close call generally goes against us in the box, so a fecking stupid jump into a player is a dead cert for a pen against us. That's not being professional at all and has fuck all to do with "learning his trade".
Shane Corcoran
437
Posted 20/11/2012 at 16:55:03
Alan, I hope by saying "other British Isle Countries" you're not implying that Ireland is in the British Isles?
Now that would open up an even bigger can of worms.
Tim Smith
440
Posted 20/11/2012 at 17:06:47
Shane, the United Kingdom of Great Britain & Northern Ireland is a political entity – England, Scotland, Wales & Northern Ireland.
Great Britain is a geographical term for the main British island - England, Scotland & Wales.
The British Isles is also a geographical term for the group of islands off continental Europe which include Great Britain and the island of The Republic of Ireland and Northern Ireland.
Chris Green
442
Posted 20/11/2012 at 17:17:43
Hi Tony, 436, I think we all agree with you it was a stupid challenge, and he has got to learn from them. As you say, he isn't green anymore and needs to learn, but truthfully, I think the b%+llocking he would have got off Moyes would probably have been enough. What he needs is support now to turn it around.
We all make mistakes, even the very very best players... Just think we need to focus on the good so far.. and not bust his chops for a mistake.
@ Jamie 433... Depends who you talk to... for me Hibbert has done alot more good things for us than bad. I think you have to accept that every player has limitations and all make mistakes.
I am glad Barkley is back, he has shown flashes of excellent play, and if he can learn from the likes of Fellaini (who is a monster) and Osman, (who I think is really underrated) I think he could go on to be an excellent player. He has to learn and adapt. Lothar Matthaus wasn't a great sweeper early in his career, he learnt to adapt as he moved back (not suggesting he is in that class before someone leaps on it) just an example that people can learn as they go.
Tim Smith
445
Posted 20/11/2012 at 17:36:20
Living in Sheffield I sometimes watch the blue side (Wednesday) and the thing I've noticed in Barkley's game is the tendency to sometimes be too clever – such as back heels guessing where a team mate is – which result in him giving the ball away. For that reason I think he is still a risk at Premier League level.
Dave Street
449
Posted 20/11/2012 at 17:52:54
God forbid that someone tries some trickery Tim, lets train him up to play like Phil Neville. I exaggerate, but you get my point.
We should be encouraging flair players to try a little something different within reason. for that reason playing him further up the field is absolutely the right thing to try.
Christopher Kelly
454
Posted 20/11/2012 at 18:18:53
Jamie #433
Tony wouldn't do something like that...
Unless we bring in another RB in the close season, he's our guy for the future. However, he needs a spell on the training ground to get back to basics and to work on what he's there for - preventing goals...
Is anyone else surprised that Moyes hasn't been able to coach this boy up a little bit more??? How after all of these years is he still making such silly decisions?? I blame Moyes almost as much as Coleman for this. His defensive development really has sputtered out.
Shane Corcoran
458
Posted 20/11/2012 at 18:41:27
Tim, I'm aware that the term exists. But it's typical of the ignorance of some sections of British society to use it without thinking that it might cause offence. Anyway, this isn't the platform for such debate.
Joe Bibb
476
Posted 20/11/2012 at 20:49:39
The lad is back because there is a vacancy on the bench; it doesn't look good on Sky TV when the cameras zoom in.
Ciarán McGlone
478
Posted 20/11/2012 at 20:54:26
Shane,
It's not a 'phrase', as already explained to you.
Get a grip, or buy an atlas.
Gavin Fennessy
480
Posted 20/11/2012 at 21:01:52
Have to agree with Shane here Ciarán. British Isles isn't a description that sits too well - and I am no raving republican. It is a historic and antiquated term that was applied when Ireland (south and north) were ruled from London. I'd imagine if a similar term had been coined for France in (say) 1942 - "west west Germany?" - that its use would also be seen as a bit unfashionable in modern times?
Ciarán McGlone
481
Posted 20/11/2012 at 21:21:37
Dear God.
Its a collective geographical nomenclature for a group of islands. It has nothing to do with individual countries... nor can be construed as political in any shape or form.
Roberto Birquet
483
Posted 20/11/2012 at 21:28:20
I'm not sure on the background of the term British Isles, but know that the Spaniards use term: Islas Britanicas.
And what does Britain mean? Originally, it did not refer to the English. the native Britains were the celtic peoples of this island, while the English were invaders from Denmark and Germany.
Terminologies change their meaning all the time.
But I do know one thing. We need a new right-back. I'd keep Seamus as back up for Mirallas at least for the time being. But nothing else. He is a poor defender, has cost us points, and were it not for Distin, we would be blaming Coleman for the semi-final. What the Hell was he doing making any challenge on Gerrard when he was just meandering to the byline?
As someone above has mentioned: an accident waiting to happen at RB.
Ciarán McGlone
485
Posted 20/11/2012 at 21:44:05
You're right, Roberto.
The origins have a long and varied history from the continent.
Shane Corcoran
506
Posted 21/11/2012 at 07:27:08
Ha, seems I've been censored.
Michael Brien
509
Posted 21/11/2012 at 07:22:59
"Michael, all the serious race/nationalist issues aside, what's your point? It was still a fucking idiotic challenge, was it not? "
The point Tony - and I think you should have read all of my comments - was that Coleman isn't the only player to make mistakes. I used the example of 2 of the members of out great title winning squad of 1969-70 to show that.I have never thought it did any player any good to give them abuse and I have to say that I am amused that Tony Hibbert is now being described as a " defensive saviour" - I wonder how many of those writing in Hibbo's favour have "slagged him off" in the past.
In my opinion it is very straight forward - Hibbert is the better defensive full back - Coleman is the better attacking full back. Maybe it is a case of using both " in rotation" according to the strengths/weakness of the opposition.
And as regards the Irish connection - I think that Ireland have had more players from Everton than any other English club - certainly in the 1950's in at least one match 4 of the 11 Irish players came from Everton - and for many matches there 3 Everton players in the team.I know all about our "Methodist" connection and I wasn't trying to make any religious point - more the fact that there is a historically strong link between Everton and Ireland and that to use Coleman's nationality as a term of abuse was showing no regard for that history/tradition. And in fact was wrong on many levels - I wonder if the people who made the comments on twitter would be prepared to make themselves known and confront Manager and Player in person ?
Paul Andrews
535
Posted 21/11/2012 at 12:08:55
Michael,

I take your point. With all due respect, a defender`s main objective is to defend. Anything else is a bonus.
Tim Smith
538
Posted 21/11/2012 at 12:42:16
Gavin/Ciaran, you've added an interesting angle about the historical connotations of using the term 'British Isles' which I'd not considered being an Englishman through and through. Interesting.
That said, Roberto has put me in my place nicely, being an outsider to these islands myself. Back to the football methinks.
Michael sums it up well, Coleman is a good attacking full back but has weaknesses in defence. The key point, does he make the mistakes instinctively, like the push in the back, or can it be coached out of him? I hope the latter.
Andy Crooks
564
Posted 21/11/2012 at 18:03:54
Tony J, in my view you are one of the best contributors to this site. However, what is it with you and Seamus Coleman?
You find it hard to forgive his error. The error of a young defender who has only had a handful of games as a Premier League full back? I think, Tony, you need to re-think your view and show some of the tolerance that is more typical of you.
Young players need encouragement, not social media abuse.
Add Your Comments
In order to post a comment, you need to be logged in as a registered user of the site.
Or Sign up as a ToffeeWeb Member — it's free, takes just a few minutes and will allow you to post your comments on articles and Talking Points submissions across the site.