Kevin Mirallas back in training
16/01/2013

Comments
(24)
jump to end
But he will be given more time to fully recover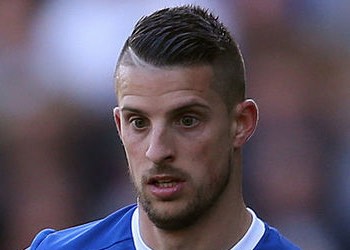 Kevin Mirallas is back in training after suffering a recurrence of a hamstring injury which had already sidelined him for a month against Spurs on December 9. But Everton are unlikely to risk him at Southampton on Monday, in a bid to ensure the player doesn't suffer another repeat of the problem which has already seen him miss 11 matches this season.
After a sparkling introduction to the Premier League, the pacy and penetrative winger first felt the problem after a brilliant first 45 minutes of the Goodison derby match in October, but Suarez kicked his ankle in a disgusting foul worthy of a red that received only a free-kick. It left Mirallas limping as he tried to run it off but he did not reappear after the break.
He got through the next game at Fulham, but then limped off after just 30 minutes against Sunderland.
After sitting out for a month, he returned against Spurs but again came off at half-time and has missed a further seven matches since.
Despite scoring only one league goal so far, Mirallas's impact has been considerable and his return would give manager David Moyes a major boost.
Quotes or other material sourced from Liverpool Daily Post
Reader Comments
Note: the following content is not moderated or vetted by the site owners at the time of submission. Comments are the responsibility of the poster. Disclaimer
Derek Williams
176
Posted 16/01/2013 at 15:03:03
Can't return soon enough. Show Jela how to finish.
Brian Harrison
178
Posted 16/01/2013 at 15:16:06
Great news, let's hope he can have a run in the side without injuries till the end of the season. When you consider we have missed Kevin and Darren for many games this season and are still only 3 points behind 4th place. We have definitely missed his pace down the right hand side and with him and Coleman on the right then that gives us terrific options on both sides.
Tony J Williams
179
Posted 16/01/2013 at 15:24:29
Brian, it certainly gives the opponents something to think about. No longer will two right backs marking Baines/Pienaar (ala Swansea) be sufficient to snuff out our attacking play.
Steve King
182
Posted 16/01/2013 at 15:53:37
I wonder why we have to hear it through the Daily Post? Surely the official Site should be giving us updates on key injuries like this. I find their silence increasingly frustrating!
On the positive side though........this really is great news!! Was really impressed with him earlier in the season and I think we would have a few more points on the board if he'd been available more regularly.
Trevor Lynes
183
Posted 16/01/2013 at 15:57:05
Steve I fully agree with you and I wrote similar comments only yesterday.
Every day the official site prints the same comments on all injuries and they are seldom updated.
The fans should know before the media as they avidly read this site and the official site each day.
Its pretty poor P.A.
Sam Hoare
184
Posted 16/01/2013 at 16:01:26
Much missed. Hope whatever the injury was he has now seen the end of it. Could really use his talent as we have looked a touch rusty in the final third.
Phil Sammon
185
Posted 16/01/2013 at 16:01:33
Like you both, I get frustrated about the club's lack of communication.
They said he came off against Spurs 'as a precaution'. Well, I think the damage was already done.
The only thing I would say in the clubs defence is that maybe it's a good idea to keep out injury news out of the papers. I'd rather keep opponents guessing rather than then being able to prepare for our exact line-up all week.
Roman Sidey
186
Posted 16/01/2013 at 16:22:06
Desperate to get him back, but I'd rather miss him for another month if it meant we weren't rushing him back. How many weeks of full training is the consensus to be fully fit and over an injury? I guess it comes down to the individual, but after this guy's recurrence, and for the fact it's a hammy, my vote would be to leave him out of the starting line up until Feb, given that our next few games should be fairy winnable.
Nick Entwistle
190
Posted 16/01/2013 at 16:39:15
Excellent news. Mirallman can be as potent as Bainaar.
Sorry.
Clarence Yurcan
196
Posted 16/01/2013 at 17:13:17
Great news. On an unrelated note, I'm delighted Pep Guardiola decided to coach Bayern Munich and spurned city and chelski. Sure, they can buy trophies with their oil (and blood) money, but one thing you can't buy is the status and respect of being a "big" club. That comes with consistent winning over many decades. Bayern has it, and the likes of city and chelsea never will, I'd dare say Leeds is still a bigger club than those two.
Tony J Williams
198
Posted 16/01/2013 at 17:25:47
Steve, Trevor & Phil - don't go on the Official Site and you won't be disappointed. It's gash
James Martin
204
Posted 16/01/2013 at 18:01:42
I've never understood all this why should people know when he's coming back concern. What if, like Gibson, they say 2 weeks and it turns out as 3 months, everyone just gets annoyed and makes the club look stupid. If they don't say anything then all of a sudden he's back in the team and everyone's happy. Now if we don't win against Southampton people will be saying that we should of used Mirallas if he was fit, even though its that sort of premature stuff that reinjured players.
Rahul Gandhi
207
Posted 16/01/2013 at 18:27:31
Couldn't believe he has already missed 11 games so far. More so, that he has scored only one league goal!
Steve Edwards
212
Posted 16/01/2013 at 18:54:16
Bad news! I thought that he'd been training for some time. God knows when he'll be match fit.
Ian Bennett
213
Posted 16/01/2013 at 19:06:03
Play him in some reserve matches first (u21s). This never seems to happen any more with first teamere.
Tim Locke
214
Posted 16/01/2013 at 19:04:15
Would be great to get him and Gibson back. With him and Coleman on the right; Baines and Peanuts on the left; the big Fella, Osman and Gibson in the middle we are very hard to stop coming forward. COYB
Jamie Sweet
224
Posted 16/01/2013 at 19:55:31
Can't wait to see him back in the side. Our strongest starting eleven when all fit is capable of great things, but will we see them all together again this season?
We've actually done pretty well to pick up the points we have over Christmas and New Year with Gibson, Mirallas, Fellaini and all our right backs out at some time or other.
Would be great to get a fully fit squad again for our push for a CL spot.
Kevin Day
231
Posted 16/01/2013 at 20:38:46
Be like a new signing
Pat Waine
336
Posted 17/01/2013 at 12:24:59
We still need to add to the side... another midfielder get shut of Neville.

Kevin Byrne
385
Posted 17/01/2013 at 16:12:22
Pat , Neville is coming to the end of his career, he has been a great inspiration considering how sceptical many of us were when he came. I believe when the time comes for DM to leave we could do a lot worse than turn to Phil. Your comments are a little unfair as he stilll continues to do a good filling in job ,and in my opinion has had some very good performances this season.
By the way, great to hear Mirrales on the mend. Thers no doubt in my mind he was targeted in the derby to be broke up ,after he terrifed them in the first 30 mins.They couldnt cope with his turn and pace he is a real find.
Douglas Turner
453
Posted 17/01/2013 at 22:10:10
Back 4........Coleman, Jags, Distan and Baines
Midfield.......Pienaar, Fellaini, Gibson, Mirallas and Osman
Striker.........?
Kev Johnson
549
Posted 18/01/2013 at 12:43:06
I see Southampton have just sacked Adkins their manager and brought in an Argentinian, Pochettino. Will this be to our advantage on Monday? I hope so.
Derek Williams
562
Posted 18/01/2013 at 13:46:19
Don't think so Kev @549. They'll want to impress their new boss no matter who he is.
Steavey Buckley
594
Posted 18/01/2013 at 15:48:38
Best team news Everton could wish for is the sacking of Sothampton's manager Ian Adkins. After he had steered his team to a 2-2 draw with Chelski. Everton would have more than settled for that result if they had played Chelsea. And Moyes hailed as a master game planner. Imagine having a new manager with not so brilliant footballing manager cv., speaks Spanish and no experience in the epl.
Add Your Comments
In order to post a comment, you need to be logged in as a registered user of the site.
Or Sign up as a ToffeeWeb Member — it's free, takes just a few minutes and will allow you to post your comments on articles and Talking Points submissions across the site.