Martinez hails 'terrific' work of Everton's Academy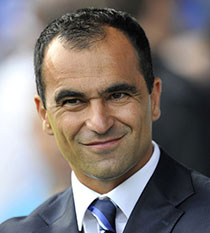 With the likes of Ross Barkley, Seamus Coleman and John Stones making names for themselves in Everton's first team and a host of players out on loan at other clubs, Roberto Martinez has lauded the work being done in Everton's Academy.

Speaking to representatives of some of Everton's fan sites last night, the Blues' manager expressed his pleasure at both the number of players who are coming through the club's ranks and the environment created by the club's senior players that allows young players to come into and thrive in the first team.

Martinez highlighted the achievements of Barkley and Coleman and the recent emergence of John Stones but was keen to stress the importance of the conveyor belt of potential future first-teamers behind them as well. Many of those, including England U18 international and rising prospect Chris Long who joined MK Dons this week, have been farmed out on loan to gain vital experience.

"To be able to send 9 payers into the professional game… the work we're doing in the Academy is terrific," the Spaniard said. "Alan Irvine has the right ideas about how to develop players and we need to carry on developing the youngsters.

"When you've got a young player being able to perform the in the manner Ross Barkley has, it's down to the senior boys. In many dressing rooms you can create have an environment where the young boys are going to be blamed for making mistakes. Here it is the opposite; everyone is encouraged to make mistakes but just take responsibility and just react well.

"And that's down to the likes of Phil Jagielka, Tim Howard, Sylvain Distin, Gareth Barry, Leighton Baines... those players allow you to produce good youngsters. I want to keep that culture."

In addition to Long's spell in Milton Keynes, John Lundstram and Shane Duffy are on loan at Yeovil, Luke Garbutt is at Colchester United, Francisco Junior has extended his stay at Vitesse Arnhem to the end of the season, Matthew Pennington is at Tranmere and Hallam Hope scored on his debut for Northampton last Saturday. And Conor McAleny, who has just resumed training for the first time since breaking his leg, would still be at Brentford were it not for his season-ending injury at the very start of his loan.

The boss also suggested that Matthew Kennedy and Ty Browning are the next young players being primed for loan spells in the lower divisions.
Reader Comments
Note: the following content is not moderated or vetted by the site owners at the time of submission. Comments are the responsibility of the poster. Disclaimer
Dennis Ng
213
Posted 08/01/2014 at 20:52:30
This is actually my favorite part of his interview. However much we suffer in the transfer market, it is great to see that RM feels we can produce a few starters from the academy in a few years.
IMWT!
Graham Weigh
216
Posted 08/01/2014 at 20:52:22
Whatever happened to the young player from Uzbekistan that we were linked with a year or two ago?
David Chait
221
Posted 08/01/2014 at 20:58:38
That was the bit I was waiting for, but he didn't really give insight in to who the next Barkley is. Everyone has awesome talent etc etc.. He did throw out Browning's name very smartly... then Kennedy's.
Jimmy Sørheim
252
Posted 08/01/2014 at 21:51:09
I think he told it as it is. Currently no yongster is on the verge to break into the first team because they are not ready yet in terms of development stages.
I could however tell that he has been impressed with Duffy and that he also rates Matt Kennedy and John Lundstram.
It will be up to the players to show in terms of performances that they are ready for the first team, and that is the way it should be.
Jimmy Sørheim
261
Posted 08/01/2014 at 22:00:21
There was one thing I was sad to hear about and that was the loan strategy.
I think Martinez is making a huge mistake if he refuses to try to buy Lukaku, and just go for another loan instead.
I accept that we need loans to fill the squad holes, but we have to have a permanent striker onboard that is top 4 quality in addition to the loans.
I get the impression that this loan strategy is put in place to avoid having to buy a top striker and that is a bad strategy.
Bill will probably want this done each season, but if we are going to be a top club we desperately need a striker like Lukaku who is able to get 15 plus goals each season.
I also make room for the chance that he will try to get Lukaku and that he is just saying this because he does not want to build our hopes up too high of getting Lukaku.
Remember it was not that many weeks ago where he said that Lukaku could become permanent if we get into the CL.
Overall I liked what Martinez said very much, and I hope he will be able to bring Lukaku in the end.
Robin Cannon
295
Posted 08/01/2014 at 22:47:02
I took a look at Francisco Junior and saw he'd only played a couple of times for Vitesse. Was worried initially, then saw how they've been performing this season; looks like a hard team to break into (joint top of the league, won away at Ajax and PSV already)!
We have a tendency as fans to be too impatient. Very few players break through consistently into Premier League first teams before they're 20-22. We just have a skewed view because some of the very biggest names were a little earlier than that (though even then, the likes of Ryan Giggs may have made his debut at 17, but wasn't a regular until he was 19, etc).
But I see comments like "Well, Garbutt's clearly not going to make it" because he's on loan at the age of 20, or "why don't we see more Academy players playing in the first team" when they're all 17-19.
Steve Jones
298
Posted 08/01/2014 at 22:48:04
It looks like the pathway to the first team in Roberto's eyes is following a loan, since the Under-21s don't provide the right level of competition.
Therefore, those on loan already will be ahead in the pecking order, so maybe the likes of Tyias Browning and Matthew Kennedy definitely need to experience competitive football before being thrown in. No doubt they will be next on the list to move out. Although I was hoping Ty would have been on the bench for QPR instead of Heitinga.
It's great that we have almost a full team developing rapidly away from Everton; hopefully a good portion will come back into the first team.
Dennis Ng
307
Posted 08/01/2014 at 23:01:00
Jimmy, no doubt he might try. He's being realistic.
How much will he cost us and can we afford his wages? Loaning and selling is totally different! He can't play Chelsea on loan but he will be a realistic threat to them as a full fledged player. The only thing I can hope, another loan until he is surplus to requirements at Chelsea!
Same for Delofeu. He's pretty much replacing Xavi if you hear RM. No way we can get him barring some ridiculous transfer snafu by Barca! I do remember RM saying we can have him for at least 1 more season if needed.
Until we have billions in our bank, that would be the way we operate. I hope by June next year, our debt would be nearly zero and that we will be using operating profits to fund transfers. When that happens, I'm sure RM will have a different approach.
Jimmy Sørheim
342
Posted 09/01/2014 at 00:42:22
I see your point if we do not get CL.
How on earth do yo figure our debt will be close to zero???
Last time I checked we had around 5 million in interest from this debt, and our total debt has grown each year to last year or year before when we had close to, or around 50 million if I recall it right.
I have no doubt loans are a must, I just think we need a permanent top striker if we are going to do well next season too.
The biggest mistake would be thinking we could get someone as good as Lukaku on loan next season because the chance of that each year is very low indeed.
As far as I am concerned we need to do everything in our power to get Lukaku in on a permanent transfer, that includes selling Baines.
We have been desperate for a top striker in the last 4-5 years and we need to take the chance when we have it.
Lukaku would probably not come if we failed to get CL however, but Martinez has to try, he has to.
Si Cooper
347
Posted 09/01/2014 at 01:08:21
Jimmy, I didn't get the impression he was ruling out one thing or another. I think he spelled it out when he said if the alternative is having a top young talent for a year or not at all then it is a no-brainer.
I am sure he will buy top talent when he gets the opportunity (i.e. when the players are on the market at a price we can afford). There is no indication that Romelu Lukaku will be put on sale at the end of this season whether we qualify for Europe or not. If Chelski choose to keep him and he is happy to stay there then it doesn't matter a jot what RM would like to do.
Likewise, he is loaning out youngsters at the moment because he doesn't think the alternative (games in the U21s competition) are enough of a challenge to fully develop the players. I wonder if he is also building up good relations with a number of domestic and foreign clubs with an eye on how that could benefit EFC in the future (in addition to the players potentially coming back better than they were before).
Dennis Ng
350
Posted 09/01/2014 at 01:24:30
Jimmy, its just a very hopeful guess.
We're at £45M debt right now. £4M loss last season. This season, we've spent quite a lot of money on loans but similarly got quite a good amount of quid back.
Assuming we're able to break even before considering sale of afrohead, we should have maybe £5-10M of profit. That is not accounting for Sky money increase yet, or the fact we received a lump sum earlier this season. So hopefully, if the money is not being used on transfers, it should be used to upgrade GP or pay down debt.
We're in prime position for Europe at least, so I'm assuming that into next years revenue. If it's UCL, even better! Plus higher placing = higher TV money. If we can write off £10-15M debt per season, we're debt free in 3 seasons! Of course, VERY OPTIMISTIC view!
Now, the club can't be as frugal as me, so I assume we'll only write down a fair bit of debt and invest the rest in players and stadium upgrades. My ideal scenario is to have us not spending too much and the other teams self-combust when their outlay doesn't match their standings. Once that happen, with FFP, we're in the all clear for UCL, assuming we finish high enough.
With Academy players coming through, I'm open to selling our current 11 if we have sufficient cover. Or even the academy players themselves. Depending on what RM deems fit to be playing at the top level. I've not accounted for profits gained this way. So, hopeful guess is that this will help us write a good amount of debt down faster.
Imagine our interest payments of ~£4M at net debt ~£45M, 10%!!! The net loss is also ~£4M, so if we have no debt, we're breaking even before afrohead sale!
Sorry if this finance talk bores you. I'm a firm believer that the team needs to be run well both on and off the field to be successful.
Dennis Ng
355
Posted 09/01/2014 at 01:38:42
Jimmy, I also think my points align with what Si said. I'm sure Bobby is open to the idea of buying Lukaku, bar finances. However, in the example he gave for Delofeu. It's not about how long we have them, its about whether we can have them. Even 1 year is enough.
I can see some tactical changes in our side if we're to play without Barry or Lukaku. Not to mention, I'm pretty sure the big shots in other leagues are already offering their youngsters. No doubt we'll have a decent selection!
Si, I don't discount that last thought of yours. I remember reading a few articles on how players come back with insights of the other team, or even players. Our lads act as scouts too! Plus that relationship, plus that selection, and that they might come back stronger! I think it's a win-win scenario all around. That's what I used to do when I play CM btw! Minus the actual human interaction of course!
Si Cooper
358
Posted 09/01/2014 at 01:45:46
Forgive my ignorance Dennis; you play centre midfield without human interaction? ;)
On the subject of loanees as 'EFC ambassadors' - maybe I am in danger of giving him plaudits he doesn't actually deserve, but I just have an inkling that our manager is both interested in and capable of improving the club's relationship with a host of other clubs.
I think the chairman understands this and is happy to leave him to it, which would account somewhat for his lower profile this season. With OFM at the helm I think BK always felt he had a job to do promoting the club off the pitch.
Dennis Ng
360
Posted 09/01/2014 at 01:59:43
Well Si, I always thought I can play the number 10 role, but maybe my people skills did let me down :p Of course, I'm much better at Championship Manager than I was on the field!
Yes, it is probably like those Mou mind game analyses, we're giving him credit he did not even try to get. I agree the lower profile BK has and I actually like it.
A young ambitious manager trying to push the club to the next level, why not give him the reins and just take care of business on the other end? OFM is a good coach. I might consider having him back as a coach, not more. And even that will earn me some eggs on my face!
Everything is going so well right now its actually worrying! But I guess I will always feel better when I watch them play! Can't wait for Norwich!
David Ellis
361
Posted 09/01/2014 at 01:47:27
Dennis
You are indeed optimistic on the finances. Two key points here
1. Football clubs just don't make a profit because they all re-invest the surplus on wages. The Sky money increase will increase the spending power of all the Premier League clubs which will cause wage inflation and it will disappear in wages. This has happened every time the TV money has increased. So forget about the Sky windfall - it will simply vanish as an operating cost.

2. The reported figures on transfer fees are way out. It's never as simple as "we have received £29M for Fellaini on 1st September and now have all that money to spend". Traditionally, half the transfer fee was paid upfront and the rest in 12 months time. Nowadays, and with bigger deals, these calculations are more complex with some payments conditional on appearances etc, and payments over longer periods. This is also true on the buy side - so we may still have obligations to pay off on players that we have previously bought. Also a chunk of the money is then diverted on transactions expenses – agents fees, lawyers fees, etc. We also may pay the player a signing on fee (when we buy) which is usually not reported.
So I can't see our debt being reduced one iota unless the banks force it – and that would require a fire sale of key assets like Leeds Utd, and be a total disaster. Our main objective would be to stop losing money so the debt stops growing and judiciously pay it down as and when we get a windfall either from some outrageously good transfer dealings or better league placings or Champions League group stage payments.
Si Cooper
364
Posted 09/01/2014 at 02:15:50
Dennis – no way would RM take OFM on as a coach!
He fairly comprehensively dismissed his predecessors training methods in his chat with the fans the other day. Stated that the statistics showed the players were actually fitter at the end of his pre-season (balls involved from the start) than they have ever been before.
It is one of the things I am really interested to see, considering OFM was reckoned to set the players up to last through the whole season and a succession of bipolar seasons may have been the result of us staying the course better than the opposition.
If we have a good second half to the season, injuries permitting, then the PE teacher's methods will have been shown to be out of date.
If we start to fade in games then there is still a place for lung-bursting runs around Finch Farm.
Dennis Ng
367
Posted 09/01/2014 at 02:29:15
David, totally agreed, although I wouldn't fully agree on the wages part. It could grow significantly or not grow at all. Really depends on what the directive by BK and Bobby is. I do hope new signings and other additions will stay within our current structure and so a nice cup run and even UCL will help.
I'm interested to see the finances through the years but in a way like the guardian report. Easier to digest and can see where the club is headed. Definitely agree that the 29M is not an immediate help. Probably some 10 year annuity like payments...Those stingy MU pricks...I do see our wages rising substantially this season as we reward our performers.
Si, he could be the fitness coach :D
And yes, indeed, let's see how the new training style affect the players. I do believe that it should be better than what OFM did, perhaps less in the "battle" worthiness of the player. It always seem that OFM is preparing our boys for war, while Bobby just wants to play football.
Interesting times indeed. I'm sure RM will weigh the advantages and disadvantages of the routine across both regimes. He always leaves that sliver open just in case he needs to use that form of training for whatever benefits they might provide.
Interesting thought, we never really gain that much insight on what the manager does until this season. And with all this media outreach, it has given us more confidence of the job the manager is doing. And they seem open to ideas from fans. I'm curious on how often our suggestions get used. Surely minimal but even the few that make it through will make this fan-club relationship truly unique and wonderful!
Dick Fearon
571
Posted 09/01/2014 at 20:22:18
A few years ago we were drawn v Benfica which had me checking them out via the internet.
I commented on these pages about their huge list of players out on loan plus an equally large number they btought in on loan.
A quick scan of a few other top European clubs produced the same result.
I then mused why ourselves and other English clubs did not use the loan market to provide our youngsters the experience of genuine combat.
The other side of the coin was to do as Martinez has done so succesfully by bringing in loanees to fill temporary gaps.
I think this method will double in popularity and clubs, players and fans will support it..

Kevin Walker
581
Posted 09/01/2014 at 21:11:16
Graham - 216...i think you may mean Abdullayev (sp?). Not to sure what happened there myself... I think he was from Azerbaijan and there was work permit issues.
Jimmy Sørheim
641
Posted 10/01/2014 at 02:10:12
The acadamy has not done anything worth all this praise in my eyes.
The headline suggest we are producing youngsters like never before which is quite frankly not true.
I think Martinez overdoes it sometimes with his positive remarks.
In this case it could also be a freudian slip since he is spanish.
Barkley came through the acadamy years ago, and we have not seen a single player since.
I think our best years were with Ray Hall who discovered the best ones.
I have been a pest regarding our acadamy and the need to improve it under OFM and it is only since Alan Irvine came in I felt we were doing things right again.
No doubt it will take some time before we can judge Irvine on his job, but I have always felt good about Irvine and him being cheif of the youngsters can only help.
However Stubbs to me seems to be lacking, and we really should be getting someone better to coach our U-21 side.
Add Your Comments
In order to post a comment, you need to be logged in as a registered user of the site.
Or Sign up as a ToffeeWeb Member — it's free, takes just a few minutes and will allow you to post your comments on articles and Talking Points submissions across the site.
© ToffeeWeb