Some Corner of a Foreign Field: Fred Collinson and Alfred Corlett at Gallipoli
By Peter Jones (EFC Heritage Society)
01/06/2015

Comments (14)
jump

The Gallipoli campaign in the First World War was arguably the most controversial that British and Commonwealth forces fought. For Australia and New Zealand, it played and still plays an important part in their sense of nationhood, and for the town of Bury in Lancashire, it remains the key event in the Great War. For two men with Everton connections, it would have tragic consequences.
What became the Gallipoli campaign grew out of the restless mind of Winston Churchill, then the First Lord of the Admiralty. As the political head of the Royal Navy, he realised very quickly that there was a complete stalemate on the Western Front and looked for ideas to deal with this. He formed the Landships Committee in February 1915 which would ultimately lead to the development of the tank and also ordered the Navy to look at forcing a passage through the Dardanelles straits to attack the Turkish capital Constantinople (now Istanbul).
It had been a major foreign policy failure when Turkey sided with Germany and Austria-Hungary in November 1914. The need to open a route to the Russian Black sea ports to supply weapons to the ill-equipped Russian armies was given as a reason for the attack. In reality, the British and French were struggling to supply their own troops on the Western Front, and the real driver for the decision was to break up the Turkish Empire and offer Russia Constantinople as an incentive for continuing the war. The rest would become part of the British Empire following the pattern of English and British foreign policy for hundreds of years. The French, ever suspicious of British motives, offered ships and troops to ensure they would get something when the spoils were divided.
On 18 March a combined British and French naval force sailed into the Dardanelles Straits. Undetected mines sank three old battleships, two British and one French and badly damaged three others. Churchill urged a further attack but while the ships were expendable the crews were not and plans were hastily made to land troops on the Gallipoli Peninsula on the northern shore of the Dardanelles to clear the Turkish artillery that was stopping effective minesweeping. British, Australian and New Zealand troops bound for the Western front were diverted from Egypt.
On 25 April 1915 British, Australian, New Zealand and French troops landed at Gallipoli. Landings took place at a series of beaches in the first opposed amphibious assault ever attempted. Rowing boats were towed in from warships and transports by steam cutters and then rowed in to the beaches.
The Auckland Evertonian at Anzac
Australian and New Zealand forces were first to land 14 miles north of Cape Helles starting around 3 am. They were a mile north of their intended landing beaches and the troops in the first wave got mixed up  in the dark and then found themselves facing steep slopes as they tried to move inland. The area was a series of three ridges cut by deep gullies and ravines and all three features were planned to be captured to prevent the Turks sending reinforcements to the tip of the peninsula.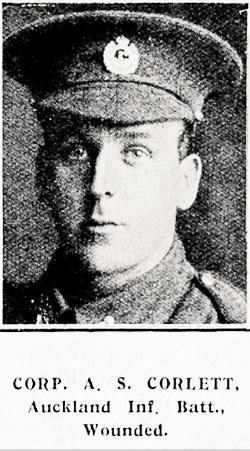 The second wave landed still in darkness and after making their way inland fatally decided to dig in on the second ridge rather than trying to take the third and highest. This was called Gun Ridge which ran into a small but dominant plateau called Chunuk Bair. By the time the third wave landed in late morning, Turkish reinforcements were arriving on the high ground and the opportunity was lost. Casualties mounted as the Australian troops tried to hold on to the scrubby slopes they occupied and the confused situation began to get desperate.
Among the third wave was Corporal Alfred Corlett of the Auckland Battalion of the New Zealand contingent. He was originally from Everton having been born on 2 August 1891 in Rutland St just off Breckfield Road North; he had emigrated to New Zealand with his family in 1910. In 1914 he was working as a clerk but had been a carpenter on the Auckland docks and also had a spell in the New Zealand artillery. Perhaps because of this experience, he was rapidly promoted to corporal on joining up in 1914. He was a good all round sportsman and, apart from playing for Everton FC of Auckland, he played for the league select team, and played cricket during the summer.

The New Zealanders were thrown into the chaotic fighting to try and hold on to the narrow bridgehead which was so precarious that the Australian command considered evacuating when night fell. It was decided that this was even more dangerous than hanging on and overnight rain helped the troops dig in. The Anzac bridgehead was only one mile long by half a mile deep and no part of it was safe from Turkish fire.  Alfred Corlett was shot in the throat sometime between landing on the 25th and the 29th April according to his casualty records. It is likely to have been on the first day as he was admitted to hospital in Alexandria back in Egypt on the 30th.
Hell's Foundations: the Landings at Cape Helles
A few hours after the Australians had landed, British forces began to land at five sites around the tip of the Gallipoli peninsula. On the opposite side of the Dardanelles Straits, the French landed a diversionary force.
Serious losses were suffered by the British on the two main landing sites, W and V beaches. At W Beach, the regulars of the 1st Lancashire Fusiliers fought their way through barbed wire, improvised landmines and fire from two machine guns in caves in the cliffs at either end of the beach. They took the beach despite serious casualties; no fewer than six Victoria Crosses were awarded to the battalion for their actions. At V beach to the southeast, the old steamer River Clyde was beached with holds full of troops, but they were cut to pieces by accurate Turkish rifle fire as they emerged from doors cut into the hull onto a bridge of barges. Men landing from boats fared little better but the following day the defenders were outflanked by British troops coming from a subsidiary landing on S beach and the V beach was secured.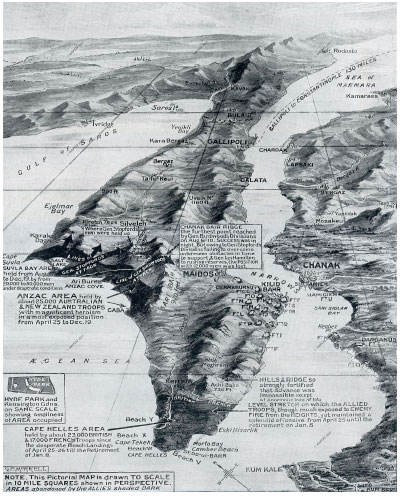 The troops were able to push a short way inland but, due to confusion and losses from the landings, they were unable to seize the high ground overlooking the end of the peninsula. The French evacuated their diversionary force and were put ashore on the right of the British who held the left and the centre of the front. It quickly became clear that reinforcements were needed and on 2 May 1915 the 1/5th battalion of the Lancashire Fusiliers were among the troops that left Alexandria for Gallipoli.
The 1/5th were a territorial battalion, originally raised for home defence to allow the regular army to be sent abroad in time of war. Such were the scale of losses suffered by the regular army in late 1914 that the Territorials were asked to volunteer for overseas service. Those that did were designated first line troops and the battalions had a 1 added at the front of their number. Initially they were intended to replace regular battalions on garrison duty across the Empire but this too was overtaken by events and, by Christmas, Territorial battalions were serving on the Western front. The 1/5th had been in Egypt since September 1914 guarding the Suez canal but had yet to see action.
They consisted almost entirely of men from the Bury area, unlike the regulars of the 1st battalion. Of the six VCs won at W beach on the morning of the 25th only one of the recipients was born in Lancashire. Amongst the men of the Bury Terriers, as they called themselves, was 41-year-old Fred Collinson. Although born in Bolton in September 1873, Fred had been a Bury man since adding three years to his age to join the Lancashire Fusiliers at 15 in April 1889. Bury had been the regiment's home since its formation in 1881.
In 1892, the name Collinson appeared fleetingly in connection with Everton FC. On 31 October, just over two months after Goodison Park's official opening, he played full-back for Everton's Combination team in a 7-0 thrashing of Gorton Villa, whose local rivals in Manchester were St Mark's, later to become Manchester City. On 19 December 1892, Fred played wing-half as the Everton Combination put 8 past Wrexham. However he does not appear to have stayed long, leaving for Bury FC. He may have been homesick, or the demands of his army career may have been behind the move.
The display on Fred Collinson at the excellent Lancashire Fusiliers Museum in Bury has a few details of his Bury FC career. It suggests that a £10 fee was paid by the Shakers for Collinson and that he scored one of six goals on his Bury debut against Small Heath, now Birmingham City. Fred's Bury career appears to have peaked in the mid-1890s and he would later go on to play for Ashton and Darwen. Bury at this time were entering their golden era.  They joined the Football League in 1894 and immediately won the 2nd Division title, being promoted after a playoff against Liverpool. At the turn of the 20th Century, they excelled in the FA Cup, beating Southampton 4-0 in the final in April 1900 at Crystal Palace, and lifting the trophy again in 1903 at the same venue. That year, they reached the final without conceding a goal and ran out 6-0 victors over Derby County, still the record final score in the competition.
Fred Collinson did not play in either final; indeed in 1900 he was otherwise engaged. His army records show that he "rejoined the colours" from the reserve and was posted to the 2nd Lancashire Fusiliers on 13 November 1899. On 2 December, he sailed for South Africa where the Second Boer war was not going well for the British.  The 2nd battalion fought at the disastrous and bloody battle of  Spion Kop on the 23-24 January 1900. Among those present at the battle were Winston Churchill and Mahatma Gandhi, whose work with the many wounded saw him decorated by the British. The 2nd Lancashire Fusiliers also participated in the relief of Ladysmith on 1 March 1900. Fred Collinson spent 117 days in South Africa and was awarded the campaign medals; he was honourably discharged from the Lancashire Fusiliers on 8 April 1902 with payment of a £5 War Gratuity.
Fred settled back in Bury with his Galway born wife Mary; they had married in Haslingden in late 1895. They had two children; Mary Ann who was 13 when the 1911 census was taken and Fred junior who was 9. Fred senior kept up the pretence about his real age on the census form, describing himself as 34 and not 37.  He was working as a meter inspector for the local gas works while his wife worked in a woollen mill and Mary Ann worked in a cotton mill.
When war broke out on 4 August 1914, Fred appears to have volunteered very quickly and as Private Collinson once again he was with the 1/5th Battalion in Egypt within weeks. His age was clearly not a problem and, as an old soldier with experience of action, he would be very valuable to the "Saturday Night soldiers" as the Territorials were disparagingly known by the regular army.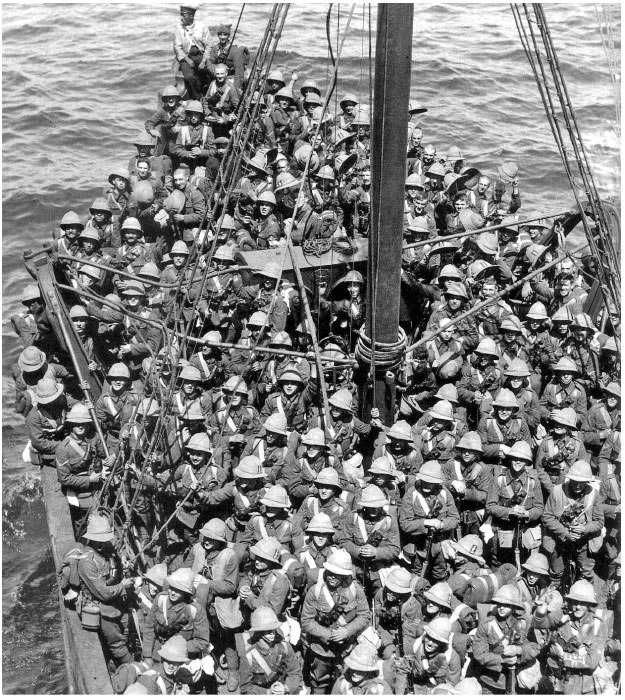 Territorials from either the 1/5th or 1/6th Lancashire Fusiliers about to disembark at Cape Helles May 1915
The 1/5th  reached Gallipoli on 5 May 1915 and came ashore at Lancashire Landing as Y beach was now known. Two days later, they were sent into action. They were on the extreme left of the shallow Allied beachhead and were sent to take a Turkish machine gun post in preparation for a general advance.   There were no communication trenches up to the front line and Collinson and his comrades had to cross an area of scrub land between the coast and the infamous Gully Ravine to get into position. They advanced in open order under fire from the Turkish lines and quickly got separated amongst the thorny bushes.  They advanced in a series of rushes as the Turkish fire increased, the closer they got to their own front line. Fred was following 2nd Lieutenant Horridge who left an account of what happened as they got close to the British front line trenches.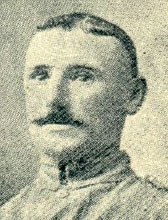 Eventually we got to the trench behind the front line. Next to me was an old soldier called Collinson. We got out of the trench and had to go at the double because the fire was very heavy. The bullets were hissing round, swish, swish, swish, swish, swish. We ran halfway and then we got behind a mound. I said to Collinson: ''Look, we've got to go on," and off we set again. I wasn't too bad a runner and I outstripped Collinson and eventually leapt into the front line trench. I'm sorry to say  that Collinson, in the last ten yards, got hit though the chest or stomach. We got him in but he died later. 
What happened to Fred Collinson's body is a mystery;  the Commonwealth War Graves Commission  record his date of death as 15 May 1915 but it may well have been before that. He has no known grave.
Aftermath
On the 16th May 1915 Alfred Corlett died of his wounds in Ras-el-Tin Military Hospital, he was 23. He was buried at Alexandria's Chatby cemetery. When word of his death reached his family in Auckland his sister Mrs Grace Pimblott his sister added some poetry to the notice in the New Zealand Herald on 20th May: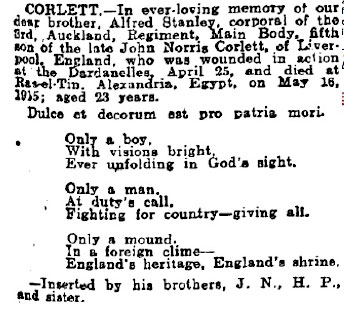 Mrs Pimblott put another notice in the paper on the 29th thanking their many friends for their expressions of sympathy. Grace Pimblott singled out his team mates from the Everton Football Club for "their tributes of esteem at the loss of their late chum".
The Gallipoli campaign would continue with a series of  failed attempts to break out of the Helles area in June and another landing of troops at Sulva Bay just north of the Anzac bridgehead in August. A breakout from Anzac to coincide with the landings also failed. Yet again confusion and delay meant any chance of success was lost and another stalemate resulted. The campaign dragged on until January 1916 when the Allied troops were evacuated in two highly successful operations that stand in marked contrast with the rest of the operations. One of last soldiers off the Sulva Bay beaches was a young officer called Clement Atlee.
Winston Churchill was blamed for the Gallipoli disaster and lost his job at the Admiralty. He spent the end of 1915 and early 1916 on the Western Front as a Colonel commanding a battalion in the front line at Ploegsteert Wood in Belgium. He returned to the cabinet as Minister of Munitions in Lloyd George's coalition government in July 1917. Churchill never lost his enthusiasm for small scale operations from the sea far from the real fighting. He was very sceptical about D-Day and as late as May 1944 was trying to persuade President Roosevelt of the effectiveness of operations in the Greek islands close to Gallipoli. What the Deputy Prime Minister Clement Atlee's views were are not recorded.
The Gallipoli campaign cost the two sides over half a million casualties when the high incidence of sickness is added to the killed and wounded. British dead in battle numbered 34,000, there were nearly 10,000 French dead and Australia lost nearly 9,000 killed. The New Zealand forces lost a quarter of their strength killed, a total of 2,721. Estimates of Turkish deaths in battle are between 56,000 and 87,000. Modern assessments conclude that Gallipoli never had a chance of succeeding; stupid is a word often associated with the campaign by modern historians.
Every year since 1916 the town of Bury has remembered its lost sons on the Sunday nearest the 25th April. Fred Collinson of Everton and Bury has a prominent place in the Lancashire Fusiliers Museum. For Australia and New Zealand the 25th has been Anzac Day, the main remembrance occasion also since 1916.
Three years after evacuation the Imperial War Graves Commission returned to Gallipoli to try and recover the bodies of the Commonwealth dead. 31 cemeteries were eventually built with 19,000 graves of which only 6,000 were identifiable. 27,000 names of the unknown soldiers and those whose bodies were never recovered or who were buried at sea are recorded on six memorials to the Missing around the battlefields. Frederick Collinson's name is on the Helles Memorial which overlooks Lancashire Landing and the blue of the Aegean Sea.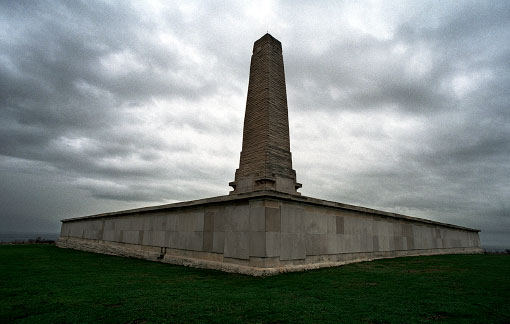 Acknowledgments
I would like to thank Dr John Rowlands for his discovery of and research on the Everton FC of Auckland.  I also owe a debt of gratitude to Mark Hone, long suffering Villa fan and historian of the Lancashire Fusiliers, in particular the 1/5th for his help with the story of Fred Collinson. My friend JP Levinge has again come up with lots on both families for which I am really grateful. Thanks also to Billy Smith for his discovery of long forgotten reserve team match reports and finally to Dr David France for first drawing Fred Collinson to my attention.
Editor's note: Due to an oversight when publishing the article, the last part of Pete's piece was initially missing but has now been added.
---
Reader Comments (14)
Note: the following content is not moderated or vetted by the site owners at the time of submission. Comments are the responsibility of the poster. Disclaimer
Dave Horne
1
Posted 01/06/2015 at 09:28:52
Absolutely excellent article Peter.
Dr David France
2
Posted 01/06/2015 at 10:49:44
More tremendous research and another fantastic article.
It was a true pleasure to meet with you last week.
Dave Lynch
3
Posted 01/06/2015 at 11:12:51
It is honestly a pleasure and privilege to read these articles, they honestly bring a lump to my throat, brave men, the likes of we will never see again.
Thanks so much Peter.
Hope you and yours are well, Dr France...
Pete Jones
4
Posted 01/06/2015 at 11:32:44
Thanks for the comments gentlemen, but as if to cement my status as an amateur historian, I left a big gap in my original document and the last third had been lost. I really shouldn't be operating machinery without the supervision of a grown up. I've emailed Lyndon and hopefully the missing section can be restored.
You are missing Alfred Corlett's fate and how his family and team mates responded, together with the fate of the whole Gallipoli operation.
David, it was a privilege to meet you last week and Dave, I really appreciate your comments; they make the writing worthwhile. If you got a lump in your throat from the first part just wait until you read the rest. If my sis who proofreads the document is anything to go by, I suggest having a box of tissues handy.
Lyndon Lloyd
5
Posted 01/06/2015 at 16:14:02
My sincerest apologies, Pete, for the unforgivable oversight. I have added the final section now.
As always, we're indebted to you for the depth of your research and your obvious love for this period in our club and country's history. Fascinating stuff.
Pete Jones
6
Posted 01/06/2015 at 16:52:30
Lyndon, do not worry about it, I'm sure it is something to do with my formatting.
Gerry Quinn
7
Posted 01/06/2015 at 17:40:17
Peter, reading these war stories always brings a lump to my throat. So many, so many lives lost and it must have been an absolutely awful era to have to fight in some far off land in the worst kind of conditions. I always have a lot of true admiration for those brave men who fought at that time, and, of course during the 2nd World War too.
When my mother passed away a couple of years ago – may I add at the grand old age of 99½ – I was given my Dad's medals and war documents. A sergeant (Paratrooper) in the Liverpool Kings Regiment, he must have seen some of the most horrible of sights behind enemy lines yet not a word of any of his war came from his mouth – despite my brother and I trying to grill him many times as kids tend to do growing up.
In memory of Dad, I sent copies/photos to the Parachute Regiment in order for them to put him on their website – they have researched his past and have provided a fitting memorial to a father, and, of course, a true Blue, who ensured that his son was "Born, not manufactured": http://www.paradata.org.uk/people/brian-g-quinn
I would dearly recommend for anyone who has these kind of memories handed down to them to ensure that they share them on websites such as the Parachute Regiment.
They shall grow not old, as we that are left grow old:
Age shall not weary them, nor the years condemn.
At the going down of the sun and in the morning
We will remember them.

Colin Glassar
8
Posted 01/06/2015 at 19:32:39
Thank you Pete for such a brilliant article. I bow in deference to you and all the other Everton historians who keep our heritage alive.
Andy McShane
9
Posted 01/06/2015 at 21:33:48
This is a fantastic piece of work, Peter. It puts into context the dramas and traumas expressed on this site about the Blues only getting to 11th!
Eugene Ruane
10
Posted 02/06/2015 at 08:32:30
A fascinating piece - thank you Peter.
Greg Symon
11
Posted 08/06/2015 at 14:33:40
Great article, Peter, which hits my two great passions: Everton and WW1.
My great Grandad, Samuel Symon, an Evertonian from the 1880s, was also wounded at Gallipoli serving with the Royal Inniskillings. He was a bomb thrower and was wounded by a grenade which was thrown by his mate but hit the parapet and exploded in their own trench.
He was subsequently invalided out and received the silver wound badge, his Medal Index Card shows his service in the Balkans. My Dad said that he remembered him having a hole in his back that you could put your hand in it was that big.
I have his medals and those of my other great Grandad, another Evertonian called Frank Lowles who was killed at Arras on the Western Front in 1917 serving with the Royal Garrison Artillery. I also have his death plaque and medals.
Both of them instilled into their children that they were Evertonians and this has followed on through the generations, I have had a season ticket since I was 3, as does my sister and my daughter. My Dad had one before he passed away as did my own Granddad.
I continue to watch Everton home and away every week but I also collect WW1 medals and death plaques (Dead Men's Pennies) to Liverpool lads. It's nice to see that their service is still remembered.
Nil Satis Nisi Optimum.
Pete Jones
12
Posted 08/06/2015 at 18:43:56
Greg, thanks for that; my family has a similar story of support for Everton. I took the liberty of looking up Gunner Lowles on the CWGC site as I have an interest in Arras. I don't know if you read my ToffeeWeb piece about the 1914-15 Championship winning season but the question of how many of the Everton team died in WW1 was raised. The answer was none, only the reserve wing half James Roy was killled, at Arras in April 1917. His body was never identified and his name is on the Arras Memorial to the Missing. By coincidence he most likely fell about a mile from St Martin Calvaire, and his family believe he may be buried in an unknown grave in Heninel Road-Croiselles Cemetery, which is about a mile east of where your grandfather is buried.
Greg Symon
13
Posted 08/06/2015 at 20:26:01
Hi Pete,
That's really interesting, I go and visit the grave every 2 years as my Dad's ashes are spread there as well.
I will call in that cemetery and the Memorial, I also visit about half a dozen other graves of local lads when I'm over there as well.And if you know your history....
Matt Woods
14
Posted 11/06/2015 at 06:19:10
Wonderful piece, thank you.
I have been living in New Zealand for the last 10 years, and Gallipoli is recognised as a huge historical event that affected the mindset of the colonists and the subsequent relationship with the mother country.
Always fascinating to hear of the ordinary people involved during historical events, their rich lives otherwise passing unnoticed without the historians' dedication to illuminate.
Thanks again, fabulous work.
Add Your Comments
In order to post a comment, you need to be logged in as a registered user of the site.
Or Sign up as a ToffeeWeb Member — it's free, takes just a few minutes and will allow you to post your comments on articles and Talking Points submissions across the site.
© ToffeeWeb