Koeman pleased with opening-day victory

93 Comments [Jump to last]
Saturday 12 August 2017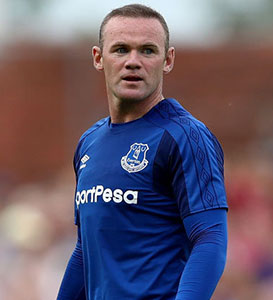 Wayne Rooney scored his first Everton goal in 13 years with an accomplished header in first-half stoppage time to beat Stoke
Ronald Koeman admitted that his Everton side needs to "improve a lot" on today's performance against Stoke but he was justifiably happy to have started 2017-18 with a win.
The Blues notched a victory in their first Premier League game of a new season for the first time in five years when Wayne Rooney powered home a header in first-half stoppage time.
The returning striker's goal was a rare moment of class in an otherwise dull first period as Koeman's men struggled in a lop-sided system that had Dominic Calvert-Lewin operating as an advanced wing-back to the right of three centre-halves.
The Dutchman responded with a change in the second half which yielded an improved display after the break and while there were no more goals, Everton held out to claim the points.
"The points are really welcome," Koeman smiled after the match. "Always in the first game you don't know what to expect. Everybody will [say] they are prepared and ready for the start of the Premier League but it wasn't the performance that we like.
"I thought the first half was really difficult, the team looked nervous in ball possession. That's the reason why I changed the system at half time.
"The second half was better [after] we scored a great goaL. We kept a clean sheet, and that's all positive but we need to improve a lot and that's the conclusion out of this afternoon.
"I think with three points in the pocket, the new signings will be more comfortable. Without confidence you don't play your best.
Koeman was fulsome in his praise of Rooney who came up trumps after two comparatively disappointing performances in the Europa League games against Ružomberok.
The 31-year-old turned in a mature display reflective of his experience, dictating the play in midfield and helping out enormously defending set-pieces in his own box.
"[Wayne] showed that he is still one of the best in his position," his manager said. "I think he was different class today in ball possession. He was comfortable on the ball, he made good decisions and he scorted a gerat goal and you can't ask for more than that.
"You like to have players in the team with a lot of cleverness on the pitch and they know what to do at certain moments and he that showed today because that was his best game so far."
---
Reader Comments (93)
Note: the following content is not moderated or vetted by the site owners at the time of submission. Comments are the responsibility of the poster. Disclaimer
Sean Smythe
1
Posted 12/08/2017 at 19:56:31
Well, I was baffled by the starting line up but delighted with the win. Three scruffy wins whilst still waiting for the team to 'click'. The hope is they will and things will get better.
Dermot Byrne
2
Posted 12/08/2017 at 20:36:59
The greatest teams win when they play badly!
Minik Hansen
3
Posted 12/08/2017 at 20:48:50
Dermot, good shout. Looking forward to the team starting to click. It was a good opposition to start with; hopefully the next one is just perfect to progress into clicking.
Lev Vellene
4
Posted 12/08/2017 at 20:52:54
A good result vs a team known to be hard to open up! Now we just need some scrappy draws, or wins, for the next four matches!
Paul Hughes
5
Posted 12/08/2017 at 20:54:01
The formation in the first half was utterly bewildering, half the team seemed to be out of position. Thankfully Koeman saw the error of his ways and changed to a flat back four. Things were much more coherent after the break. Gana, Rooney, Keane and Pickford all looked good. Klaassen and Sandro both need to get up to speed. Three 1-0 wins on the bounce. That'll do for the time being.
Charlie Lloyd
6
Posted 12/08/2017 at 21:05:14
The team appears fairly solid defensively and they'll need to be in the next 4 league matches.
Offensively though it's not really clicked yet. The number of new players is obviously effecting this.
Hopefully no more confusing line ups though. Calvert-Lewin was employed as a right wingback to try to exploit that area up to right wing. Fair enough Koeman had a plan but it was misjudged and led to a woeful first 45.
John Roberts
7
Posted 12/08/2017 at 23:14:15
So obvious in three competitive games so far we massively lack creativity. Yes, the boy scored... but where is the creativity? Not good enough, way behind from last season.
We need an established striker and creative midfielder. Is Lookman crap??
John Pierce
8
Posted 13/08/2017 at 00:56:53
Charlie, misjudged by Koeman?
Calvert-Lewin up against Eric Pieters? The man is a brick out house and 'we' as in Koeman had us punting balls at Calvert-Lewin for the first 20 mins.
Baldrick has concocted better 'cunning' plans than that. Koeman got it totally wrong, spent the rest of the game trying put right what he had ballsed up.
Spare a thought for the unused subs who might have been needed to turn or save the game as Koeman needlessly used one on correcting his mistake.
Seen that before with this fella.
John Mckay
9
Posted 13/08/2017 at 00:58:26
Took my lad to his first game today he is only 3. He lost interest quite easily and no wonder why first half was shocking to say the least, other than the goal.
Build up play was terrible at times too many mis-placed passes, and most of the team was guilty, Klaassen was particularly shocking!
Baines tried to force the issue on a few occasions but no focal point up front nothing going forward was working.
Having said all that though my attention was on what my 3-year-old was doing and not a lot on the game.
Second half played a lot better moved the ball around with purpose, Calvert-Lewin looked decent through the middle but perhaps could have looked up a little more.
Stoke are a good solid unit though and have a half decent team. I was expecting a scrappy game and glad we come out with the win.
Just watched the game again on MotD and we played better than what I saw at the ground but still not good enough.
Happy with the result but the team needs to click soon.
Don Alexander
10
Posted 13/08/2017 at 01:20:17
Koeman's appraisal of the game is in accordance with just about everyone on TW.
We don't know what he knew or expected by fielding his starting eleven but whatever "punts balls to Calvert-Lewin" amounts to it was Dominic, to his (and Koeman's I suggest) credit, who crossed in a way any wide-man would be proud of for Rooney to score.
Having astutely made his half-time change Dominic was then able to meld well up front with Sandro and with a little more experience may have presented a second goal for Rooney.
Rooney epitomised the benefit of having a player able in a blink to play in different roles during a match. Today Calvert-Lewin may well have taken a stride in gaining the same aptitude, but let's not give any credit to Koeman eh?
Charlie Lloyd
11
Posted 13/08/2017 at 01:34:23
John @ 8
I have to agree. Quite a naive plan from a manager on £6m a year. I am actually within the pro Koeman camp, not completely though, but today's starting line up was wrong.
There is so much work to do. We have lots of talented new players but it's difficult to work out where they all fit in. I didn't recruit them though. It's up to the management to justify the recruitment.
It'll take time to blend and patience is required but currently we still seem to be several key elements short of major improvement despite the new signings.
James Watts
12
Posted 13/08/2017 at 01:56:56
I hope Ron is looking at himself in the mirror. It's easy to say we need to improve but it would help the players if he didn't pick such a disjointed team. Look how confused we were, god knows how the players felt!! I don't absolve the players completely of responsibility but Koeman will and should take 99.9% of the blame for that first half.
Credit to him that he changed it up at half time, and I never thought i'd ever be happy to see Martina coming on like I did. I was reasonably happy with the 2nd half overall, thought we played some decent stuff at times.
Happy with the result of course. Davies for Klaassen, a normal right back (should be Kenny although Martina's crosses where decent yesterday) for Williams (as per second half) and that's probably our strongest Xi right now.
Work to be done Ron. Mainly by you, and let's never pick that starting line-up in that formation again eh? You muppet!!
Phil Sammon
13
Posted 13/08/2017 at 01:58:45
I thought we were awful. I just don't understand where the team is going. We have lots of fantastic players but they are getting shoehorned into a system that doesn't suit them. So many players out of position.
Klaassen, Rooney, Sandro...all like to occupy the same space. And god knows where Sigurdsson fits into that. Calvert-Lewin on the wing? One recognised wide man in Baines, completely isolated.
I can't even have a go at the players. I don't think anyone played too badly. It's just a system that had no chance of working.
Very worrying indeed.
Will Mabon
14
Posted 13/08/2017 at 04:25:11
There are players there, Phil. Not all the players yet but a pretty good group. The tactics and system are not, and without those, it all stalls.
Paul Ferry
15
Posted 13/08/2017 at 05:53:43
John Mckay (#9) – what a special day mate.
I envy you.
He''ll be all eyes and ears in 3 years and will see us win the league.
I got maybe 30/35 years to go, I Hope to celebrate the league with your 10/20/30-something son.
Alan J Thompson
16
Posted 13/08/2017 at 06:02:25
That may be the nearest the manager may come to admitting his own shortcomings. At best, we won but it was a much less than inspirational performance. Second half was a lot better than the first but then that doesn't say a lot.
Sandro seems to be the opposite of Lukaku in that he puts in far too much effort. In that I mean, that at the start of the second half he seemed to spend rather a lot of time helping out the defence and by the time he was substituted he had about run himself out.
Gana was probably our best while Schneiderlin was awful. He seemed to break into a run (wouldn't call it a sprint) only twice in the game and every pass was sideways and usually to a teammate in just as bad a position as himself and without moving to take a return. Koeman needs to look at him playing in both halves of the pitch rather than being permanently parked in or just in front of the back four.
Nice to see Keane telling Martina where he should position himself and how many times in the first half did he stand with the ball at his feet and arms outstretched asking for someone to give him a pass.
Three points, next please.
Ajay Gopal
17
Posted 13/08/2017 at 06:50:21
The team seems to be clogged with midfield players. If, as expected, Sigurdsson comes in, Barkley and both McCarthy and Besic have to be sold. We would have central/attacking midfield options of: Schneiderlin, Gana, Klaassen, Barry, Davies, Sigurdsson. Next year, hopefully Barry will be replaced by a younger homegrown talent – Dowell, Walsh, or Williams.
Our forward options are more worrying – Rooney, Sandro, Calvert-Lewin, Mirallas, Lookman – that's it. We need at least one more main striker - I see we are being linked with Kalinic, I would be happy with him, Benteke, or Dzeko.
Our only wide players are Bolasie (injured) and Lennon (not good enough, IMO).That maybe something to build next year.
Nigel Munford
18
Posted 13/08/2017 at 07:00:09
Ajay, you missed out Lennon and Niasse.
Shaun Wilson
19
Posted 13/08/2017 at 07:18:31
I'd be happy with any striker to be honest. Calvert-Lewin is a good player but he had a couple of opportunities to score today when a pass was the better option, he didn't see the pass because his head was down.
Based on today's performance, I'd be more than willing to bring in a journey man striker to show Calvert-Lewin the ropes. The lads got talent, but we can't expect him to lead the line. And definitely not play right-wingback.
Great performances from Pickford, Keane and Rooney. Great goal and great to see him score.
Don't know wtf is going on with Schneiderlin, but he needs to get his finger out. If Ron insists on two defensive midfielders, I'd pull either Davies or Klaassen in there until he either got his shit together or they kept him out of the team.
Klaassen. Give the lad time, I can see him becoming a legend, Sandro too. Think marathon, not sprint.
Alan J Thompson
20
Posted 13/08/2017 at 07:30:54
Ajay(#17)' Try thinking of Besic in the role he played before coming to Everton, central defender, and you'll see a lot more opens up for him.
Lewis Barclay
21
Posted 13/08/2017 at 07:36:11
Three competitive games, three clean sheets, three goals, three wins.
Next.
Liam Reilly
22
Posted 13/08/2017 at 07:44:52
"Gana was probably our best while Schneiderlin was awful"
Couldn't agree more, they don't compliment each other and from what I've see, Gana is streets ahead; fittest player on the park.
John Charles
23
Posted 13/08/2017 at 08:22:17
Not sure Koeman deserves much credit for putting right what he cocked up in the first place.
Not the first time he has had to abandon a plan at half-time as half-baked and ill-thought-out.
From my seat, Schneiderlin and Klaassen looked slow and somewhat clueless. Maybe time to give Davies a full game at centre midfield alongside Gueye.
Really pleased with Calvert-Lewin's energy and effort.
Stan Schofield
24
Posted 13/08/2017 at 08:30:59
Well, if we can play as disjointedly as we have done up until now, and still keep winning, then the prospects are good for if and when we eventually click.
That said, Koeman seems to act like he has no memory from one game to the next, as if he doesn't really learn from his tactical errors. He seems to learn mid-game, and then correct it, or partially correct it, but then the next game seems equally disorganised. It seems weird.
John Keating
25
Posted 13/08/2017 at 08:41:21
Koeman deserves no credit whatsoever. That team should never have started in that format. Against one of the top teams the game would have been over by the time he changed it at half time.
Rooney was excellent all over the pitch. We still look off the pace. We have already had competitive games but look really rusty compared to some of the teams. Striker is a priority
Phil Walling
26
Posted 13/08/2017 at 08:46:06
I hear Schneiderlin 'got his ticket' from Man Utd because successive managers considered his legs had gone. (Or is he just a lazy bastard?) Not a patch on Barry, who is off to the Albion, or Barkley, who is just a better player.
How to accommodate Sigurdsson and Davies? Using Davies as a match-saver is Koeman's likely answer.
The Genius is creating a 'buggers muddle' if yesterday is anything to go by!
Mike Berry
27
Posted 13/08/2017 at 08:50:08
Three at the back is never going to work with the personnel we currently have, Jags was abysmal in the role, Baines and Calvert-Lewin out of position, what was Ron thinking about.
Half time tweaks to 4-4-2 and a totally different team.
I feel Ron is struggling to accommodate his current players,certainly a big target man to help Calvert-Lewin, wide man another another defender is needed. I thought Gana, Keane and Pickford were very good and Rooney ran his socks off.
Let's see how we fare against Man City then we will know a bit more. A win is a win against a tough physical side.
John Mckay
28
Posted 13/08/2017 at 08:52:58
I think Koeman is desperate to crack that 3 at the back; Chelsea dominated the league last season with 3 at the back, sadly we just don't have the players for it.
Jags and Williams not up to the 3 at the back I don't think their ball playing skills just not good enough for that system. Maybe when Coleman gets back and Bolasie it could work.
Still missing that striker that's going to make things tick.
I thought Calvert-Lewin was sharp in the second half and with a bit more experience could be a good player, in that system the striker we need is someone who can hold the ball up and allow all them midfield minded players run in behind the defence.
Rooney ran the show yesterday some of the balls he played where immense; I was impressed with Pickford as well looked solid in goal and I felt like if they had any chances to score he was there to save us.
It was a bad performance especially first half but it's always tricky first game of the season and not many teams score a lot against Stoke.
David Pearl
29
Posted 13/08/2017 at 09:00:56
Where was Barry yesterday, anyone know? I know most want him replaced cuz he's too old. But he's still the only midfielder we have that can pick out a pass consistently. Rooney must play deeper or have a free role. The vision he had yesterday set him apart. We have willing runners but very little class.
Klaassen doesn't look good enough. How much better we looked with the energy of Davies. Mirallas might do better this seaon now that he won't have Rom making the same runs.
I want to see fluid football. Wtf was that yesterday? Seriously. Last season, Koeman subbed McCarthy after 22 minutes. I'd like to of subbed Koeman after 3 minutes yesterday for a manager who doesn't confuse his players. I couldn't believe what I was seeing. 3 right/wing backs on the bench and non on the field. Calvert-Lewin kind of a wing back with license to go forward with Gana covering him? That was his plan... a misshaped turnip!
Geoff Williams
30
Posted 13/08/2017 at 09:21:52
Klaassen is a poorer version of Cleverley.
Anthony Flack
31
Posted 13/08/2017 at 09:27:30
First half was as bad as described by many, unfair on Jagielka who has no left foot, yet a left footed defender played inside him. He just poked the ball to Baines who had no one in front of his as Klaassen was in the centre with Rooney and Sandro .
Schneiderlin put in perhaps the worst performance I have seen from an Everton centre midfield player for decades. He had no energy, passed the ball a max of 5 m to the nearest player, who was often under more pressure than him, and then did not move into space. On one occasion he lost his mind and ran forward 15 m, cacked himself and ran back twice as fast, with the bloody ball, passing it back to Williams.
Obviously Koeman made a mess of the first half, changed it for the second, and admitted we need to get a lot better... Seems fairly balanced for me.
I think we need to try Lookman and Davies in the same team, take out Schneiderlin and maybe Klaassen on Thursday night, or else it will be a long evening
Tony Abrahams
32
Posted 13/08/2017 at 09:34:29
Three at the back? I'm sure it can work, but not with the players Koeman, used yesterday.
We looked like a team that had absolutely nothing to offer until we scored a really good goal, and then the manager finally changed the system.
Besic, should have definitely started in this formation,because it was really horrible to watch Jagielka, with the ball at his feet during the first half. He's a defender who likes to defend, and this forward, sideways, backwards football, kept ending up, with the ball at his feet, which is something he just doesn't need!
We looked better second half, agree with Joe Clithrow, on another thread, who said for twenty minutes we looked quite decent, but the house has been gutted, but only half has been repaired up to now. The next few weeks in the transfer market are going to be really crucial to how this season is going to pan out?
John Wilson
33
Posted 13/08/2017 at 10:03:19
If we still have Niasse use him for the last third to last ten mins period. The lad can score goals and scored against both Man Utd and Liverpool. Sure, the lad is not great on the ball and his crosses are terrible. But, if you're paying his wages make use of him; as he has proved his mettle since Koeman wouldn't let him play a game. He is a contingency option is all I am saying.

Steavey Buckley
34
Posted 13/08/2017 at 10:09:33
Playing 5 at the back against Stoke City at home with Schneiderlin and Gueye not far away was a daft idea. When Everton play the likes of Stoke, 4-3-3 is the right option with the 2 full backs in support, because teams like Stoke at home usually 'park the bus.'
Amit Vithlani
35
Posted 13/08/2017 at 10:37:25
So, my son is now an avowed Evertonian for life. His first game brought a victory and a goal from the returning prodigal son. The hospitality in the 1878 Brasserie was superb, down to fixing him a special meal due to his allergies. Kevin Ratcliffe, Graeme Sharp and Leon Osman posed for photos, whilst we got fleeting glimpses of Barry, Baines and Jagielka. Wayne popped in for the man of the match presentation and ruffled my lads hair on his way out.
Dad and uncle had a lot of whiskeys but even through our alcohol induced haze we were underwhelmed by the fare. The Goodison tribe in where we were sitting in the Main Stand were respectful - first game of the season, players need to gel etc.
However, my take from the game was :
- Martina is a disaster waiting to happen
- Klaassen was off the pace in the helter-skelter of a Premier League game
- Davies bossed it for 5 minutes after coming on but then Stoke pressed and he sank bank
- Michael Keane was a dominant Centre Half, exactly what was required against Stoke.
- Pickford was excellent
- Sandro needs to improve
- Gana Gueye was Gana Gueye i.e. everywhere
- Wayne was poor first half although his goal was very good. Second half he was class.
- I don't get the criticism of Calvert-Lewin. He was played out of position first half but got an assist. Second half he did a better job than Sandro of occupying the Stoke Defence. He does not have the pace to outrun the opposition but his touch when played as a CF was pretty good.
The team is a work in progress for sure, and I am sure Klaassen and Sandro will come good.
However we need a good CF urgently. And if we play with formations that suit the players perhaps we can produce more entertaining stuff for the home faithful.

Tony Abrahams
36
Posted 13/08/2017 at 10:55:48
That whiskey, must have been watered down Amit!
Joe Hurst
37
Posted 13/08/2017 at 11:01:30
Nice to know the little fella is starting his footie life raised in the right way Amit. Hope he and you had a great day.
Coyfbtwl (Come on you fantastic blues that we love)
Jay Woods
38
Posted 13/08/2017 at 11:07:49
Amit, like many before you, you're talking utter tosh about Martina. Did any of you actually keep a tight eye on him or are you all getting your view on him from each other?
Dennis Ng
39
Posted 13/08/2017 at 11:09:53
Jay, not so hard on him, he's still suffering from the whiskey hangover.
John Wilson
40
Posted 13/08/2017 at 11:12:48
Amit, that's a bit of an essay type response. Just make a view, make it concise...not a thesis.
Geoff Evans
41
Posted 13/08/2017 at 11:26:02
Three points, no goals conceded, I'll take it.
Bobby Thomas
42
Posted 13/08/2017 at 11:39:19
We are a work in progress and an accomplished front man that can make it stick, link, & go in behind would change a lot.
However, the amount of times Koeman has to change things after basically getting his tactics or formation wrong is becoming a slight concern.
At the moment he keeps selecting unbalanced sides that don't stand a great chance of being effective or productive in ball possession, as he likes to say.
I took one look at the side yesterday & knew he'd have to change it. As another example, I thought his tactics, team selection, & formation at Spurs last season were a joke. He is constantly fanning Calvert-Lewin around as well. Thankfully he is a young player with a great attitude.
Koeman has brought a lot to the club that I like. He's raised standards, and brought a refreshing no bullshit attitude and hard headed realism that we needed. The signings are generally good, a couple of duds aside.
But start selecting a balanced side & get some pace & verve into the squad, please.
Derek Knox
43
Posted 13/08/2017 at 11:54:58
I know It's early days, from what I've seen of the other Premier League sides, I don't think the 'elite' will have it all their own way this term, echoes of when Leicester grabbed it, by the scruff, and came out on top.
The only really weak looking team I saw was Brighton who look still like a Championship side, (only just) they haven't really invested for the step up, and it shows.
Great Stadium though, and very passionate fans, though will be surprised if they stay in the Premier League.
Yet to see Man Utd, West Ham, Spurs and Barcodes.
Kevin Tully
45
Posted 13/08/2017 at 12:35:12
It showed that we started with half a new team yesterday, they looked like strangers out there for most of the game. That was possibly the worst first half of football I can remember. Absolutely no idea what they had worked on in training all week.
One thing is becoming clear, we don't commit enough men forward. The entertainment factor is sorely missing from this squad. What I would give for a Mahrez or Payet type player, but the manager seems intent on packing the side with hard running midfielders. We will have spent an absolute fortune, but we don't have one player who will get you off your seat.
If the plan is to build from a solid defensive base, then let the players express themselves a lot more when we are up and running, I can live with that. If we carry on like this though, Koeman will soon have the fans on his back.
That felt precisely like a typical Moyes game yesterday, not good enough when you have spent £150m (when Siggy signs) the manger is also paid £6m p.a. to serve up that turgid rubbish.
The only consolation was the 3 points, but my eyes are still hurting.
Laurie Hartley
46
Posted 13/08/2017 at 12:42:04
Bobby # 42 - Two quotes from Carlo Ancelotti will appeal to you:-
"The most important word in football is balance."

"4-4-2 is the best defensive system that exists and our intention is to defend with a 4-4-2 and attack with a 4-3-3".
Amit Vithlani
48
Posted 13/08/2017 at 13:22:40
Tony Abrahams - the whiskey was fine but quickly wore off during the first half!
Jay Woods - I have noted your stoic defence on Martina on several posts and I commend you for it, although your zeal is a little curious.
I saw some terrible defending from Martina. Two things in particular stood out for me which lead me to believe he will cost us a goal or two and is a disaster waiting to happen: a couple of poor headed clearances which required interventions from Gana to prevent a shot on goal, and two straight forward passes in dangerous areas that almost led to a break for Stoke.
We got away with those errors and yes several other players made mistakes too. But it seems to me that the boy cannot head a football.
He did well with his crossing, and had we had more men in the box he could have had an assist. This suggests to me he is not a Full Back but more of a wing-back or deep lying right midfielder.
In Koeman's mis-shapen formation he was not suited. He may have done better as a wing back with license to bomb forward when we played 3 at the back.
But he was brought on as an RB in a back four, and for me, can't play there. Especially as there was no natural right sided player to cover for him.
Amit Vithlani
49
Posted 13/08/2017 at 13:26:01
John @ 40 - my apologies for offending your sense of Brevity.

Brent Stephens
50
Posted 13/08/2017 at 13:28:31
Amit (#48), I think you might be right about Martina being more of a wing back than a full back. Going forward and crossing, he has something to offer. I wasn't too worried about his defensive performance y'day, but accept the points you made there.
PS (#49) – too brief.
Paul Mackie
51
Posted 13/08/2017 at 13:30:26
Pickford, Rooney, Keane – All excellent yesterday. I was particularly surprised by Rooney in the second half as he's looked awful in pre-season.
Terrible tactics from Koeman though, he looks clueless at the moment.
Amit Vithlani
52
Posted 13/08/2017 at 13:32:10
Joe – (#37), I thank the footballing gods that we won and I will not spend a lifetime regretting bringing another RS, or Manc follower into this world!
Dennis - 39. The whiskey hangover has been overcome by pleasant feeling sharing a wonderful personal experience with fellow blue noses.
Dave Abrahams
53
Posted 13/08/2017 at 13:38:14
A new football game has just started, not far from where The Dockers club was, it is for older people and it is aimed at getting them out of the house and a social outlet for them, two days a week, it is called WalkFootball, on the evidence of this season, so far, Schneiderlin would be great at it.
What is up with him, he looked a good player last season; he's not worth or earning his place up to now, lifeless.
Dave Abrahams
54
Posted 13/08/2017 at 13:45:27
Sorry that should be. 'He's not worth or earning his place up to now lifeless'.
Trying to keep it short for John Wilson and cocked it up.
John Pierce
55
Posted 13/08/2017 at 14:29:35
Why do most people recognize Koeman screwed the pooch yesterday but don't look at it over the 40 odd games he's been with us?
A consistent error in judgement to get things so wrong you have to make tactical substitutions at half time. Paul Tran eloquently outlines it leads to a waste of resource that will be required later in the game.
Last season posters would counsel give him time etc. but perversely now I'm reading it's only one game or we've won our competitive games etc.
You cannot have it both ways. judge over the whole piece. Confused tactics, often ill thought out leading to football which is formulaic and horrible to watch.
Everton have won 3 games, all 1-0 with only fleeting momemts of decent football. I should expect more.
Many hope it will just click, click?! I see no development in performances which is a better indicator and a continuation of disconcerting trends.
I always have a humble pie in the freezer, but see no reason to defrost the damn thing any time soon.
John Wilson
56
Posted 13/08/2017 at 15:09:30
Let Koeman get his targets in and see what he does this season with them and the rest of our team. Afterwards, we can put our judge hat on. These are teething problems; we don't want another ltd Moyes or 'blow smoke up their arses', Martinez.

John Wilson
57
Posted 13/08/2017 at 15:12:48
Amit @ 49 I am not opposed to essay type responses sometimes but when there are many of them it sort of defeats the point of this TW forum.
John Wilson
58
Posted 13/08/2017 at 15:16:41
I watched Liverpool's last Premier League game just to look for exploitable weaknesses. Their defence is still just as bad but dangerous on the offensive. Leicester looked good though and should have won Liverpool; the problem is when LFC step up a gear on the offensive, anyway.
Jamie Morgan
59
Posted 13/08/2017 at 15:25:46
God I wish we could just go out and buy Sigurdsson, Mahrez, Van Dijk and Dembele. Bosh!... job done!
Clive Rogers
60
Posted 13/08/2017 at 15:39:22
There is nothing worse than a manager who won't acknowledge when he has got it wrong. Koeman is not one of those and I am sure he will eventually bring good times back to Goodison, assuming he is there long enough.
Dermot Byrne
61
Posted 13/08/2017 at 16:04:37
"There is nothing worse than a manager who won't acknowledge when he has got it wrong"
Absolute cack.
It is one who admits that that has some wisdom and admits something he tried didn't work.
Ed Fitzgerald
62
Posted 13/08/2017 at 16:10:57
Watched the game in the states on holiday at 7am with some crazy San Francisco-based blues who were a delight to be with and more entertaining than the game itself.
Watched the game with a friend who supports Man Utd who was anaesthetised and shocked by our negativity. It was as poor as last seasons game against Stoke, I can't see any progression whatsoever. Tactics and formation are fucking hopeless .
John Pierce
63
Posted 13/08/2017 at 16:26:35
Clive.
Rubbish. Koeman has repeatedly made the same errors in selection and formation in his tenure.
He aint backwards in coming forwards yet he is mute when it comes to being accountable for his errors.
His reason for changing the system yesterday? Nervous in possession!?
Utter rubbish. He got it wrong and acknowledging that would at least show that accountability I bamg on about.
Off to watch Rom be lazy, and slack and score a hat-trick. Chortle!
Brent Stephens
64
Posted 13/08/2017 at 16:33:53
"the team looked nervous in ball possession. That's the reason why I changed the system at half time".
"I expected to get space on the right so put a winger there instead of Davies, Holgate or Cuco. That wasn't how it went but that wasn't Dominic's problem. That was my fault... I decided to change and we were much more comfortable".
Those two quotes don't seem consistent. But there is admission of fault in there.
And as I write, Lukaku does what...?!

Tony Abrahams
65
Posted 13/08/2017 at 16:35:54
Keep it short Dave? I reckon you might be decent at this new game, even if you have got a touch like Lukaku! He's just scored, he always scores against the hammers, and the way he grabbed his shirt to point his finger at his new team's badge, was possibly the second biggest nap of the day!
Paul Tran
66
Posted 13/08/2017 at 16:42:10
Good old Rom. Often a good bet for first goal for us, still the same at Utd. Kerching!
Hope we find another goalscorer as 'shit' as him.
David Pearl
67
Posted 13/08/2017 at 16:54:12
Jay Woods.
I agree we should give Martina a chance. However my view is based on having watched him live twice and not based on anything else. He is Championship standard. He is a natural right back though. He lost the ball more times than he found his pass. He isn't a good defender but gets up and down the line.
He also headed the ball back across our penalty box yesterday. Did you see that? What professional footballer doesn't know that you don't do that? I will support him while he plays in blue. But he isn't good enough, we already had better.Man City spent £100 M on full backs this year... No target man. No pace up front. No creativity. No width.
Keane and Pickford are great additions, the rest of them... not so much. And I still can't get over what a complete fuck up that formation was. We play 3 at the back and have no width. 3 at the back and still only have 1 up front. Unbelievable
John Pierce
68
Posted 13/08/2017 at 17:17:47
Brent, didn't see that second quote. That is, in part a start. Not full mea culpa but fair dos Ron.
Brent Stephens
69
Posted 13/08/2017 at 17:23:21
John (#68) the interesting thing to me is the apparent contradiction in what Koeman said. It's why I take his statements in interviews, which are often difficult to understand, with a pinch of salt – I'm not sure he knows how to express himself properly in English, or is he deliberately being ambiguous?
Barry Pearce
70
Posted 13/08/2017 at 17:30:51
Schneiderlin's form is a worry; he hasn't played well in any game so far, and doesn't deserve his place in the starting eleven.
John Pierce
71
Posted 13/08/2017 at 17:36:26
Brent, I do tune out a bit with him. He seems to repeat ad nauseoum result, then not being satisfied with the performance.
Absolutely the English could be an issue. But he is pretty wily, so it cuts both ways I guess.
I'm desperate to see us play some decent stuff. I think our recruitment has been decent, with a bit more to follow. We are comfortably better than most teams, so surely attacking more won't compromise that solidity since we 'dominate' the ball in most games?

Paul Tran
72
Posted 13/08/2017 at 17:38:21
Same here, Brent. He's not very articulate in his own language, so there's less hope for him when speaking ours! I just hope that he can start getting his messages across to the players – they often look confused. Is it his language, or is he another coach who make things unnecessarily complicated?
David Barks
73
Posted 13/08/2017 at 17:41:29
Gana and Schneiderlin should not be starting a match together. They do the same job, which means we are short in balance in attack. Yesterday Gana was often getting far up the pitch because there was zero reason to have him and Schneiderlin in holding midfield roles.
The problem with that is Gana is not a real attacking threat. He doesn't possess a shot or can take a man on or particularly good passing. What he can do very well is break up play, make tackles and get the ball to a player who can do all those things that are not part of his game.
It just makes no sense to play them together. Pick one and let him do that job. Whoever partners him, whether it be Davies or Klaassen can provide support when needed. It just clogs the midfield without attacking outlets and continues to be far too defensive of an approach, especially when at home against the likes of Stoke.
Mike Gaynes
74
Posted 13/08/2017 at 18:09:13
Anthony #31:
"Schneiderlin put in perhaps the worst performance I have seen from an Everton centre midfield player for decades."
According to the official Prem stats, Schneiderlin had the best all-around defensive game of any midfielder in the Prem yesterday -- four tackles, six interceptions, seven recoveries. He was all over the field shutting down attacks and winning balls. That's hardly "lifeless", as Dave #54 put it.
Yes, his passing has been very poor, but I think that's partly because he's bedding into a new deeper-lying position. Last season he often got to the top of the arc and made passes, but that area is now occupied by Rooney and Klaassen. Morgan hasn't found his role in attack yet. He's quality, he'll come good.
The question of both Schneids and Gana playing together and doing the same job is a really good one, and I don't think Koeman has an answer for that yet. It worked well last year when Schneids was 20 yards in front of Gana, but now he's beside or behind him, and it's not working.
Mike Gaynes
75
Posted 13/08/2017 at 18:10:15
PS... if only Gana could shoot.
Tom Bowers
76
Posted 13/08/2017 at 18:24:48
Have to agree I haven't been impressed with Martina, nor Schneiderlin, nor Klaassen so far. However, everyone has their own opinion for different reasons and Koeman sees something different.
Things could change soon enough if results go wrong and Everton do have some decent alternates waiting to jump in although I am sure Koeman doesn't want to leave anyone out especially his signings.
Macca, Barry and Besic are three experienced stand-bys with Holgate, Kenny and a fit Seamus ready to step in in the back four. Added to all this in midfield of course is Gylfi (if it ever happens).
I think overall the picture looks more promising than this time last year so fingers crossed.
David Barks
77
Posted 13/08/2017 at 18:26:25
Mike,
And that my friend is the crux of the matter. He may be used as more of a box to box player, as in yesterday's match. Fine, we could put Jagielka in that position. Doesn't mean he'd be effective. Gana has so far not been able to control his shot at all, he's not a threat. And his passing has not been good enough in that role where there is much more pressure being applied to him, similar to what he does to the opposition. So yes, if only he could shoot, and make that decisive pass.
Dave Abrahams
78
Posted 13/08/2017 at 18:59:49
Mike (#74) ah, stats – my old enemy, I take no notice of them, I agree with you, Schneiderlin is a good player IMO, but he hasn't played like one since the season started. He looks yards off the pace and he is slow even in thought, but I expect him to come back to the way he was when he came. In the meantime, I'll trust my eyes over stats.
Frank Wade
80
Posted 13/08/2017 at 19:13:22
Mike (#74), Your comment "It worked well last year when Schneiderlin was 20 yards in front of Gana, but now he's beside or behind him, and it's not working" had me confused. From my recall, watched two games at Goodison and almost all of the rest online or TV, Schneiderlin was always deeper than Gana.
I looked back on the FourFourTwo stats for the last 6 games they were partnered together and in all of these Gana is placed ahead of Schneiderlin on the pitch. They place a player based on his touches in a game.
If you check this link Link and look up matches in which they played together, click on Team Stats. I have so far looked at Arsenal, Watford, Burnley, Hull, Leicester and West ham.
Mike Gaynes
81
Posted 13/08/2017 at 19:30:18
Frank (#80), I was going off the games I saw at Goodison, the wins over Leicester and Burnley, and I saw him going box to box and getting to the 18-yard lien on a regular basis, with Gana going more side to side. I'm not surprised Gana got more touches... they were using him as outlets from defense in those games.
Dave (#78), my eyes saw the same thing as the stats did. I saw Schneiderlin all over the field, picking off passes and regaining lost possessions. I was starting to doubt my own eyes with all the negative reviews of his play, so I watched the game again this morning and saw it again... and then got support from the stats.
David (#77), no argument there. Gana might just be the best ball-winner in the world – I believe he was #1 in combined tackles and interceptions in all of Europe last season – but his great passes are rare and his shooting is flat zero. So we just have to appreciate what he does and hope other players pick up the slack for what he can't. Unfortunately Davies doesn't have much of a shot either. Hope Klaassen does. Would love to see a goal from 25 yards once in a while.
Frank Wade
82
Posted 13/08/2017 at 20:25:58
Mike, My criticism of Schneiderlin is his tendency to pass back or sideways as a default rather than look for the forward pass. I know you were looked after well by some of the ToffeeWeb stalwarts at those games ( I really enjoyed your report ) but the dreaded stats do not support your memory of Schneiderlin's whereabouts. His pass completion is very good but I like midfield players to be looking for the forward/key pass, the type of pass that Rooney was trying yesterday.
Burnley match SchneiderlinLink
Leicester match Schneiderlin Link
Mike, Could you direct me the site where you got yesterday's stats for Schneiderlin as the FourFourTwo site seems to have discontinued this feature.
Schneiderlin does such good work in retrieving the ball so hard to leave him out. I thought Gana was MotM yesterday for the same pressing, covering, tackling work, but as David says above, his passing range and shooting are ordinary. If they were of similar quality to his game when we don't have the ball, I expect he would be playing for a team who would give him a greater challenge (challenge is apparently a slang word for pay packet in the football world).
Paul A Smith
83
Posted 13/08/2017 at 20:59:52
Schneiderlin is now playing deeper? Is it because he scored in his first few games he is now classed as deeper?
He was brought to replace Barry is that not correct? Unfortunately he will never reach Barry's best level but he will get better than he was yesterday and all pre-season.
To suggest this is a new position for him is absolute nuts.
Clive Rogers
84
Posted 13/08/2017 at 21:17:20
Dermot (#61), John (#63), read Brent's post (#64).
Paul A Smith
85
Posted 13/08/2017 at 21:23:28
Ed (#62), I can relate to those feelings. After the draws that cost us champions league spot in Martinez first season, I was interested in the closed season on how he was going to turn them draws into wins. Thus making us the progressive football side he said he would create. Those pre-seasons hurt my eyes because all I seen was the same way of playing. Same tempo same system same style.
Although that can change and its early days as we often hear, all I see so far is that one speed tempo and nothing dynamic enough to beat a top side often enough to get champions league. Comparing to Stoke last season isn't the answer but I do get where your coming from. Man Utd v West Ham today will have been far different from last season and they have built well and early.
We are still waiting to replace the most important man we lost and our run of fixtures are up there with the toughest of starts. Is that doing things the right way (that's the new trendy one) I'm not sure it is?
Frank Payne
86
Posted 13/08/2017 at 22:23:22
The team is very much still a work in progress. The unfortunate thing is that the season has started.
After getting out of the gate early with some excellent signings, and the foreknowledge that Lukaku was going to leave, I am disappointed we have not been able to replace our main offensive weapon from last season with anyone. It feels like we were waiting for Arsenal to drop a striker that we could pick up on the cheap. And now what? We still need more offensive pieces to crack the top 6, methinks.
Not the answer to the question above but I would like to see Everton make a run at Van Dijk. If we cannot score goals, let's have two top young centre-backs and a goalkeeper making it hard for opposing teams to score.
Mike Gaynes
87
Posted 14/08/2017 at 03:51:59
Frank (#82), thanks for the links.
Here's the one you requested from me, the official EPL stats page: https://www.premierleague.com/stats/top/players
Alan J Thompson
88
Posted 14/08/2017 at 04:53:51
It's not new: there are lies, damned lies and statistics.
Rick Pattinson
89
Posted 14/08/2017 at 07:36:29
Back to Moyes days by the looks of it. I think we will have a lot of 1-0 wins but also a good few losses. We need a proven goalscorer asap. Schneiderlin and Klaassen need to wake the fuck up – the season has started.
Jonathan Miller
90
Posted 14/08/2017 at 09:14:46
It is clear to me that without a focal point up top the team struggles. Calvert-Lewin performed the role in the second half so a decent centre-forward is the priority for me.
Amit Vithlani
91
Posted 14/08/2017 at 10:28:20
Brent @ 50 - some valid points. Trying to be brief. Without Text Speak. Requires dropping. Words. And lots. Of Full Stops.
Brent Stephens
92
Posted 14/08/2017 at 10:37:33
Amit. Yes. 50 was tongue in...
Tony Twist
93
Posted 14/08/2017 at 14:37:20
We look extremely weak and one-paced and the press are advertising the fact of that. We need a skillful, commanding centre forward who is yet to peak not past their peak and we need one now.
It is criminal that a replacement for Lukaku hasn't been sourced yet. We are going to be totally overrun by any reasonable team. Get your finger out blues coz things look bleak.
John G Davies
94
Posted 14/08/2017 at 15:34:51
I don't use stats to judge a performance. Just use the old fashioned way of my eyes.
The stats were deffo misleading on this occasion re Schneiderlin. The worst game I have seen him play in an Everton shirt.
Dermot Byrne
95
Posted 14/08/2017 at 18:54:57
Just watched replay of Rooney's goal a couple of times.
Klaassen really was instrumental in it. If he hadn't taken that big defender with him Rooney would have had a much tougher job. You can see from Klaassen's reaction he knew exactly what he was doing.
That gives my a feeling this guy will become just the kind of thinking player we need.
Brendan Fox
96
Posted 14/08/2017 at 21:41:48
Happy for the win and happy for Wayne for getting the winning goal after a very good personal performance on his return. Gueye, Keane and Pickford all performed well.
The issues of the lopsided first half formation and the negative selection of too many defensive players against a very poor Stoke team are of Koeman's making. Acknowledging the mistake he made and changing the system at half time is all well and good but I don't understand why is he experimenting with systems and trying to shoehorn square pegs in round holes in the first game of the season as this is what pre-season is for, to work out your best system and best starting 11.
From what I can see so far this season Koeman in the 3 competitive games played so far only seems to me to want to pick players for the starting eleven that have been purchased during his tenure even if they are not in good form or the right player for a particular position/formation.
Add Your Comments
In order to post a comment, you need to be logged in as a registered user of the site.
Or Sign up as a ToffeeWeb Member — it's free, takes just a few minutes and will allow you to post your comments on articles and Talking Points submissions across the site.