Baines focused on giving his all for Everton

46 Comments [Jump to last]
Wednesday 6 September 2017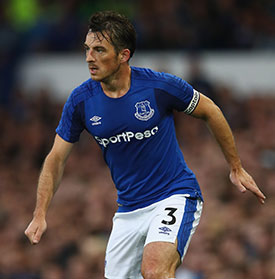 He plays in one of the most vulnerable areas in the Everton team but Leighton Baines doesn't take his place for granted and he isn't overly concerned at no longer being an England international.
10 years after joining the Blues from Wigan Athletic in a £6m deal, the 32-year-old is the only senior left back on the club's books, making him one of the most important players in Ronald Koeman's side.
The Dutchman made signing a left-sided defender to cover Baines's position and that of Ramiro Funes Mori a priority for the end of the transfer window but, ultimately, he was unable to bolster the squad further before the deadline.
That makes Baines's continued fitness an important factor in Everton's hopes for the season and his lack of international commitments something of a relief.
"Honestly, I am happy with the way things are set up now," Baines said on evertonfc.com with regard to the fact that he is no longer being considered by England, having represented his country in both the World Cup and European Championships in the past, "and that I can give everything to this football club.
<
"Honestly, I am happy with the way things are set up now — and that I can give everything to this football club.
"Whatever is left in me to give, I am more than happy to give it to Everton.
"Ultimately, decisions [affecting your future] are made by other people. They will probably let you know when you are not required. You keep giving yourself the best chance, look after yourself… and just relax about it.
"It's only nature, people are going to get older and it comes to everyone. You have to enjoy it while you can."
A decade at Goodison Park hasn't yielded any silverware but Baines has no regrets and instead takes a pragmatic view of what constitutes relative success.
"While I am playing, I tend not to stop and dwell on any achievements for too long," he acknowledges.
"But it depends where you are coming from. I was a kid on the street playing football, so in that respect, every day is a success.
"I watch my son play football on Buckley Hill and at Walton Hall Park. They are the places I grew up playing, the same fields, hundreds of kids with all their hopes and dreams. So, when you look at it that way, I was one of those kids… and I ended up here.
"If you take a moment to look at it like that, it is pretty special."
Full interview: evertonfc.com
---
Reader Comments (46)
Note: the following content is not moderated or vetted by the site owners at the time of submission. Comments are the responsibility of the poster. Disclaimer
Colin Glassar
1
Posted 06/09/2017 at 19:00:52
A great player and man, our Bainesy.
Brian Williams
2
Posted 06/09/2017 at 19:11:18
Good at disguises!
Phil Walling
3
Posted 06/09/2017 at 19:15:44
It's hard to believe the Starfinder General could not find a reserve left back over the summer months. I suspect Koeman decided he'd use his old mate Martina 'across the back' and told Walsh to abhort the search.
Quality, what quality?
Trevor Lynes
4
Posted 06/09/2017 at 19:23:51
Baines and Jagielka are model professionals and each have had fine careers. They were part of Everton's best Premier League defence and I for one will never forget that left-sided combination with Pienaar and Distin who covered Baines so well when he set off on his forays forward.Baines was the highest assisting defender in the Premier League and a top drawer penalty and free-kick taker. He remains fit and he is never mentioned negatively in the media. I have nothing but admiration for the lad!
Lev Vellene
5
Posted 06/09/2017 at 19:24:02
Phil, I expect Koeman was not that charitable in his private comments to the guilty after the deadline!
Koeman is a hands-off type manager when it comes to transfers, he said that when he came in! So why people give him all the flak for not bringing in needed players, I have no idea...
Brian Murray
6
Posted 06/09/2017 at 19:25:37
No sentiment in football: Baines should've been replaced three years ago but old Everton doesn't know when to let go... nothing changes.
Raymond Fox
7
Posted 06/09/2017 at 19:27:29
Yes, if all players had his attitude and character, football would be better for it.
Is he being asked to play in every game we have though?
Darren Hind
8
Posted 06/09/2017 at 19:30:45
This thread's about Bainesy, Phil. Be nice to keep it that way.
Proper player.
Mike Green
9
Posted 06/09/2017 at 19:35:09
Top player, top lad... and top post, Darren Hind. Well done.
Lev Vellene
10
Posted 06/09/2017 at 19:35:50
Raymond, I expect the one good showing of Martina as left-back this far (and it was not bad at all!) might tempt Koeman to keep him in reserve for those games when Baines needs a rest... I'm not necessarily happy about that, I'd rather have Callum Connolly, or any U23 regular, fill in when needed!
Colin Glassar
11
Posted 06/09/2017 at 19:45:33
Well said, Darren. Koeman isn't exactly my cup of tea but not every thread has to turn into a Koeman bashing.
John G Davies
12
Posted 06/09/2017 at 19:49:03
You little minx, Colin.
Joe O'Brien
13
Posted 06/09/2017 at 19:50:55
Darren turns nearly every thread into a Koeman bashing Colin... Or were you being sarcastic?
Colin Glassar
14
Posted 06/09/2017 at 19:51:31
Yes and no.
Brian Williams
15
Posted 06/09/2017 at 20:17:28
Replaced three years ago? Wtf.
Minik Hansen
16
Posted 06/09/2017 at 20:19:16
I wonder, if Barkley had been sold, who would we have got in?
Martin Mason
17
Posted 06/09/2017 at 20:21:38
Phil, are left-sided players plentiful? Given that only 10% of people are left-handed, getting a good left-footed player is at least 10 times harder than getting the required right-footed players, which is also very difficult. Every club is looking for good left-sided players and no wonder we struggled.
Mark Frere
18
Posted 06/09/2017 at 21:12:41
Come on, Martin, our lovable neighbours signed Andy Robertson (who would have been a cracking signing for us) for under £10 million. West Bromwich signed Kieran Gibbs for a small transfer fee.
That's just two British left-backs off the top of my head – we have the entire globe to scout a fucking left-back!
Key positions in our squad were neglected in favour of an overkill of central midfielders.
Terry Farrell
19
Posted 06/09/2017 at 21:17:36
Love the bones of Bainsey. I think he has looked sharper and fitter so far this season and more willing to break forward and have the occasional shot.

Well worth his place in the starting 11 but he could do with a specialist in front of him!
Michael Penley
20
Posted 06/09/2017 at 21:31:45
"Honestly, I am happy with the way things are set up now — and that I can give everything to this football club."
That's what Wayne said.
Eddie Dunn
21
Posted 06/09/2017 at 21:45:53
Baines has showed signs that he is getting over his ankle problems although he is a refreshingly humble guy.
Defensively he is still sound, but offensively the man who would bomb up the wing looking to cut inside, or run a loop around Pienaar is long gone.
A credit to himself and his profession, Baines is a manager's dream and an antidote to the stereotypical Premier League footballer.
Tom Bowers
22
Posted 06/09/2017 at 21:57:09
Must admit Baines and also Mirallas have shown good form in recent games despite that awful showing at Chelsea but the team is still a work in progress. Baines doesn't have any real competition for his position and his experience cannot be understated.
Good to see Seamus with the Irish squad this week and hopefully he will be back soon to solve that right-back situation – especially for the offence that he gives.
Hopefully Mirallas will also knuckle down to play a decent role until January at least.
Dave Ganley
23
Posted 06/09/2017 at 21:57:51
Been a great player for us has Bainesy and still is. As others have said, a proper player.
Mike Allison
24
Posted 06/09/2017 at 22:04:38
I absolutely love Baines, but as an attempt to say something a bit more interesting, I still don't get the Garbutt situation.
He can't be so bad that we can't possibly consider him for the squad under any circumstances, and he's actually very good going forward as a left back. This would make him at least a good rotation option for home games against weaker sides, but he isn't even registered to play in either the Premier League or Europa League.
This makes no sense whatsoever, does it?
John Pierce
25
Posted 06/09/2017 at 22:11:13
The frees kicks against Chelsea and Newcastle were very memorable, in part 'cos I depise the barcodes, mainly because they were belters.
I actually think, he's declining rapidly defensively. Sure he never has any cover but perhaps playing wing back exposes him too much.
One on one he looks weak and slow. If we could find a reliable player he trusts in front of him, I think he still has passing range & the speed of thought to be a good going forward.
Great player, true to Everton, even under heavy speculation re Man Utd. Deserves a trophy more than most.
Peter Cummings
26
Posted 06/09/2017 at 22:18:37
A wonderful collectors item, a credit to the club and game as modest as they come, a true Blue in every sense. That is Leighton Baines, from my former home turf of Kirkby, luv yer mate.
Lev Vellene
27
Posted 06/09/2017 at 22:23:42
Minik (#16),
As I read it, Barkley is included in our Europa League squad. I'll wish for him to improve his value, if he's not going to stay!
Ideally I'd love for him to knuckle down and act like a man still in need of some instructions to actually become the real deal his agent thinks he's been for a very long time... We fans only saw that like 1 in 4/5, though...
Brent Stephens
28
Posted 06/09/2017 at 22:23:57
Peter, for me he joins the "legend" group. Vastly understated, and written off far too soon by some. I think his football has suffered by a lack of talent around him (Pienaar not yet replaced, for example) and trying to cover for other people's shortcomings.
Rob Dolby
29
Posted 06/09/2017 at 23:48:22
He is one of the few players we have that has quality on the ball. It has been a crime that we haven't used his attacking ability more, he went on countless overlaps in the last home game and watched Mirallas cut inside and invariably lose the ball.
Him and Pienaar looked great down the left, in fact we haven't found a left mid since he left us. As for cover we should have kept Galloway as he can play left-back or centre-back.
Brian Porter
30
Posted 06/09/2017 at 00:07:56
I wish his loyalty and real love of Everton could be replicated in others, particularly the one people think of as our diamond, Ross Barkley.
I'd say if anyone in our squad is a diamond it's Leighton Baines. He could have cut and run and followed the money trail to Utd but showed true loyalty to Everton and by doing so, possibly cost himself more England caps too.
Leighton had the balls to speak up about the situation in the dressing room under Martinez and was castigated by BBS for doing so while motormouth Lukaku was allowed to shoot off about wanting away, champions league etc. Who deserved the talking to? Not Baines for sure.
Give eleven players with his sense of pride and loyalty to the club any day as opposed to so many modern mercenaries who couldn't give a toss about Everton or what we stand for. Top man, top player, a real diamond, not a fake one!
Liam Reilly
31
Posted 07/09/2017 at 08:41:59
Quality player and down to earth lad.
Will surely end up as a club ambassador or coach in some capacity.
Kim Vivian
32
Posted 07/09/2017 at 09:02:28
I am in agreement with those in favour of using Garbutt. I thought he was a reasonable prospect the few times he played for us and I was able to watch him playing for Fulham at the start of last year (v Derby) and he put in a good showing – overlapping runs down the left and balls into the box (one of which led directly to Fulham's goal), decent anticipation and movement off the ball,and defensively reasonably sound.
Because he was one of our lads I did spend a fair amount of time following his game and may have been a little biased and I'm unsure how his game has progressed or otherwise since then. Surely must be a case for consideration though.
Interestingly Moussa Dembele was also playing for Fulham and made no impression on me whatsoever in that game.
Clive Rogers
34
Posted 07/09/2017 at 10:21:47
I heard from a Wigan season ticket holder that Garbutt couldn't defend. Koeman seems to have made his mind up anyway, although Martinez and Kenwright gave him a ridiculous five-year contract, so he could be with us till 2020 as no one seems to want him.
Sam Morrison
35
Posted 07/09/2017 at 13:16:14
Very good player, and excellent chap. That line about every day being special reflects a guy who appreciates what he has.

Paul Kossoff
36
Posted 07/09/2017 at 13:59:17
Does that mean closing down a wide man and not giving him twenty yards space to put free crosses into the box? And not turning your back on said player and doing your little pirouette (an act of spinning on one foot, typically with the raised foot touching the knee of the supporting leg).
Or not getting caught out of position and pointing to team mates telling them where the danger is? Is that what you mean, Leighton?
Shane Corcoran
37
Posted 07/09/2017 at 14:14:36
I like Baines but is he really loyal?
Didn't Stubbs suggest that he wanted to talk to United when Moyes came sniffing?
He's a very good player. Seems happy at home with his family and he's rewarded very well financially for being a consistent performer.
I don't think that makes him loyal but I still like him. No shite out of him. Like our Seamus.
Mark Frere
38
Posted 07/09/2017 at 14:21:38
Shane,
He wanted to go to Man Utd... but unlike Fellaini, he respected the fact we were desperate to keep hold of him, so he didn't hand in a transfer request and force his way out.
Fellaini spoke very highly of us when he left and I don't hold a grudge against him, though.
Simon Bates
39
Posted 07/09/2017 at 14:58:53
No doubting he's diminishing in certain areas, but I still think he'll be good enough til January.
No doubt any long passes, quick over-the-top deliveries coming from our left sided defensive area will be Pickford's domain, as well as free kicks, set pieces, corners etc, probably between Rooney and Gylfi. He'll probably be left to defend and told to use the spaces to get forward, rather than bombing on down the flanks.
He has created and scored in competetive matches already this season and the way he played Walker at Man City showed he's still class .
Interestingly, the most troubled I've seen him this season was in the first 10 mins at home to Hajduk Split and that was by Vlasic, before they doubled up pushing him inside.
Des Farren
40
Posted 07/09/2017 at 15:53:38
He is a defender who does not defend, cannot jump, does not stand up to crosses,t urns his back on free-kicks and crosses and is extremely slow to get back in position when we lose the ball. This has been evident to all for a number of years.
But,"he is loyal".
Peter Hughes
41
Posted 07/09/2017 at 16:02:27
Well said Des Ferren, I agree with everything you said.
Shane Corcoran
42
Posted 07/09/2017 at 16:14:10
Mark #38, that makes him less disloyal, but he still wanted to leave.
Kim Vivian
43
Posted 07/09/2017 at 17:28:46
Bollocks, Des.
Dermot Byrne
44
Posted 07/09/2017 at 17:39:11
Des 40: tend to agree that reflects his game a bit now. Once brilliant with Pienaar and so accurate but I think his confidence is not what it was and he is a tad timid with decisions.
Pity but such is ageing...
Really like the fella though.
Darren Hind
45
Posted 08/09/2017 at 04:44:49
An absolute Rolls Royce of a player in his pomp.
His play with Pienaar in particular and, to a lesser extent, Ossie was as close as we have come to re-opening the School of Science in decades.
For a reason I still cannot fathom, a section of our fan base turned on people like Reidy and The Rat when their powers started to fade; I hope the comments on this thread are not an indication of things to come.
Memories of goals against Man City at the Etihad, the dramatic last minute equaliser which helped us knock Chelsea out at Stamford Bridge, and the unforgettable double strike at Upton Park... Fuck, you could be here all day.
I don't care if he is past his best (of course I wish he wasn't) I don't care that he cant jump. I don't give a flying fuck what Stubbsy said. This guy has been the best footballer our club has had in a decade.
Due to fuckwittery of others, Baines will have to haul his 32-year-old arse up and down the line more often than is reasonable to expect in this league.
He will do it to the best of his ability. With dignity and with no small amount of skill. He is surely entitled to expect the total support and respect of every Blue... He's spent the last decade earning it.
Shane Corcoran
46
Posted 08/09/2017 at 11:15:25
Darren, did someone suggest that they wouldn't offer Baines their full support?
Steve Ferns
47
Posted 08/09/2017 at 11:53:27
Best Everton left back in my lifetime. He can defend and he can defend very well. He's better defensively now than ever. It's his attacking game that is fading. But reports of that are exaggerated for me.
If Baines had a young Pienaar ahead of him, I believe he would still be able to function like he did. Baines was a quick player and he has lost some of that pace, but he's not slow and he can still show a good turn of pace at times.
What is gone from his game is the ability to run all game long, up and down the wing. And yes, often you will see him jog back when there is a dangerous moment and the opposition are in his zone. If Baines cannot get back to do anything about it, why should he sprint back to recover his position after the damage has been done and the cross / pass / shot has been executed? It makes sense to conserve his energy and to utilise it correctly.
It is part of the tactics of the team for Baines to get forward, and so it is for the manager to work out how to defend when an attack breaks down. Even if Baines was young and still had the lung-power, sprinting back would only be for effect and of no real value. Even Usain Bolt would struggle to recover 50 yards on someone. This is why Schneiderlin covers the left side of the pitch and it is his job to cover Baines when Baines goes forwards.
He is still one of our best players. He still has a sweet left foot. He still plays excellent passes. He still gets forward and provides much needed width. He still gives 100%.
A true blue and one to be long remembered.
Add Your Comments
In order to post a comment, you need to be logged in as a registered user of the site.
Or Sign up as a ToffeeWeb Member — it's free, takes just a few minutes and will allow you to post your comments on articles and Talking Points submissions across the site.