Sandro back to 100% ahead of Tottenham clash

67 Comments [Jump to last]
Wednesday 6 September 2017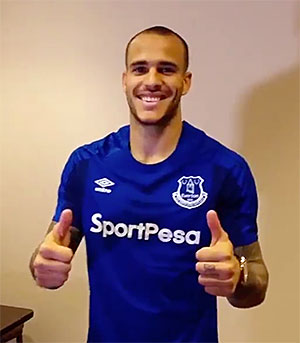 Sandro Ramirez says that he is back to full fitness and will be raring to go when Tottenham come to Goodison Park this weekend.
The Spaniard, a £5.2m acquisition from Malaga over the summer, has had his fledgeling Premier League career disrupted by a heel injury but he remains unfazed and he says he has been working at Finch Farm to get back to 100%.
"I have worked hard to prepare for the Spurs game which for us, in front of our fans, will be massive," he says. "I feel very positive about the team going into this match.
"I had two weeks of problems with my heel but I was looking forward to playing again when we went to Chelsea. Now I feel one hundred per cent and I want to be ready for the Spurs game."
With Everton failing to sign an experienced striker to replace Romelu Lukaku, the responsibility for scoring the team's goals will continue to fall on the shoulders of Sandro, Wayne Rooney and Dominic Calvert-Lewin.
The 21-year-old scored a fine goal in the pre-season friendly against Sevilla but has yet to find the net in a competitive game. Nevertheless, he is confident that he can make the transition from Serie A.
"I think playing in England suits me," he continues. "It gives me the chance to make runs in behind and attack the spaces.
"One of the reasons I came to the Premier League was I knew I was coming to one of England's biggest clubs.
"So far it has been very good. Of course, there are so many things we need to improve and we are working every day on the training ground to get better."
---
Reader Comments (67)
Note: the following content is not moderated or vetted by the site owners at the time of submission. Comments are the responsibility of the poster. Disclaimer
Lenny Kingman
1
Posted 06/09/2017 at 19:19:50
The moment of truth.
Colin Glassar
2
Posted 06/09/2017 at 19:22:22
I think he's going to be a great signing. He has that steely look only driven players have.
Lev Vellene
3
Posted 06/09/2017 at 19:28:53
If Koeman sticks with his usual defensive tactics, we can only hope Sandro will be able to unlock the secret of making that also bring in the goals...
Dermot Byrne
4
Posted 06/09/2017 at 19:37:07
Ridiculous, Colin. You should have made up your mind by now, written a good goal scorer off and blamed Koeman. Such lack of ambition and naivety!
Myself, I have hopes for this guy and would like to see him and Calvert-Lewin play together. Could be fun... one scrapper, another very quick. Both can score.
Darren Hind
5
Posted 06/09/2017 at 19:41:51
Hope you're right, Colin, could be a long season if you're not
Joe O'Brien
6
Posted 06/09/2017 at 19:44:23
I also think Sandro will be a great buy for us. I think we'll be a lot more offensive against Spurs. Should have a strong team out also with Sandro and Schneiderlin back... not sure how Klaassen is fairing?
First time Sigurdsson will able to link up with Sandro... he'll make those runs and Gylfi will find him as well as Calvert-Lewin. I've got a good feeling about this match.
Kim Vivian
7
Posted 06/09/2017 at 19:47:51
Making the right noises there if that's him word for word. Liking that.
Also – If it's been on here, I missed it, but didn't realise this until tonight – Sigurdsson bagged both of Iceland's goals the other night in their 2-0 defeat of Ukraine. Great for confidence, and Tom Davies had a really good run out for the England U21s last night.
Lev Vellene
8
Posted 06/09/2017 at 19:48:46
Dermot, you're so evil about Colin I'm still laughing!
Rooney is fading, but has so much to teach these young ones! Sandro, Lookman and Calvert-Lewin (and maybe Mirallas, too...), fed by Rooney, Sigurdsson, Bolasie, Klaassen, Pickford?
Right now, we have no towering centre-forward to convert crosses, so we'll have to play smart with through-balls. I only hope Koeman will be able to adapt to "what-we-have" instead of "what-we-hoped-to-have-to-play-my-way"...
Mike Berry
9
Posted 06/09/2017 at 19:51:22
Sixteen goals in a tough league says that the player is a bit special, just needs a bit of time so don't jump on him just yet. Let's see how he is doing in a few months time... but, like any other striker, he needs support.
Raymond Fox
10
Posted 06/09/2017 at 20:09:17
I like the look of him, but he needs the ball played in the right place at the right time.
Easy or what!
Martin Mason
11
Posted 06/09/2017 at 20:11:59
I believe that, when we learn to play without a big man up front, then we'll become a very good side. The reason is that, to play without a big man, you have to be able to move the ball quickly and accurately on the ground rather than pump it hopefully.
We have the players now to be very good, do we have the manager?
Mick Quirke
12
Posted 06/09/2017 at 20:17:09
16 goals in a tough league. That tough league being La Liga not Serie A, Lyndon!
Mark Frere
13
Posted 06/09/2017 at 20:31:36
This lad has terrific work rate... something Lukaku often lacked. 15 goals in 32 games for Malaga is very impressive. I don't see any reason why he can't bring that goal-scoring form over to the Premier League.
Is the Premier League a better standard than La Liga? That's debatable, but Sandro was also playing for one of the lesser teams, which makes his goal tally even more impressive.
I don't think he needs to make the transition from Serie A though. (Sorry Lyndon, couldn't resist.)
Nigel Munford
14
Posted 06/09/2017 at 20:43:00
Raymond, isn't that what Rom demanded?
Eddie Dunn
15
Posted 06/09/2017 at 20:59:24
I hope he does well but we need quality balls to him, not the long punts out from Jags or Williams.
James Stewart
16
Posted 06/09/2017 at 21:19:14
Sandro was awful against Chelsea. Calvert-Lewin should start up top for me with Sigurdsson just behind him. I don't think Koeman knows his best team, though, so I expect the useful batshit line-up.
Kevin Tully
17
Posted 06/09/2017 at 21:22:15
Put him right in for a run of a dozen games or so. Let the lad get used to his new teammates and the speed of the Premier League. He may just surprise us and turn out to be the £30m striker we were all expecting.
Nothing to lose here, it's not as if we are spoilt for choice, is it? It's between him and young Calvert-Lewin – pick one and try to to establish some sort of system the players are comfortable with.
Leaving him stranded to chase 'Andy Johnsonesque' hoofs will ruin the lad – and ruin me in the process. Especially if I see one more thumbs up or little clap as the ball sails into the 5th row of the Street End.
Back to the future. Long diagonals. That's what we've been missing.
Trevor Lynes
18
Posted 06/09/2017 at 21:37:11
We need someone to get into the box and that has been missing from our support strikers for quite some time.Perhaps that is why Klaassen was bought but unfortunately we have failed to get into our opponents half often enough so far.We need to play Lookman out wide as we lack width and pace up front.
Jay Woods
19
Posted 06/09/2017 at 21:40:32
He's a trier, no doubt. But so far, only of patience. But maybe he'll click.
Tom Bowers
20
Posted 06/09/2017 at 21:41:25
Certainly he deserves a chance and now being fully fit he can show his real worth. Doesn't possess blinding pace but a very intelligent player who will score a few goals but with playmakers like Rooney and Gylfi plus the youth of Calvert-Lewin, I am confident he won't let the team down.
Barry Williams
21
Posted 06/09/2017 at 22:03:45
Jay Woods – #19,
Sorry, mate, you mustn't have much patience! What has he been involved in, 3 games? Him and Klaassen are new to the country and new to the league, give them a chance at least.
Jay Harris
22
Posted 06/09/2017 at 22:27:14
With the lack of pace in the team, I see the front three needing to retain possession and bring the midfield players into the game. Regrettably that is not one of Sandro's strengths.
His workrate and skill are far superior to Lukaku but his goalscoring is not as good and he relies on similar through-balls.
Tony Abrahams
23
Posted 06/09/2017 at 22:28:53
He also didn't stop playing football till most of Everton's players started pre-season training either.
It looks like some people make their minds up very early, because it was during the game against the Slovakians where I constantly heard people saying Calvert-Lewin was fuckin' crap!
Not saying Sandro is the answer; I'm just saying give the lad some time. It' must be hard enough coming to a new country, for a young lad, and because we have got so many new players, it's definitely going to take longer for everyone to get to know each other.
Klaassen's shite, Sandra's rubbish, and Calvert-Lewin is fuckin' crap, let's just give them some time?
Brent Stephens
24
Posted 06/09/2017 at 22:32:41
Tony, well said. Glad your not unhappy so far and applauding what we're doing. We do need to give it time.
Peter Cummings
25
Posted 06/09/2017 at 22:36:47
I just hope we can put two halves together on a regular basis, starting on Saturday by keeping Kane and Alli quiet. I've got a feeling Rooney might be off his game due to recent events.
We need to show that, in spite of a disappointing 'window', we are on the way up.
Laurie Hartley
26
Posted 06/09/2017 at 22:37:00
Correct, Tony.
Simon Bates
27
Posted 06/09/2017 at 22:48:05
I think Sandro will be a success. He has all the ingredients needed, obviously mentality wise both on and off the pitch as well. He's shown that in his attitude and workrate, plus it can't be easy at 21 to move to a country where you don't even speak the language.

I think all three of Klaassen, Vlasic and Sandro have been signed for having these virtues along with their other respective qualities.

On another note, I think Vlasic has been brought in as direct competition for Lookman, as I don't see where else he'll play him and I certainly can't see him playing both.

Jamie Sweet
28
Posted 06/09/2017 at 22:57:55
The video of his shooting practice in training suggests he's got one hell of a shot on him. He may just need a bit of game time and more importantly the confidence to start firing them at goal in the big games.
Could be a gem.
Phil Walling
29
Posted 06/09/2017 at 23:20:42
Both he and Klaassen need to improve 100% on what we have seen so far if they are to make any kind of contribution. I don't think either of them would get a smell of a place in a top six team.
Probably both on par with Mirallas, and I might be exaggerating. Davies and Calvert-Lewin look better bets to me!
Dennis Ng
30
Posted 07/09/2017 at 00:11:22
Really looking forward to seeing this guy play at his best though not sure if Koeman's tactics would be that conducive. Still, he's not exactly the type that needs the ball played to him perfectly. He has very good off-the-ball movement and I can see very good link up play between Rooney, Klaassen and Sigurdsson pulling the strings for him and Calvert-Lewin.
Andrew James
32
Posted 07/09/2017 at 00:22:43
Personally I think La Liga is massively overrated and having seen matches at Camp Nou, while Real and Barcelona are the best in Europe, the rest of the league does not compare with the Premier League.
But to score 16 goals in it for a 21 year old is still encouraging and I like what he offers which is a good first touch and shoot on sight approach. It'll be a while but I am hopeful Sandro will have a good goal return this season and his work rate will bring others in to score.
Andrew James
33
Posted 07/09/2017 at 00:39:06
All that said, I wonder if RK will deploy DCL up top to run the Spurs centre halves around like against City?
I also wonder if Rooney will feature - he owes us but he owes his wife and family an awful lot more - and will Davy be back in?
An intriguing game but I hope Jags and Keane will keep out Delle, Kane et al.
Bill Gienapp
34
Posted 07/09/2017 at 01:54:16
It amazes me that people are so willing to write off Sandro and Klaassen after just a few performances. Of course, last season people were declaring definitively that Calvert-Lewin would never be Premier League standard and shouldn't kick another ball in an Everton shirt.
David Ellis
35
Posted 07/09/2017 at 02:54:55
William (#32) – if you played 2-3-5 at school (as I did) then surely it's easy to explain how you "cocked that up". Age, old chap.
William Cartwright
36
Posted 07/09/2017 at 04:18:53
David, I used to play in goal so it shouldn't have affected me that badly...?
John G Davies
37
Posted 07/09/2017 at 06:15:32
We have only seen 50% of this lad's ability due to injury and lack of pre-season.
He will turn out to be another astute signing from Ronald.
Phil Walling
39
Posted 07/09/2017 at 08:27:14
What' s the timescale for these 50%ers to transmogrify into super stars ?
It used to be an excuse that they 'hadn't had a full pre-season'that prevented them hitting the ground running', now it's 'the pace of EPL' !
Let's be honest, only Pickford (and just maybe Siggy ) would get in a top six side so seventh is absolutely tops for this lot and that will be a struggle !
John G Davies
40
Posted 07/09/2017 at 08:38:11
50% longer than usual 😁
Martin Nicholls
41
Posted 07/09/2017 at 08:38:50
Phil#40 - you seem only too willing to denigrate and write off these (and indeed many of our other) players and for that matter our Club, although that's one for a different thread. Have you ever watched any of them in the flesh or are your all-knowing views formed through the restrictive lens of the tv camera?
James Morgan
42
Posted 07/09/2017 at 08:50:04
Bill, 35, spot on.
For anyone to judge or write someone off after a handful of games just shows a lack of patience and intelligence. It takes time for anybody to settle in a new job, especially when you've moved to another country with a different language and different style of football! I also seem to remember a bunch of people writing off Seamus as a right back in the early days. Let's judge after Christmas, shall we.
Steavey Buckley
43
Posted 07/09/2017 at 08:53:19
Everton last season got away with playing too deep at the back with Lukaku as a strong strident runner upfront with or without the ball. But since he has gone there is not that outlet anymore.
So this season more than ever, Everton must push up to the half way line and press the opposition in their own half instead of standing back and standing off. This will require both Schneiderlin and Williams to push up. But would be another disaster waiting if Jagielka is asked again to play in a trio of centre backs against Chelsea yet again.
Colin Glassar
44
Posted 07/09/2017 at 08:59:18
Phil, may I recommend you read the Jaime Vardy piece in The Guardian today? He talks, very intelligently, about the lack of patience shown by both owners and fans in new players.
Everyone wants immediate success and gratification these days. Players aren't allowed time to settle into a new team (and country) and are expected to hit the ground running.
Vardy has a foundation which tries to give players, many who've been released as youngsters by clubs, a second chance to prove themselves and already it's producing results.
We (fans) want it all and we want it now, but our myopic, short-termism isn't helping. Who'd want a prospect from Nuneaton FC for £200k when you can get a fancy named no-mark from Ligue 1 for £5m? I mean, a guy called Jean Pierre sounds much better than a lad called Bob.

Rob Halligan
45
Posted 07/09/2017 at 09:02:59
What's wrong with being called Bob? Lot of my mates call me Bob!
Colin Glassar
47
Posted 07/09/2017 at 09:16:11
Sorry Bob, errrm, I mean Rob.
Barry Williams
48
Posted 07/09/2017 at 09:20:17
Colin Glassar – (#45) Polish Bob sounded quite good!
Bill Gienapp – 35 I often scratch my head in wonder at people's expectations. How anyone can write off 2 players after a handful of games in a new league and a new country is beyond me. Not only getting used to a new country and a new league, but probably a new system and a getting on a new wave length with a bunch of players that you've never met.
I remember the stick Fellaini got in his early days, we ended up getting a lot of good football from him and a massive profit too. Arteta took a while to find his feet if I recall, as did Dave Watson, and he was English. I remember the stick he took in his early days, partly because he took over from Mountfield and partly because he wasn't living up to fan's expectations straight away.
Coleman was used as a winger before settling into his best position, even Ratcliffe was used as a LB before rightfully being used as a CB, and these were lads that spoke the lingo and knew the culture. Look how long it took Ian Marshall! He went from a dodgy CB to CF and shone in the role.
Oh, and Lineker didn't find the net in his first 4 games!
On top of this, the lad has been carrying an injury!
Don Alexander
49
Posted 07/09/2017 at 09:27:23
Exactly Barry! All I expect from any pro footballer is effort, control of the ball and some precision in its use. "Gelling" can take an indefinite amount of time, the more so when there's lots of new arrivals, as now.
Patience is not just a virtue, it's a necessity, but Koeman twice got Southampton to dwell p.d.q. in consecutive seasons with several new additions so here's hoping.
Barry Williams
50
Posted 07/09/2017 at 09:31:21
Don Alexander - 50
One if Koeman's plus points, and we have heard a lot about his negatives, is rebuilding, not just a team, but a squad and as you say, twice at Southampton. They ain't exactly been ripping up trees since he left!
Like I have said on a few posts, we just have to wait and see! It won't happen overnight.
Sam Hoare
51
Posted 07/09/2017 at 09:38:30
A huge amount of pressure on Sandro and Calvert-Lewin now given our baffling inability to bring another striker to replace Lukaku.
I think both of them will prove useful players but possibly not for a while yet and patience is an increasingly rare commodity in football.
For me, we just look a very slow team and, given how many men we like to keep in our own half, that puts a huge onus on the forwards to do something pretty special to get the goals we are going to need.
I think our defence may give up a similar amount of goals to the top 6 teams but that we will score 30 or so goals less than most of them. I find it strange that a team that is set up to defend and be hard to break down has not put more stock in proven fast, energetic forwards who can break quickly and utilise the counter attack well. What i'd give for Vardy, Mane, Salah or Sane. Sandro is quickish and same with Calvert-Lewin; Lookman has pace and may yet come to the fore as might Vlasic. The future may yet be bright but i'm less optimistic about the short-term.
John Malone
52
Posted 07/09/2017 at 10:47:56
This lad has got class, you can see it in his touch and his movement, he just need's time to adjust to the tempo and a partner up top to play off to make up for his lack of height and speed and he will get goal's!!
The only problem is I don't think Calvert Lewin is the right type of foil for him yet; Giroud would have been perfect!
A bit like Baines and Pienaar needed each other to be effective as they used their quick thinking and quick touches to get past defender's rather than there athleticism. I think Sandro need's a partner on the same page to make an impact up top!

Rob Halligan
53
Posted 07/09/2017 at 10:48:06
Bob Latchford sounded much better than Rob Latchford.
Christopher Timmins
54
Posted 07/09/2017 at 11:09:15
The failure to obtain a central striker gives Calvert-Lewin and Sandro a chance to nail down a place in the team. Let's hope they take their opportunity. I would always like to think that our club would continue to introduce young talent and give it a chance to blossom.
Tony Everan
55
Posted 07/09/2017 at 11:51:17
Sandro has the potential to be a success. I just want him to settle down a bit. He has started foul of eagerness, like taking a 1-year-old Jack Russell to the park.
If he can score a goal or two it will bring him on, and settle him down into his natural rhythm. just hope he is given a bit of time and support.
Christy Ring
56
Posted 07/09/2017 at 13:31:36
I think he's trying too hard, he's young, playing in a league completely different to Spain, with less time on the ball. Because we haven't a target man to play off, it's going to take time to adapt.
Derek Knox
58
Posted 07/09/2017 at 13:39:29
Tony and Christy, yes, he does seem to be too eager at times, while I admire his work rate, when mounting an attack, you want him in and around the box.
It's all very well dropping back to help out the defence, but if counter attacking, there are a distinct shortage of front runners.
Looking forward to tomorrow's game, and hope we can get something from it, let's hope the Chelsea game was just a one-off.
Steve Jenkins
59
Posted 07/09/2017 at 13:50:33
He makes really clever runs off the ball for him to either be played through – as per his goal against Sevilla or create space for other players if his run is tracked.
He's an intelligent player and I think has that bit of mongrel in him mentally & physically.
Needs time to adjust to the Premier League.
Chris Gould
60
Posted 07/09/2017 at 13:52:25
Sandro is going to be great for us. He has all the attributes and will show them in the coming weeks.
I agree with John Malone that Giroud would have been a great partner for him. Giroud's hold up play, flicks, and one touch passing is of the highest quality. I think it would have been a fantastic partnership and hope that we go back in for Giroud in January after he's spent the first half of the season on the Arsenal bench. Hopefully he can convince his missus that there is more to life than London.
Anyway, no point worrying about what we don't have. Hopefully Calvert-Lewin can continue his steep learning curve and help get the best out of Sandro.
John Pierce
61
Posted 07/09/2017 at 15:26:06
Colin 3, Steely look? Nah heavy paper round more likely.
Rob Hooton
62
Posted 08/09/2017 at 19:01:22
I think Calvert-Lewin looks excellent in the air and that we have the potential of a fruitful partnership between Sandro and Calvert-Lewin.
Unfortunately, nobody plays 2 up top these days...
Jamie Evans
63
Posted 08/09/2017 at 20:17:26
We are Everton. We are all Evertonians. We give our players –especially our new, foreign players – a chance. Good luck tomorrow, Sandro (and possibly Davy); we are all behind you. Well, most of us are.
Dermot Byrne
64
Posted 08/09/2017 at 20:21:57
Jamie, I am right with you and, as you say, most other Blues too. Others need 5 good seasons and probably 5 new managers first!

Jamie Evans
65
Posted 08/09/2017 at 20:55:47
Dermot (#64), we pride ourselves on being different as Evertonians. On being unique or chosen.
Our new players should be made to feel like this as quickly as possible. Even if they haven't scored a hat trick in every game they've played so far. Up the Toffees, mate 👍
Brent Stephens
66
Posted 08/09/2017 at 21:11:31
Jamie #63 - count me in - I'm behind them.
John Smith
67
Posted 09/09/2017 at 11:39:53
He's the most nimble player Everton have had since Saha or Cahill. Looking forward to seeing him dance across the forward line to score at Wembley a few times.
Lenny Kingman
68
Posted 12/09/2017 at 12:11:36
The moment of truth came and went, Sandro was found wanting.
Eeaww eeaww.
Tom Bowers
69
Posted 12/09/2017 at 12:20:52
Time will tell if he is the real deal but difficult to accept what is happening right now with the whole team. Koeman would appear to need a kick up the backside.
Sean McCarthy
70
Posted 12/09/2017 at 15:22:49
Some of the comments on here make me laugh!!! If Liverpool's strike force consisted of Sandro and Calvert-Lewin we wud be ripping them to pieces!!
It's early days I know by from what I've seen Sandro is utter dog shit!!! All this guff about it taking time to adjust to the Premier League doesn't wash. Gabriel Jesus was 19 when City bought him. Scored something like 10 goals in less than 20 games. Take the blue tinted specs off for a minute. Has he even had a shot yet, on or off target??
With our strike "force" it's going to be a struggle til January when we can try and buy someone, tho I won't be holding my breath!! I'm just waiting for the "give Niasse a game" posts!! And that'll sum up Sandro perfectly!!!! When bang-average players were moving for £25-35M, we get a striker for less than £6M!!
Trevor Peers
71
Posted 12/09/2017 at 18:16:43
Got to agree with you, Sean, our attack is impotent, we'll be lucky to score 10 goals between now and Christmas.
Blue Bill's refusal to sanction buying another striker under Koeman may be understandable; it seems he's lost faith in him, but the problem remains.
If they won't back Koeman, perhaps they should sack him.
Add Your Comments
In order to post a comment, you need to be logged in as a registered user of the site.
Or Sign up as a ToffeeWeb Member — it's free, takes just a few minutes and will allow you to post your comments on articles and Talking Points submissions across the site.